Hey there! Some links on this page are affiliate links which means that, if you choose to make a purchase, I may earn a small commission at no extra cost to you. I greatly appreciate your support!
Whether you are a bookworm or lover of all things Sarah J. Maas here's a little treat for you.
This idea pays tribute to the ladies of ACOTAR as well as every single stunning court that is involved in this series.
We have some stunning pieces lined up to give you inspiration for the big day.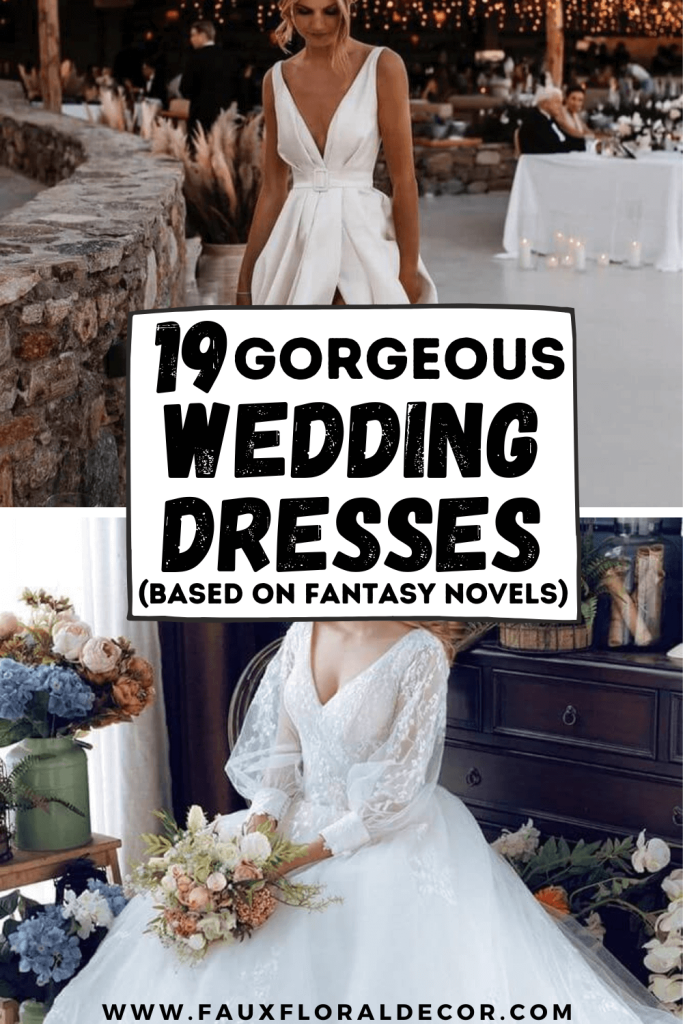 ACOTAR in a nutshell
To all of you who are not from the book community… let me give you a little background to the wonderful world of ACOTAR.
It follows the story of Feyre Archeron, a young huntress who is dragged into the magical and dangerous faerie lands as punishment for killing a faerie wolf in the woods.
As Feyre navigates this treacherous realm, she discovers a complex web of politics, magic, and romance.
The book combines elements of fairy tales, romance, and action, creating a gripping and immersive tale that explores themes of love, sacrifice, and self-discovery.
So are you ready to dive in?
Creating the fairytale look
When it comes to finding the right look for your fantasy-inspired wedding you have got to be picky.
Everything should fit your style even when you want to incorporate elements or take inspiration from these books.
So if you're unsure about what to do with makeup and accessories then here are some quick tips.
For accessories, consider a tiara or a floral crown to evoke that princess vibe.
Long, flowing hair or a romantic updo could complement the look beautifully.
Consider adding some dainty jewelry with a fairy tale theme, like a charm bracelet or a pendant inspired by a beloved fairy tale.
As for makeup, go for a natural, dewy look with soft, rosy tones.
If you're feeling adventurous, you could add a touch of glitter or a subtle shimmer on the eyes to enhance the magical atmosphere.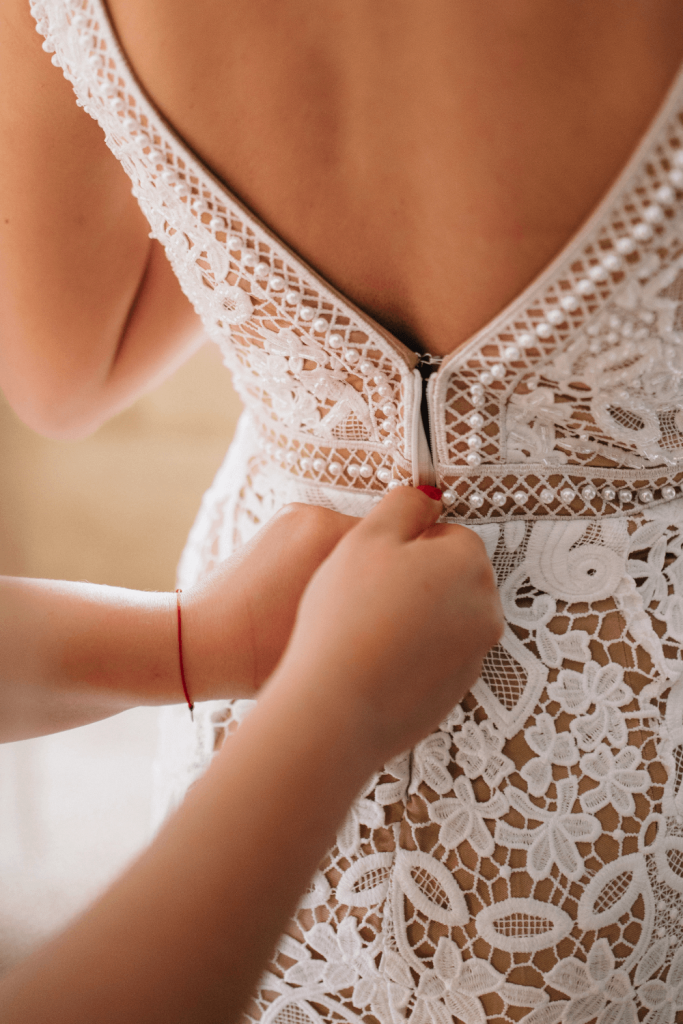 Picking the right dress
Picking a wedding dress is up to a few factors and it can be hard to find the absolute perfect one.
You need to focus on what makes you feel confident and comfortable.
Being able to move and not get annoyed is key because sometimes (depending on the season) it can feel like the dress gets too much and you might need to change for the reception.
Experiment with different styles.
Testing all the styles means you're not leaving room for "What ifs".
1. Starfall dress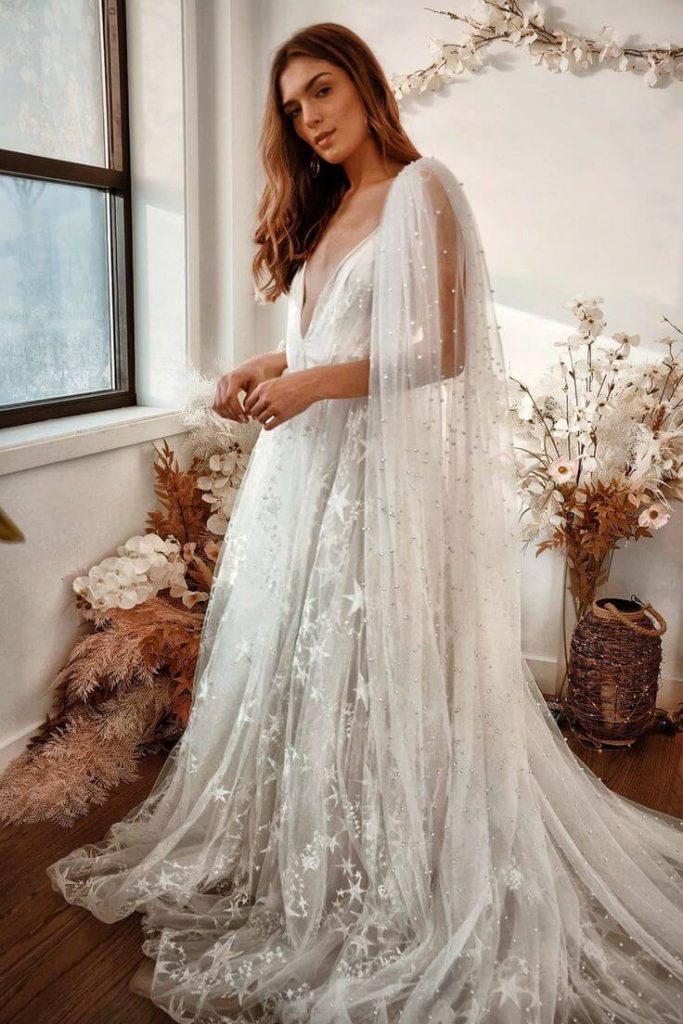 This dress brings the best of Velaris into perspective.
This dress looks like it has been made with the stars and shows a more unique approach to dresses.
The stars and the flowy dress bring an ethereal look to the table.
There's a touch of simplicity that incorporates a more stylish look while sticking to the fantasy theme.
2. The big wedding day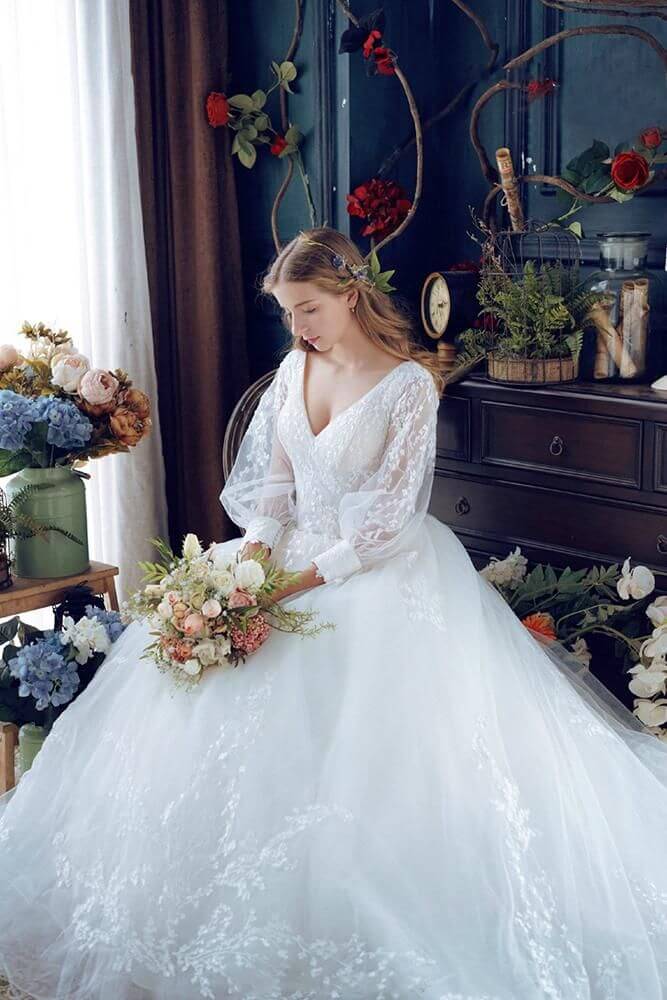 This dress seems like something pulled straight from a fairy tale.
With the poofy sleeves and vintage look, it brings a specific modest yet gorgeous look to the day.
To those of you who have read the book I am pretty sure you imagined something else, but this idea is the closest I could find to the actual dress from the wedding.
3. Nesta's rage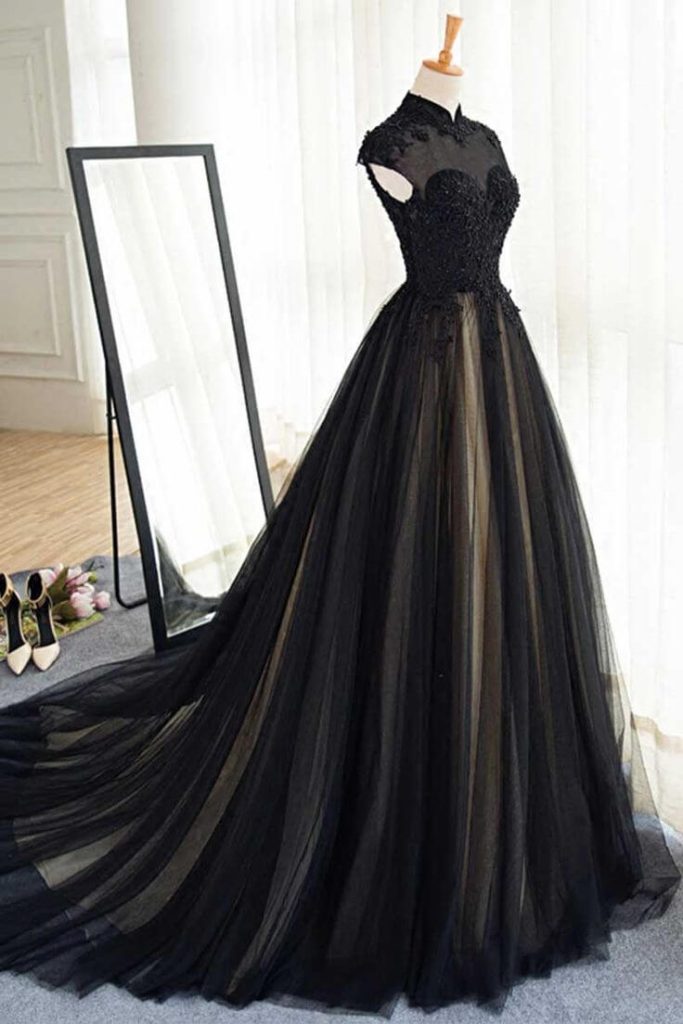 We are in 2023 (almost 2024) it's about time that we bring something more daring to the table.
This stunning black wedding dress is sure to turn heads. It's moody, and dark and brings an essence of romance to the dark aesthetic of things.
It's a modest look that still plays into the princess style without seeming too sweet.
Anabel Semisheer Sweetheart Neck Gown
4. Black Elegance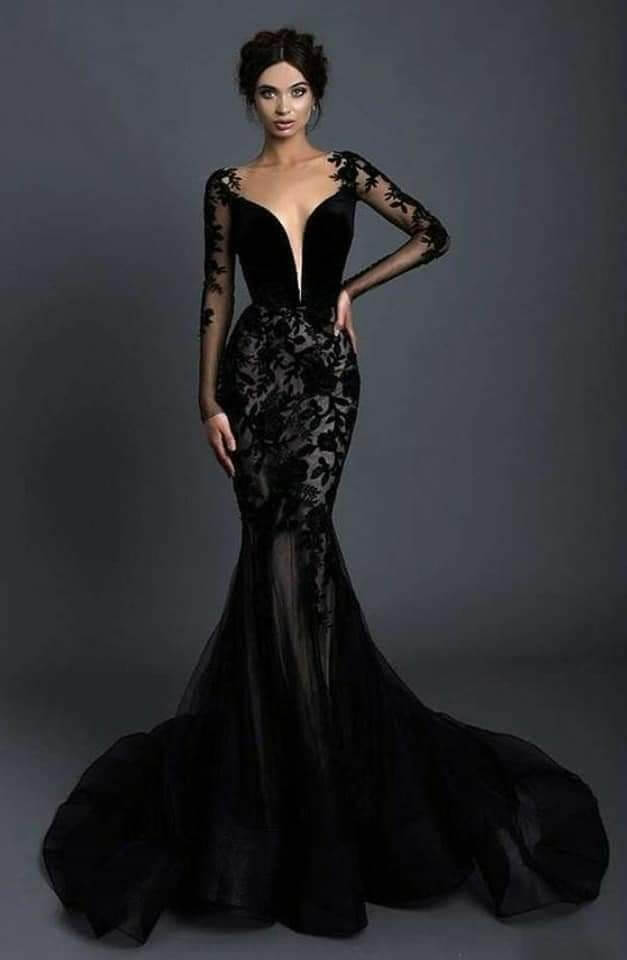 This stunning and sleek dress is a lot more sexy and dramatic.
The style is revealing while staying simple and the use of lace makes it even more elegant.
If you're one for dramatic effects and staying on point with something more daring then try this out.
Sequin Tapestry Long Sleeve Trumpet Gown
5. Elaine's dreams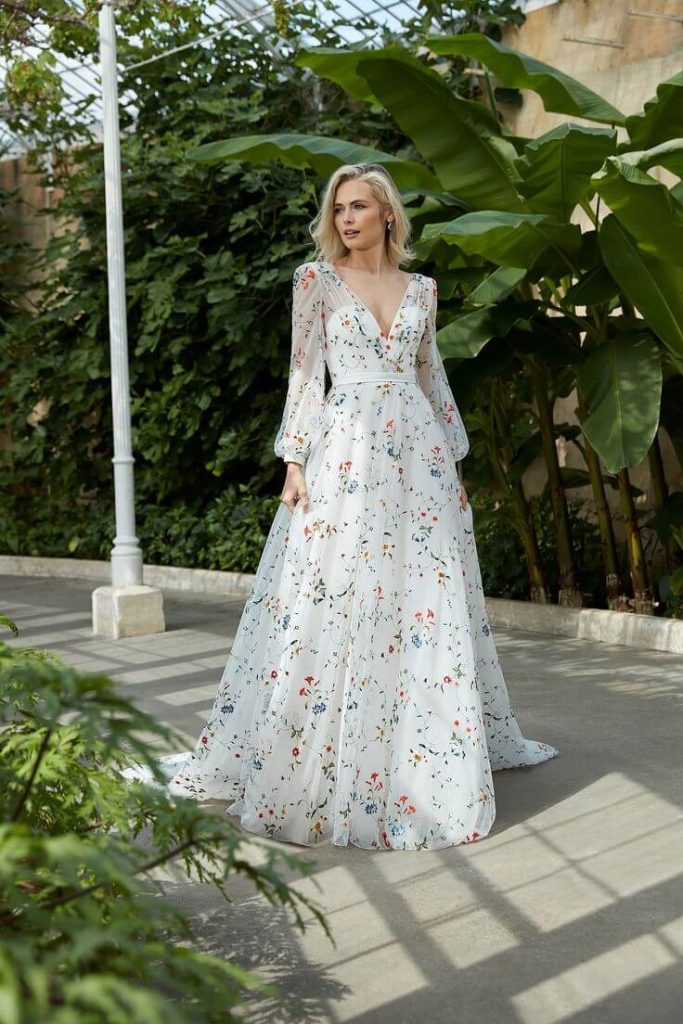 This dress is a subtle fantasy dream come true.
The flowers add a very whimsical touch to the dress itself.
Its flowing structure ensures that your curves are shown off without being too tight making this perfect for a night of fun and dancing.
It brings in a unique touch without being too bold.
6. Floral masterpiece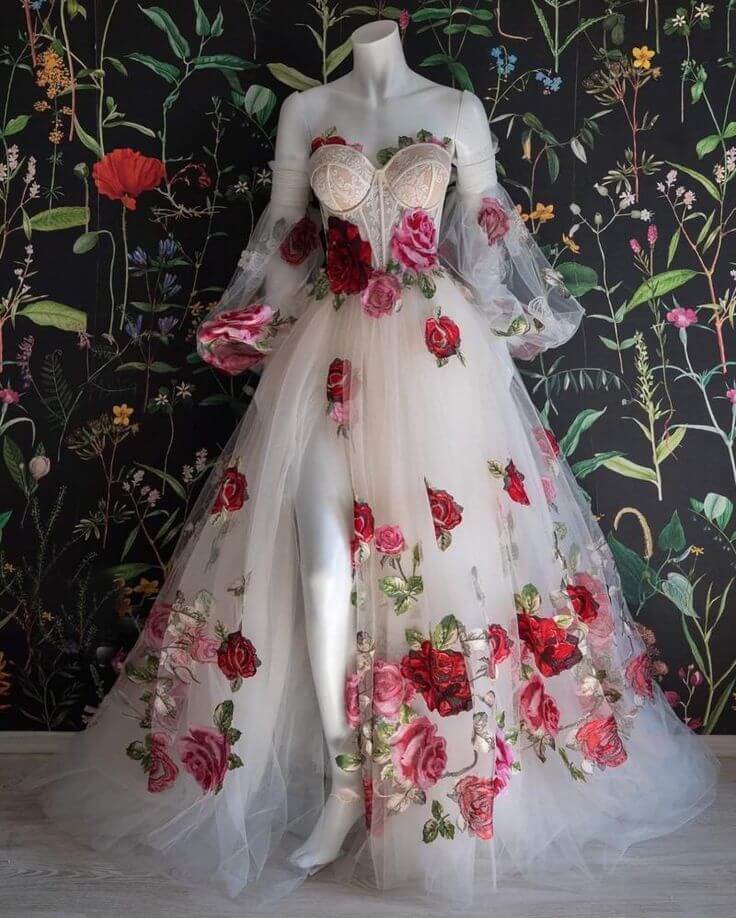 If you want to stick to the simple white dress but crave a dramatic touch then this one is for you.
This stunning piece jumps straight into the florals with a bold approach to the whole idea.
Bringing in giant florals allows you to stick to the floral fantasy and make it appear more to your liking.
If you're bold with your fashion style then you just might want to try this.
7. Gwyn's simplicity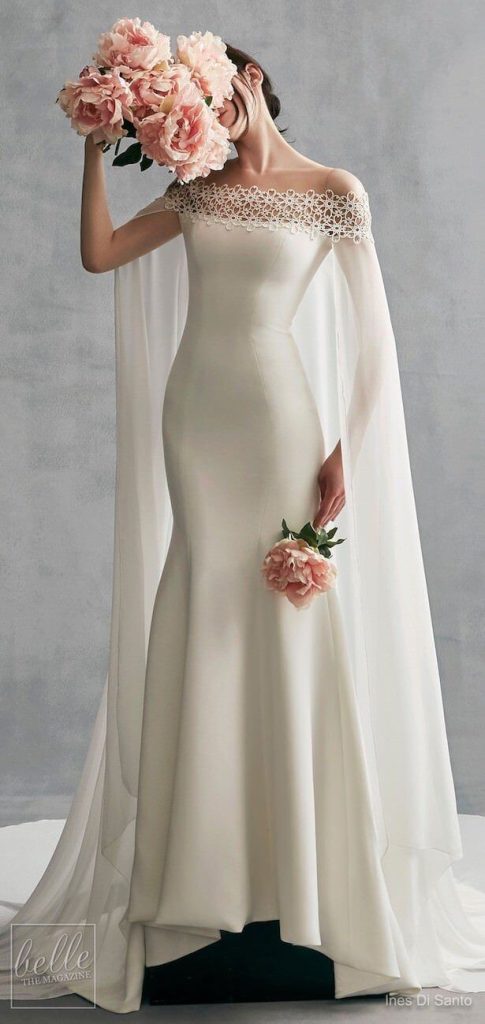 This stunning and minimalistic piece incorporates a stunning cape that just frames the dress.
It has subtle touches to make it stand out but stays true to a more subtle approach.
We can all appreciate something that seems quiet and first but has a dramatic feature that shows its true beauty.
Danica Off the Shoulder Gown with Cape
8. Flowy wedding dress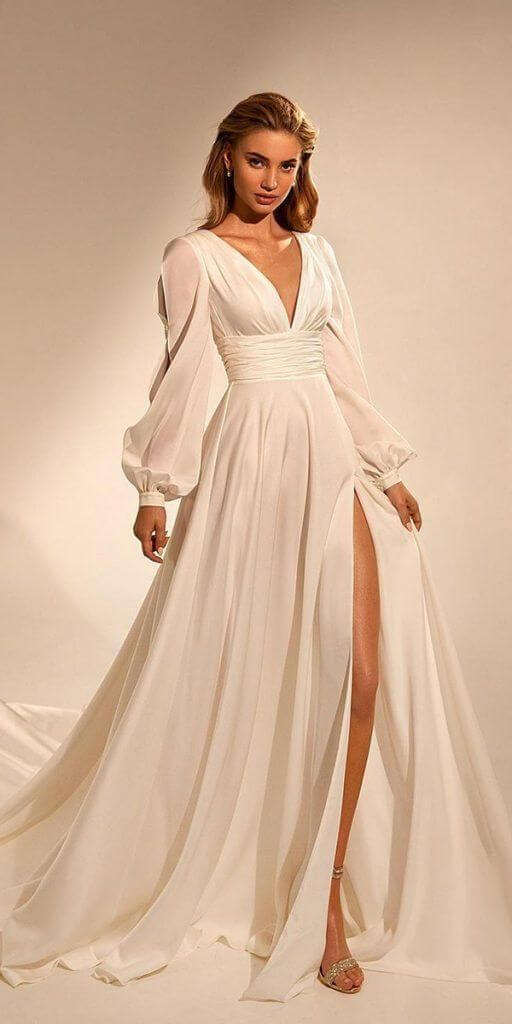 This dramatic yet simple dress incorporates a dramatic sleeve and hugs your curves in the best way possible.
The material is nice and light making it perfect for hot weather too.
If you aren't one for figure-hugging pieces but still want something to make the dress feel not too baggy then this might be the perfect option for you.
9. Pantsuit dress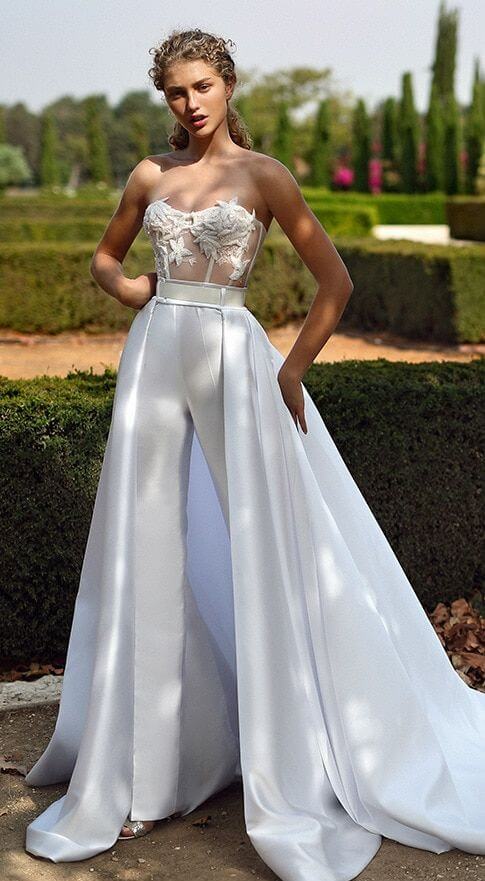 If you aren't one for dresses then this is perfect for you.
This is technically a pantsuit with a draped skirt which makes it perfect for those of you who want to party at the reception.
You can keep the skirt on for the ceremony and then take it off at the reception leaving you in a stunning and elegant pantsuit.
10. Sleek and simple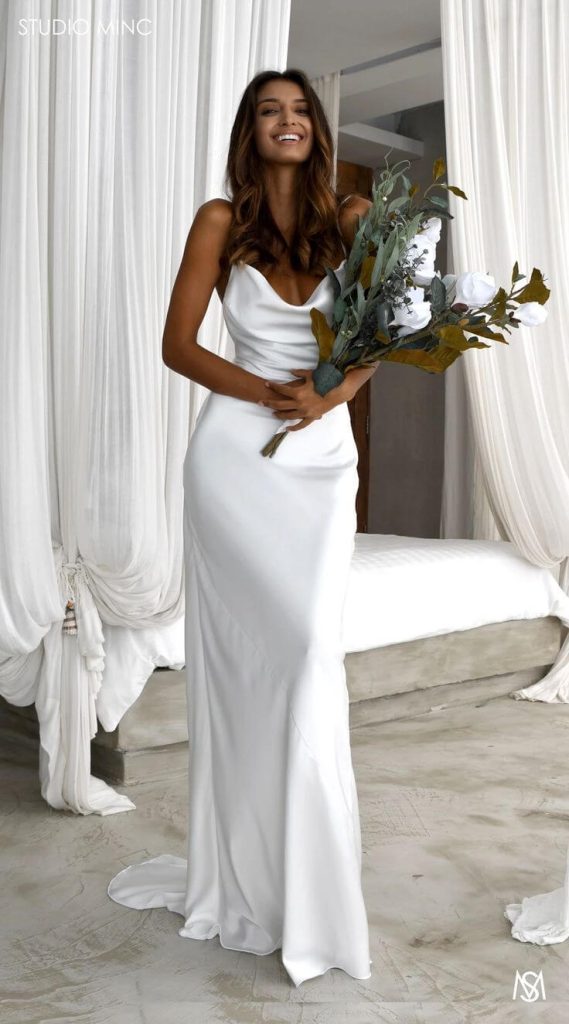 We are taking things back to basics.
When I think of basics I think of no added lace or pearls, just simplicity and elegance.
This allows you to add some more outgoing jewelry pieces and make use of moody bouquets.
We can all appreciate the minimalist approach on this one.
Strapless Satin Mermaid Wedding Gown
11. Morrigan's stylish elegance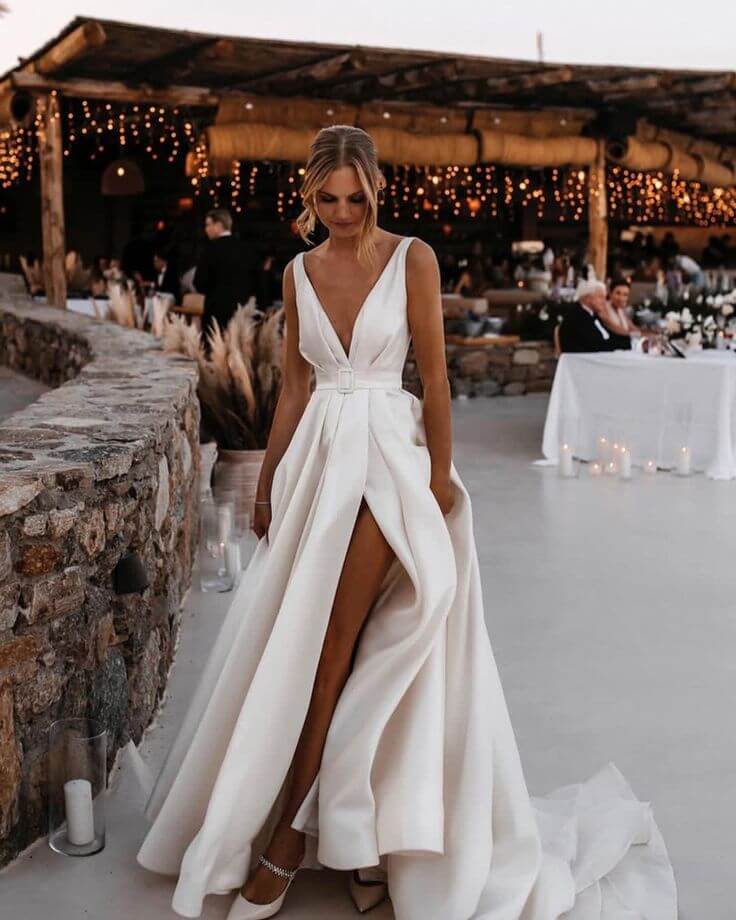 Think back to the gorgeous red dress that is Morrigan's statement piece and make it a vision in white.
This dress gives a little dramatic flare with a high slit but stays modern and simple.
This is personally a favorite of mine if I have to be honest.
12. Sleeveless and modern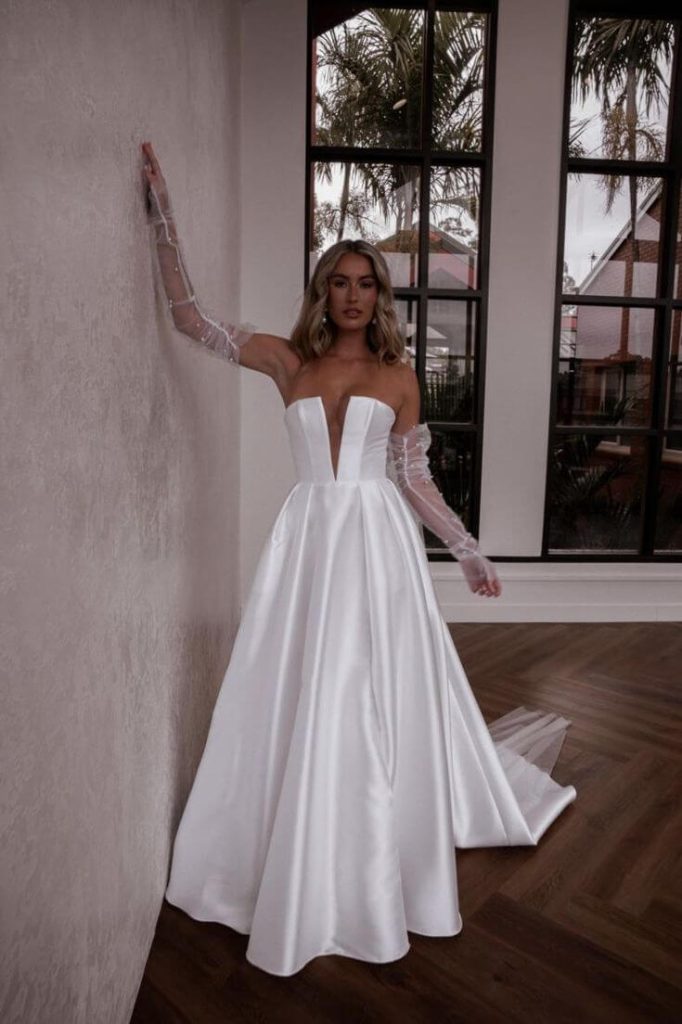 This sleeveless stunner is sure to turn heads, especially paired with a pair of fingerless gloves.
This dress is a real stunner and brings a sexy aspect into play with the open front.
It's a unique touch that brings in a big difference.
13. Summer flowy dress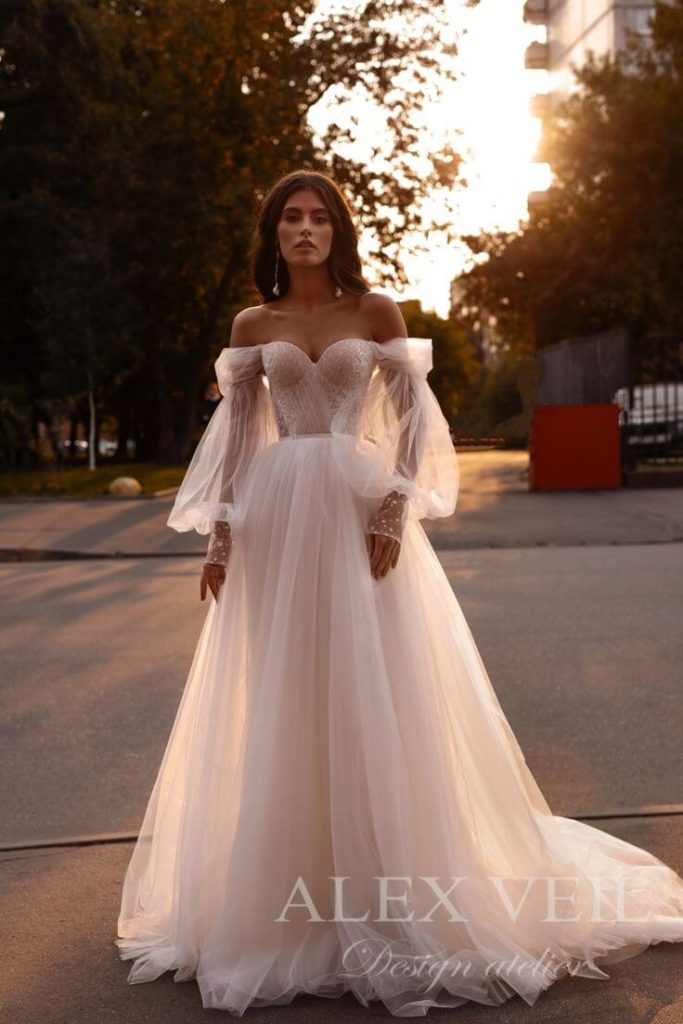 You didn't think I was going to make a post on ACOTAR and not incorporate the seven courts, did you?
This dress brings the perfect summer aesthetic into play.
Like the flow of the ocean or the breeze.
This dress looks as light as air and brings an ethereal look to the table.
14. Autumn court inspo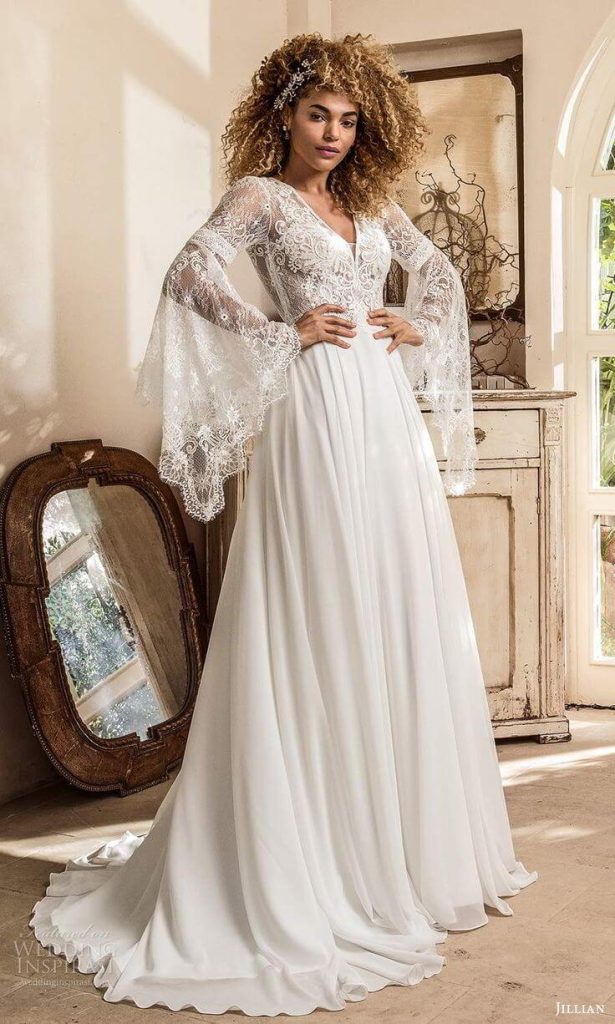 This dress brings the perfect display of the autumn court to my mind.
The flowy skirt and the dramatic half-sleeves bring a warmer look to the day.
It's a whimsical look that speaks to the fantasy element in this book series.
It also works perfectly for a spring or autumn wedding.
This is perfect for you if you love a more dramatic dress.
15. Poofy winter wedding special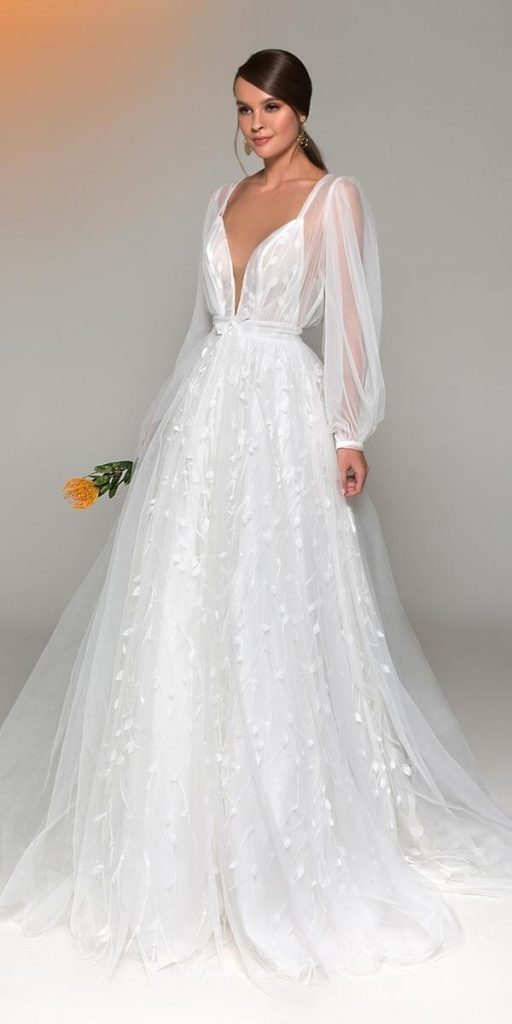 This dress screams winter wonderland and the only thing that could make it even better would be to add a glittering veil that ties it all together.
It's perfect for a winter wedding where some extra layers are appreciated and just brings the whole winter court idea to my mind.
16. Spring floral dress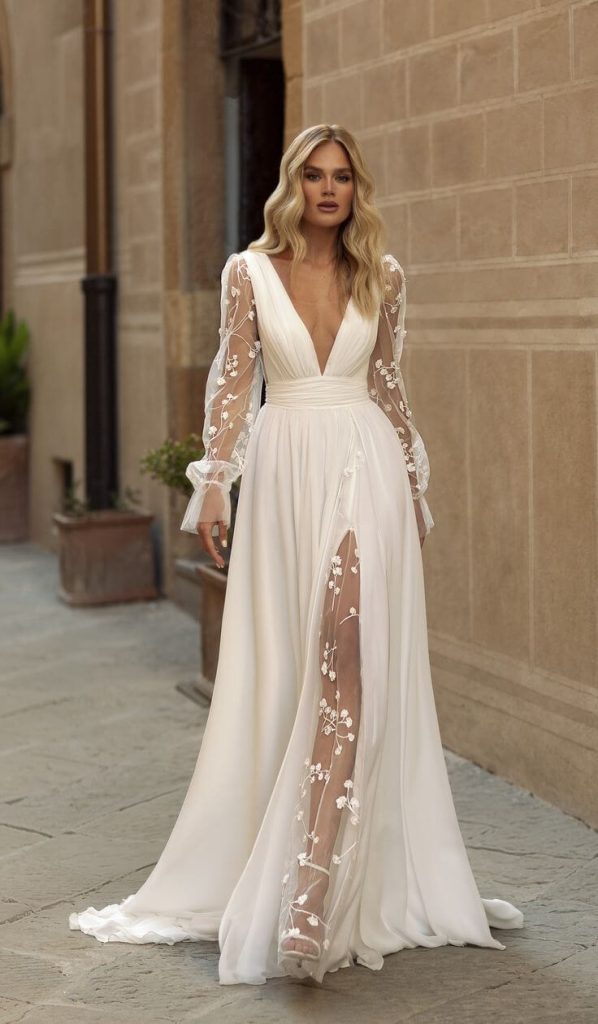 This stunner of a dress incorporates the perfect theme of floral and glamour.
It sticks to the theme of new blooms.
While even the slit is covered it still shows off your body making it great for those of you who want to try something modern but without having the dress be too open.
It's stunning and perfect for an extremely hot day because you won't overheat too much.
17. Night court glitter dress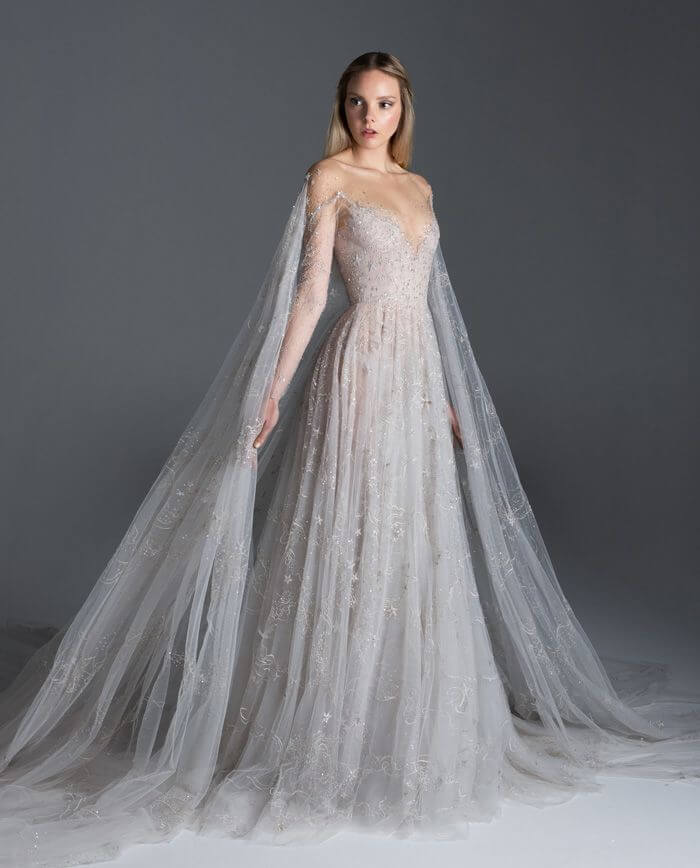 This stunner of a dress seems like it was weaved out of stardust.
It's as if the material simply clings to the skin in a way that it seems like you and the dress are one concept.
The night court is all about stardust and glittering appearances.
This is sure to be a stunner for those of you who like a bolder approach.
18. Boho inspo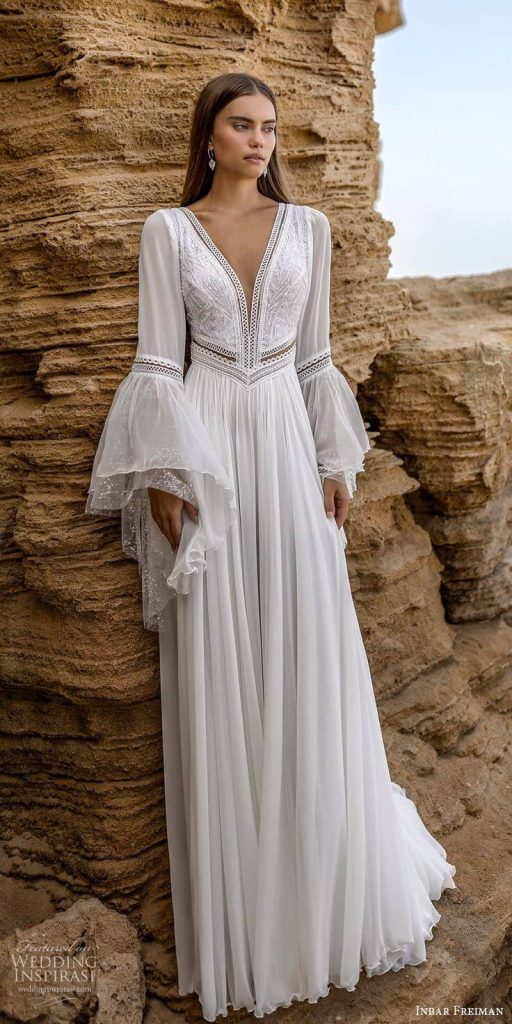 This idea draws inspiration from the day court.
The Boho style is something that I've recently fallen in love with and I'm sure you will appreciate it too.
It's perfect for a beach wedding or something taking place in the summer.
It's a fun idea to test out.
Who knows… it might you down the Boho wedding rabbit hole.
19. Elegant and open dawn court dress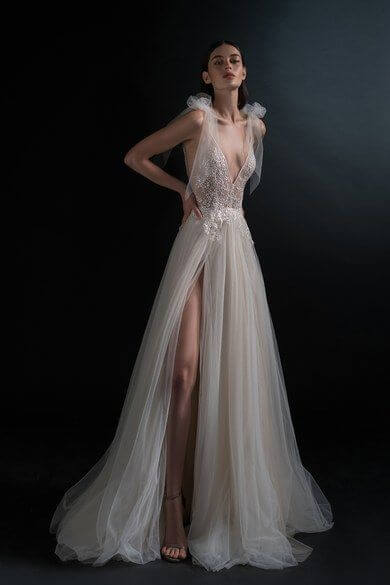 This stunner of a dress is fresh and fun.
Paying tribute to the dawn court. It is elegant but brings a new approach to the traditional wedding dress which makes it perfect for a fantasy-inspired idea.
Are you bold enough to give this one a shot?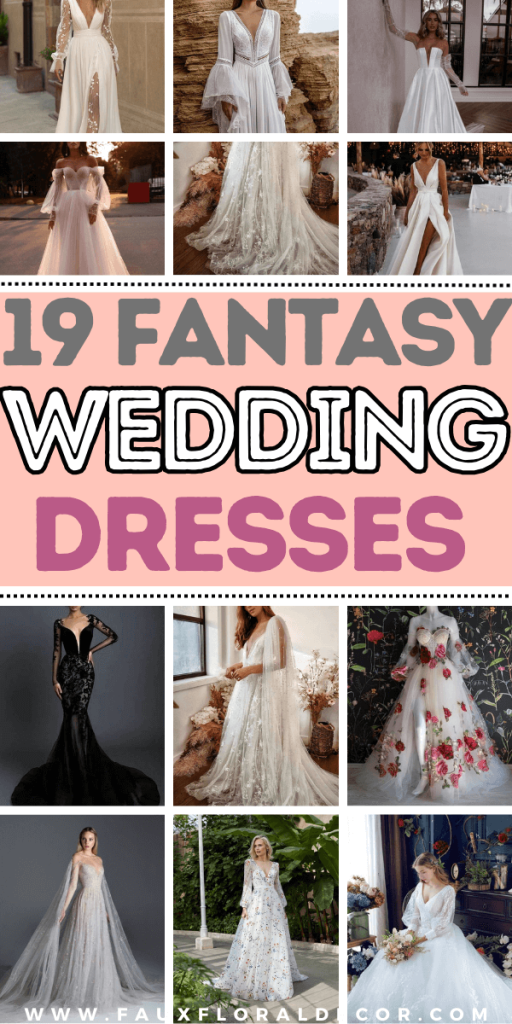 Finding the perfect ACOTAR-inspired dress
Whether you are as strong as Feyre, elegant and brave as Nesta, pure as Elaine, or any of the other characters from this epic series, there is something for everyone.
Pick your poison and remember that trying different styles is key to finding the perfect dress for your big day!
So which one has caught your attention?
This post showed you the best wedding dresses based on fantasy novels (ACOTAR)
You may also like: