Hey there! Some links on this page are affiliate links which means that, if you choose to make a purchase, I may earn a small commission at no extra cost to you. I greatly appreciate your support!
This post shows you the best boho wedding centerpiece ideas.
Planning a boho-inspired wedding?
Bohemian weddings are all about embracing natural elements, whimsical details, and a laid-back vibe.
One of the key aspects of creating the perfect boho atmosphere is choosing the right centerpieces for your tables.
These ideas are budget-friendly and easy to DIY or customize to your liking.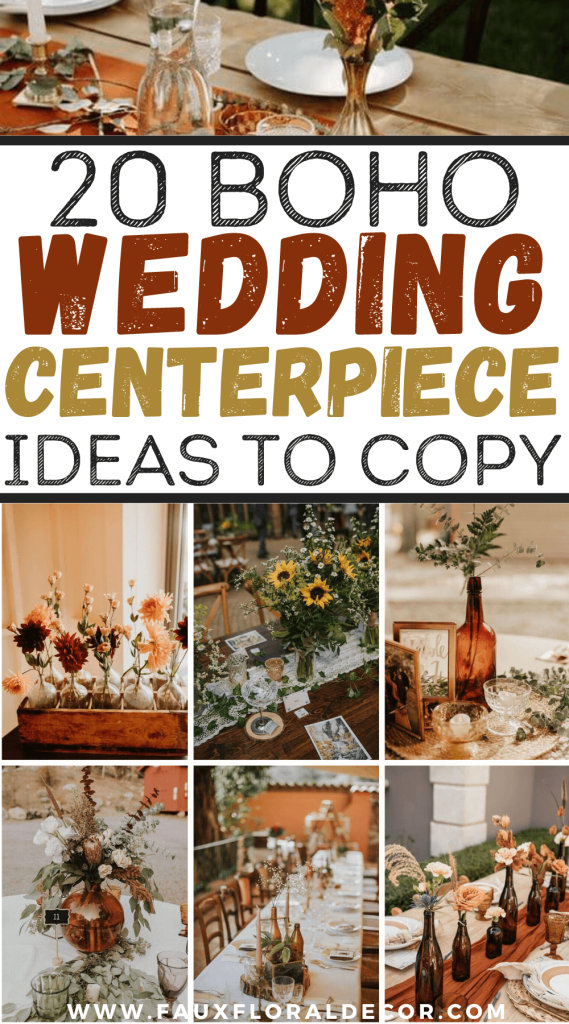 Ideas to include
So since I know it isn't always the easiest choice I have gathered a few ideas that you can keep in mind when choosing what style you want to go for.
Wildflower Galore: Nothing screams boho more than wildflowers. Gather an assortment of colorful, locally sourced wildflowers and arrange them in mismatched vintage vases or Mason jars.
Dreamy Terrariums: Terrariums filled with succulents and air plants are a fantastic choice for a boho wedding. These low-maintenance plants add a touch of greenery and create a dreamy, otherworldly vibe.
Driftwood Elegance: Boho weddings often feature natural and reclaimed elements. This rustic yet refined look will transport your guests to a coastal paradise.
Macramé Magic: Incorporate the art of macramé into your centerpieces. Hang small macramé plant holders or use macramé table runners as a base for your centerpieces.
Vintage Lanterns: Vintage lanterns make for enchanting boho centerpieces. Fill them with LED candles or fairy lights and surround them with greenery, feathers, or lace for a romantic and whimsical atmosphere.
Feathered Finesse: Feathers are a quintessential boho element. Create elegant centerpieces by arranging tall feather plumes in tall vases.
Natural Wood Slices: Use natural wood slices as your centerpiece base for a more organic and rustic feel. Place mason jars filled with seasonal blooms, herbs, or even succulents on top. Add some burlap runners or lace doilies for that perfect boho finish.
Moroccan Lanterns: Bring a touch of exoticism to your boho wedding with Moroccan lantern centerpieces. The intricate patterns and warm glow create an inviting ambiance.
1. Dusty pink and amber accents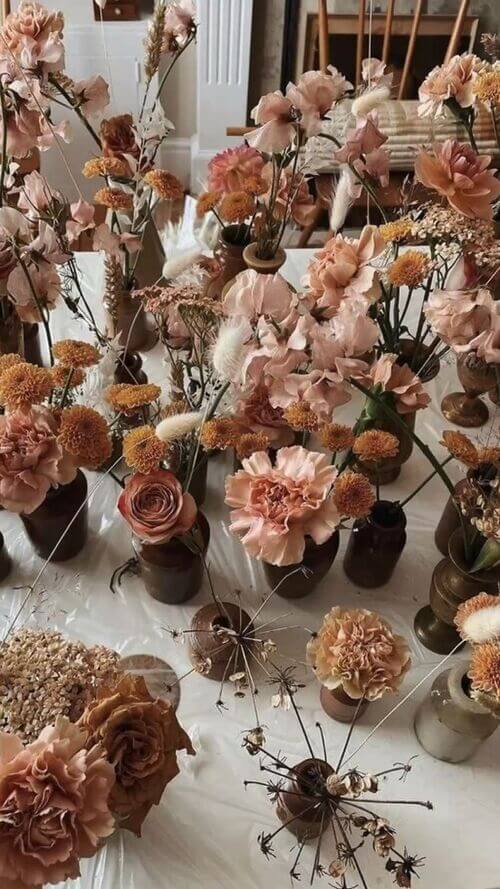 Boho weddings have a special place in my heart due to their use of oranges and pinks.
These table centerpieces are absolutely stunning and bring a warm yet subtle look to the table.
It's perfect for a simple approach that doesn't break the bank.
Mix dusty pink, orange, and some peach flowers to recreate these pieces.
2. Copper, orange and red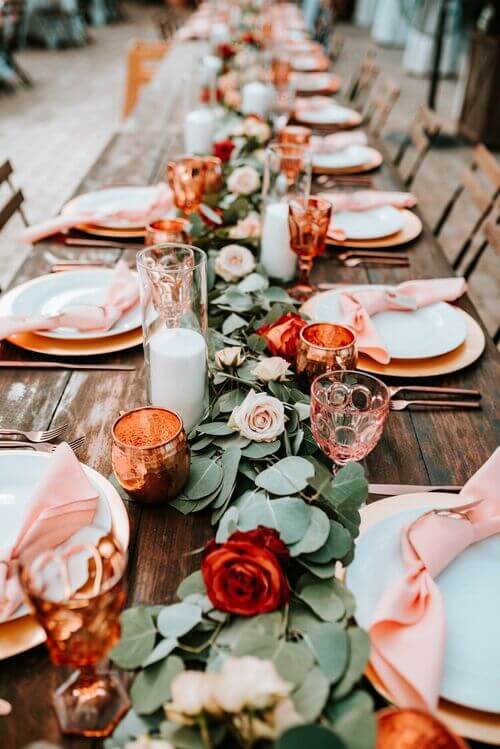 If you love bold touches then this idea is perfect for you.
The mix of copper for an accent color with red roses and orange glassware creates the perfect fall-themed boho look.
Add some greenery to break the set colors.
It's a cute idea that goes a long way and if you love trifting then you'll be able to get some really interesting additions to use with this idea.
3. Vintage glassware and picture frames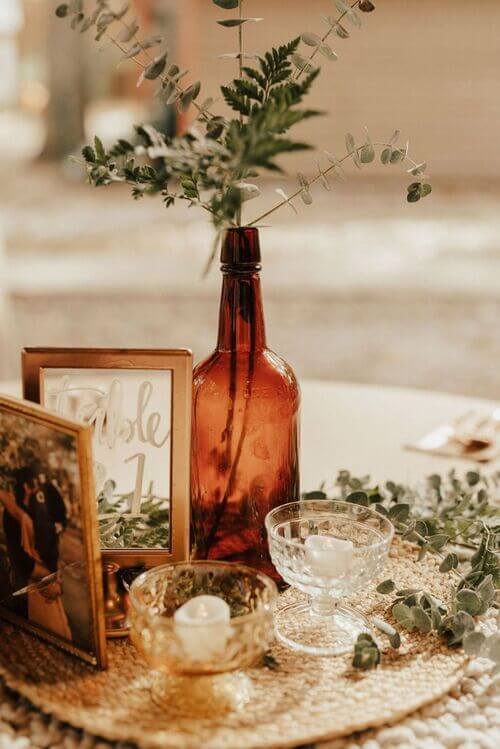 A boho look isn't complete without the use of vintage glassware which gives it a unique look.
Instead of opting for the usual giant bouquets, you can try this out.
Add a few leaves to the vase and include macrame table mats with candles.
You can even add acrylic table numbers to make this look timeless and simple.
4. Orange and sage everywhere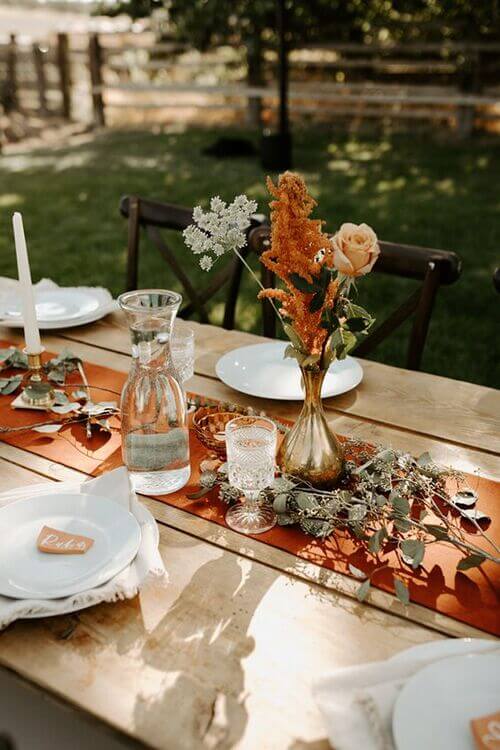 A gorgeous burnt orange table runner pairs well with light orange roses, white wildflowers, and some greenery.
This bold color combo works perfectly for an outdoor wedding in summer.
Add some gold accents as well as candles so that they bring a warm glow to the table at night.
5. Light and dark Dahlias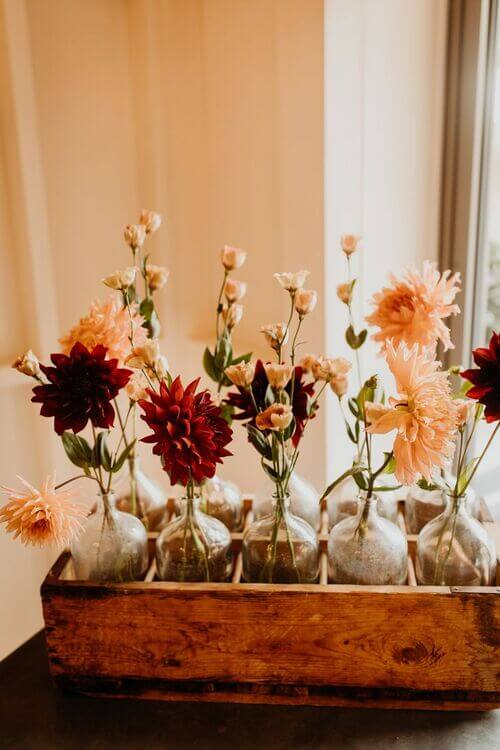 Bring in some unique flowers.
With a boho wedding, you can always try something new which is great because it lets you experiment.
Dahlias are stunning and are a symbol of commitment and kindness making them perfect for a wedding.
Add them into some unique vases for a fun touch.
6. The light atmosphere in a simplistic approach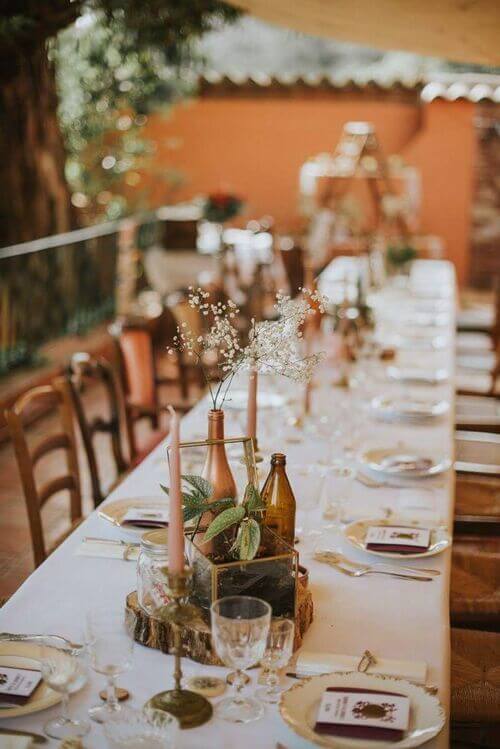 If you want an elegant look that only hints at some boho inspiration try this out.
Keep the table setting plain and simple while making use of wood slices for centerpieces.
Incorporate greenery, some orange taper candles, and vintage glasses filled with baby's breath.
7. Red and peach florals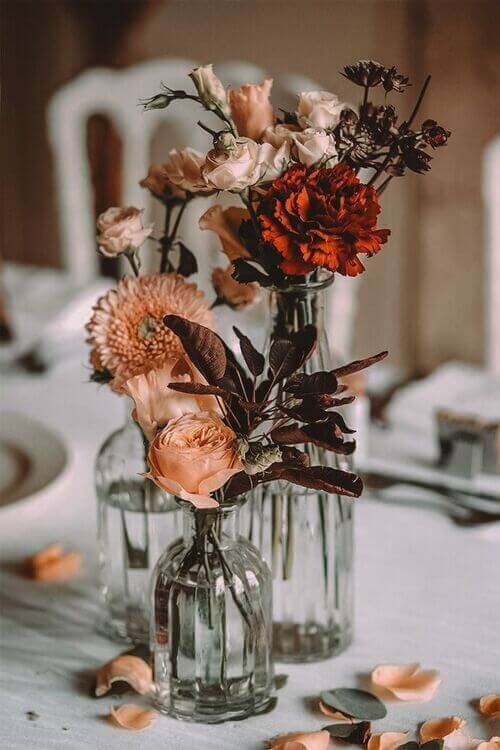 Red and dusty pink offer the perfect romantic yet moody look to incorporate into your wedding decor.
It creates a stunning atmosphere, especially for a winter wedding.
This is a great example to show that the simplest things go a long way. Pair it with some vintage glasses.
8. Dark accents with candlelight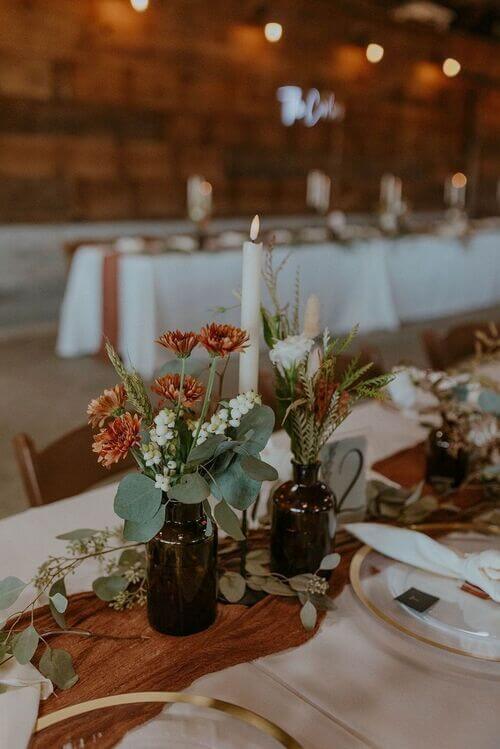 If you are looking for a more grungy look then you can include some dark accents as well as burnt orange.
This allows the greenery and light flowers to stand out within your centerpieces.
These colors work well in any season making it the best choice for a boho wedding.
9. Light pink and extra greenery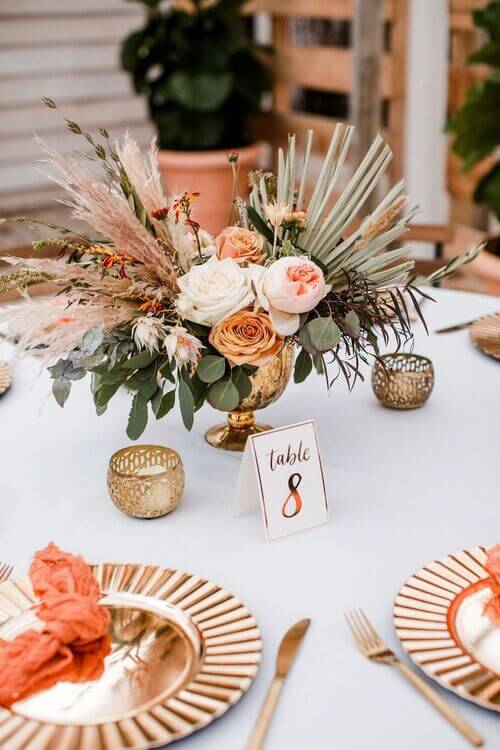 Pink and copper bring a perfect look to any occasion.
You can add copper to the table number as well as the bouquet holder.
Fill it with pink, orange, and white flowers. You can even add some pampas grass and greenery just to fill things up.
10. Vintage bottles and dried flowers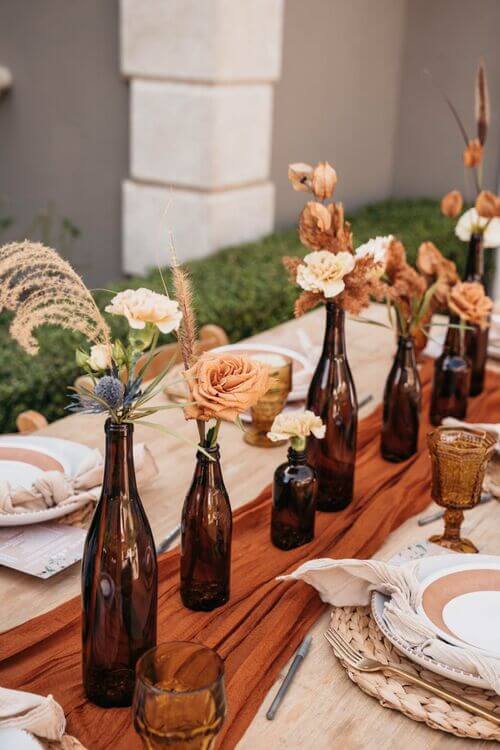 Skip the normal approach and opt for these old bottles filled with simple flowers.
You can include an orange table runner and even woven table mats for that extra touch of boho that everyone loves.
Add some orange glassware to tie into the theme too.
The rest of the decor can stick to the light pink or dusty rose idea.
11. Pampas grass and roses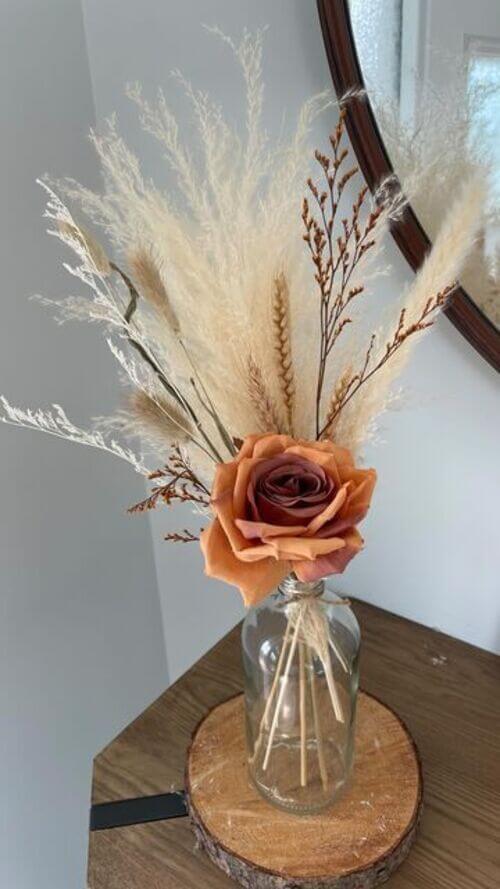 The simplest approach is usually the best.
For example, this pampas grass and peach rose combination is the perfect tie between light and dark florals making it balance out the centerpiece.
You can place it all in a glass jar and place it around the venue or on the tables themselves.
12. Orange table runners and greenery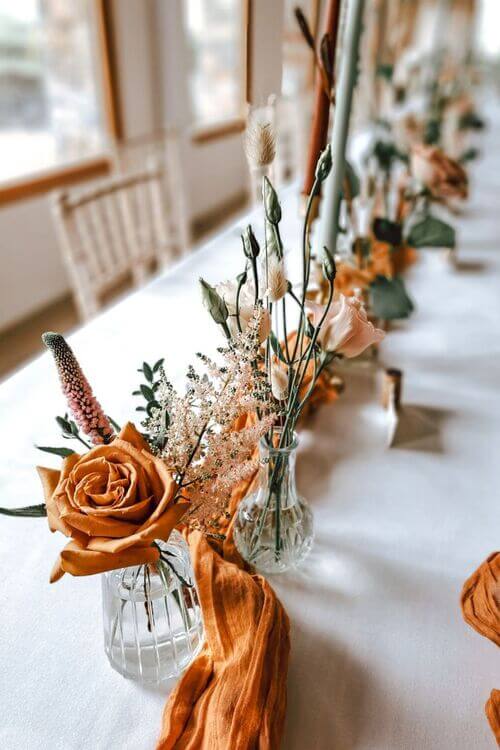 If you're looking for a brighter and cheery look for your boho-inspired wedding then look no further.
This greenery-flowing centerpiece idea makes use of orange as an accent color breaking the colors up while making sure they work together cohesively.
Use different types of jars to bring some volume to the table.
13. Sunflowers and lace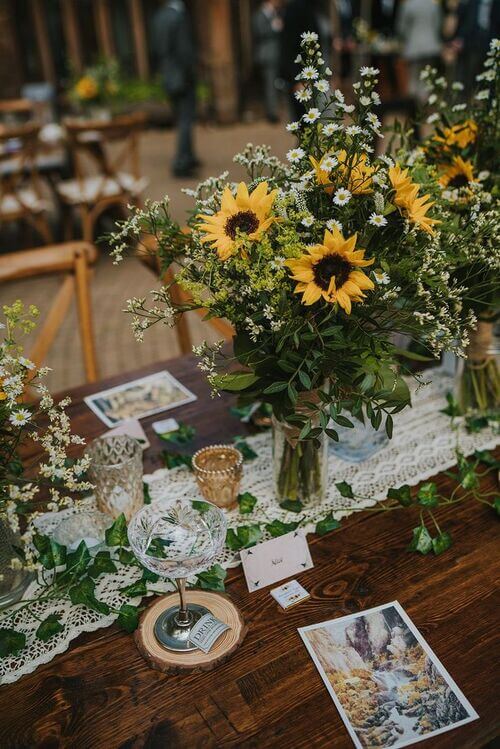 Nothing sets the tone for a boho wedding more than sunflower and daisie bouquets.
These bright and warm colors create the perfect atmosphere.
You can include some greenery and a lace or macrame table runner.
Bring in some candles to create a warmer tone or fairy lights to brighten things up.
14. Painted jars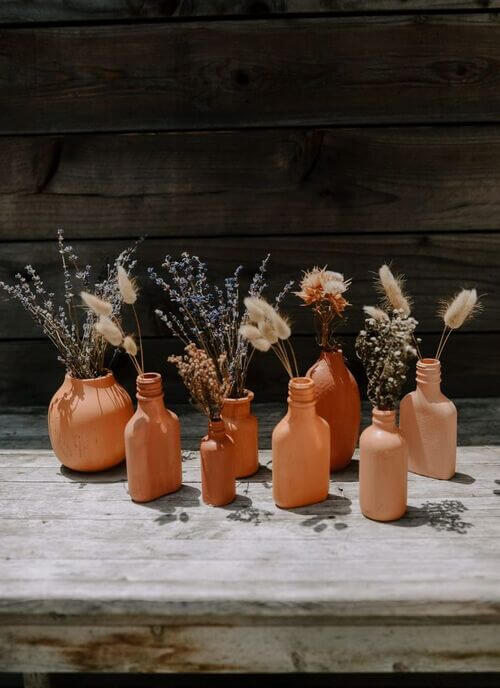 If you're struggling to find items that fit your color scheme you can always choose to DIY.
Thrift some old vases or jars and paint them in the same colors as your wedding.
You can include pampas grass, lavender, daisies, or even eucalyptus in the jars to work as centerpieces.
15. Bright florals and elegant lace pieces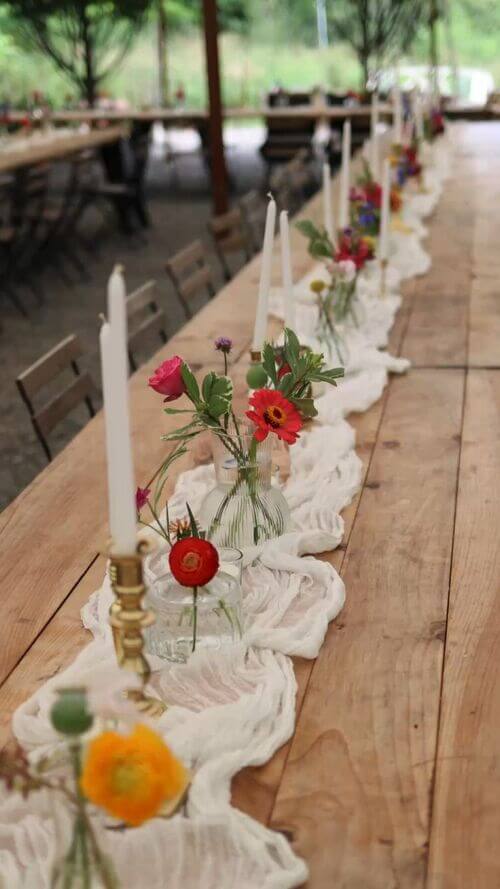 For a spring or summer boho look you want to make the most of bold colors.
You can keep things simple with white fabric table runners and candles.
Include some gold accents such as with the candle holders and place some yellow, pink, and red florals.
It is easy to create on a budget and stays fun.
16. Unique jars and bouquets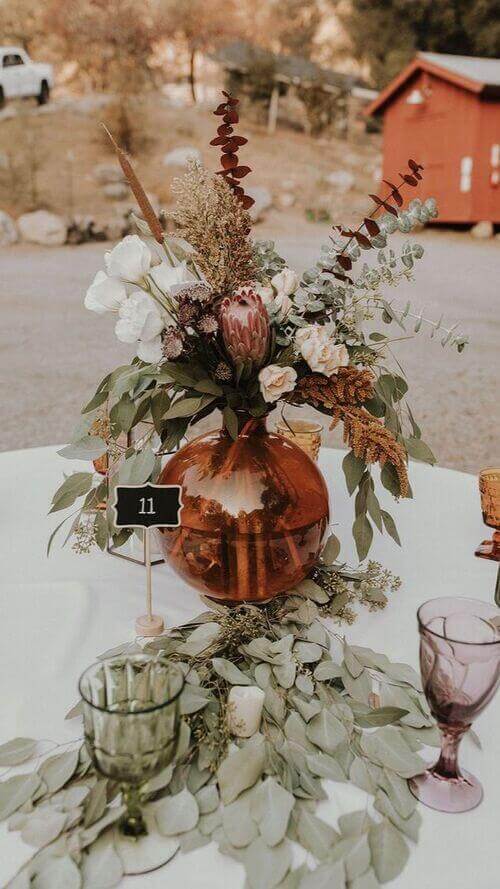 A boho style that includes some darker tones creates the perfect balance between simple and moody.
Amber glassware works perfectly with some greenery.
If you want something to bring a great aroma to the table add some eucalyptus.
Add white roses, proteas, and greenery, and some purple to the flowers.
This pairs great with green and purple glassware.
17. Different approaches to simple centerpieces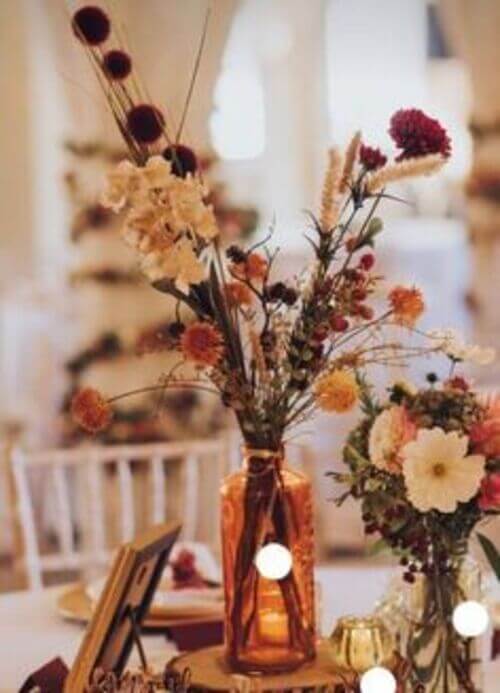 Centerpieces don't always have to be bold and bright.
They can be bolder and be filled with some more unique colors.
Use some orange vases as the focus point.
Add orange, maroon, and yellow wildflowers to this perfect boho centerpiece.
18. Pampas grass and amber glass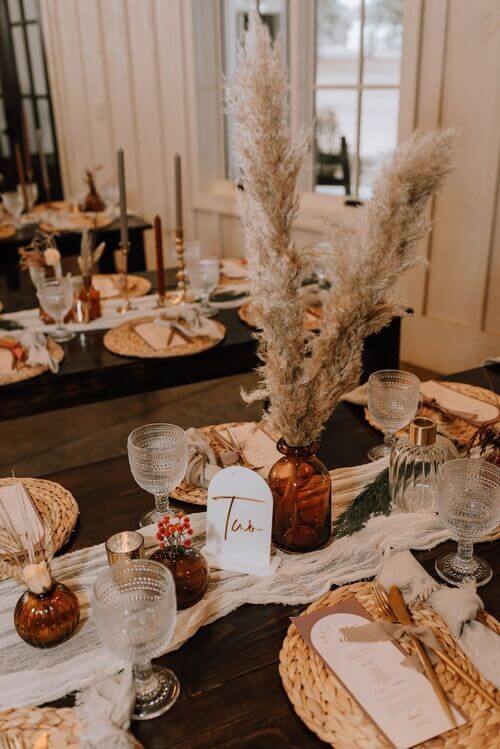 For a more neutral approach, you should consider a beige, amber, and white wedding color scheme.
Woven placemats, amber glassware, and pampas grass centerpieces.
This classic look gives a timeless elegance that works perfectly for minimalist lovers.
19. Wood slices and candles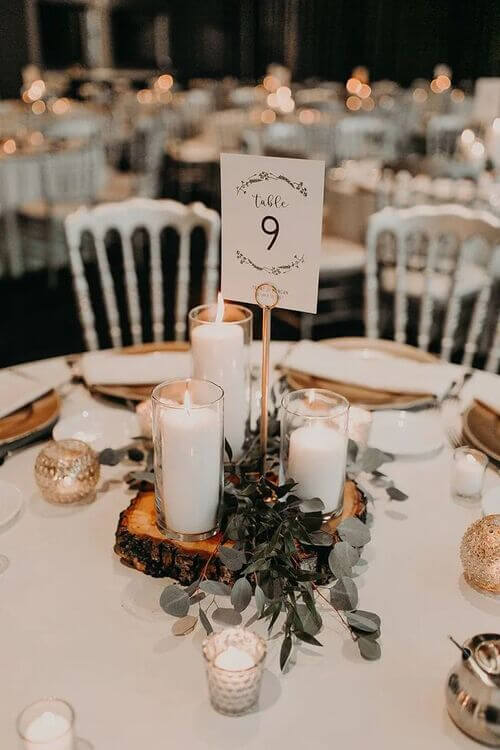 Candles, greenery, and wood slices galore.
If you are looking for a simple boho look that can also tie into an outdoor wedding theme then look no further.
You can DIY the table numbers by making your own paper giving it an added personalized touch.
20. Sunflowers and baby's breath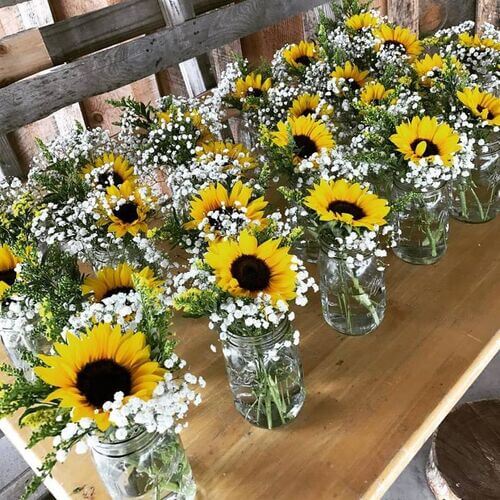 If you have dozens of mason jars just collecting dust then you can recreate this cute idea.
Fill the jars with sunflowers and baby's breath to create these vibrant centerpieces.
If you want a little more magic added to these ideas then include some fairy lights.
Boho is best
With these simple and stunning boho wedding centerpiece ideas, you can effortlessly infuse your special day with the free-spirited and natural beauty that characterizes bohemian style.
Whether you prefer wildflowers, lanterns, or terrariums, these centerpieces will undoubtedly create a memorable and enchanting atmosphere for your boho-inspired wedding celebration.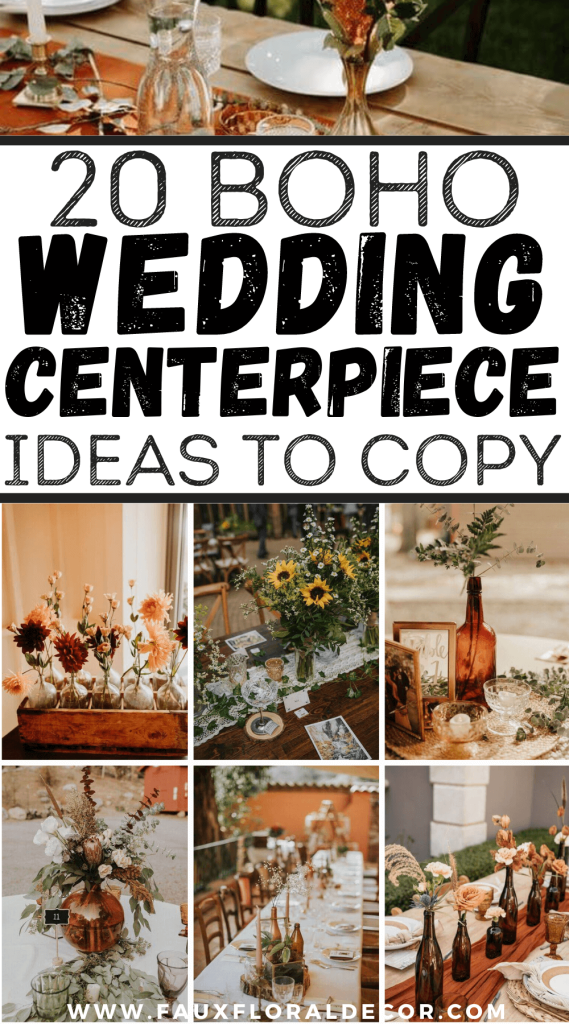 This post showed you the best boho wedding centerpiece ideas.
You may also like: