When it comes to planning a wedding, one of the most crucial aspects to consider is the food.
Finger foods are a fantastic choice for weddings as they are convenient and loved by guests of all ages.
In this blog post, we will explore some easy and delicious finger food ideas that will surely be a hit at your wedding reception.
Whether aiming for a casual and relaxed affair or a more formal event, these finger foods will delight your guests and keep them satisfied throughout the celebration.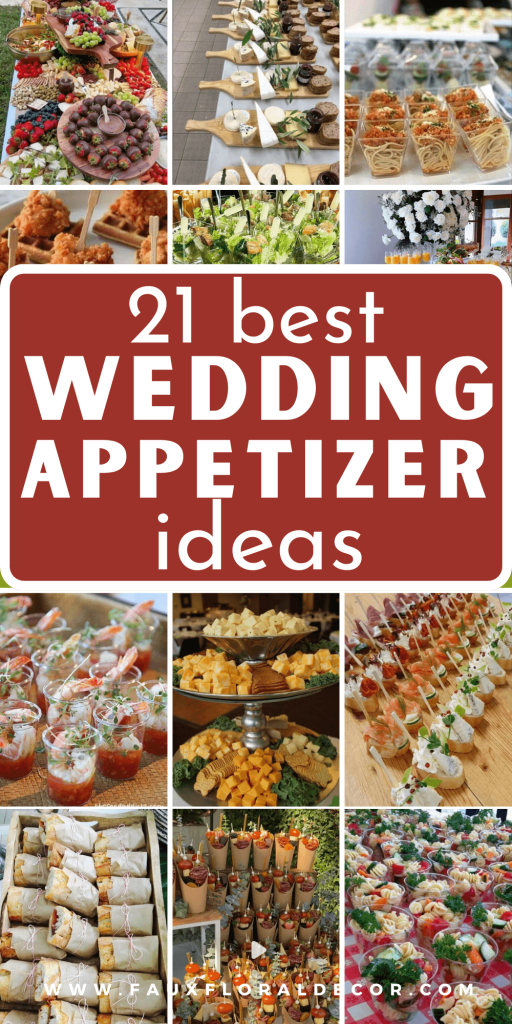 The Benefits of Finger Foods at Weddings
Versatility: Finger foods provide endless options for customization. You can cater to various dietary preferences and restrictions, ensuring that all your guests have something delicious to enjoy.
Convenience: With finger foods, there's no need for formal table settings or elaborate cutlery. This makes for a more relaxed and social dining experience.
Variety: Offering an array of finger foods allows you to showcase diverse flavors and cuisines, making your wedding reception more exciting and memorable.
Tips for a Memorable Finger Food Experience
Dietary Restrictions: Ensure there are options for guests with dietary restrictions, such as vegetarian, vegan, gluten-free, or nut-free choices.
Presentation Matters: Invest in attractive serving platters, garnishes, and creative displays to make your finger foods visually appealing.
Timing is Key: Coordinate with your caterer to serve hot finger foods while they're still fresh and crisp. Cold items should remain chilled until they're served.
Portion Control: Keep portions small so that guests can sample a variety of options without feeling overly full.
Signature Cocktails: Pair your finger foods with a selection of signature cocktails or mocktails to enhance the overall dining experience.
Late-Night Snacks: Consider offering a late-night snack station with crowd-pleasers like mini pizzas, sliders, or french fries to keep the party going.
Creative Finger Food Ideas
Now that we've established why finger foods are a fantastic choice, let's explore some creative options to tantalize your taste buds:
Mini Sliders: Serve up gourmet mini sliders with a variety of toppings and sauces. Consider options like classic beef, pulled pork, or even veggie sliders for a diverse selection.
Caprese Skewers: These elegant skewers feature cherry tomatoes, fresh mozzarella, basil leaves, and a drizzle of balsamic glaze, offering a burst of flavor in each bite.
Sushi Rolls: Create a sushi station with an assortment of sushi rolls, sashimi, and dipping sauces for guests who enjoy a taste of Japan.
Mediterranean Mezze Platter: Offer an array of Mediterranean delights, including hummus, tzatziki, falafel, olives, and pita bread for dipping.
Mini Tacos: Serve up mini tacos with a choice of proteins such as grilled chicken, shrimp, or carnitas, accompanied by fresh salsa and guacamole.
Stuffed Mushrooms: These savory bites can be filled with cream cheese, spinach, or even crabmeat, offering a delightful mix of textures and flavors.
Cheese and Charcuterie Boards: Create elegant boards with a selection of cheeses, cured meats, fruits, nuts, and artisanal crackers.
Mini Desserts: Satisfy your sweet tooth with a variety of bite-sized desserts like mini cheesecakes, chocolate-dipped strawberries, and petite pastries.
Bite-Sized Macaron Towers: Showcase colorful macarons in a stunning tower for a touch of elegance and a burst of flavor.
If these ideas bring a fun idea to mind just wait till you dive into the 21 ideas I have collected for you to test out!
Best Finger Foods For Wedding
1. Charcuterie cups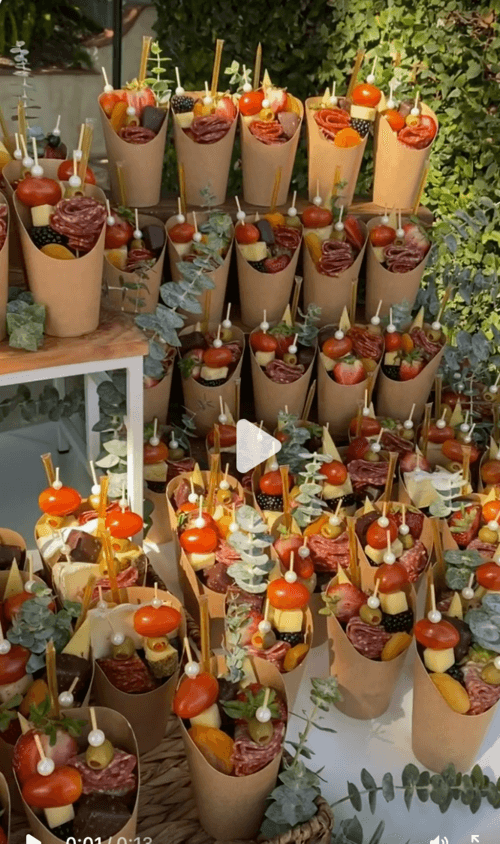 We can all appreciate a glorious charcuterie board, so why not use it as a finger food idea?
Create simple charcuterie cups so that everyone has a little bit of everything.
Just ensure that you cater to those who have food allergies as well.
2. Sandwiches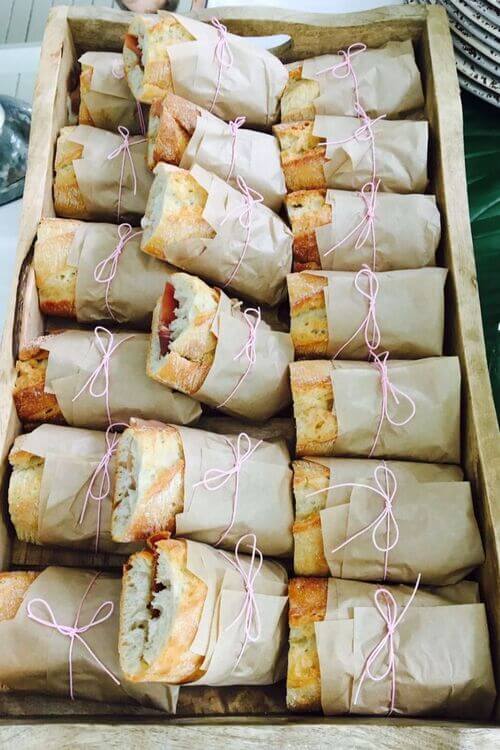 Nothing works better than a great sandwich. Finger food doesn't always have to include small appetizers.
You can simply make use of sandwiches with different fillings to ensure everyone has something to enjoy on the wedding day.
3. Mini slider station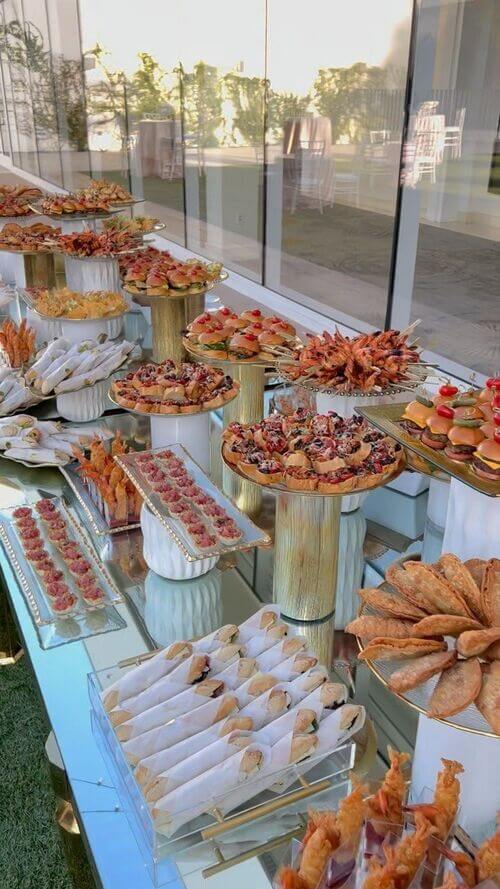 Bring out the sliders, pastries, and all your favorites.
Just because it's a wedding doesn't mean you can't enjoy all your favorites.
If you want a little bit of everything then this idea is perfect for you because it allows a wide variety of options.
4. Shrimp cocktail shooters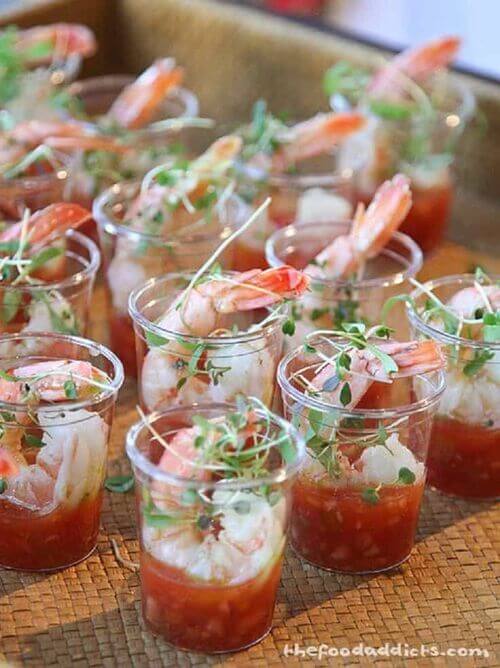 Although this idea isn't for everyone it is a unique idea that will definitely be appreciated.
These shrimp shooters include a spicy sauce mixed with a tiny bit of alcohol so be sure to warn your guests before someone gets a surprise.
5. Brunch station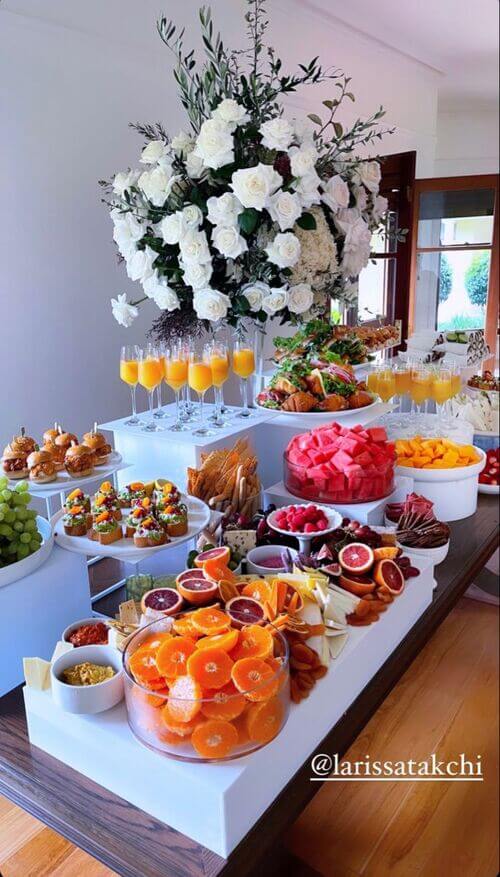 Not sure what direction to take.
Incorporate a breakfast or brunch theme for your finger foods.
This includes fresh fruits, sliders, and small snacks.
This idea is perfect for a spring or summer wedding.
6. Caprese skewers in cups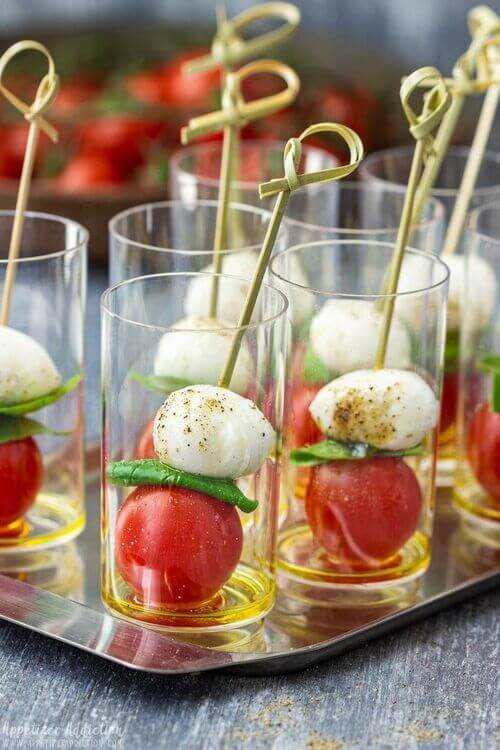 If you want an easy appetizer to throw together you can opt for these.
They are super simple to achieve and are just enough to give you a boost of energy… not to mention delicious.
All you need is some tomatoes, basil, and mozzarella topped with a little olive oil.
You can even include some salt, pepper, and a little balsamic vinegar.
7. Canapes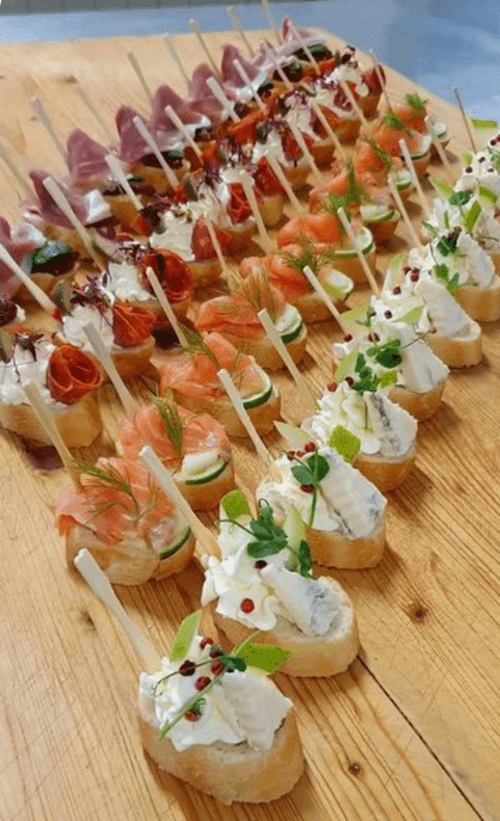 These glorious one-bite pieces of heaven are perfect to serve at a wedding.
Being able to create a bunch of different tasty combinations makes these little treats amazing.
Get some bread, and a spread such as cream cheese and top it off with something delicious such as salmon.
You can customize it to fit your needs.
8. Mini chicken and waffles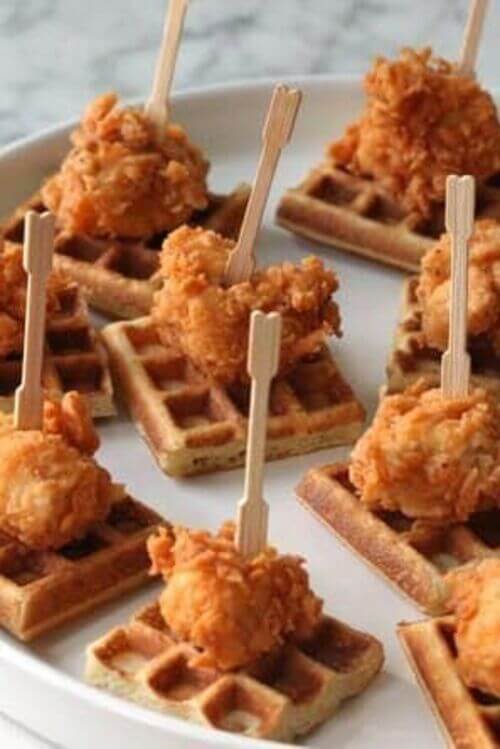 To those of you who strive for something simple… yes I'm talking to those that can never say no to waffles.
This is a great idea just for you.
Mini chicken pieces and waffles are great as finger food and are a bit more filling than a simple appetizer.
9. Snack table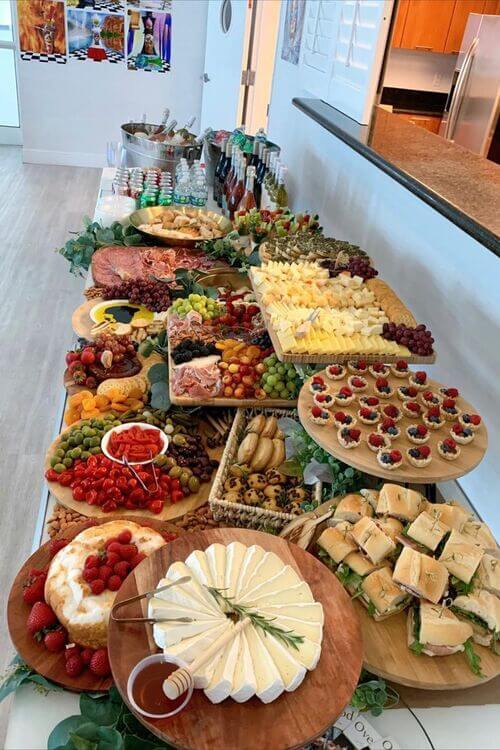 The ability to pick and choose as you like is ideal.
You don't have to worry about catering for a specific person because there's something for everyone and it is up to them to choose.
Creating a giant snack table filled with fruits, sandwiches, cheeses and different types of finger food can be just what you need.
10. Cheese, cracker and fruit station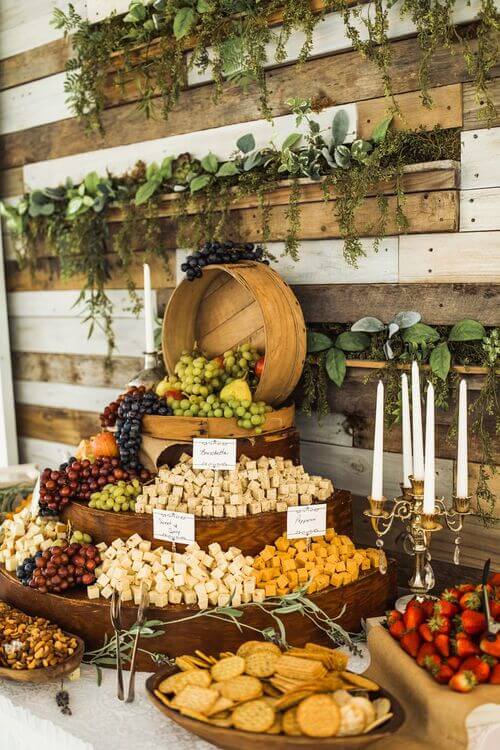 A cheese and fruit station is perfect for a summer wedding.
It doesn't have too many hot items and allows you to add some refreshing flavors to the mix as well.
Let people pick and choose exactly what they want with this idea.
11. Spaghetti bowls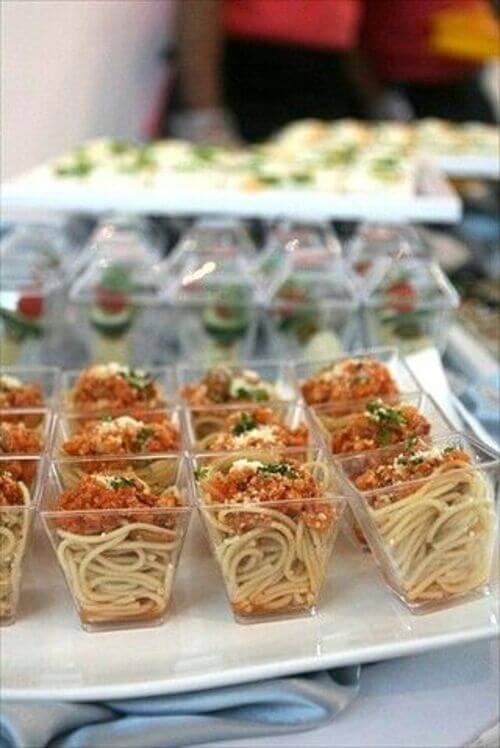 Bring your favorite home-cooked meal to the table.
These mini spaghetti bowls are just what you need for your wedding.
It's the perfect size and won't fill you up too much.
This idea is great because you can make it yourself.
12. Mix and match table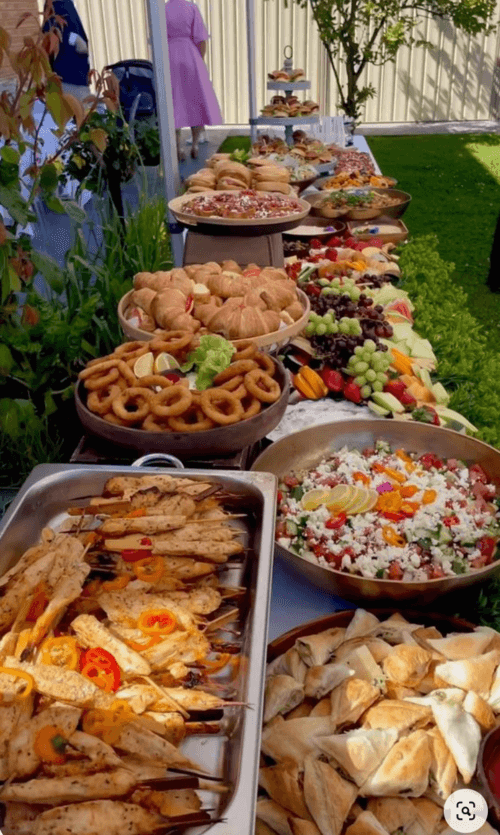 A big buffy can be just what you need to bring a unique touch to your wedding.
This buffet consists strictly of finger food such as onion rings, kebabs, sandwiches, and whatever you can dream of.
It's perfect for any season and will ensure your guests stay full.
13. Salad cups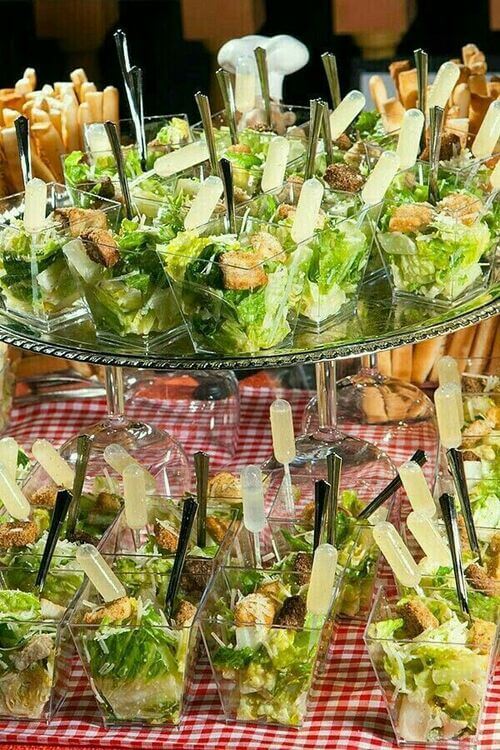 A great idea that is refreshing is to make use of mini salad cups.
These work great on a hot summer day and you can even incorporate some lemon juice pipettes to bring in more flavor.
14. Sandwiches and sliders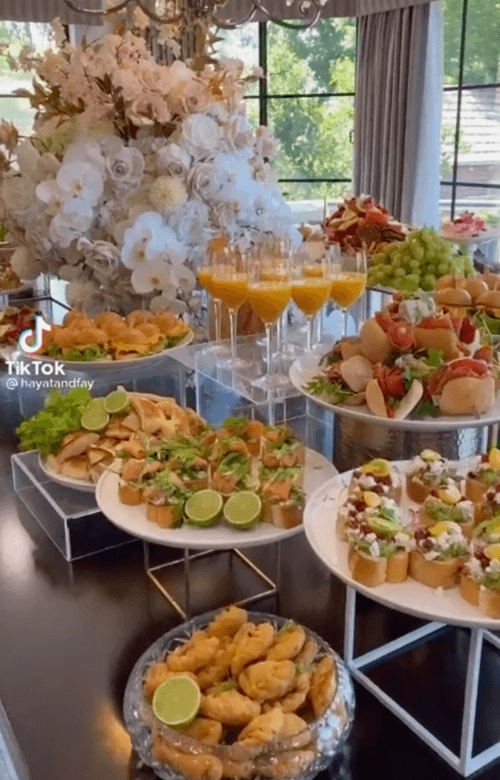 If you want the ultimate finger food then why not create a sandwich bar?
Create different types of sandwiches with different fillings so three are a few options to choose from and enjoy.
Give your guests a bit of everything to enjoy.
15. Create your own trail mix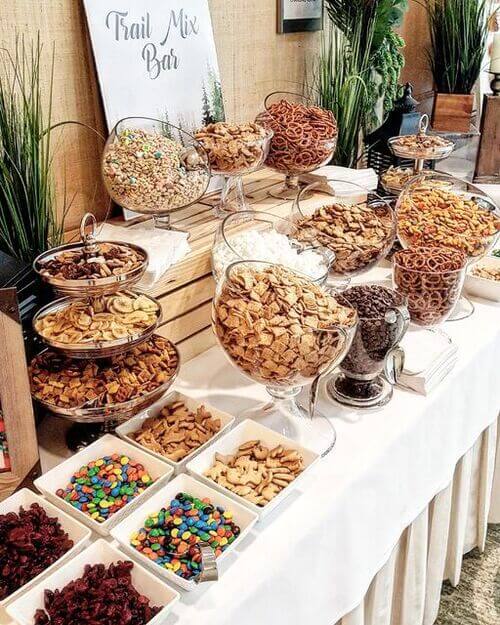 Here's a unique idea that you can add to your reception.
A designated trail mix station is great for a snack while guests mingle.
You can pick and choose your perfect mix and always go back to grab more as needed.
16. Brunch trays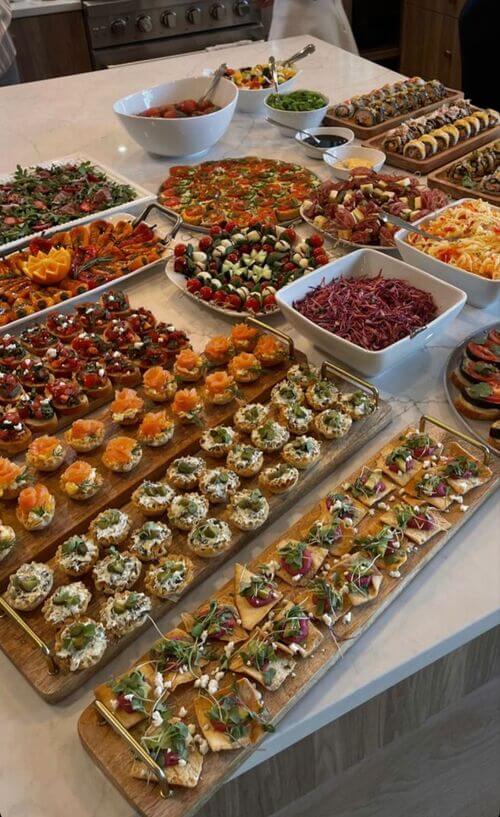 Snack boards can be your best friend on your wedding day.
Mini sandwiches, crackers with different toppings, mini tarts, and traditional recipes.
This is perfect when you want to incorporate some family favorites but in bite-sized portions.
17. Chocolate and fruit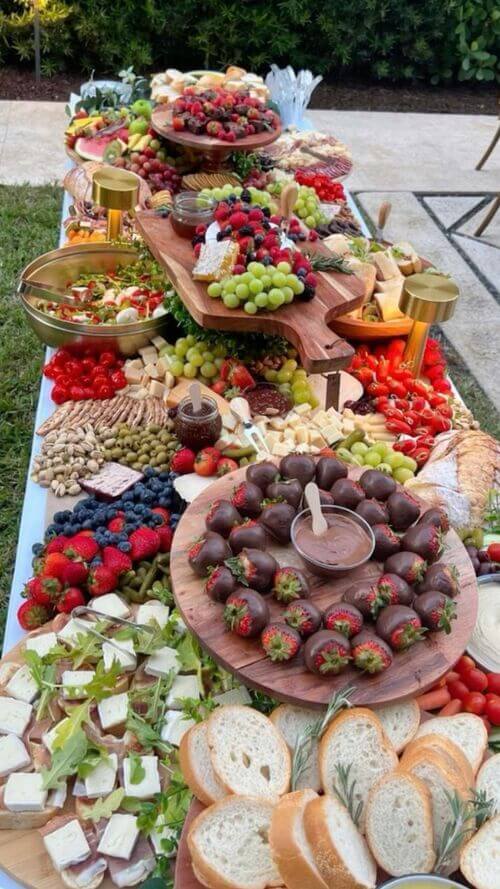 I'm not saying this idea is a must but… if chocolate-covered strawberries are involved it is worth a shot, right?
This delicious fruit station incorporates the perfect sweet and refreshing food idea that every summer wedding can benefit from.
18. Veggie snacks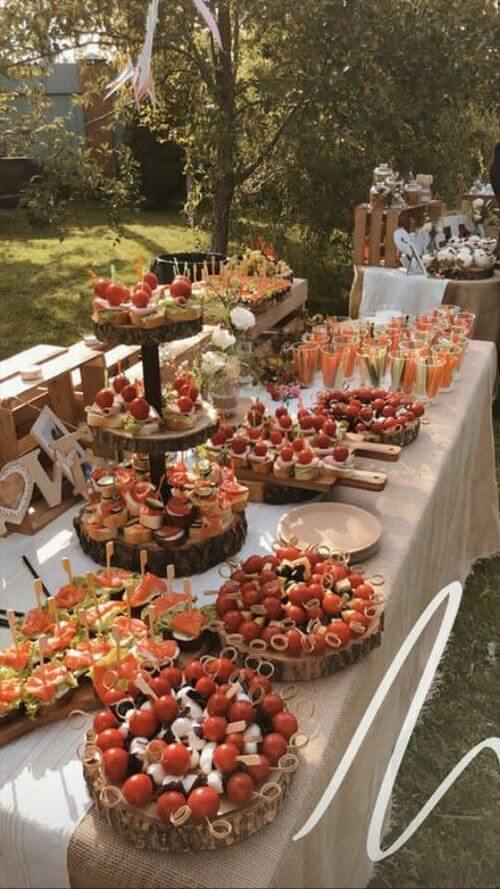 If you still haven't found a good idea that incorporates vegetables as the main focus then you might want to give this a shot.
This has everything you need to showcase the healthy side of finger food options.
19. Macaroni salad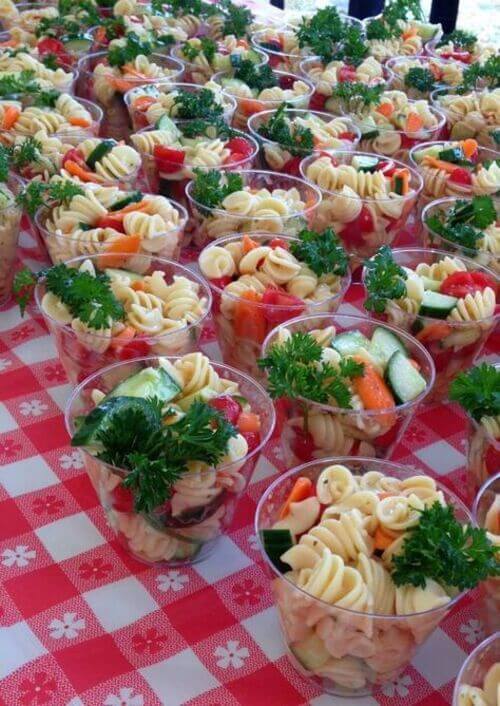 A good macaroni salad can go a long way.
If you want something filling and easy to throw together then this is just the thing for you.
Macaroni salads are perfect for summer and people absolutely love them.
20. Cheese and crackers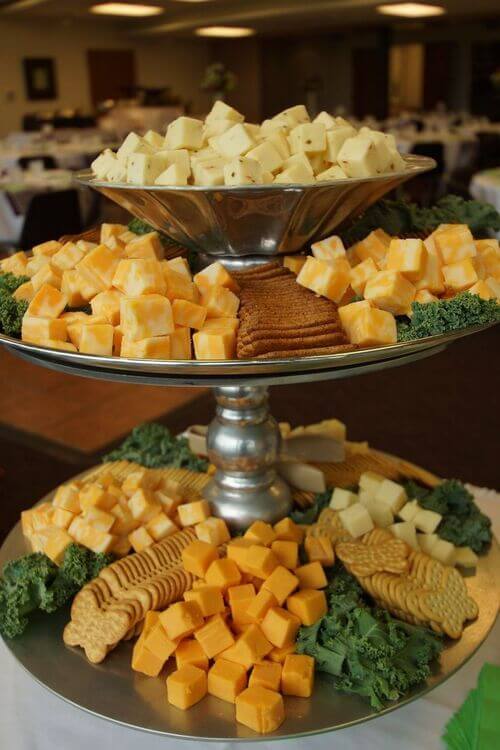 If you want to give your kids the opportunity to snack while waiting for a big meal you can never go wrong with a cheese and cracker board.
It is budget-friendly and allows people to get themselves something to enjoy as they mingle.
21. Cheese, jam, and bread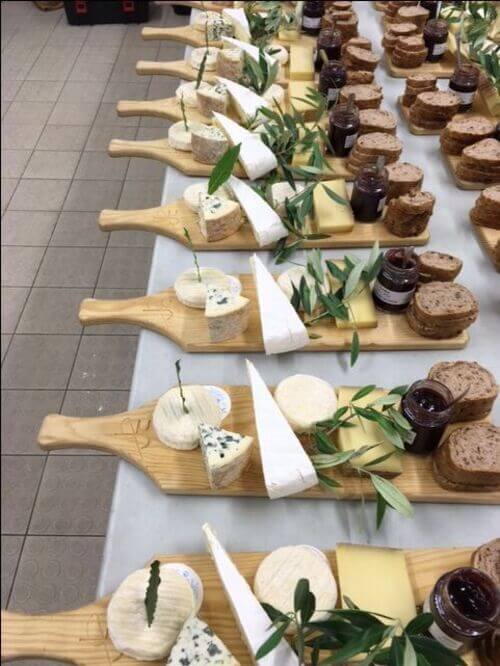 If you're having a problem with finding the perfect finger food idea for a big wedding then this might help.
Why not pull together a board for each table to ensure that everyone gets enough without going overboard?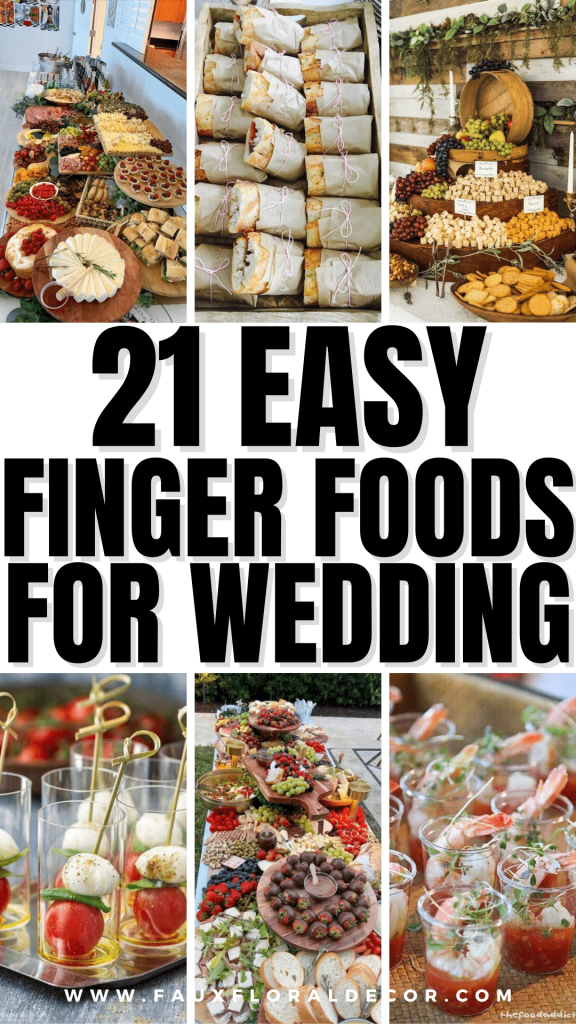 Finding the perfect finger food idea
These easy and delicious finger foods are sure to please your wedding guests and keep them satisfied as they celebrate your special day.
Whether you choose to go with a mix of savory and sweet options or focus on a particular cuisine, these crowd-pleasing finger foods will add a delightful touch to your wedding reception.
Enjoy your celebration and the wonderful flavors that come with it.
This post showed you the best finger foods for wedding.
You may also like: