This post shows you the best wedding taco bar ideas to recreate!
When it comes to wedding receptions, couples are constantly seeking innovative ways to make their special day memorable.
One trend that has gained immense popularity in recent years is the wedding taco bar.
A taco bar offers a casual yet delightful dining experience that allows guests to customize their meals to their liking.
Explore some creative ideas to elevate your wedding taco bar and make it a standout feature of your celebration.
Selecting the Taco Fillings
The heart of any taco bar is, of course, the fillings. Offer a variety of options to cater to different tastes and dietary restrictions. Here are some ideas to consider:
Grilled chicken and beef
Shrimp or fish for seafood lovers
Vegetarian options like grilled portobello mushrooms or roasted vegetables
Vegan-friendly options like black beans and tofu
Traditional toppings like shredded lettuce, diced tomatoes, and chopped onions
Unique toppings like pineapple salsa, mango slaw, or pickled red onions
A range of salsas, from mild to spicy
Things to consider
Homemade or Catered: Decide whether you want to prepare the taco fillings and toppings yourself or hire a professional catering service. Homemade options can add a personal touch, but a catering service can handle the logistics and ensure a seamless dining experience.
Taco Shells: Provide a variety of taco shell options, including soft flour tortillas, crispy corn shells, and even lettuce wraps for a low-carb alternative. Keep them warm in a tortilla warmer or on a hotplate to enhance the dining experience.
Beverage Pairings: Consider pairing your taco bar with a selection of beverages that complement the flavors. Offer options like margaritas, Mexican sodas, and a variety of craft beers. For non-alcoholic choices, include fresh fruit agua frescas or flavored sparkling water.
Decor and Presentation: Elevate the taco bar with creative decor that matches your wedding theme. Use wooden crates, colorful serape blankets, and rustic signage to give it a festive and inviting look. Place toppings in decorative bowls and jars for a visually appealing setup.
Taco Bar Signage: Create custom signage to guide your guests through the taco bar. Include labels for each filling, topping, and sauce to help guests build their perfect taco. You can even add fun taco-themed puns to your signage.
Entertainment: To make the taco bar even more interactive, consider hiring a taco chef to prepare fresh tacos on the spot or set up a DIY taco station where guests can assemble their tacos themselves. This adds an element of excitement to the dining experience.
Dietary Considerations: Don't forget to accommodate guests with dietary restrictions and allergies. Clearly label any items that are gluten-free, dairy-free, or vegan so that everyone can enjoy the taco bar.
Wedding Taco Bar Ideas
1. Open taco bar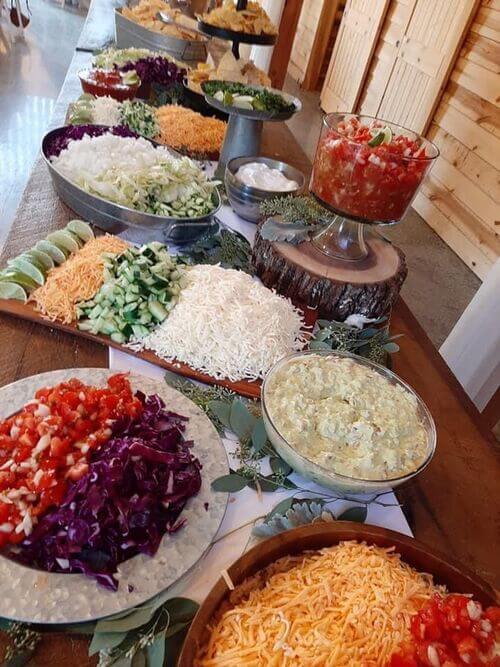 Since a taco bar is simple to throw together why not make it on your own?
Grab some glass dishes and trays from home. Ask the family to help you pull it together.
Everyone can be in charge of an add-on.
This allows everyone to have options and pick or choose as they like.
You can put all the dishes, on a table so that people can create their own as they like.
Taco bars help to ensure you don't waste food either.
2. Taco board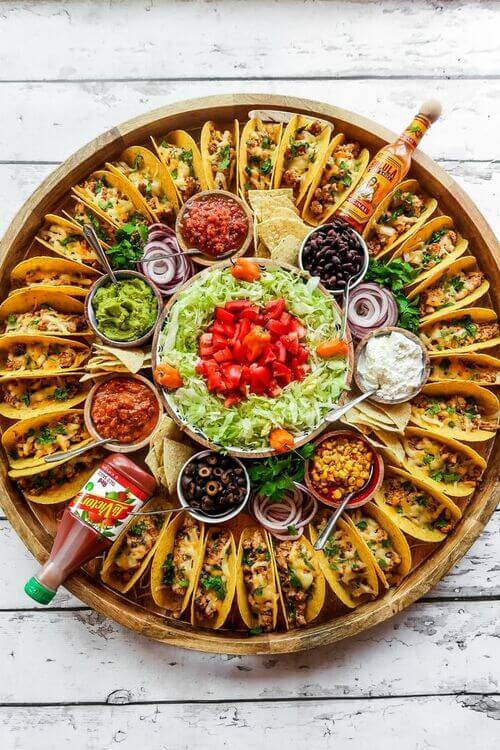 If you're looking for a taco idea that saves a bit of time then try this out.
Grab a few giant trays and fill the middle with add-ons, salads, sauces, and more.
You can then place simple tacos with the normal fillings around it.
This idea takes the messiness out of building tacos.
You can make a few of these boards and place them around the reception or make them for each table depending on the amount of guests.
3. Cute taco puns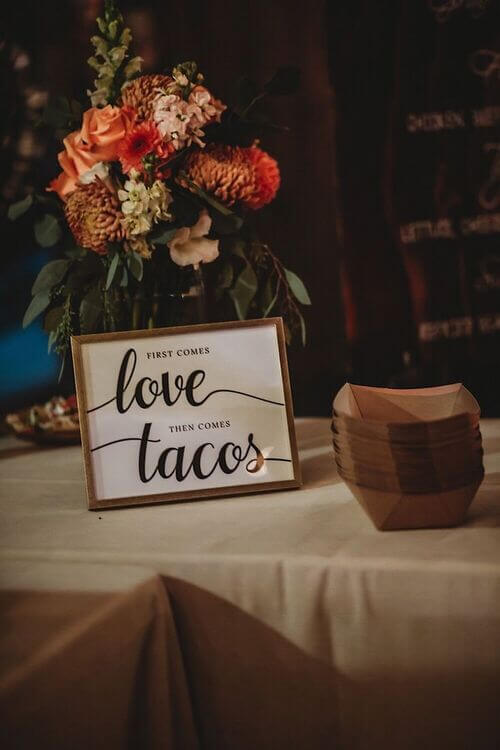 This "first comes love then comes tacos" sign is super cute and brings a fun air to the wedding.
Create a taco bar and place a few quotes on the table for people to enjoy.
You can even add some flowers and bold colors to the table to stay on point with the wedding theme.
4. Giant taco table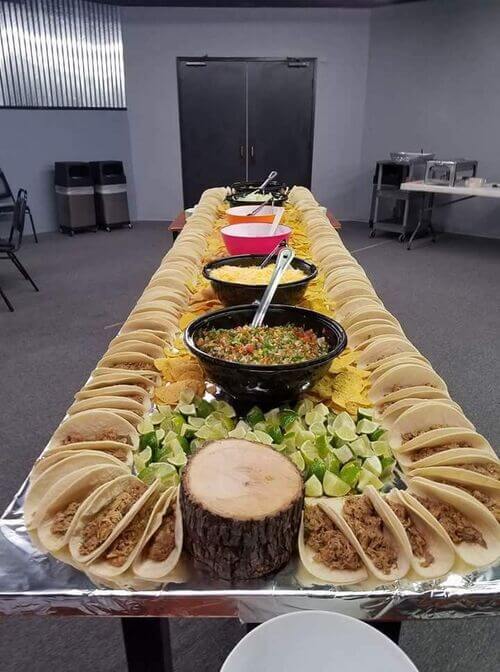 If you want something to embrace the messiness of a taco bar then try this out.
Get a giant table and cover it in foil.
Place some big bowls on the table with fillings and then add some chips, lemons, and other add-ons on the table itself.
The tacos can line the edge of the table so that you can just grab one and go.
5. Taco station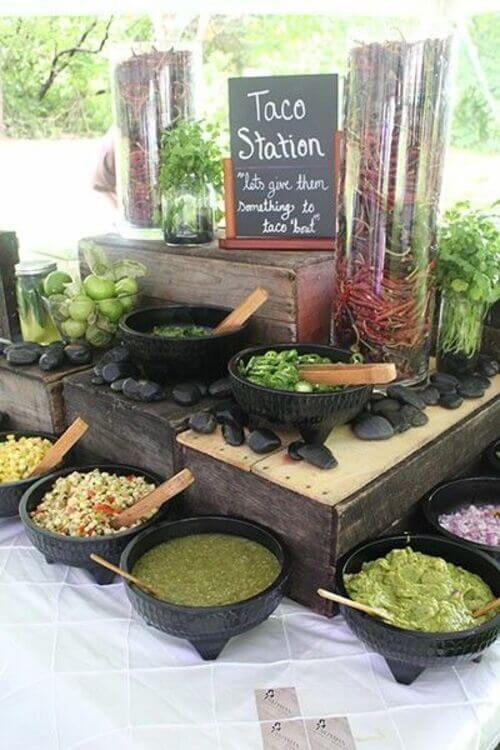 When you have limited space to work with you can always opt for a smaller taco bar.
Create a simple bar with bowls filled with different options.
Add some flowers and decor pieces that can fill up the table so that it doesn't look too empty.
It's the perfect idea for an intimate wedding.
You can grab a shell and fill it with as many items as you please.
6. Pick and choose taco station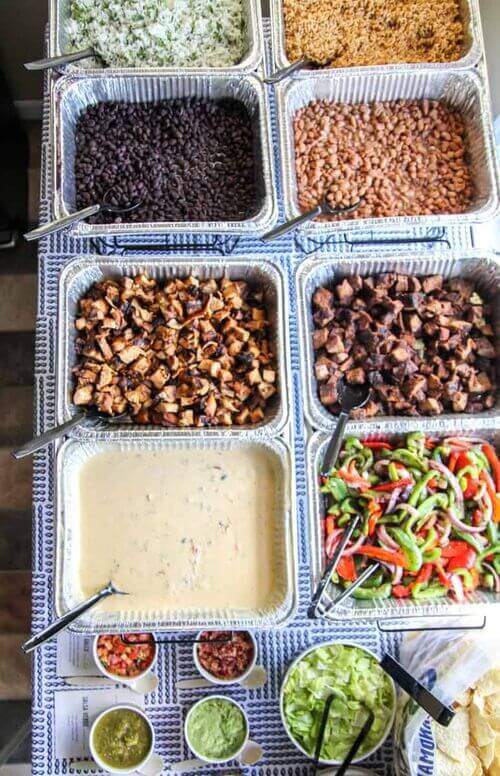 Avoid the mess of having a bunch of plates and bowls to clean up.
These foil containers are perfect for the wedding day.
You will have more than enough of every type of filling and afterward, you can just throw away the empty containers or use them to store any leftovers.
You can also add some small dishes for sauces.
7. Golden taco bar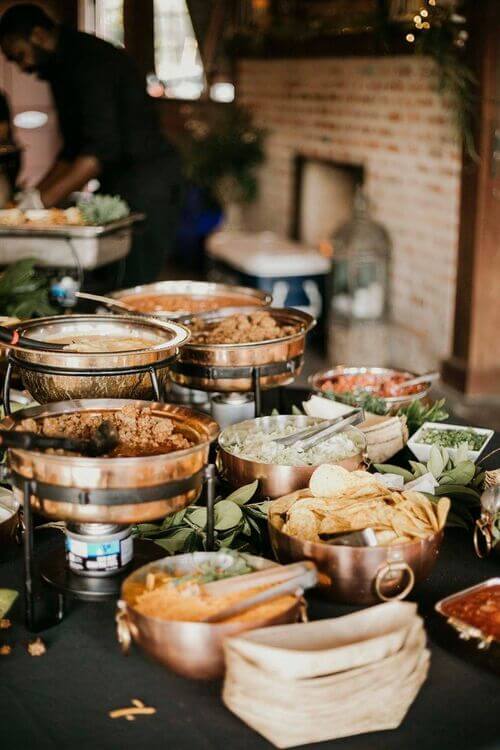 While some people opt for the simple approach you can always try out something that fits the wedding theme.
These golden pots for the taco fillings are an elegant way to keep things on theme.
You can add small taco boxes so that everyone can dish up things as they like.
You can even add a chip and dip station to this idea.
8. The taco list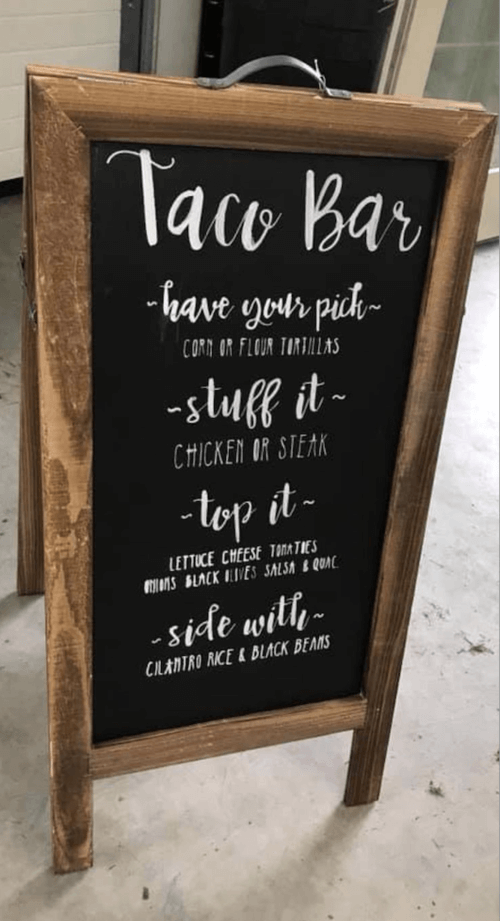 This taco bar sign is super cute and instantly tells guests what options they have.
You can place this close to the bar itself or at the entrance for people to have a look at.
If you've been unsure of how to create a taco bar without spending too much money on add-ons then you can use this as a guideline.
Go for a maximum of 5 topping selections or just give a simple chicken or beef option.
9. Tacos and tequila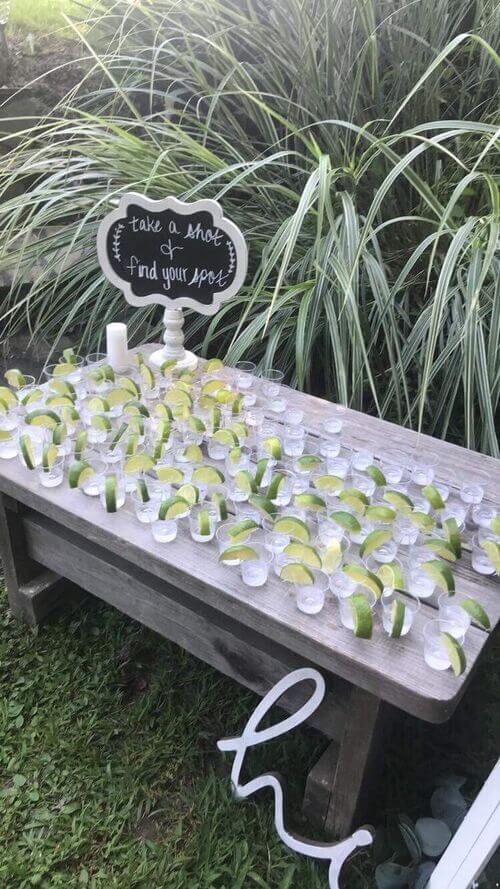 Nothing is a better duo than tacos and tequila.
Give everyone a quick confidence booster by letting them take a shot as they go into the reception area.
Place the shooter glass on the table with a salt rim and top it off with a piece of lime.
It's a fun addition to the taco bar.
Everyone can appreciate a little liquid courage to bring up the vibe.
10. Punny quote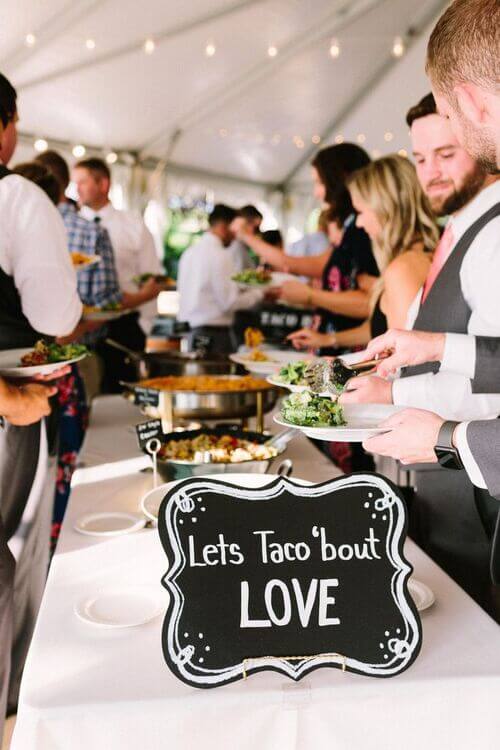 This sign is the perfect addition to a wedding that features a taco bar.
It is cute and punny and everyone can enjoy a little cheesy comment.
The sign can be placed on the table with plates, toppings, and all the necessities to create the perfect taco.
So what are you waiting for?
Bring in a punny quote or two to bring a personalized touch to the table.
11. Mini taco bar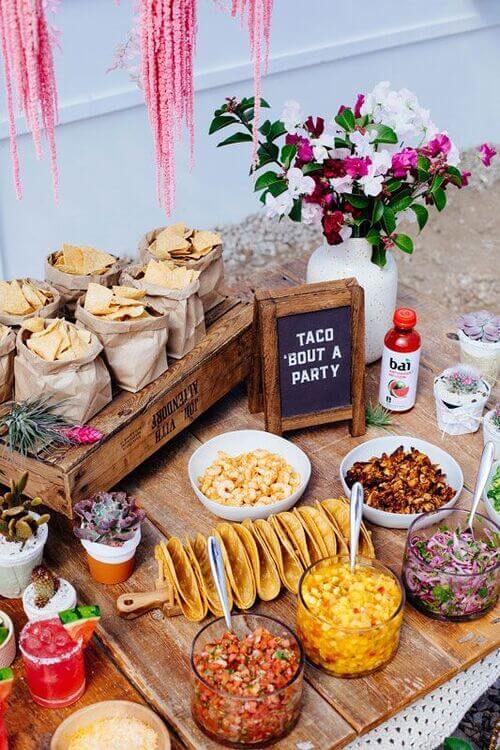 A mini taco bar is just what your wedding needs.
This works extremely well for those backyard weddings with a limited amount of guests.
Give everyone a bag of chips and dip.
They can then create their tacos and add salsa or sauces as needed.
This table can also hold cute decor items such as flowers or succulents, and cute quotes.
12. Entry shots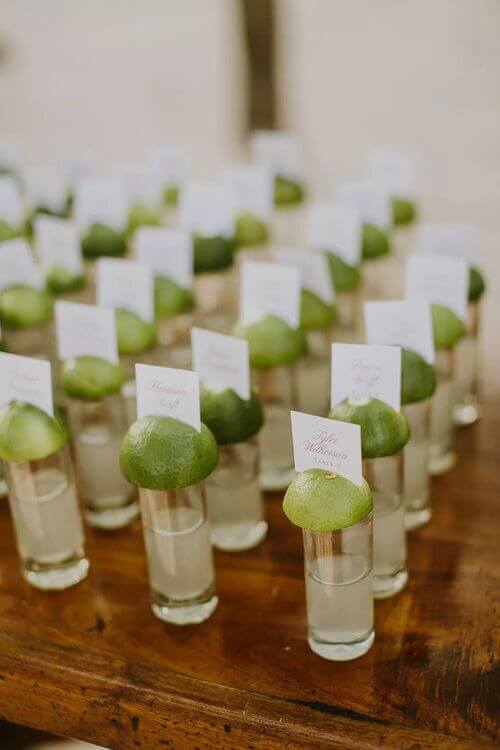 The best weddings usually have a fun twist to them… so why not add a mandatory tequila shot to this taco fiesta?
Create these shooters by adding a lime and placing a name card on each one so that everyone has their shot.
It's a great idea to get things going and help people get out of their comfort zone.
13. The classic taco bar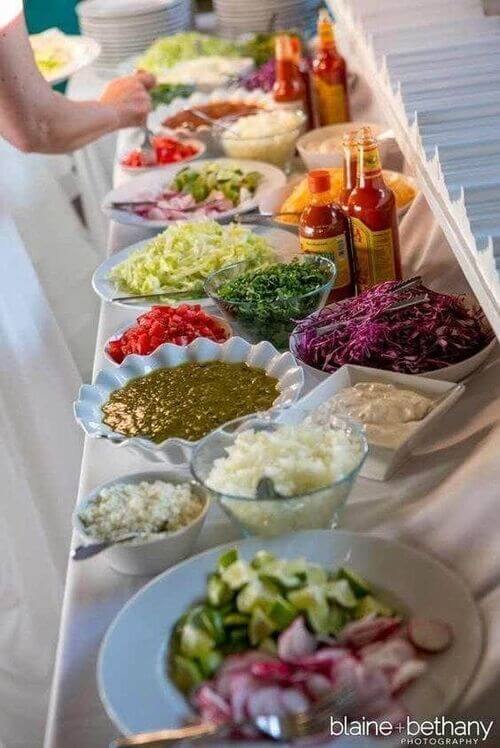 The best way to go about things is to keep it simple.
Bring some glass bowls, plates, and more filled with different toppings and add-ons.
People can use this as a buffet-style bar. It's perfect because you don't have to worry about accidentally messing.
Just create your perfect taco and mingle.
14. Chip and dip station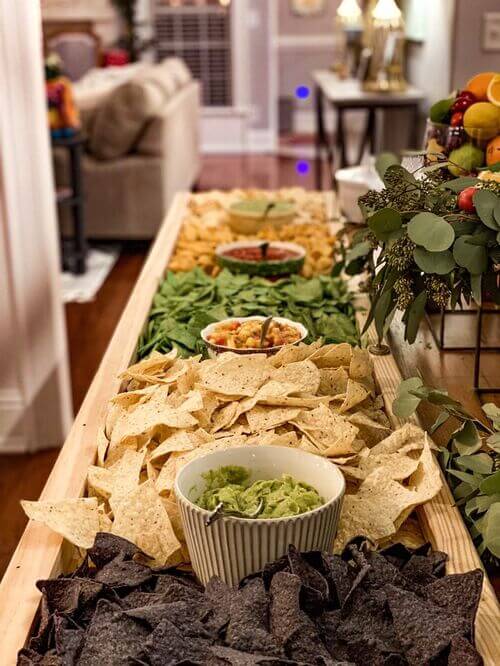 If the traditional tacos aren't your cup of tea and you simply want something new to try then this is perfect for you.
This giant table is filled with different types of tortilla chips and dip.
There's something for everyone to try and includes different flavors for everyone's tastes.
15. The salsa bar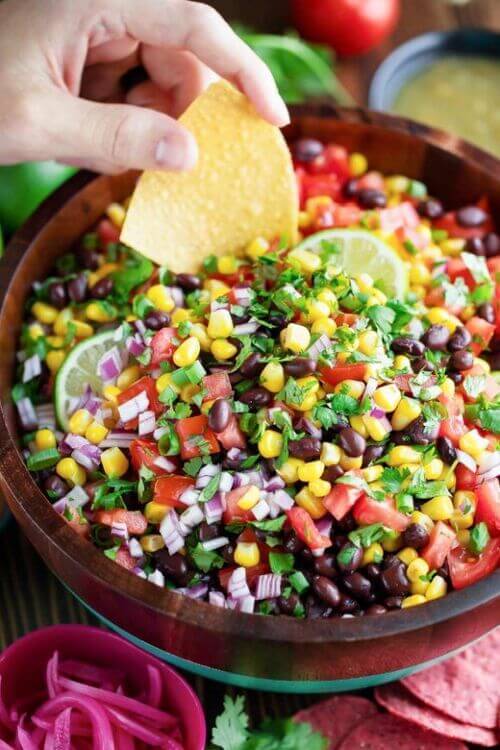 Create a unique touch by bringing in a traditional salsa.
Everyone can enjoy a personal touch or homemade recipe to bring a bit of heritage to the big day.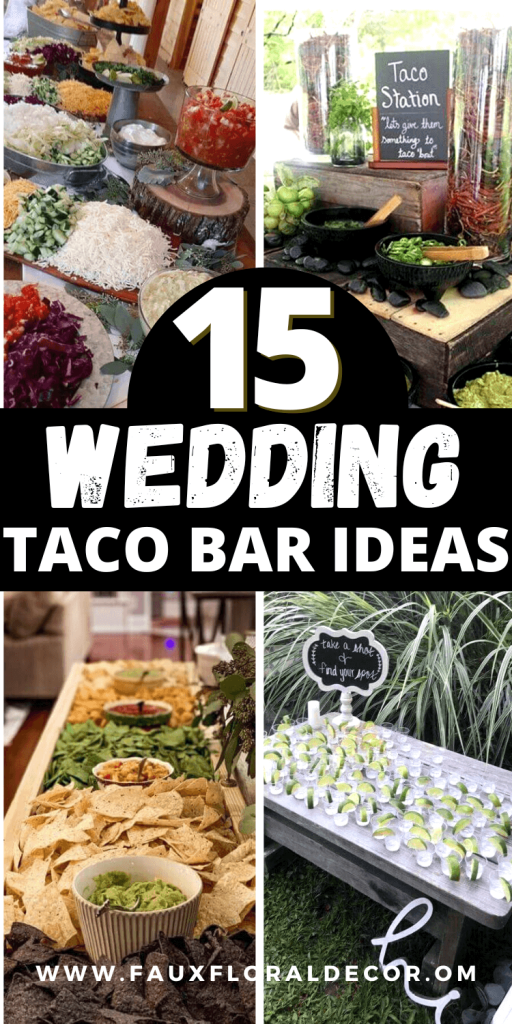 The perfect taco bar
A wedding taco bar offers a fun and interactive experience that's sure to be a hit with your guests.
By incorporating diverse fillings, international flavors, creative tortilla options, and thoughtful decorations, you can create a memorable adventure that complements the joy of your wedding celebration.
So, "taco 'bout love" and let your love story shine through this unique and delicious reception idea.
This post showed you the best wedding taco bar ideas.
You may also like: