This post shows you the best wedding reception meal ideas on a budget.
The main thing to remember here is that no one will judge your food and how fancy it looks.
Finding something to serve your guests shouldn't add stress but reduce it.
Keep things simple, and give your guests meals they already know they'll enjoy.
Let's be honest here, weddings are pricey, and finding a great catering service is even more expensive.
We don't want added stress about the food or dietary restrictions on the wedding day.
So here are some ways you can DIY your reception food while staying on a budget.
Wedding Reception Food Ideas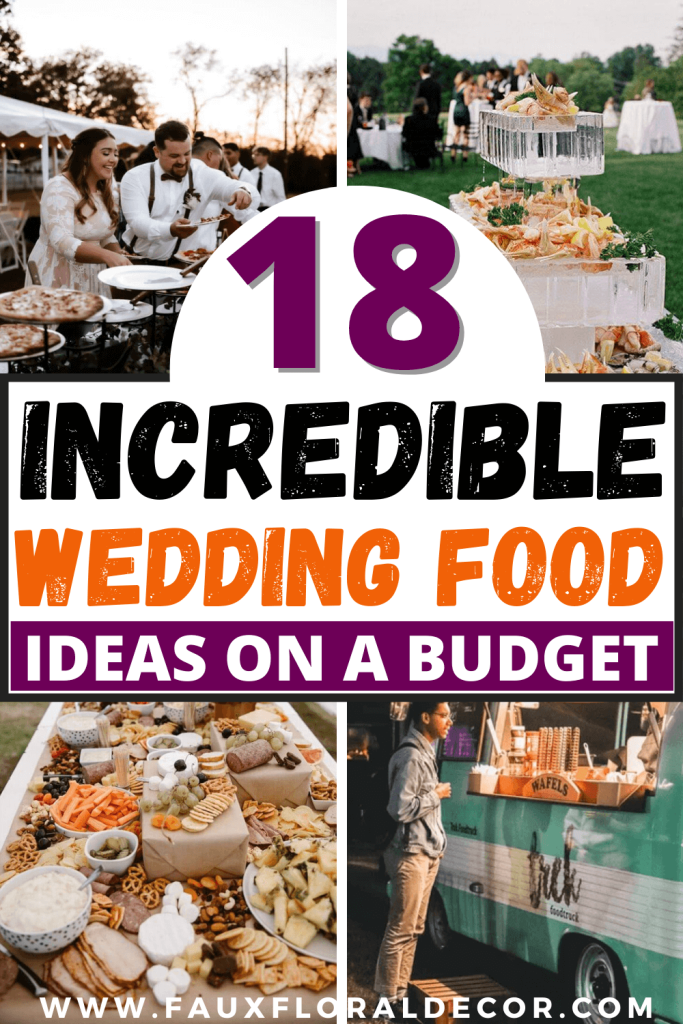 Reception menu ideas
If you've been looking for a set menu or even a great idea to recreate on a budget, here are some reception food ideas that you can easily turn into a full menu and meal.
1. Seafood station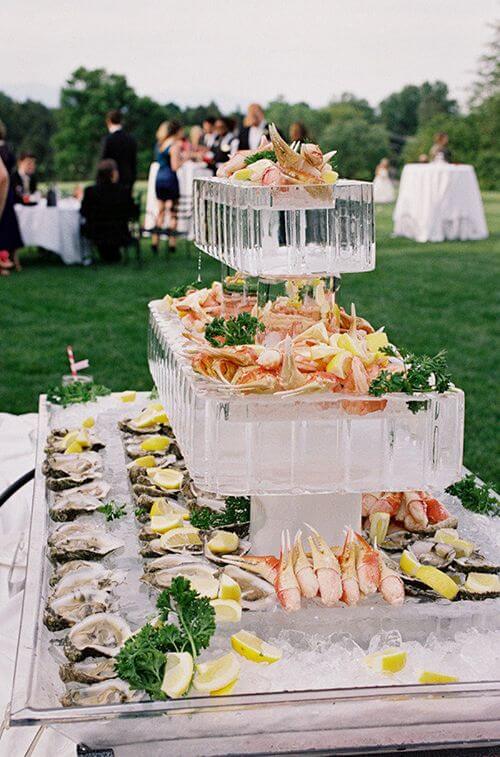 For all seafood lovers, why not take it to the level by making a seafood bar with all your favorites?
You can even make it a sushi bar if you feel like going all out.
This works well for summer weddings.
Nothing feels better than having a menu with crab cakes, baked hake, and to finish it off with a nice dessert.
2. Grazing tables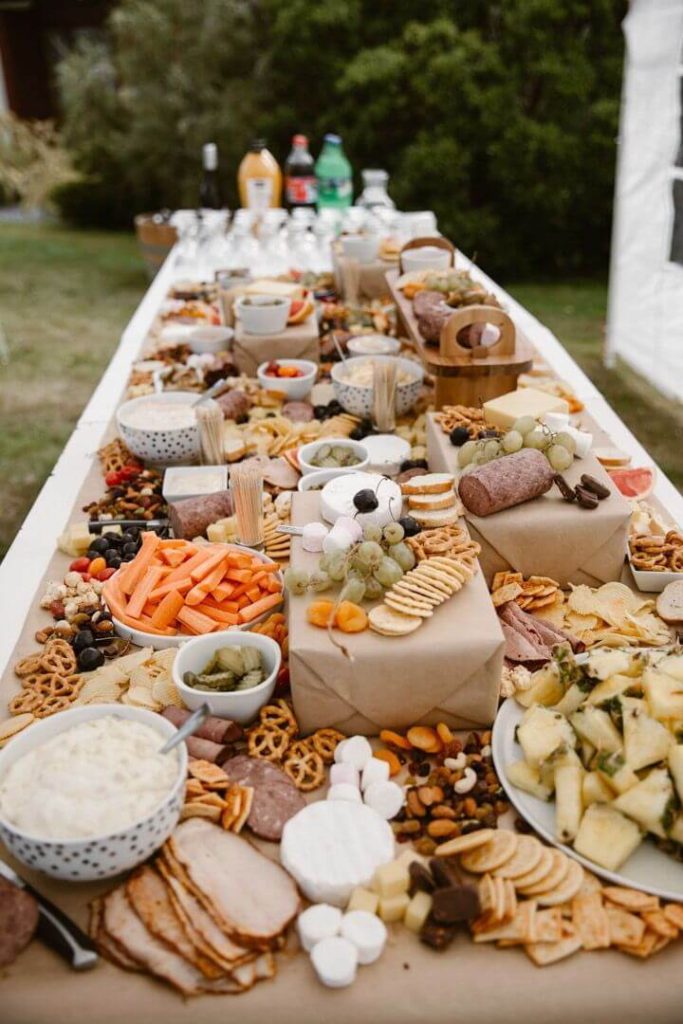 If you want to take your charcuterie boards to the next level, then this is the way to go.
Grazing tables allow your guests to grab something sweet and salty simultaneously.
People get to grab what they like without feeling like they've been left out, and it saves you money since you don't have to make special requests for your guest's dietary restrictions.
3. Surf and turf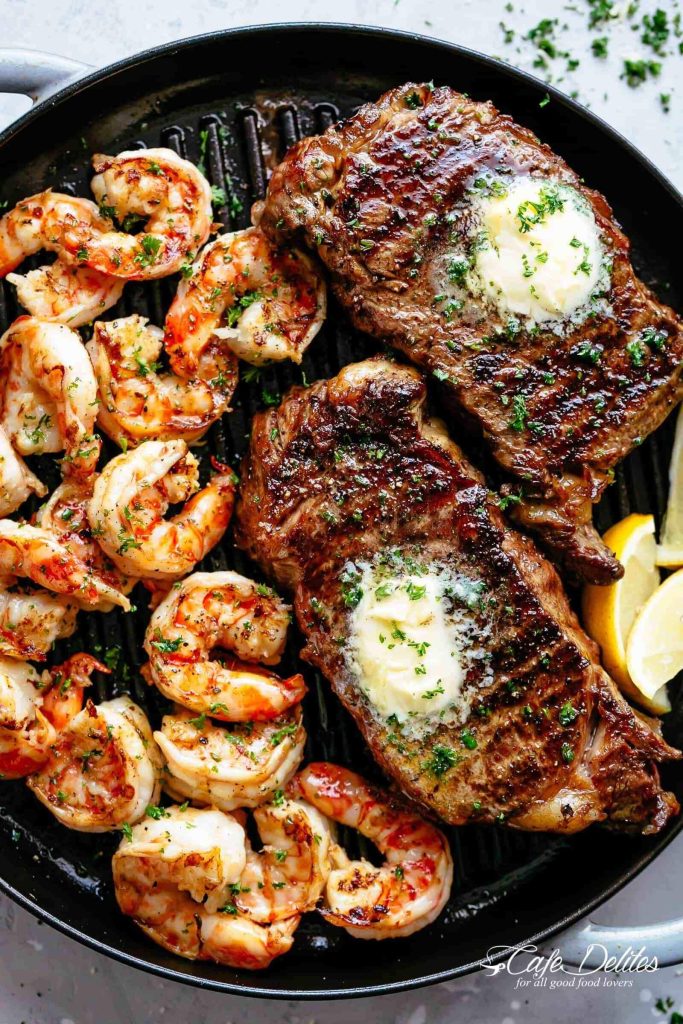 Surf and turf is a great wedding reception idea.
You can create a light salad, a steak with some calamari (or any fish and meat you prefer), and then end things with some cupcakes or donuts.
It's the ultimate balance on a plate.
4. Chicken and veggies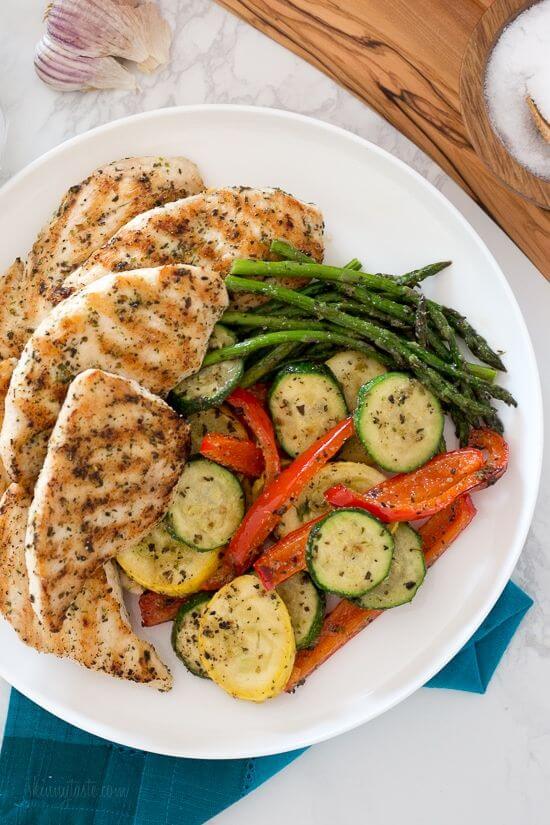 Chicken and vegetables sometimes feel like a safe option, but it is far from it.
You can spice things up or make them sweet by adding peanut butter sauce.
Honestly, the most traditional dishes are the ones you can play around with the most.
5. Brisket and potatoes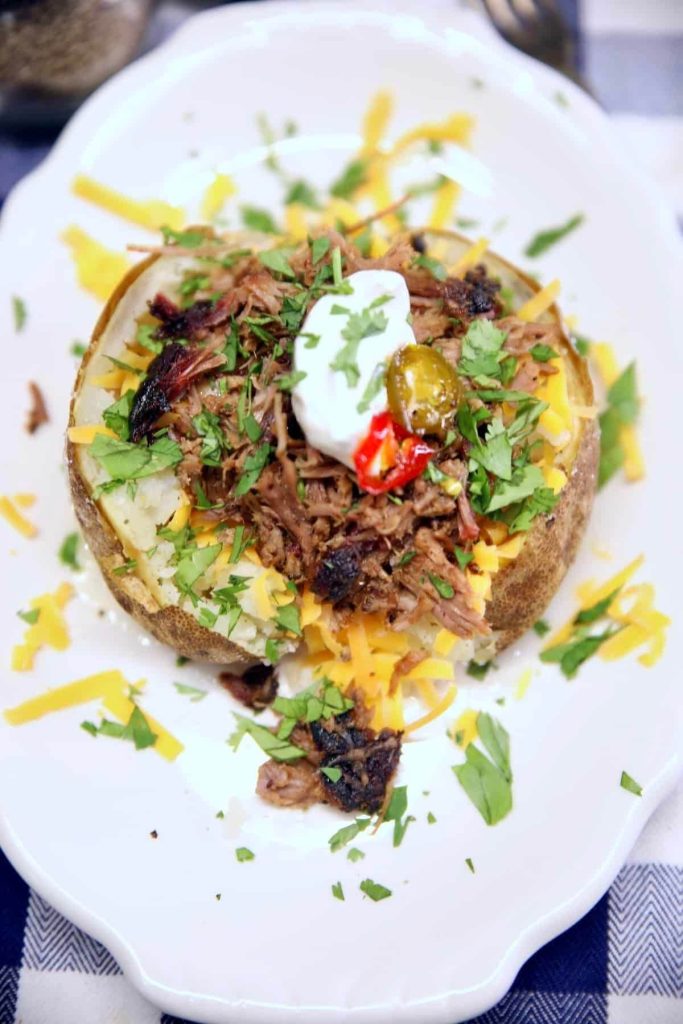 Another filling and traditional addition to the menu is brisket and potatoes.
Since your main course will be a lot you can play around with the rest of your courses or include a snack table for people to grab some goodies without being too full.
Finger food ideas
Finger food is the perfect option for a big wedding.
People mingle, grab a bite, and snack throughout the night.
Since finger food allows you to add many different items, it is great for weddings.
Whether your guests are vegan, vegetarian, or anything in between, you can have something for everyone.
6. Bagel buffet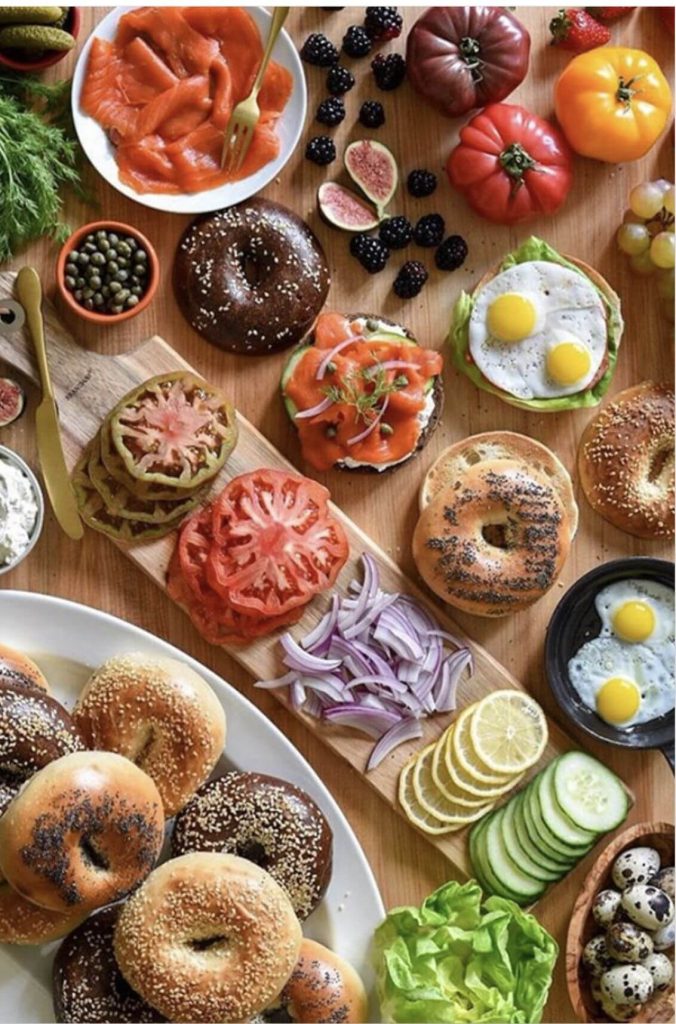 Making your own bagels can be a fun experience for your guests and fill them up.
People can create their perfect meal and take as much as they want.
It sticks to the budget and is perfect for small weddings in any season.
7. Sliders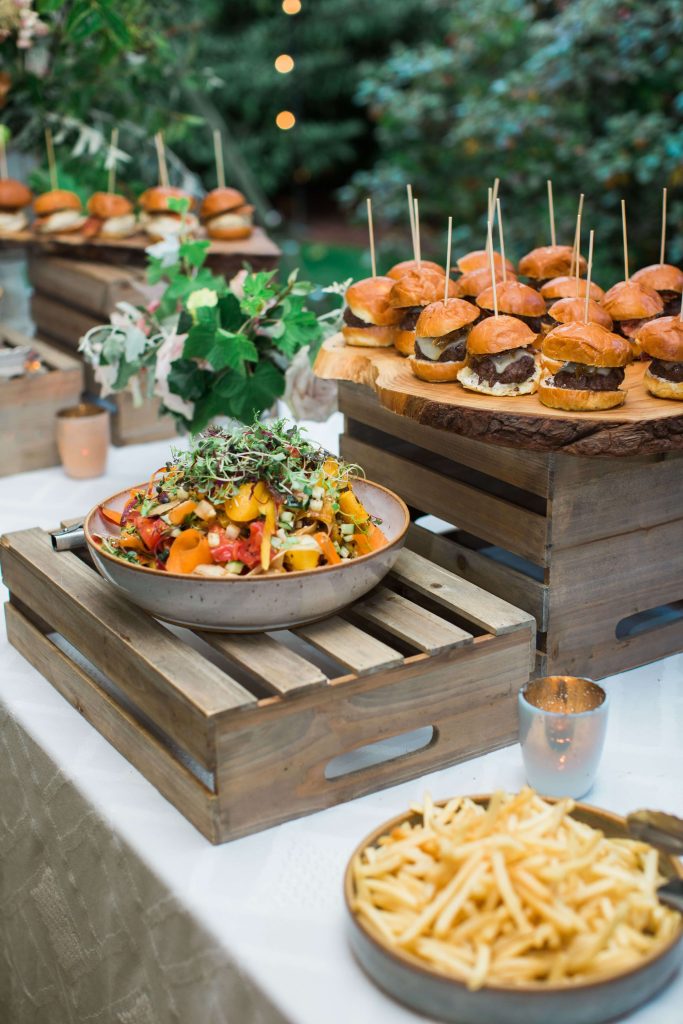 Nothing says finger food other than a nice juicy burger and fries.
This is a fantastic idea since you can also add some vegan options, such as swap potato fries for sweet potatoes.
Switch things up and make it fit your guests.
Whether you choose to use burgers, grilled sandwiches, or open up the table for people to create their own burgers, it's a fun idea for everyone to try.
Sliders are great, and everyone enjoys them.
8. Donut station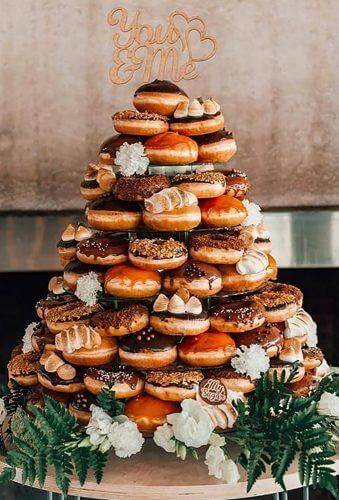 You don't have to have a finger food station for just the main course.
You can create a table for starters as well as desserts.
Donuts offer many options, and you can also opt for gluten-free options.
Donuts have been a very popular addition to weddings.
Everyone from kids right through to the bride and groom enjoys it.
They fill you up and are a nice way to give you some energy throughout the day and night.
Donuts are always in season, so you can also fit them into any theme.
9. Popcorn station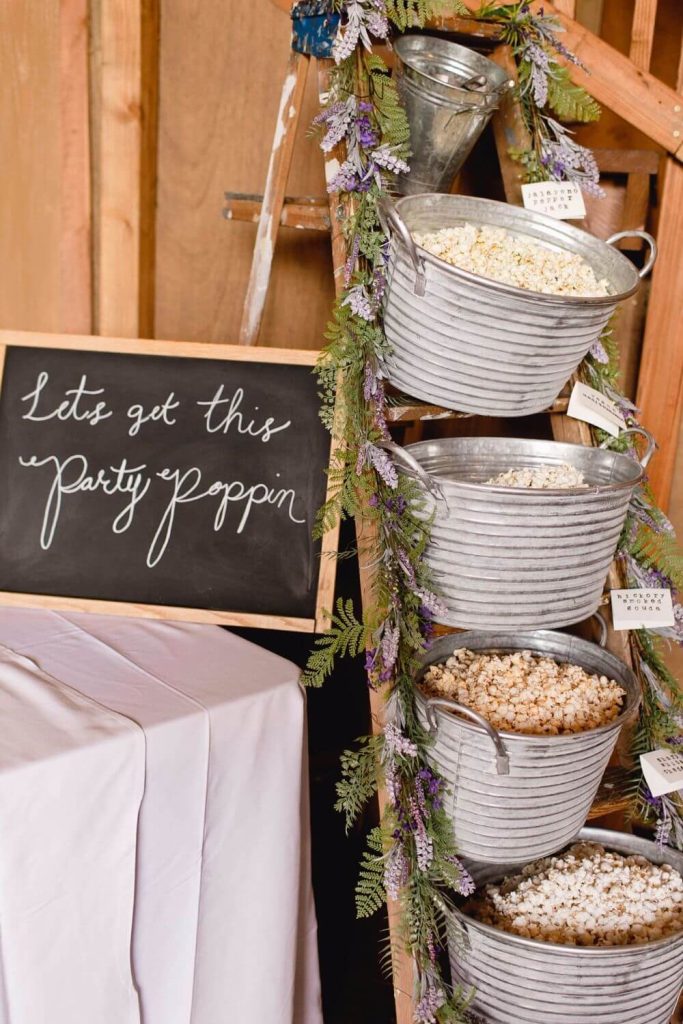 Something that can seem a little unusual is a popcorn station, but that doesn't mean that it isn't something that isn't worth a try.
Allow your guests to have a variety of options.
Popcorn can be sweet or salty and are the perfect food to snack on since they aren't messy.
Just make popcorn and set some seasoning and a chocolate sauce for your guests to choose from and enjoy.
10. Pizza platters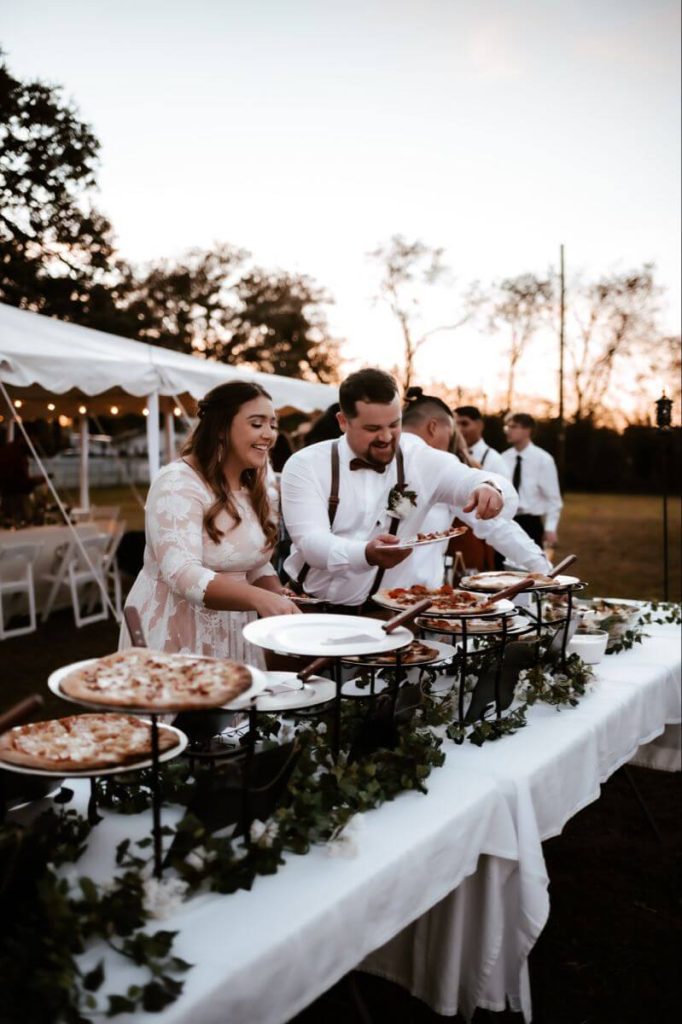 No one can say no to pizza.
These platters allow you to give a variety of flavors for people to choose from and enjoy.
Or if you want to be extra creative, then you can let people create their own pizzas and add their own toppings.
They can then bake them and enjoy their very own pizza creations.
It all depends on how you want to go about it.
11. Buffet table
When looking into the buffet table option, you can stick to a few classics.
A buffet is a great way to ensure that there is tons of food without breaking the bank on expensive catering and chefs.
Some options can include the following:
Chicken
Beef
Pasta dishes
Side dishes (veggies and potatoes)
Bread rolls
Salad
These options are traditional and a great way to ensure no one is left out.
You can always adjust this to vegan or vegetarian for your guests.
Since the possibilities are endless when creating dishes for a buffet, you can easily ask family members to create specialty dishes for everyone to enjoy.
This is a great way to incorporate family on your special day.
Food truck hires
What better way to keep things fresh other than to hire a food truck to handle all your catering needs?
You'd be helping a small business while keeping things within the budget by hiring the truck for the day.
Here is a list of food trucks you can try for your wedding reception.
12. Taco truck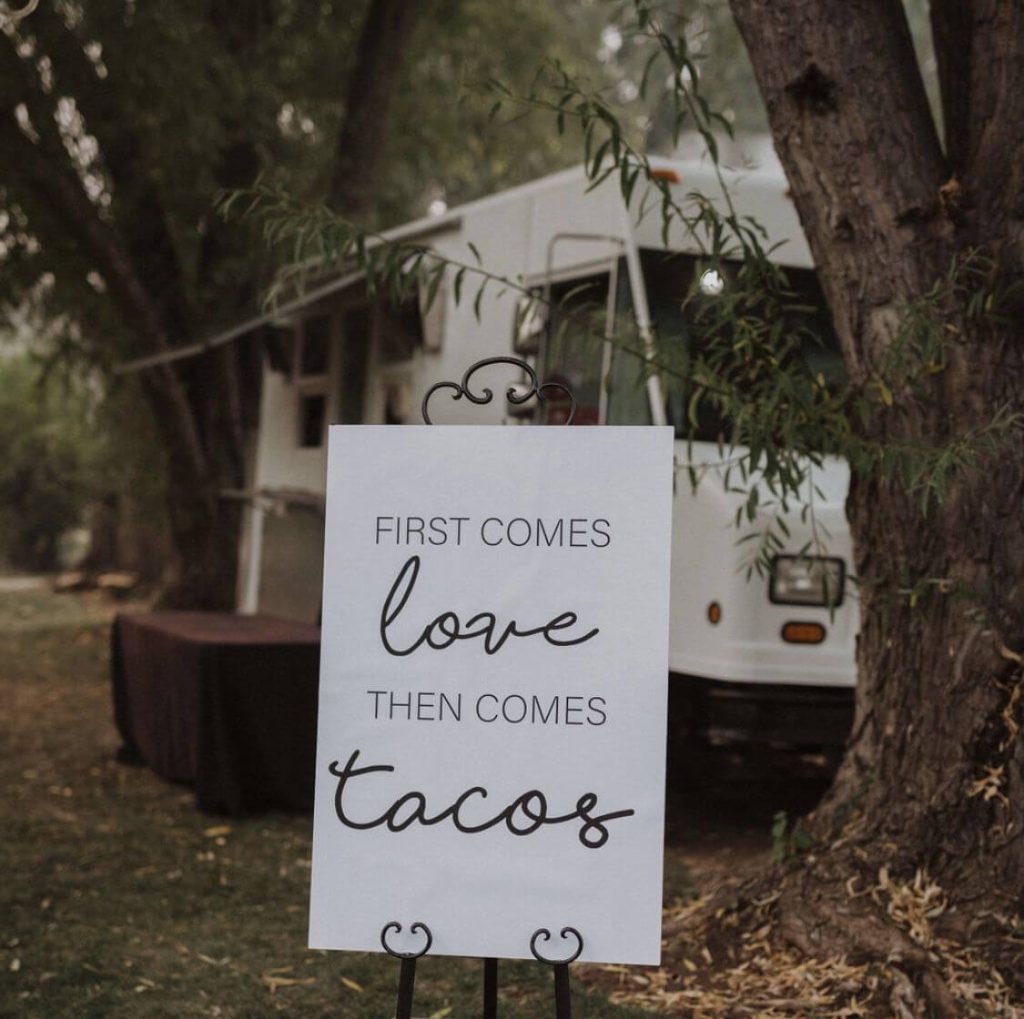 Be creative and let your guests make their own tacos.
People will love the chance to get something they know they'll enjoy.
Tacos are light and give you a variety of flavors to choose from.
People can enjoy this, and by hiring this truck for an entire day, you can be sure that people can grab some food throughout the day.
13. Waffle truck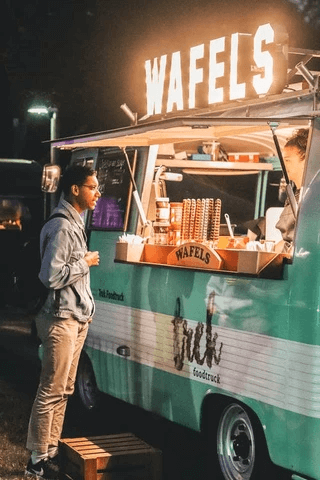 Getting a waffle truck is perfect for a sweet dessert.
Pairing the waffles with ice cream or caramel sauce is the perfect way to end the night.
You can be sure that all your guests can enjoy this perfect treat, and even the kids will be unable to contain their excitement.
14. Ice cream truck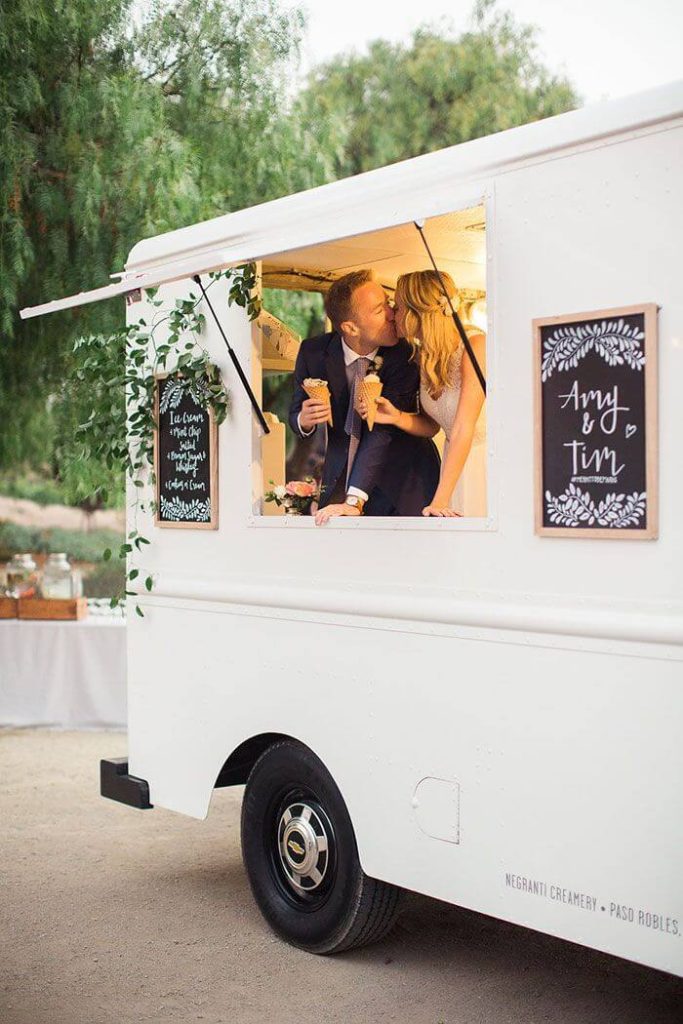 Bring out the inner child by hiring an ice cream truck for the day.
Grab a cone or a cup and fill it with your favorite flavor or three.
Anyone will enjoy this treat, especially on a hot summer day.
15. Burger truck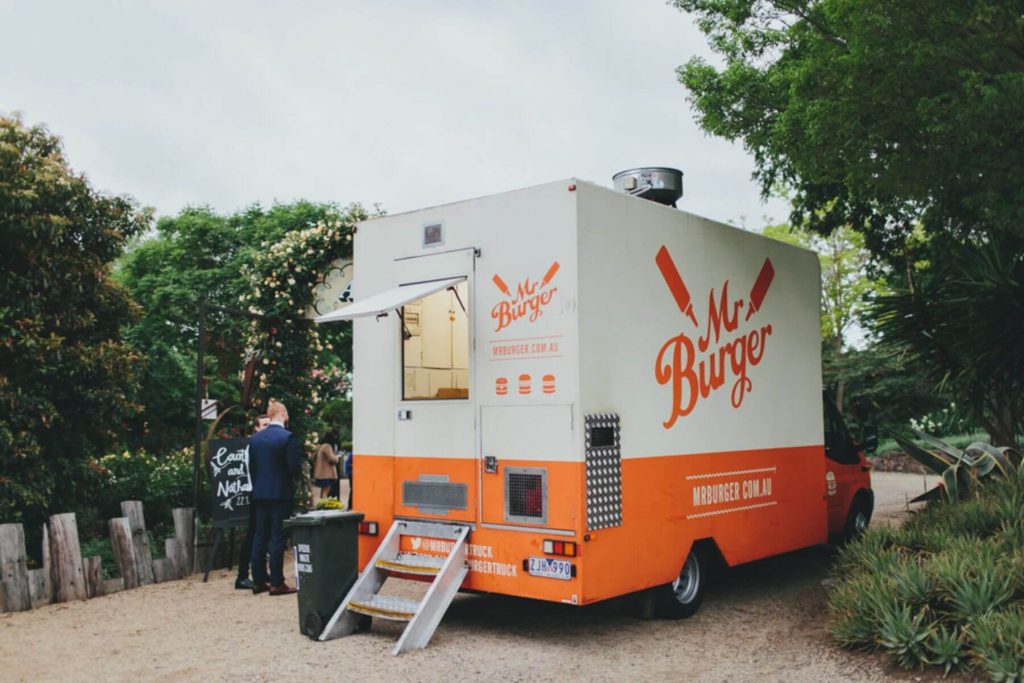 Skip the gourmet burgers and grab the perfect cheat day treat.
If you are looking for something out of the box, this is the way to go.
16. Pizza/ Italian food truck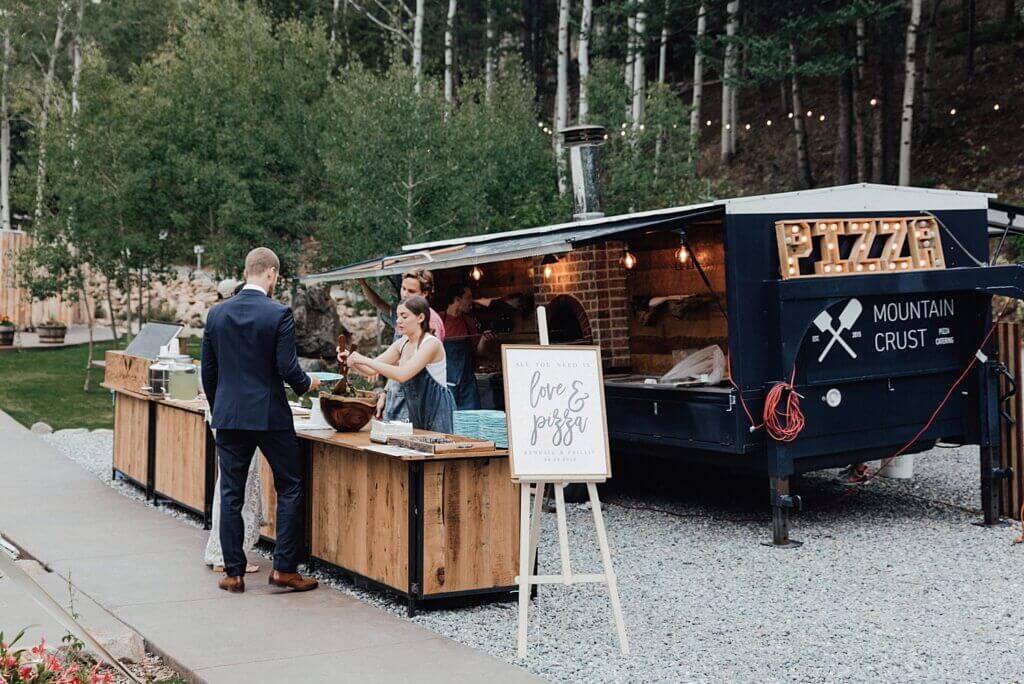 Be creative and out of the box by hiring a pizza truck.
Your guests can choose from multiple options and create their own pizza to enjoy on your big day.
17. Premade food
If you are having a micro wedding or a backyard wedding, then this is the idea for you.
Pre-made food that you can heat up is a great way to ensure everyone gets a full meal of delicious food without having to budget for a gourmet chef.
This has become increasingly popular since it's quick and easy to receive.
It's also a plus since your guests won't have to wait too long for their food either.
18. Barbecue style
If you're having a spring or summer wedding, then a barbecue reception menu would be fantastic.
Barbecues allow you to make the wedding feel like a family gathering filled with laughs, new memories to keep forever, and getting whatever you want to eat.
Whether that is chicken, beef, or vegetables.
Making the most with the least
Reception food is always tricky.
Since you have to ensure every guest is looked after, it can sometimes be stressful, but with the lists mentioned above, you can create something that fits you and your guests without causing stress.
Whether you stick to finger food, three-course meals, buffets, or get a food truck, you can make anything budget-friendly.
Good food doesn't have to be expensive, and family members can also help ensure the reception has many amazing options for your guests.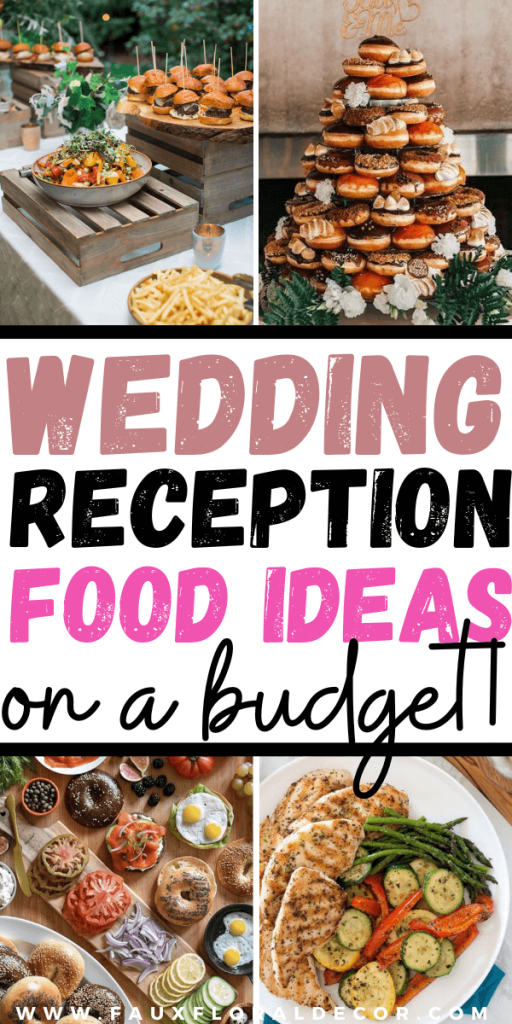 This post showed you the best wedding reception food ideas on a budget.
You may also like: