This post shows you the best high end wedding favors.
Looking for beautiful wedding favors your guests would love to receive? This post will show you 19 ideas for high end wedding favors.
We'll look at some great personalized wedding favors, unique ideas, and the best places to get wedding favors.
We will also discuss a reasonable price for wedding favors and the best options.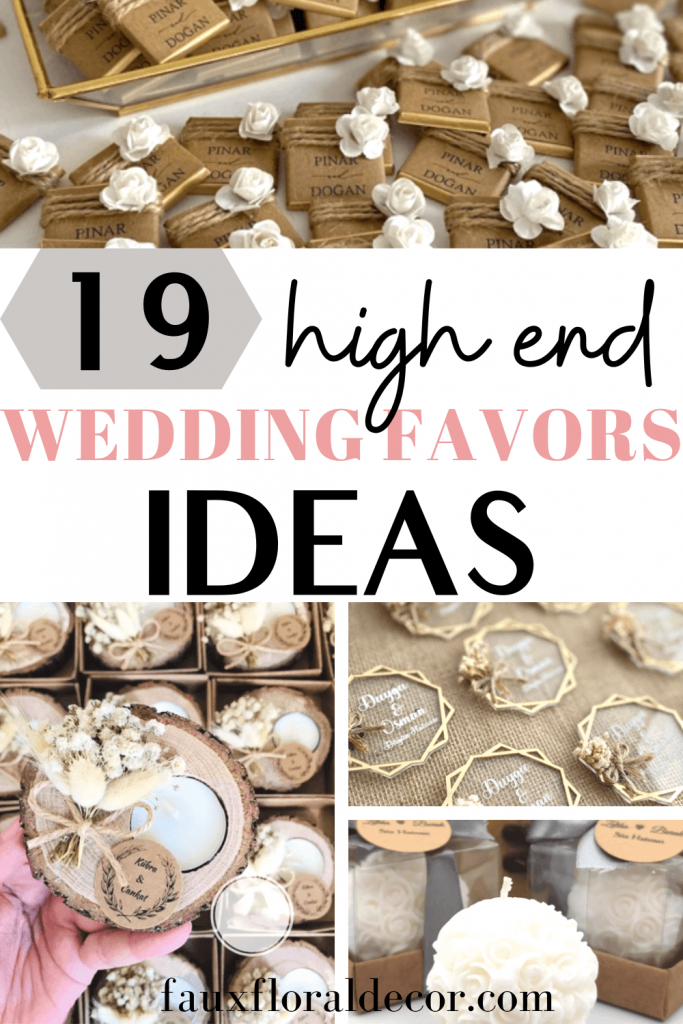 What are wedding favors
Wedding favors are small gifts from the newlyweds to their guests.
It can be anything from a practical gift like a custom bottle opener to a homemade soap or candle.
The intention is to give guests something to remember the wedding day. A wedding favor is a gesture of appreciation to the guests who showed up to celebrate the couple.
Where to get wedding favors
The best places to get wedding favors depend on your budget. However, Amazon and Etsy have by far the most extensive assortment.
Jo Malone is popular for high-end wedding favors like scents and candles. I'm a big fan of Etsy because there are many unique wedding favor options at a reasonable price.
If you want to get an elegant wedding favor, Etsy has excellent options like handmade soaps and creative tea wedding favors that look incredible but don't break the bank.
How much to spend on wedding favors
How much to spend on wedding favors depends on your budget. But generally, calculating approximately $3 per person will go a long way.
Etsy stores that sell wedding favors often have a built-in option to buy the favors in bulk. For example, in packages of 30 or 50.
If you go for a simple wedding favor, such as a cute candy or a custom chocolate, that budget could be even less. For example, $1 per person.
Maybe wedding favors are really important to you (depending on your culture or the custom in your community), so in that case, maybe you have to allocate something near $5 per person.
According to the Wedding Report, in 2019, couples spent on average $241 on wedding favors.
What are good wedding favors
What are good wedding favors depends on your style and intention for the wedding favors.
I like useful and beautiful things, so that would be the main thing I'd keep in mind.
Combine something personal with an item that your guests would love to receive.
Many wedding favors let you add some personalization, like the newlywed's names and the wedding date.
Candles, tea, coasters, and monogrammed luggage tags are a few of my personal favorites.
High end wedding favors
1. Elegant tea wedding favor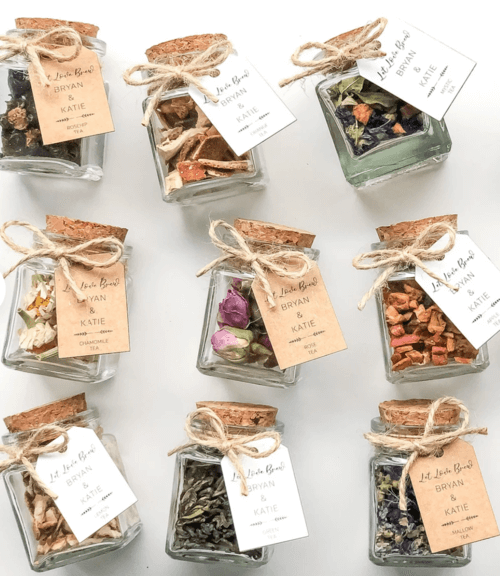 Tea is a creative and fun wedding favor to give your guests! This Etsy store offers teas in the most adorable jars with a custom tag.
You can choose different types of tea, like rose, chamomile, jasmine, rosehip, and several more.
Ordering in bulk is also very easy, they offer packages of 10, 20, 30, 40, up until 100.
The tag design is also super chic; you can customize it with your names.
Tea presented like this is a gift everyone would love to receive! Super elegant and luxurious.
2. Custom champagne flutes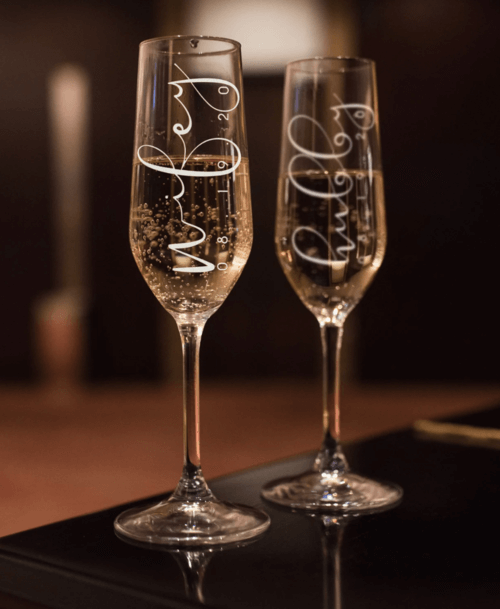 Custom champagne flutes are great at your wedding, whether you give them as a wedding favor or not!
I've seen couples taking the cutest pictures with custom champagne flutes like this.
Giving your guests custom champagne flutes as a wedding favor is memorable but pricey.
But if you want to do a high end wedding favor, this is a great option.
3. Macarons
Macarons are a chic and classy wedding favor. The packaging can also make a big impression.
You can elevate simple wedding favors like macarons, candy, or chocolate by picking out classy packaging.
Opt for clear boxes and gold ribbons to make a macaron wedding favor. You can buy macarons in bulk (ish) on Amazon.
The brands Laduree and Pierre Herme are the best for an exclusive macaron wedding favor.
Laduree has ready-made small gift boxes of macarons you can purchase. This is a great option if you don't mind spending.
4. Handmade personalized soaps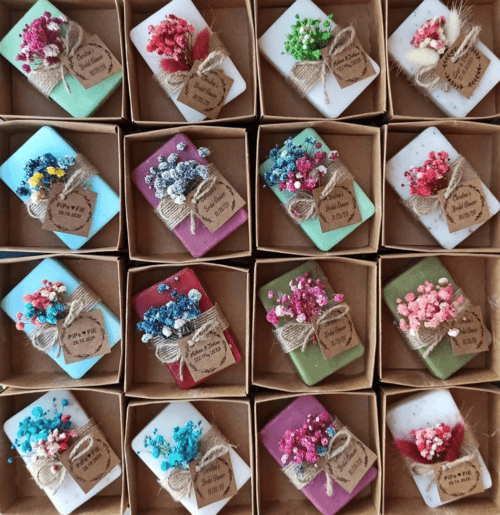 This is one of my favorites when it comes to high end wedding favors. These handmade soaps look so incredibly chic!
Each one of these personalized soaps comes with a beautiful flower wrapping. There are beautiful scents, for example, lavender, pine tree, olive oil, and ocean mineral.
The rustic tag can include the newlywed names and the wedding date.
5. Candy boxes
Candy boxes are another great wedding favor. Yes, it might have been done before, but that doesn't necessarily make it bad.
Jordan almonds (all white or pastel) are a classy candy to include in the candy box favors.
6. Keychain wedding favor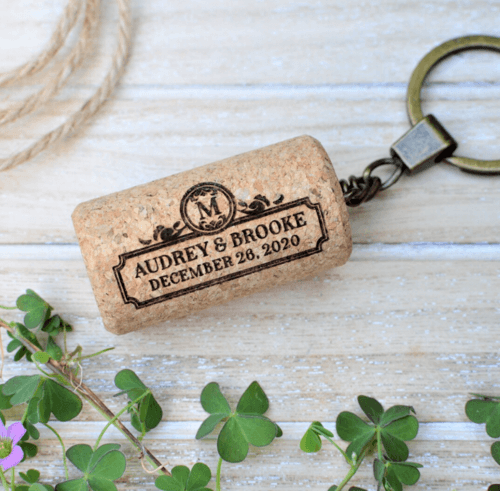 I love this rustic keychain with personalized cork in the category of useful wedding favors.
A keychain is something people will always find handy. The rustic cork design of this one is also unique and fun.
You can buy these keychain wedding favors in bulk for up to 350 guests.
7. Suitcase favor box

This suitcase favor box is the cutest thing ever, and I had to include it.
If you're giving guests chocolate or candy, pay extra attention to the packaging for an elegant look.
8. Candle as wedding favor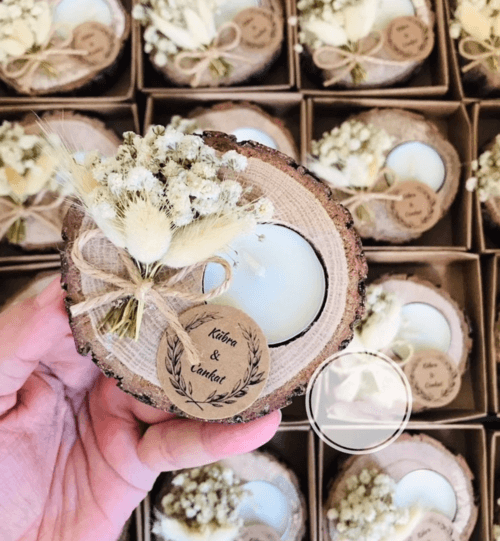 Candle wedding favors are super popular, and I understand that.
It's one of the classiest wedding favors and bridal gifts one can give.
The attention to detail of these rustic candle holders is incredible.
You can buy these per 50 pieces, which makes it a very convenient gift for wedding guests.
9. Monogrammed luggage tags

Maybe it's just me, but I've been obsessing over these monogrammed luggage tags.
Luggage wedding favors have become trendy in the past few years, and I totally get it.
This is the epitome of a useful wedding favor, and I assure you that guests would love to receive it.
It's not cheap to buy this for 50+ wedding guests, but if it's in your budget, why not?
These luggage tags come in different colors like burgundy, black, blush, turquoise, and many more options.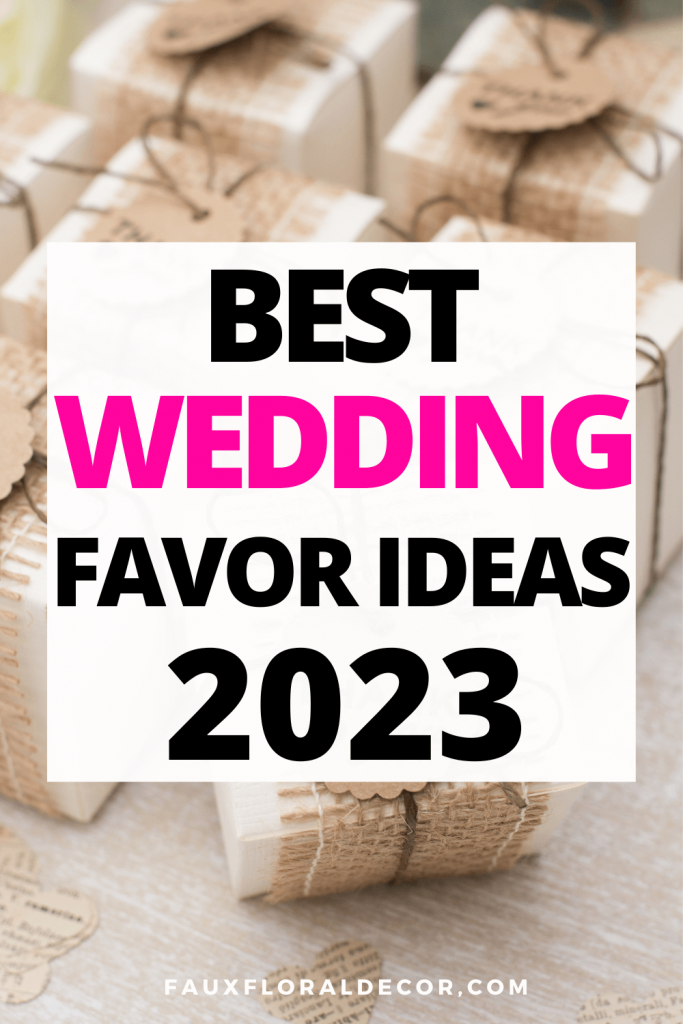 10. Elegant custom magnet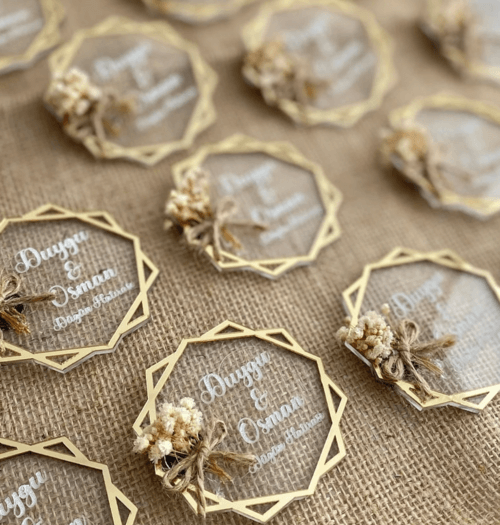 If you're looking for small gift ideas for wedding guests that look chic and elegant, look no further than these amazing gold magnets.
This wedding magnet has a super high end look and is easy to order in bulk.
11. Personalized cork wine stopper

Amazon has a fair share of good options when it comes to wedding favors, and this personalized cork wine stopper is one of them.
This gift is available in bulk from 100 pieces.
I prefer this gift over koozies or bottle openers. Or maybe that's because I don't own a wine stopper, and I need one haha.
12. Bottle openers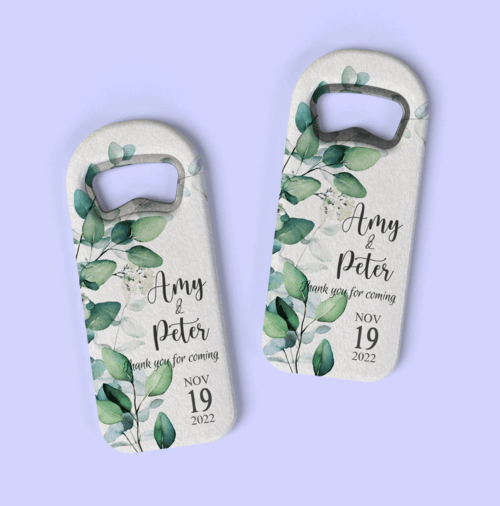 Etsy has the best custom bottle openers! This classy leafy print is adorable, and I love the fonts used.
You can add personalization, making this a good option for wedding favors.
This bottle opener is available from 1 up to 100.
13. Wood tealight candle holder

Amazon also has a good option for a wedding favor candle holder.
This gift is available in packs of 10, so you might have to buy more if you have more guests than that!
The wooden tag is not customizable but has the general 'thank you for celebrating with us' wording. Not bad at all!
14. Personalized wine charm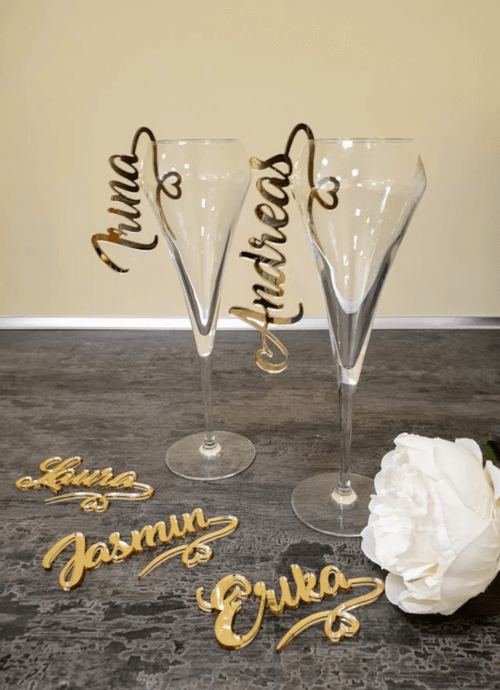 Maybe this is more a way to make your wedding table decor more personal, but these custom name tags could also be (part of) a lovely wedding favor.
These personalized wine charms have countless raving reviews, and guests would appreciate the attention the detail.
15. Christian wedding favor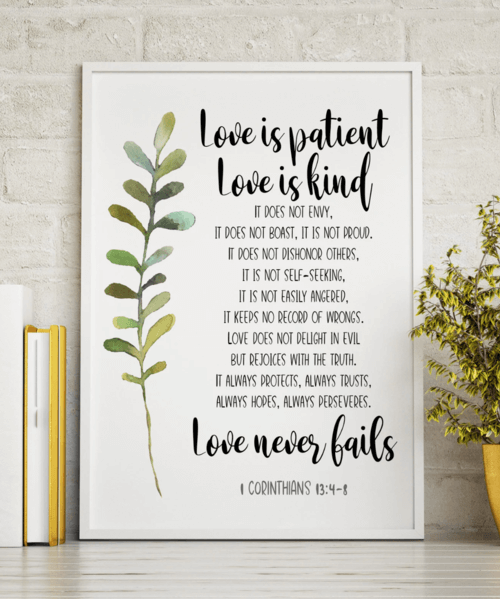 This is not your usual wedding favor, but I think the idea is great. What about giving your guests a print with a bible quote?
You could pick your favorite saying and make a print for your guests or buy this beautiful love never fails print on Etsy.
Many of the art you can buy on Etsy are digital (meaning you have to print it yourself).
That's not necessarily a downside, just something to keep in mind.
16. Custom wedding koozies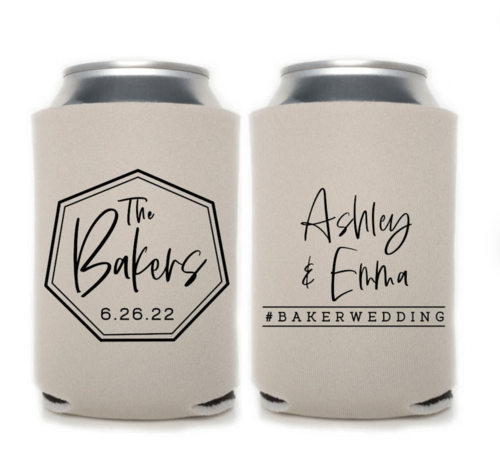 Koozies are insanely popular as a wedding favor and very cute.
However, as a wedding guest, I think everyone has received at least 2-3 of these in their lives!
Maybe nobody in your friend circle has done koozies as a wedding favor. In that case, it's a great option.
These can coolers have a modern and elegant design that I love.
17. Personalized candle wedding favors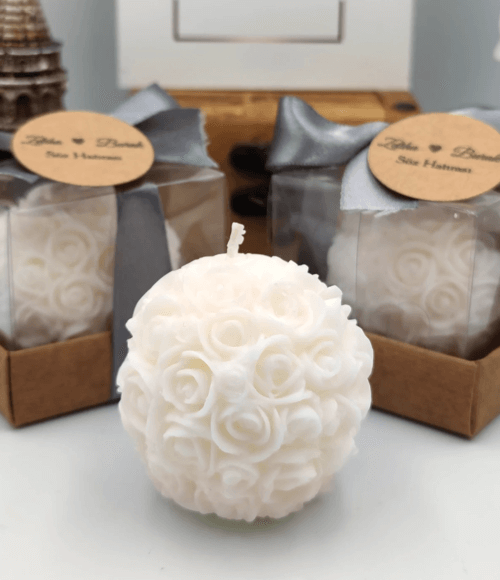 People love receiving beautiful candles!! This is such a good wedding or bridal shower favor.
You can customize the wrapping of this candle favor, which makes it even better.
18. Coaster wedding favor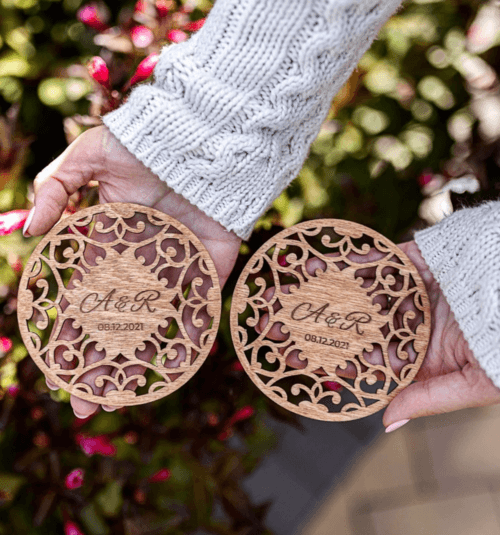 These coasters are absolutely stunning and so chic. You can customize it with your initials and wedding date in the middle.
This is an easy bulk wedding favor that you can order in up to 400 units.
19. Custom chocolate wedding favors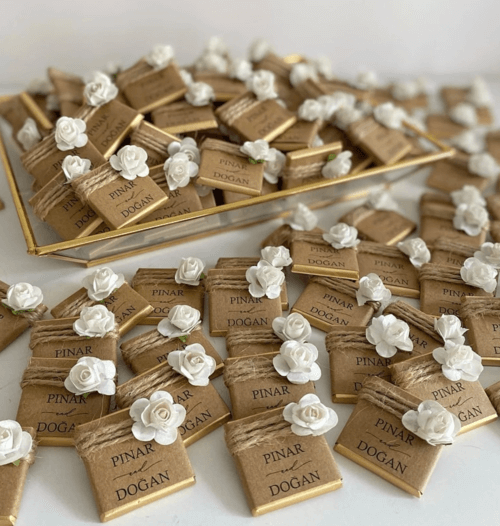 Last but not least, chocolate wedding favors! The wrapping of a wedding favor matters and this chocolate favor shows us how it's done.
This wedding favor is incredibly elegant and chic. The wrapping is customizable with your names.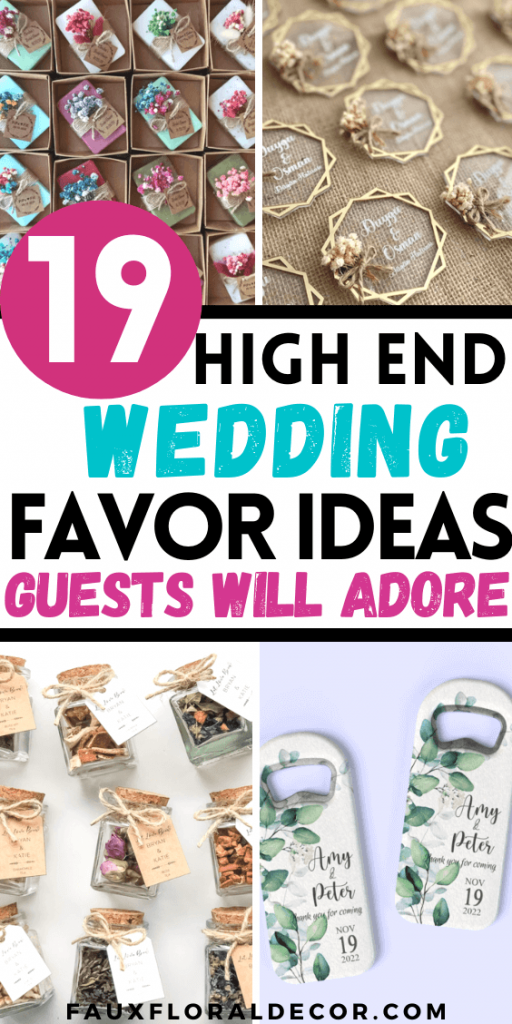 This post showed you the best high-end wedding favors.
You may also like: