This post shows you the best rustic wedding table decorations.
Table decor is an important part of any wedding! Eucalyptus garlands and wooden details are a great base if you're going for a rustic theme.
I believe that beautiful wedding decor doesn't have to break the bank if you don't mind putting in a little work putting together the details yourself.
Amazon has many of the essentials for rustic wedding table decorations, and I've spent months looking for the best decor.
Pictures always speak a thousand words, so let's get into the rustic table decorations inspo.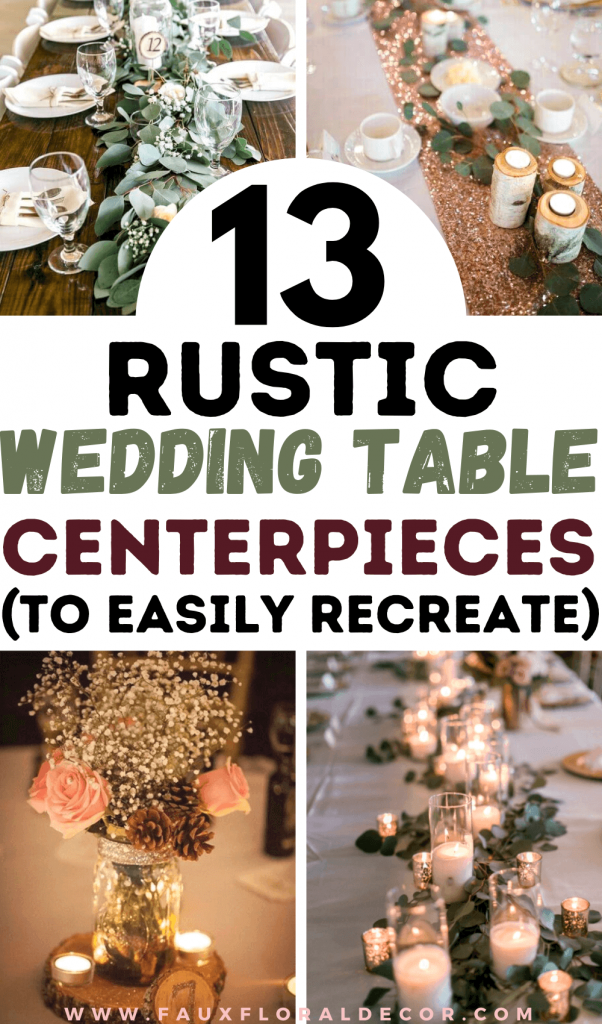 Rustic wedding table decorations
1. Eucalyptus table decor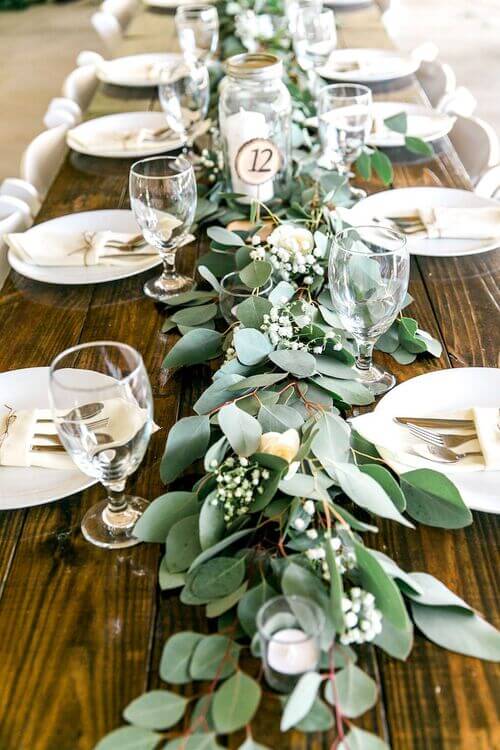 One of the easiest and budget-friendly ways to decorate a wedding table with a rustic aesthetic is to add a eucalyptus garland in the middle.
Depending on the size of your table, you might need two garlands for each table. This lush eucalyptus garland with mixed greenery is my favorite.
This garland is not the cheapest option, but it's a fair price-quality ratio.
You can place simple and clear tealight holders alongside the garland for a cozy and rustic ambiance.
2. Rose gold table runner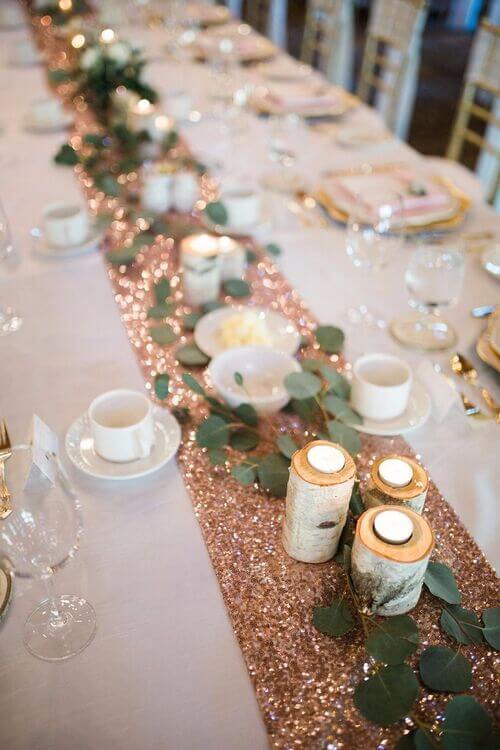 I like this wedding table decor because they've mixed glam and rustic effortlessly.
Opposites like this elevate the atmosphere. Don't be afraid to add sequins with natural elements like wood and greenery.
Especially at night, a sequin table runner will look beautiful with lights, creating that magical atmosphere everyone wants at their wedding.
3. Terracotta and neutral wedding table decor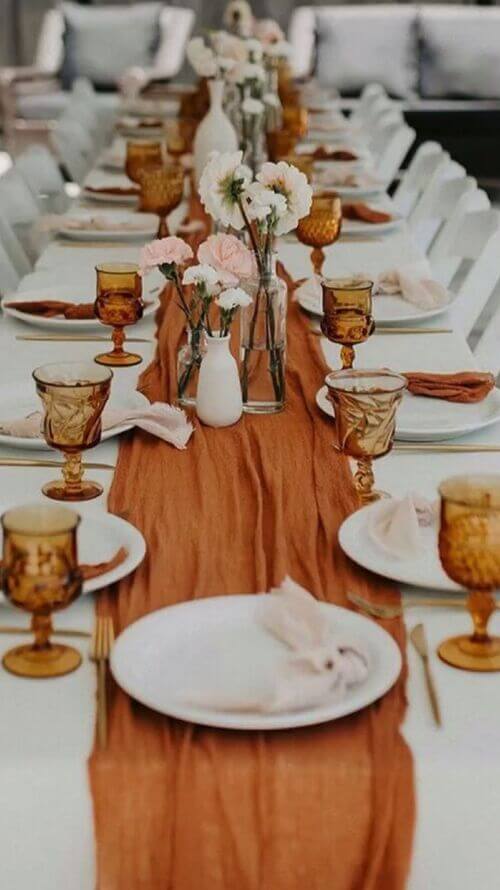 Burnt orange or terracotta instantly creates warmth and works excellently with a rustic wedding theme.
Combine terracotta with white or cream for an elevated and chic look.
Make sure to bring back the terracotta colors in more items than just the table runner. For example, candle holders or drinking cups.
4. Centerpiece with lanterns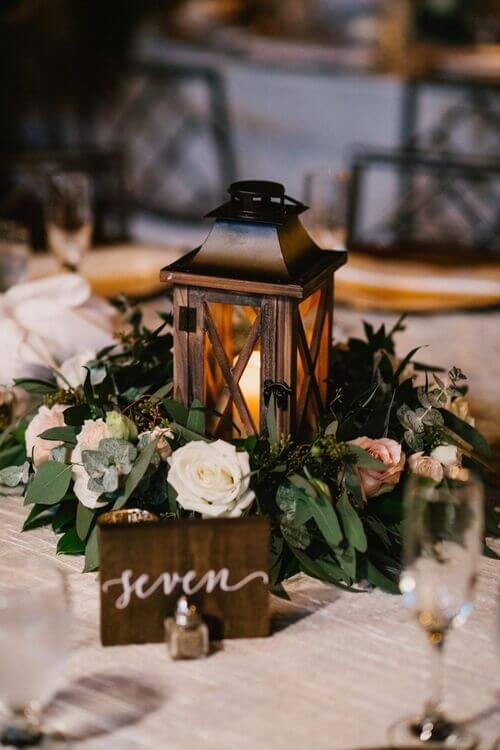 Wedding centerpieces for round tables are always a little trickier. I think a round shape centerpiece looks best on a round table.
A budget-friendly way to make centerpieces for a round table is to start with a round tray. That will form the base of your table decor.
Layer the tray with flowers and greenery of your choice. Place a rustic lantern in the middle. Inside the lanterns, you can use either real or LED candles.
For safety (with so much greenery etc. around), LED candles are the best option.
5. Wedding centerpiece with mason jar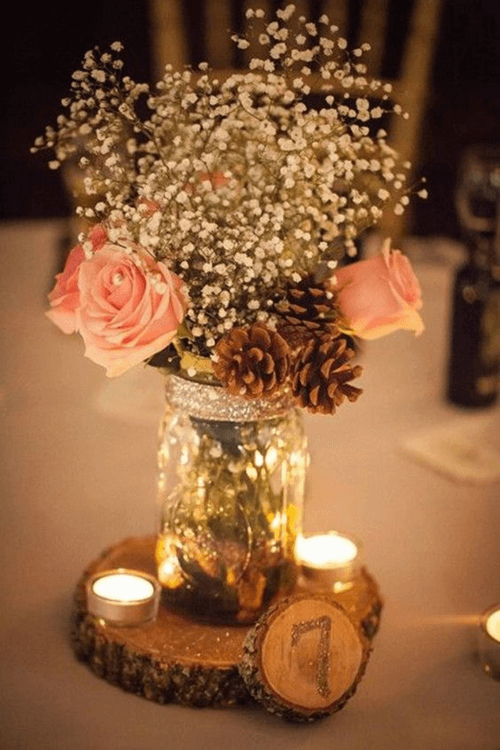 Mason jars are your best friend if you want to make wedding centerpieces on a budget!
You might already have a bunch, but if not, you can buy them in bulk for cheap on Amazon.
One of the simplest ways to decorate with mason jars is to attach a beautiful ribbon around the edge. Place the mason jars on wood slices and arrange baby breath, roses, and other greenery you like.
For a fall wedding, I like the idea in the picture with the pinecones.
6. Minimalist rustic wedding table decor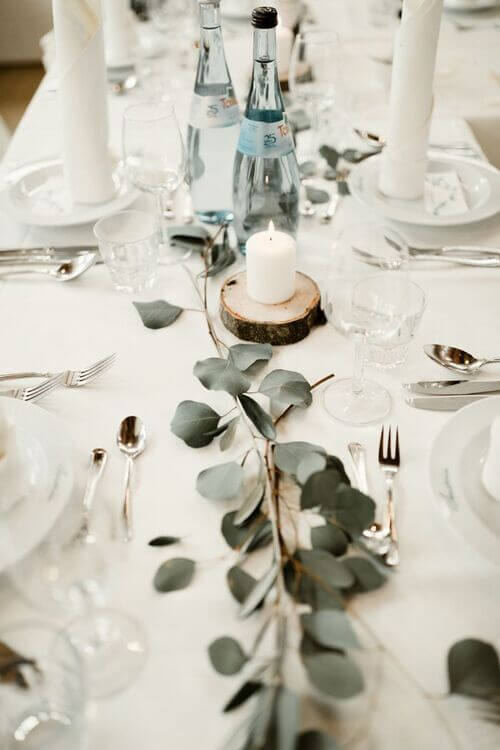 A large white tablecloth is essential for simple wedding table decor. Simple can be very chic.
I like this minimalist approach to wedding decor with a large white tablecloth, a narrow eucalyptus garland, and a few pillar candles placed on tiny wood slices.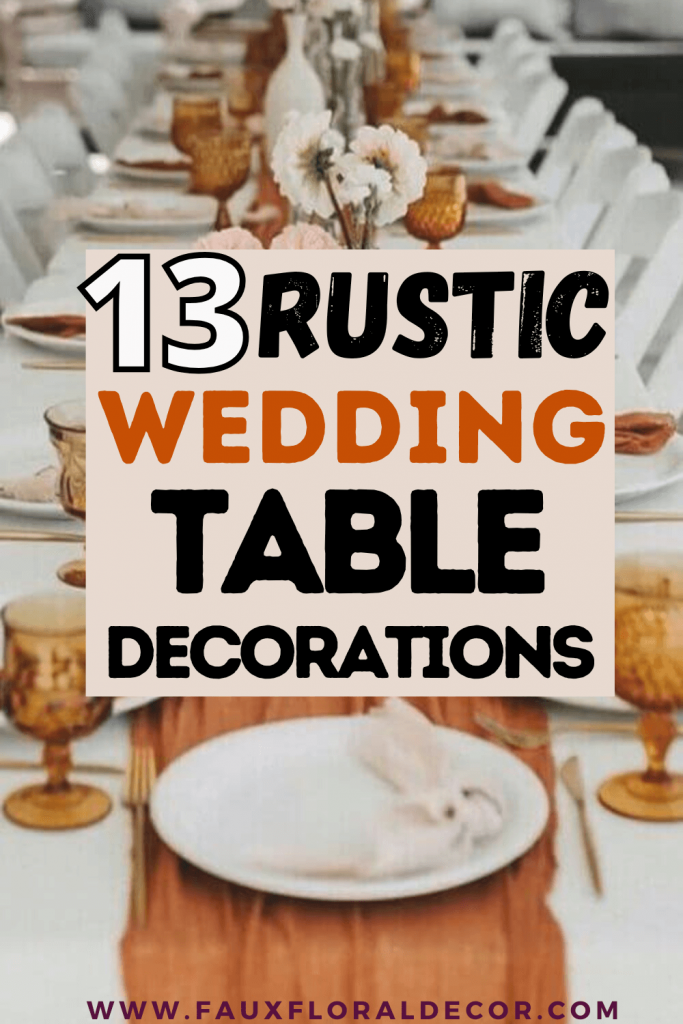 7. Green and gold wedding table decor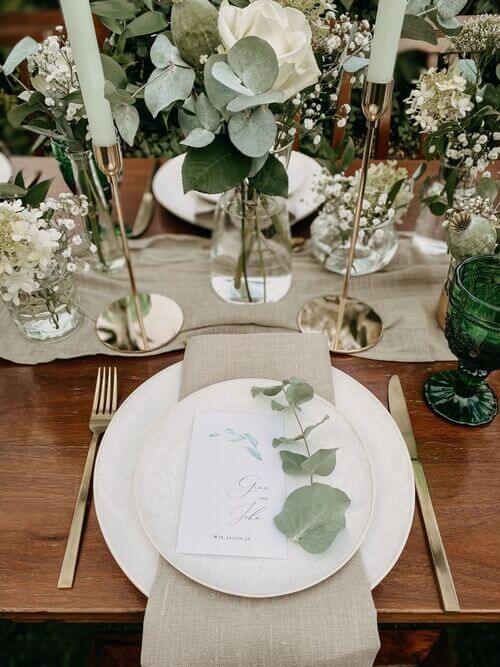 Gold and green are colors that complement one another. This is a beautiful color scheme for a rustic wedding theme.
Make sure to mix gold and green with natural fabrics and light colors like sand, beige, or cream.
Baby breath is one of my favorite flowers ever, and it's the type of flower that works beautifully with rustic decor.
8. Table decor with metal lanterns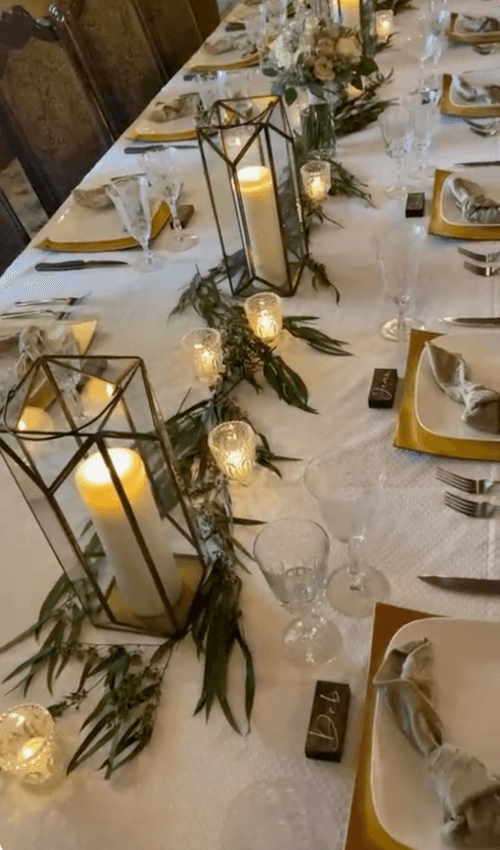 How chic are these hurricane candle holders? The metal hardware on the lanterns looks amazing set alongside the table garland.
Place the lanterns alongside one another (spread out) and decorate with small tealight candle holders on the table.
9. Centerpiece box decor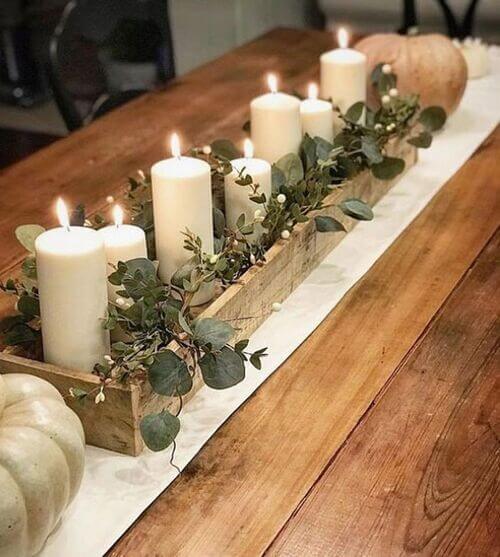 A narrow centerpiece box tray is a great base for rustic wedding table decor.
On a large table, you might only need 2 of these, maybe 3 depending on the size.
Box trays like this make it easy to put together a rustic wedding table centerpiece. They give you a framework to work with.
Decorate the box trays with greenery, candles, and maybe small clear vases with flowers.
10. Table decor with wood slices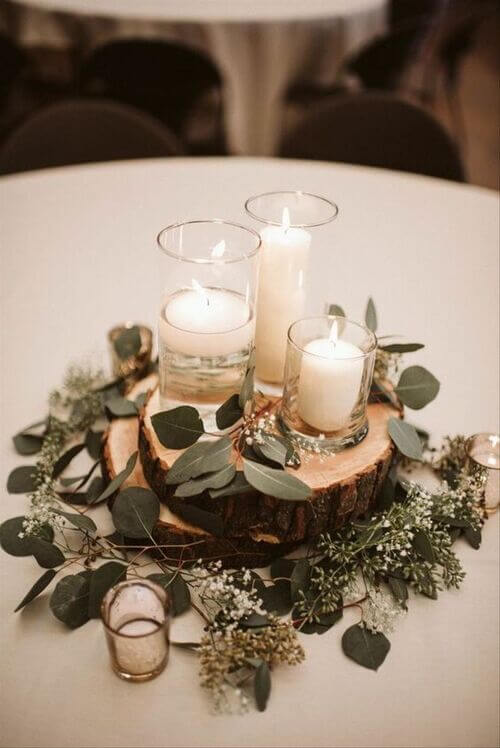 Wood slices are super versatile and are great for making wedding centerpieces.
You can layer two alongside one another or go for 1 large wood slice. Decorate with glass cylinder candle holders.
Be playful when it comes to decorating with candles. For example, use a floating tealight, a larger pillar candle, etc. Switch it up!
The rustic wedding theme is all about making things look natural and playful. So don't forget to have fun with the decor.
11. Chic gold and green accents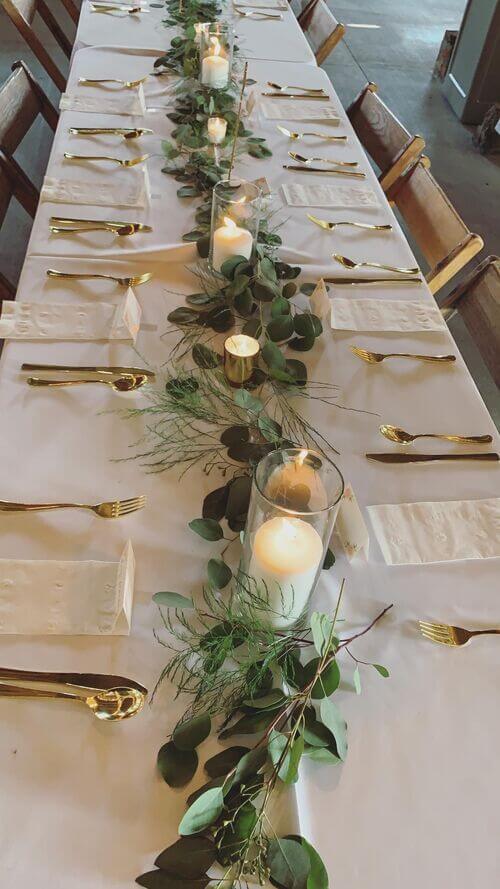 This wedding table is gorgeous! I love it when there's a very clear formula that I can recreate. Simplicity is the best.
To recreate this decor, you need clear vases in bulk. Amazon sells a beautiful and inexpensive set of 12.
12. Floral and rustic decor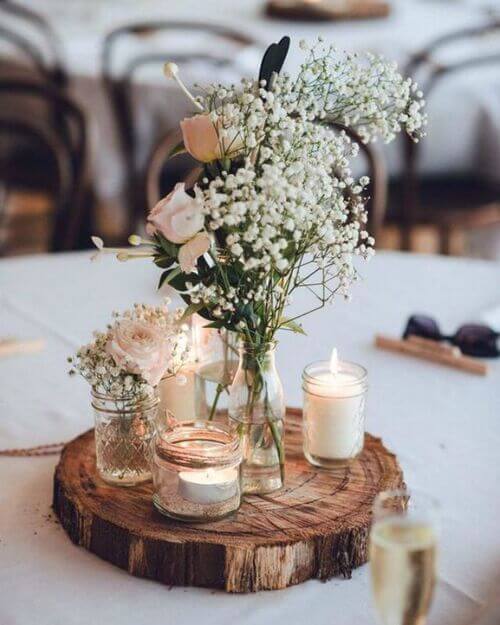 Pair rustic accents with cute flowers like pink roses for a beautiful balance.
Tealight holders in bulk are inexpensive and add so much atmosphere to a wedding.
You can also use small mason jars and small empty bottles.
13. Table decor with lots of lights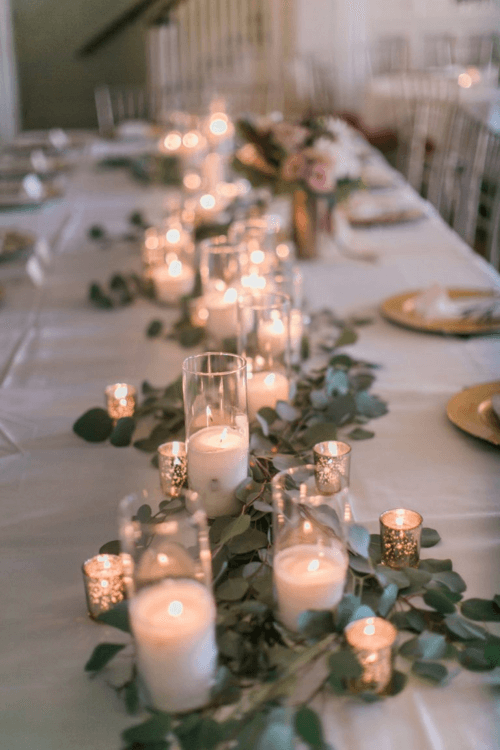 Tealights add so much charm and ambiance to a wedding. It's also one of the cheapest decorations you can find.
If you're on a very tight budget, consider decorating your tables with only tealight candle holders and eucalyptus garlands.
Mercury tealight holders look elegant and chic without the price tag.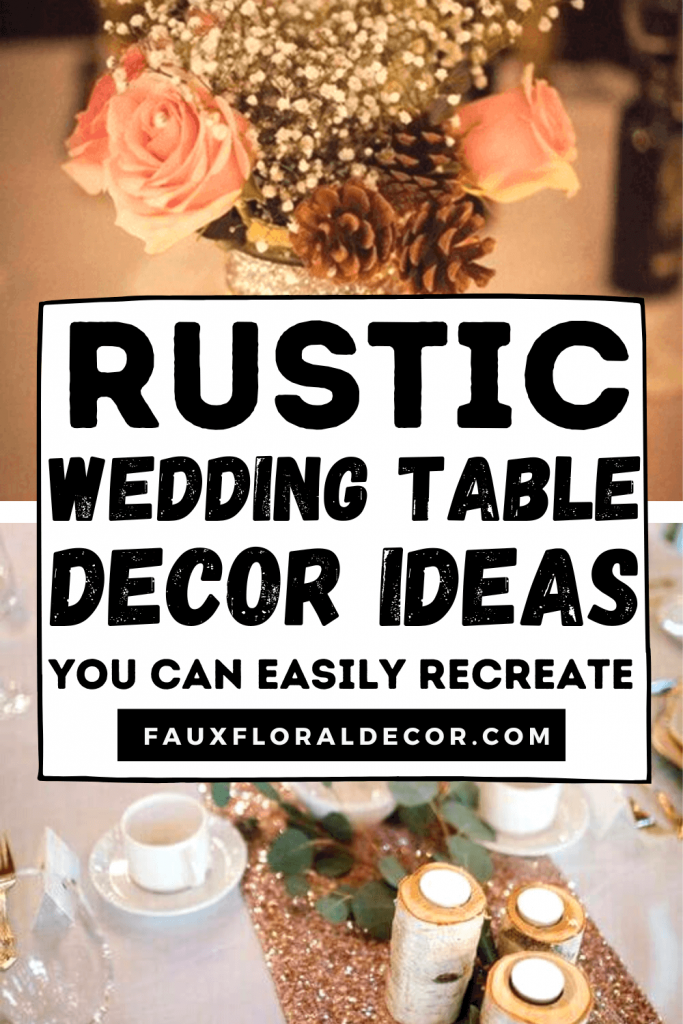 This post showed you the best rustic wedding table decorations.
You may also like: