This post gives you the best ideas on what to put on your wedding registry!
The one thing that should be a top priority before the wedding is ensuring your wedding registry is sorted out.
You want to create a perfectly curated list of gifts suited to your needs.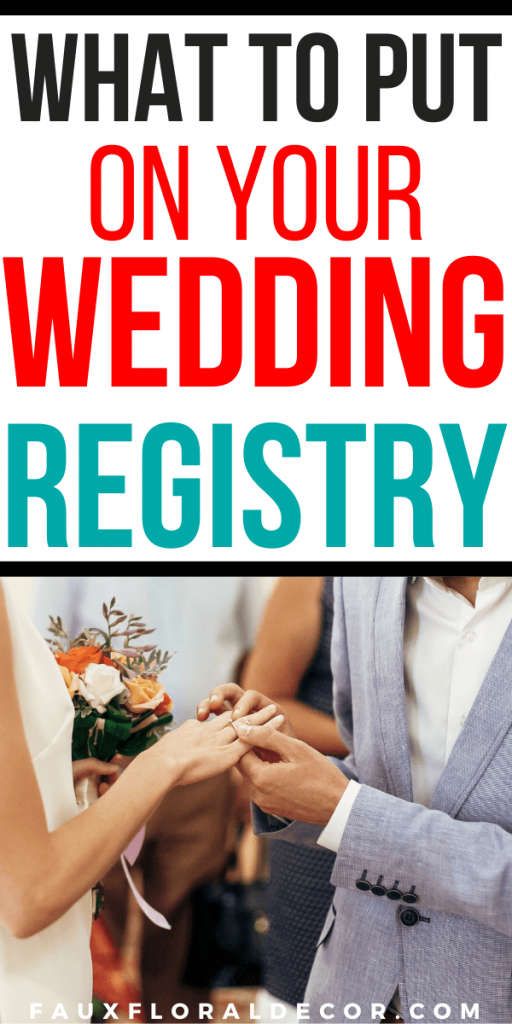 What is a wedding registry?
A wedding registry is a wishlist of everything the bride and groom want. This wishlist is curated specifically for the bridal party.
Once these things have been put together, the guests can take a peek at the registry and find a gift that the bridal party wants that also fits their budget.
This helps guests buy things the bride and groom would use instead of getting something they will only use once.
Great Items to add to a wedding registry
Before we dive into the list, I have a few things to add. You don't need to add physical stuff to your list.
You can ask for money, charity donations, or anything you feel is needed.
Nothing stops you from trying a different approach to this wedding tradition.
Kitchen supplies:
1. New appliances
Instant pots and air fryers are considered household must-haves. They are something that you need to add to your kitchen.

2. Cooking and bakeware
Something that works well for every registry is some kitchen essentials. Cooking pots, muffin pans, icing pipers, a stand mixer, baking trays, knives, cutting boards, or even a good old-fashioned pasta maker.

3. Dining and entertainment
Other great things to add are dishes, wine glasses, serving dishes, and fun mugs that showcase your personality or would be a great fit for a coffee nook.
Coffee, sugar, and tea tins to hold all your beverage supplies. You can add some fun games to your registry.
Try adding Jenga, mahjong, or poker as a fun treat for your guests.

4. Linens
The best things to add to your registry are some brand-new linens.
These can be pillow sheets, duvets, table sets, towels, bath sets, and even clothing hampers.

5. Home and decor
Something you can never have enough of is picture frames. They are a gold mine for a new couple.
Other fun things to add are flower vases, candles, indoor plants and pots, bookends, storage, and stationery are also great to add to the registry.

Unique things to add to the registry
If you're looking for some unique things to add, here are some items that can be unique to your registry.
6. Ice machine
This might feel unnecessary for some, but this will feel like a necessity to those who like your iced coffee and iced tea.

7. Air purifier
A great thing to add to your home is an air purifier.
It gives the home a clean atmosphere while helping to decrease allergy symptoms.

8. Adventure gear
If you and your partner are more adventurous, you should add a list of adventure gear for your next trip.
Whether that's for the honeymoon or a big trip. So make a list of all the things you need for your big trip and add it to the registry.
9. Charity Donations
If you and your partner aren't comfortable with getting gifts, then you can ask everyone to donate to the charity of your choice.
10. Bring back the old
Things we often forget to include are the old-fashioned wedding albums.
We need to bring this back and keep close to our hearts.
Wedding albums are the best way to keep your wedding pictures and memories safe for the next generations.
The key to making your registry unique is to keep it to your personal needs.
You can make your registry personalized to you and your partner.

Registry ideas for couples who live together
It can be a little daunting to set up a wedding registry.
How can they set up a list if they already have everything they need?
Well, here are some alternatives to the usual take on the wedding registry.
5 ideas for a couple that lives together
11. Renew your items
If you have something you've loved using in your home, add a new one to the registry.
This lets you get a new model of something you love and save money on fixing your own.

12. Make it a hobby-related register
If you've been living together, then there's nothing that you need.
If the guests know you well, they'll rather splurge on something they know you enjoy.
Whether it's cooking, travel, art, or anything you enjoy together.
This is a great opportunity to add things you enjoy to the wedding registry.

13. Give it the mix-and-match vibe
Are you unsure about what you want? Make it a mix-and-match registry.
Give people multiple options to choose from. Let them pick from more traditional items to something unique or special to your liking.
14. Money is always an option.
You are welcome to ask for cash donations or gift cards for specific stores on your registry.
This can help you choose when and where to buy from and upgrade items in your own time.
15. Are holidays acceptable?
If your guests know you for being a traveler, then letting them give you money for a honeymoon adventure is more than acceptable.
Sites like "The knot cash fund." and "Honeyfund" are ideal for couples who want donations for their honeymoon.
What should grooms have on the wedding registry?
The groom must have some items on the registry.
Wedding registry ideas for the couple who has everything
It's hard to make a registry when you have all you need. This is where being creative comes in handy. You have the opportunity to add registry items that you would never buy for yourself.
23. Knife sharpener
26. Personalized wine bottles, cups, or even cheese boards
How to use Etsy for your wedding registry
First things first. In order to set up your registry, you need to log into your account on Etsy.
Select your wedding date.
Start adding items to your registry.
How to add to your registry?
Start searching for specific items you want to add.
Click view item.
Click the heart-shaped button to add it to your favorites.
In the pop-up that applies on the screen tap Add to list.
Click your registry.
Now your item has been added to your registry.
The process is straightforward and is a great place to create a registry for non-traditional gifts.
Etsy offers you the opportunity to add customized products that will be unique to you and your partner without costing a fortune.
If you have something you want specifically made for you, then this definitely is the place to be.
How to use Amazon for your wedding registry?
When using Amazon for your registry it's the same concept. Easy to use and user-friendly.
Log in to your account.
Go to the Amazon Wedding Registry Portal.
Select Create my registry.
Select submit.
From there, you should be able to add things to your registry by searching for what you need.
Amazon gives you the advantage of finding everything you need in one place.
It gives high-quality products without needing a bunch of registries to find them.
People can compare prices and even shop for discounts while using Amazon.
So what is the perfect wedding registry?
As we conclude all things related to a perfect wedding registry, it's time to tell you the secret behind the perfect registry.
The perfect registry is the one that fits your needs as well as fitting the personality of your partnership.
You can keep things interesting and fresh while staying true to both of you.
So don't stress about having a registry filled with vacation stays, donations to charity or gift cards.
The perfect registry is the one that fits you at the end of the day.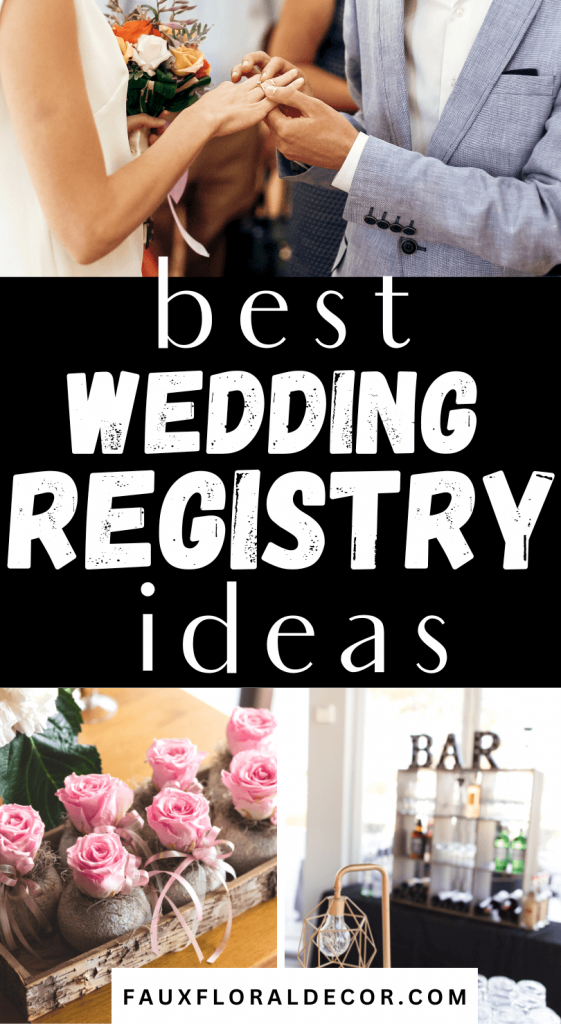 This post showed you the best wedding registry ideas.
You may also like: