This post shows you the best medium length half up wedding hairstyles.
With months of wedding prep done and dusted, it usually just leaves a few key details to sort out.
For example, the last dress alterations, making sure the shoes are comfortable, and ensuring you have the perfect hairstyle and makeup look.
If you've scrolled through the endless supply of hairstyles for your wedding but it still feels like you have absolutely nothing that feels right then let me guide you with these 23 gorgeous looks.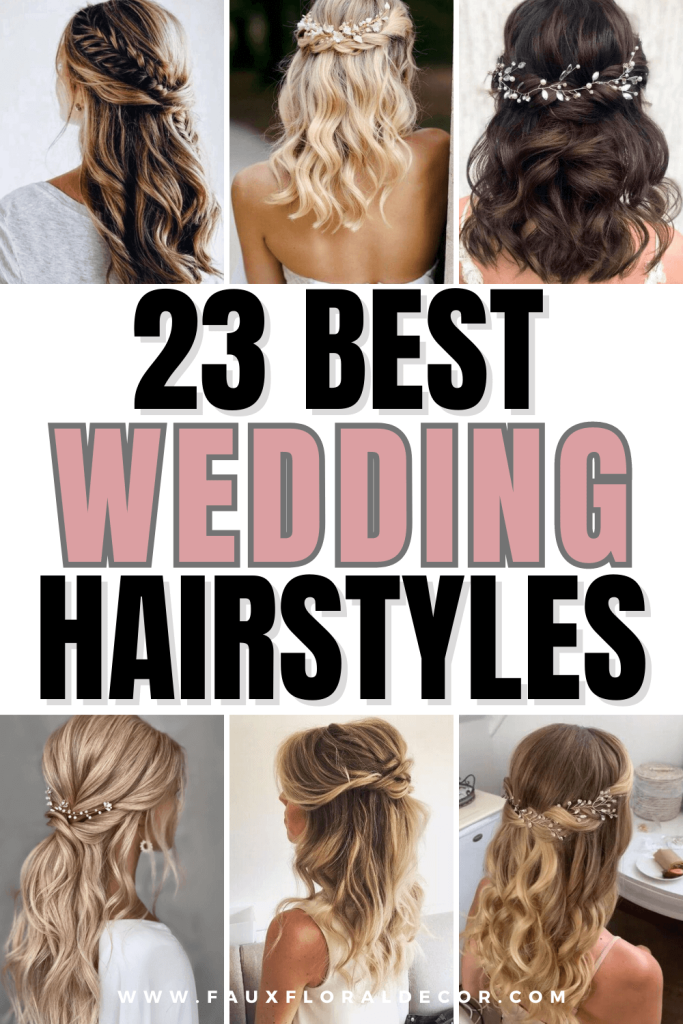 Prepping for the big day
It's obvious to say that your wedding is not the time to experiment, so if you've never been blonde and you've had black hair all your life, this is not the time to bleach your hair till it is fried… trust me.
So here are a few things to keep in mind when you're thinking about hairstyles and ideas in general.
If you want to try something different then try it out a few months in advance so that you can see how you feel about the haircut before committing to it just before the wedding.
Get a haircut a month before the wedding at the latest. This allows you to have enough time to deal with an awkward grow-out process before the big day.
Hair health is extremely important to make sure you're taking the necessary vitamins and supplements to get the best results.
Stick to styles you know you look good in; you don't want to hate your hair on your big day.
When in doubt grab the extensions.
If you are scared of a bad haircut and unsure of what to do, then you might want to keep extensions (even clip-ons) for safety.
Tips for picking a hairstyle
Before we get into the fun part I thought I'd add a few tips for you to use.
These can help you pick the perfect style for you and get you at ease over this big detail so that you can focus on the thousands of other things that need finishing up.
What type of dress are you wearing? You want your hair to compliment your dress and not work against it.
What is the weather like? If you have an idea of the weather then you can easily find a style that you love and that won't get in the way. The weather is either going to be your friend or your foe on this one.
Trial runs are a necessity.
Think about your hair texture, volume, and length to see what is needed to achieve the style you want.
1. Twisted pony with crystal accessories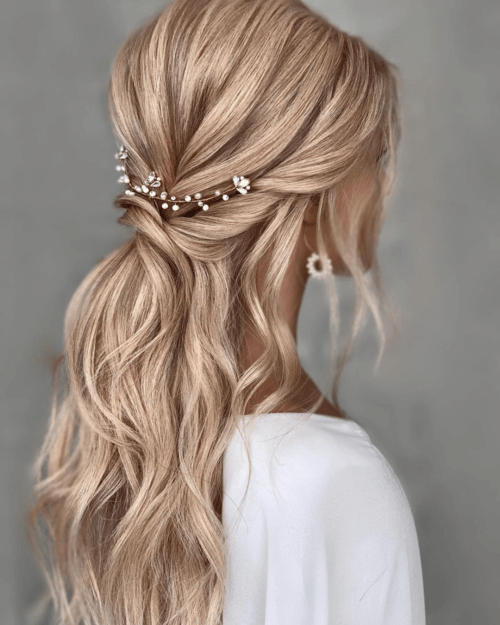 This flowing look keeps things simple yet adds some volume to your hair.
If you're thinking of wearing a strapless dress this might be the perfect hairstyle to add to it.
You can simply tie back the hair and pull out some strands to make your hair fluffier.

2. Half-up do with flower add-ons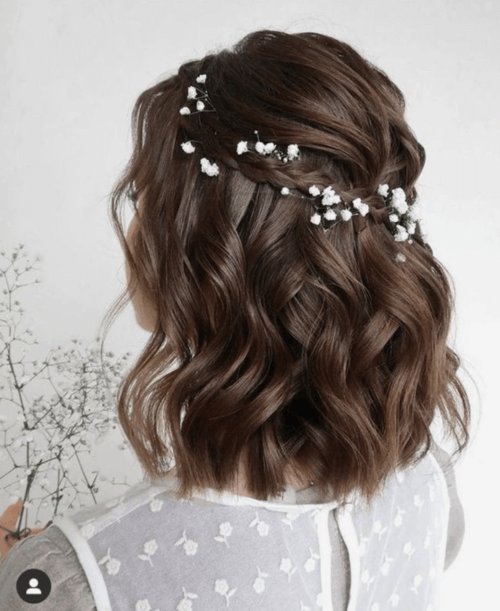 If you have shorter hair or you're thinking of cutting it shorter just before the wedding and unsure of what look will fit you can always try this out.
You'll be sticking to the normal half-up do but use small flower accessories to create a cute crown effect that will also help add volume.
3. Simple curls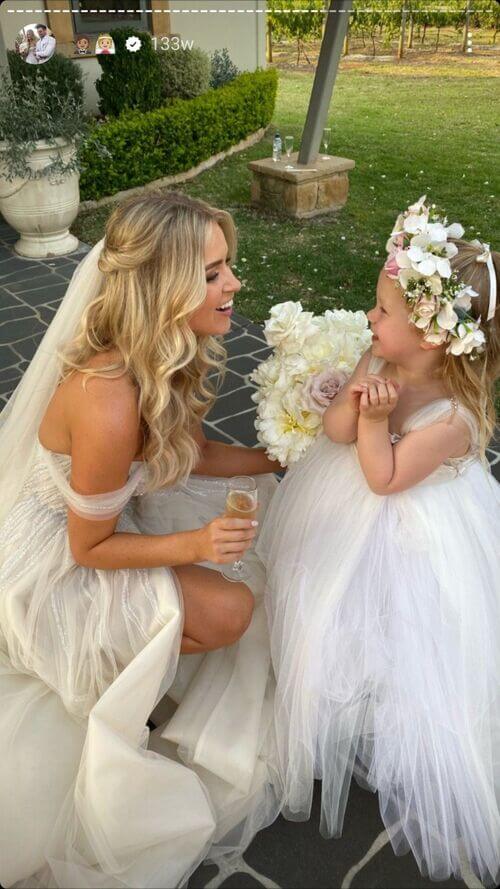 If you want a simple princess look that works with any dress, then stick to the basics.
Nothing beats the gorgeous waves that frame your face.
As long as your hair is getting the vitamins it needs and you get a quick trim a month before the wedding.
4. Braids keep things fun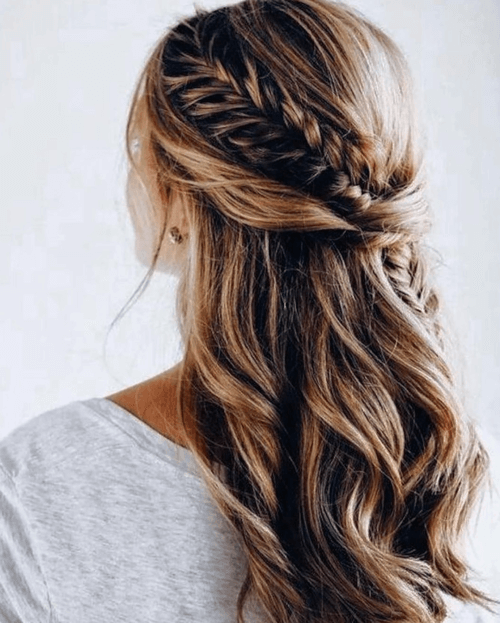 Braids are the perfect addition to a half-up hairstyle.
It creates a fuller look and allows you to tie back more hair which works great if you are working with a lot of volume.
You can use this to ensure stray hairs stay out of your face too.
5. Crystal crowns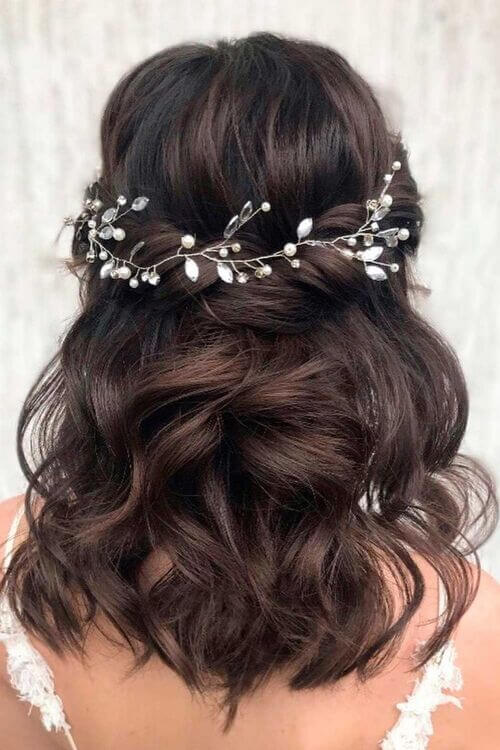 If you want to keep a full look but hate having hair in your face then this twisted crown look is just what you need to try for your big day.
It works great for any length and when you incorporate crystal accessories like this one, it can elevate the look from simple to magical.
You can also curl the ends to make sure the hair doesn't look flat.

6. Pull back and wispy strands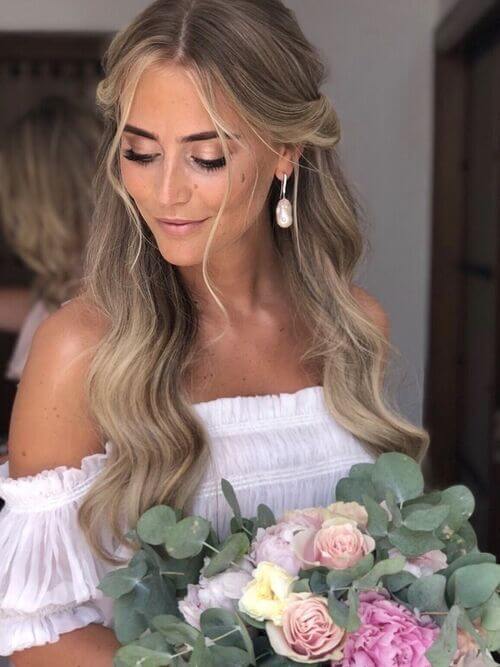 Nothing looks better than that traditional tie-back with wispy sides.
It works well with any dress but looks stunning with sleeveless or off-the-shoulder dresses.
You can use those simple clear elastics and bobby pins to achieve this look.
If you want to add a fun touch you can spray a little bit of glitter onto your hair for a little extra something.
7. Touch-ups for the big day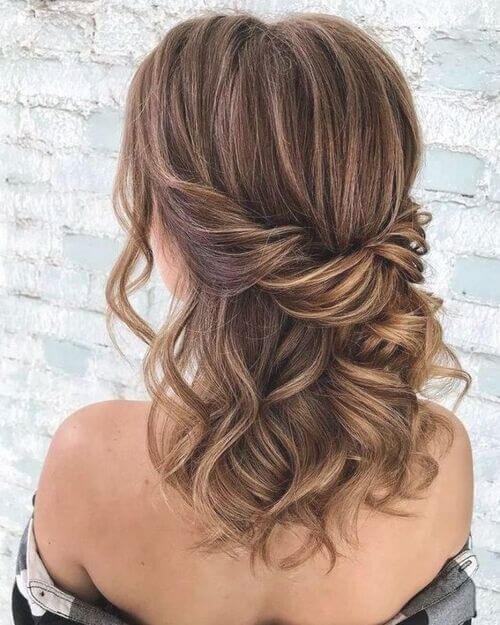 Another great idea to try out is by opting for a balayage look instead of fully dying your hair.
This allows the grow-out to look natural and you won't risk damaging your hair just before the wedding.
Simply bleach or darken a few strands and keep the rest natural so that you have the best of both worlds.
8. Floral touches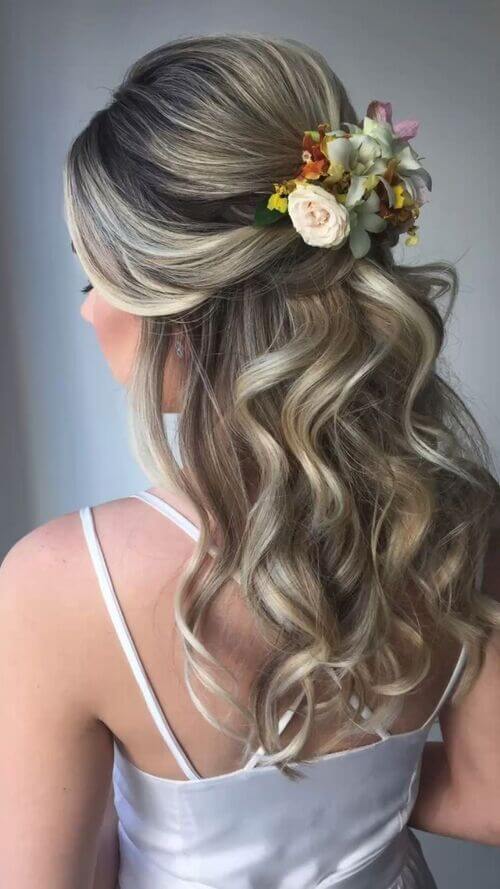 If you're looking for a look that will stick to the theme without looking way too intense or overloaded, then try this out.
You can always make a mini bouquet of your wedding flowers or create a hairclip with your flowers to use in your hair.
With the half up you will have the perfect balance to pull this off.
9. Curtain bangs and cute accessories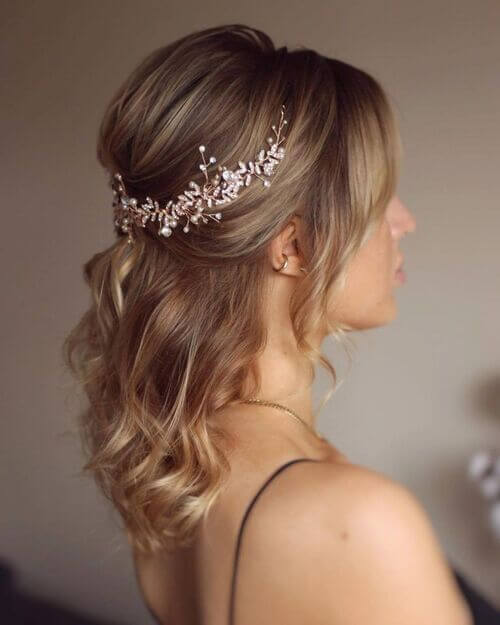 Curtain bangs are great and if you're thinking of getting some, then I highly suggest cutting them a little longer than you think you'd like them.
It sounds counterproductive but if you cut them longer, you can layer them into your style, which helps you in the long run.
10. Half-up bun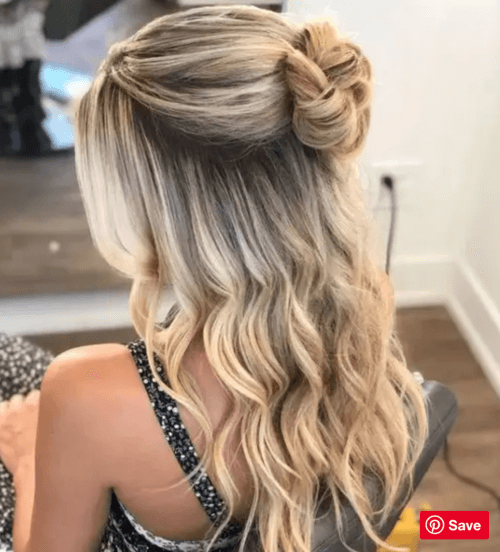 A half-up hairstyle that incorporates a bun can look gorgeous and allows you to show off your ombre colors (if that's the route your going).
It's a simple idea that can make all the difference.
If you want a little more playing area with this idea you can always add some extensions.
11. Sleek approach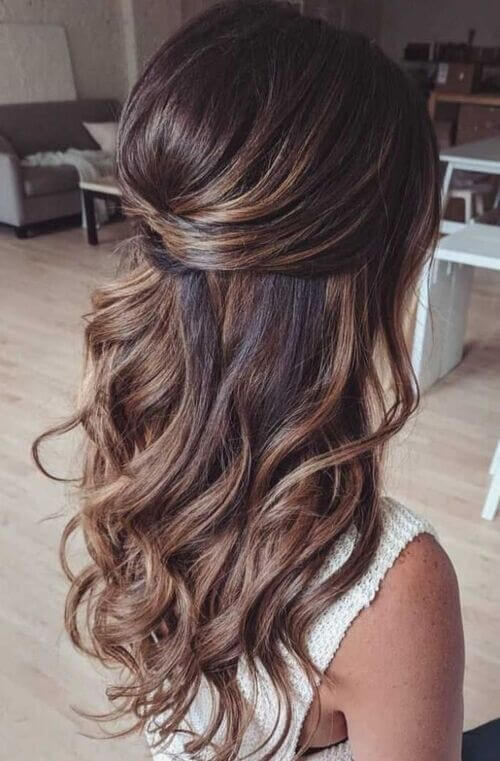 If you like things being a little more simplistic and know that your hair doesn't have a lot of volume, then you can always go for a sleeker approach.
It works great for thinner hair because it gives the illusion of thick locks while staying light.
12. Bring in some volume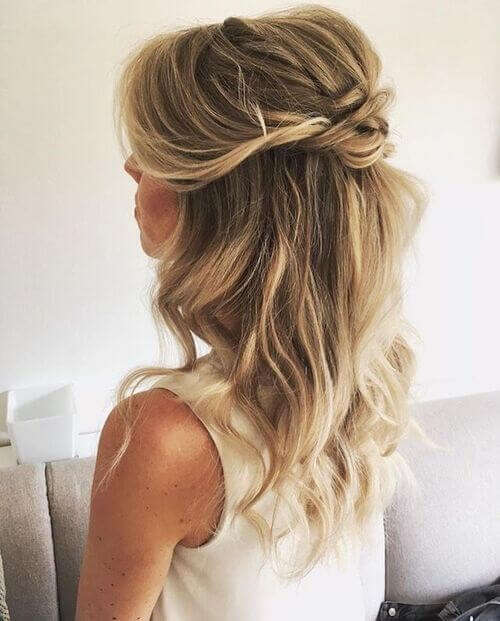 When you need an extra bit of volume to help you out then you can always try a top knot as the updo hairstyle.
It is simple and effective for bringing some volume to your hair and creating a fuller look.
13. Add some flowers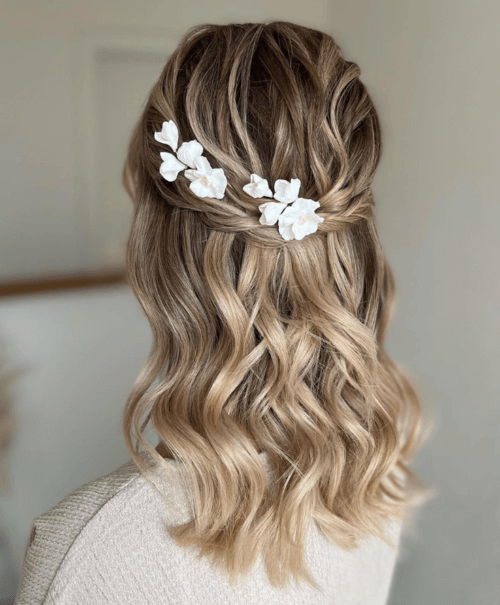 Skip the usual crystal looks and try out a flower accessory that fits your wedding theme.
This idea is simple and works with any look.
It's adaptable and you can try your style with this one to make sure your personality shines through.
14. French braid crown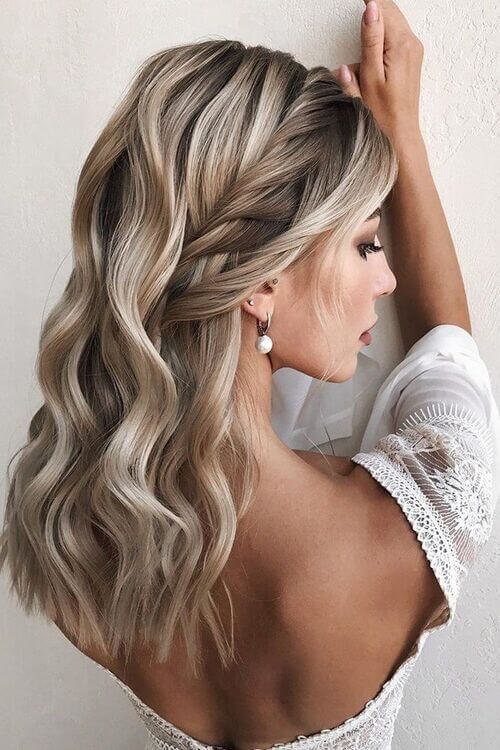 These simple braids can help to keep most of the unwanted hair out of the way while keeping the rest at the back in order.
If you have curtain bangs then this can allow you to still frame your face but without the hassle of having too much hair in your face.
15. Wrapping crystals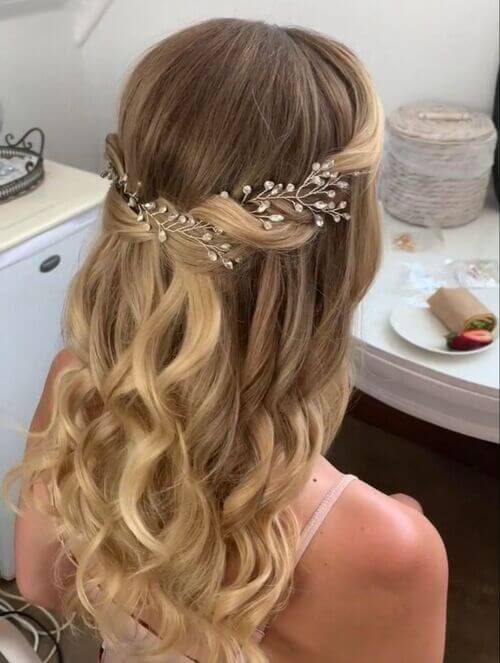 If you are making use of those crystal accessories then you can always wrap pieces of your hair around them before placing them within your hair to create the perfect crown look.
16. French braid crowns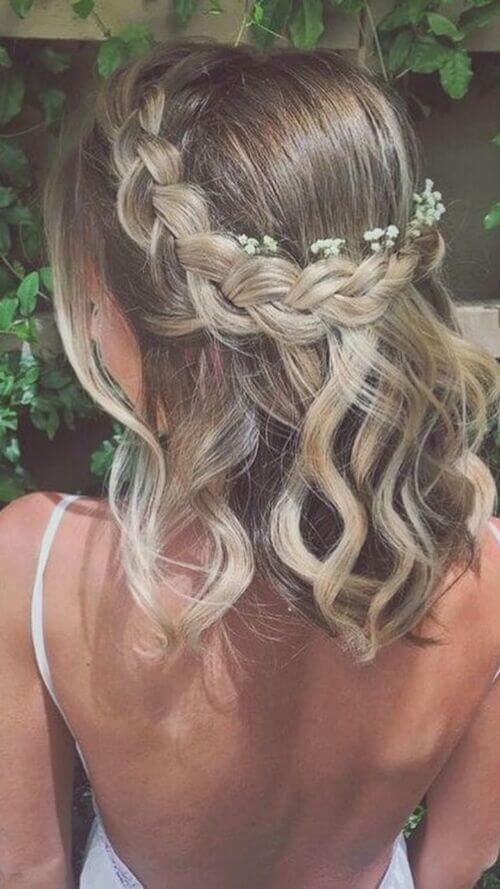 These French braid crowns create the perfect divider between the updo and the rest.
It's cute and allows you to keep the top half sleek while the rest are just a free flow of curls and flowers.
17. Thick curls and volume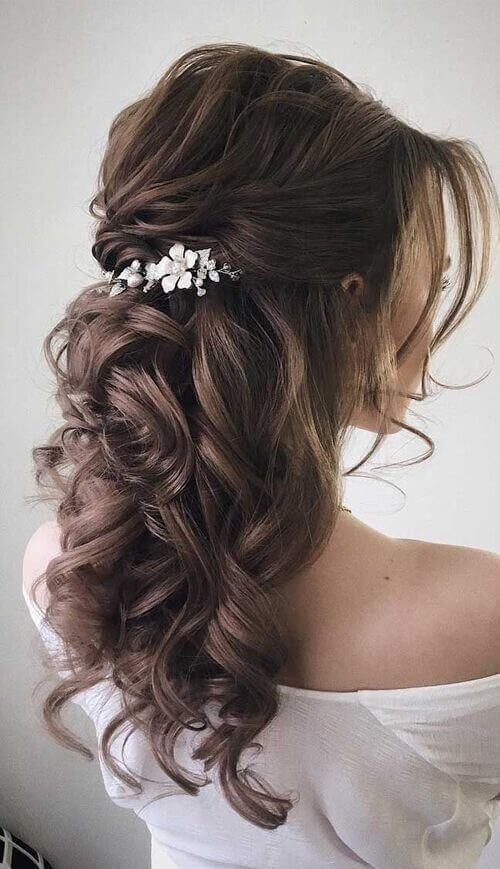 If you are looking for that perfect bridal look that brings out that inner princess, then look no further because this full and gorgeously curled hair is every girl's dream.
If you want something to break the top half from the bottom, you can always add some fun flower accessories.

18. Waterfall style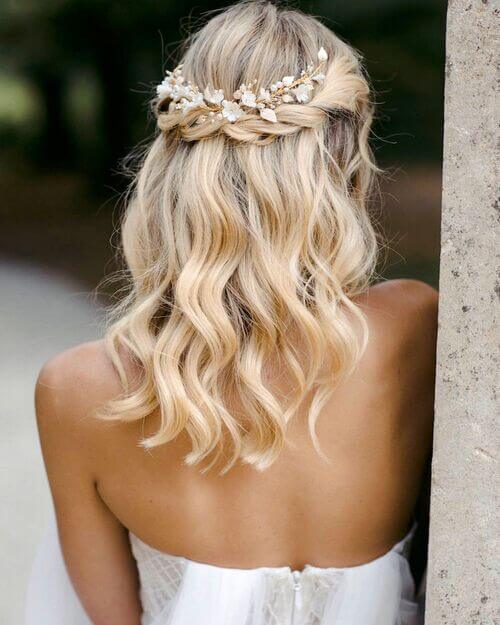 Waterfall braids seem to be a favorite these days because they keep the top half sleek and simple.
Then you can go full out with curls and accessories or even a little glitter spray on the ends to tie everything together.
19. Wavy and braided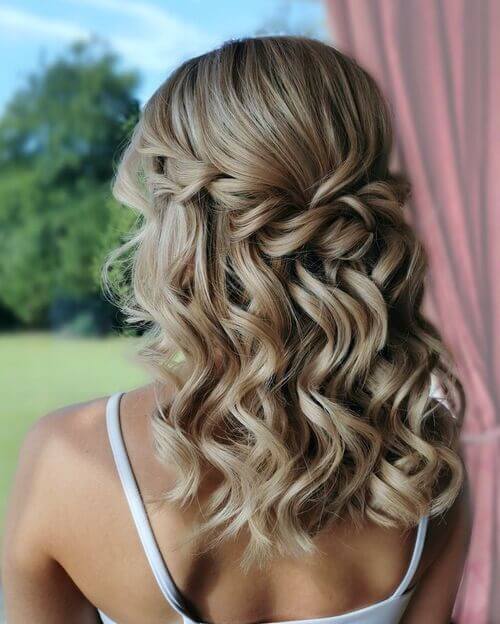 If you've been thinking about surprising your partner and walking down the aisle with hair shorter than usual then you can try out this idea.
It's super easy to pull together and creates the perfect half-up and half-down look that you want on a special day.
20. French braid to waves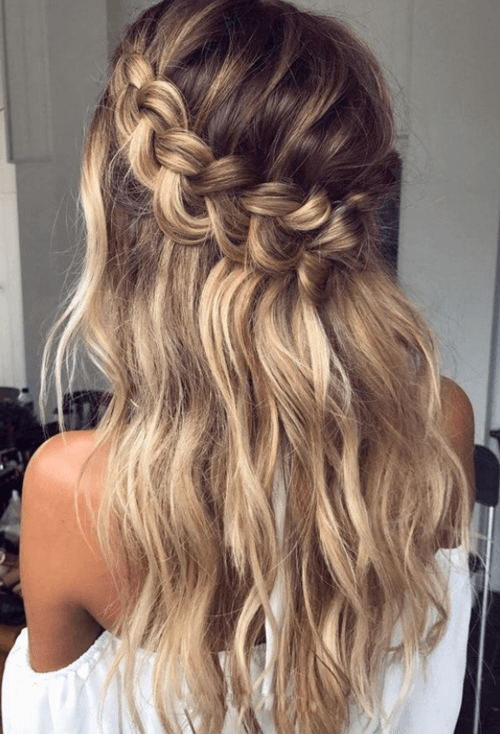 If the usual approach to these half-up looks is driving you crazy then bring in your twist.
Include some thick French braids that end in waves.
This is a fun and different approach to the usual look making it something worth trying while you figure out what you want to do exactly.
21. Hidden braids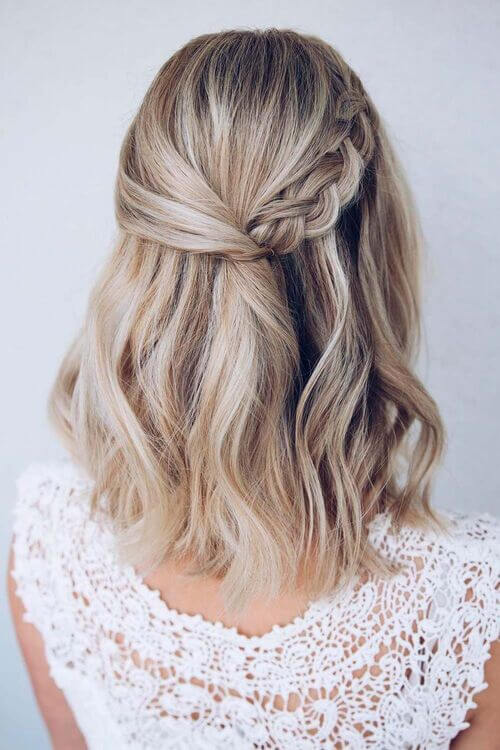 The traditional half-up style can feel a little plain so why not experiment by including some braids, curls, or something you haven't tried before?
These work great with any dress type so you can't go wrong with it.
22. Hidden accessories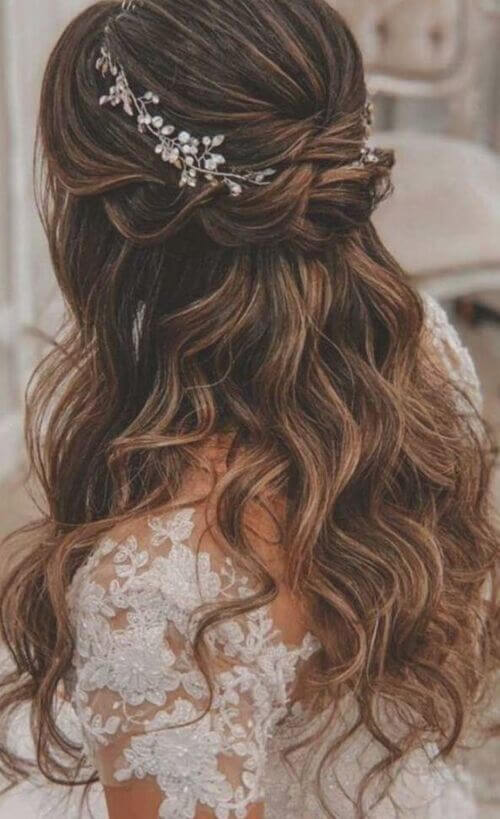 We love seeing accessories placed in a way that they flow with the hair instead of against it.
These wrapped-up styles make use of crystal florals to keep things in place.
23. Pin it in place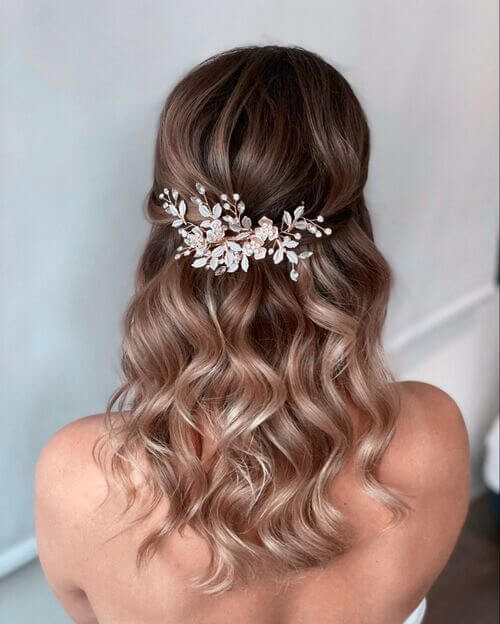 If you are one for bolder touches then this gorgeous piece can be the perfect addition to your hairstyle.
From the perfectly curled hair and sleek style at the top which adds a bit of volume, it is a simply stunning idea.

The perfect style
As I stated above your wedding isn't the time you should be improvising but a few trial runs never hurt anyone.
So grab the curling iron and some cute crystal accessories and test things out till you find that heart-racing, feet-kicking idea that makes you feel like you are a princess.
You want to ensure you are happy with every single aspect of the wedding so going the extra mile for your hair isn't the wrong move to make at all.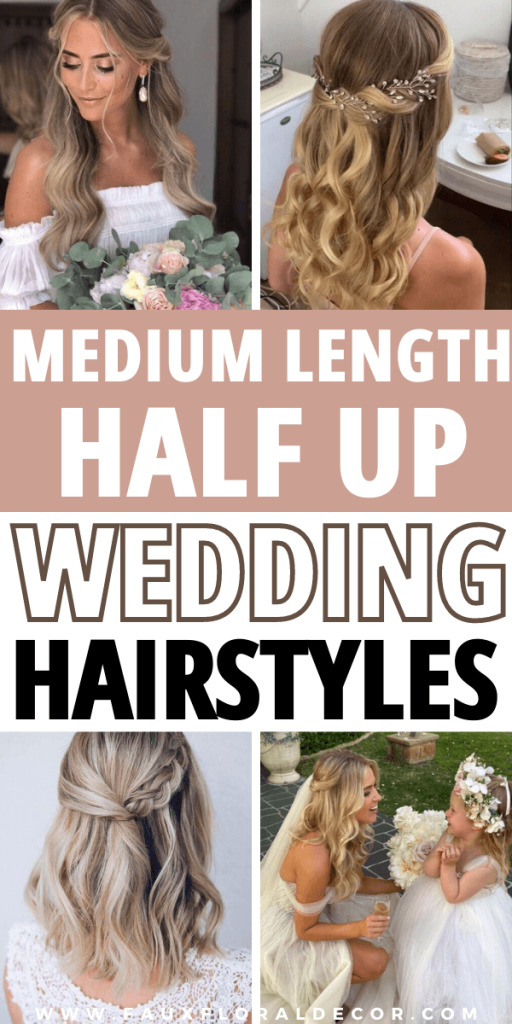 This post showed you the best medium length half up wedding hairstyles.
You may also like: