This post shows you the best dusty rose and sage green wedding color ideas.
When it comes to planning a dream wedding, choosing the right color scheme can set the tone for a memorable and enchanting celebration.
Dusty rose and sage green, with their soft and sophisticated hues, offers a delightful combination that exudes romance, tranquility, and timeless elegance.
This beautiful pairing has become increasingly popular in recent years, and for good reason.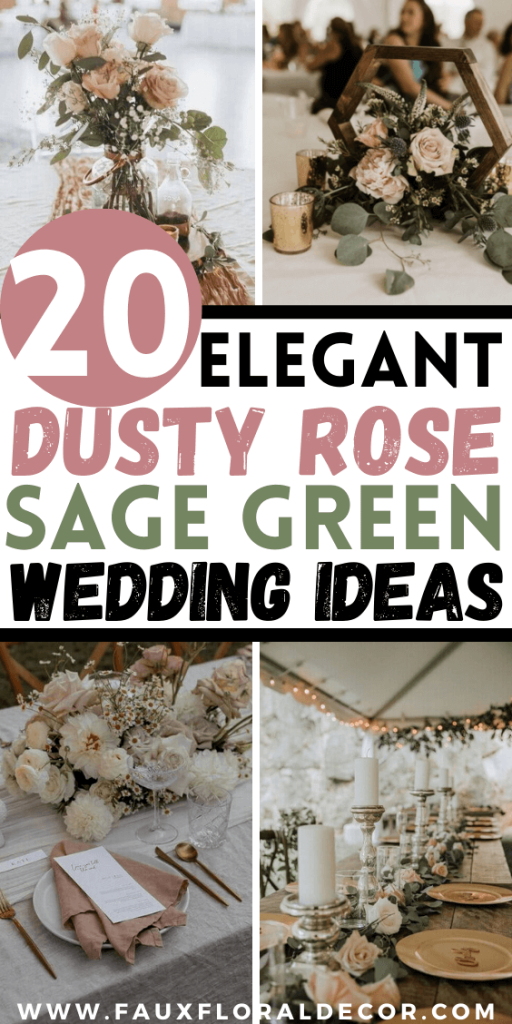 Why you should consider this color combo
Sage green and dusty rose to get increasingly popular every year.
The reason for this is that it works for any season, is subtle, and keeps things elegant and clean.
It brings a soft and warm atmosphere to any wedding.
Decorating tips
The Allure of Dusty Rose and Sage Green
Dusty rose, with its delicate and muted pink undertones, symbolizes love and affection.
When combined with sage green, a calming and earthy shade reminiscent of nature's beauty, the result is a harmonious blend of femininity and tranquility.
These two colors work together effortlessly to create a serene and romantic ambiance that sets the stage for a perfect wedding day.
Invitations and Stationery
Your wedding invitations are the first glimpse your guests will have of your chosen color scheme.
Consider using a dusty rose and sage green palette for your stationery to give your guests a taste of the elegance and charm that awaits them.
Incorporate these colors into your save-the-dates, invitations, RSVP cards, and other paper goods to create a cohesive and visually stunning ensemble.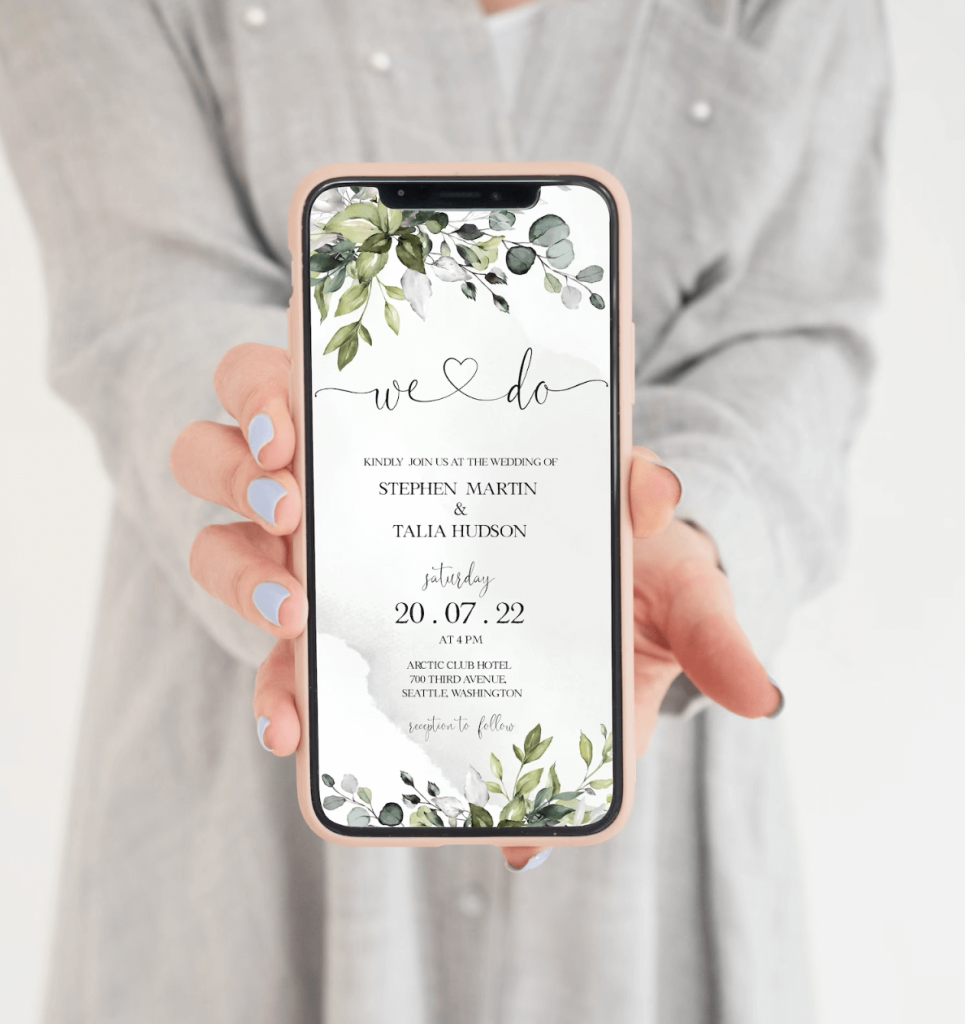 Bridesmaid Dresses and Groomsmen Attire
One of the best aspects of the dusty rose and sage green color duo is its versatility.
Bridesmaid dresses in soft dusty rose or flowing sage green gowns offer an ethereal and flattering look for your bridal party.
For the groomsmen, opt for complementary ties, bowties, or pocket squares in matching hues to tie the entire wedding party's look together seamlessly.
Ceremony Décor
Enhance the natural beauty of your ceremony venue by incorporating dusty rose and sage green into the décor.
Exchange your vows beneath a gorgeous arch adorned with flowers in these elegant shades.
Consider using flowing drapery, ribbons, and lush greenery to create a romantic and intimate atmosphere.
Reception Decorations
Bring the magic of dusty rose and sage green into your reception by incorporating these colors into your table settings, centerpieces, and linens.
Tables adorned with delicate rose-hued flowers, green garlands, and candles will set a charming and inviting scene for your guests.
Add hints of metallic accents, like rose gold or copper, to elevate the look and add a touch of glamour.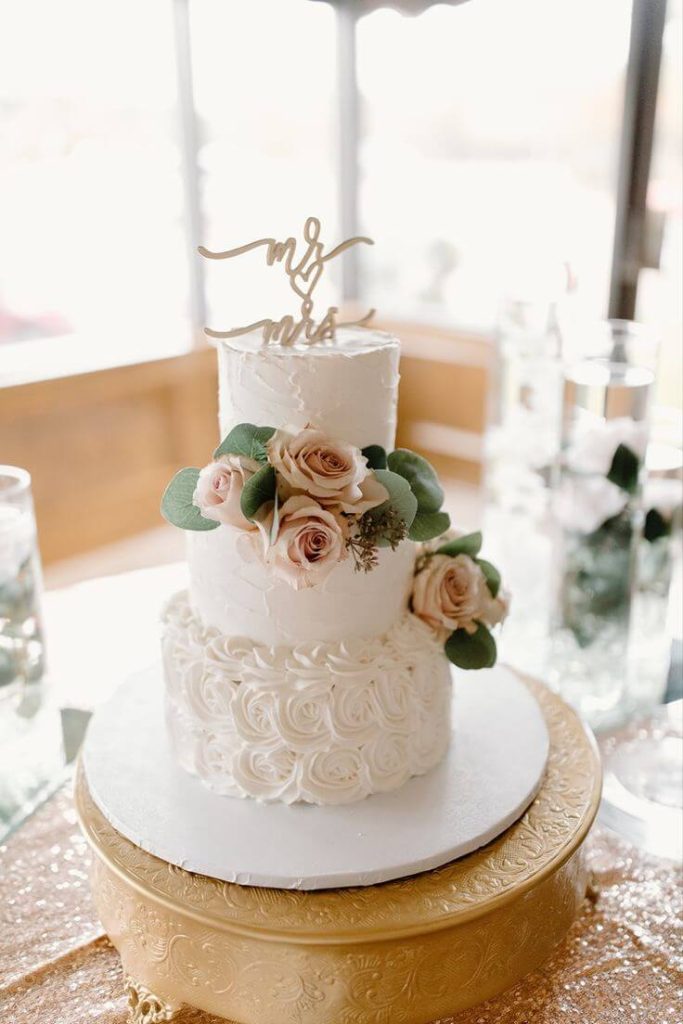 Wedding Cake and Desserts
Your wedding cake and desserts are a fantastic opportunity to showcase your color scheme.
Work with your baker to design a stunning cake featuring dusty rose and sage green accents.
Complement the cake with matching cupcakes, macarons, or other sweet treats that tie the theme together seamlessly.
Wedding Favors
Send your guests home with thoughtful wedding favors that echo the colors of the day.
Personalized candles, succulents, or small potted plants in dusty rose and sage green containers are delightful tokens of appreciation that will remind your loved ones of your special day.
Related: 19 Best High-End Wedding Favors That Your Guests Will Obsess Over
20 Dusty Rose and Sage Green Wedding Color Ideas
1. Greenery and dusty rose table runners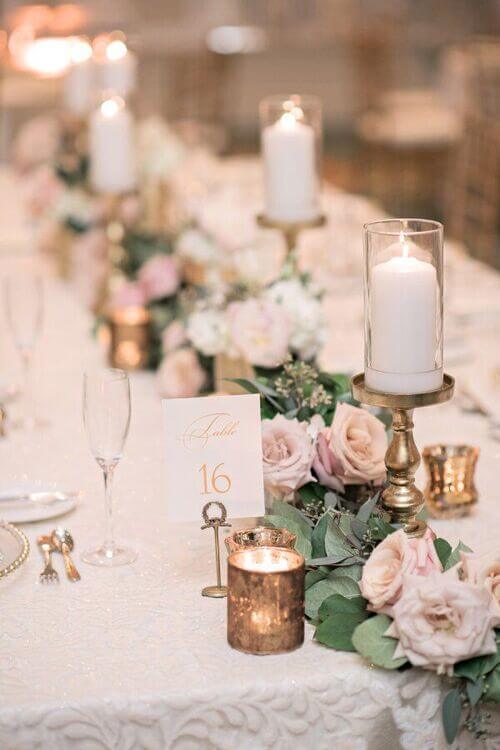 These gorgeous table runners filled with roses, greenery, and gold accents are the perfect addition to any wedding.
It keeps things elegant while giving a bold touch by incorporating gold.
This is a perfect idea that stays simple yet timeless.

2. Beige, sage, and dusty rose centerpieces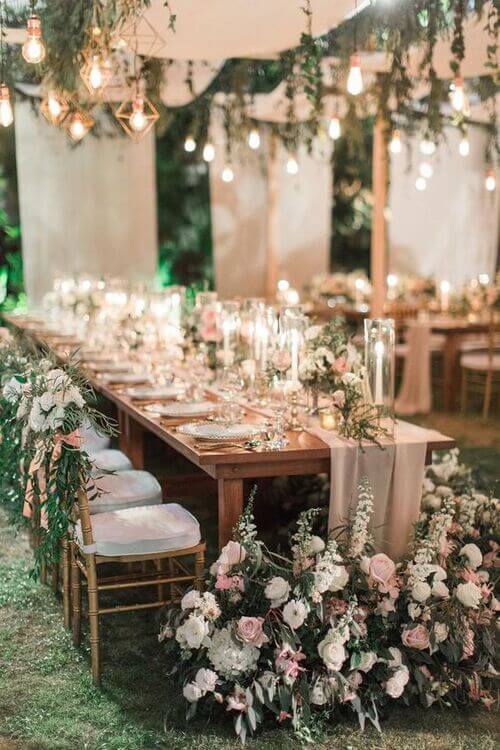 This fantasy-inspired wedding incorporates touches of dusty rose colors on table runners, florals, and simple touches such as napkins.
The greenery that is incorporated on chairs, hanging decor, and bouquets add a natural touch while the hanging Edison bulbs provide a warm atmosphere to any venue.

3. Filled lantern decor pieces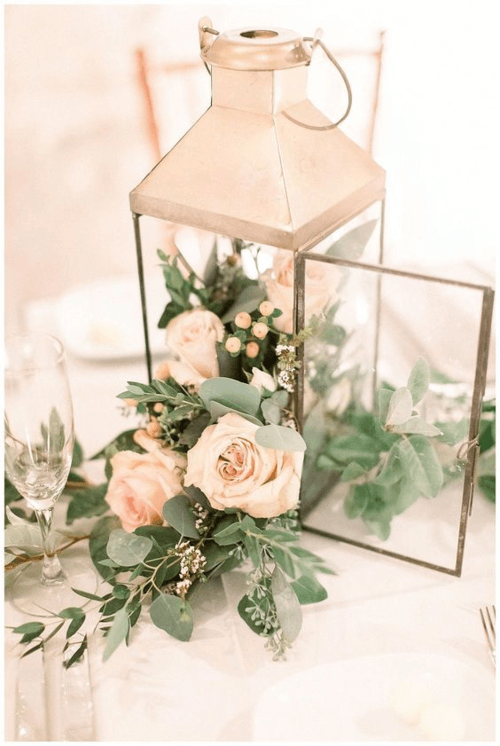 These functional and aesthetically pleasing lanterns work perfectly as table decor or are used around the venue to fill up space.
You can create your own idea that works for you, so whether you fill them with candles, fairy lights, or flower arrangements are up to you.
4. Arches with floral decor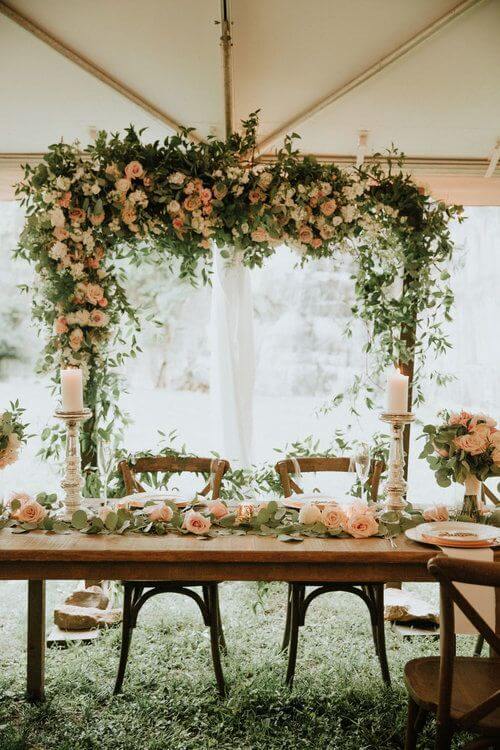 Don't leave the arches at the altar.
These arches make for great decor pieces around the venue or at reception especially when you pair them with stunning bouquets of your favorite flowers.
These also work perfectly for photographs.
5. Roses and candles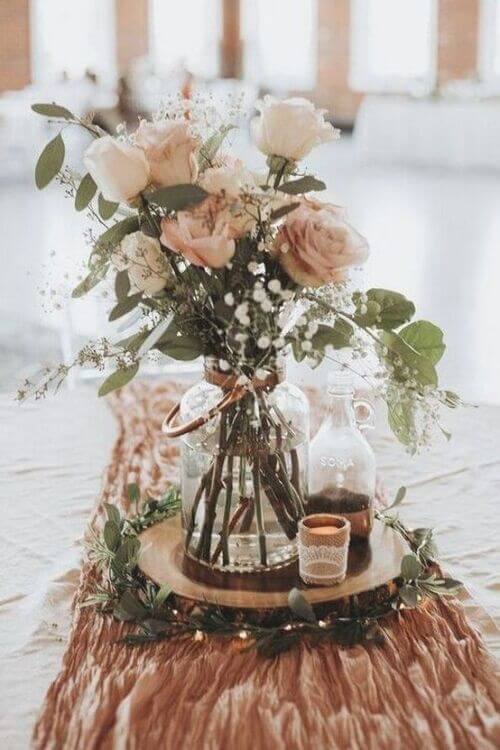 A simple centerpiece goes a long way.
Create a rustic look by incorporating wood slices, dusty pink and white roses in mason jars, and some aromatic candles.
This keeps things simple, clean, and natural.
If you want to add some more lighting to the idea then you can incorporate fairy lights.

6. Dusty rose bridesmaid dresses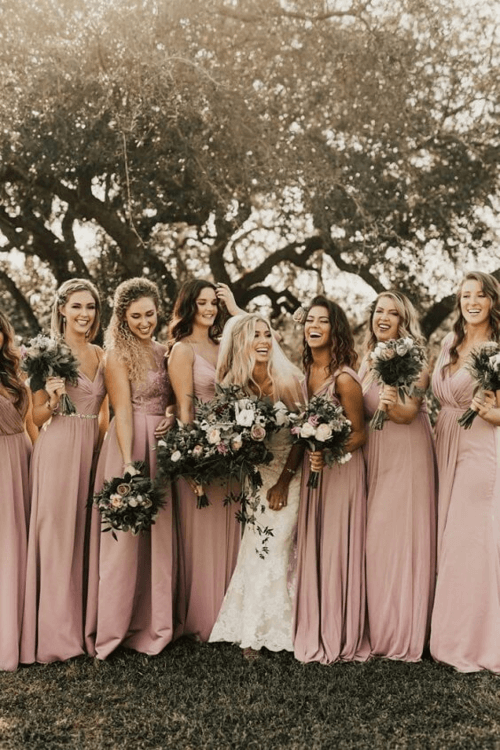 The best part about dusty rose is that it makes the perfect color for bridesmaid dresses.
It works perfectly in any season and isn't too bold.
You can keep the color the same and change the type of dress to suit the bridesmaid individually.
7. Greenery and roses wrapped in dusty pink ribbons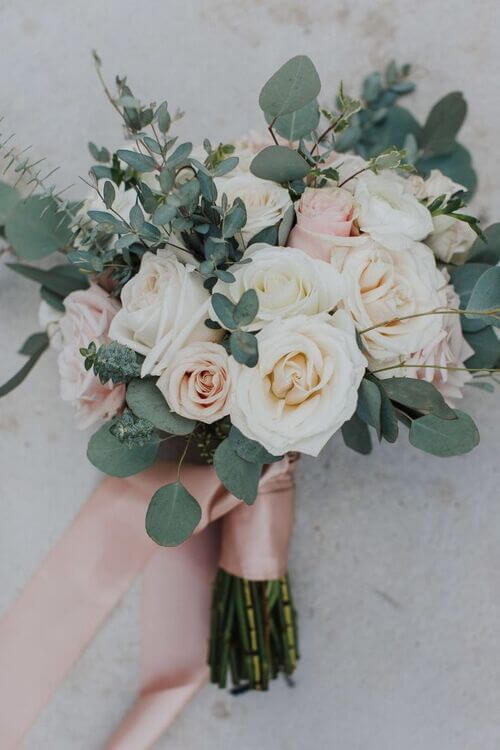 A simple bouquet is more than enough for any wedding.
Greenery and light pink or white roses are elegant and traditional making them the perfect addition to any wedding no matter the theme.
You can keep them all together with dusty rose ribbons.
8. Candles and flower centerpieces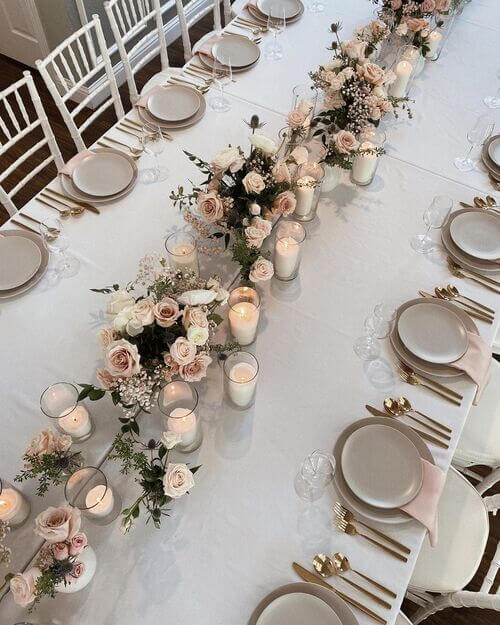 If you aren't one for table runners but want the table to feel fuller, then you can always stick to bouquets and candles.
When it comes to cutlery, you can add a simple touch of color, such as gold, to add something more to the table.
9. Sage green dresses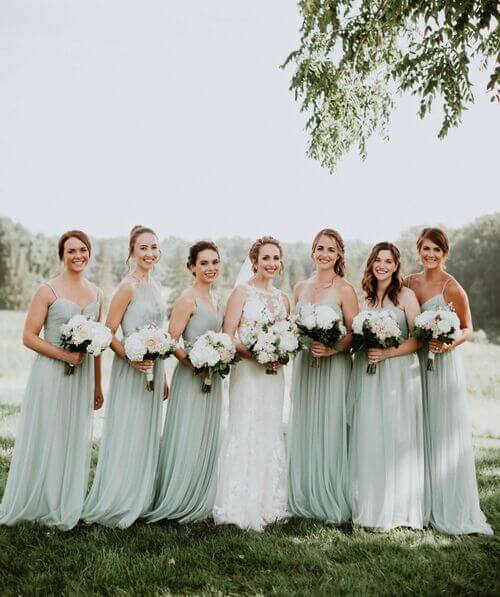 Sage green is a statement piece even though it is extremely light.
This makes it perfect for bridesmaid dresses because it isn't overbearing or too intense.
Sage green not only works simply on its own but with a range of colors.
10. Draped fabric arch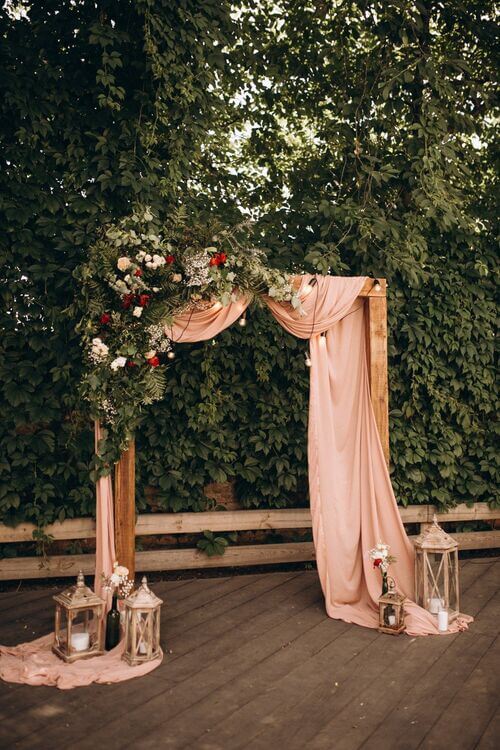 Skip the traditional arches and opt for this wooden arch topped with draped fabric.
The dusty pink coloring works perfectly with blood-red roses and simple white flowers you can fill it up with some greenery.
Incorporate some lanterns and candles to bring in a warm atmosphere.
This creates a gorgeous setting for pictures too.

11. Floral pieces covering the golden centerpieces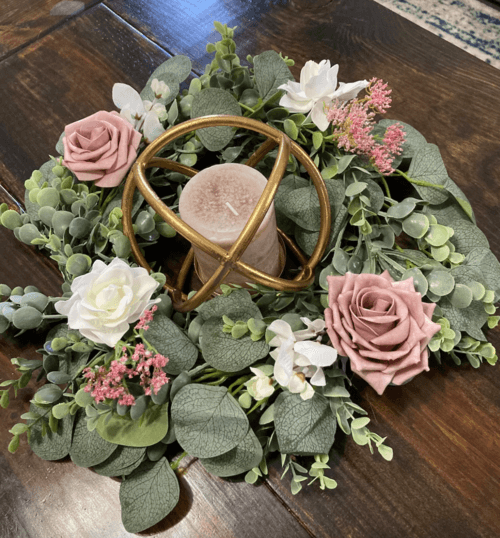 Gold rings, greenery, and dusty pink centerpieces are stunning and bring an elegant touch to any table.
You can even add candles or fairy lights to bring the look together.
This is another great example of how simple centerpieces make the biggest difference.
12. Baby's breath and ribbon aisle decor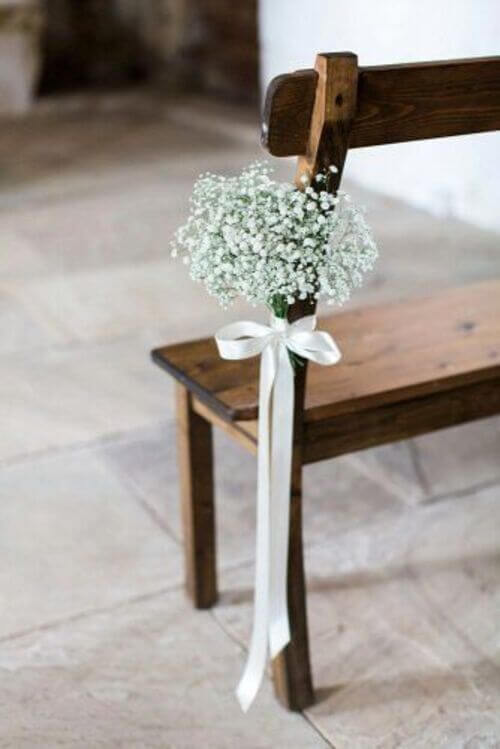 If you need to add a little something to the aisle then you can use baby's breath.
It works great and is budget-friendly. You can also incorporate white ribbons into the chairs.
You don't need to go all out for aisle decor but a cute idea goes a long way.
Related: 20 Creative and Stunning Wedding Aisle Decor Ideas (For An Unforgettable Ceremony!)
13. Twine-wrapped bottles and mason jars for roses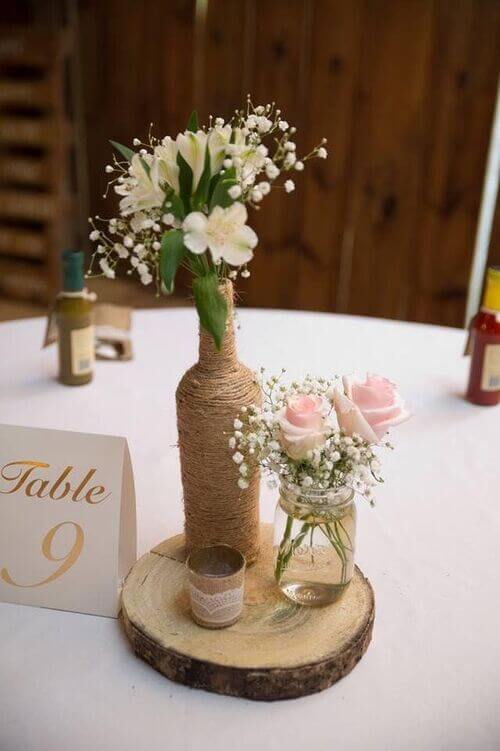 A simple DIY project can also go a long way.
Grab some old wine bottles, a glue gun, and some twine.
Simply wrap the wine bottles and add small bouquets to the mix.
You can also add mason jars filled with roses and place everything on those cute wood slices.
14. Draped fabric centerpieces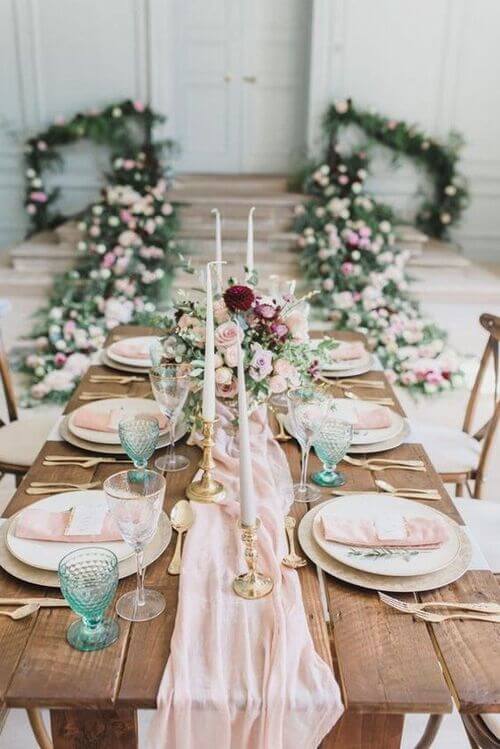 Adding vintage glassware to the mix can bring a fun new approach to the usual classics of a wedding.
Drape some fabric over the table as a table runner and add some taper candles and golden pieces to tie the whole look together.
15. Candles, roses, and eucalyptus leaves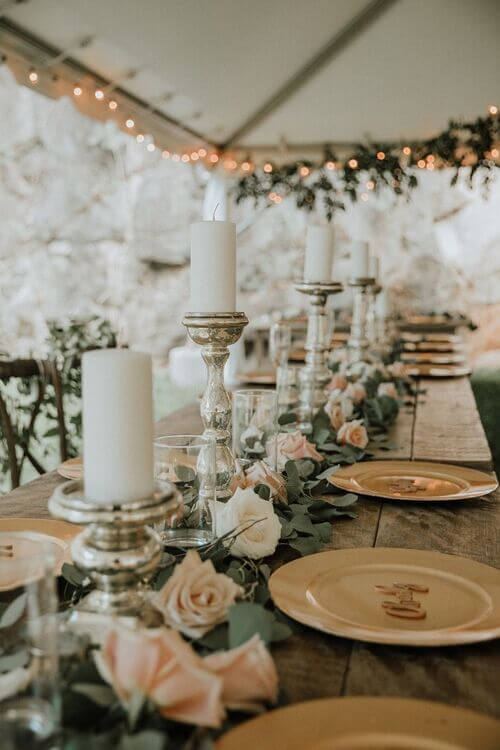 Silver can also be the perfect touch to dusty rose and sage colors.
It is sleek and brings a nice bold pop to the tables.
You don't need much for this idea to work so just add the necessities and you'll see amazing results.
16. Table numbers in hexagons wrapped in flowers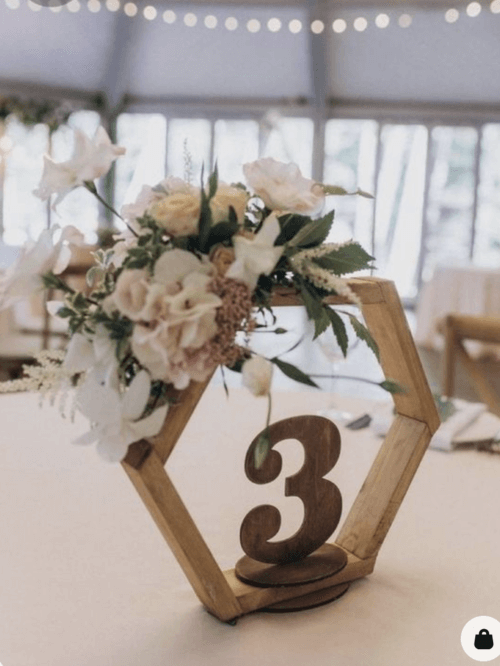 These cute hexagon pieces are a gorgeous addition to the tables.
You can also add some table numbers to the hexagons to make it look cohesive look.
Add some small bouquets, and you'll have a simple look for the wedding.
17. Subtle dusty rose accents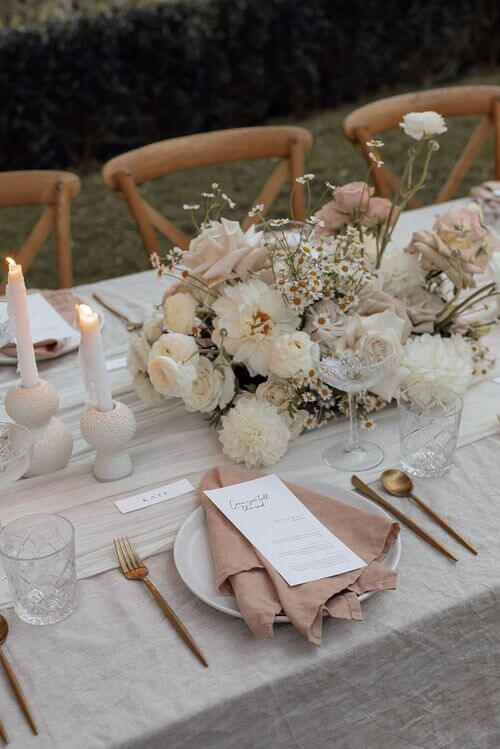 Keep things neutral with this dusty rose and white wedding decor.
It keeps the tones natural and soft and can instantly be elevated with copper or gold cutlery and accent pieces.
You can also add some candles to set the mood and bring a warm glow to the table.
18. Fairy lights galore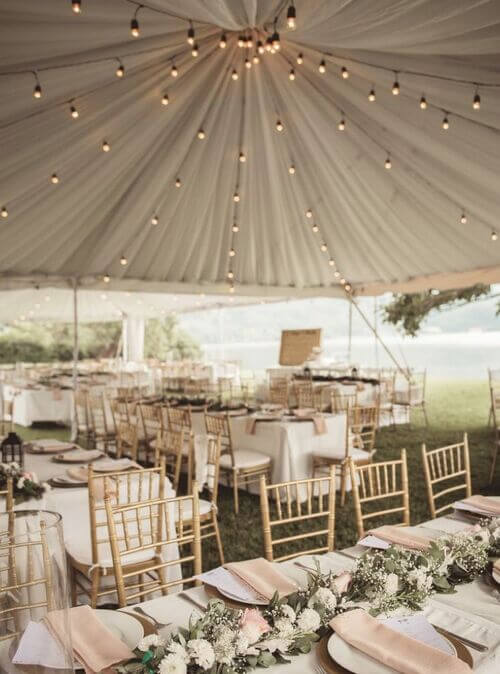 If you are in need of some extra lighting at your reception then these Edison bulbs are the way to go.
They bring a cute look to the area and provide a lot more light than you'd expect.
It also doesn't take away from the classy look which makes it ideal for a wedding.
19. Dusty pink and sage bridesmaids outfits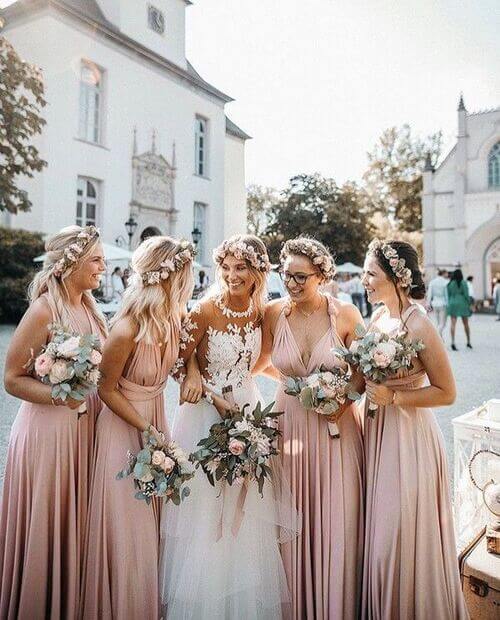 Dusty rose bridesmaid dresses allow you to incorporate some fun accessories without it looking too busy.
Get the bride to wear matching flower crowns with the bridesmaids.
It is a fun addition and also brings something different to the wedding.
20. Hexagon centerpieces filled with flowers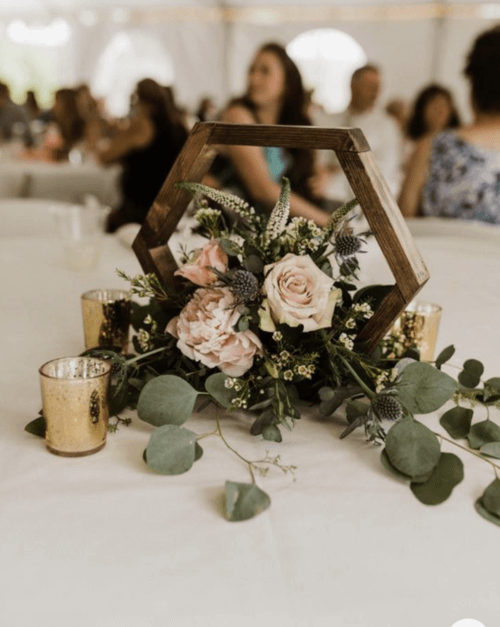 DIY these hexagon pieces to fill up the tables.
Pair them with eucalyptus, dusty pink roses, and simple sage green add-ons.
You can also add some candles to provide light to the table.
This idea is cute, unique and brings a rustic look to the day.
Making use of this gorgeous color scheme
Dusty rose and sage green wedding color ideas create a captivating and romantic ambiance that will leave a lasting impression on everyone involved.
From invitations to décor and attire, this elegant color duo effortlessly blends femininity and tranquility, making it a perfect choice for a dream wedding.
Embrace the allure of dusty rose and sage green, and let their soft and sophisticated charm make your big day truly unforgettable.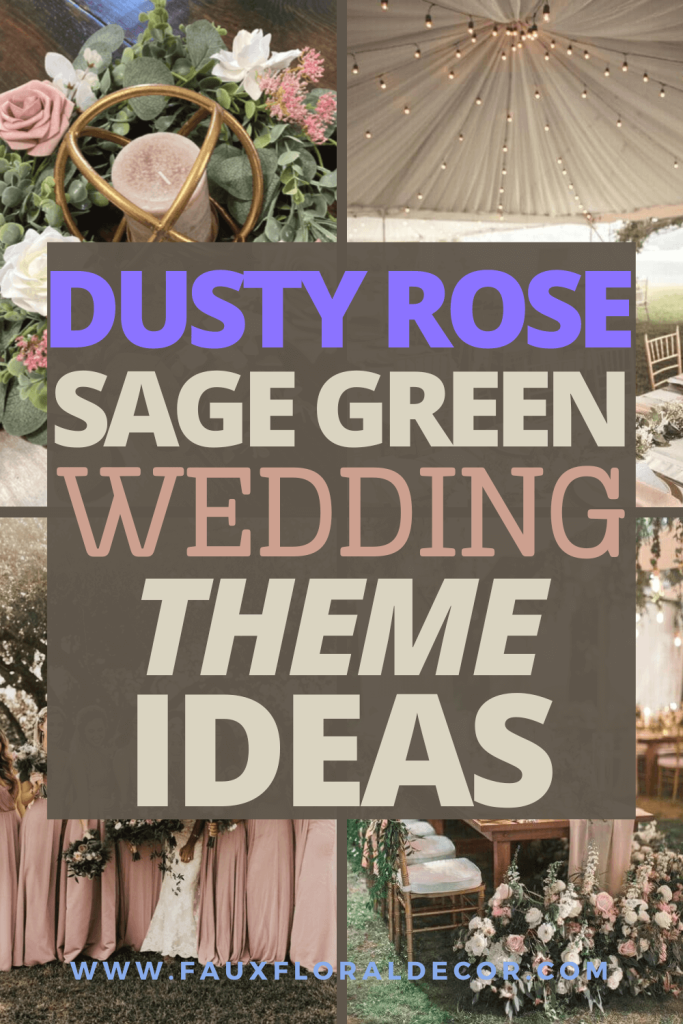 this post showed you the best dusty rose and sage green wedding color ideas 2023
You may also like: