This post shows you the best bride must-haves for wedding day.
Weddings… they're either the best day of your life or your worst (depending on how prepared you are).
While the wedding itself can be great nothing feels worse to a bride than being unprepared.
I have witnessed enough weddings to tell you what you need and what you don't.
So grab a notebook and a pen and prepare to find some products that will make your life easier.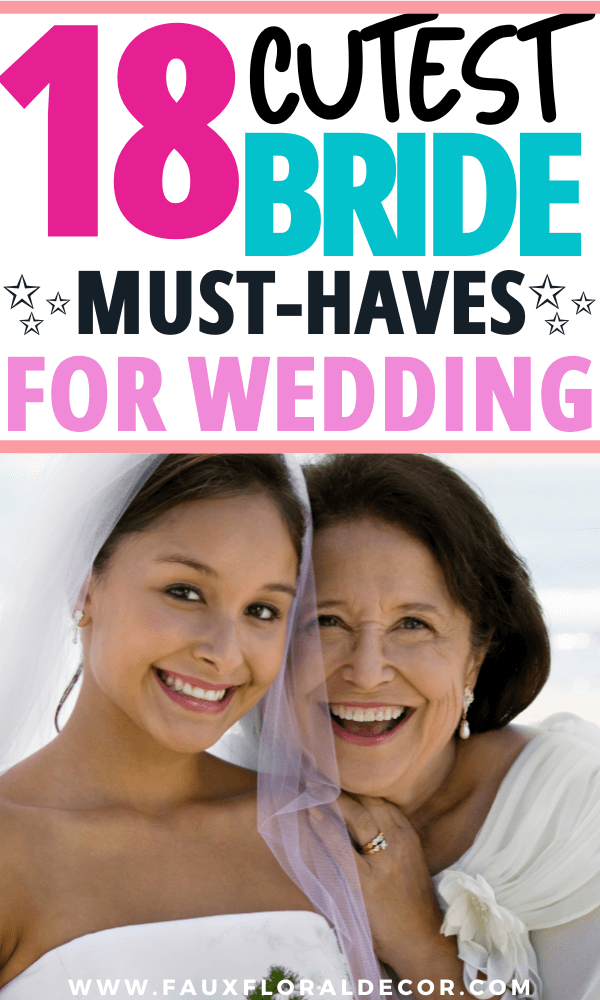 What we're looking at
I am taking you through must-haves and wedding day survival kit essentials.
These are just what you need to ensure things run smoothly.
When you are under stress the whole wedding can feel under pressure, so we want you to take a breath and take a look at our picks of must-haves.
This will ensure you have everything you need as a bride to make the wedding day successful.
Some of the top things brides tend to forget on their wedding day are:
Snacks (trust me, you are going to need the energy)
Extra charger
Wedding vows
Overnight bag
Treat your wedding like a checklist for a sleepover to ensure you have all the basics covered.
Things to keep in mind
Every bride is different. So it's obvious that they all will have different opinions about what they deem as important.
In this post, I wanted to focus on small pieces of the puzzle.
Something you possibly didn't even think about or forgot altogether.
What does this entail?
Well, it focuses on everything you need to avoid an accident or to serve as a backup when needed.
Being a bride is already one of the most stressful and rewarding adventures of your life.
From the planning to the wedding, right up to walking down the aisle. We can't have anything out of place.

Plus your wedding day is the only day where "If you forgot it, then we leave without it" doesn't count.
We aren't diving into "Something old, something new, something borrowed, and something blue today."
We're taking you through the ultimate survival kit of a bride n her wedding day.
1. Survival sewing kit

The number one thing to add to your must-have list is a sewing kit.
By making sure you have a kit on hand, you'll be saving yourself a lot of trouble.
It's compact and can be a quick fix to a problem on the day.
Since you never know what might happen, it can come in handy.
Your maid of honor can keep it with them in case something happens throughout the day.
2. Blister balm

Blister balm can be your best friend on your wedding day.
Just use a bit to avoid getting blisters from those gorgeous shoes you've been dying to wear for months now.
3. Honeymoon tote bag

If you're looking for a new bag to show off on your wedding day then grab this cute tote.
It's the perfect tote for all your honeymoon needs.
It has more than enough space and allows you to show off your newly married style.
Leave your old bags at home and bring along this special tote for the wedding night.
4. Honeymoon memory jar

This piece has been the cutest thing I've found on Amazon by far!
If you're going to an exotic island or taking your honeymoon to the beach, then this honeymoon jar is just what you need.
It is the perfect size to bring home a keepsake from your first adventure as a married couple.
For example, some beach sand.
5. Wooden ring box

Scared of forgetting the rings? I got you covered.
This ring box is the perfect way to keep the rings safe on the wedding day.
Cause let's be honest, they aren't safe unless you know exactly where they are.
So get this box for the big day. It's cute, and you can keep it as a memory of the big day.
6. Bride and bridesmaids bottles

Every bride and her crew need a cute keepsake of the day, and it's extremely important to stay hydrated on the big day.
Opt for these cute tumbler bottles for you and the bridal party.
They will love these bottles and remember all the fun of your wedding day when using them.
These bottles are great for pictures and overall.
7. Lace Sleepwear

You're going to need some cute lingerie for your wedding night.
Get yourself this cozy set to add to your overnight tote.
It comes with a silk robe.
Getting this set can instantly bring excitement for the wedding day.
Finally getting to enjoy the night as a married couple can just bring this new sense of fulfillment.
8. Comfy slippers

With a long day of wearing heels ahead of you, I highly suggest starting your day off with slippers.
Keep your feet warm and cozy up to the last minute to ensure that you have minimal chance of getting blisters.
Plus, having some slippers that literally say "I do" is just absolutely adorable.
9. Honeymoon journal

Does this technically count as something the bride needs on her wedding day? No.
Am I going to deem it a necessity either way? Yes.
This cute little honeymoon journal is the perfect book to keep track of your travels during the honeymoon and to be able to look back at all the memories made.
10. Bobby pins

Listen very carefully to the next sentence.
No matter how prepared you are, you will never have enough bobby pins.
For those pesky hairs that don't want to stay in place. Or to keep your updo in place.
Bobby pins will in fact be your best friend on your wedding day.
11. Note to the groom

This note to the groom is a cute addition to your wedding day.
This can turn into a lasting tradition between the bride and groom.
Write a note to the groom and send it to him before you walk down the aisle.
It is a wholesome way to calm each other's nerves and just make each other laugh in general before you are officially husband and wife.
12. Stain remover

You can never be too prepared.
This stain remover is the perfect size to keep on hand for your wedding day.
It is simple to use and gets the stains out quickly.
You never know what accident might happen, so keeping these with you will save you a lot of trouble and ensure you're prepared for the wedding pictures.
13. Face roller

A long day of running around, panic, crying, and joy can have its toll on a full face of makeup.
If you know that you're not used to makeup for a long amount of time, especially if you have oily-prone skin, then this is 100% for you.
A face roller helps to ensure your face stays oil free throughout the day.
It's a compact roller that can be held close by for pictures.
14. Glitzy sneakers

We know the wedding ceremony can feel a little intense when you wear heels the whole time so switch those stilettos for sneakers.
Trust me, this is the best decision you can make on your wedding day.
This will help you to avoid blisters and enjoy the afterparty even more. Plus, it does help when they are all glammed up.
15. A hand fan

For all those girlies thinking of a spring or summer wedding… add this to your wishlist ASAP.
The day can get simmering hot, and an elegant wedding dress isn't always the most air-conditioned piece of clothing.
A hand fan will allow you to keep yourself cool and collected throughout the day.
So this is definitely something you can invest in because it can be used in the future too.
16. Loungewear for the trip

Add this to your overnight bag.
If you're going to be going on your honeymoon right after the wedding, then this comfy set is just what you need for the plane or car ride.
Be comfy and get ready for the next adventure ahead of you.
17. Face mist

Keep your face hydrated through the day with a face mist.
It gives you a refreshing boost throughout the day and overall keeps you cool.
Definitely add this to your list if you know that makeup (especially heavy makeup) isn't something you usually do.
18. Body tape

If your dress is a backless or sleeveless dress, this is a lifesaver.
Body tape allows you to wear the dress of your dreams without spoiling the look with a bra.
So if you know that you haven't found the perfect bra to go with your look, getting some body tape can easily fix your problem.
A look back at bridal necessities
As you can see from the list above, anyone can forget a few things.
The day is exciting and stressful so forgetting a thing or two is bound to happen.
We just want to ensure that you are prepared.
Maybe you've even added a few products to your list that you didn't think of before.
Whatever it is, let's ensure things go smoothly and you can relax on your wedding day instead of worrying about every little thing.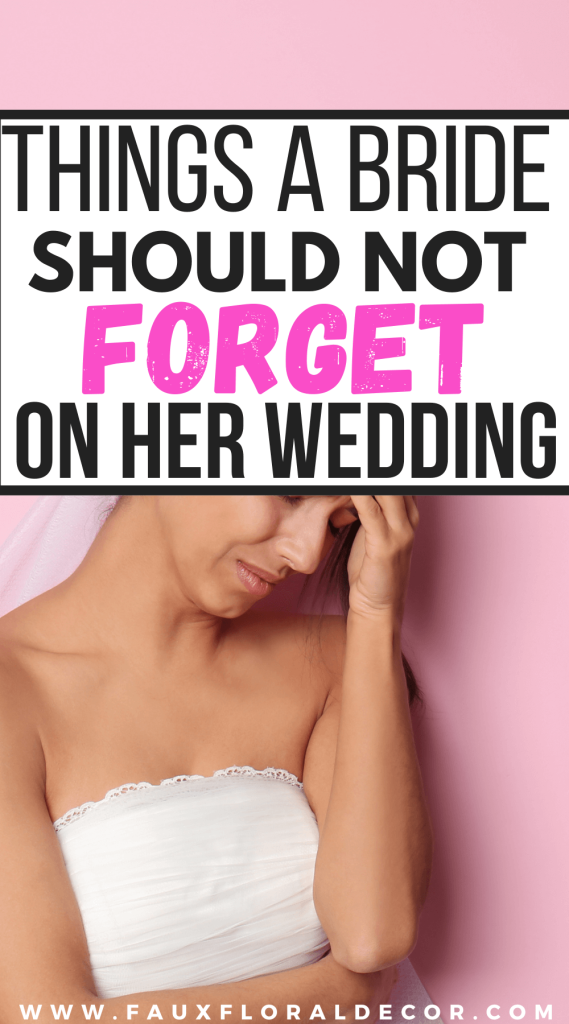 This post showed you the best bride must-haves for wedding day!
You may also like: