This post covers the best micro wedding ideas!
We all dream of feeling like royalty on our wedding day, with a grand ceremony and a crowd of 150+ guests cheering us on.
Unfortunately, our dreams don't always align with reality.
Whether it's the global recession, the pandemic, or simply a desire for a more scaled-back celebration, many couples are choosing to pare down their wedding plans.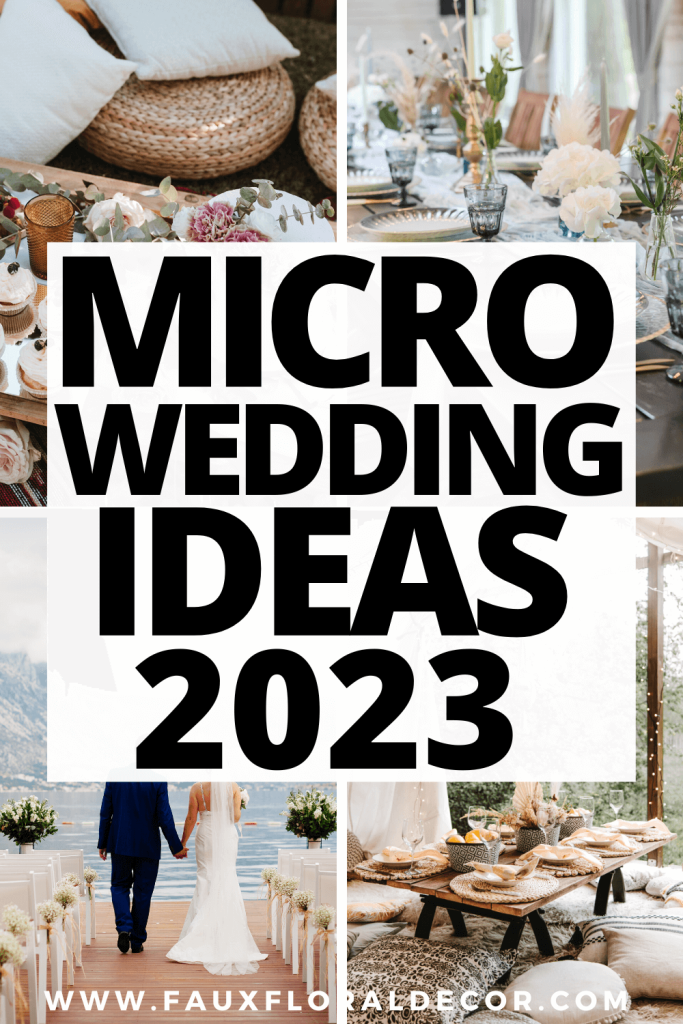 But why settle for less when you can have it all?
Introducing – the micro wedding!
Micro wedding is having quite a moment now.
With this kind of mini-marriage, you get all the fun and excitement of a traditional wedding without the stress of overspending.
It is the perfect way to have your cake and eat it too (literally, if you so desire).
What is a micro wedding?
The concept of a micro wedding was once considered too radical to be discussed openly.
But thanks to the present health, economic and environmental concerns, it has finally attained mainstream status.
Though petite in size, micro wedding packs all the big punches.
Picture this – a spectacular venue, a professional photographer capturing every ounce of that romance, and jaw-dropping décor that would make even the biggest weddings blush.

And do you know the best part? You get to share it all with just your closest 50 guests!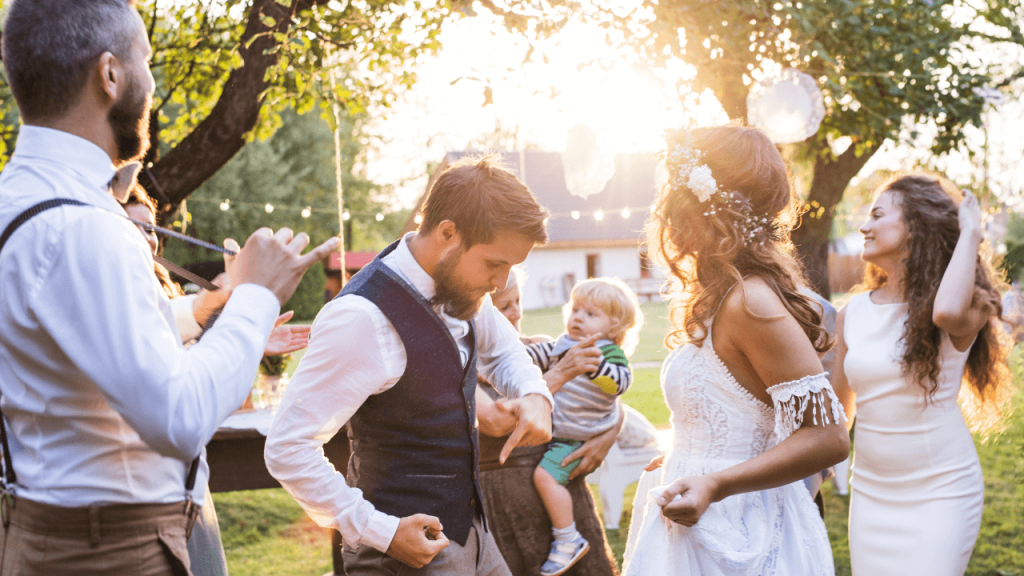 Yes, anything more than 50, and the wedding will fall under the category of a small wedding.

Micro weddings are all about quality over quantity.
Every detail is given the utmost attention and care, creating a truly personalized and immersive experience for you and your guests.
This wedding is big on love and style but small in size and scale.
Micro wedding reception ideas
Whether you are a boho chic gal or an urban glam bride, many options are available to create a micro wedding reception that perfectly complements your personal taste and style.
For the homebody, consider decking up your backyard with eye-popping floral installations.
Create a cascade of string lights around the dining table to give it a magical lift.
Convert the otherwise quiet garden to a throbbing disco pit by adding disco balls and dancing lights.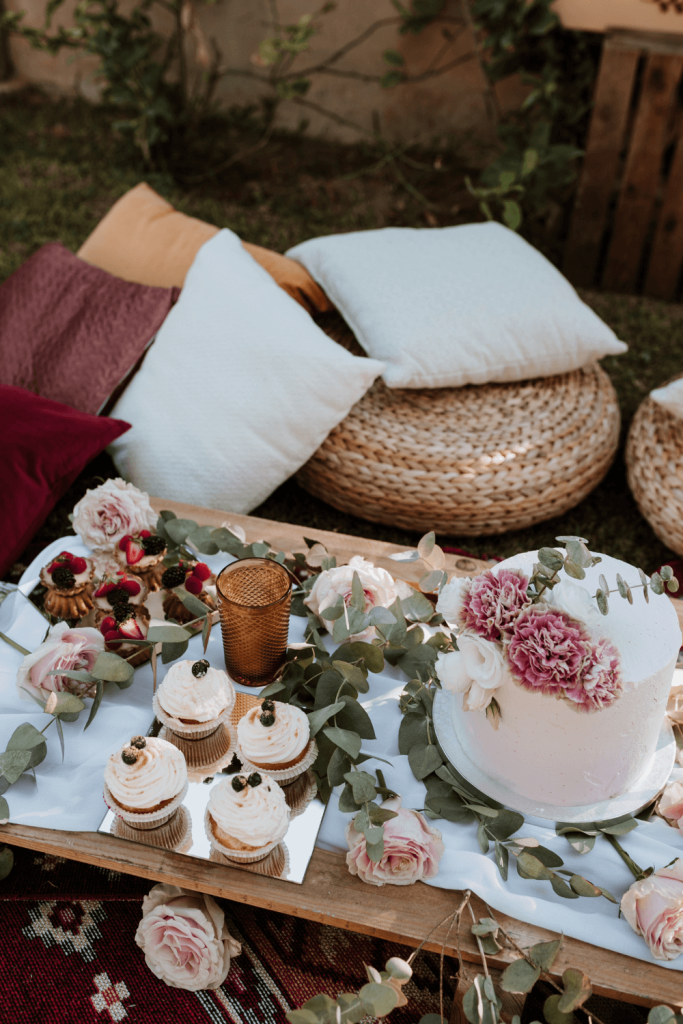 For the nature-loving boho brides, consider throwing a forest party.
Look for a national park with towering trees where you can take your small team of revelers.
Give it a fairy forest vibe by adding whimsical decor.

For a statement micro wedding, get hitched in a medieval castle.
Look for a heritage hotel that has converted one, as most properties will have a venue hire option with dinner and decor.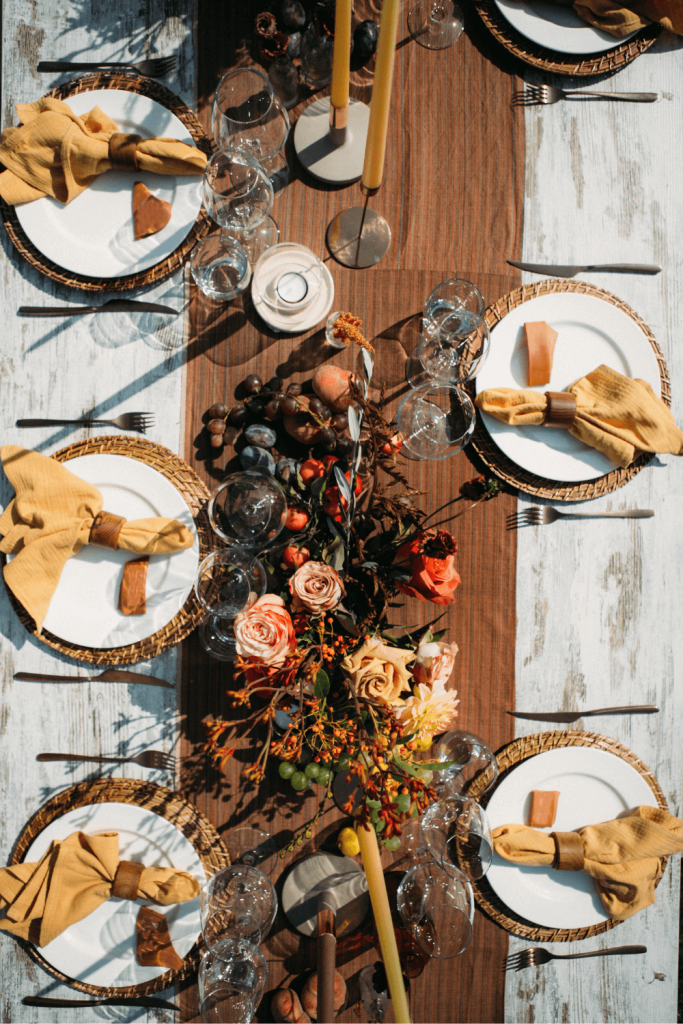 Micro wedding ceremony ideas
Since micro weddings still retain all the trimmings of a traditional wedding, you can easily amp them up by tailoring them to your liking.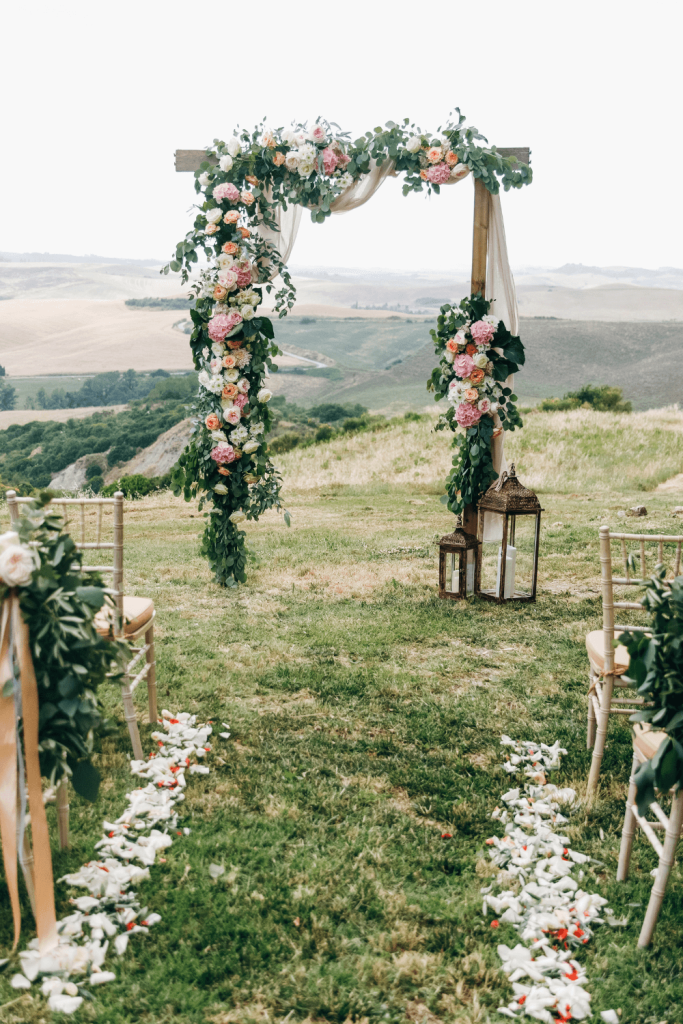 Add emotional and sentimental touch at every point so that your guests get to live the moment and not just be a mere witnesses to it! Here are a few ways you can do this:
Add a dash of elegance, intimacy, and sentimentality to the occasion with handwritten invitations.
Opt for personalized vows as with a smaller guest list, you can create a more personal and meaningful exchange of vows between the bride and groom.
Choose a special seating arrangement, such as a circular or semi-circular setup, to make your guests feel more connected and involved in the ceremony.
Curate leisure activities to make the wedding more enjoyable for guests. Consider setting up a photo booth, yard games, interactive food stations, karaoke, wine tasting, group dance, or craft station. These activities can create a lively atmosphere, allowing guests to connect with each other and the couple.
Webcast the wedding ceremony for the ones unable to attend the wedding in person to make them feel included in your celebrations.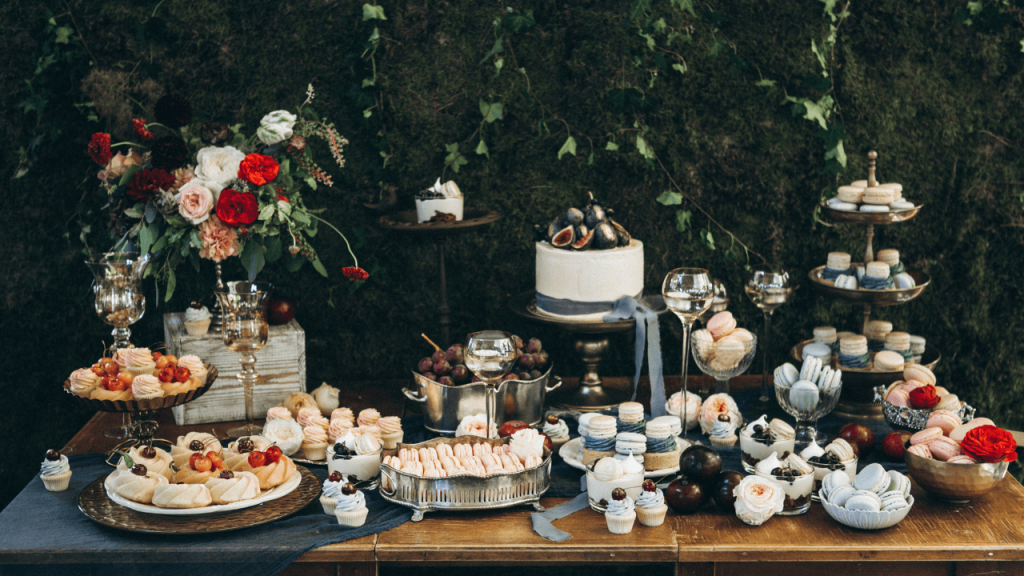 Destination Micro wedding
A destination wedding is not just good, but a GREAT idea for a micro wedding!
It's a chance to add some drama and sass to your special day by jetting off to a gorgeous, exotic location to celebrate your love with your favorite peeps.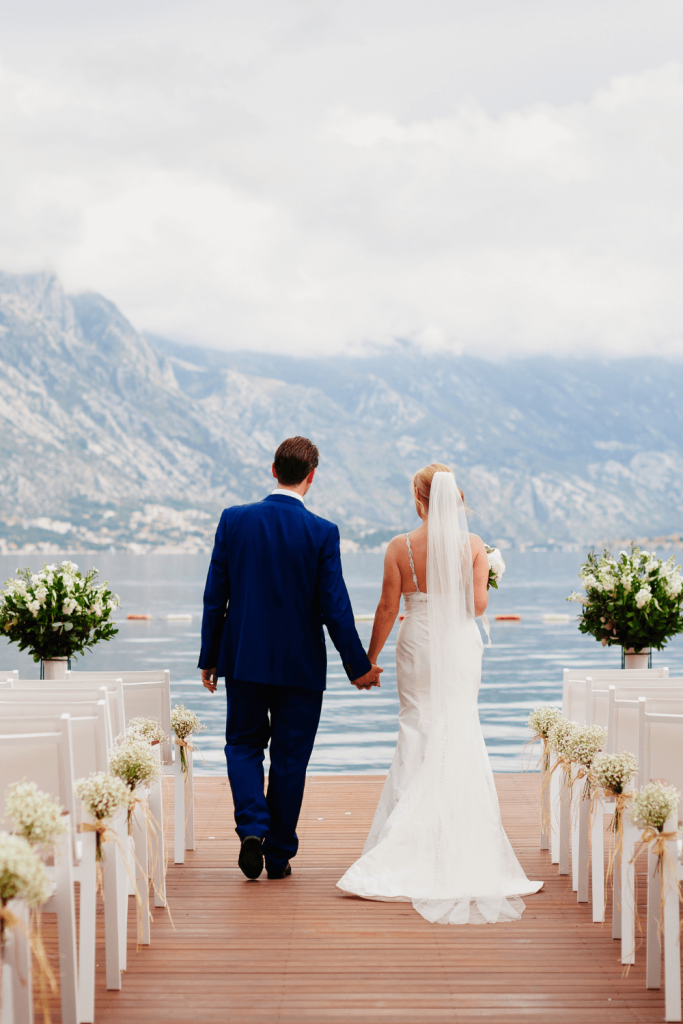 Consider some of these top destinations that will make your special day unforgettable.
Exchange your vows on a stunning island in Tahiti, surrounded by crystal-clear waters and swaying palm trees.
Or venture to Limerick in Southern Ireland, where the whimsical countryside and dramatic landscapes provide a picturesque backdrop to your big day.
For a touch of Italian romance, the Amalfi Coast offers aquamarine vistas that will take your breath away.
And for a truly remarkable experience, opt for a Mamma Mia-inspired Greek wedding in Spetses, Greece, where you can dance the night away under the stars.
Micro wedding venue
Let's turn up the excitement and fun of your micro wedding by exploring some creative venue ideas!
With a smaller guest list, the possibilities for innovative venues and experiences are endless.
Tie the knot in a blooming vineyard surrounded by lush greenery and the sweet scent of grapes, or get hitched in a retro train carriage.
You can even take your reception to new heights by choosing a scenic rooftop overlooking your beloved city, offering stunning views and a modern urban vibe.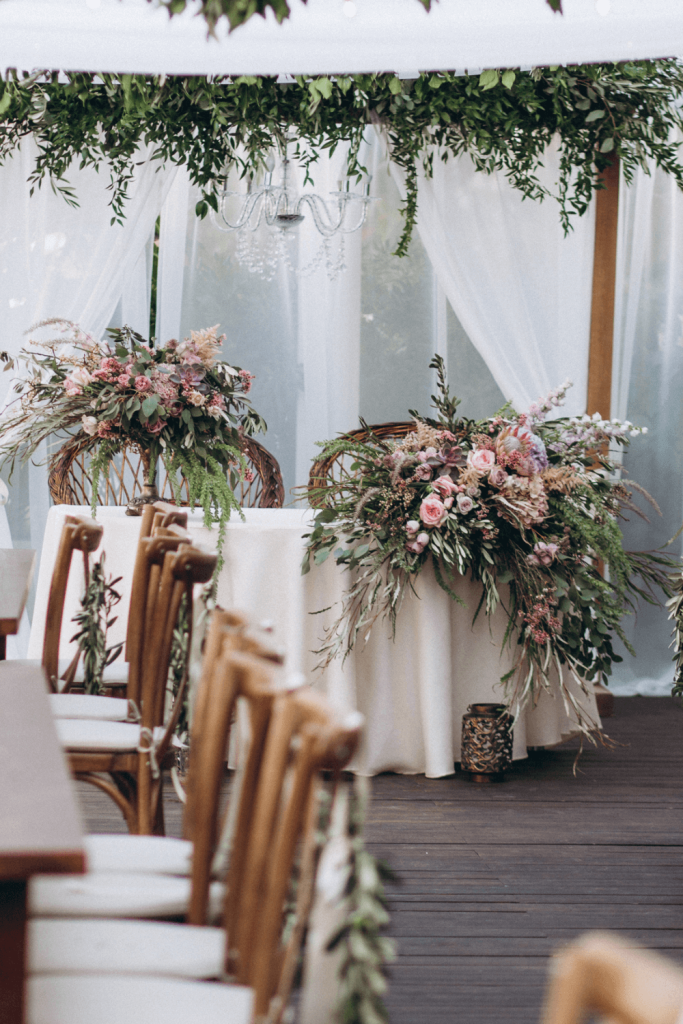 But do you know the best part?
You won't need to spend a fortune on decor with these exceptional and striking locations.
Go for a minimalist aesthetic in a warehouse venue, using the space's industrial charm as the perfect backdrop for your special day.
Alternatively, highlight the natural beauty of a forest or barn with simple touches like candles and flowers, allowing the venue to shine on its own.
If you're wondering what to do if you only have your home or backyard for throwing a wedding party, don't worry.
Add a beautiful archway or a floral pergola to beautify the space, or go for mixed seating options and ambient fairy lights.
You can even add some fun by setting up a small dance floor or area for live music and catering to your guests with a DIY self-serve bar or local food truck.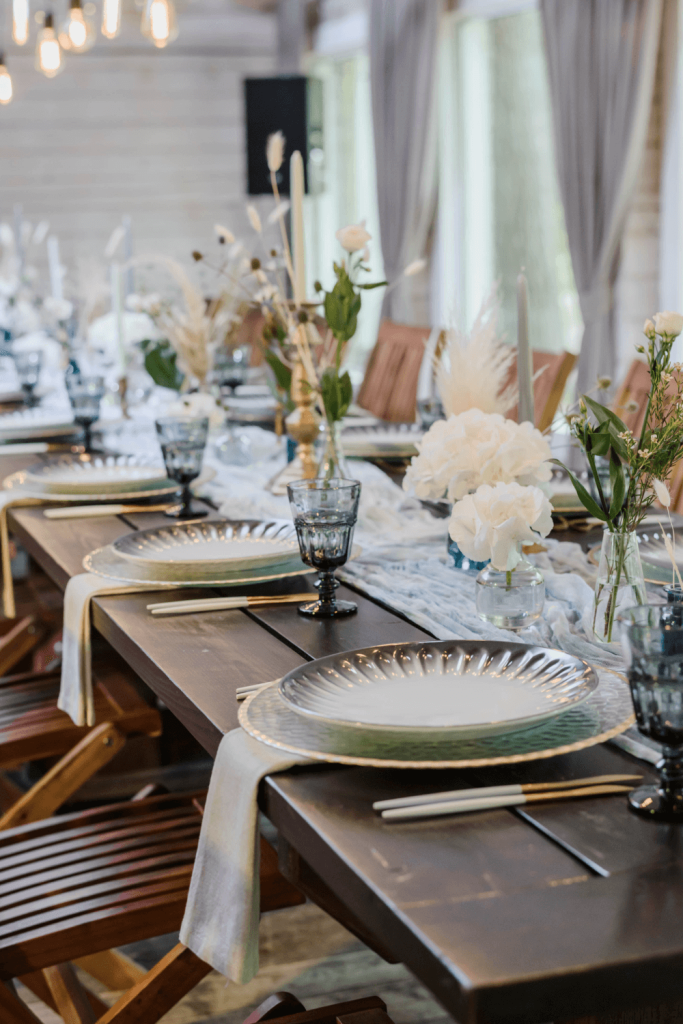 Micro wedding checklist
Planning a micro wedding may seem like a small affair, but the logistics can still be overwhelming.
That's why a micro wedding checklist can come in handy to ensure that no important details slip through the cracks.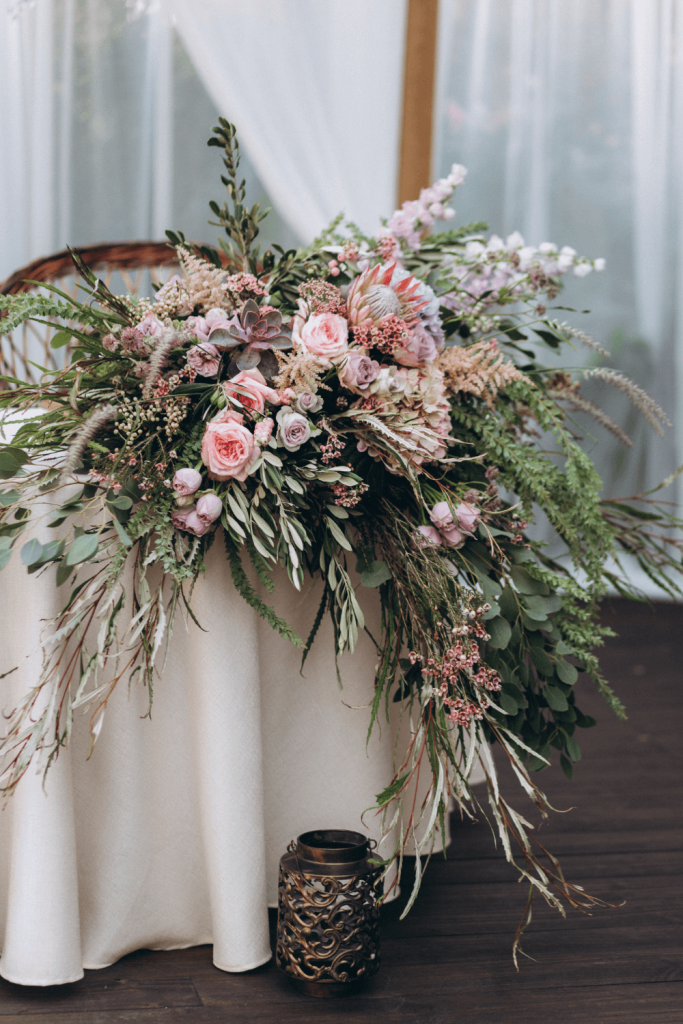 Here is ours:
Start by selecting a theme that will set the tone for your special day.
Choose a venue that's cozy and matches your theme.
Create a guest list that includes only your closest loved ones, not exceeding 50 guests.
Plan transportation and accommodation arrangements to ensure your guests stay comfortable.
Select decorations that complement your chosen theme and create an ambiance uniquely you.
Arrange for music or a DJ to keep the celebrations going.
Book an outstanding caterer who will provide delicious food and beverage options to satisfy all tastes.
Don't forget to capture every moment of your special day by hiring a photographer and videographer.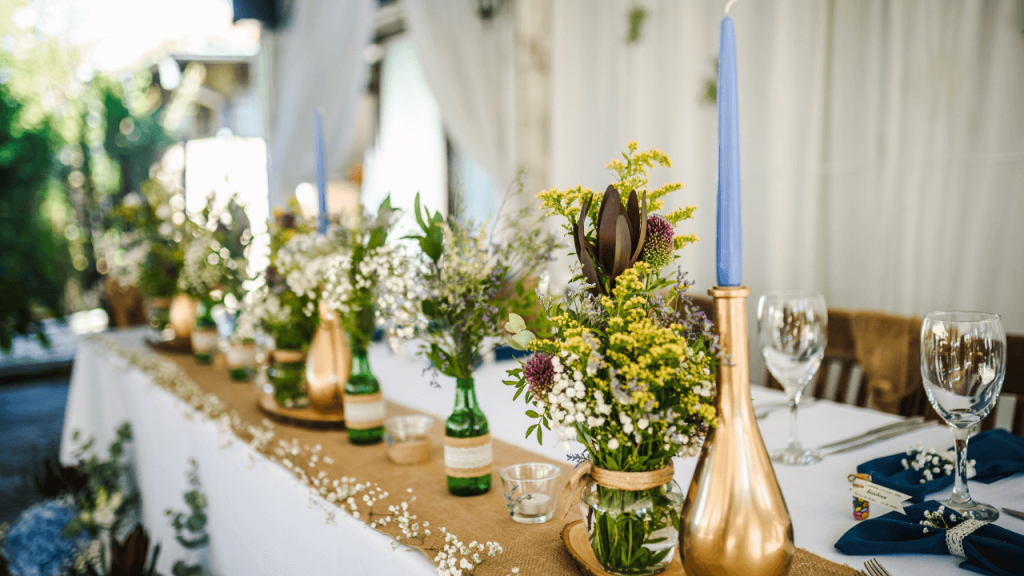 Micro wedding decor ideas
Despite being smaller in scale, micro-weddings still prioritize wedding decoration and aesthetics, allowing for more attention to detail and creativity.
Here are some inspiring ideas to help guide you in the right direction:
Choose a venue with respect to your guest size. To create an intimate atmosphere, use creative design elements such as floral arches, string lights, draping, and trees to define your space and maintain a small-gathering feel.
Ensuring seamless communication between your guests is essential to maintain a lively atmosphere. Any large centerpiece should be either suspended from above or artfully adjusted to the side so that it doesn't obstruct their view and hinder conversation.
Use a long Italian-style communal table for dining together, or get a u-shaped table to accommodate more guests.
Where detail is the diva, be sure to pay attention to every aspect of your table decor, including colors, textures, and materials, to ensure that they perfectly complement the overall mood and aesthetic of your wedding.
It can be your big day in a small way but don't shy away from incorporating grand elements like elaborate chandeliers or luxurious chairs into your micro-wedding reception decor.
Small doesn't have to mean suffocating. Add a little lounge area where guests can relax and soak in the stunning decor, enjoy a refreshing drink, or take a break from busting moves on the dance floor all night.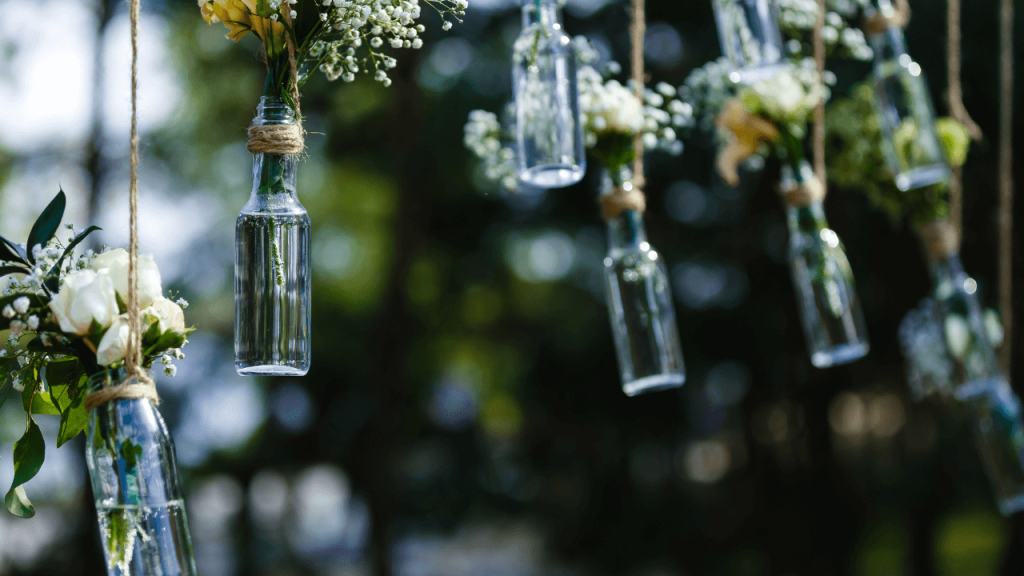 Conclusion
Micro weddings allow couples to create a singular and bespoke affair of love.
The possibilities are endless, whether you opt for a rustic outdoor setting, an elegant cityscape backdrop, or a cozy at-home affair.
Additionally, there are several creative ways to incorporate technology and virtual elements into your micro wedding, allowing friends and family who can't attend in person to still be a part of your special day.
The COVID-19 pandemic has made micro-weddings a more popular choice, but this trend may continue as couples increasingly prioritize intimacy, personalization, and a focus on what truly matters – the love they share.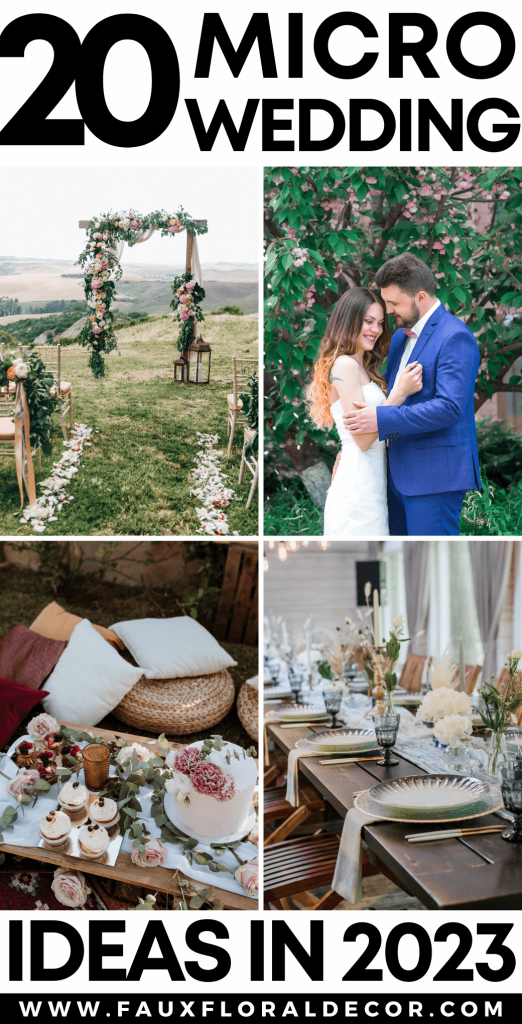 This post showed you the best micro wedding ideas.
You may also like: