This post shows you the best small backyard wedding ideas!
Backyard weddings are the perfect way to celebrate a special day.
You can create the wedding of your dreams without breaking the bank.
With the ideas I will show you, you can throw the most magical wedding while staying within your budget.
These weddings are especially great for spring and summer but can be easily achieved in winter or autumn.
Backyards have become extremely popular, especially after the pandemic.
They have allowed people to still have their dream weddings but keep the costs to a minimum.
Since Covid had an effect on weddings and how we approach them, many couples had to try new ways of tying the knot and ensuring their day ran as smoothly as possible.
Small backyard wedding ideas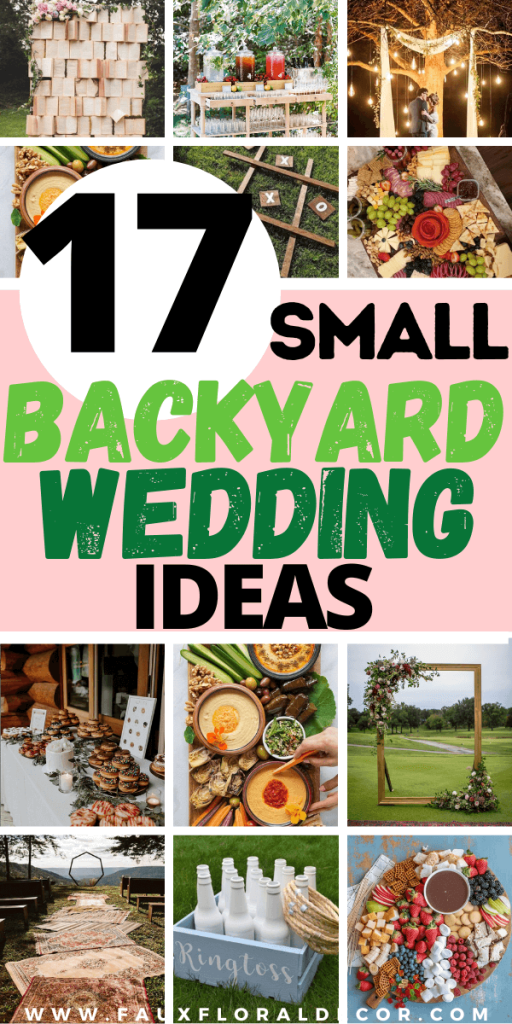 What is a micro wedding?
Micro weddings are weddings that typically don't have more than 50 people attending them.
They have all the same fun and traditions.
They are budget-friendly since you won't be catering to hundreds of guests and you won't have to make lots of goodie bags or personalized items.
Things to consider before planning your backyard wedding
There are a few things you need to consider before planning the backyard wedding of your dreams to ensure that you have everything you need to create the perfect day.
For example:
Determine the budget
Limit the number of guests
Plan where the ceremony will be
Choose at least 3 things to be priorities
Look at alternative food and drink options (platters and snack tables)
DIY your wedding favors
Pick in-season flowers (they're cheaper)
Make use of vintage or second-hand items for decor (Did someone say "something borrowed")
Once you've gone through the checklist above you'll have an easier time putting everything together.
This gives you some time to figure things out without having to rush it all at the last minute.
Platters and snack tables
If you're looking for a way to make a full snack table or even just to ensure that your guests have enough to get through the day before dinner then platters will be your best friend.
You can ask the family to help or assign each bridesmaid a specific platter to create.
You can make them; sweet, sour, meat, veggies, cookies, or filled with fruits.
1. Vegetarian platter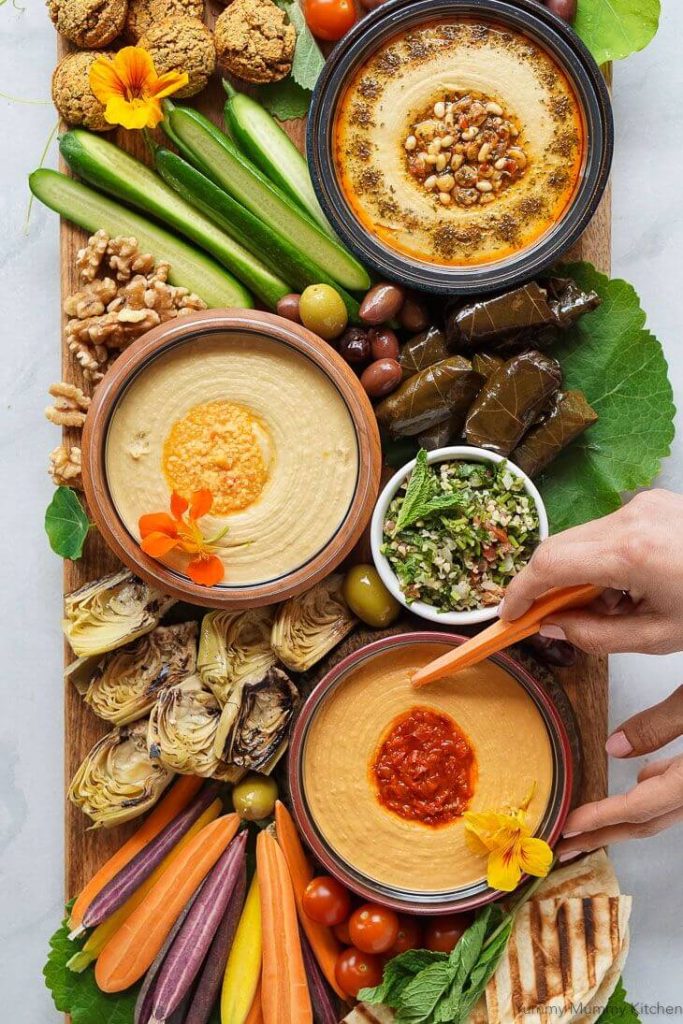 It's important to make sure that everyone feels included.
When you're making these platters you can create something for everyone.
It's always best to include a veggie board so your guests have a healthy option.
2. Charcuterie boards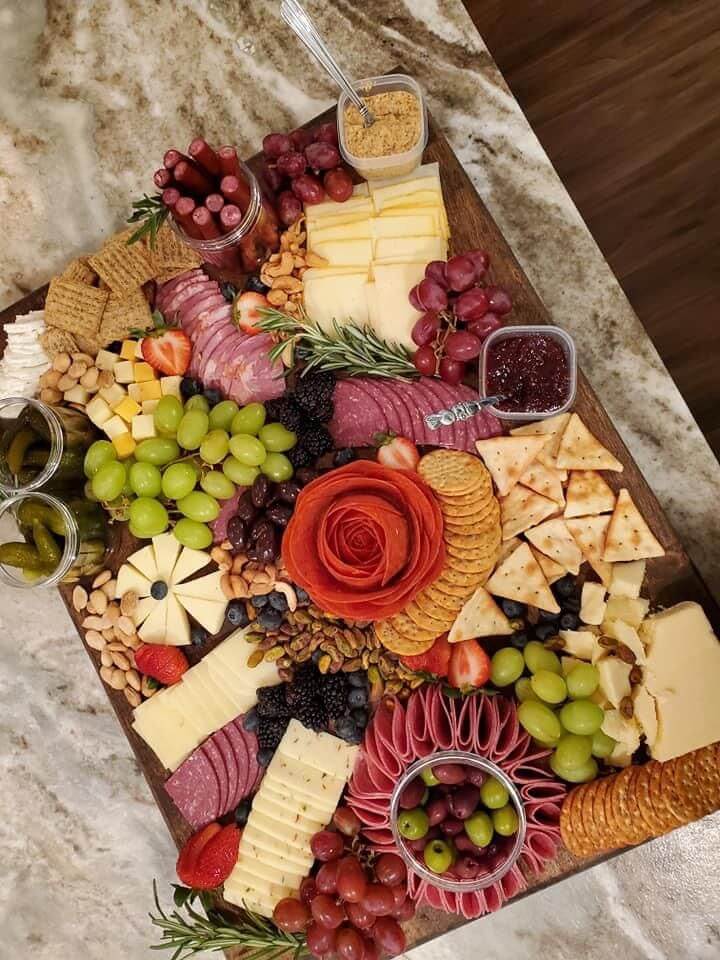 These boards are popular among parties.
You can add cheeses, and meats as well as some grapes or some graham crackers.
They offer a wide variety of snacks for every guest.
3. Fruit platter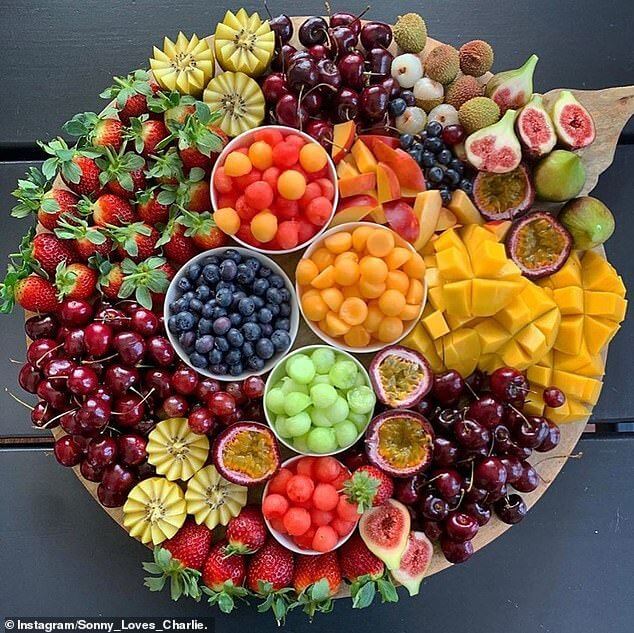 Nothing is better than a refreshing fruit platter on a hot summer or spring day.
You can use juices or just cut up fruits and place them on a platter for people to snack on.
4. Sweet and salty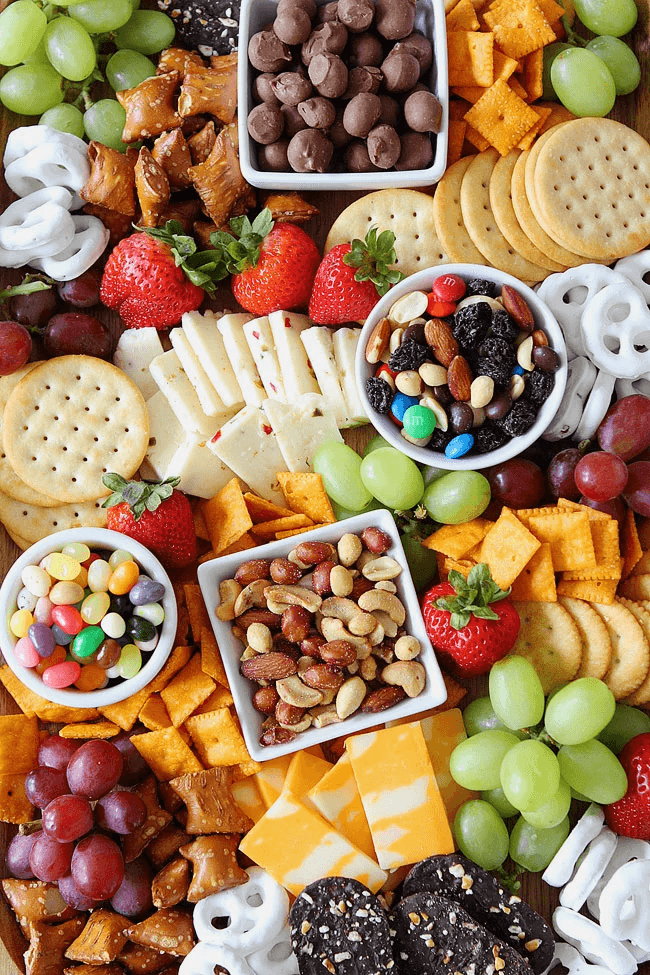 Sweet and salty platters consist mainly of fruits, crackers, pretzels, and some pieces of chocolate.
They are the perfect combination of sweet and salty.
They also don't fill you up so that you don't have space for dinner or dessert.
5. Cookie platter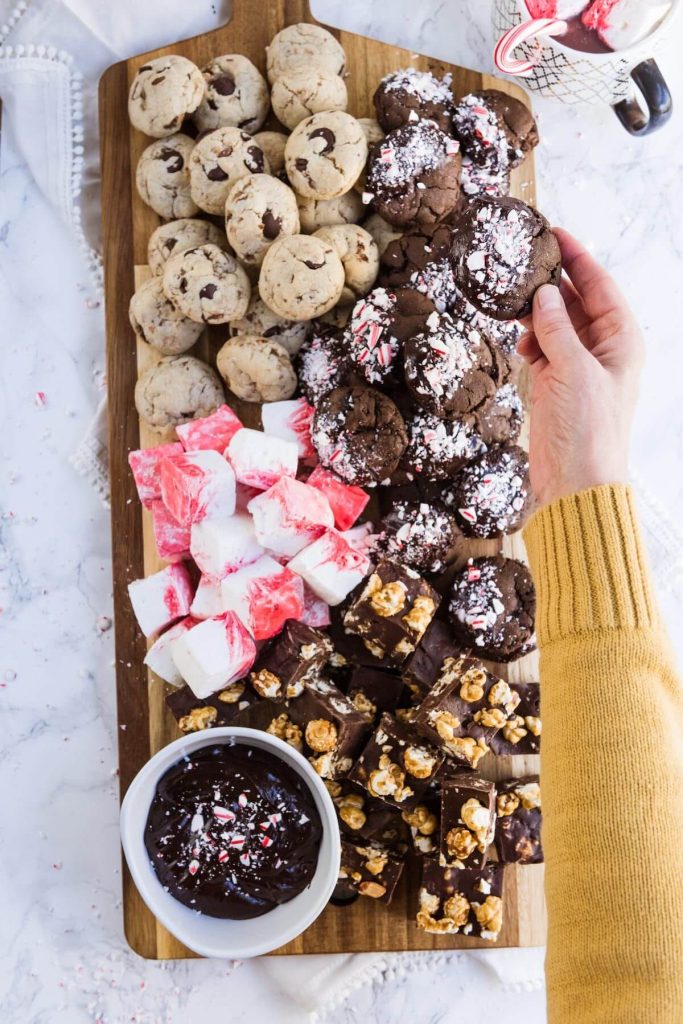 No one can turn down cookies so this is a must-have.
Pair this board with a coffee nook for all your guests to snack on.
This is great food for winter weddings when it's chilly and you need something to warm you up.
6. Chocolate fondue board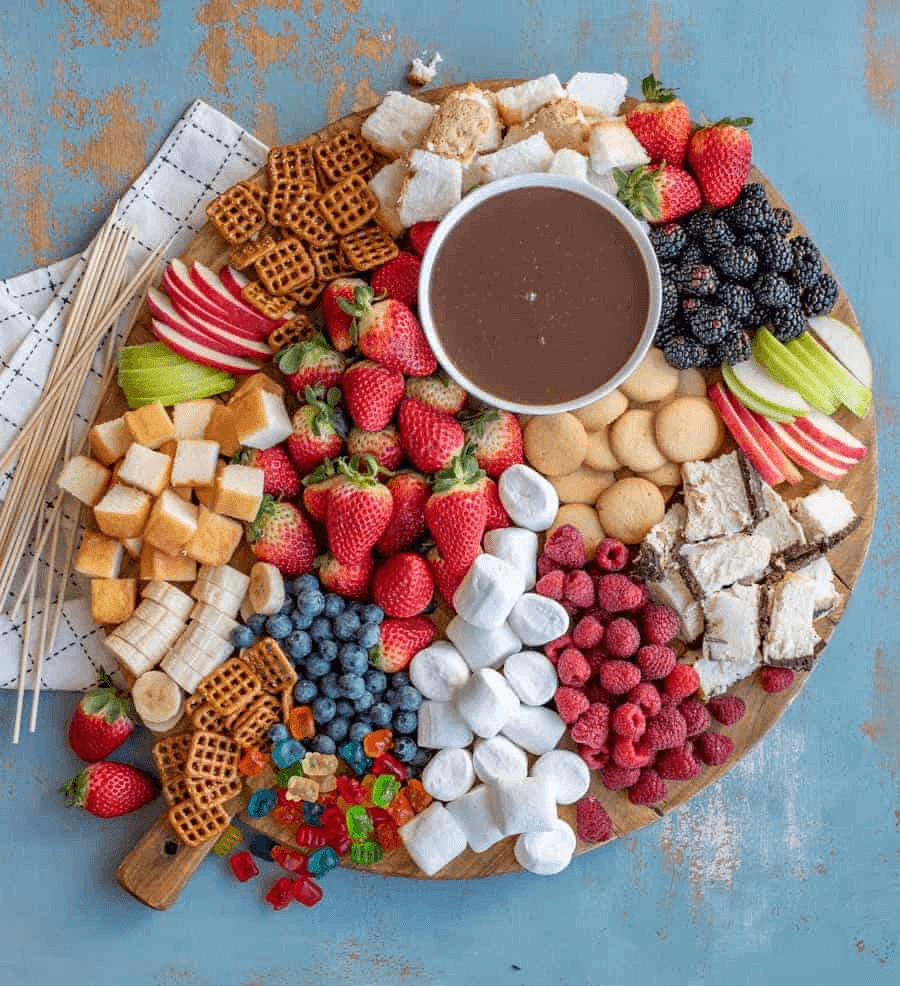 Everyone needs to add a chocolate fountain to their wedding day.
Marshmallows, strawberries, or even pretzels paired with white chocolate, dark chocolate, or normal chocolate.
So have a look at this board if you're looking for a great snack for the table.
Decorating for a backyard wedding
You don't need expensive decor to create a magical wedding.
You can easily decorate with vintage items or second-hand items.
1. Lemonade stand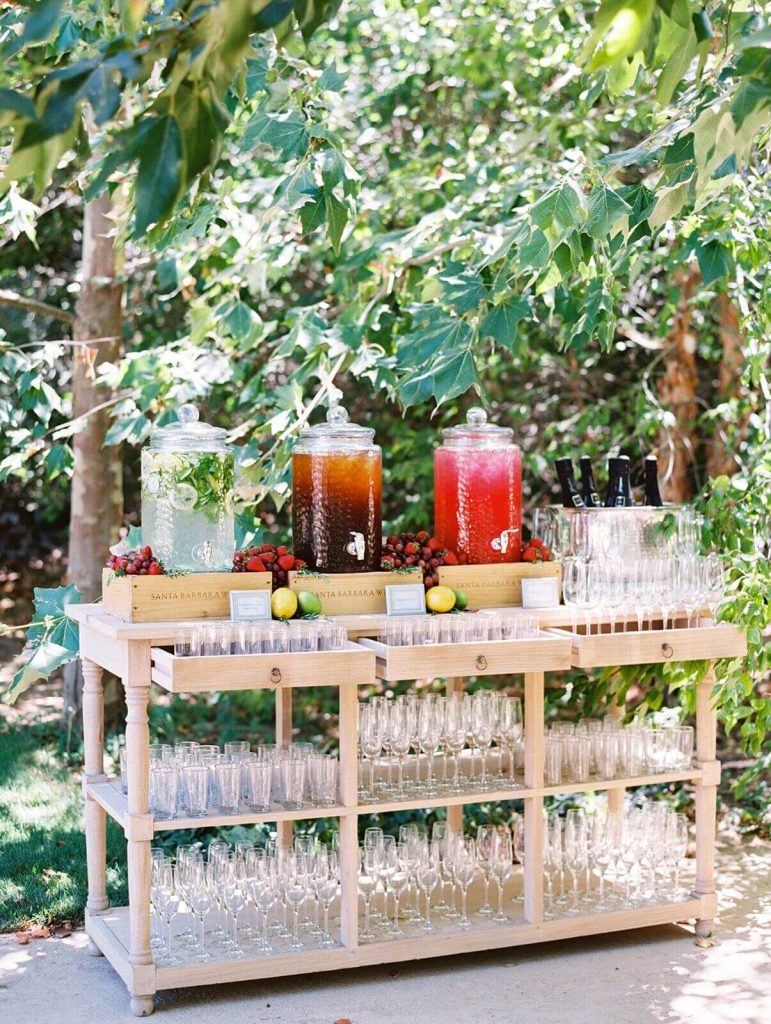 A lemonade stand is the best way to keep guests hydrated at a backyard wedding.
You can make a table with three or four juices and add some cups for your guests.
2. Fabric arch with fairy lights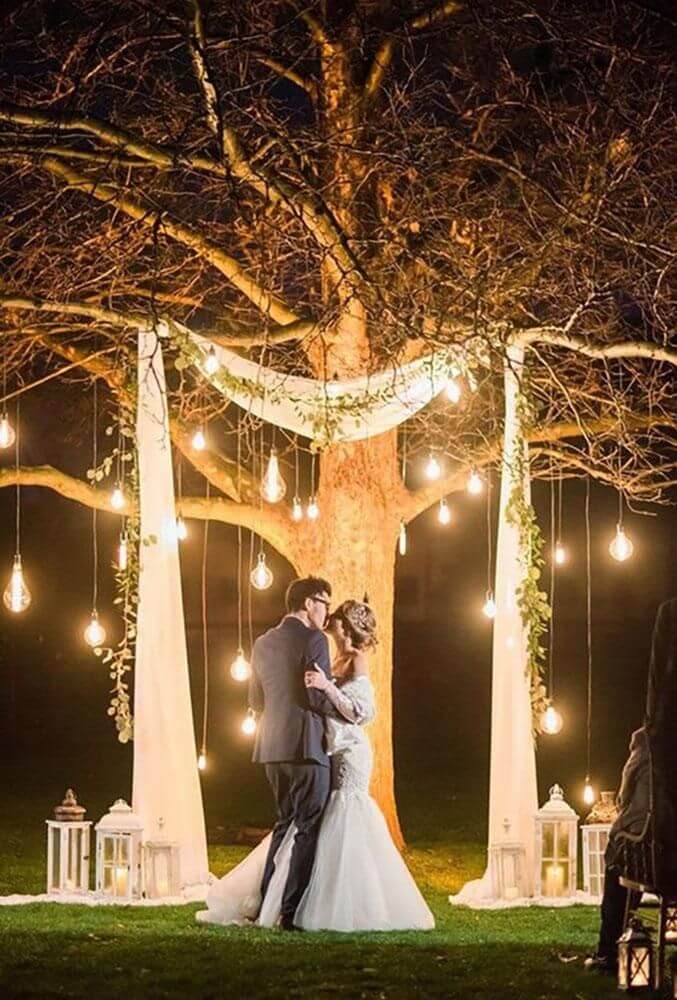 Fabric arches have become extremely popular recently.
You can easily grab a piece of fabric and drape it over a tree to create an arch.
You can then add fairy lights if you are planning to do the ceremony at night.
3. Eucalyptus and fairy lights in mason jars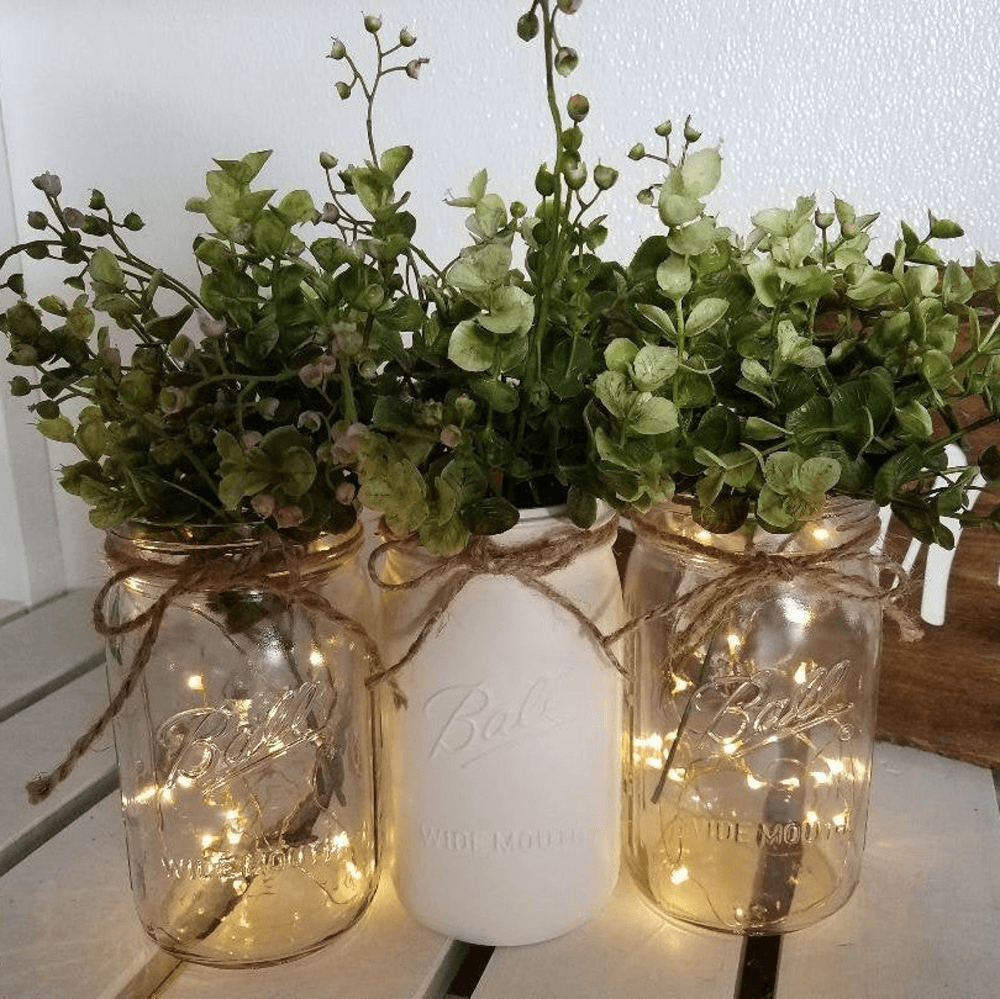 Eucalyptus is a great add-on to centerpieces.
They not only create a pop of color when added to fairy lights, but they also make the air smell amazing.
They are great to add to every season as well.
4. Boho rugs for the aisle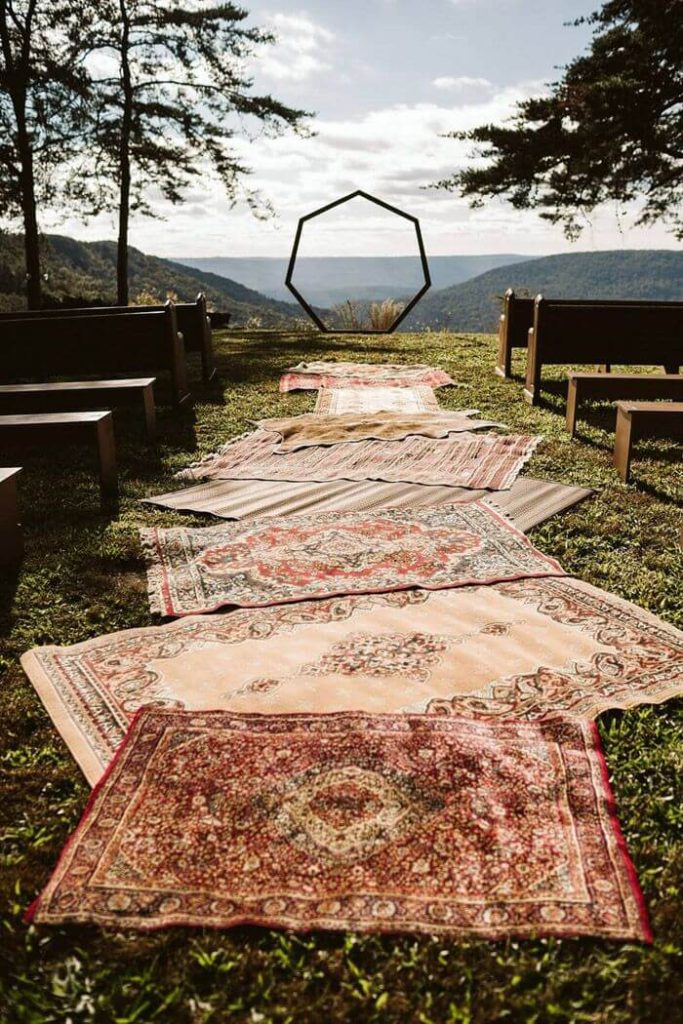 Boho rugs are an unusual and gorgeous way to create an aisle piece for your bride to walk down.
This is perfect for boho weddings and vintage themes
5. Bookwall photo booth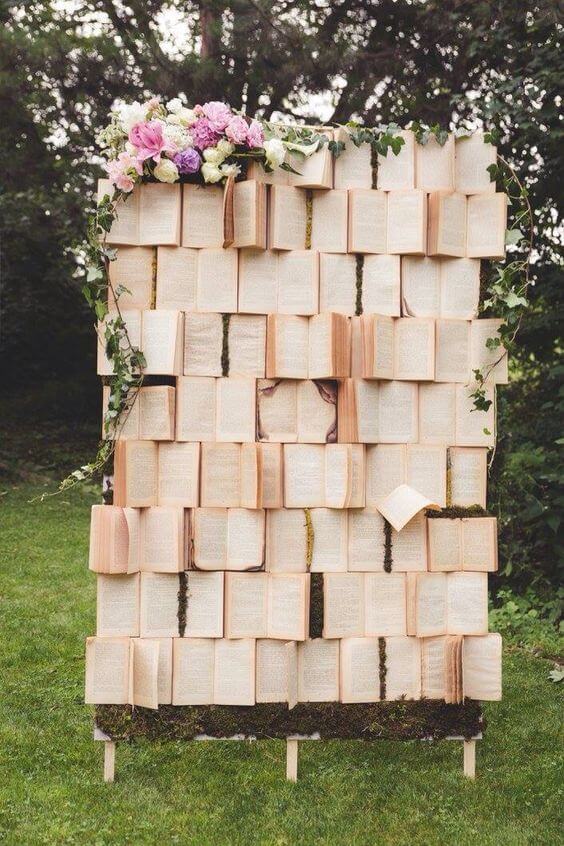 Create a wall made out of different books and create a photo booth wall by gluing them together.
This is a gorgeous idea that isn't used very often.
Add some flowers and fairy lights to make the atmosphere feel like a fairy tale.
6. Donut table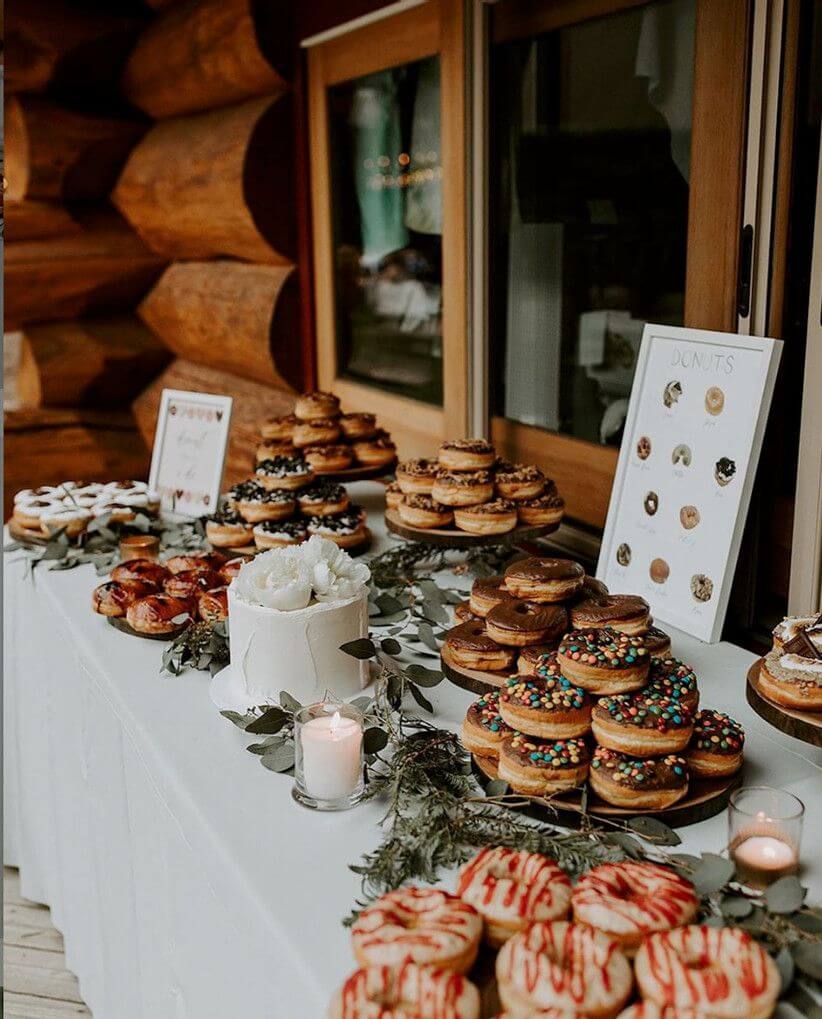 If you want something other than a typical snack stand, you can opt for this cute donut table filled with all your favorite donut flavors.
Games and activities
No matter where you are creating your special day, you need to make time for some fun games.
Whether it is a couples activity or a solo game these are great ways to break the ice and get your guests to mingle.
So here are a few games for you to add to your backyard wedding.
1. Engraved Jenga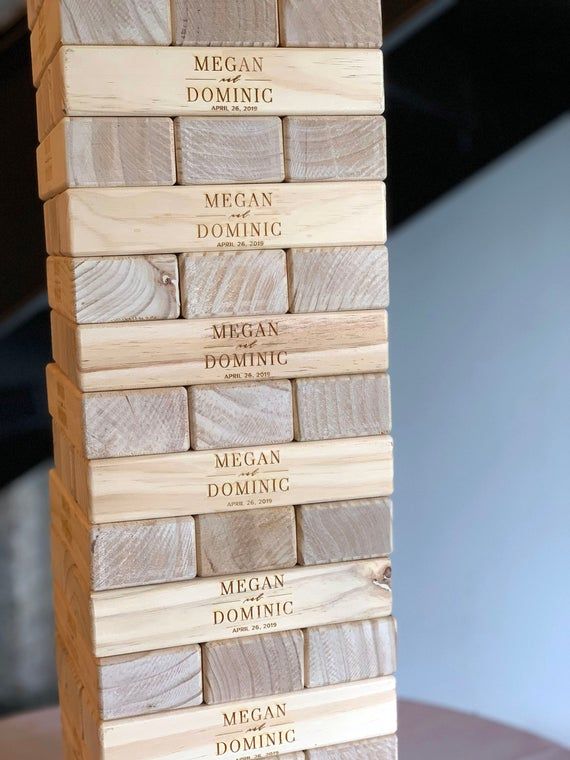 Jenga is a great game to add to your wedding day.
It's fun, and fresh and makes people get together to try their luck at beating the Jenga tower.
You can create a personalized Jenga block with the surname engraved on it.
2. Ring toss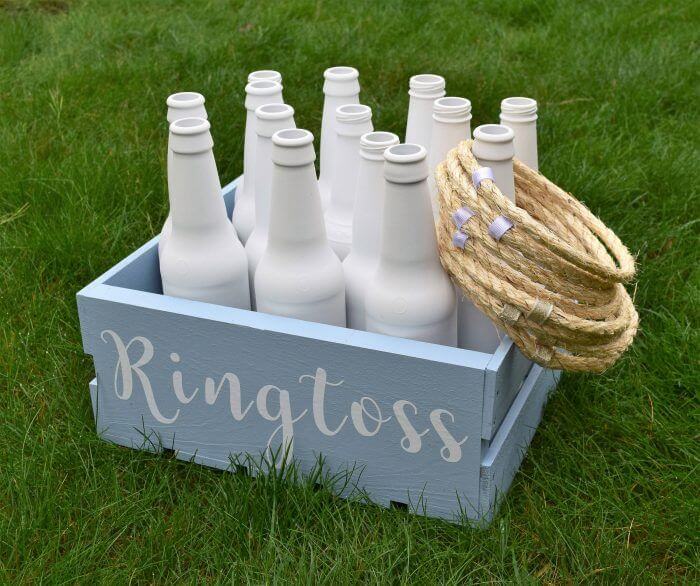 This game is great because you can DIY it at home with simple supplies.
You can create the rings by wrapping twine into a circle and either gluing it together or tying it around metal circles.
Then you can create the bottles by painting old wine bottles and placing them on the ground for your guests to play with.
Or you can even set up small prizes for your guests to win.
3. Giant tic tac toe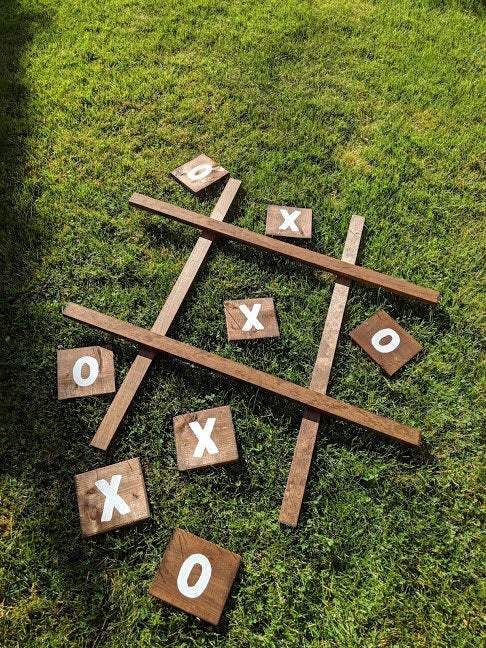 Another fun and affordable game you can add is tic tac toe.
It's easy and lets your guests relax.
You and your guests can enjoy the game while waiting for dinner or just overall.
4. Beer pong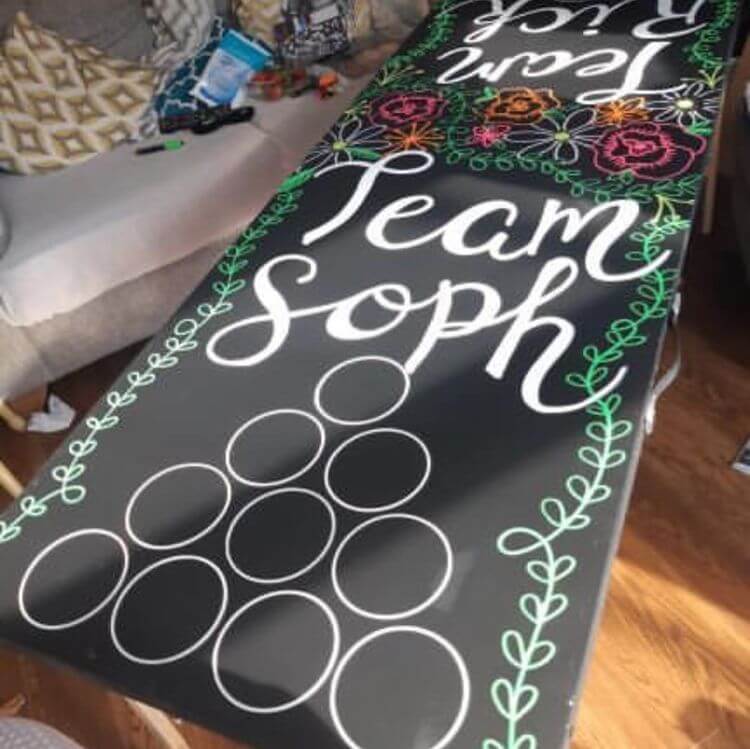 Beer pong is a fan favorite among young couples.
You can set up a table and spray it with chalk spray.
You can then write the team names on the board.
The names of the teams will be bride or groom so that people can play in the honor of that person.
It's fun and a fresh idea to add to a backyard wedding.
5. Picture frame photo booth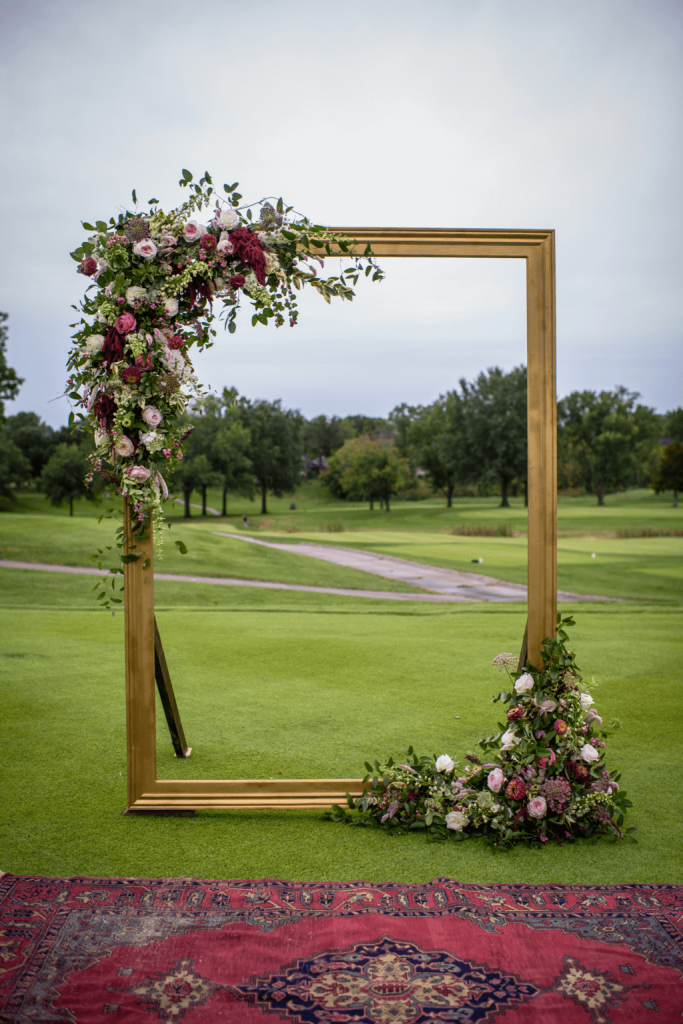 This is easy to recreate for a backyard wedding.
You can make this cute photo booth by making use of wood panels and painting them gold.
You can then add some fairy lights and flowers to make this booth stand out.
People can make use of this booth throughout the day and make memories to last a lifetime.
Create a great atmosphere
Creating a great atmosphere is all about working with what you have.
Considering you won't have hundreds of guests to cater to you can keep things personal and intimate.
Make use of fairy lights since they are budget-friendly and can light up any space.
You can get flowers that are in season because they will be more affordable.
When all your guests know each other it can also influence the atmosphere around your wedding.
They either make it or break it.
Keep things light and make sure there are snacks and drinks everywhere for your guests to choose from.
Also remember to be mindful of allergies, health issues, or concerns to avoid any added stress on the big day.
Staying within the budget doesn't have to be hard
The best thing about a backyard wedding is that you don't have to worry about breaking the bank on venues, hundreds of guests, wedding favors, or guest gifts at the end of the night.
You can keep things light.
Create your wedding decor, DIY your guest's gifts, and create bundles of rose petals as send-off confetti.
Use a snack board instead of lots of catering, and get a few bottles of wine, beer, or any alcohol you would like to serve.
As well as lemonade and juice stands to keep your guests hydrated.
These all allow you to stay budget-friendly without making your wedding decor or gifts look cheap.
You know your guests best, and you'll know what to give them to ensure a great night.
Why should you try out a backyard wedding?
As we have seen from the above-stated lists, backyard weddings are the perfect way to go if you want to keep things subtle and within a set budget so that you can go all out on traveling for your honeymoon.
I highly suggest considering this so you can have a small and intimate wedding with only family and close friends without the fuss of a big wedding.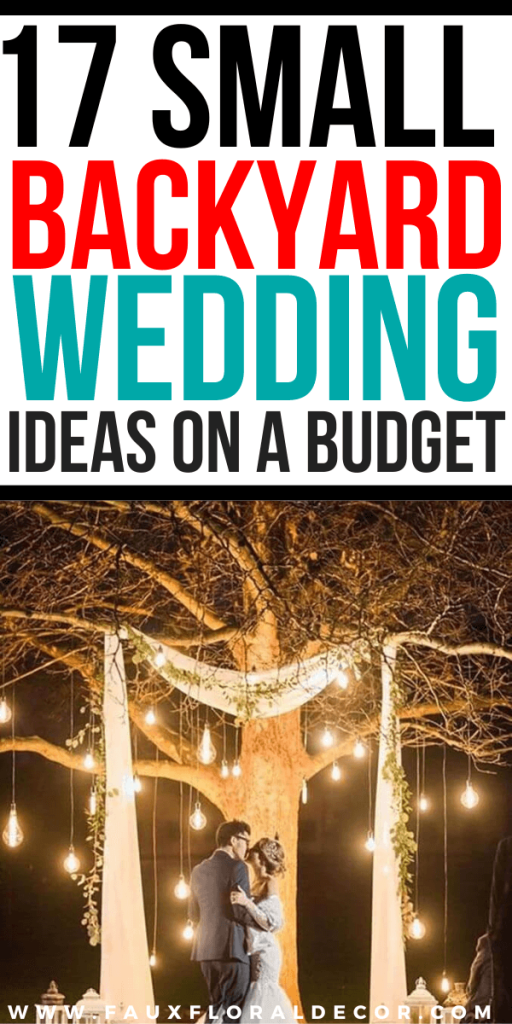 This post showed you the best small backyard wedding ideas.
You may also like: