This post shows you the best ikea wedding hacks.
To all the Ikea lovers out there… here are a few hacks you can use to bring an elevated level of decor to your wedding day.
Whether it is a simple decor piece you can use as is or taking a curtain and creating DIY napkins out of it, the opportunities are endless.
Weddings are stressful, and figuring out how to get the most out of your decor pieces can add even more stress. So that's why we've created this list of great hacks to use at your wedding.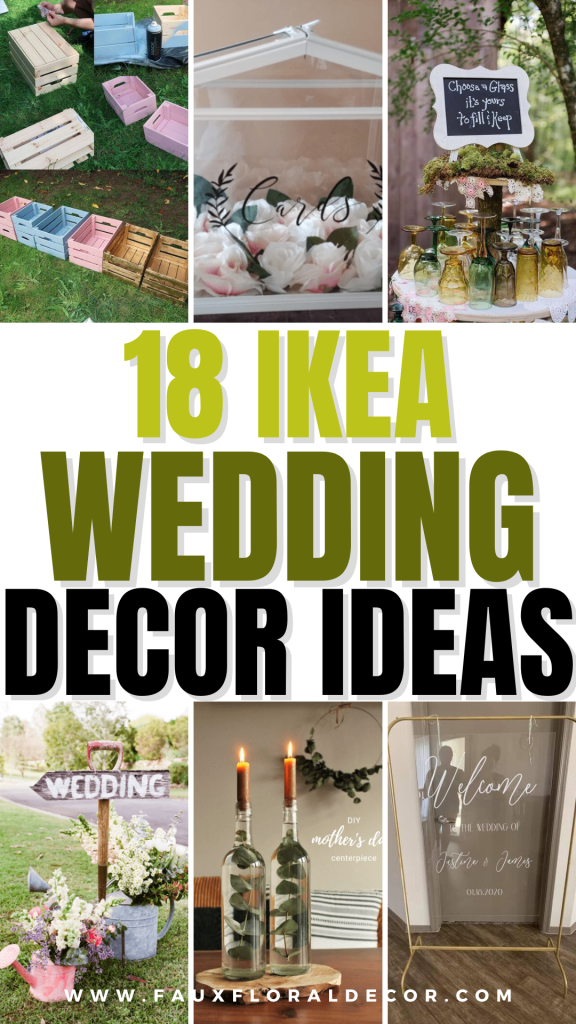 Staying within the budget
The number one priority is to keep things budget-friendly as well as useful.
You don't want to spend thousands to have a well-decorated wedding but have to throw it all away because you'll never be able to use an item again.
When shopping for the perfect items you need to keep in mind how you can utilize them afterwards as well. 
Here are 3 things to keep in mind when getting decor:
Buy bulk (candles, glasses, or fairy lights)
Keep to the budget.
Get things you can use in your own home afterward.
Best wedding decor to buy at Ikea
What should you buy at Ikea? Ikea has a wide variety of options to effectively decorate your home so there are endless possibilities as to what it can do to elevate wedding decor.
Whether you are going for an elegant and minimalistic approach or feel like going the vintage Gatsby route with your wedding there is always a pop of color to be added somewhere and candles to be placed.
A few options you can look into are the following:
Colored glassware. No matter the season adding some colored glassware allows you to bring a bold touch to any table.
Tea light candles.
Rugs. These can work perfectly for a boho approach to weddings or simply to warm up a place.
Fake flowers
Taper candles
Lanterns
These are just some of the great decor pieces that you can make use of and even DIY to fit your wedding theme.
1. Plant pots and glass jars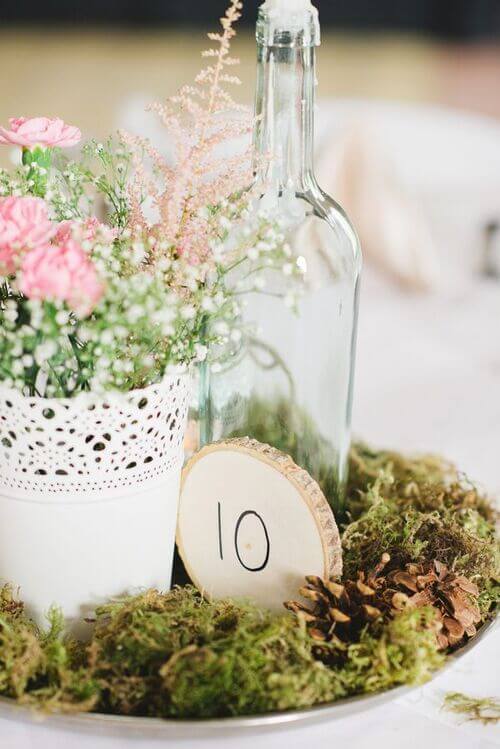 If you want a simple and earthy theme for your wedding then this is an absolute stunner of a centerpiece.
This centerpiece makes use of a tin tray covered in pine cones and moss to bring an earthy atmosphere to the table.
It incorporates mini wood slices to show the table number and some bright pink flowers paired with baby's breath for an added bright touch.
You can also add some fairy lights to the wine bottles to make this piece work at night time as well.
2. Clothing rack welcome sign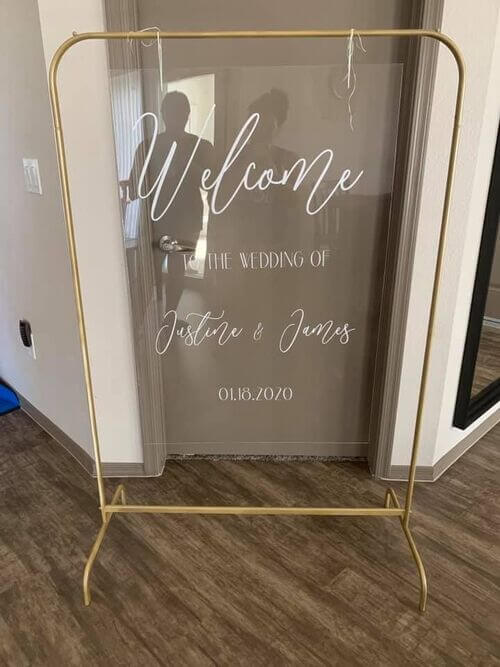 If you have a stand-alone clothing rack to hold your jackets then this can easily become a piece to utilize at your wedding.
You can get a custom welcome sign made and hang it with some string.
It's a simple way to decorate and allows you to make use of something that you already own.
3. Taper candles and fake plants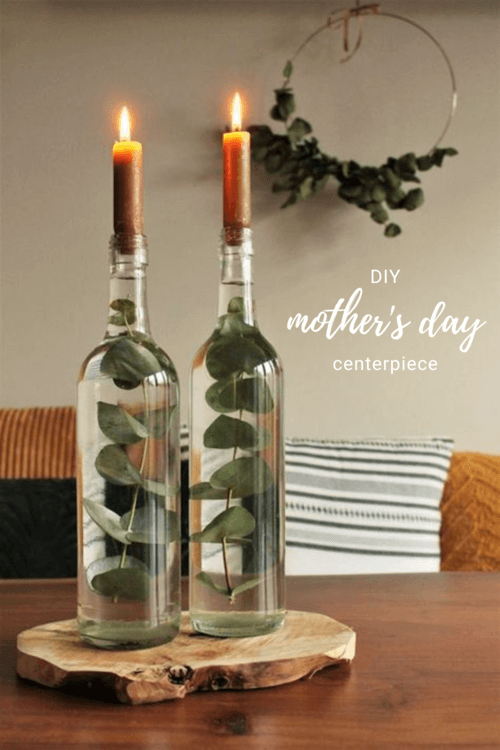 You can never go wrong with candles.
They set the mood for the whole wedding and bring a sense of warmth to any table.
Recreate this idea by using old wine bottles and placing some greenery and water inside of them.
You can then place taper candles on the top to create some height to the centerpiece.
It pairs well with wood slices to bring a natural element to the table.
4. Watering cans and florals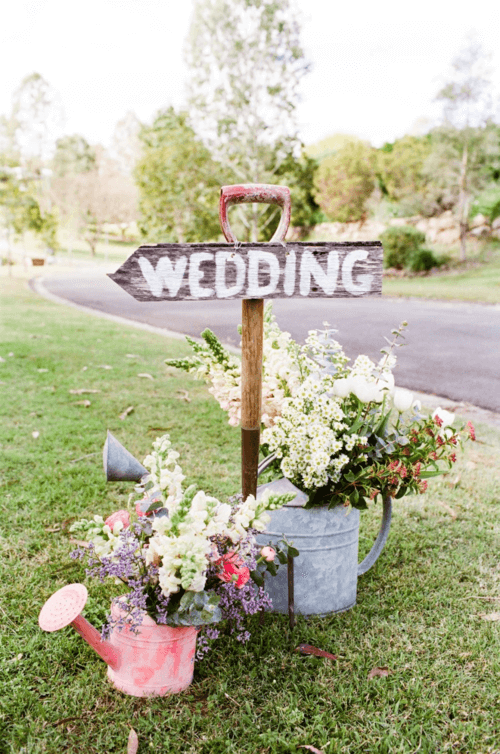 A super cute and simple way to show the guests where to go is by making a rustic DIY wedding sign.
Grab some watering cans and paint them or use them as is, pair them with big flowers and bright colors, and set it all together with a wedding sign.
It's a fun way to bring your own style to the wedding.
5. Shoebox for good wishes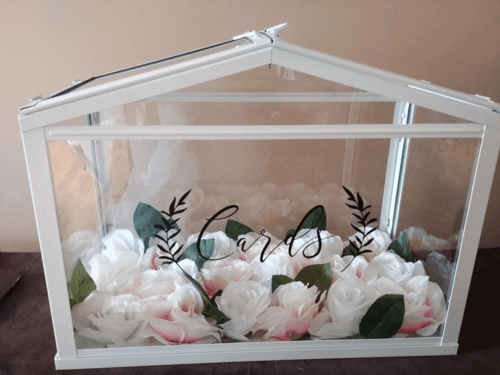 The Ikea SOKKER greenhouse makes for a great card box!
You want to make sure that you're using your space wisely so adding a designated spot for well-wishes and cards is a great idea.
If you want a simple and effective way to recreate this you can make use of a clear shoebox and add some fake flowers to make it fit the aesthetic.
You can get a sticker made to paste onto the box and use it as a designated spot for your guests to place their cards.
6. Painted crates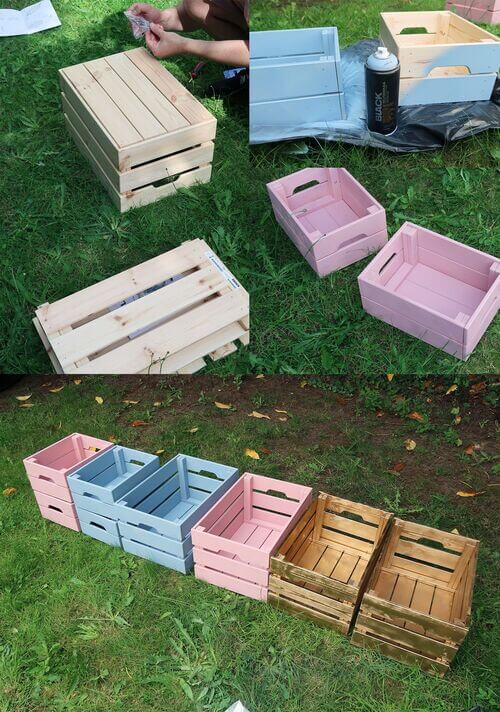 Wooden crates can be your best friend when it comes to wedding decor.
Whether you paint them or use them as is.
These crates can work as designated blanket holders, decorate around the venue, or even hold special thank-you presents that the gifts can take home.
You can then make use of these crates throughout your home as well making them multipurpose.
7. Hanging lanterns and fairy lights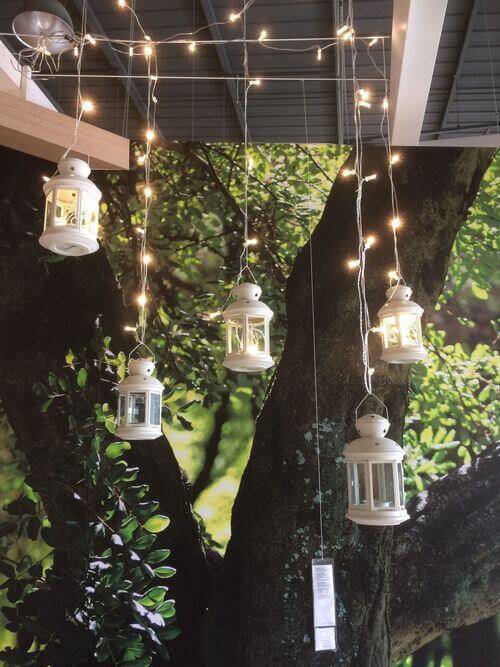 If you're looking for that perfect fairytale look to wow your guests then why not add some floating lanterns?
You can hang them from the ceiling or nearby trees and wrap some fairy lights around them to give a warm glow.
It's perfect for any theme and just brightens up the space.
8. Lemonade and flowers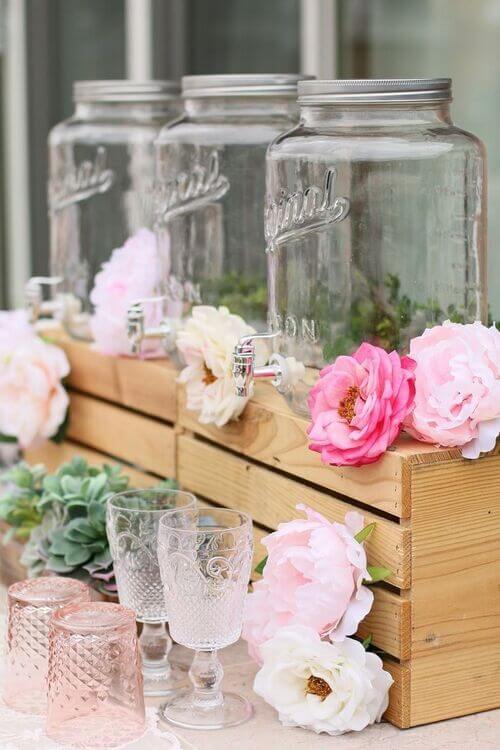 Create a lemonade stand for your guests.
Staying hydrated is essential to any occasion, especially a summer wedding.
You can use some of the same crates we talked about earlier and use them as stands for the beverage dispensers.
Grab some mismatched glassware and add it to the table for a unique look.
9. Vintage glasses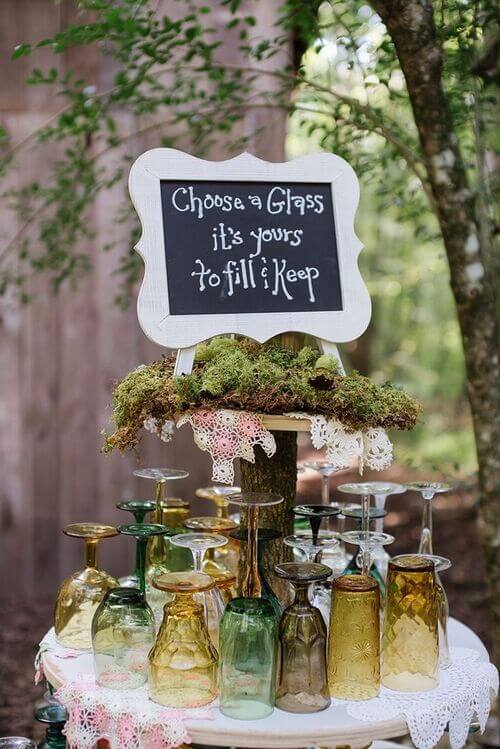 Unsure of what to get the guests as a thank-you gift? Why not let them pick their own glass?
This idea allows guests to pick a cool new glass to add to their home and something they can use on the day of their wedding.
It's great to bring a new touch to such a beautiful moment.
10. Hexagons and fairy lights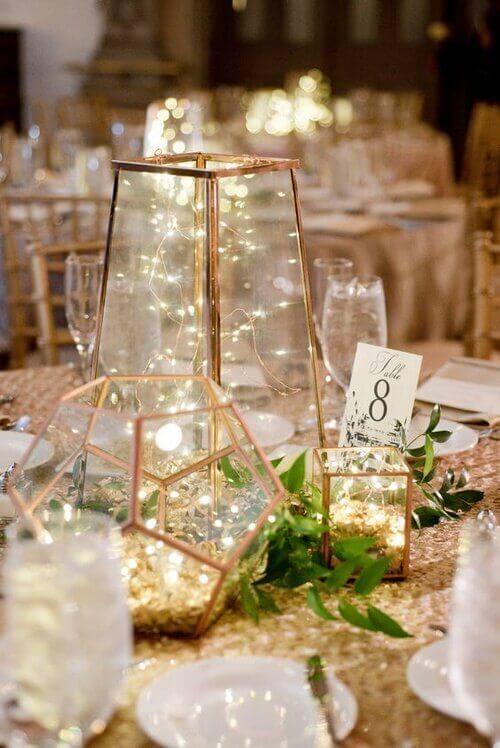 Hexagon decor pieces have become increasingly popular these days.
These can easily be customized and used as minimalistic table decor.
They pair perfectly with greenery, candles, or fairy lights.
You can paint them to fit your theme or make them bold to stand out.
11. Golden lanterns and wine bottles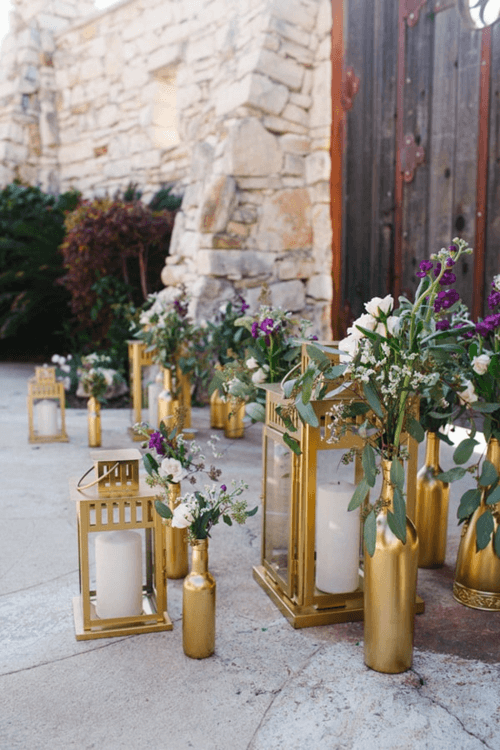 Lanterns are popular and a gorgeous decor piece to add to your wedding.
You can add some wine bottles and use spray paint to match them to your wedding color scheme.
You can add bouquets to the bottles and giant candles to the lanterns to create a full and bold look.
12. DIY lanterns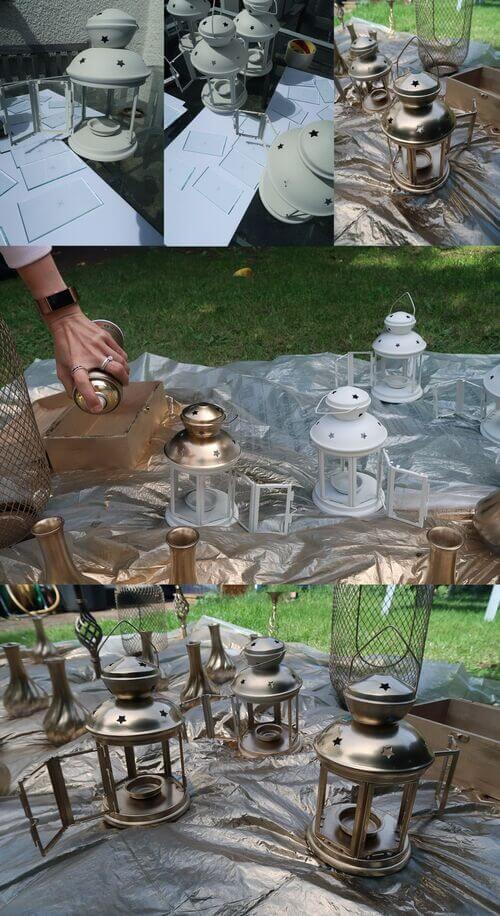 Who can resist a good DIY project?
Being able to create a piece that fits your aesthetic and personality is such a big part of any wedding.
You need to be able to showcase yourself so that you are perfectly happy with every element involved.
Get some lanterns from Ikea paint them white or just spray paint them the color of your theme from the start.
It's easy and cost-effective.
13. Card crate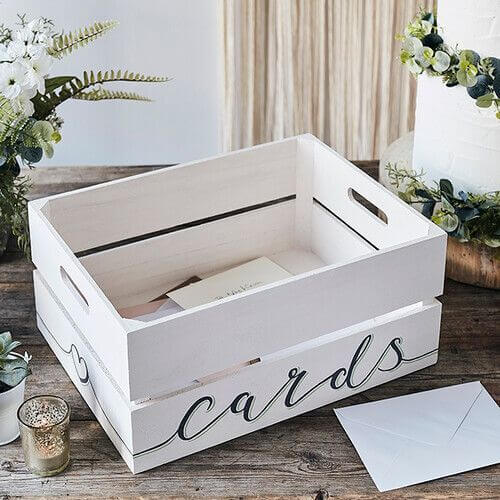 This crate idea is an adorable addition to any wedding.
Use a sharpie to add the titles to the box and then place it on a separate table designated for writing letters to the bride and groom.
It's cute and allows you to keep all the letters in one spot without losing them.
You can then be confident that you won't lose them after the wedding since they are all in one place.
14. Ladder shelf for decor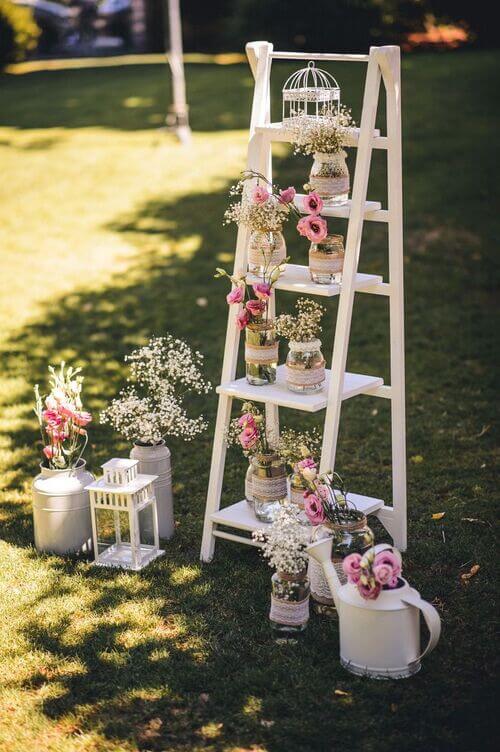 I don't know about you but I have been obsessing over these ladder shelves!
They are adorable for your home and create the perfect decor piece to showcase flowers and pictures throughout the wedding.
You can easily take it apart and use it within your home after the wedding too.
Pair it with different-shaped jars, flowers, and some watering cans to create a cute and bright look for the wedding.
15. Clothing rack and greenery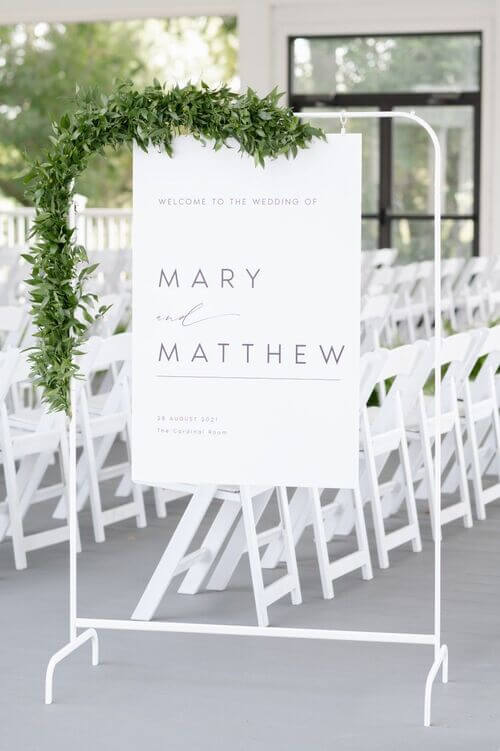 This idea featuring the white Mulig clothing rack as a welcome sign holder incorporates a bit of greenery for dimension.
Keeping it simple is ultimately the way to go in this situation because you don't want to take away from the main decor pieces.
16. Memory board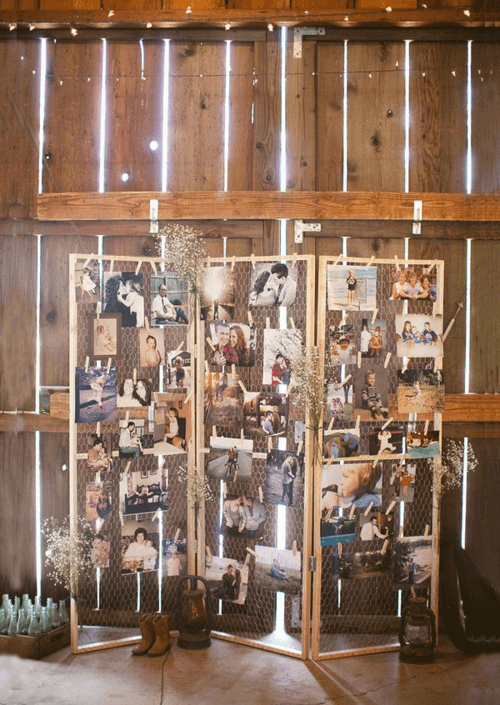 A memory board will keep everyone feeling the love of the couple.
It creates a spot to show how the relationship has grown and how you have grown individually.
It's cute and brings an added personalized touch to the situation.
17. Lanterns and lighting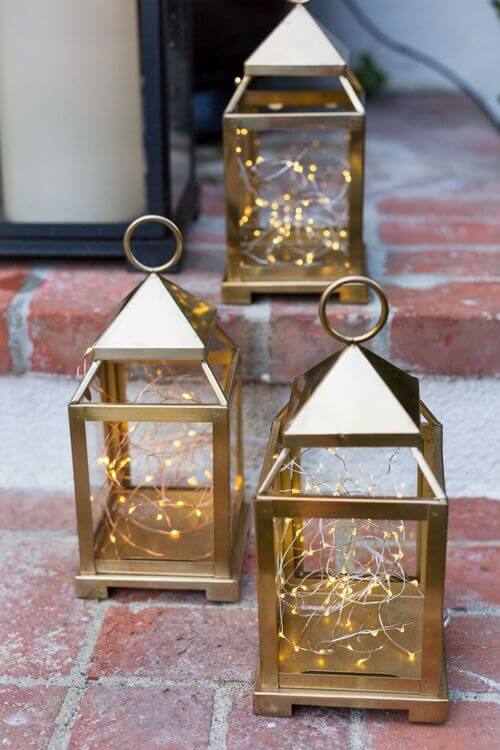 Lanterns and fairy lights keep a warm atmosphere around the wedding, so place them around the venue to ensure every corner is lit up.
It's budget-friendly and stays away from having an accidental fire hazard making it the go-to way to go.
18. DIY planters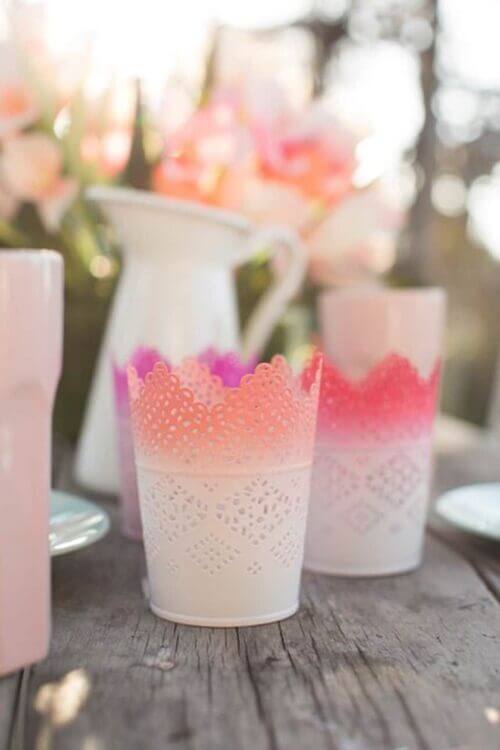 These planters from earlier can also be given a little DIY sprinkle.
You can use a sponge and some paint to create an ombre effect on the edges and match the color scheme of the wedding.
Ikea as a decor hotspot
If you were in desperate need of an excuse to go to Ikea then here it is.
Make the most out of the great ideas they have to offer and bring your own little twist to the table.
No matter the season or the venue there's something perfect for everyone to try with this list of hacks.
Not only can this spark your imagination to go wild, but it can also help you identify the theme you're trying to achieve with your wedding.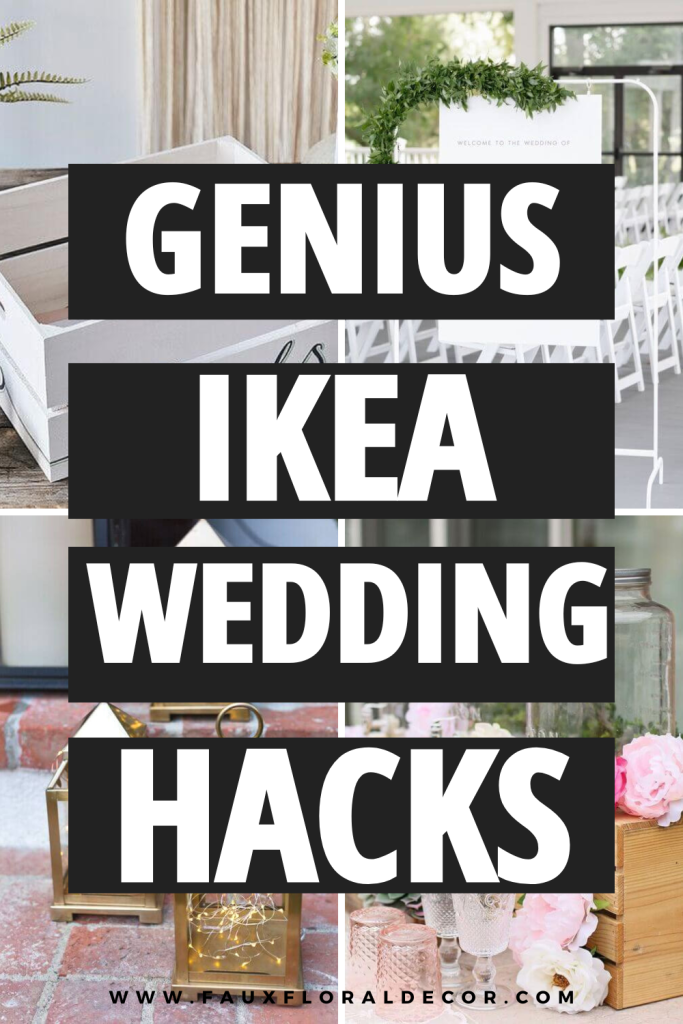 This post showed you the best ikea wedding hacks.
You may also like: