This post shows you the best guest book sign in table decoration ideas.
We all need a memory to remember the big day.
Whether that's pictures, stories, or videos is up to you.
If there's one thing that is a must-have then you should make sure you have a guest book for everyone to sign.
It will be the perfect coffee table decor to add to your home.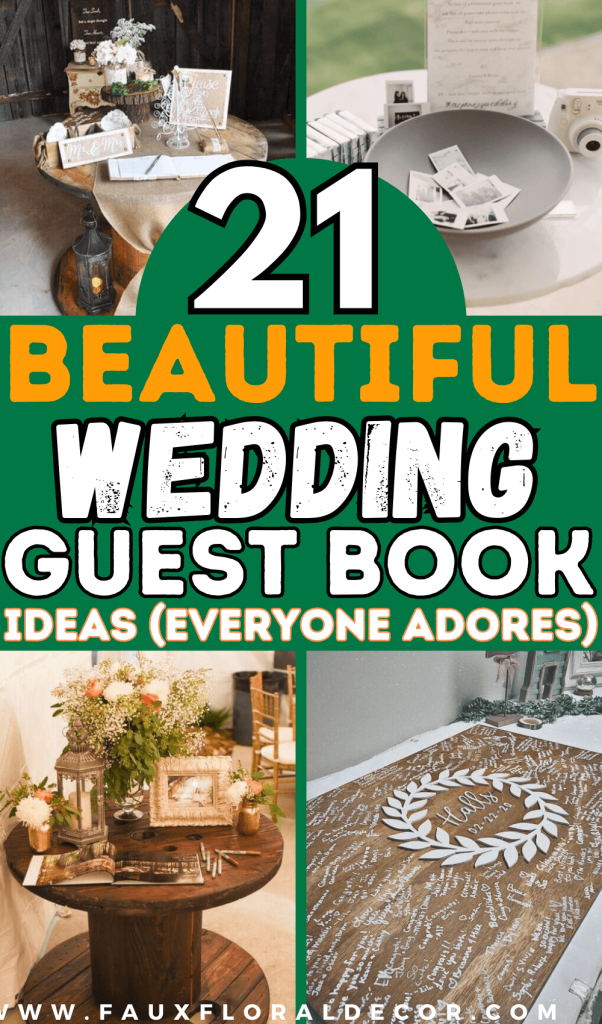 Origin of the guest book
While this is a tradition that started to show that there were witnesses for a wedding it has evolved into a welcoming memory of your big day.
From funny stories to 'well wishes' and everything in between a guest book can be a loving addition to any wedding.
It doesn't have to be a book.
It can now be made into pressed wood pieces or just a note that fits into a glass box.
Whatever you decide we're sure you'll find something that works for you.
Is a wedding book worth it?
While a guest book isn't necessarily mandatory, it can be a great way to feel closer to your guests.
It allows them to write their thoughts and send you luck and abundance on this new journey.
To some, it might seem like a waste, especially if they know that they'll just store it in a cupboard and forget about it, but to others, it can be a coffee table decor piece.
So, is it worth it? That depends entirely on how you go about it.
Guest book ideas
Are you looking for an idea to incorporate your guest book without going the normal route?
We have compiled a list of ideas for you to check out.
While a traditional guest book would be most people's go-to, it isn't always everyone's cup of tea.
Whether you're a traditional, modern, or creative type of bride, there's something for everyone.
1. Glass books with wooden circles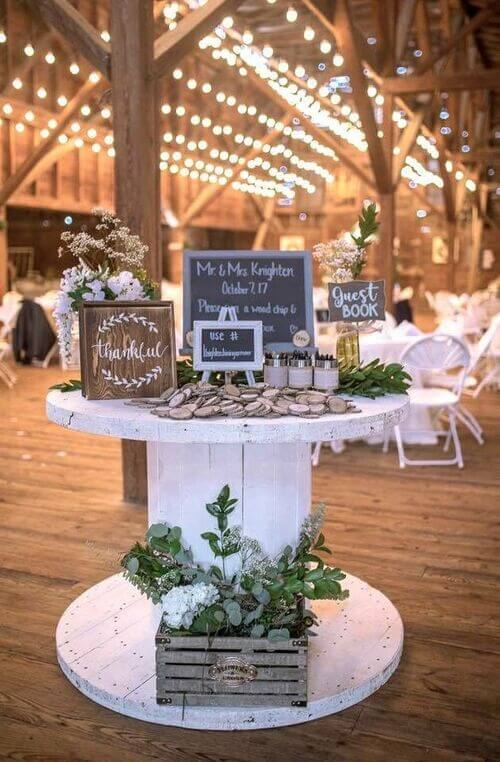 Skip the letters and write a note on a piece of pressed wood.
It's a cute way to preserve the memory.
Add some tin cans with pens onto the table so a few people can write at once.
You can then add it to a box for safekeeping.
This setup has a bunch of greenery that surrounds it which makes it instantly tie into the theme.
2. Write a card and add it to the box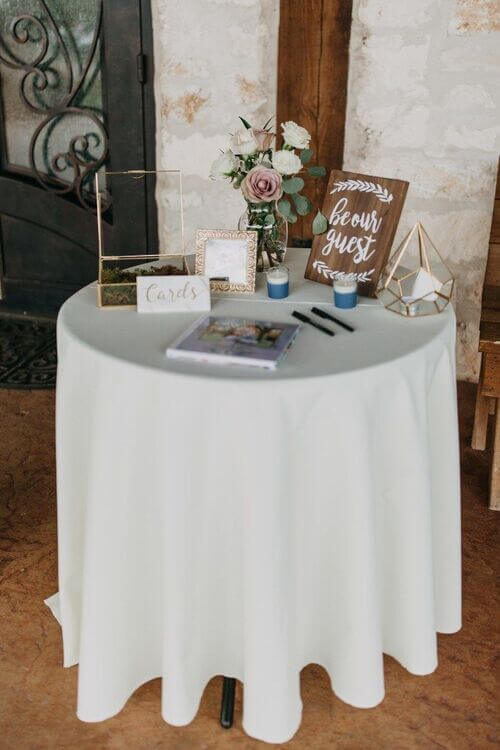 Why not give options?
If you can place your sign-in book near the entrance of the reception then you can set up the table with cards as well as a notebook.
This can ensure that each guest has an option and a space to leave their wishes for you.
3. Glass card holder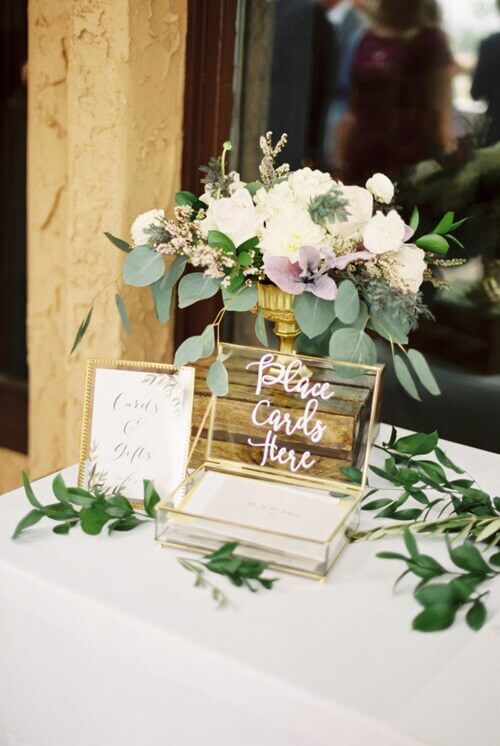 This idea not only allows your guests to write you a heartwarming letter but also place it in a safety box for you to keep in your home for many years to come.
You can decide if you want to read them as soon as you get home or if you want to wait for the first anniversary.
4. Mini notebook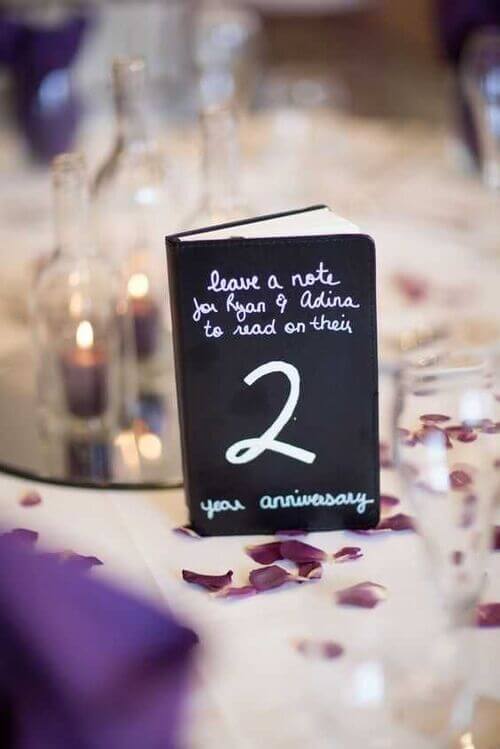 Create a time capsule notebook.
Let people write everything they want into this book and then keep it locked safely in your home till it's the second anniversary.
It gives you something to look forward to and will serve as a remembrance of everything from your wedding day.
5. Well wishes with Sharpies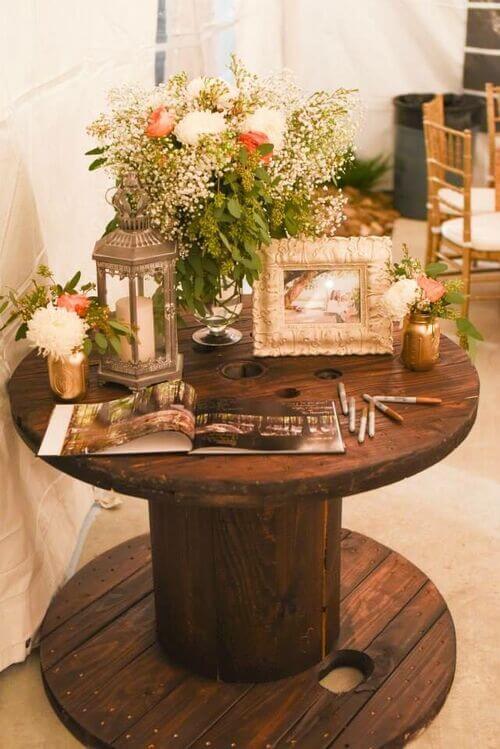 The floral and photo frame table is the perfect setting for a quest book.
Leave a few bold sharpies for guests to use and sign a book filled with your engagement photos or better yet, a book filled with family and friends.
It's simple and cute which is all that matters.
6. Write on glass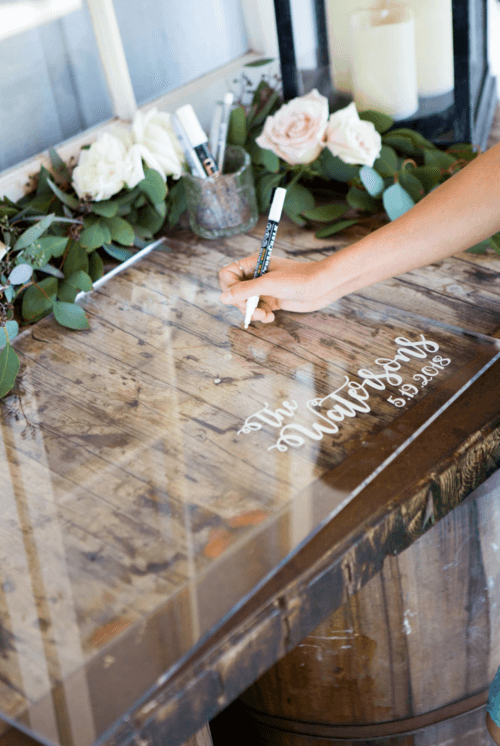 Try out this cute idea by making a custom sticker and placing it on a piece of glass.
Let your guests write small messages on the glass with a white Sharpie.
You can easily get this framed or have a keepsake for years to come.
7. "Pick a verse" note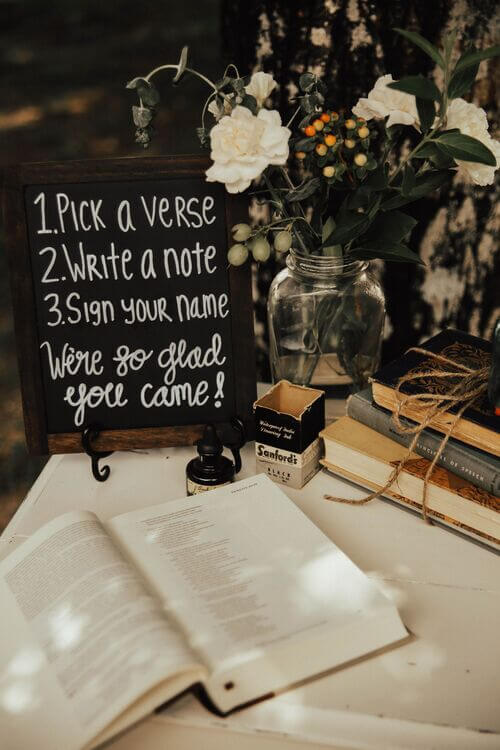 This fun idea allows a little more creativity.
Guests will feel more included and can easily share a note as well which makes it a lot better than just a simple notebook idea.
Highlight a verse, write a note, and let the guests enjoy the interactiveness of it all.
8. Write a note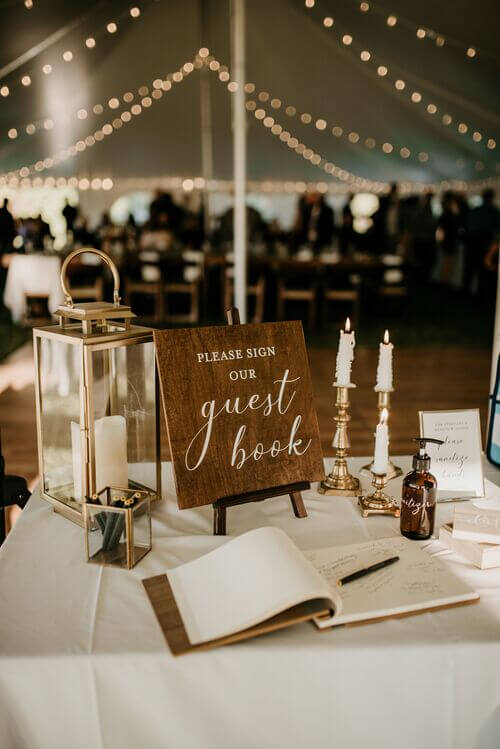 This candle-lit, golden accent table is a cute place to host your guest book.
People can add their personal touch to the notes or even share a fond memory they have of the bride or groom.
It's the perfect addition to your coffee table or office.
9. Photo album sign-in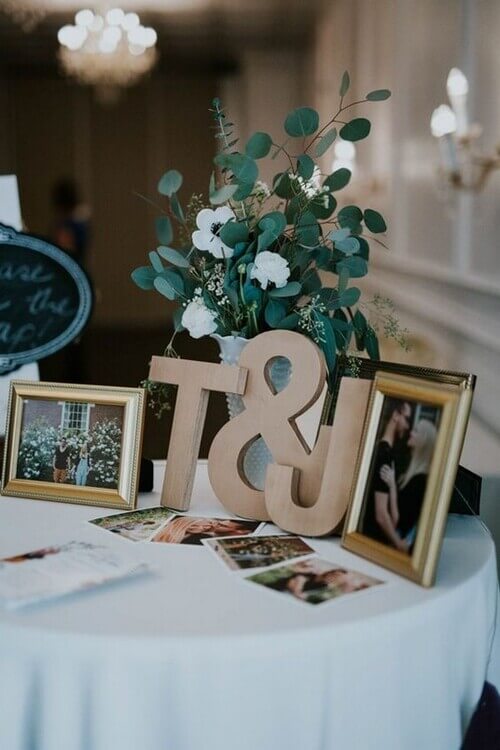 Share some personal pictures and leave a Polaroid camera on the table.
Guests will snap a picture, write a message and leave the picture for the bride and groom to read later.
It's a unique spin on the usual notes they leave.
10. Place a heart in the glass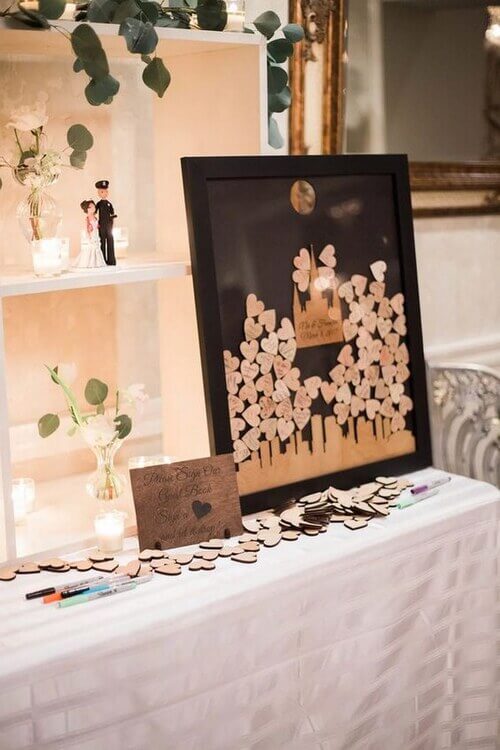 If you like the whole pressed wood idea but want it all on display then try out this heart-shaped pressed wood idea.
People write their messages and add them into a frame to showcase throughout the night.
It can then be kept as is or you can add the messages to a jar so that it doesn't take up unnecessary space.
11. Customized wedding book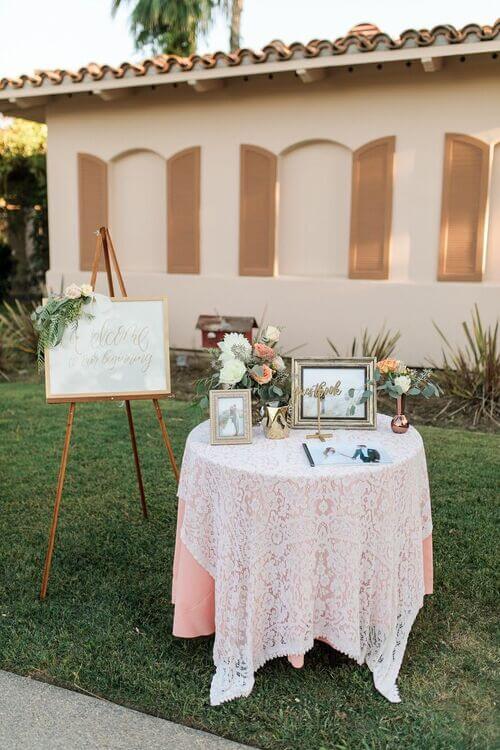 Create a custom notebook filled with engagement photos to showcase to your guests.
This book can be the perfect place for guests to leave a message for you.
Since it is filled with your pictures you'll be keeping this one next to your other photo albums.
12. Take a pic and write a note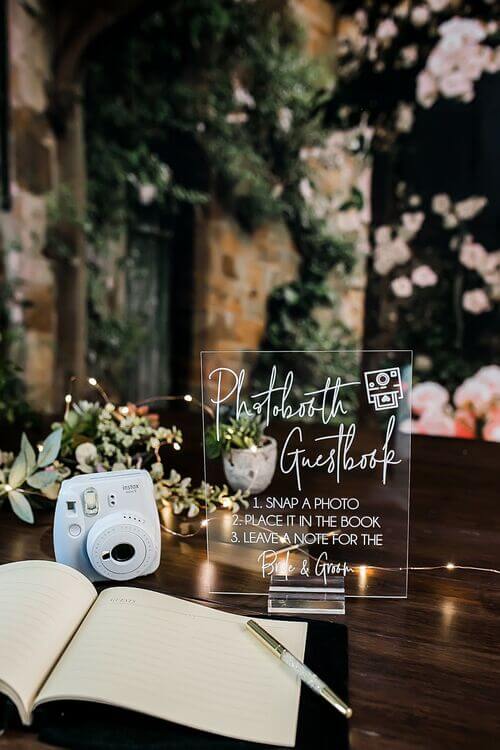 If you think that they might have some more space then let them take a picture and add it to a book.
They will have a lot more space to express themselves.
People will love to have physical memories of the day.
Considering the whole "write a message" idea it can sometimes feel a little boring.
This is a great way to fire things up.
13. Add your name to the board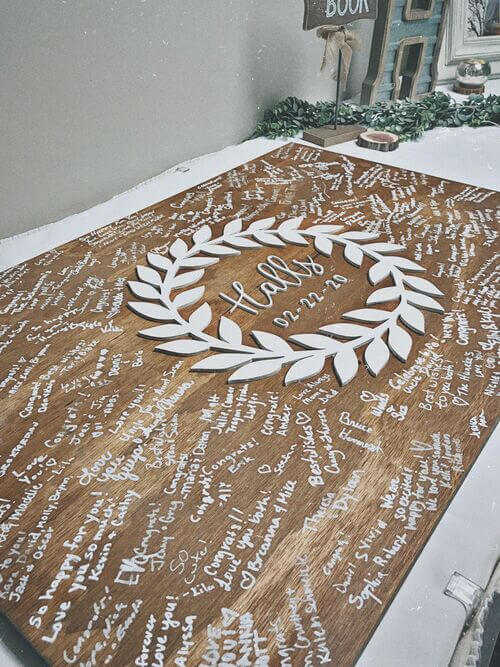 This wooden board idea is an effective way to let people write a small note for the happy couple.
This can then serve as a memory for them to look at after the wedding has happened.
Guests can use markers to write on this or you can add a layer of glass for them to write on.
14. Drop a heart in the frame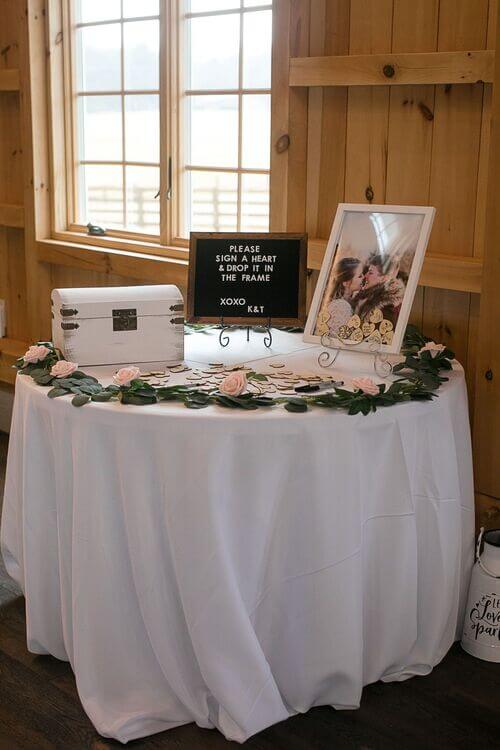 A picture frame for the heart messages?
You can hang this on your wall after the wedding since it has a picture of the bride and groom as well as all the 'well wishes' that their guests have written for them.
People will surely love the idea of adding their messages to a gorgeous picture of the happy couple to look back on.
15. Floral arrangements and geometric cardholders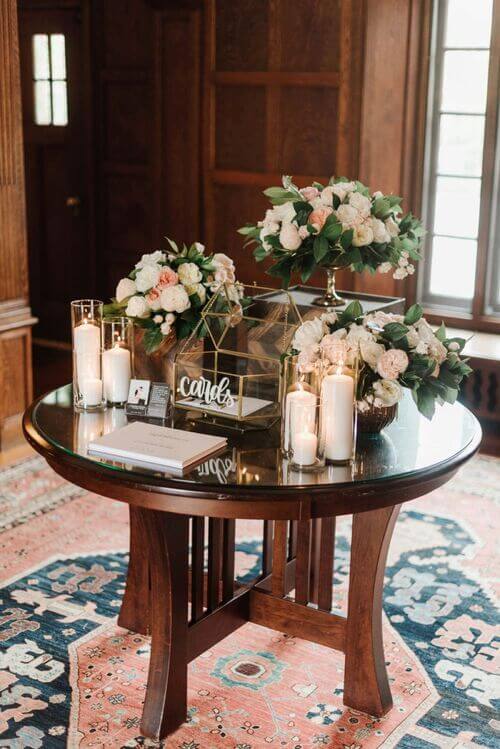 Use a geometric card holder for the guests to place their messages in.
This beautiful flower arrangement and candle decor create the perfect atmosphere for people to write loving memories in.
16. Voice mail message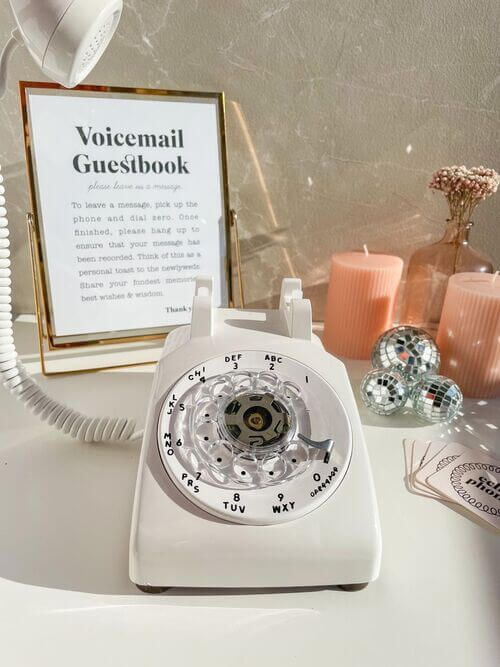 Now this is something different. A telephone to leave a voicemail on, who would've thought about that?
Get rid of the paper and opt for a more environmentally friendly approach.
By making use of this method you will not only be saving paper but also have emotion-filled messages to really convey the tone of your guests.
17. Bucket list ideas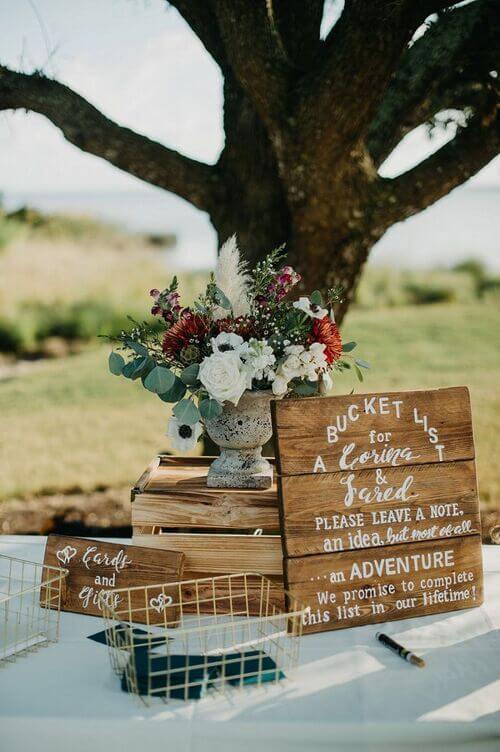 Not exactly sure if you have the space for a guestbook? Then switch things up.
Instead of going the traditional route of having loving messages written you can ask your guests to write one thing down for you and your partner to try.
A DIY bucket list can always cheer you up.
Whenever you feel like you're unsure of what to do then pull a card and try out the bucket list item.
18. Glass box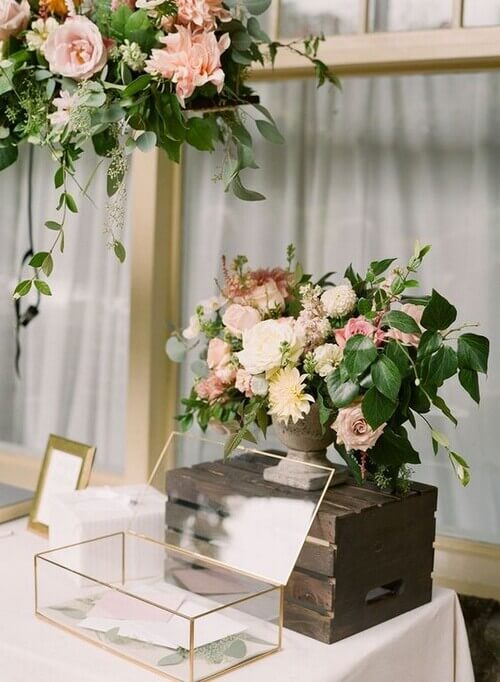 A glass memory box can hold everything you need to remember the day.
Pictures, notes, messages, invites, or anything that you feel is needed.
Guests can also include things that remind them of the bride and groom.
19. Write on the wall decor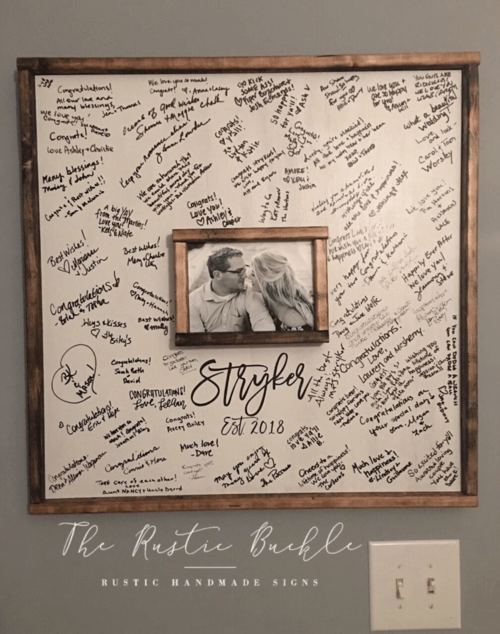 The perfect picture and message board combo.
Place a picture of you and your partner in the middle of the giant frame.
Then, leave it on a table for your guests to write on.
You can hang it on the wall to showcase the wonderful day that brought your families together.
20. Rustic sign-in spot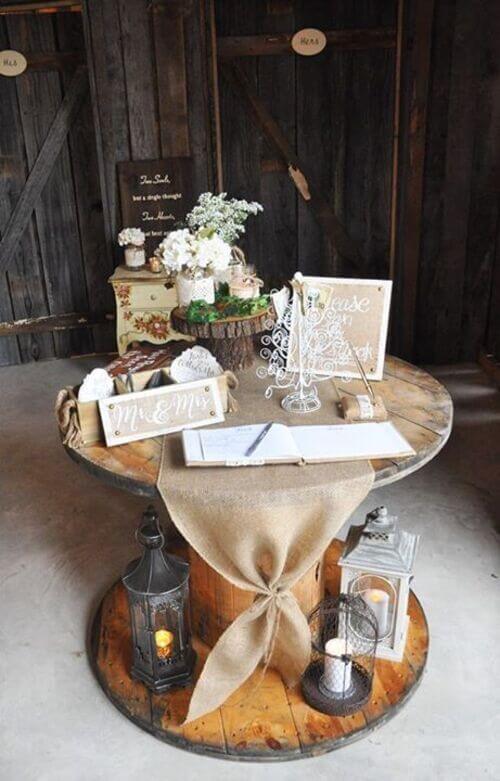 The rustic table filled with decor pieces and lanterns is gorgeous.
People can go and write their messages into the big sign-in book for you to take a look at once you have returned home.
21. Polaroid memory maker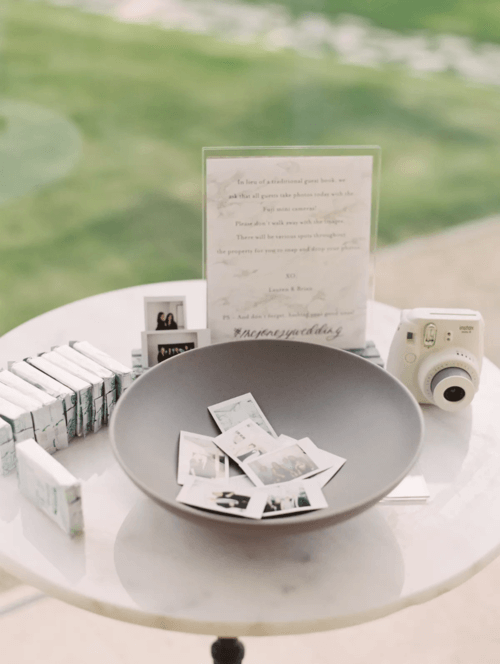 A bowl filled with Polaroid memories? Sign me up!
Keep all the memories of the big day in one place.
Keep stacks of cards to ensure you have enough film for the day, and leave the Polaroid there for people to use.
Everyone will love this due to its interactive nature.
Guest sign-in spots
As we can see from the list above, the guest book sign-in is completely up to you.
From writing on paper or leaving voicemails the possibilities are endless.
So put one of them to the test and add some fun for your guests.
Keep a designated spot open for this special addition to the big day and have a keepsake for life.
Or if you're looking for an interesting approach make it a time capsule that you can open over 2, 5, or 10 years.
It offers a reflective period of how far you've come and how you two have grown as a couple.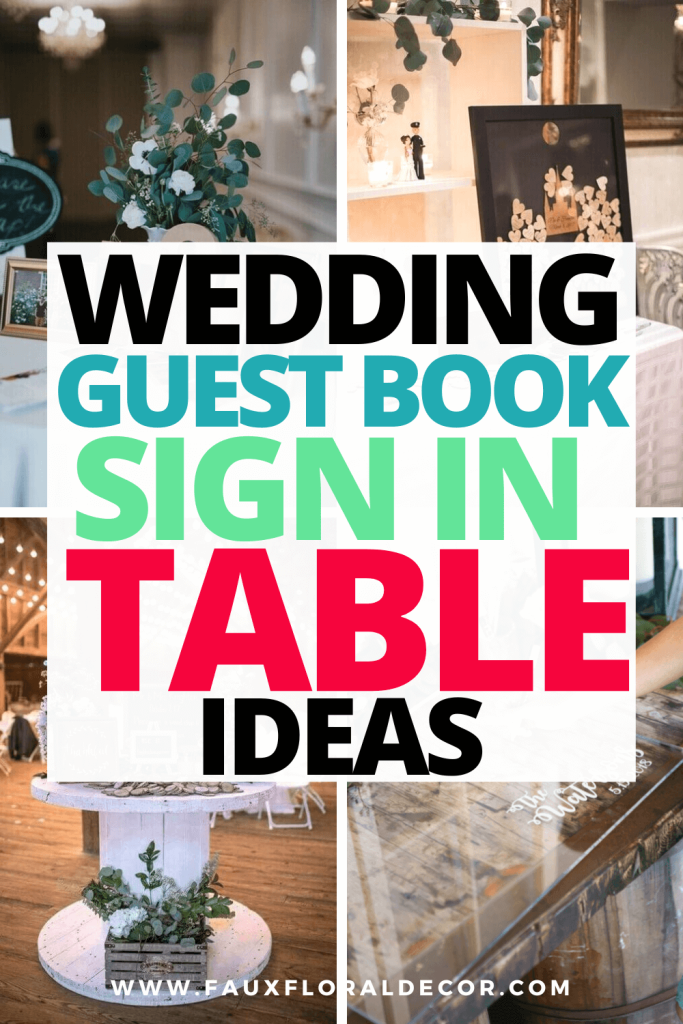 This post showed you the best Wedding Guest Book Sign In Table Decoration Ideas.
You may also like: