This post shows you the best rustic fall wedding ideas on a budget
A rustic wedding is the perfect combination of cozy and boho.
Rustic weddings do extremely well in summer but they thrive in the fall.
The warm colors and golden leaves.
We can all appreciate an aesthetically pleasing fall wedding.
If you've been looking for ideas to achieve the perfect fall wedding, look no further.
We have compiled a bunch of rustic fall wedding ideas for you to create on a budget.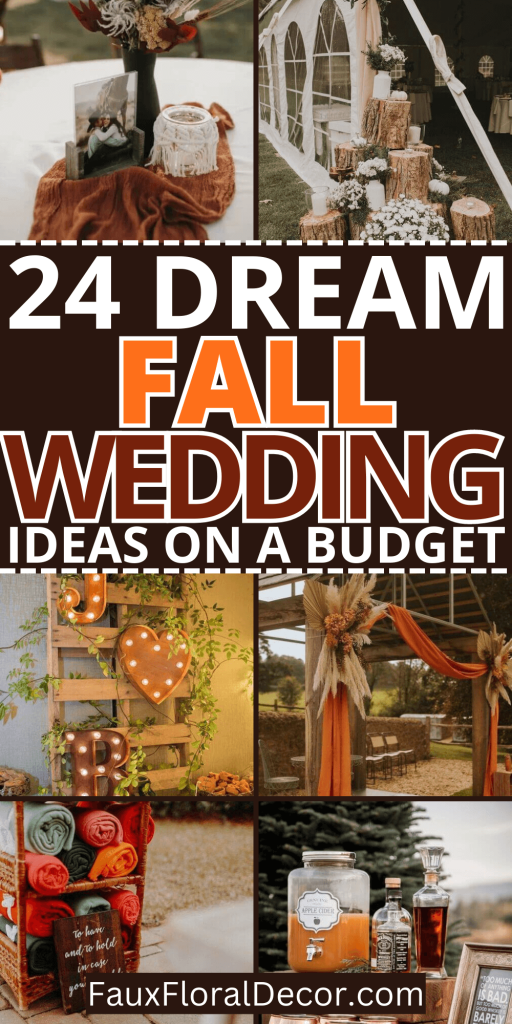 Why you should choose a rustic wedding
Rustic weddings aren't just popular for their beautiful colors or natural setting.
These weddings become more likable by the minute due to the endless decor opportunities and the fact that it is budget-friendly.
Making use of a big barn with a lot of space allows you to save money on a venue and creates enough space for everything to be kept together.
It is a location that is effortlessly beautiful and elegant but gives a natural and rough look which makes it perfectly balanced.
Rustic fall wedding colors
Having a rustic wedding in the fall leaves the color scheme opportunities open.
You can mix cold and warm colors to create the perfect natural, rustic, and gorgeous color combo to fit your wedding.
Here are a few color ideas to try out this fall.
Rust and sage
Purple and gold
Yellow and burgundy
Burgandy and blush pink
Yellow and blue
Dusty rose and lavender
Navy blue and red
Teal and orange
Brown, rust, and yellow
Brown and marsala (deep red wine color)
Orange and beige
Burnt orange and beige
The most popular color combos mix with orange or deep purples and reds.
You can mix and match to find the perfect combination for your wedding. 2023 colors are becoming bolder for the fall, and use subtle colors such as beige for accent pieces.
1. Pampas grass and orange fabric drapes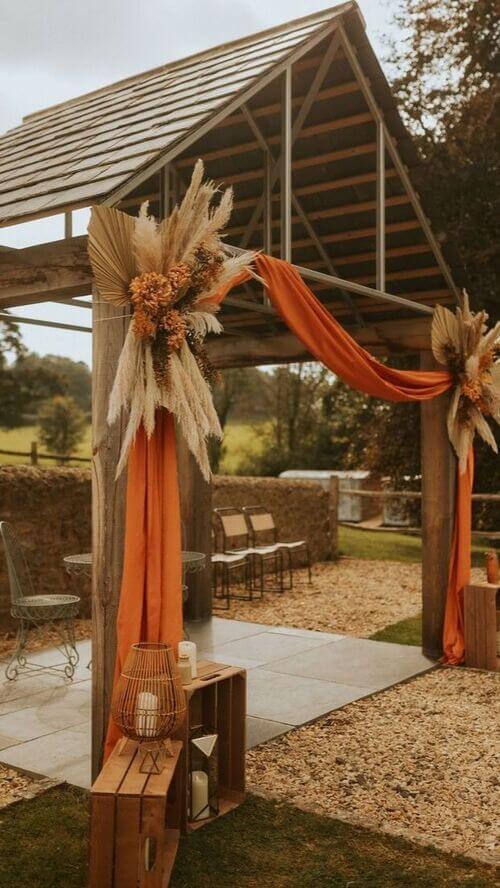 This gorgeous decor idea is unique and fits into the rustic theme.
Ditch the normal wedding arch for draped fabric.
This burnt orange color ties in extremely well with the natural wood accents.
Create some bouquets with pampas grass and secure them at the top of the arches to create dimension.
Add some candles too for a warm atmosphere.
2. Fairy lights, sunflowers, and log slices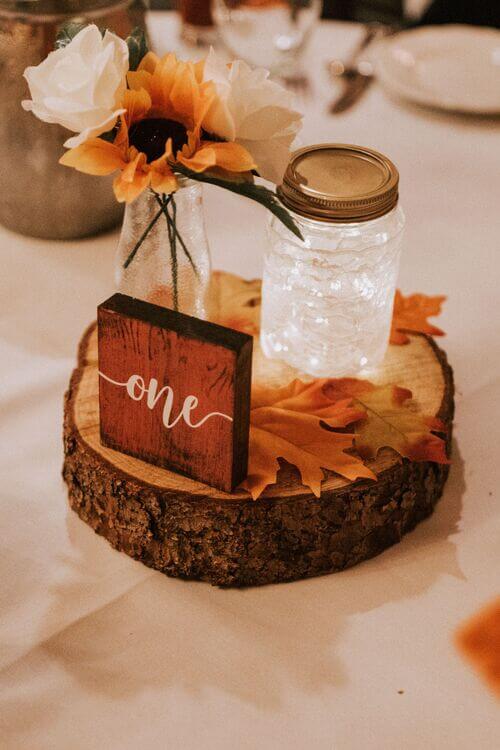 The perfect centerpiece combination for a rustic wedding includes wood slices, fairy lights, and mini bouquets consisting of roses and sunflowers.
You can add some leaves to bring a pop of orange to the table too.
Since it is fall there is a certain element of dark oranges or browns that somehow brings everything to life.
3. Logs decorated with candles and white flowers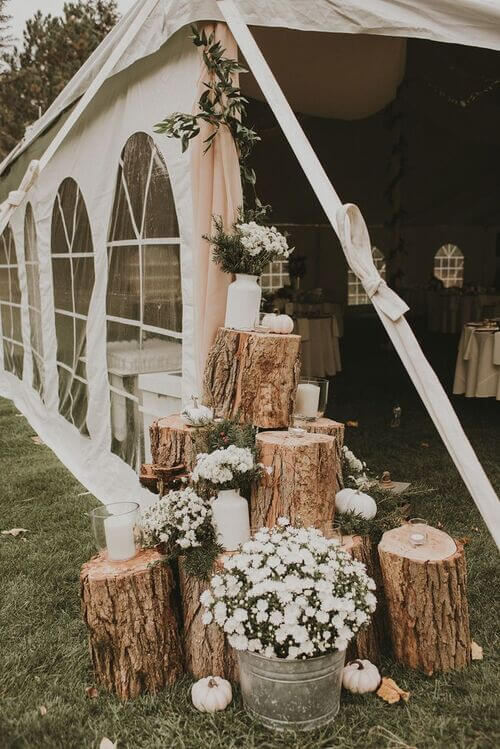 Tin buckets, daisies, and wood logs create the perfect rustic look.
It's a simple idea that can go a long way especially when you have a lot of space to work with.
Add some candles so that this gorgeous idea can pay off during the day as well as at night time.
4. Orange table runners with greenery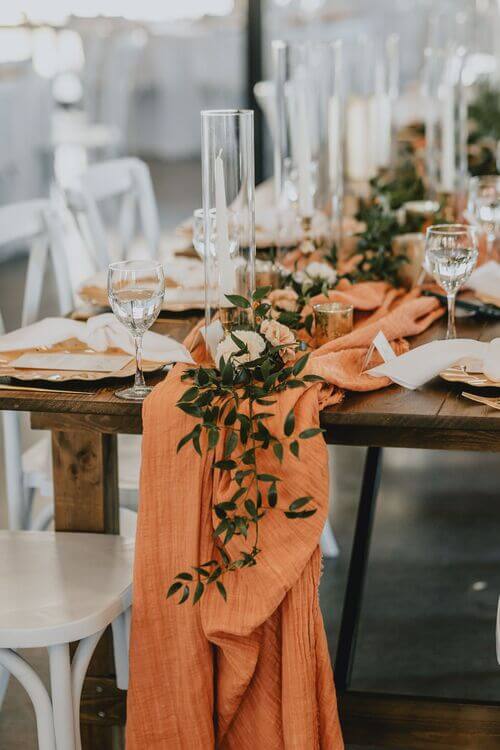 Keep things simple with this decor idea. Keep to the basics when decorating for a rustic wedding.
The simple orange table runner paired with greenery is just what you need to bring in fall colors.
The glassware and table setting doesn't need to be bold to make an impact, and this idea shows it perfectly.
5. Hay bar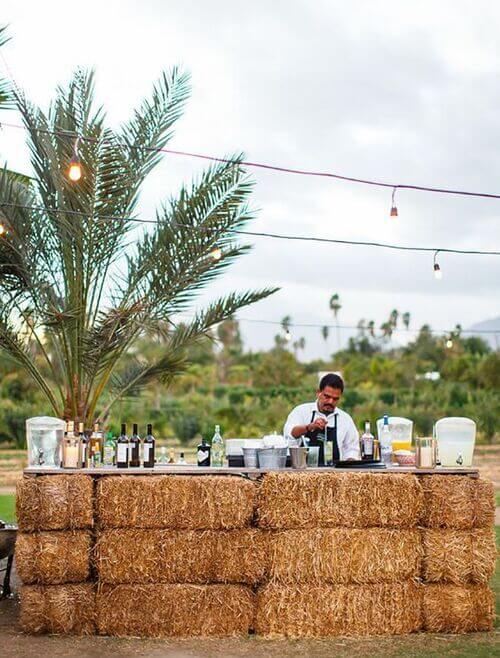 The best part about a rustic wedding is the fact that you can use anything as decor… like seriously.
This bar is made out of hay and has wooden boards on the top to keep the drinks and glasses stable.
It's a cute idea that stays on point with the theme.
6. Burgundy and white Dahlia centerpieces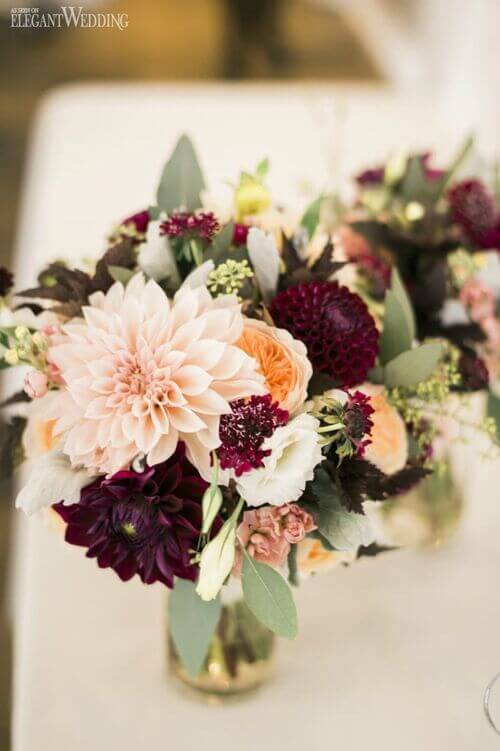 These gorgeous Dahlia centerpieces make use of the rich and dark burgundy and soft and elegant white and peach colors.
It's the perfect combination for a fall wedding and is a non-traditional approach to bouquets which makes it perfect for a rustic fall wedding.
7. Barrel bouquet decor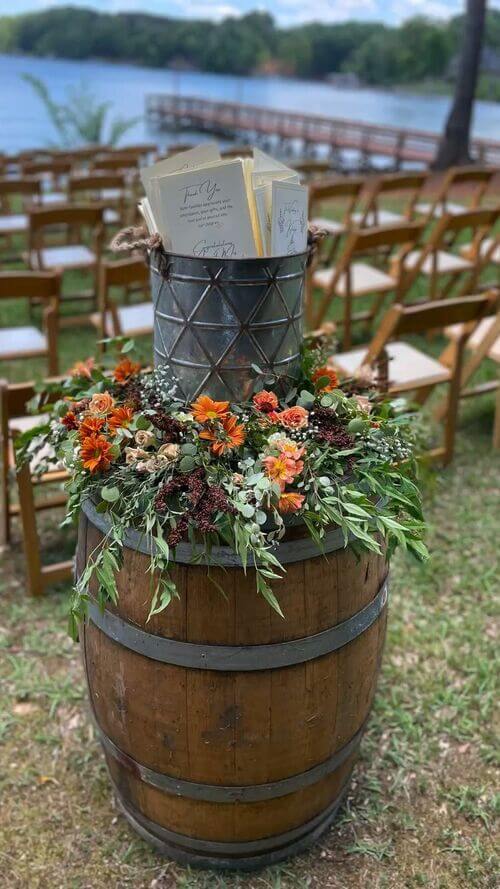 Recycle old barrels to use as tables for floral arrangements.
This can be used around the venue to make sure your space is being used effectively.
Add a tin can to hold the cards of the wedding information. It's the perfect idea to keep to the theme.
8. Cupcakes for dessert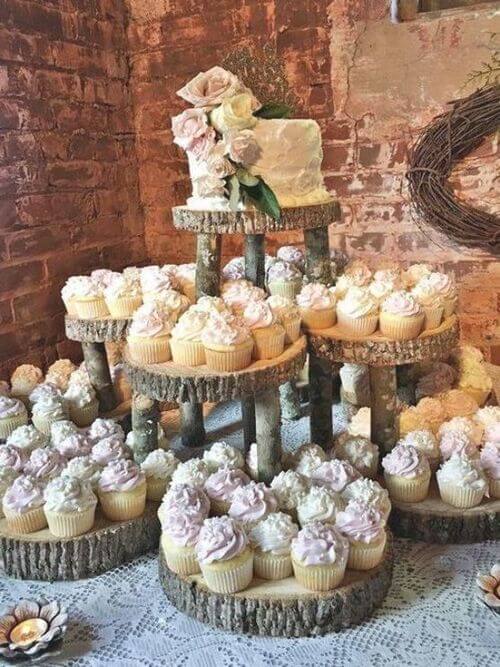 Having a giant cake at the wedding can get a little pricey, especially when you know it might just end up being a waste.
Trade in the giant cake for a mini one just for the ceremony and have cupcakes served instead.
This will help to cut costs, and let's be honest, here a decorated cupcake is cuter than a simple slice of cake.
9. Orange and yellow rustic centerpieces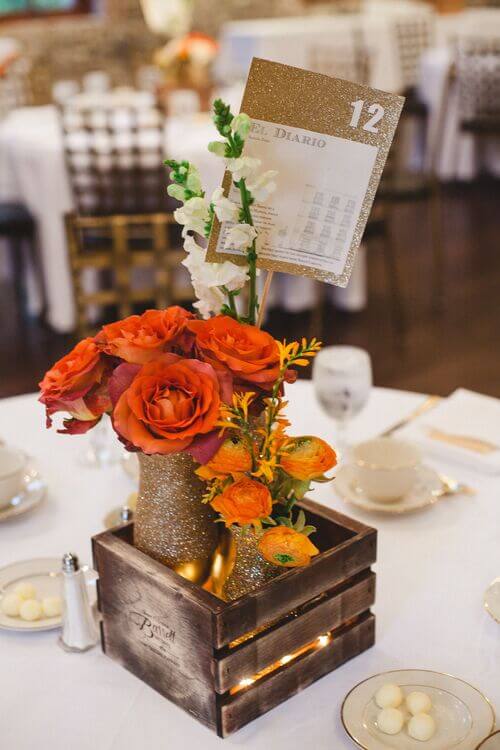 This gorgeous centerpiece combines the rustic look of a wooden box with the elegant touch of orange flowers and fairy lights.
This is the perfect accent for subtle color combinations and works well with most neutral color settings.
10. Forest and sage green setting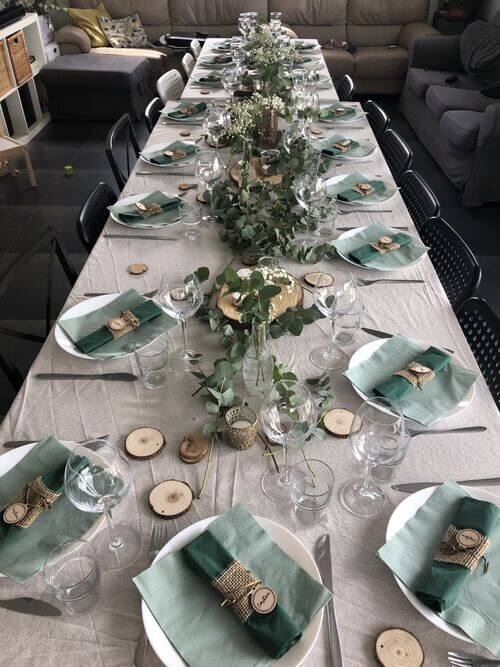 This elegant forest green and sage combination is perfect for a fall wedding.
The cool colors tie into the rustic theme allowing you to incorporate wood accents as well as greenery.
Use wood slices for coasters.
Keep the centerpieces simple by using candles or even eucalyptus.
11. Grab a drink mini bar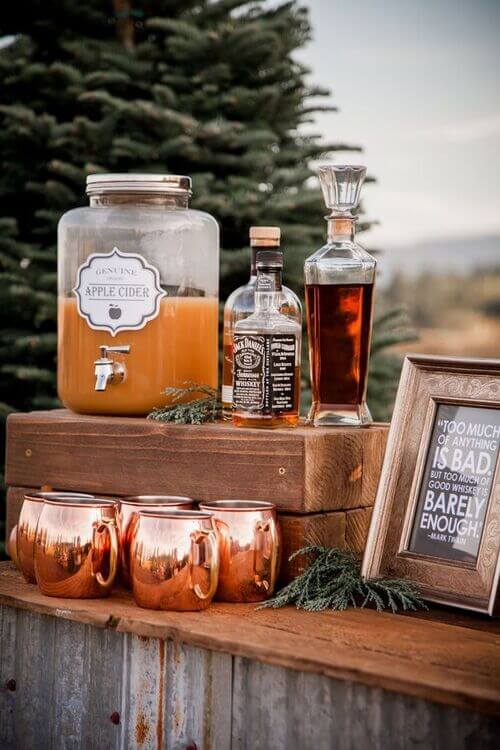 Create a mini bar for your guests to enjoy.
This drink can be a specialized drink for the night.
Grab a jar and fill it with juice or a mixer and place the alcohol options next to it.
This allows people to see if they want something non-alcoholic or alcoholic.
It's a cute station that allows you to use only a limited amount of space.
12. Pick a seat flower barrel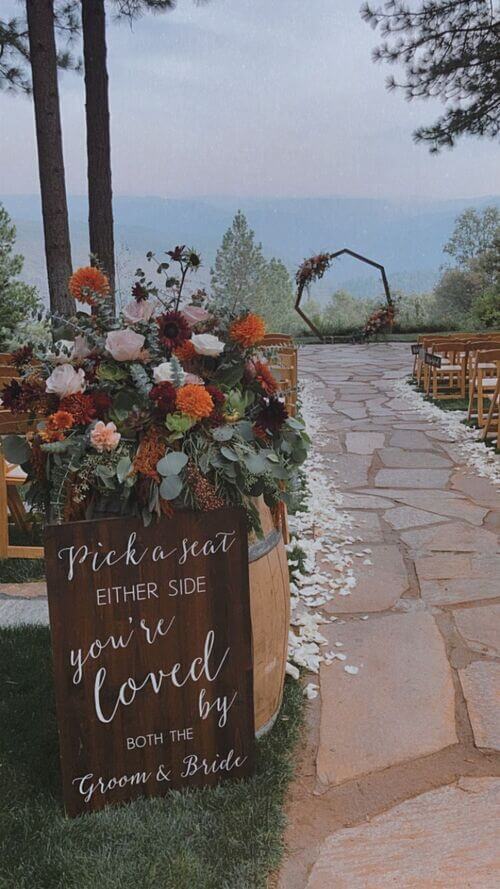 Pick-a-seat signs can sometimes feel a bit out of place, but this works extremely well.
This is a rustic idea that stays simple.
It makes use of barrels to hold the flower arrangements.
The board can be a DIY project you do at home or buy as is.
13. Blanket station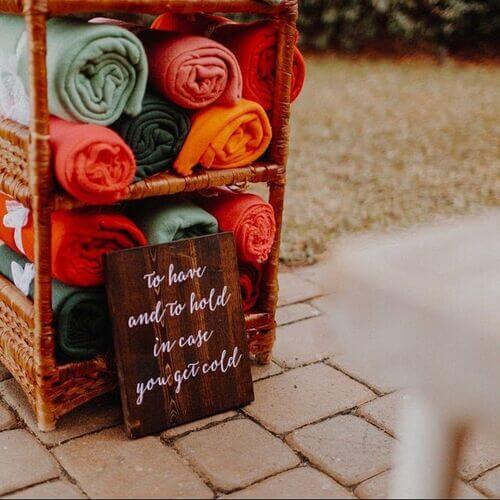 Don't forget that it will be a little chilly at night.
You don't want to have your guests cold and not enjoy themselves.
This blanket box allows guests to grab something to keep them warm and dance the night away.
It's a small thing that can make a big difference.
14. Fall bridesmaid dresses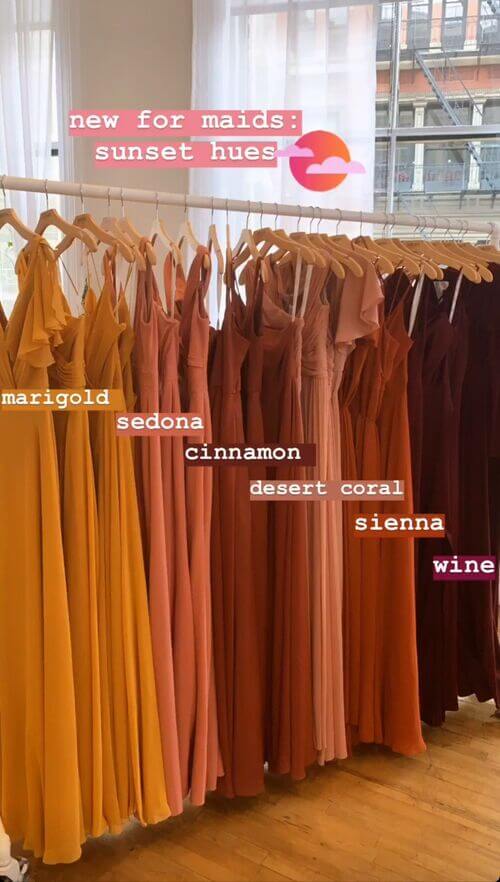 The best thing about a fall wedding is 100% the color palette.
You get to mix and match bridesmaids' dresses in the most gorgeous fall colors.
Be sure to get different styles for your bridesmaids to try on so that everyone feels confident and comfortable in their dresses.
15. Pallet board for the day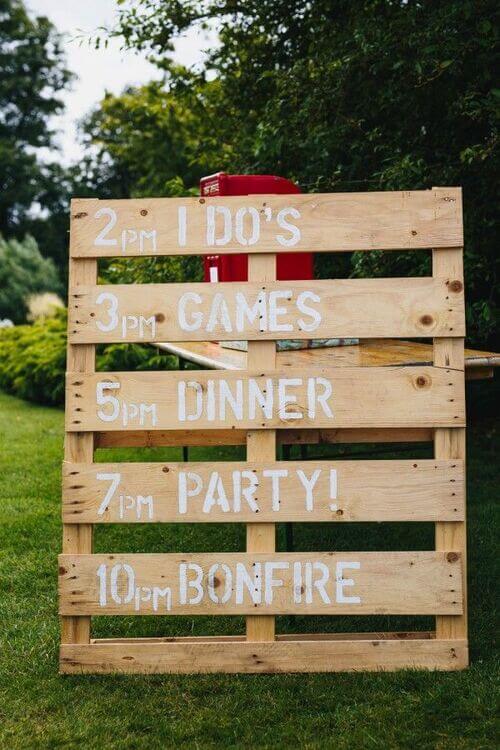 Not sure how you want to waste extra paper on your big day?
Remove the extra spending and opt for this cool idea.
You can DIY this with a pallet board and some spray paint.
This allows everyone to see what is happening when and stays budget-friendly.
16. Dessert tower made with log slices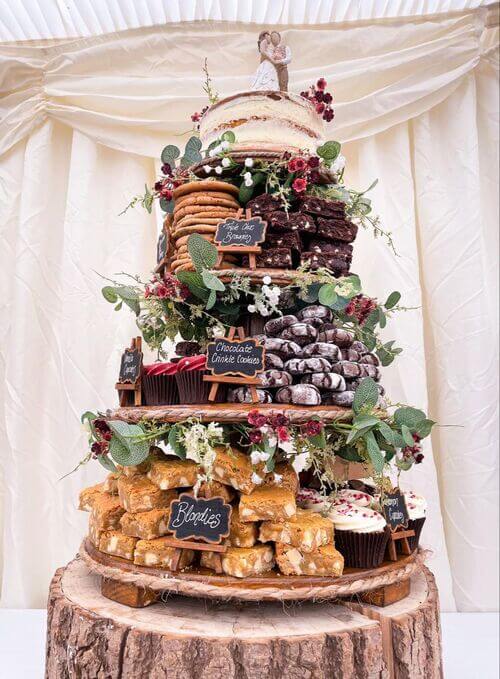 Creating a designated sweet treat station is essential.
This idea makes use of wooden trays, fake greenery, and some mini chalkboards.
It's cute and adds to the rustic approach.
Add some cupcakes, cookies, and brownies so that there are plenty of options to choose from.
17. Red, orange, and yellow centerpieces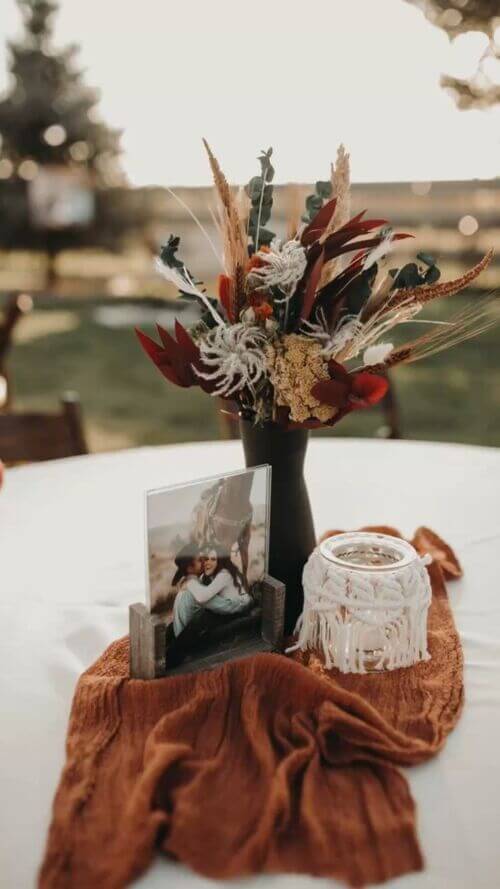 The best part about decorating for a fall wedding is that you can make use of moody and dark colors.
The burgundy, dark oranges, and browns give this warm atmosphere.
It pairs great with beige or even white aesthetics for a rustic wedding.
This centerpiece is cute because it makes use of engagement photos and gorgeous vases filled with unique bouquets.
18. Sunflower aisle decor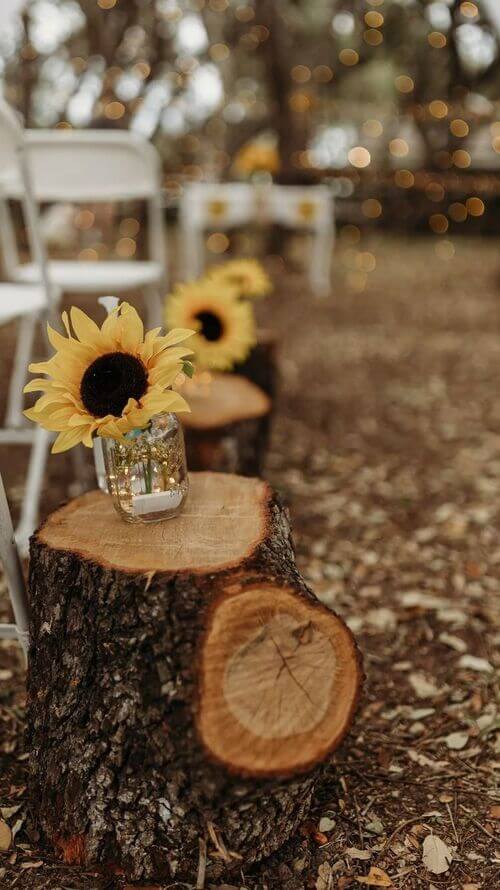 It can be hard to find some aisle decor to fit the theme, but you don't need to worry about fabric and elegant flowers.
This is a rustic theme which means that the more rugged and natural things look the better.
Grab some wood logs and sunflowers.
They are affordable and simple to find and place through the aisle.
This budget-friendly idea works wonders, especially for an outside ceremony.
19. Orange and beige centerpieces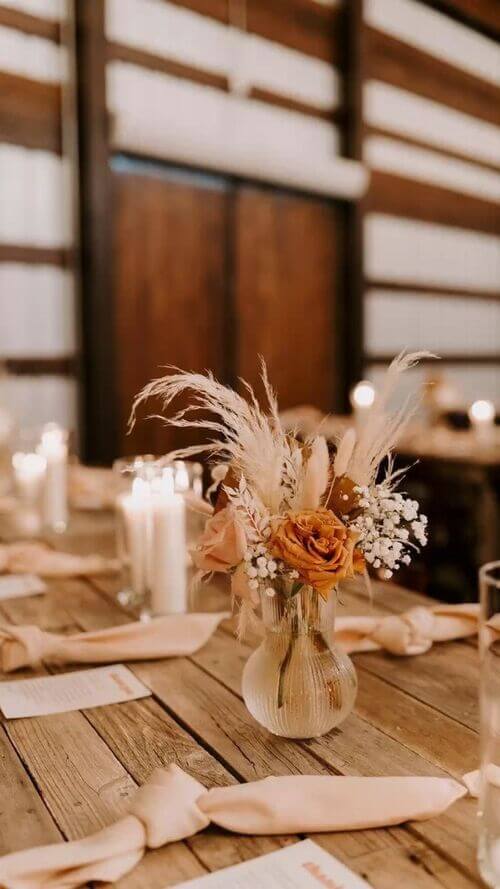 Neutral colors are great when it comes to rustic weddings.
The fall colors seem to become accent colors to bring a pop to the table.
In this case, the use of baby's breath and pampas grass is a simple idea that is tied together by the orange roses.
It's the perfect example of a simple fall centerpiece.
20. Roses and pumpkin decor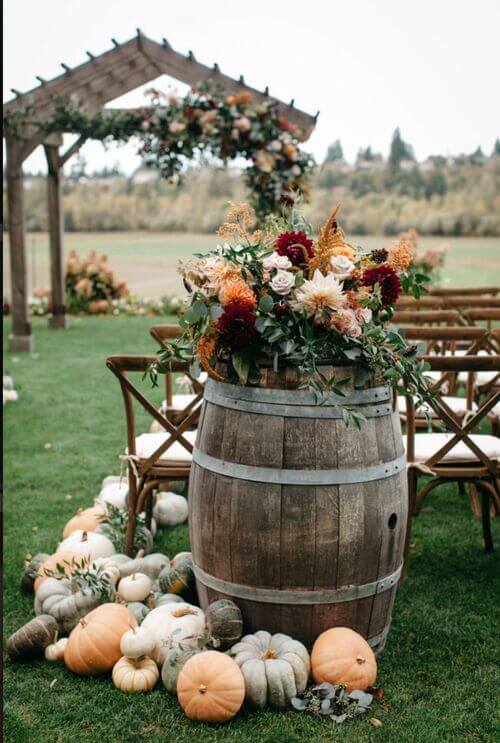 Never thought I'd say this but… apparently roses and pumpkins go together.
This idea feels right out of a fairy tale.
Use the pumpkins to create a sort of entrance to the aisle and the flowers in barrels to make effective use of the giant space.
It gives the perfect balance of rustic and natural paired with elegant and moody colors of the flowers.
21. Dusty pink and white centerpieces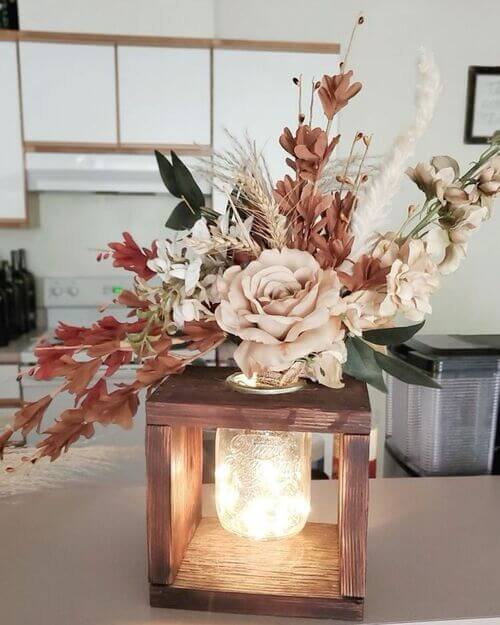 This centerpiece is bold, bright, and absolutely perfect.
The fact that this is something that can easily be a DIY project makes it even better.
All you need is some wood, a mason jar, fairy lights, and the bouquet of your dreams to make this idea come to life.
22. Light up letterboards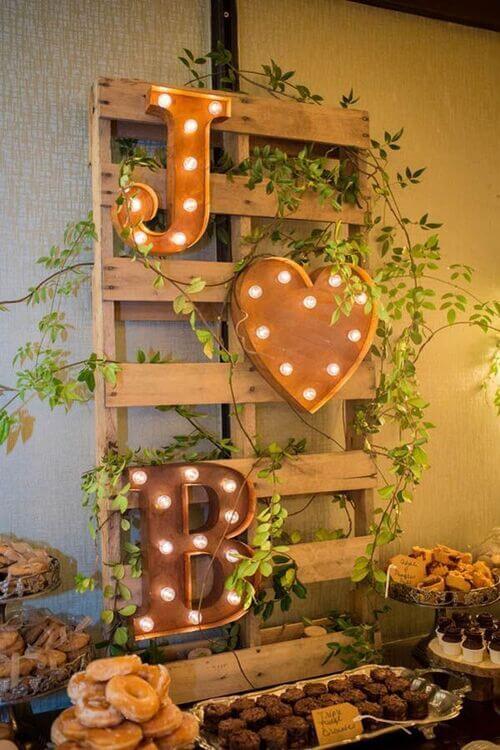 Show the love throughout the day.
These cute letterboards with lights are absolutely to die for and bring a warm touch to the snack table.
Simply add them to some pallet boards with some greenery to recreate this warm and glowing decor piece.
23. Barrel and board drinks table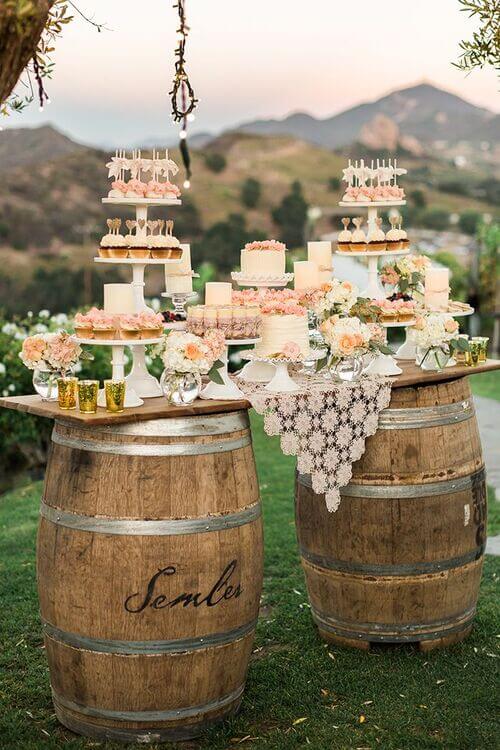 Skip the tables and create your own designated drink spot.
This idea makes use of two barrels and a wooden board to create a spot for your guests to grab their favorite drinks.
It's cute and unique adding a little twist to the usual setting of a rustic wedding.
24. Neutral table settings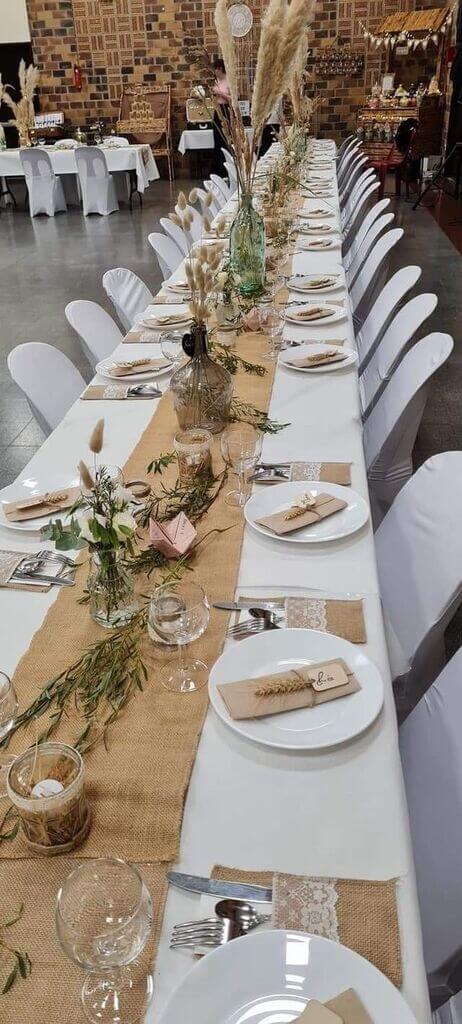 If you want to stick to the theme but love a neutral color scheme then this burlap and lace paradise is just what you need.
It incorporates rustic elements while staying minimalistic, making it ideal for a fall wedding.
Even the centerpieces are simply made from pampas grass and greenery.
Finding the idea that works for you
Fall color schemes are the best.
Pairing them with these rustic wedding decor ideas will surely bring a bold new element to your wedding.
Whether you use a simple centerpiece idea or make use of the full barrel bouquet and aisle decor is up to you.
Finding something to fit your wedding shouldn't have to be hard.
These ideas are just here to help you find inspiration that will fit into your big day.
So keep these ideas close by when you are planning the happiest day of your life.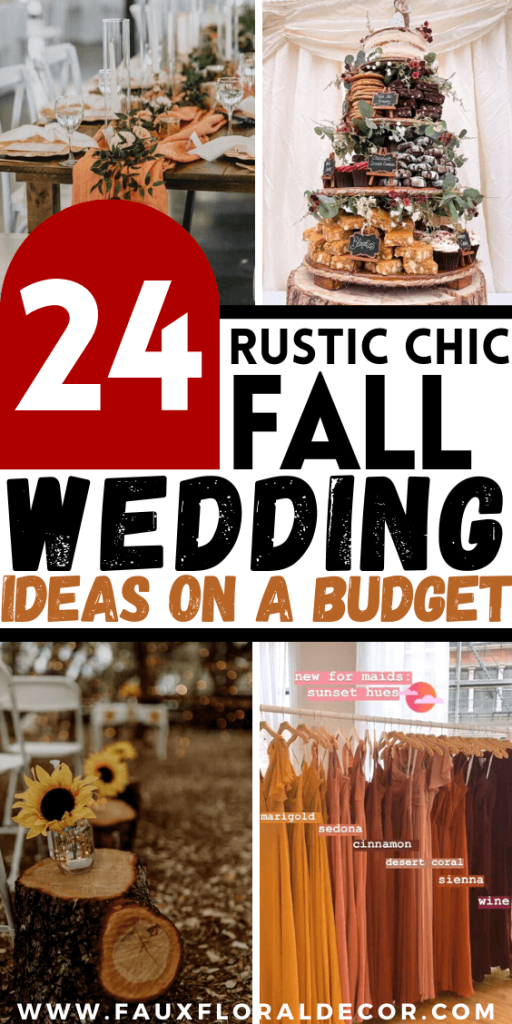 This post showed you the best rustic fall wedding ideas on a budget.
You may also like: