Elegant on a Budget: 20 DIY Wedding Hacks From The Dollar Store
Planning a wedding can be an expensive affair, but not if you know that you can DIY most of your wedding decorations using things from the dollar store.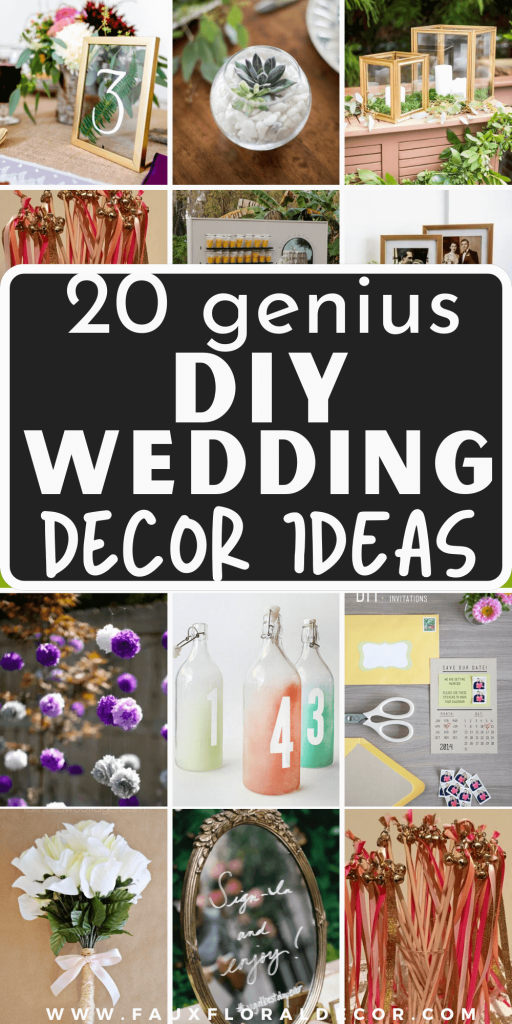 With a little creativity and resourcefulness, you can create the perfect wedding décor regardless of a tight wedding budget.
The best part of the do-it-yourself wedding project is that the money you have saved for the decorations can go toward your newlywed life.
Which can be a little more useful and sustainable in the long run, right?
Speaking of sustainability, some wedding decorations are also not very good for the environment.
Some of them create a huge amount of waste since most of them are not used again after a wedding.
Keeping things on the simple side is a great way to reduce waste and lower the environmental impact of your big day.
These 20 DIY wedding hacks do both, so you can have a DIY wedding décor on a budget that's both elegant and eco-friendly!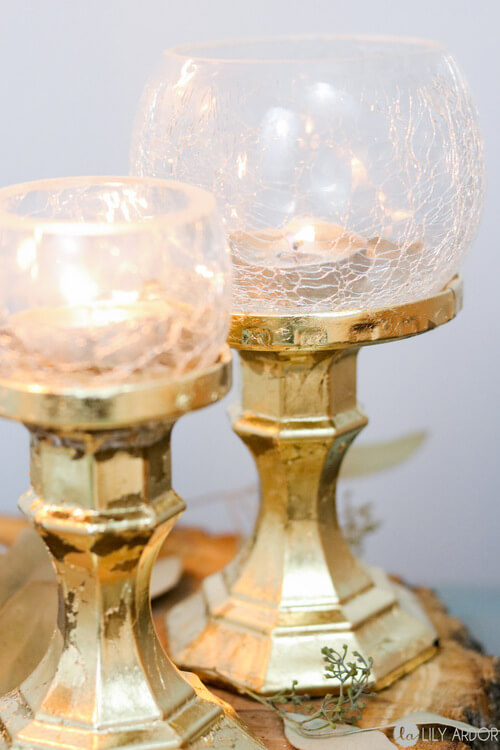 This might be the easiest way to create a warm ambiance throughout your venue.
Stock up on inexpensive tea lights and votive candles.
For the candle holders, you can use some lids from old jars and attach them to glass candle holders from the dollar store.
Then, you can spray the jars with gold spray paint for an elegant touch!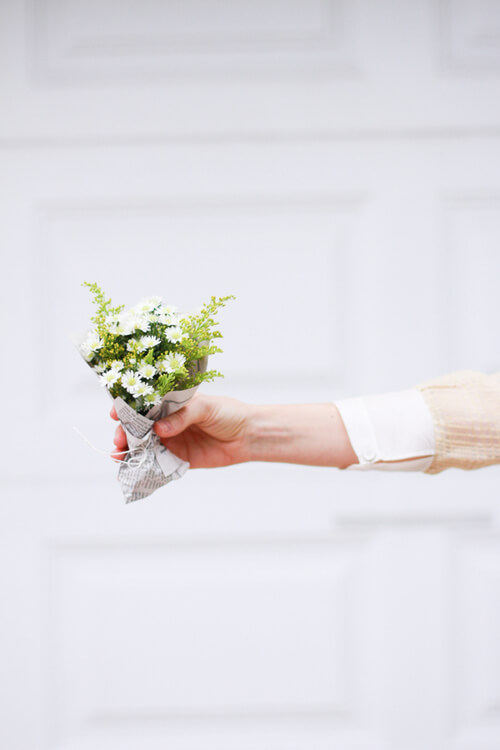 Can you believe that this DIY flower bouquet only costs $2 to make?
You can buy the flowers in a dollar store and use your old newspaper as the wrapper.
Remember to keep the bouquet small, so don't buy bigger flowers.
The cute thing about the bouquet is that you can a secret message.
You can give these flowers to your bridesmaids, groomsmen, or even to your guests!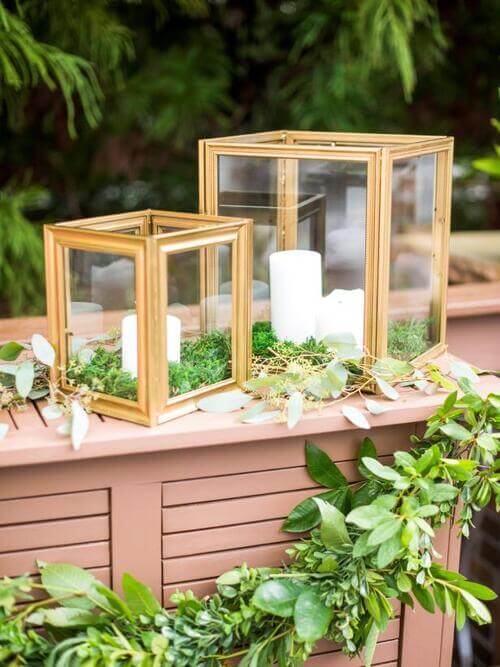 One common thing you can find in a dollar store is picture frames.
You can incorporate these frames as your wedding décor by making elegant and classic lanterns.
To make it, you need to remove the frame's glass and backing.
Cover both sides of the frame in gold spray paint and attach four frames with hot glue.
Replace the glass and put these lanterns everywhere on your big day.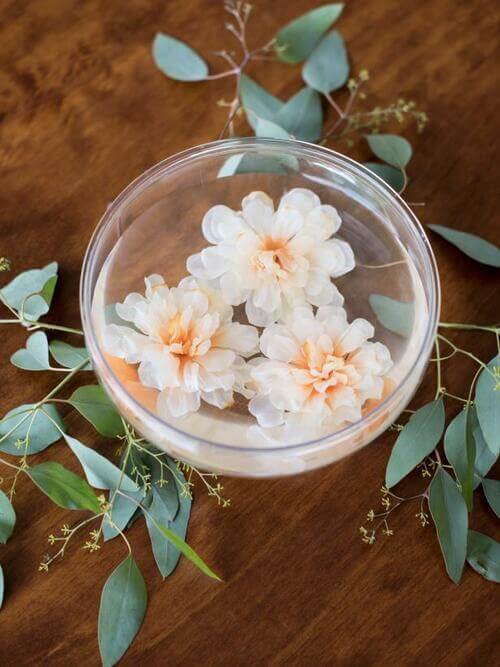 In a dollar store, sometimes you'll find faux flowers that don't look fake at all.
With these faux flowers, you can create easy and gorgeous centerpieces.
Simply fill ¾ of a plastic terrarium bowl that you can find in the floral aisle of the dollar store with water.
Pop three blooms off the stems and float them in the water.
Put these centerpieces on your reception tables along with some foraged greenery that requires zero floral-arranging skills at all.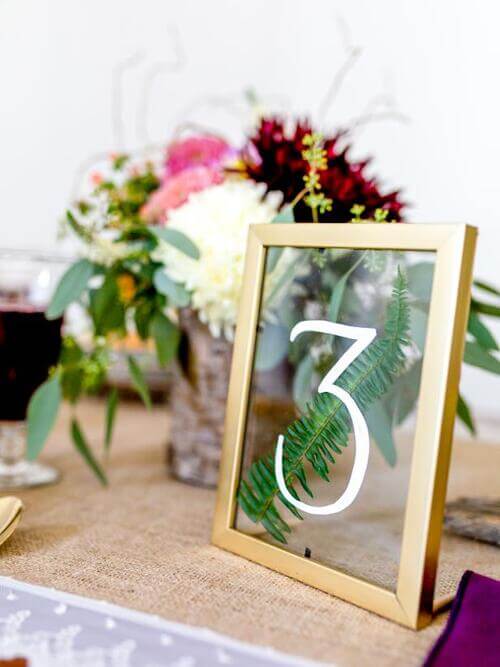 Another idea to transform picture frames into creative wedding decorations is table numbers.
All you need to do is to remove the backing from both frames and the glass piece.
Write the number on one of the glass pieces with a marker or paint.
Place some greenery between the two glass pieces and secure the glass.
You can create legs for the frame by attaching small dowels, that have been painted the same color, to the backside with hot glue.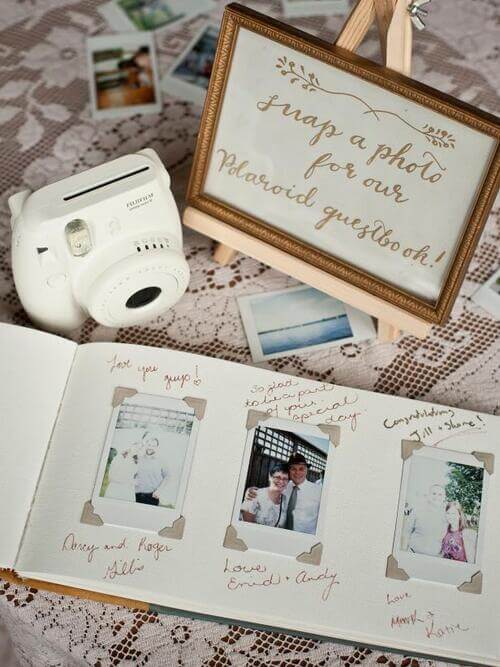 Create your only guestbook that other couples don't have.
You can use your creativity on this one, but what about a Polaroid guestbook?
Remembering everyone who attended your wedding is hard, especially because you're so busy being a bride.
A Polaroid guestbook will be a great way to look back on your special day and remember all the guests.
You can also have them write a personal message to the newlyweds under their Polaroid photos.
You'll enjoy flipping through the snapshots of your family and friends!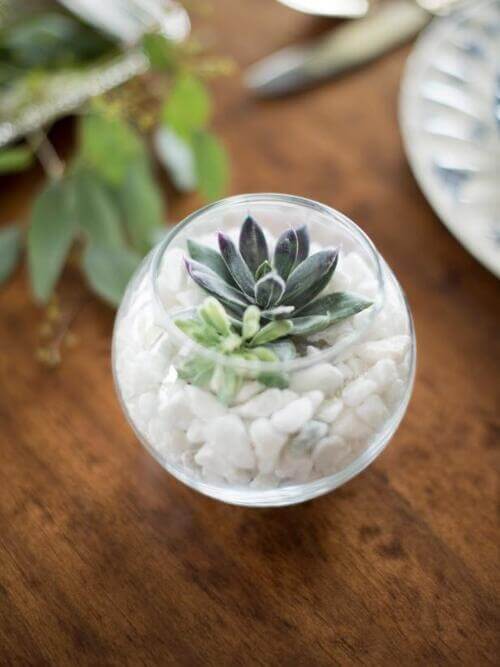 Another centerpiece hack without having to buy expensive flowers.
Buy several glass fish bowls, white rocks, and faux succulents to create a beautiful and simple succulent centerpiece.
Additionally, real succulents would be a fabulous budget-conscious alternative, but just be sure to include a layer of soil beneath the rocks.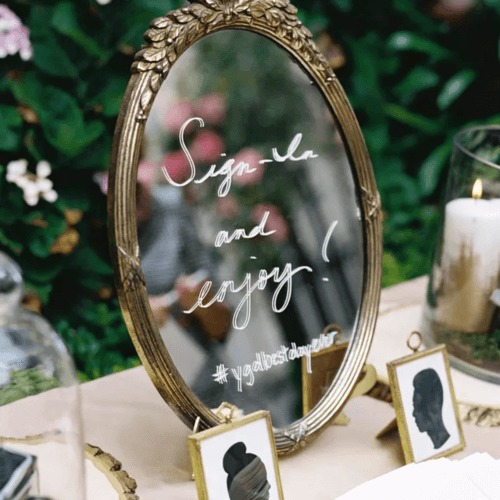 One wedding décor that's not going anywhere soon is the wedding mirror signs.
Mirrors have multiple purposes on your wedding day, such as welcome signs, an escort card display, a dinner menu at the reception, and more!
You can easily find a mirror in a dollar store, spray paint in metallic gold, or whatever colors you'd like, and buy a white paint pen to jot down your message on the mirror.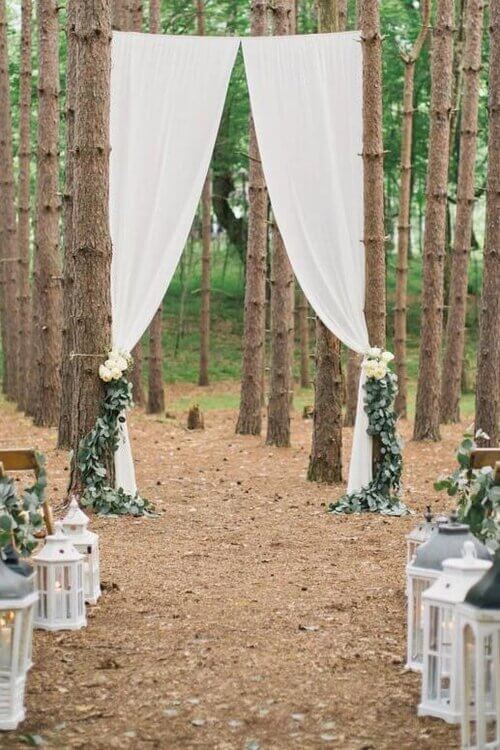 Be a little extra on your ceremony wedding day by adding "a grand entrance" that is DIY.
Create the perfect outdoor entryway with long drapes hanging for your big reveal.
You can accessorize the entryway by adding some greeneries, flowers, or fairy lights if you have an evening wedding.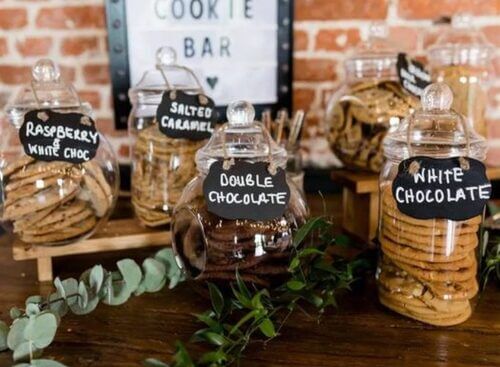 Want to treat your guests and dearests with some chocolates and cookies?
Personalized favors are great to give your guests something to remember about your wedding.
Buy several cookie jars at a dollar store and fill them with your cookies or buy them from your favorite shops.
You can also use bags with personalized stickers or labels that are available at the dollar store.
Fill them with cookies to thank your guests for being part of your special day.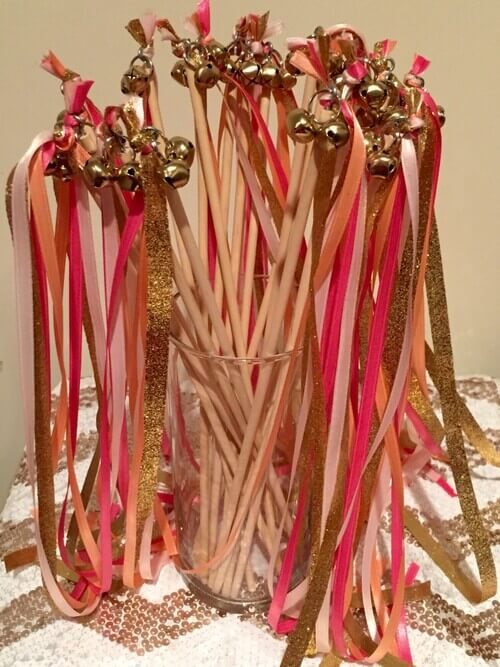 These wands can be used during your wedding send-off.
To make these are also very simple!
All you need are wood dowels and ribbons, that you can buy at a dollar store. You can also add bells to make them more festive.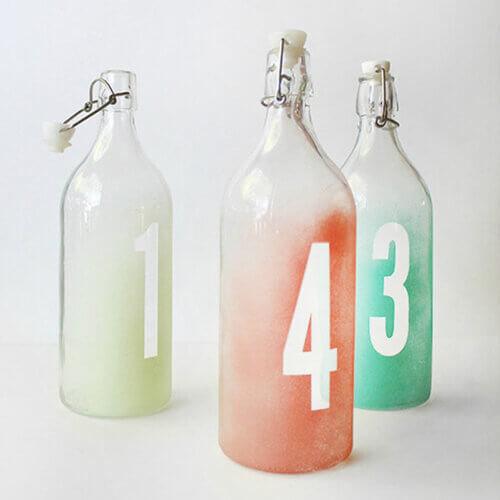 Looking for an out-of-the-box table number idea?
This might be a cute idea to reuse empty glass bottles.
If you don't have them, you can easily find these glass bottles at a dollar store.
Spray-paint them with bright colors for your colorful wedding. Add a number sticker to each for simple table signs.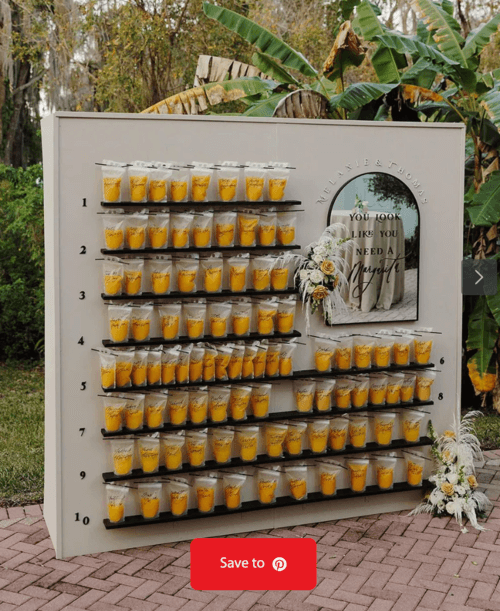 A wedding drinks wall can serve several purposes, such as a wall installation, décor, and of course, as a self-service bar.
It holds glasses of wine, champagne, or other beverages, making it easy for guests to grab and drink during the event. The wall can be decorated to suit the theme of the wedding, from classic to vintage, minimalistic to rustic, with floral arrangements, or art displays.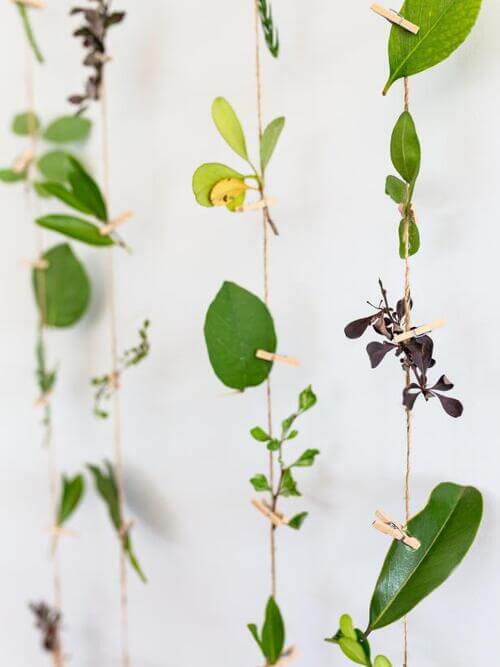 This hack would be cute if you have a rustic-themed wedding party.
Utilize some tiny wooden clothespins and twine for a natural greenery background.
How? Collect some greenery from your own backyard and pin them using clothespins.
This could be used as a backdrop or art installation for your photo zone.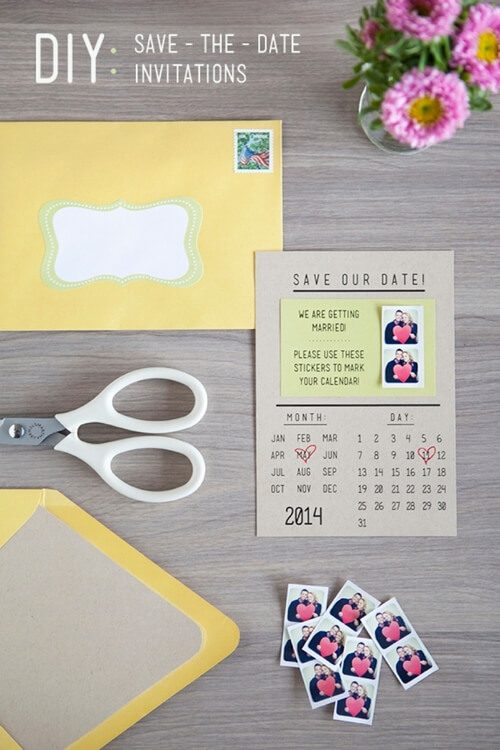 Printed invitations can be expensive, especially if you had to customize them.
DIY your own invitations by using a free printable calendar to create your save-the-date invitations.
Add some pictures of you and your partner and mark the wedding's month and date.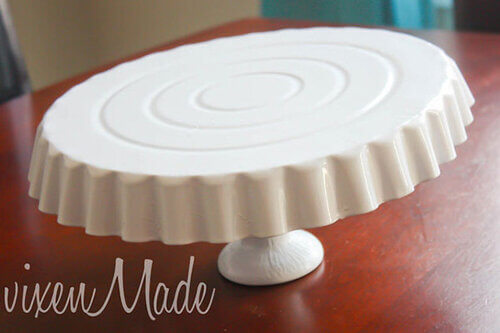 Do you know that cake stands can be quite pricey?
No worries because apparently, you can make your own dessert display.
Hot glue an upside-down pie tin to a candlestick and spray-paint the entire piece for a look that's perfect for a dessert table.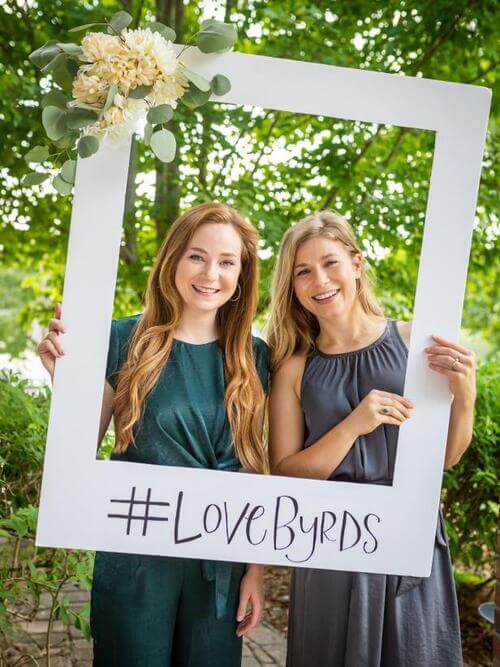 A photo box is a must at every wedding, hence Photobox props have to be there to create more festive pictures!
Create a giant Polaroid picture frame by using a foam board.
Hot glue faux flowers and greenery to one corner, then sketch your wedding hashtag along the bottom for a fun, pretty wedding activity guests will love to post about.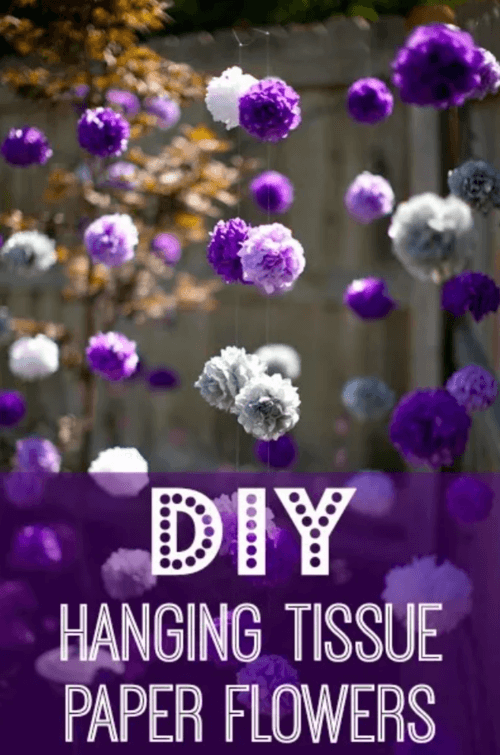 Tissue paper flowers are easy and fun to make, customizable, cheap in bulk, and can be used again.
These flowers are a great DIY project to decorate your wedding venue.
All you need to make them are floral wire or strings, scissors, and lots of tissue paper.
Stack 5-8 sheets of tissue paper on top of each other and smooth them out, fold paper accordion-style and crease with each fold, gather the folded tissue paper and fold wire or string around the center tightly, cut the edges and round them off to create a scallop effect, separate and fluff each layer of tissue paper, pull to the center of one side only, and leave a small space in the middle of each flower.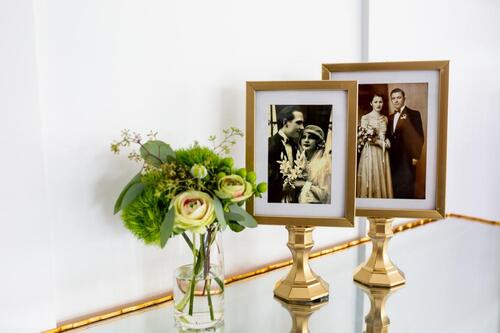 Need classic frames to show off your favorite engagement pictures?
DIY these frames using dollar store-bought frames and candlesticks.
Paint them gold and hot glue a dowel rod inside the candlestick so that the frame can be glued to sit on top of the candlestick and against the dowel.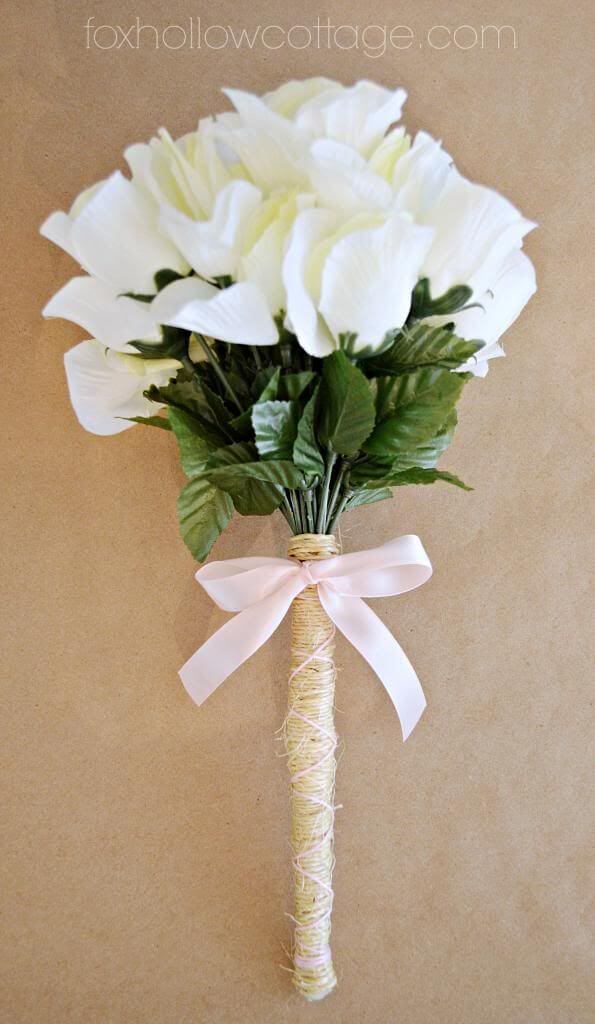 A flower bouquet can also be quite costly if you are using real and fresh flowers.
When arranged with fresh greenery, even the cheapest faux florals look like the real thing.
Buy several faux flowers at a dollar store and arrange them the way you like them!
To wrap it up
Creating a beautiful and memorable wedding doesn't have to break the bank.
By incorporating these 20 DIY wedding hacks using items from your local dollar store, you can add a personal touch to your special day while staying within your budget.
Embrace your creativity, unleash your inner DIY enthusiast, and let the dollar store be your secret weapon in creating the wedding of your dreams!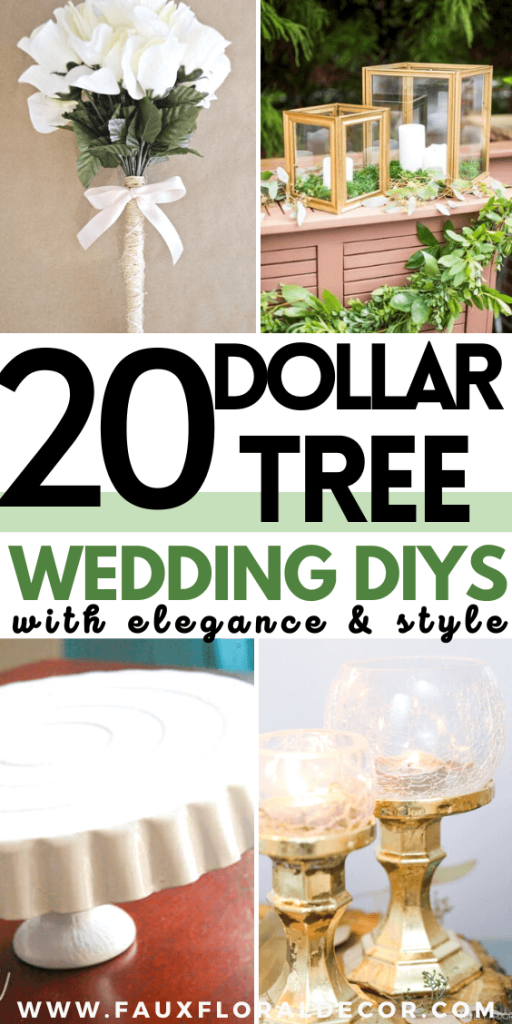 This post showed you the best DIY wedding hacks.
You may also like: