This post shows you the best wedding cake ideas.
We cannot forget about the biggest and most important part of the whole wedding experience… the cake!
Okay, maybe not the most important, but it is definitely high up there on the list of important things.
This is why you need to find the design that works for you and fits your theme.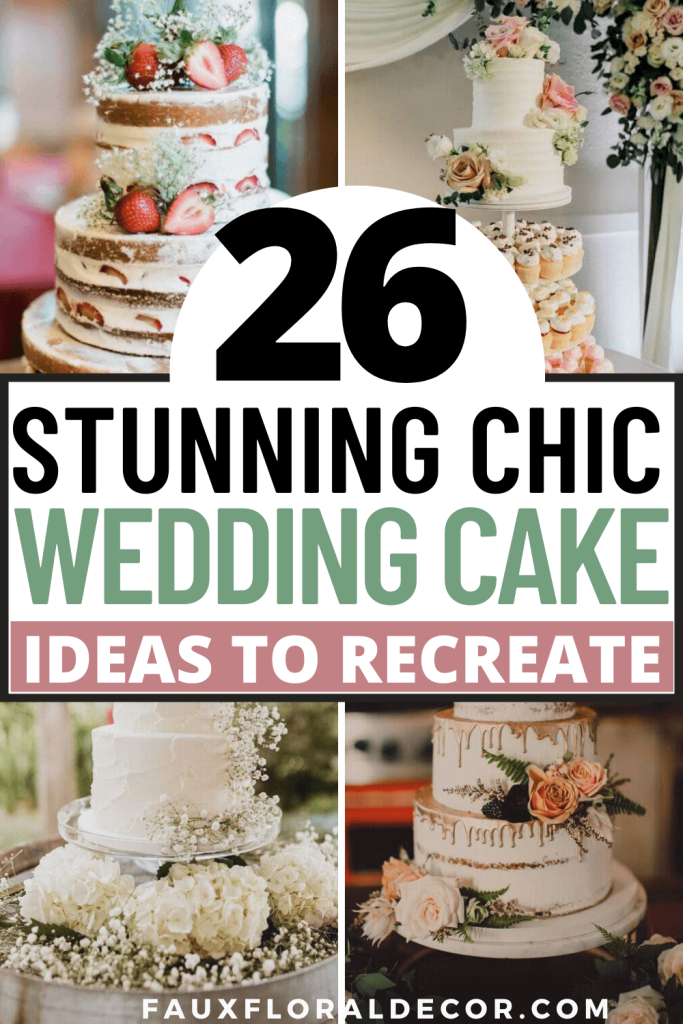 Choosing the perfect cake
When trying to choose the perfect cake there are a few things to keep in mind.
These aren't necessarily needed to find exactly what you need, but they will allow you to have some peace of mind when choosing.
Plan ahead. There's nothing worse than not having enough time to go through ideas and change things as you need to.
Look for a baker that suits your needs and has a good reputation.
Think about what will suit your budget.
Bring inspiration but don't overdo it. If you have an idea that you want to use as inspiration, then that is perfectly fine, but as soon as you have 15+ ideas that you're trying to fit into one cake, things can be a little tricky.
Picking your flavor isn't always easy. There are so many great options, so don't rush the decision.
Asking questions is perfectly acceptable. If you have questions for the baker, you should ask them, especially if they are concerns.
Questions to ask yourself
Another thing you need to keep in mind is how this cake fits into your wedding theme, the size, colors, and how many guests you'll have.
So what questions should you be asking yourself when choosing this cake?
What allergies should you be taking into account?
Are there a lot of guests? Then cake might not be the option you want to go for. Opt for something like donuts, or cupcakes instead.
What is the theme of your wedding?
What colors will keep to the theme?
Do you want multiple flavors?
Are you suiting your needs or those of the guests? You don't want to have a cake only because your guests like the flavor or color, it should cater to your likes.
How can you personalize it? Add a cute and special topper to the cake.
Best Wedding Cake Ideas
1. Donuts instead of cake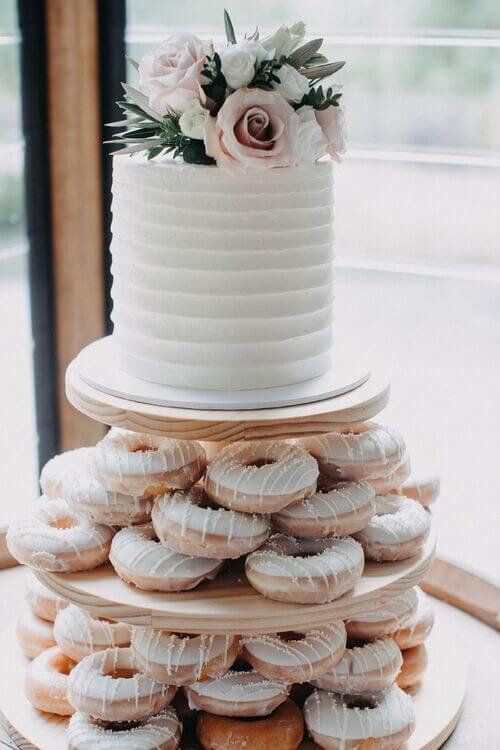 Who can say no to a yummy customized donut?
Step away from the traditional approach and find something more budget-friendly.
Create a customized order that fits the same flavor profile as the cake and serve them instead.
2. Wood tiers and naked cakes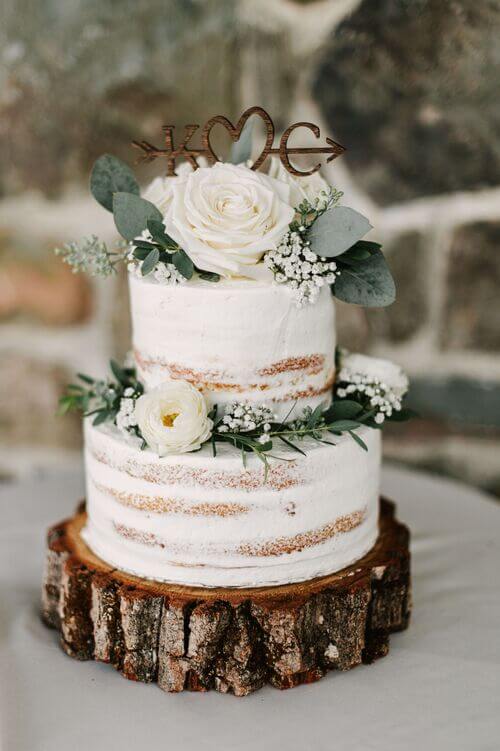 If you have a rustic theme then these naked cake ideas are perfect.
Get a wood slice to set the cake on top of for those gorgeous aesthetic photos that every person loves.
You can decorate it with edible flowers and greenery to keep it in tune with the nature theme.
Related: 13 Rustic Wedding Table Decorations (And How To Recreate Them On A Budget)
3. A non-traditional approach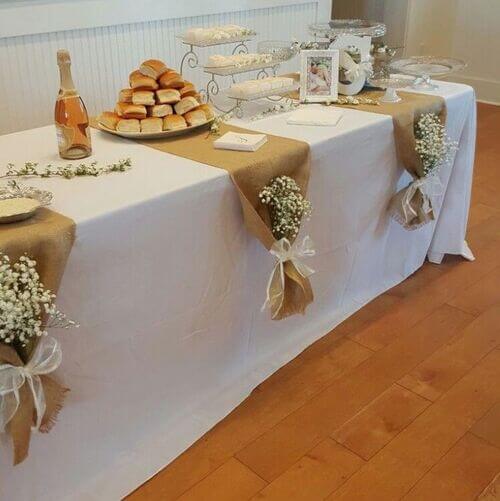 Try something else on for size. Make it a buffet-style station for your guests to grab however much they want.
This allows you to ensure that everyone has enough and can enjoy whatever they like.
4. Pressed flower idea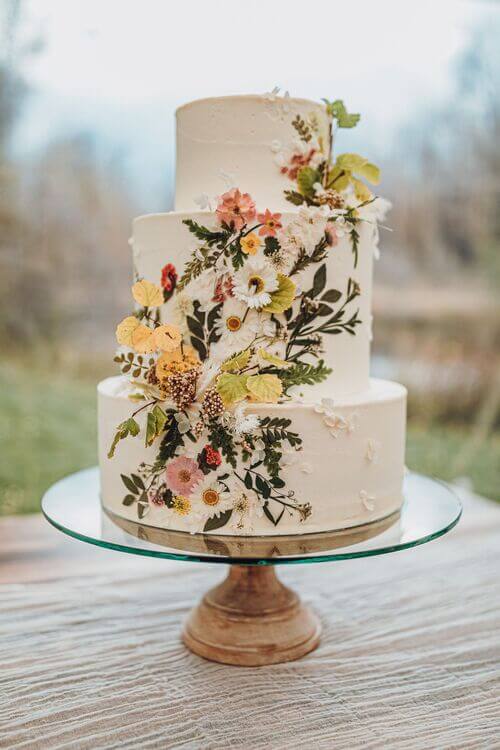 Something about the look of pressed edible flowers on a simple white cake screams elegance and fun.
It's unique and definitely needs to be added to the list of options for boho or spring weddings in general.
Related: 19 Wildflower Wedding Theme Ideas That Look Incredible
5. Mini cupcake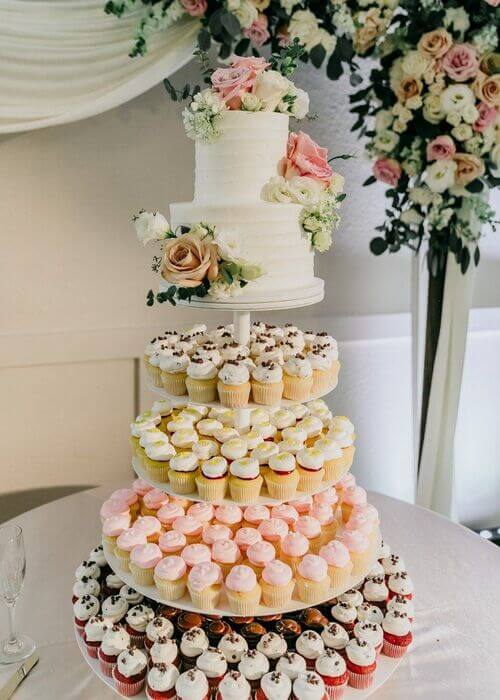 Can't decide on a flavor? Don't worry we've all been there.
Why not use this as the opportunity to create different flavored cupcakes for guests to pick and choose from to avoid the hassle of catering to all with only one simple flavor?
6. Pastel flowers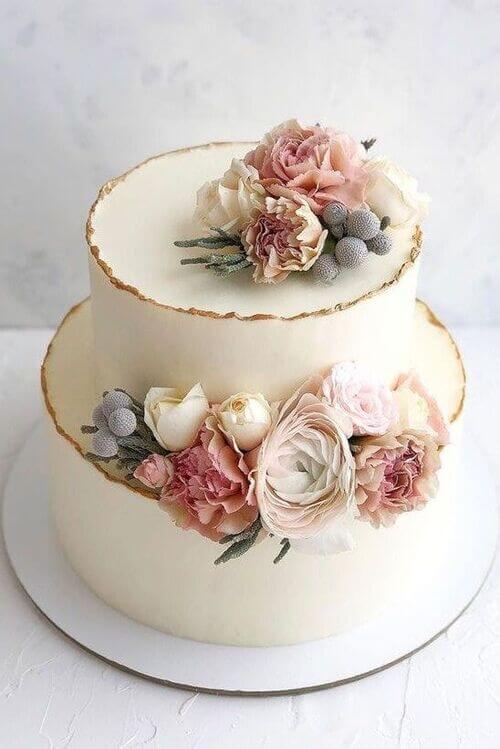 Bring something different to the table with this pastel masterpiece.
This cake keeps things simple but has a gold rim that gives it a simple elegance.
You can then add some pastel blossoms to bring a pop of color to the mix.
7. Cupcakes tiers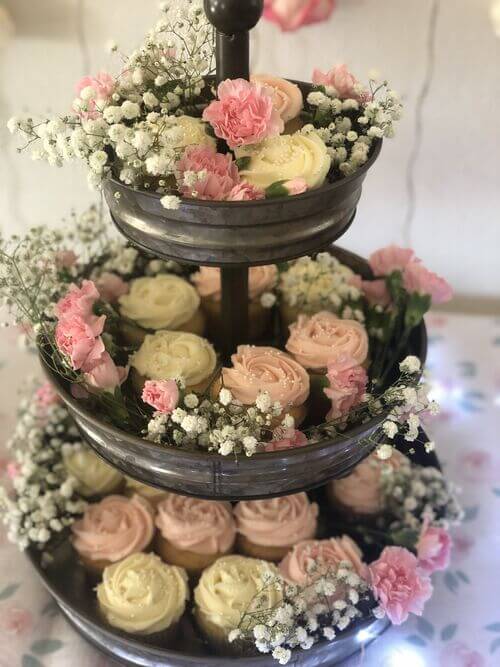 This idea gives me the perfect barn aesthetic.
Grab a tiered tray and fill it with small roses and baby's breath.
Get yourself two different flavors for your guests to choose from so that people can pick and choose as they please.
This will be a lot better than getting a giant cake.
8. Simply white and minimalistic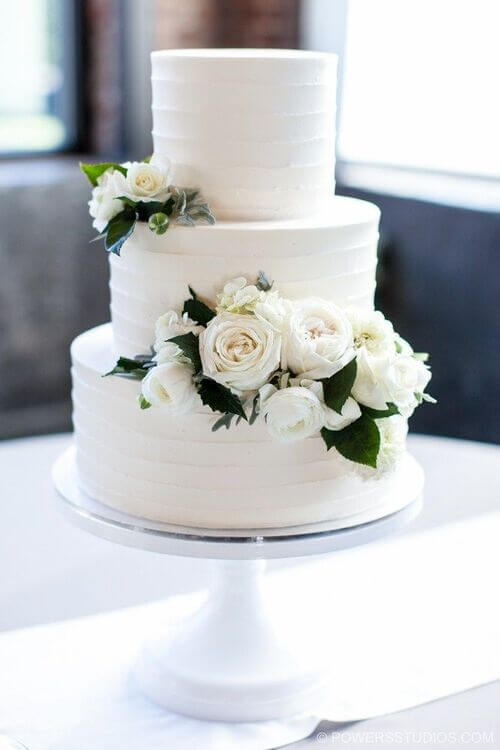 Keep things simple with this simplistic design.
You can add a line design made with the frosting and place some white roses and greenery on the cake.
This cake idea works great if you have only a few guests and also fits with any theme making it ideal.
9. Mini cakes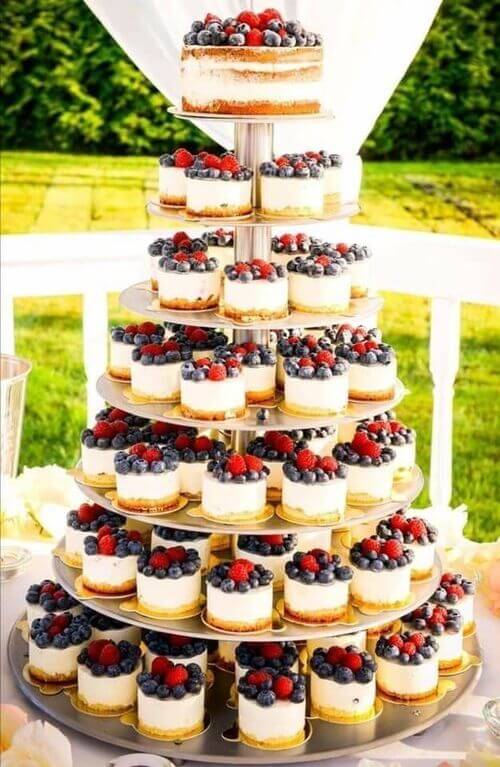 This idea is great because it gives you the best of both worlds.
You have the bare cake topped with berries for the cake-cutting ceremony, and then you can hand out these mini cakes for people to enjoy.
It's the perfect sizing to ensure everyone has enough too.
10. Half hers and half his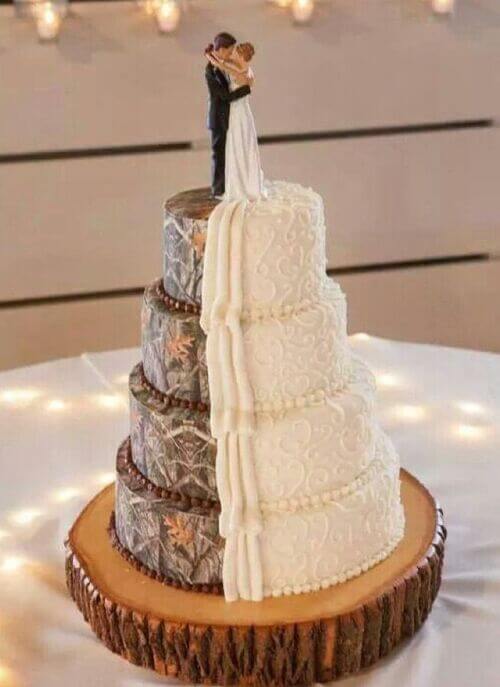 You and your partner might have some creative differences getting in the way or want a more personalized idea to try out.
This his and hers cake combines the best of both worlds and incorporates a cute touch that shows your two sides working together.
11. Mini tarts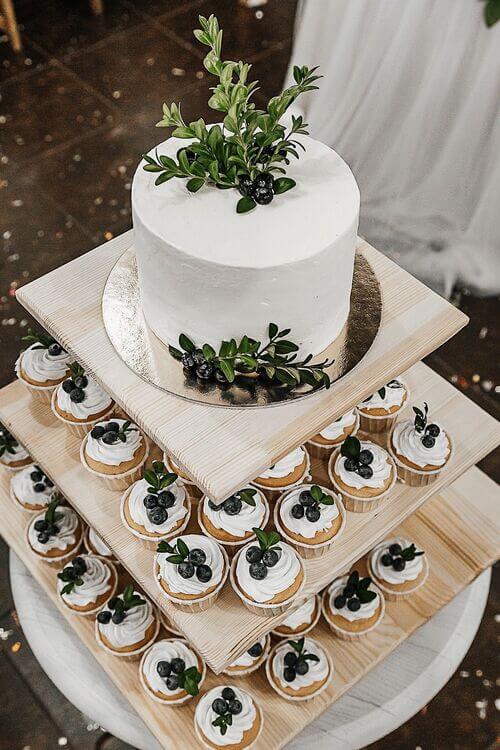 If you feel like the donut or cupcake approach is getting a little too simple then find something that works for you.
These blueberry tarts are a little different from the usual approach.
You can still get a simple cake for the ceremony and pictures but serve tarts to the guests.
12. Pastel cupcakes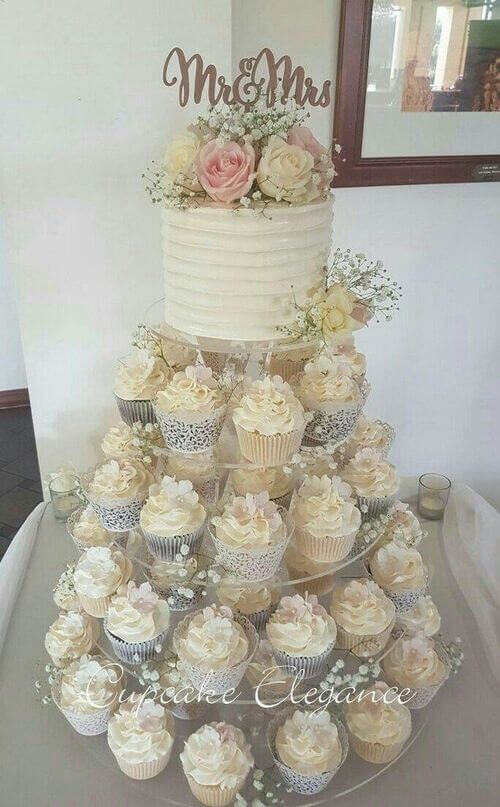 These fluffy-looking buttercream cupcakes are just what you need on your wedding day.
Add some florals and baby's breath to the dessert centerpiece to make it look cohesive with the rest of your wedding theme.
13. Strawberry naked cake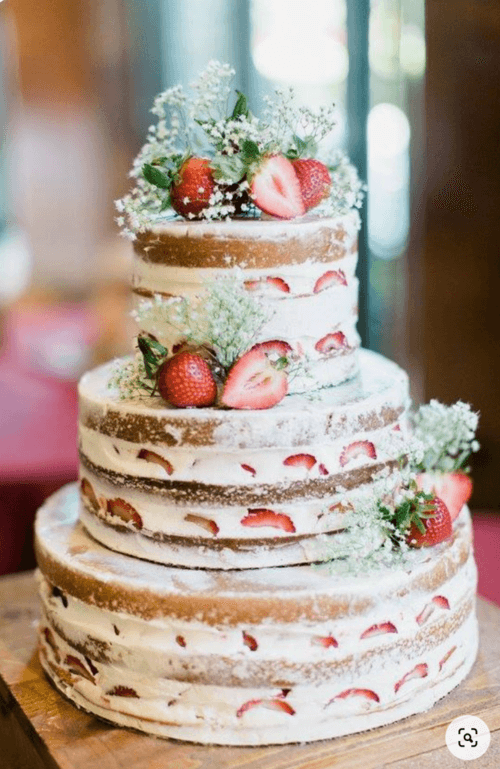 Who can say no to this fresh idea?
Strawberries and cream sound like a dream come true for a spring or summer wedding.
If you have a small number of guests, then this works perfectly for you and also looks super cute.
14. Cake pops for the aesthetic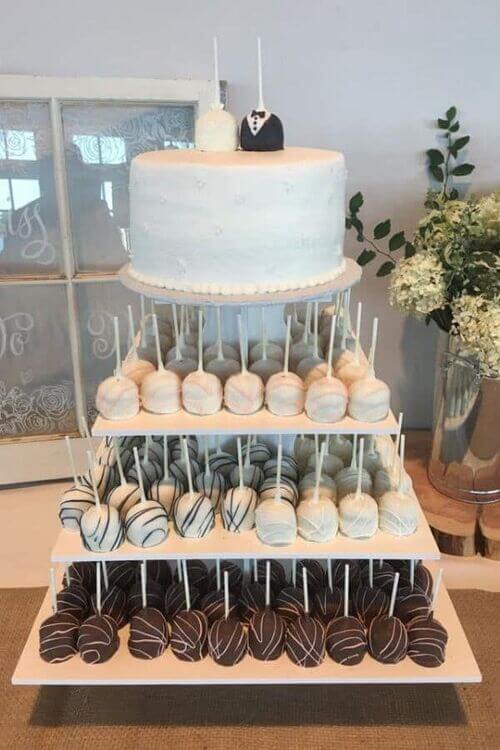 Cake pops seem a little unconventional for a wedding but hear me out.
They are the perfect substitute because they are budget-friendly, make for less waste, and allow you to try out a bunch of different flavors.
15. Grab a cupcake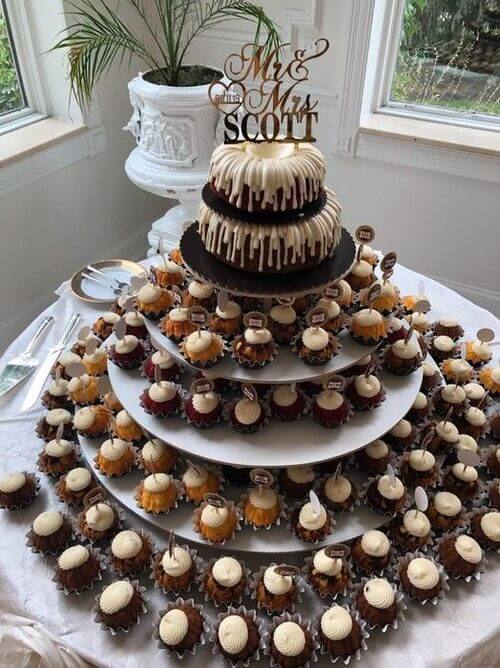 Create a golden display of cupcakes for your guests to pick and choose from.
You can keep to two or three flavors and top it off with rich buttercream icing.
People will appreciate the easy access and portions of this idea.
16. Pearls and roses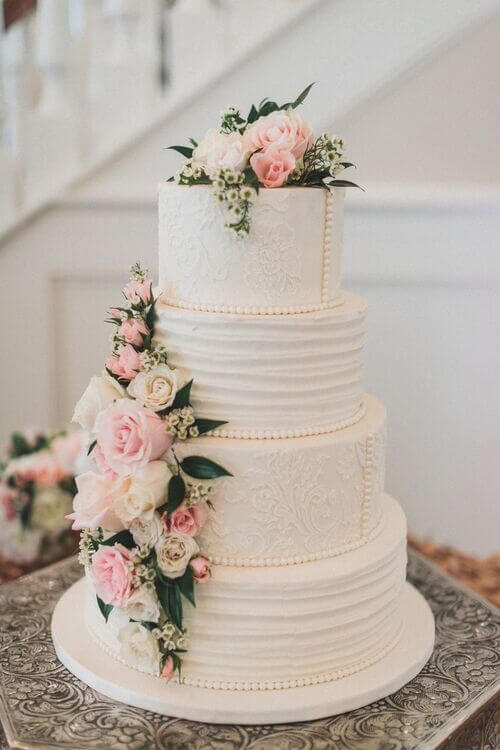 Pearls and pink roses offer that bright summer look without feeling overwhelming.
If you know that you have quite a few guests coming, then opting for a bigger cake is pretty much a necessity.
You can always take some home and use the top layer as the perfect piece for take cake-cutting ceremony.
17. Rosy cupcakes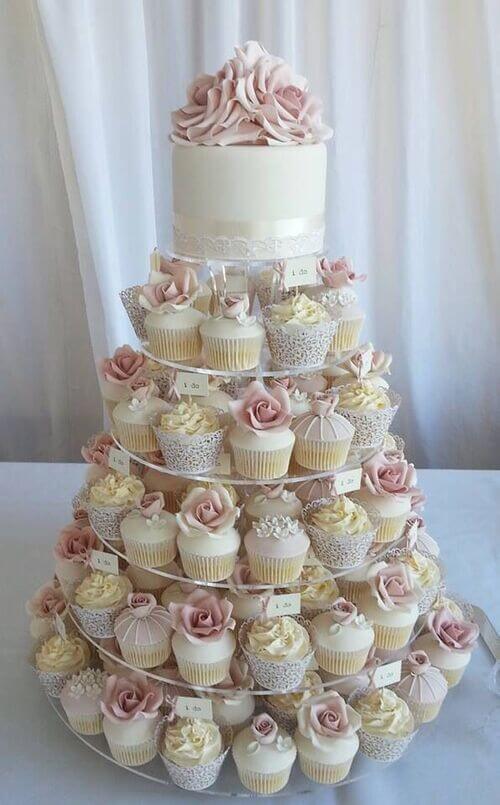 If you're sticking to the dusty rose aesthetic, then you might want to incorporate it into your dessert as well.
Whether that be within the icing or by adding fondant flowers to the cake there's an idea for everyone to try and test.
Related: 20 Beautiful Dusty Rose and Sage Green Wedding Color Ideas 2023
18. Mixed berry naked cake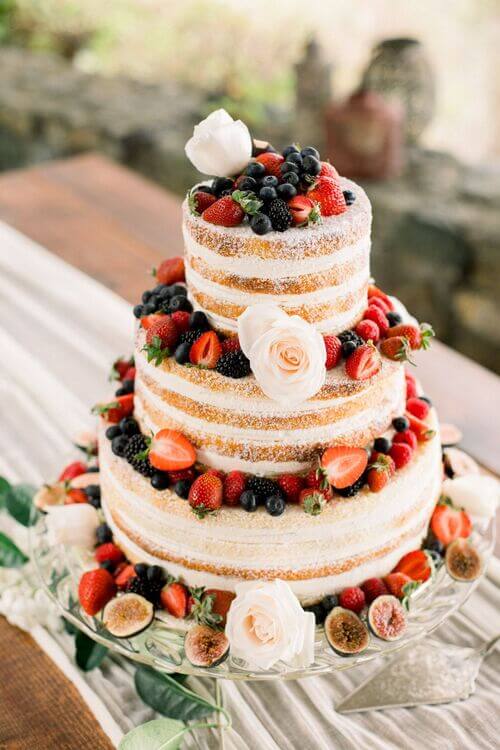 This idea is the perfect ratio between refreshing fruit and a sugar rush.
The naked cake is decorated with all sorts of berries and then topped off with a healthy coating of castor sugar creating the snowy effect.
19. Simple floral cake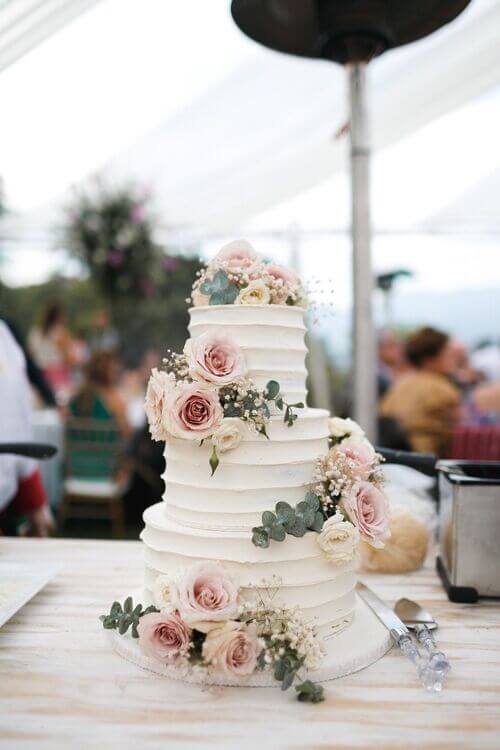 If you're getting a cake just for the ceremony and you're still giving people the option to choose a different dessert, you can get something that will purely work for photos.
This idea is simple and adds a natural look to things with the roses and greenery.
20. Orange and gold naked cake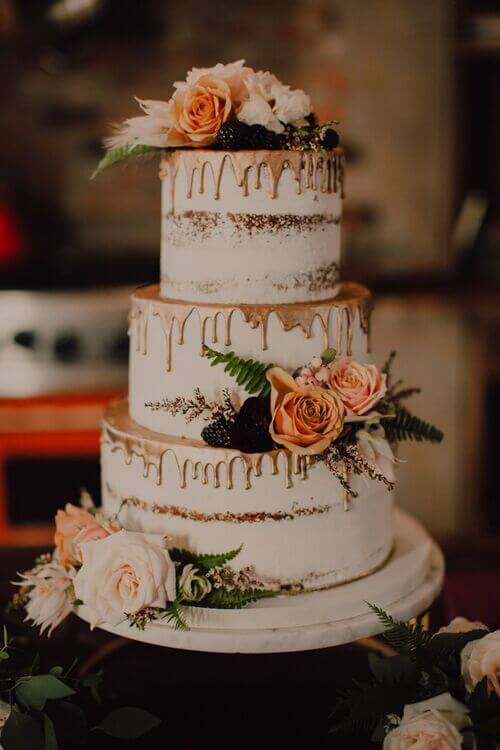 A barn aesthetic works well with these popular naked cakes.
Add a dripping effect with some gold icing and some orange roses for a warmer touch.
This idea creates the perfect balance between bold and natural.
21. Cupcakes with baby's breath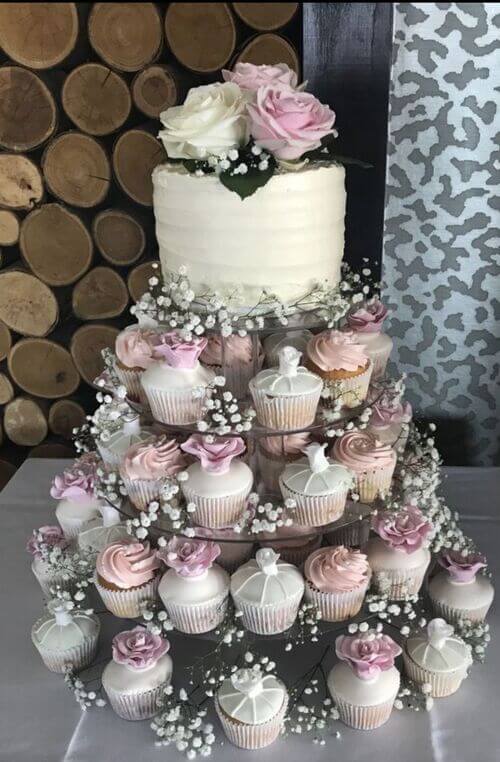 Make things interesting by creating different designs for the cupcakes.
Add fondant flowers, chocolate pieces, and simple buttercream icing cupcakes to create the perfect variety for guests to choose from.
22. Plastered icing cake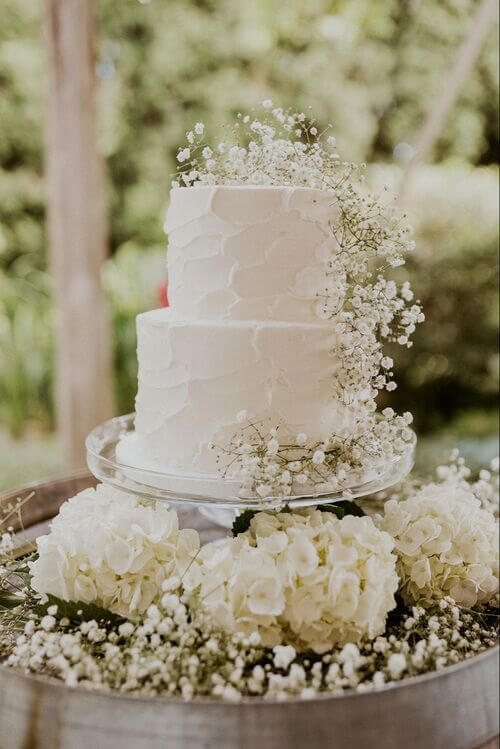 Ignore the sleek and perfect approach and try out something new.
This cake idea thrives on imperfections and crazy bouquets of baby's breath and white flowers.
The odd look of no-smoothed edges and plastered-on buttercream makes this cake look simple and perfect for an outdoor or barn wedding.
23. Bold cupcakes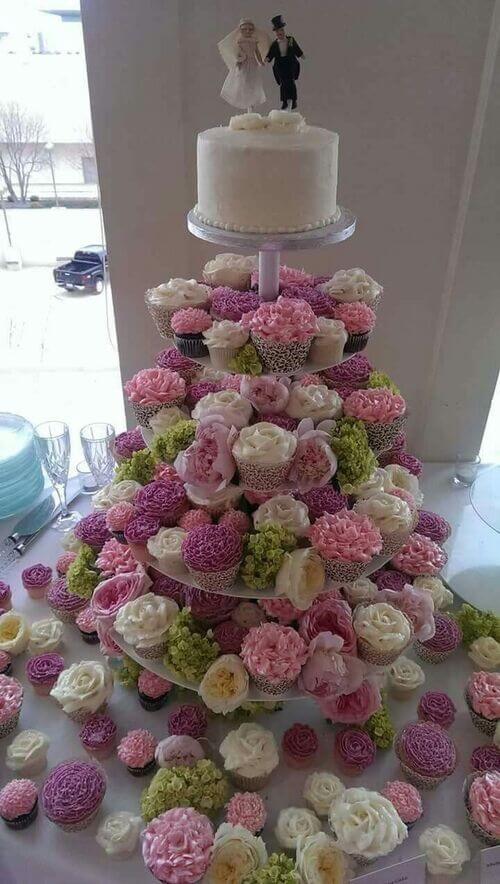 If making your cupcakes look like flowers is more your scene then make them match your bouquets.
Whether that is done with fondant flowers or impeccable icing skills is up to you and the baker to decide, but this bold idea is sure to turn heads.
24. Dusty rose flowers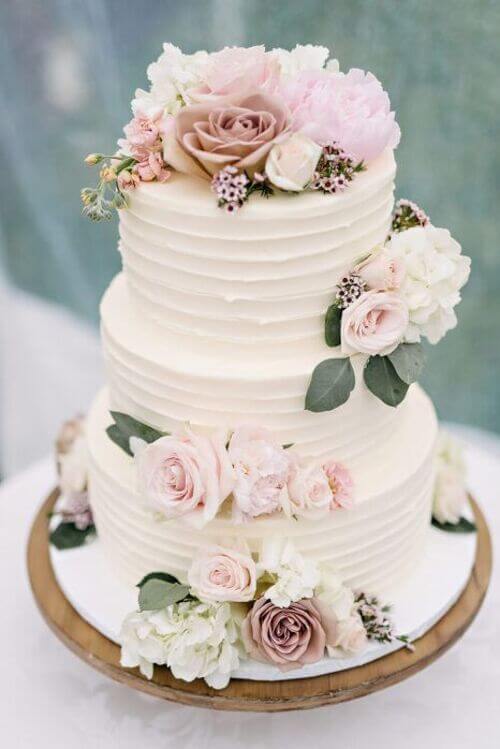 Fondant flowers and greenery are simply the way to go these days.
Create a simple cake and add these fun touches to brighten up the idea.
It's a minimalistic look that can go really far when done correctly.
25. Pinecones and sunflowers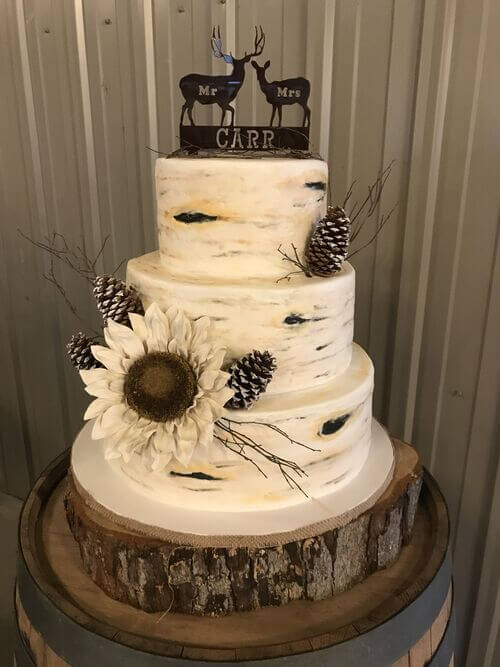 My barn aesthetic enthusiast out there… this is for you. Grab a giant wood slice and put the cake on display.
You can incorporate some fun additions like sunflowers and pinecones to bring that rustic look to life.
26. Baby's breath decor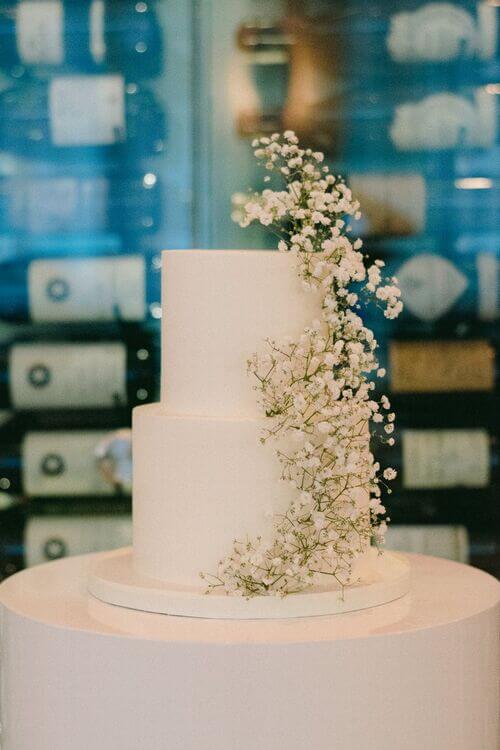 Baby's breath… one of the top most used flowers used in the wedding industry.
Their dainty look makes them perfect to incorporate into any decor aspect because it doesn't look over the top or get in the way.
Getting your perfect cake
Whether you are getting a giant cake, or opting for donuts or cupcakes the options are limitless.
Grab a notebook and pen and write down all your wants and needs.
See how they fit into the theme and colors of your wedding.
The goal isn't to make sure everyone else is happy but to ensure your own happiness is looked after.
There will always be a distant relative that has an opinion that no one asked for, so you might as well ensure that you are happy and that every single detail is suited to your needs.
So bring your dream wedding to life with that wonderful cake idea you've always had in mind.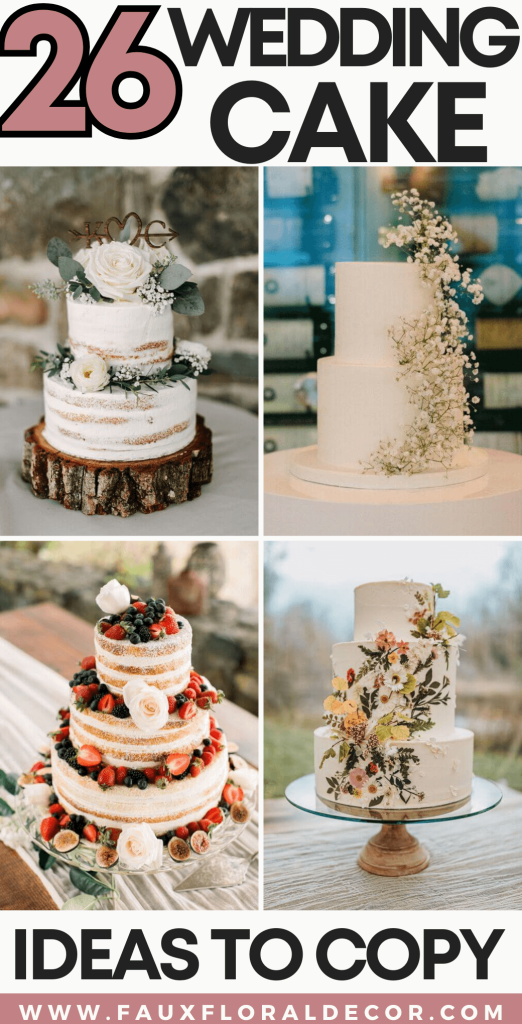 This post showed you the best wedding cake ideas.
You may also like: