This post shows you the best man speech templates that everyone adores.
Before anything else, congratulations on being asked to be the best man!
The role of the best man in a wedding is essential as he needs to support the groom in the lead-up to and on the big day.
A best man has many important responsibilities, but only one task can help you become the MVP of the day: giving a killer toast after delivering a heartfelt, funny, and memorable speech.
This article will discuss everything about the best man speech, from the examples of great opening lines to things you should and should not talk about in the speech.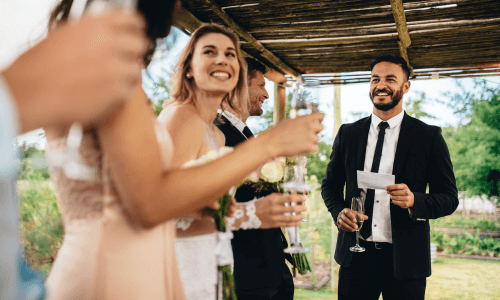 Why is the best man speech so important?
The best man speech is important because it is an opportunity to publicly acknowledge the groom and the relationship between the groom and the best man.
It is a chance to share funny stories, memories, and experiences that showcase the groom's personality and character to the guests.
It is also a chance to thank the bride and her family for welcoming the groom into their lives.
However, if you've attended many weddings, you know that sometimes best man speeches can frequently become embarrassing, and boozy.
The best man might ramble and tell inappropriate and embarrassing stories about the groom in front of a large family and friends because of the combination of alcohol and lack of planning.
Here are a few pointers to remember as you prepare to give your speech!
How long should a best man speech be?
In general, keep the speech to no more than five minutes, or maybe three minutes minimum.
Nothing irritates people more than some rambling going on and on.
This is enough time to say something meaningful before guests get too antsy.
People have probably listened to the maid of honor and the bride's father give their spiel.
So, adjust your speech length to the event, especially if you're speaking at a last-minute wedding; it might require a brief speech.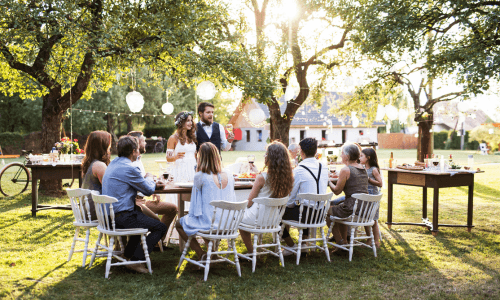 Where should you start writing your speech?
For a first-timer, preparing a best man speech might be a little overwhelming, and you might not know where to start. Here are five tips on how to get started:
1. Plan ahead
Once you are chosen as the best man to convey the speech, you need to get started in advance!
Start writing at least two months before the wedding.
As the wedding nears, there are a lot of events, from suit fitting to bachelor parties, that could distract you from getting your writing down.
Brainstorm and write down any stories, jokes, or quotes you'd like to include in your speech.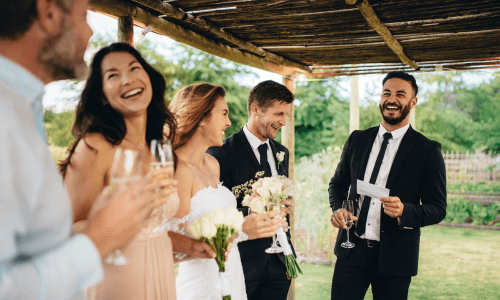 2. Know what topics to avoid
While writing for the speech draft, you need to create the overall theme to make it easier for you to compile stories about you and the groom.
However, you must be careful as there are a few topics to omit from the best man speech.
Topics like negativity about marriage in general, past relationships, drinking, drugs, gambling, and any "adult" humor, should not be mentioned in your speech!
No matter how funny you and even the groom might think, those topics are inappropriate to discuss in a formal event like a wedding.
3. Consider your audience
You can't nail a speech if you have no idea who to tailor the content to.
While writing for the speech, imagine who you are talking to.
Your point of contact is probably your friend who is getting married, but ideally, it's both specific to you and universal to the couple.
Don't forget to consider other guests as well, like the groom and bride's family and friends.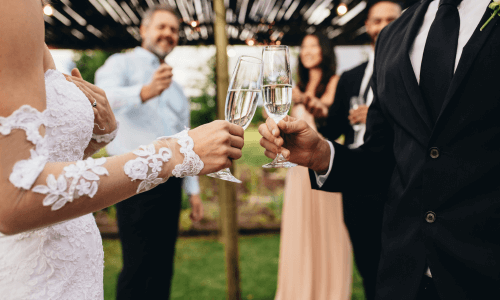 4. Write it down
Even though the stories and the speech you will tell are your own experiences, you will feel more confident if you write the speech down or at least a few bullet points to keep you on track.
Some people are confident before the speech, but get really nervous when holding the mic.
Nerves can mess with your memory, so don't think you're a failure if you have to bring notes with you.
We don't recommend reading the speech on your phone since the lighting from your phone screen can ruin the wedding photographer's photos and distract guests.
5. Practice
Lastly, practice your speech and maybe have it reviewed by your fellow groomsmen.
That way, you can convey your speech more confidently and without stuttering.
6. Remember to be yourself
With that being said, stay true to how you normally act while making your speech.
No need to get formal or try to be someone you're not.
You don't need to change who you really are for some made-up public speaking persona.
Crack more jokes if you are comfortable doing it. If you are better at being sentimental, take that approach!
You don't need to follow these instructions exactly simply use them as a guide.
Be yourself and let it flow naturally.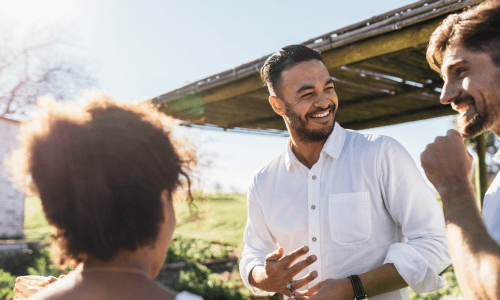 What are the do's and don'ts of a best man speech?
If you don't know what stories and anecdotes you want to tell in your best man speech, here are a few ideas:
Your first meeting with the groom; funny stories at school, university, at work, etc.
Shared experiences and memories
Anecdotes that showcase the groom's personality and character
A heartfelt thank you to the bride and her family
A toast to the happy couple
As stated above, there are topics that you need to avoid in your best man speech.
Another don'ts of a best man speech is to avoid speaking for too long!
Keep your speech concise and to the point. Finally, avoid drinking too much alcohol before your speech.
You want to be clear-headed and in control when delivering your speech.
Examples of a best man speech opening lines
You can find a ton of excellent best man speech examples online.
Here are a couple of hooks to get you started:
"Good evening to all of you. It is an honor for me to serve as the best man. Before I continue, let me just add that the bride is very beautiful and the guy appears to be… himself."
"Because I'm the best friend of the groom, I was asked to be the best man at this wedding. But I believe we can all agree that the actual reason I'm here is that I'm the only person who is aware of all his embarrassing secrets.
"Hello everyone, I'm [Name], the best man. I've known the groom for [insert number] years, and in that time, I've learned two things: he's a terrible dancer, and he's an even worse liar!"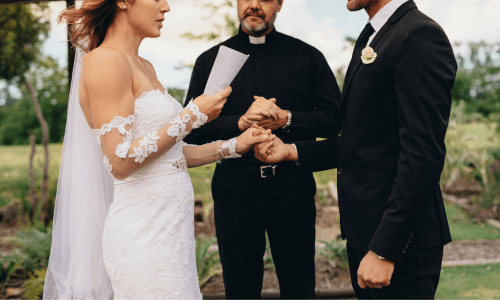 Examples of touching best man speech lines
Are you going for a sentimental and touching theme for your best man speech. Here are our ideas:
"When [Groom's Name] met [Bride's Name], he knew he had found his soulmate. Watching the two of them together, it's clear that they bring out the best in each other, and I feel honored to have been a part of their journey."
"As [Groom's Name] 's best friend, I've seen him go through the ups and downs of life, and I can honestly say that he's never been happier than he is with [Bride's Name]. Congratulations to both of you on finding your happily ever after."
"To the happy couple, I want to say that your love inspires us all. [Bride's Name], you bring out the best in [Groom's Name], and it's clear that he adores you. I wish you both a lifetime of love and happiness together."
Examples of funny best man speech lines
"I've known [Groom's Name] for a long time, and I can honestly say that he's the only person I know who can't dance and can't sing, but insists on doing both at every opportunity."
"I was so honored when [Groom's Name] asked me to be his best man. And then I found out that I was actually his second choice – turns out his first choice was his dog. But hey, I'm still flattered!"
"I've always known [Groom's Name] was destined for greatness. Even as a kid, he had a certain charm and charisma that set him apart from the rest of us. And now, he's managed to convince someone to marry him! Congrats, buddy!"
Here's your cheat sheet:
Your killer opening lines. Make sure they grab the attention of the groom and the guests with your witty or touching lines.
Talk about how you know the groom (and the bride), why you're grateful to know him, and let the guests know about his personality.
Share your unique, funny, or touching anecdotes with the groom.
Share how grateful you are to the bride and wish the couple a happy married life.
Raise your glass and ask everyone to join in a toast to the happy couple.
Conclusions
Every wedding should include a best man speech as an opportunity to share stories, thank the bride and her family, and raise a glass to the happy couple.
You may make your closest friend's wedding day even more unforgettable by using the tips provided in this article to prepare a touching, humorous, and memorable speech.
Don't forget to still be yourself and relax while telling your speech!
This post showed you the best man speech examples you need.
You may also like: