This post shows you the best engagement party ideas!
Engagement parties are an exciting way to celebrate the time after you've got the ring and the partner of your dreams.
They are also a way to mark the beginning of your journey toward marriage.
While you can't go wrong with a classic engagement, with guests mingling over cocktails and hors d'oeuvres, we know you likely want a way to make your celebration unique and fun.
Engagement parties are usually spent with family and close friends.
However, the guest list can vary depending on the couple's preference and budget.
Some of the guests that are usually invited, such as immediate family members, close friends, wedding party members (bridesmaids & groomsmen), and colleagues.
If you want to spice up your engagement party and make it more memorable, consider these creative engagement party ideas, from an engagement party at home to a budget-friendly engagement party.
Surely, these ideas can wow your friends and family!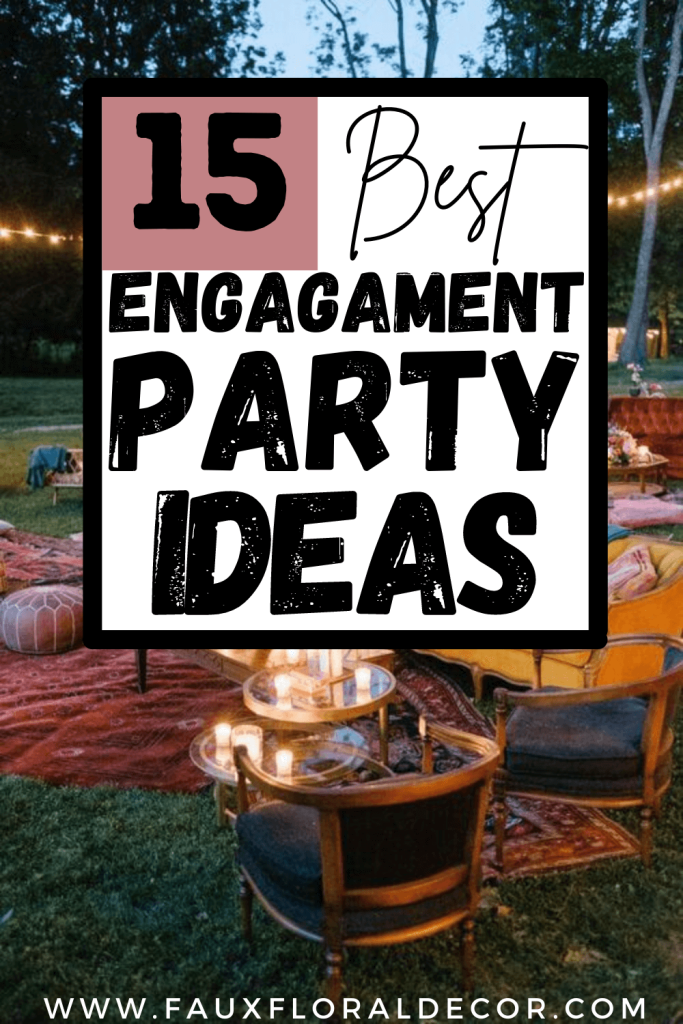 1. Themed Party
Make your engagement party stand out by choosing a fun theme.
You can create a masquerade ball, channel Hollywood glam, Harry Potter-themed if you and your partner are Potterheads, an anime cosplay party, and even a beach-themed party.
The possibilities are endless, so choose a theme that reflects your and your partner's interests or personalities.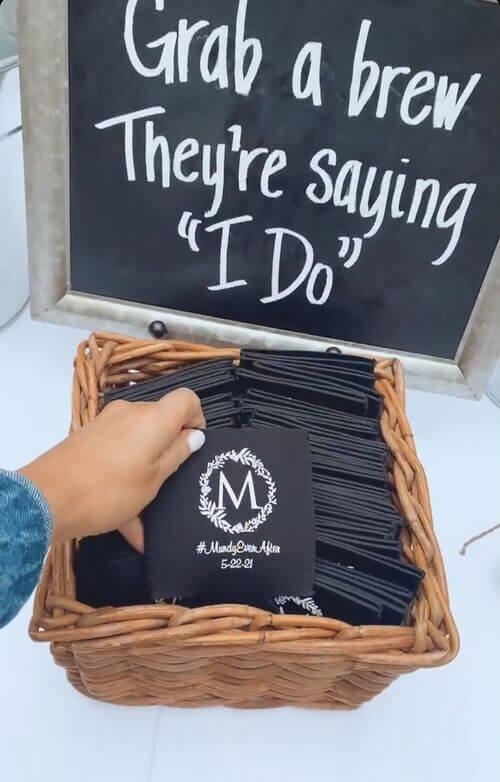 2. Cook-Off
If you and your partner love to cook, or even work as chefs, then having a fun cook-off with friends and family might be a fun way to celebrate your engagement.
The guests may pick a side, whether it's you or your partner, to create the competition.
Then, have your friends or family be the judge and vote for the winner.
At the end of the day, everyone can have a feast on the foods created by you and your partner!
For the location, you can rent out a restaurant, a cooking studio, or at home.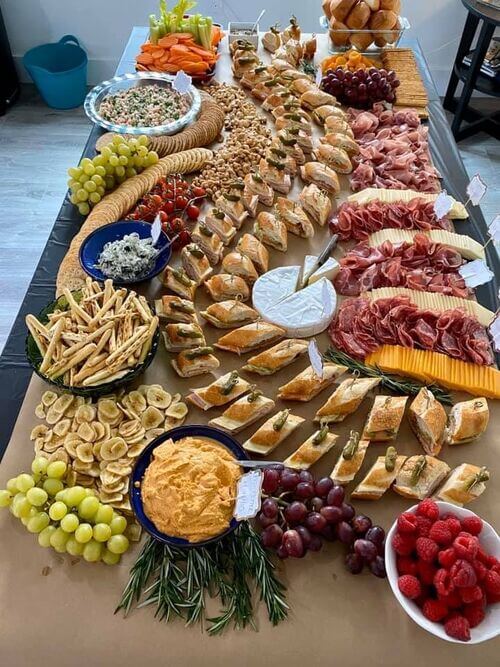 3. Go Glamping
If you don't really fancy camping because of the complicated preparations, go glamping with your partner, along with some friends and family!
Organize a day at a local glamping site and create a fun agenda to do with your guests.
Plan a hiking excursion or pit guests against one another in nostalgic, camp-inspired games like a hula-hoop contest or 100-meter dash.
Glamping sites usually have cabins and tents ready to rent, complete with amenities and cool designs!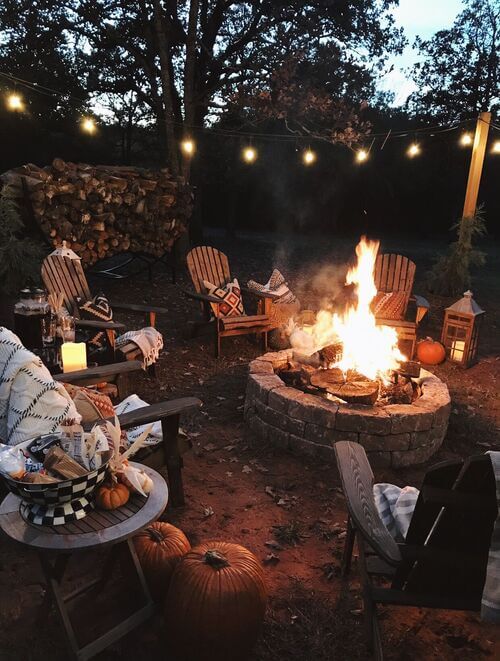 4. A Beach Bonfire
An engagement party at a beach will never be a bad idea.
Invite friends and family to a sunset bonfire on the beach with oceanside games, s'mores, and drinks.
This party is perfect for you and your partner to invite your closest friends or family.
You can also get intimate with your friends because a bonfire usually ignites deep talks.
Time the event so guests can meet in the daylight before the pink and orange hues cover the sky.
Take the fire to a roar at night and pull out the marshmallows.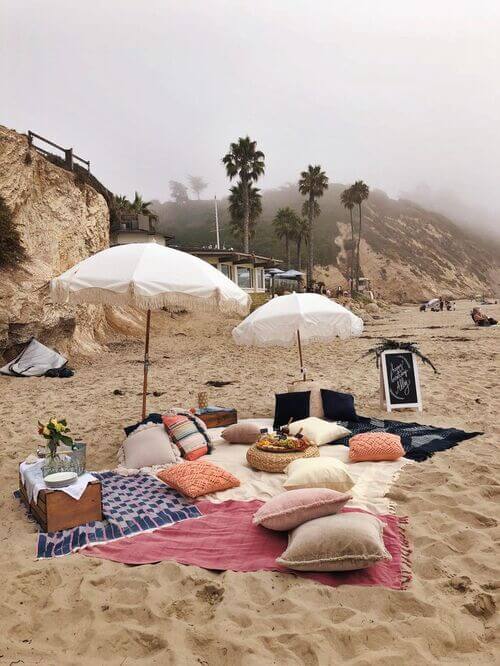 5. Sunset Boat Ride
Looking for ways to celebrate your engagement out on the sea?
Then renting a boat and inviting your friends and family on a sunset sail might be the answer!
The sail offers an intimate atmosphere for you and your partner to converse with your guests and allows guests to bond with one another.
A sunset boat ride has always been a romantic idea to say goodbye to your single life!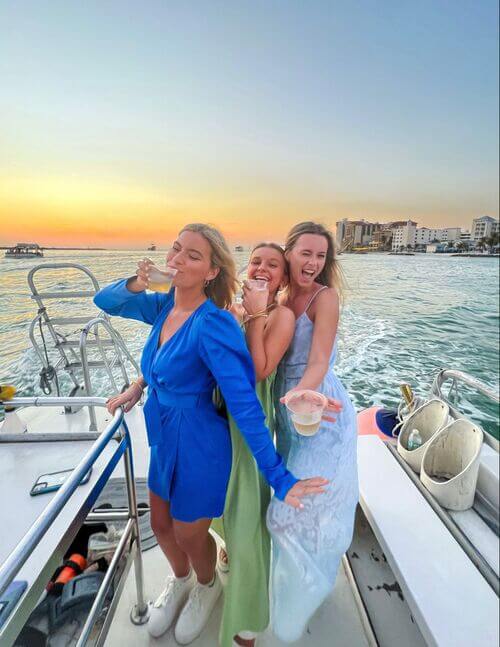 6. Garden Lunch
This party is perfect for spring days especially if you or someone you know have a gorgeous garden.
Take advantage of the garden and throw your engagement party among the beautiful flowers and the windy spring or summer days.
If not a heavy meal, you can just serve tea and snacks to your guests to have a tea garden party!
To make the party more fun, you can add games that can be played outside, such as ring toss, carnival games, and capture the flag.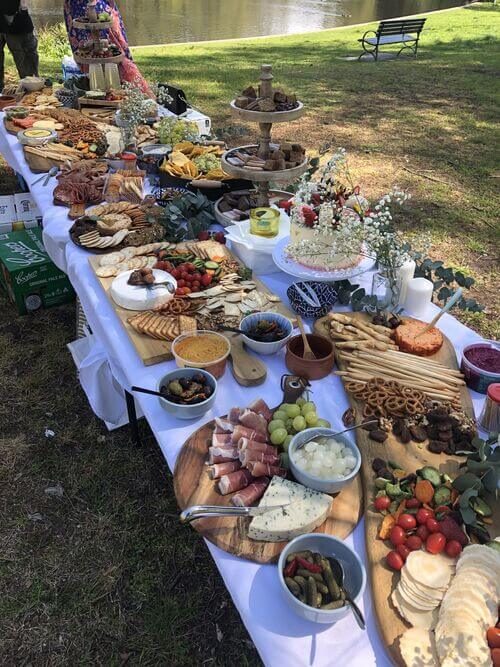 7. Potluck Party
One of the most common activities for a get-together is a potluck.
Invite your friends and family over to your house and tell them to bring different food.
You can assign each of the guests the category of food or beverage, or you can make the potluck more fun by telling them to bring the food they eat the most, their cultural food, or food that reminds them of you and your partner.
A simple potluck dinner party is a great way to enjoy your newly-engaged status with all of your loved ones.
Also, this engagement party is perfect if you are looking for a budget-friendly event, as you don't have many things to prepare!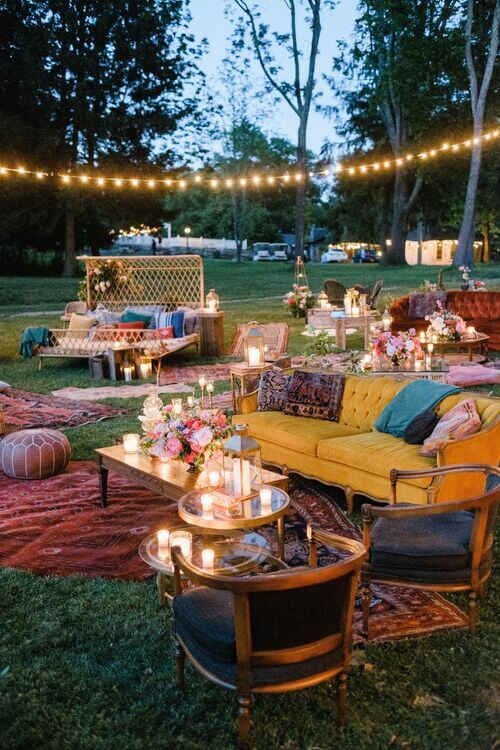 8. Karaoke Night
You just can't not include this on the list because who doesn't love a karaoke night?
Celebrate your newly-engaged status with friends and family by having a karaoke night.
It's a great way to get guests up and singing, and it can create a fun atmosphere.
You can have it at your house by renting a karaoke machine, setting up the stage with a little bit of decoration, and don't forget to prepare the drinks and snacks for the guests!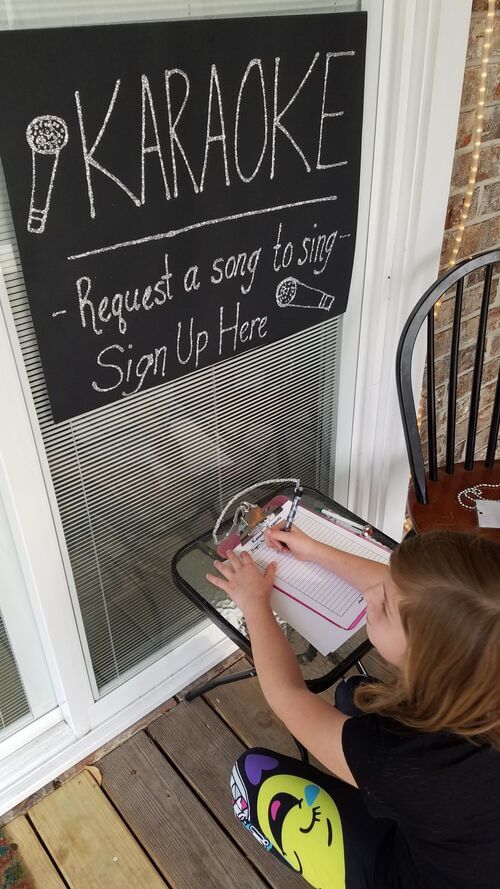 9. Starry Night Campout
There is no better than celebrating your new journey with your fiancé by spending the night under the stars.
Bring your friends and family too for more fun!
Build the tents, put some blankets, make hot cocoa, and bring a telescope as well as board games.
Organize some outdoor activities that your guests can enjoy, such as hiking, fishing, or kayaking.
This engagement "party" is perfect for couples who like to spend time outdoors with their closest ones!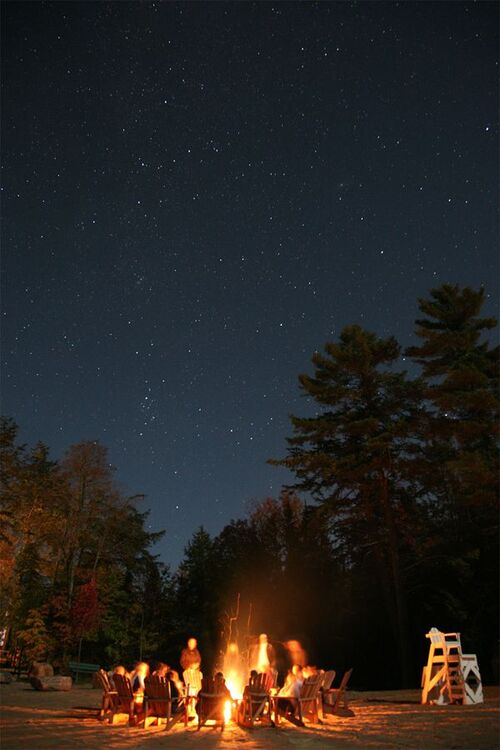 10. Pool Party
The classic pool party is a fun and refreshing way to celebrate an engagement party, especially during the hot summer months.
Find a location with a pool that is suitable for hosting the party, such as your house, if you have your own pool or a venue with a pool.
Decorate the pool area to create a festive and fun atmosphere using colorful balloons, pool floats, and tropical-themed decor.
If you have a party in the daytime, don't forget to set up some lounge chairs and umbrellas to provide shade!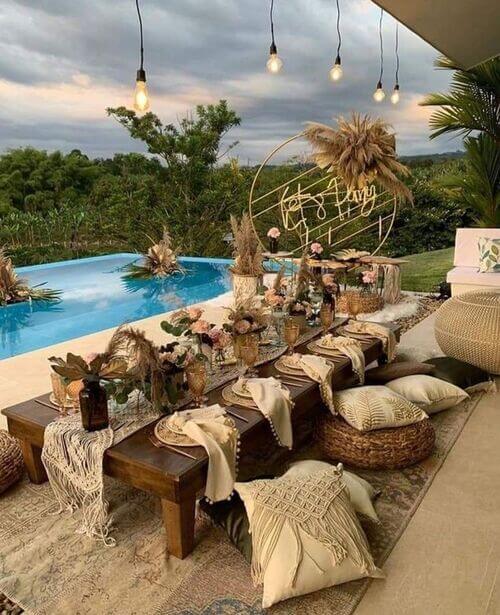 11. BBQ Party
"I do" BBQs have been popping up all over the place as a popular engagement party.
A barbecue is a perfect way to celebrate an upcoming wedding with crowd-pleasing food in a relaxed setting.
If you have a backyard, that would be a great place to have your BBQ party.
If you don't have your own backyard, use an indoor grill or grill pan to prep and cook.
Also, check out your local park — there's usually enough space for a crowd and room for portable grills. Just make sure grills are allowed!
12. Rom-com Celebration
Looking for another budget-friendly engagement party?
A movie night would be a cozy, relaxed, and budget-friendly way to celebrate your engagement, along with friends and family.
Put up a projector and set up a place with pillows, blankets, and snacks to watch the movie together with your guests.
Put on a rom-com movie because nothing's better than kicking off your engagement with a romantic and cozy rom-com night, right?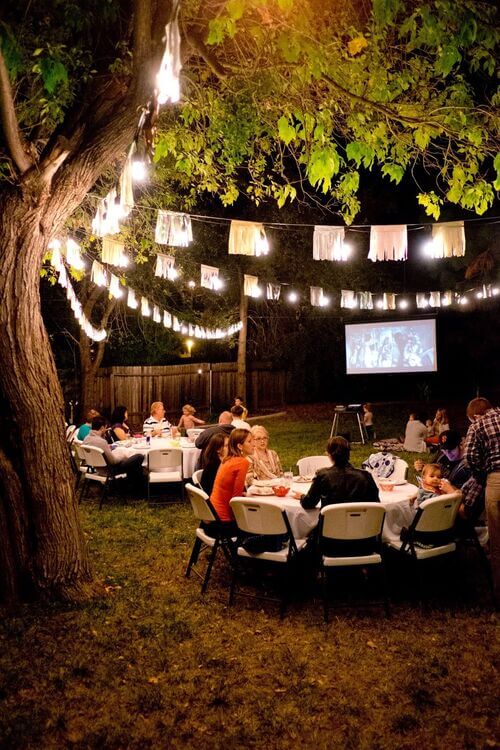 13. Food Truck Get Together
There is nothing better than good food that mends everybody.
If you and your partner love food just as much as you love each other, rent a park and invite several food trucks to make your engagement party epically tasty.
Food trucks are a great option for a venue that doesn't have a traditional kitchen.
Hence, it is better if you have your engagement party in a field or open-air space, a private residence, or somewhere entirely non-traditional.
Decorate the place so that it looks more like a food festival.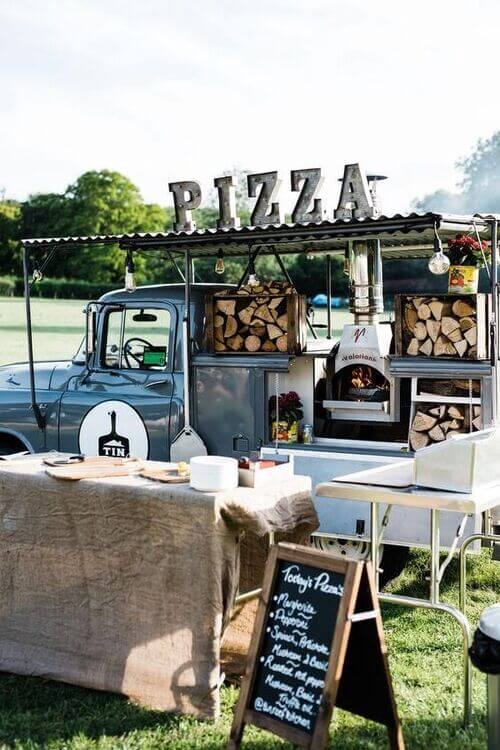 14. Wine Tasting
Host a wine-tasting party featuring a selection of wines from different regions or varietals!
Provide tasting notes and food pairings to enhance the experience.
Find a location that is suitable to host this party, such as a wine bar, a restaurant, a vineyard, or your own backyard.
Don't forget to offer some snacks that complement the wine, such as cheese, crackers, bread, and fruit.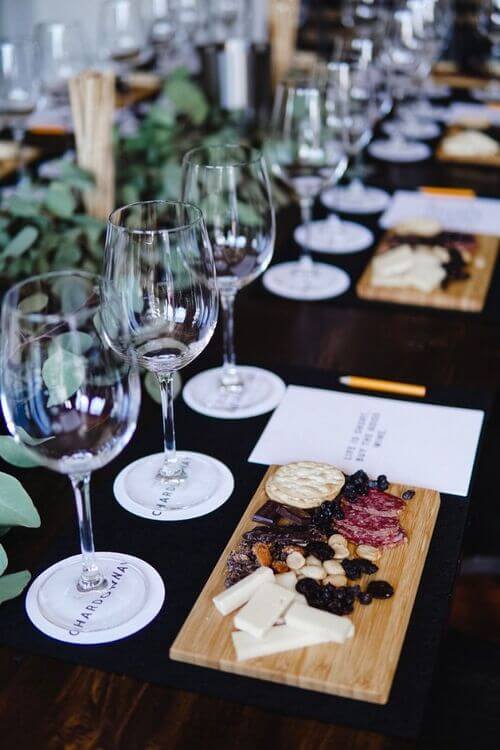 15. Dance Party
If you and your partner love to dance and would like to celebrate your engagement with disco balls and blasting music, then a dance party would be a perfect way!
Hire a DJ or create a playlist of the couple's favorite songs for a dance party.
You can also provide glow sticks, neon lights, or other fun party favors.
This is a great way to get everyone on the dance floor and create a fun and festive atmosphere!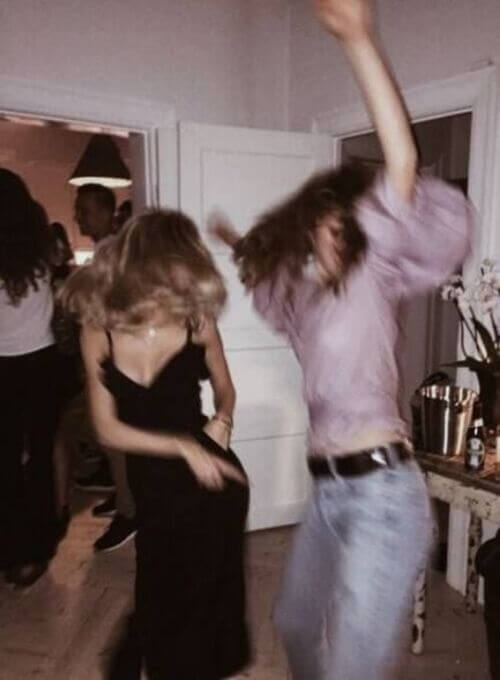 To wrap it up
There are so many creative and fun engagement party ideas to choose from!
Whether you opt for a themed party, outdoor adventure, or just a simple engagement party at home, the key is to make the party reflect the couple's personalities and interests.
Hence, the possibilities to create your dream engagement party are endless!
With these unique engagement party ideas, you are sure to create a memorable celebration for everyone involved.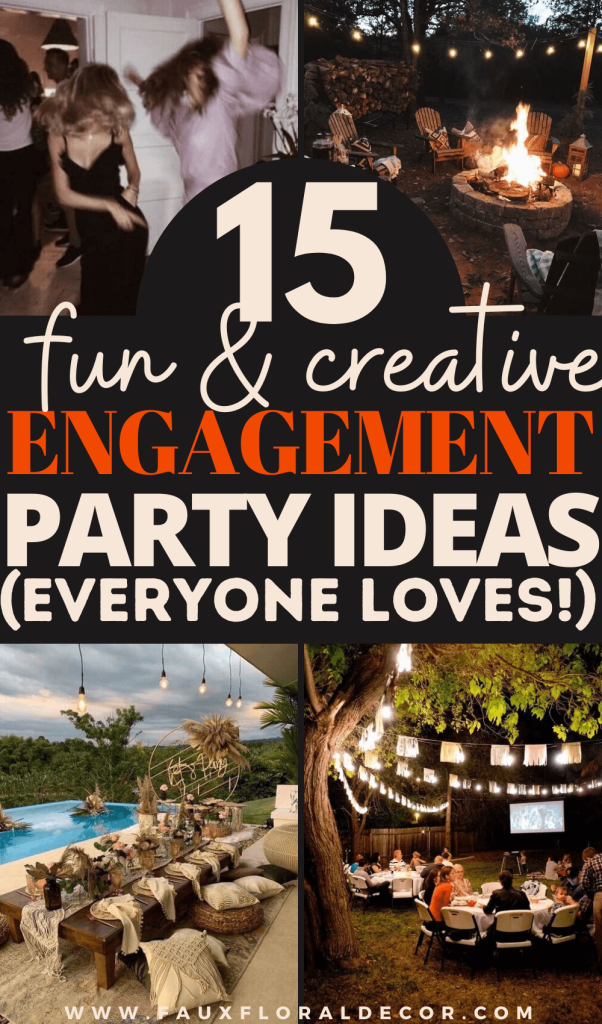 This post showed you the best engagement party ideas
You may also like: