This post shows you the best winter wedding ideas on a budget.
Nothing gets you in a more loving mood than a winter wedding.
Whether you are incorporating the Christmas spirit or going for a gorgeous snowy forest aesthetic there is something for everyone to try this year.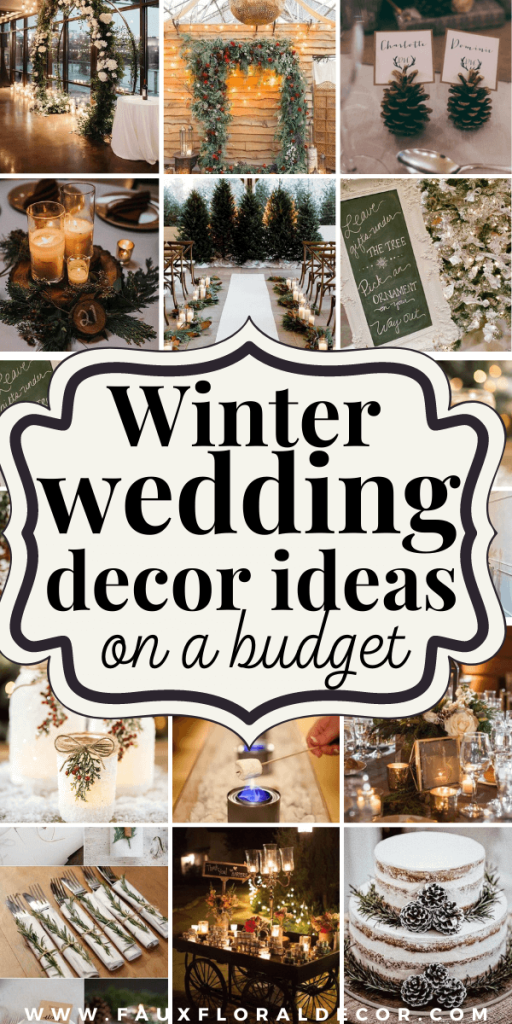 Winter color palettes
Finding a gorgeous color palette to fit the cold weather isn't hard.
The season calls for boldness, cold colors and simply keeping a warm tone.
Gold and silver are extremely popular due to the shimmering effects and warm atmosphere that they create, but that doesn't mean that they are a necessity. 
Here are a few ideas for winter color palettes that you can choose from to create the winter wedding of your dreams. 
Emerald and navy blue
White and grey
Berry pinks
Black, white, and gold
Celestial holographic
Black and plum
Baby blue and silver
Apricot and charcoal
Pinks and reds
All white
White and sage
Metallics
Brass and maroon
Purple, grey, and green
Mauve and jade
Red and white
Green, white, and gold
Hopefully, these color combos help you to figure out if you want a Christmas vibe or a winter wonderland.
It's a tough decision to find something that fits you perfectly, especially with all these ideas to think about. 
Why you should choose a winter wedding
Some of you might be wondering why a winter wedding is a good idea.
Mainly because of the cold, but a winter wedding in my personal opinion is better than a summer wedding for many reasons.
The possibility of a white wedding. Snow makes everything feel more magical.
The fashion. Let's be honest here, there is a selection of gorgeous gowns that you'll only be able to pull off in the winter. Pair it with fake furs, cloaks, or something that fits the cold weather.
Saving money. Everyone always wants a summer or spring wedding so you will be saving some money when it comes to planning your winter wedding.
More availability. Since it's low season for weddings means that there is a lot more availability.
Warmer activities. Since it is going to be cold there is an opportunity to make a big bonfire and get everyone to have a good time together.
Ideal to RSVP. Since your wedding is set in winter there are a lot fewer possibilities for your guests to be busy with other activities making it ideal for you and your guests.
Winter wedding ideas on a budget
1. Pine trees and candle decor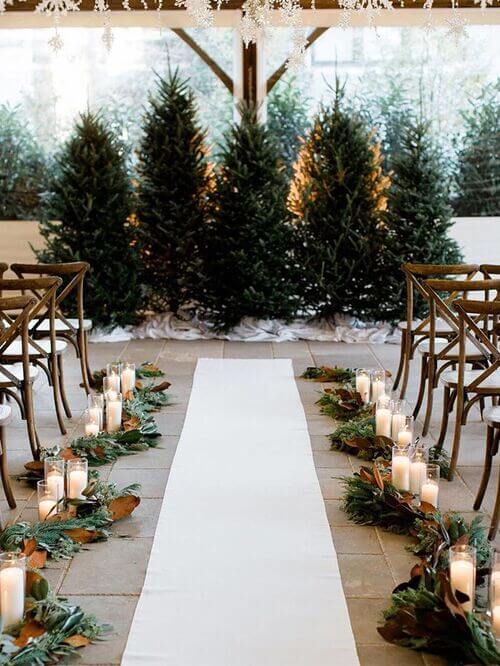 Everyone wants a gorgeous wedding, but sometimes people neglect the aisle decor.
This is the perfect idea for a winter wedding.
Pairing a few Christmas trees, with the gorgeous candles and greenery in the aisle create an amazing scene for wedding photos.
2. Pine cone name holders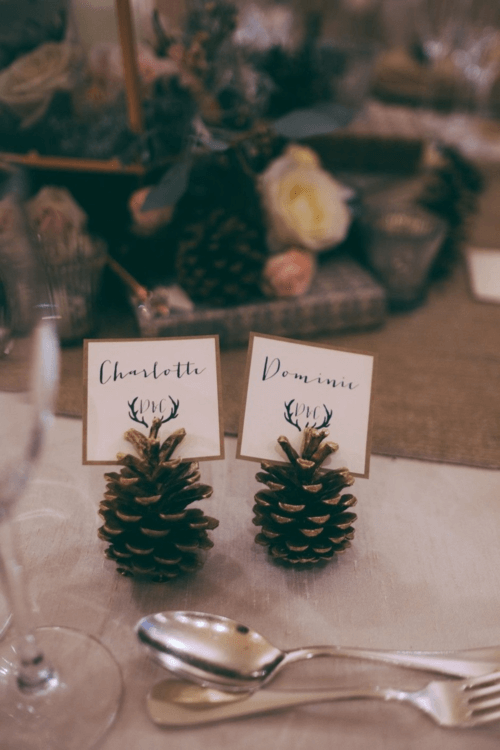 Keep everything on point with the theme.
Using pine cones with your guests' names will make a statement.
It's cute and won't cost you anything when you find the pine cones yourself.
It is the perfect idea to use when you have a strict budget.
3. Hot drinks bar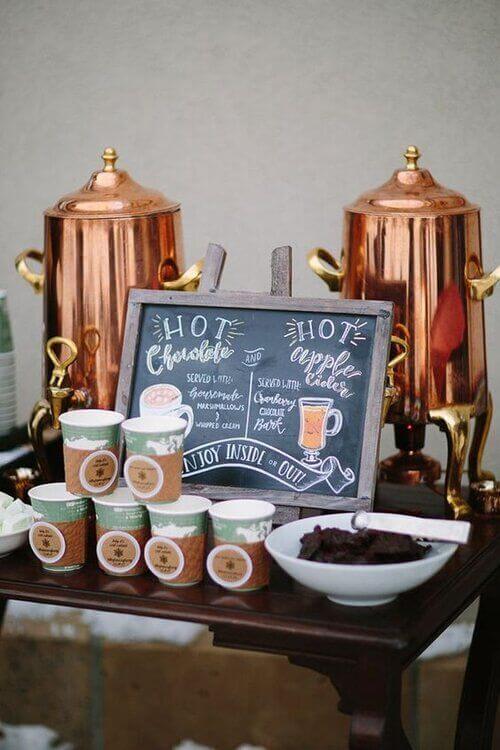 Having a hot drink bar is essential.
You can have this set up instead of a bar… or have both.
It doesn't need to be anything fancy, just keep all the necessities.
Coffee, tea, and hot chocolate. Guests can help themselves to the options.
4. Wood trays with pine leaves and candles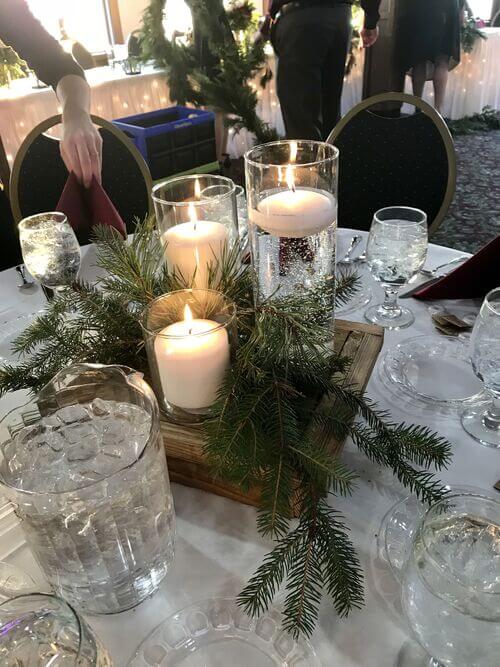 These minimalistic trays are gorgeous for centerpieces.
Make use of simple trays and fill them with pine leaves, floating candles, and anything that fits your theme.
It's a timeless idea that keeps things simple.
5. Naked cake with winter decor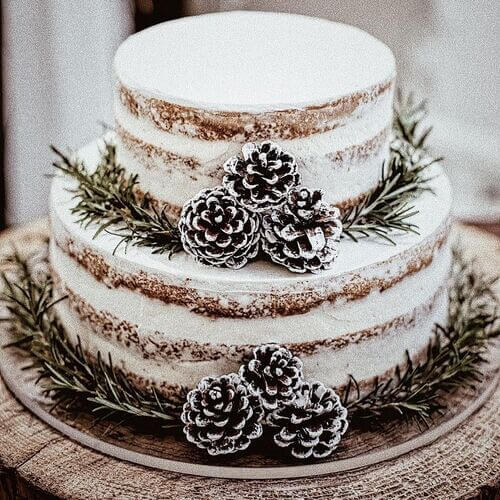 Naked cakes have made their way to the top of wedding cake ideas.
It's a simple and rough look that just fits perfectly with a winter wedding.
You can top it off with some caster sugar and pine cones to give it that perfect 'snowy day' look.
6. Winter themed boutonniere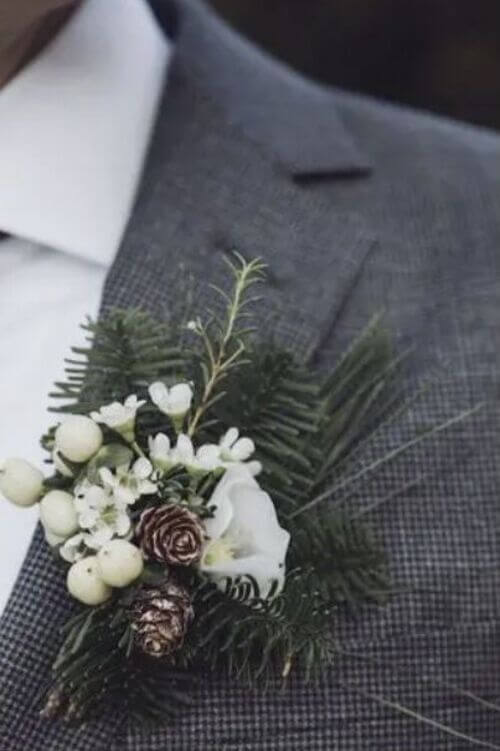 Sometimes the smallest details make the biggest impact.
Getting custom boutonnieres made might just be what you need to add to your wedding.
With its pine leaves, pine cones, and small flowers, it just ties everything together effortlessly.
7. Indoor wedding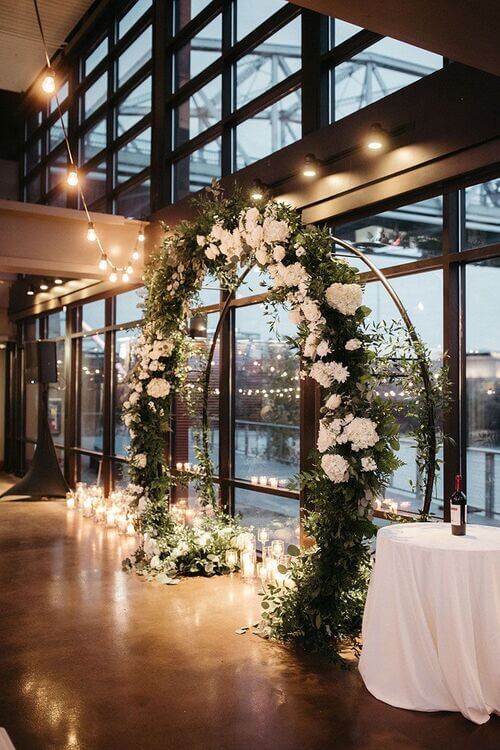 The best part about a winter wedding is the fact that you have the perfect excuse to have an indoor ceremony.
This gorgeous spot makes use of greenery white flowers and a bunch of candles to set the perfect mood for the wedding.
8. Build your s'mores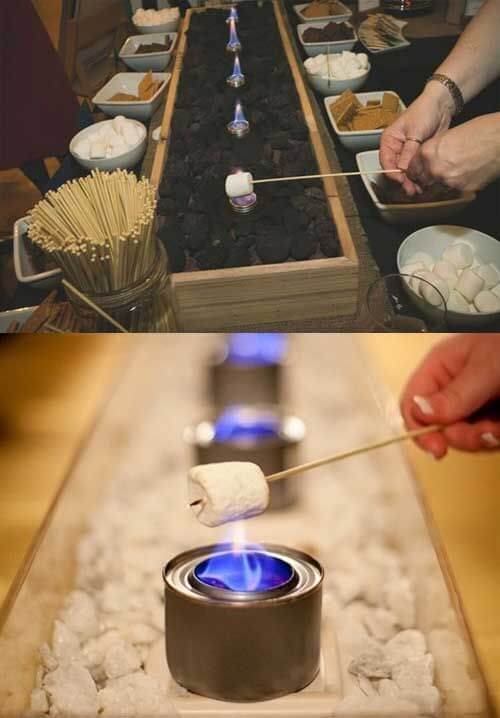 No one can turn down a perfectly good s'more.
So this is the perfect addition to add to your big day.
People will love the idea and being able to create their perfect snack.
Whether you have a big bonfire or make use of small burners so that people can sit at the table and keep warm is up to you.
9. The red and green color combo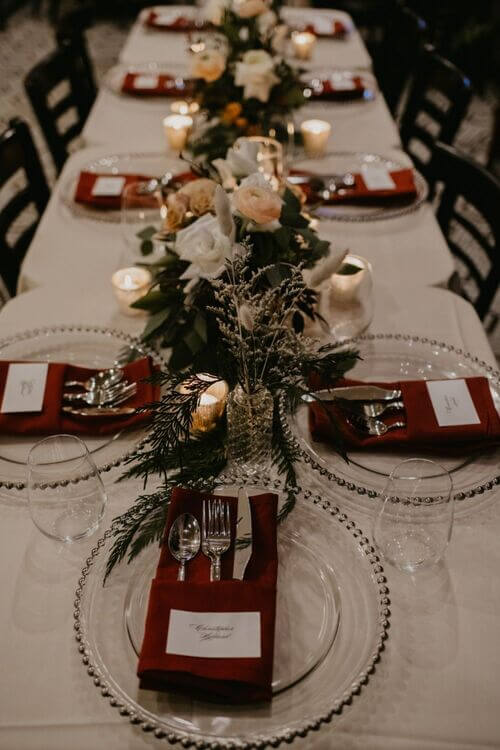 Thinking of sticking to the Christmas theme? That's understandable.
So this rich red and green color combo sets the perfect tone for the big day.
It gives the same warm and giddy feeling of Christmas but stays elegant and classy.
10. Wood slices and greenery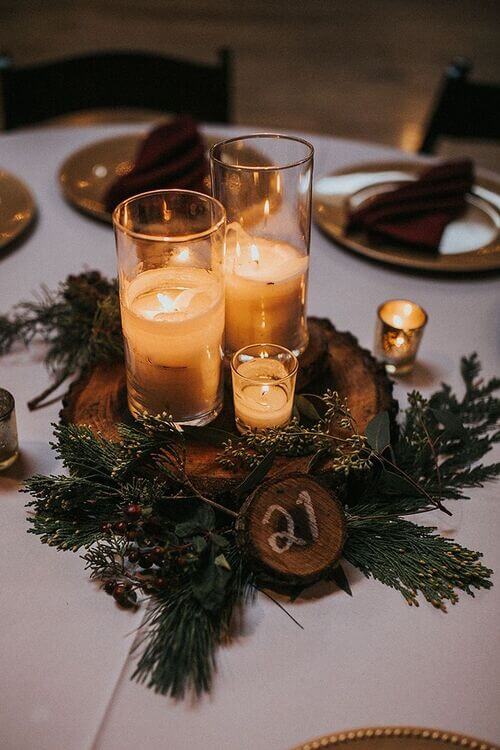 Set the mood with this dark and warm-toned centerpiece idea.
Get some greenery that works well with your aesthetic and make use of candles to bring a moody atmosphere to the tables.
Wood slices can also be your best friend in this situation.
If you need a pop of color you might want to consider using gold.
11. Thank you station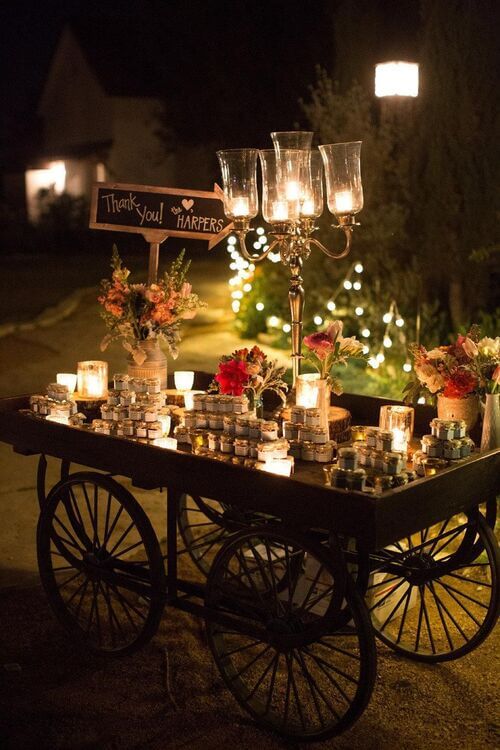 Create a designated spot for guest gifts.
Give them a little thank you present for coming to your wedding.
This cute cart brightened with candles and flowers gives the perfect pop of color to any area.
12. Bring nature to you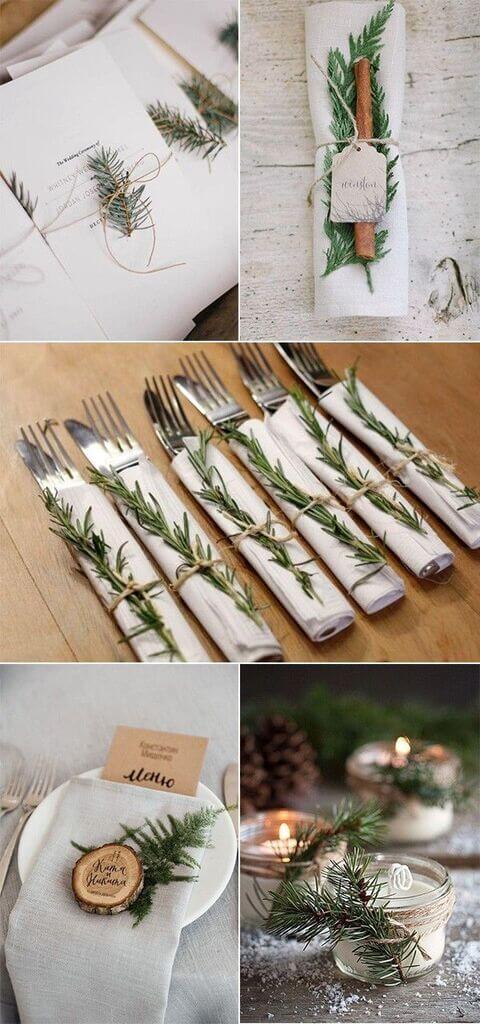 Bring a bit of nature to every aspect.
Whether you're using it with utensils, candles, or a simple piece to add to the name cards and napkins.
It's a cute detail to ensure every part of your wedding follows the simple theme.
13. Dark aesthetic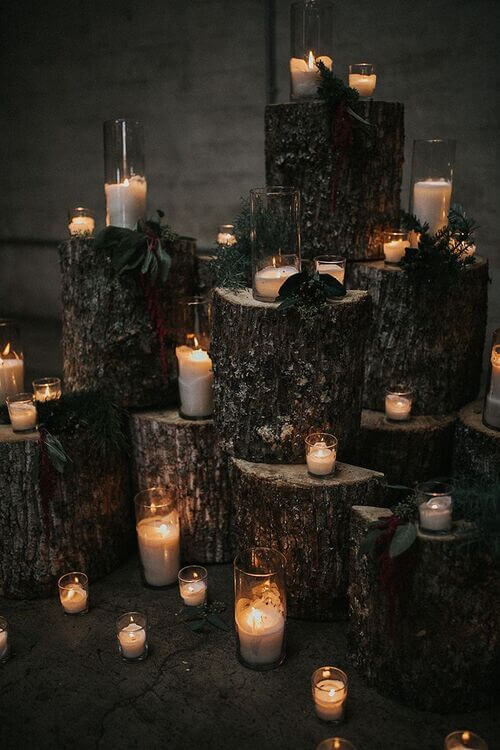 If you have an empty spot or two in your reception then why not fill it with some wooden logs and candles?
They create the perfect lighting setup and ensure that there aren't any open spots around.
The dark atmosphere works perfectly with a winter wedding due to the rich colors.
14. Custom wedding party gifts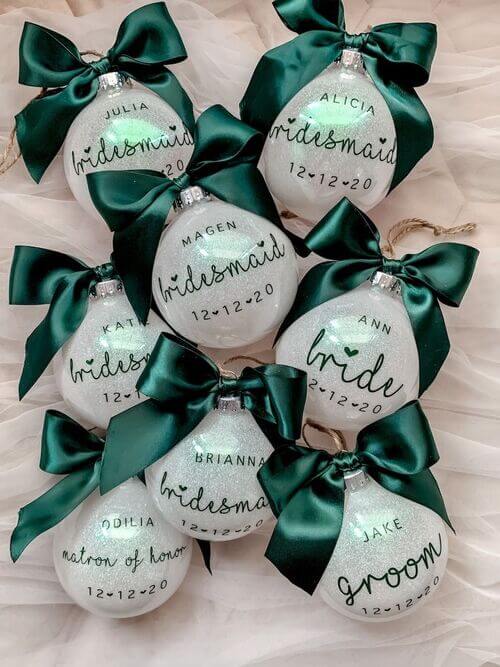 What better way to thank your bridal party for being amazing than with custom baubles for their Christmas trees?
It's super cute and people will treasure them forever. It's the perfect keepsake for your wedding.
15. Designated blanket station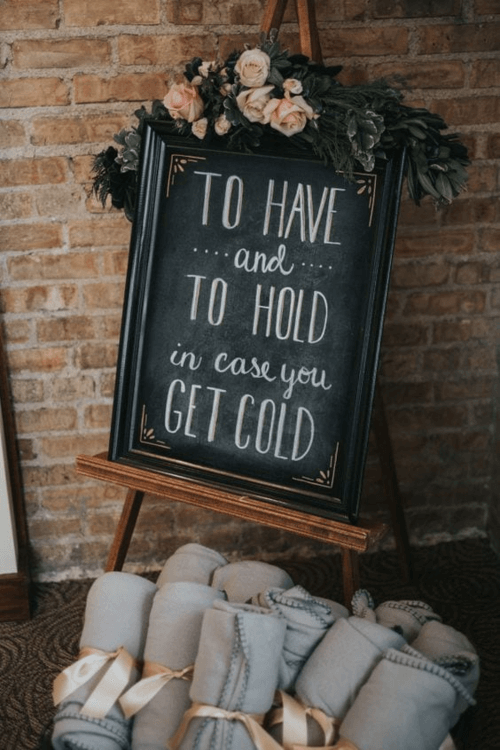 It's best to prepare for the worst.
So a blanket basket is a necessity for a winter wedding.
You don't want guests to be cold cause this will keep them from enjoying the evening.
It's a simple thing that can be added and can also be used as a thank-you gift for the guests for coming to your special day.
16. Snowy mason jars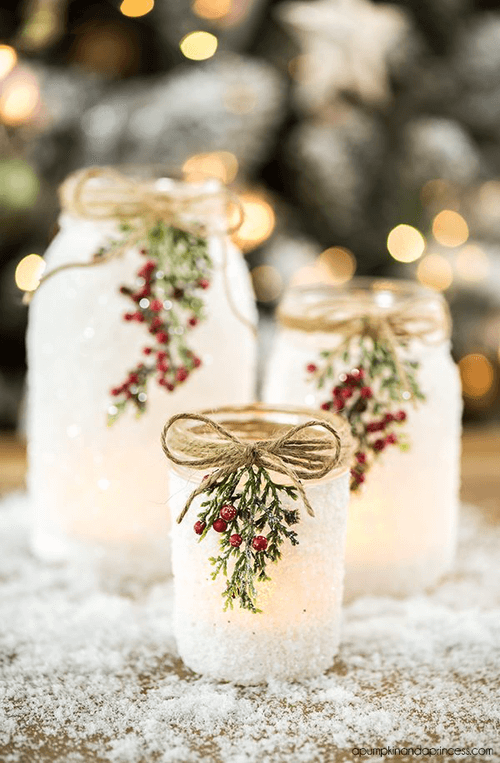 This can be the perfect DIY project for your winter wedding.
Grab a few mason jars and coat the inside with glue and add some white glitter.
It will give the perfect snowy effect to the table.
Tie some holly to them with some string and add some candles for a gorgeous glow effect.
17. DIY hot chocolate bar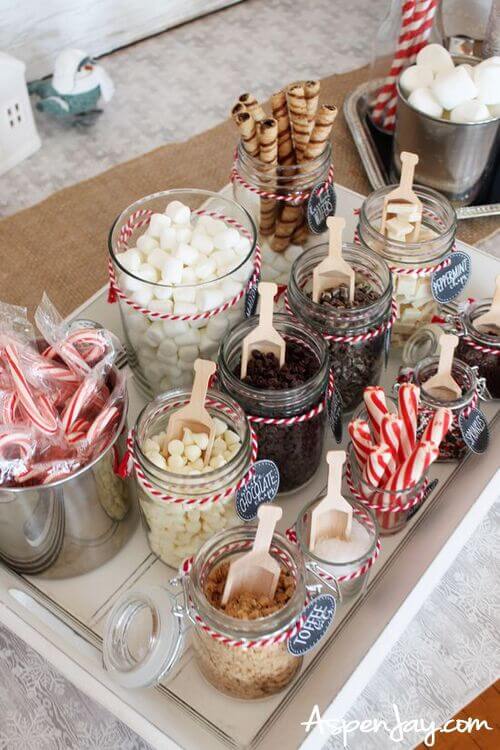 Customize your hot chocolate drink with this adorable mini bar.
Add chocolates, candy canes, sugar, chocolate sticks, or marshmallows… if I was you I'd throw a little bit of everything on mine.
It's a super cute idea and will be perfect for the cold weather.
18. Gift station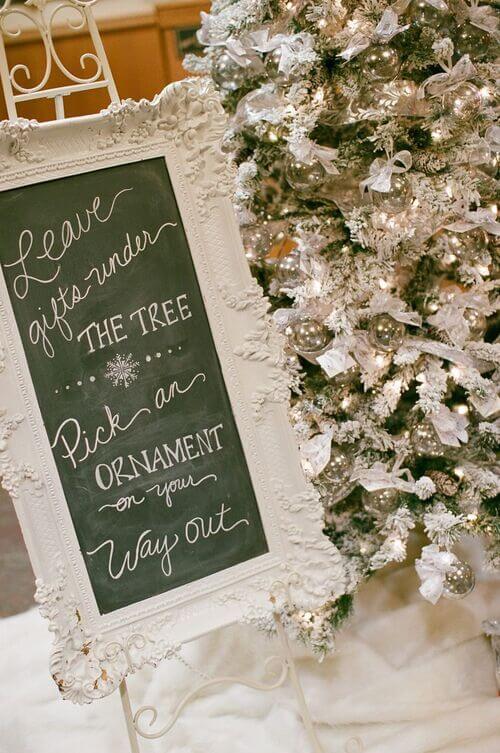 Keep things together with this cute gift spot.
Let your gifts leave their gifts under the tree and pick an ornament to take home with them.
It's the perfect gift spot.
Grab a chalkboard and write a message and place it next to a perfectly decorated tree.
19. Winter aisle decor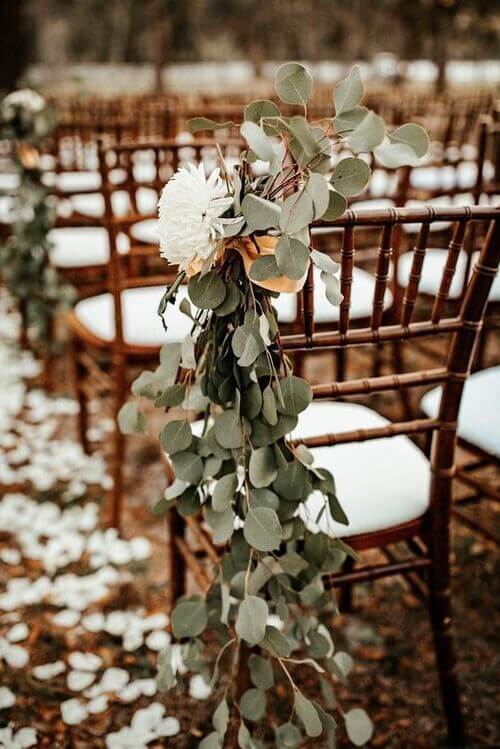 For an outdoor ceremony, it makes sense to keep in theme with nature.
Add some eucalyptus and white flowers to the end chairs to create aisle decor.
The best part about these is that you can take the eucalyptus home and use it in your shower afterward because it has a bunch of health benefits.
20. Christmas trees and welcome signs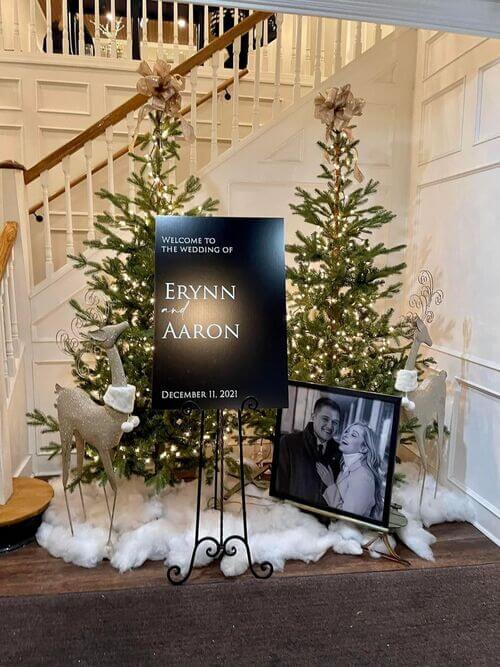 This welcome sign and decor just perfectly executes the aesthetic for a winter wedding.
Use cotton to create fake snow, and place your trees around the welcome sign with a gorgeous engagement picture.
21. Simple wedding bouquet boutonnieres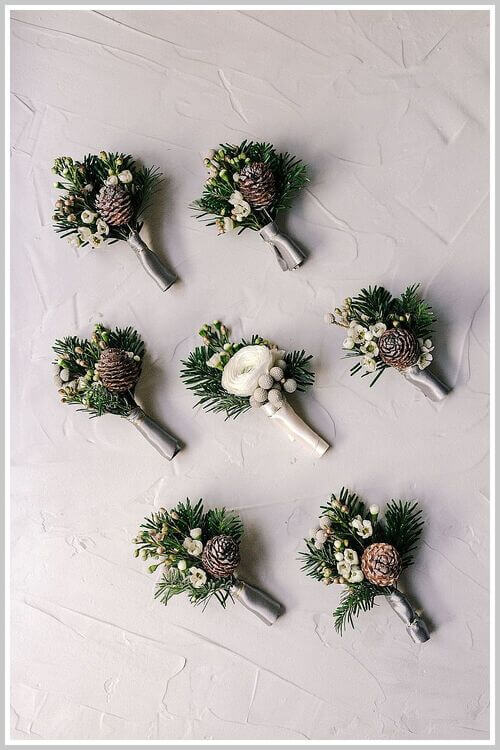 Get something for all the groomsmen and the groom.
These boutonnieres are cute and stylish.
You can customize them to fit your specific theme too.
The pine cones are just the perfect representation of winter.
22. Wooden crates and lantern decor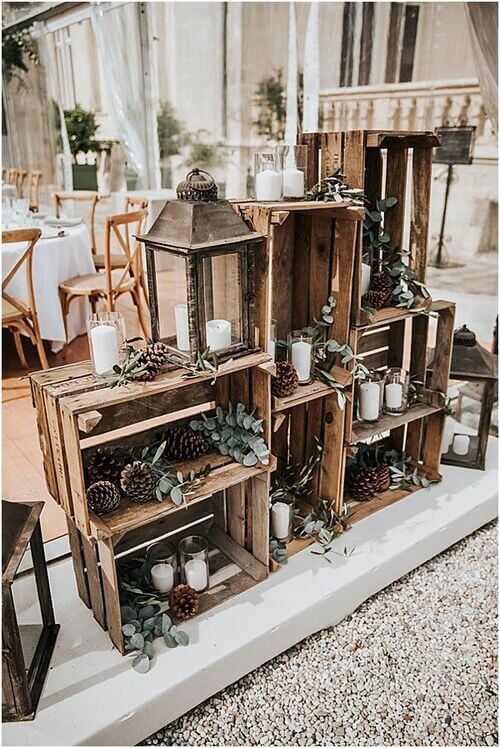 A fun idea for a rustic wedding theme is crates filled with candles and pine cones.
It's a simple idea that is extremely budget-friendly.
You can even add some vintage lanterns to tie the whole decor idea together.
23. Red and green photo station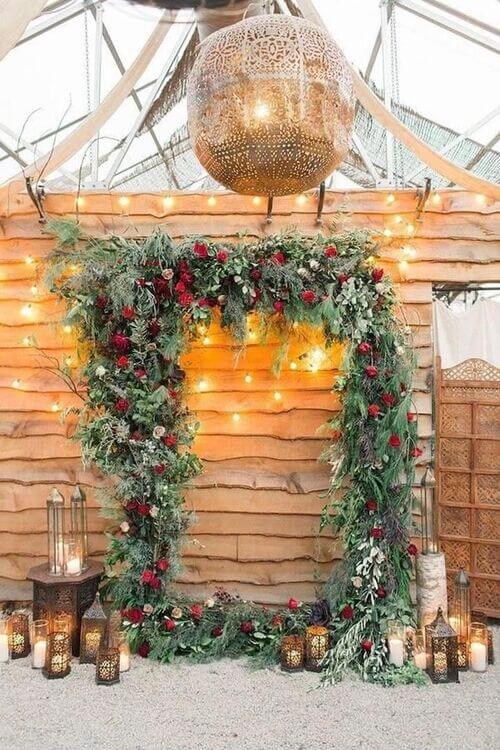 Here is another gorgeous ceremony piece that can be held indoors.
The red and green flowers create the perfect atmospheric touch and work wonders in pictures.
You can add fairy lights and candles to brighten up the space, making this perfect for pictures on the big day too.
24. Green and white decor with rustic lanterns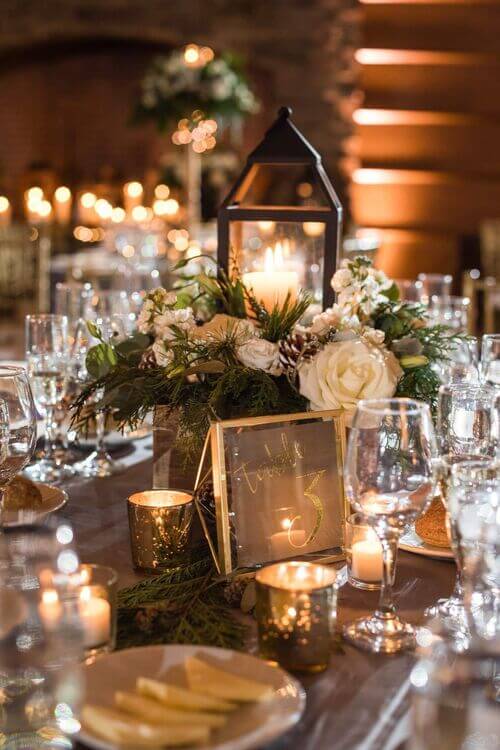 If you want a rustic touch to add to your table decor then this is for you.
This elegant and moody look is gorgeous for winter. It brings the warmth of the candles with the natural element of the flowers together to create the perfect centerpiece decor.
25. Greenery and candle table runners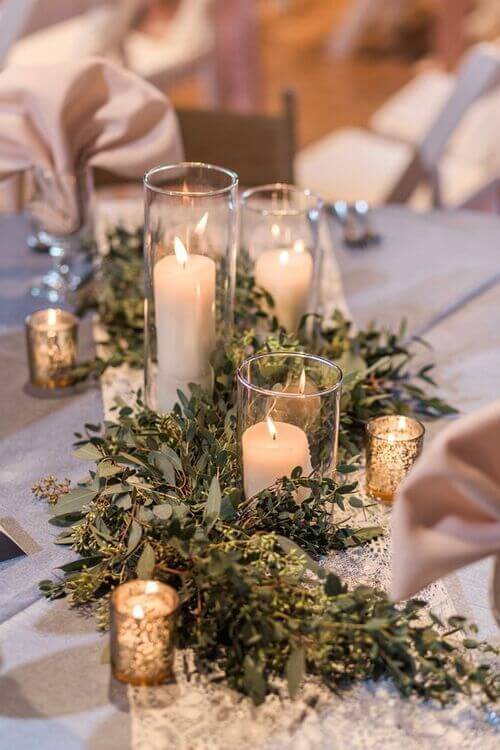 If you want the tables to be simple but still want to add a subtle touch of flowers to them then this greenery and candle table runner is the perfect option for your wedding.
The perfect winter wedding
Winter weddings are effortlessly beautiful and have a magical essence to them.
Finding the perfect idea for your big day won't be hard if you already have a specific aesthetic in mind.
It is up to you whether you add Christmas trees, red accents, or sparkling mason jars. 

Each idea is special and unique to your personal preferences.
Go bold. Go bright.
Just have fun while planning your wedding; everything will fall into place as needed.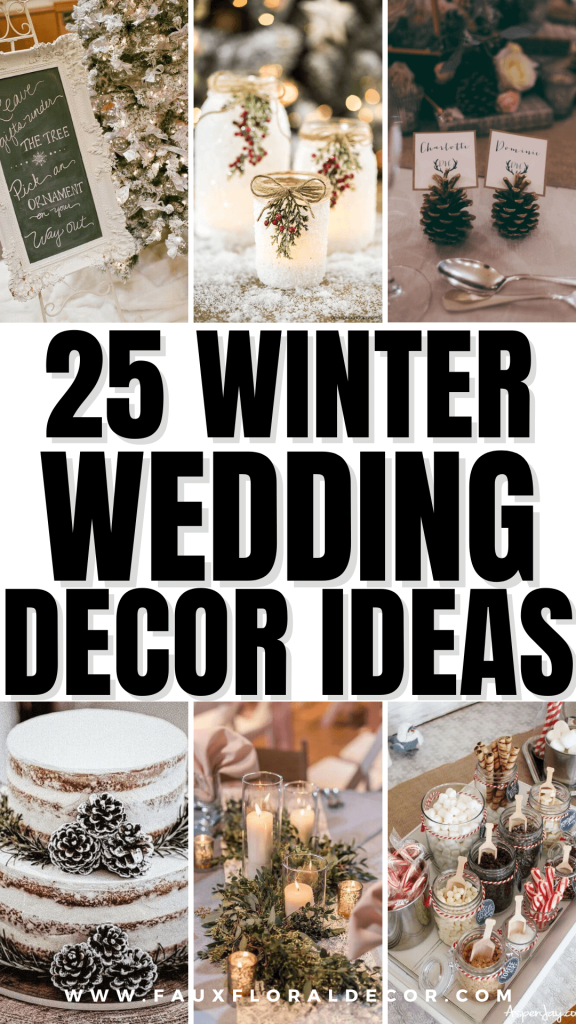 This post showed you the best winter wedding ideas on a budget.
You may also like: