This post shows you the best wedding theme ideas by color.
Picking out a color scheme for your wedding is one of the most important decisions you'll make when planning your wedding.
If you're clueless about your preferred colors, I recommend going into Canva. You can set up different color schemes if you have the pro version.
Without Canva pro you can improvise and make an image grid where you add different colors to test how they look together. It's easy to use!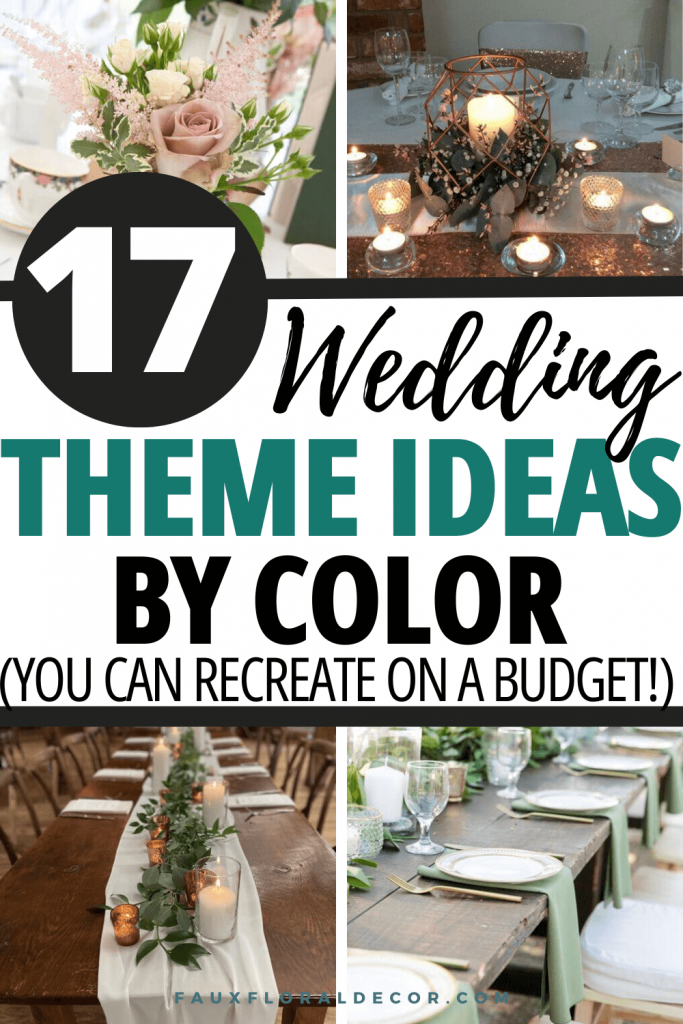 Wedding color themes
If you want a good idea of your preferred wedding colors and themes, start with Canva and the images below to get inspiration.
When you pick a wedding theme, remember that you can mix themes. Rustic looks great with chic elements. Modern and bohemian can elevate one another.
Also, unique color combinations can work beautifully. For example, green and pink! I didn't think it would look as good as it does. You can also consider mixing fabrics.
Let's look at the best wedding themes by color.
Best wedding theme ideas by color
1. Sage green wedding theme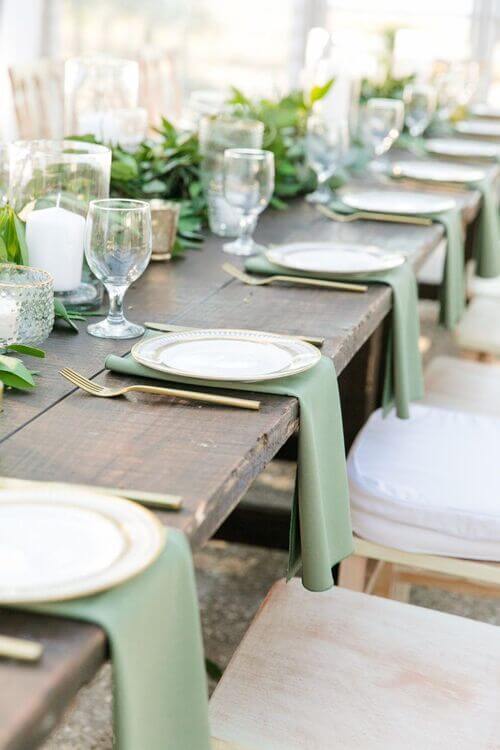 Sage green has become a very trendy wedding theme. It will continually be popular in 2023.
What I love about sage is that it mixes well with different colors.
Sage green looks fantastic with soft pink shades! This is a little surprising, but it does look amazing.
You can also mix in rustic elements, like wood and mercury glass tealight holders.
Pink and sage green table decor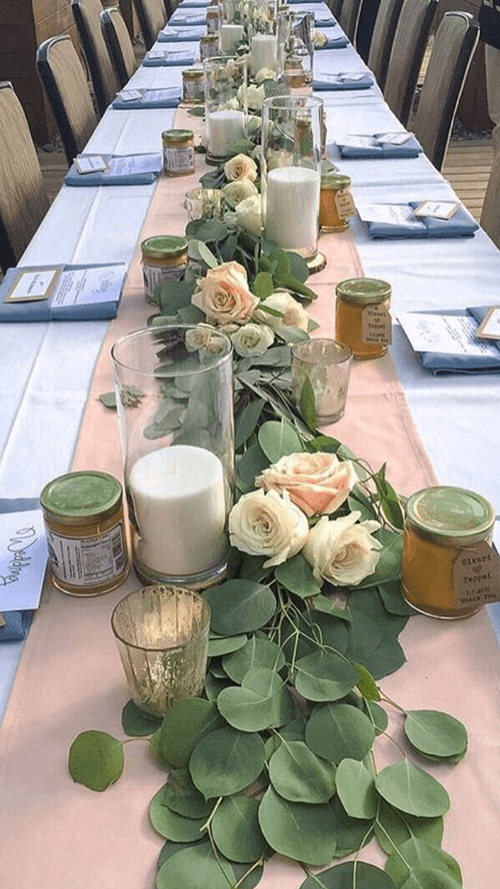 If you're looking for ideas to decorate wedding tables, you first need to decide on the base.
Decide on the tablecloth, table runner, or whether you want to keep part of the table exposed.
Do you have a tight budget to work with? That doesn't mean the table decor can't look amazing.
Eucalyptus garlands are inexpensive and dress up a table.
Next to a lush garland, cute tealight holders also go a long way.
2. Peach wedding theme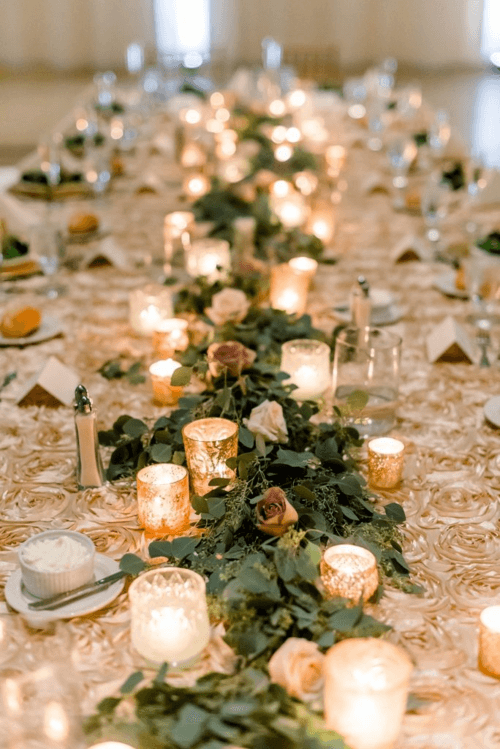 Peach, gold, and green look amazing together.
Decorate your wedding tables with a beautiful table runner and tealight candle holders. Budget-friendly yet makes a big impression.
Rustic wedding ceiling decor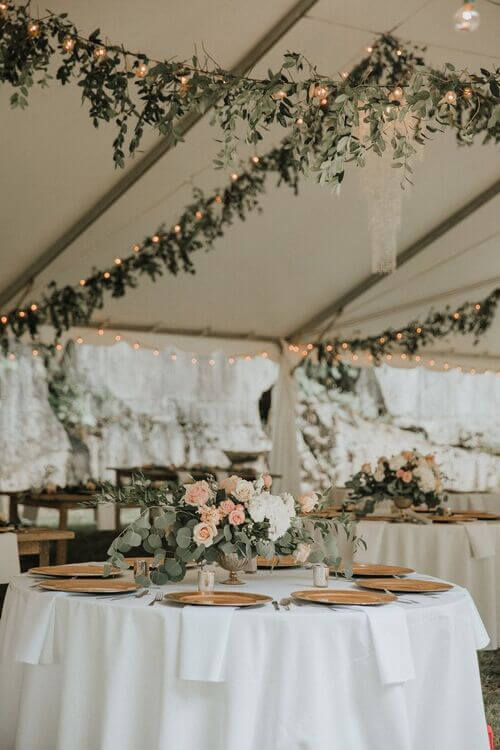 Ceiling decor is another great way to decorate for your wedding.
Drape rope with greenery and string lights on the ceiling. This creates a beautiful atmosphere at night.
The beauty of decor like this is that anyone can make it (and without breaking the bank).
Wedding mason jar centerpiece with burlap ribbon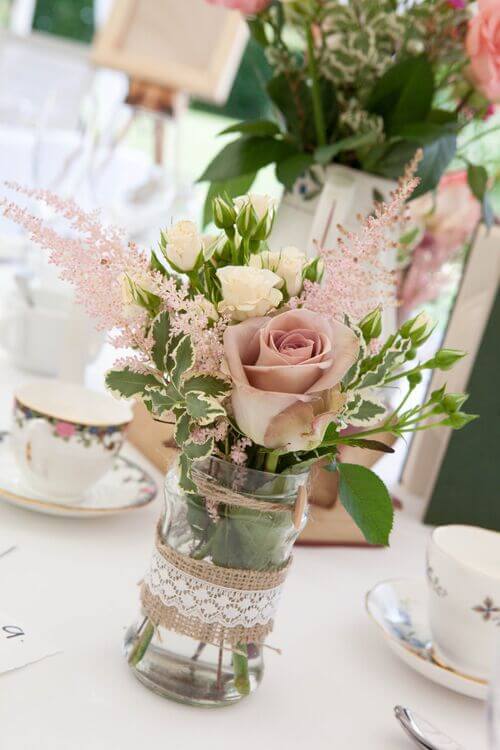 This cute mason jar wedding centerpiece is another excellent example of pink and green looking beautiful together.
The burlap lace ribbon is a super pretty option to decorate mason jars. It's both chic and rustic.
You can make these centerpieces with real or fake flowers depending on your budget.
3. Olive green wedding theme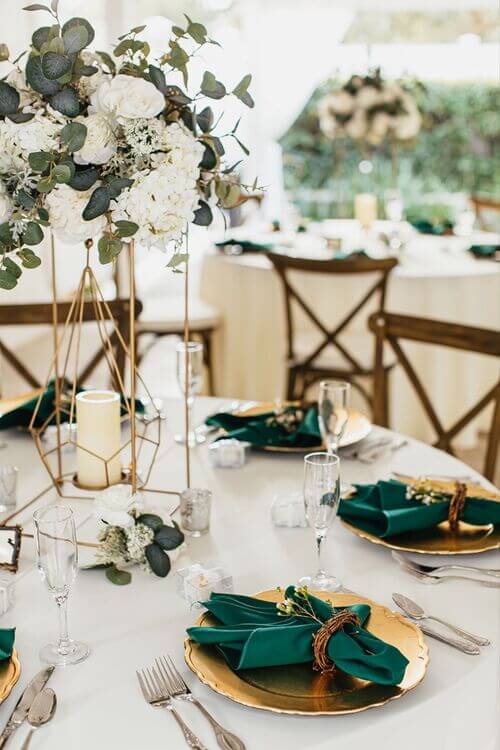 Emerald and olive green are both popular colors for weddings. They are different from sage green (and require different color combinations).
A popular choice for emerald green is to pair it with gold decor. I think that's a potent color combo for weddings.
Emerald green, gold, and neutrals look great together.
Olive green tablescape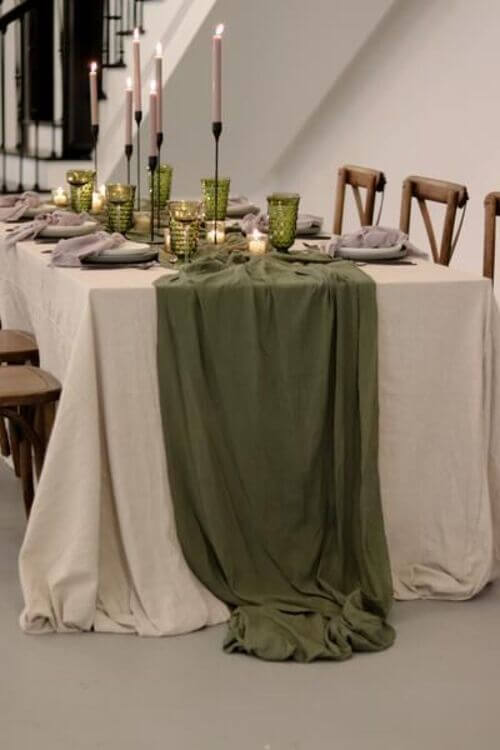 Olive green is another beautiful color theme you can pull off.
This is a versatile shade of green that works well with pastel colors like lilac or pink. Olive green also works with a rustic wedding theme.
Other good colors and textures to go with olive green are black, neutrals, wood, and metal.
If you're throwing a barn-style wedding, this would be a great color scheme to look into.
4. Burlap wedding theme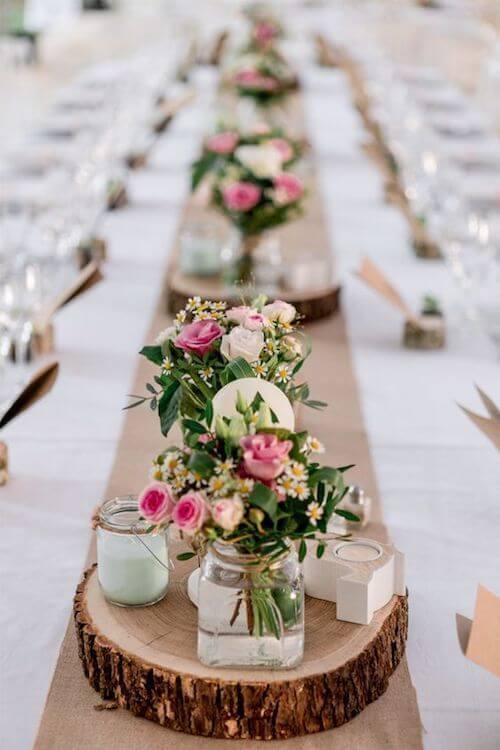 Burlap table runners are a trendy choice for weddings with a rustic theme.
They look great with a white tablecloth or on a wooden table.
Decorate a barn tablescape with wood slices with mason jar centerpieces.
The mason jars are a great spot to add a pop of color with flowers.
Burlap chair decor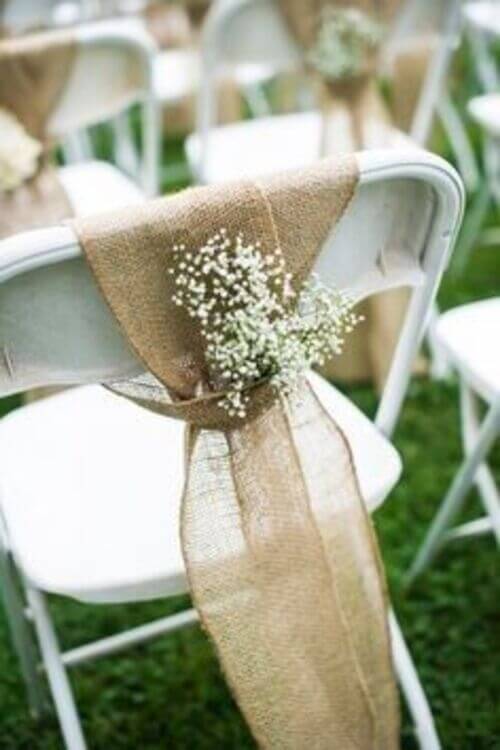 This idea is a winner if you're looking for inexpensive ways to decorate basic chairs for your wedding.
You can buy bulk burlap fabric and make custom chair decor with baby breath-flowers.
Simple burlap table decor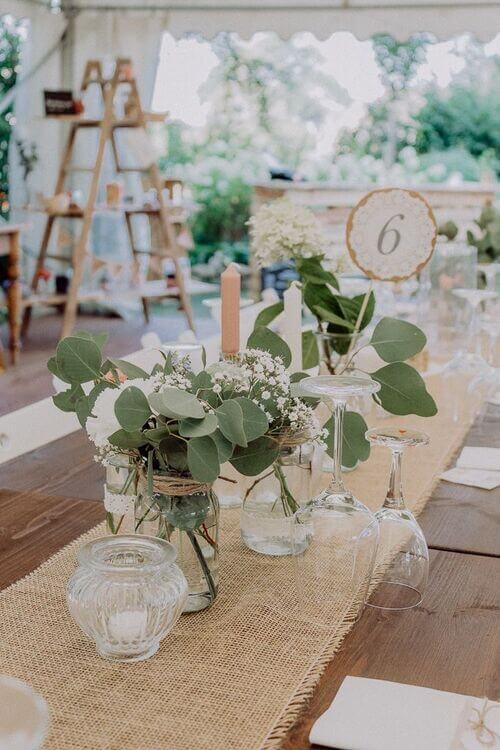 If you have wooden tables with character, there is no need to cover them with a full tablecloth.
Let the wood have its moment and only decorate with a table runner.
Mason jar centerpieces with eucalyptus stems, flowers, and other greenery are simple yet unique.
DIY mason jar centerpieces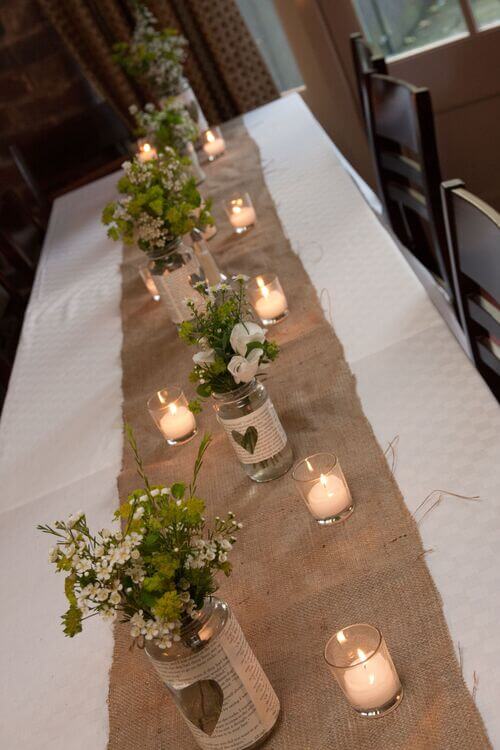 I love this creative mason jar centerpiece idea with cut-out newspaper.
Use empty mason jars to make centerpieces and buy tealight candle holders in bulk. This looks super cozy and chic.
You can get these simple tealight holders in bulk (a set of 36 pieces) for around $30. I think that's a great investment.
Narrow canvas table runner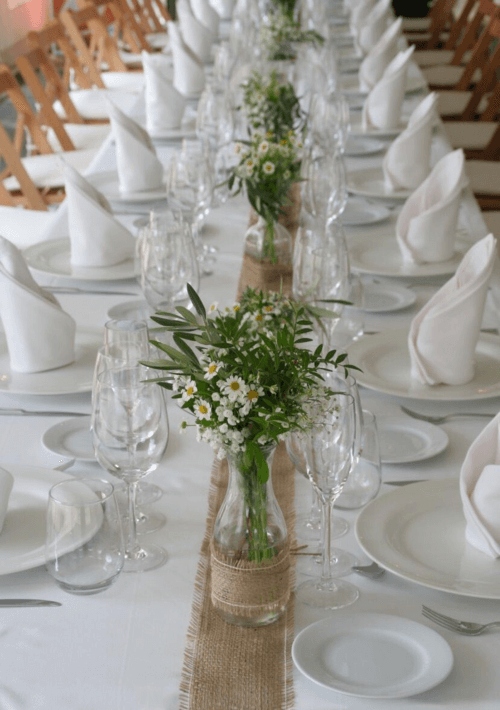 Adjust the size of your wedding table runner according to the table size (and how much space you need for plates).
For a bohemian look, get vases in different shapes and decorate them with colorful flowers.
5. Burnt orange wedding theme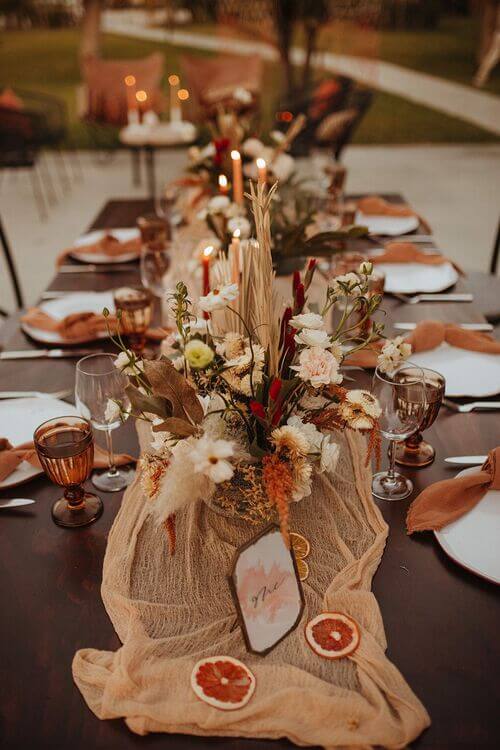 Burnt orange or terracotta is one of my favorite wedding color themes.
There are different tones of this specific color. Lighter and darker shades look great together. Especially when mixing them with neutrals.
Some of the colors within the terracotta/burnt orange range look more like a cinnamon rose wedding theme.
It can be tricky to refer to the correct color names if that's not part of your profession!
Terracotta table runner & neutrals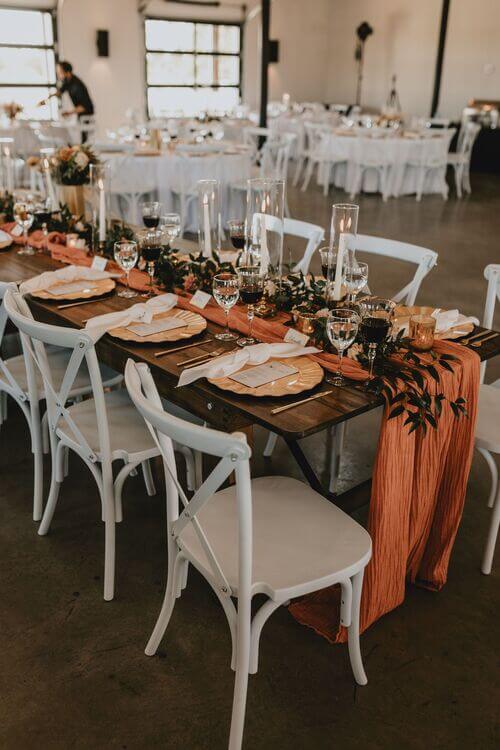 I love everything about this table setup. The terracotta table runner looks impressive with the wood dining tables and white chairs.
If you're looking for a fail-proof color scheme, terracotta, green, and white will do it!
Mixing fabrics is also a great idea to make a wedding table look more exciting and high-end.
Cheesecloth table runners are great if you want the table material to shine through.
Silk napkins are surprisingly affordable and look so elegant.
6. Neutral wedding theme with eucalyptus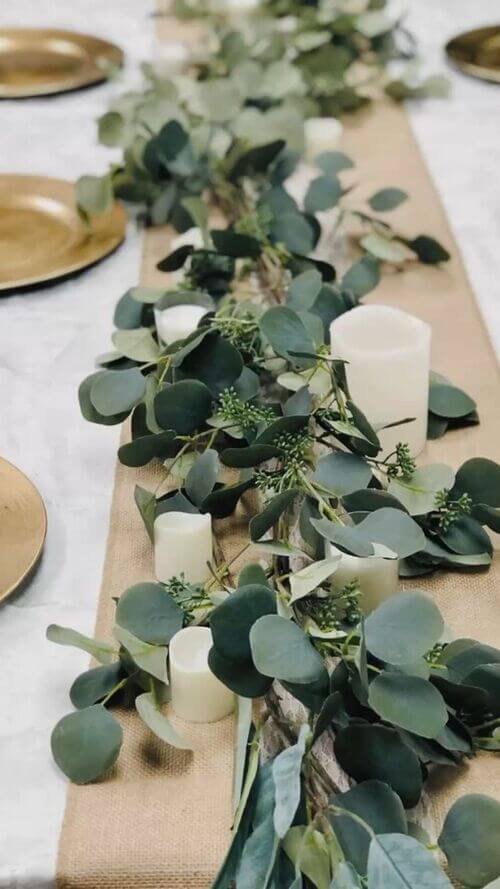 Eucalyptus is a popular greenery used for wedding decor. It's stunning to decorate tables.
You can easily recreate a table like this by placing the eucalyptus garland over the table runner.
Place candles alongside the table runner and within the greenery. Use LED candles for safety!
I highly recommend LED candles over real candles as the tablecloth, faux greenery, and napkins can be a real fire hazard.
7. Boho wedding theme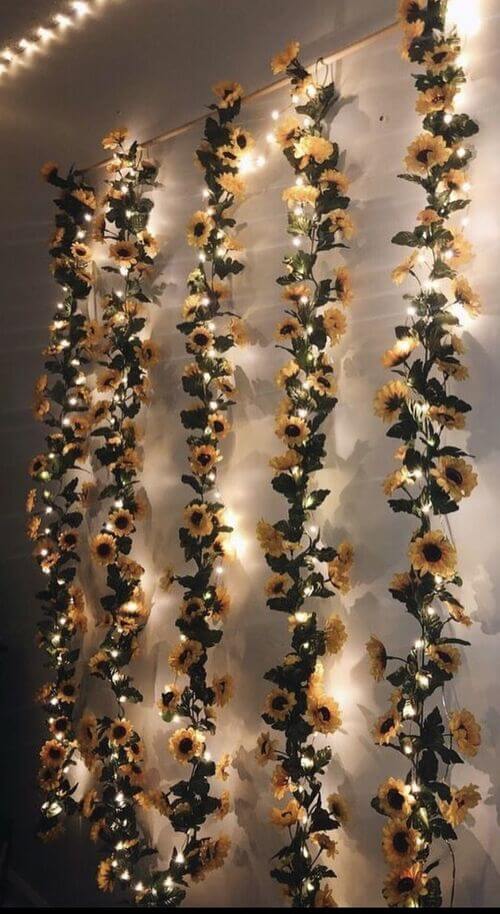 Bohemian wedding themes often involve warm colors, beautiful greenery, and decorative lights like these!
If you're unsure what to do for wall decor at your wedding venue, consider decorating with LED flower lights like this.
Especially in the evening, this looks so cozy! It also makes for great photo opportunities.
Simple boho eucalyptus wedding table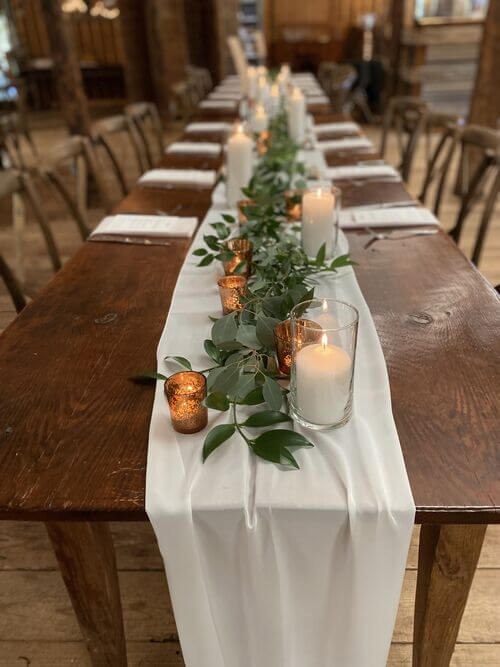 This is a fail-proof formula for a bohemian wedding table!
Place a white chiffon or silk table runner over the wood table—Line the runner with eucalyptus garlands and gold mercury glass tealight holders.
Simple, inexpensive, and gorgeous.
8. Purple pastel wedding theme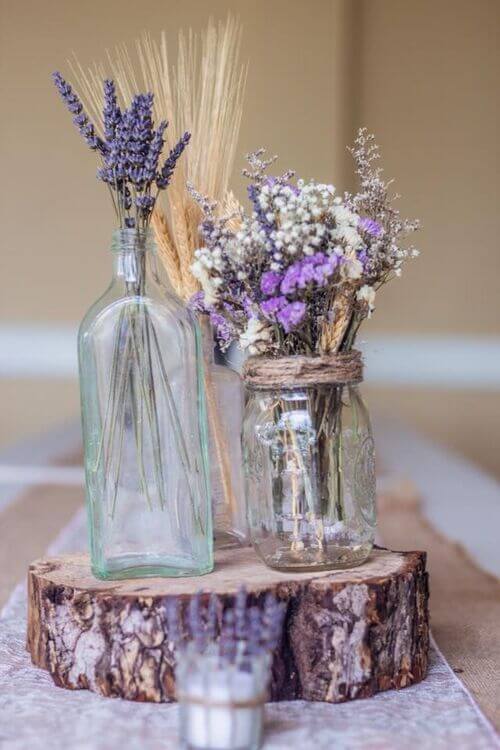 A purple wedding theme has become very popular in recent years! Even if you don't want to go with a purple color scheme, you can add pops of purple with lavender and napkins.
Purple looks beautiful with wood and neutral colors. If you go for a lighter shade of purple, it also looks great with green.
Recreate these gorgeous lavender centerpieces with dried lavender that you can buy in bulk. Arrange them nicely in bud glass vases.
This makes for a super unique centerpiece that doesn't break the bank.
9. Baby blue and pink wedding theme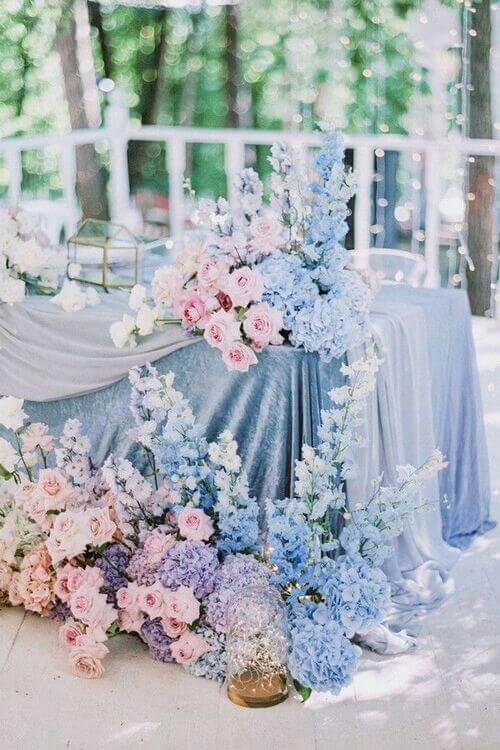 Pastel colors like pastel pink and pastel blue look amazing together. They make for a super soft and feminine aesthetic.
I love this color scheme for spring weddings.
Consider getting silk flowers to decorate the tables. They look stunning, and you have a lot of beautiful color options.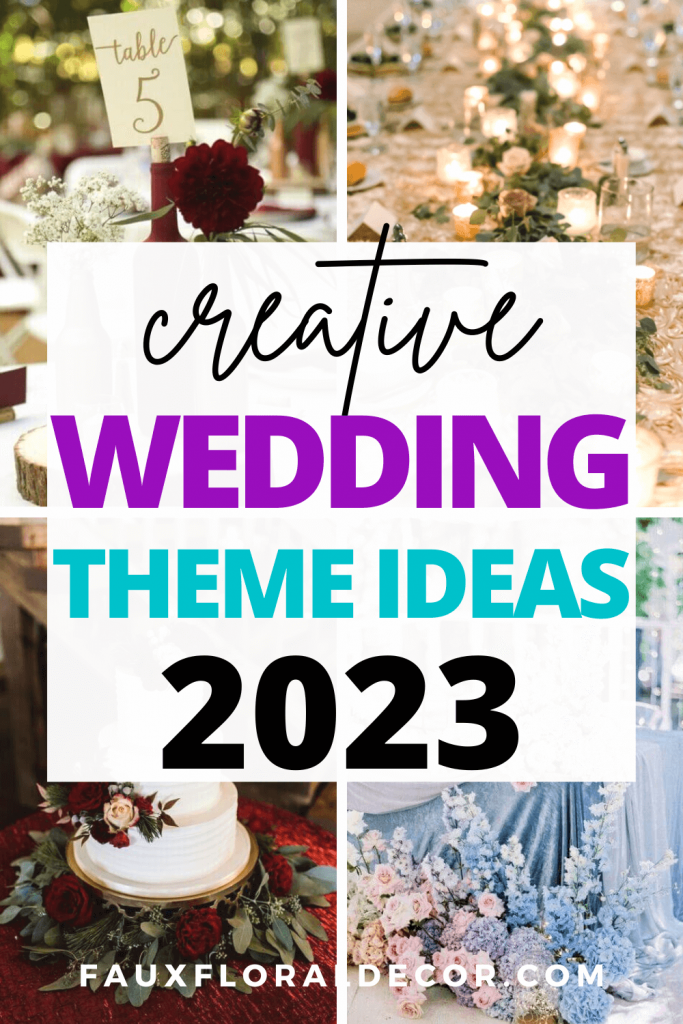 10. Pink and Navy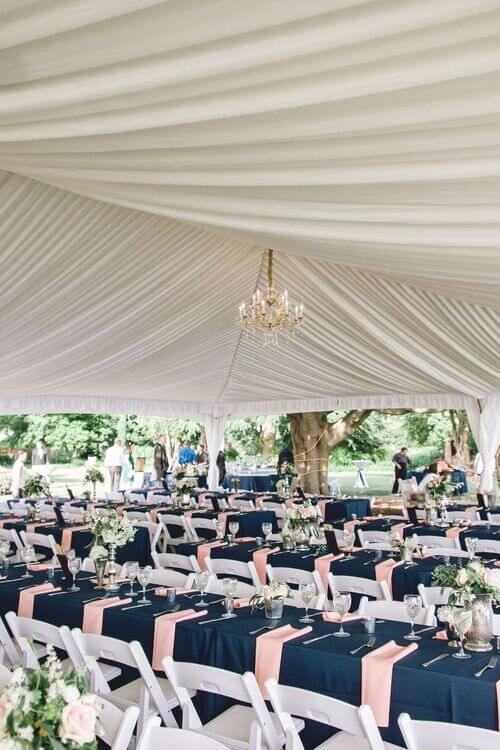 Who would have thought that pink and navy with a touch of silver would work so beautifully?
This is a fun and trendy color scheme for a 2023 summer wedding.
11. Burgundy and rustic wedding theme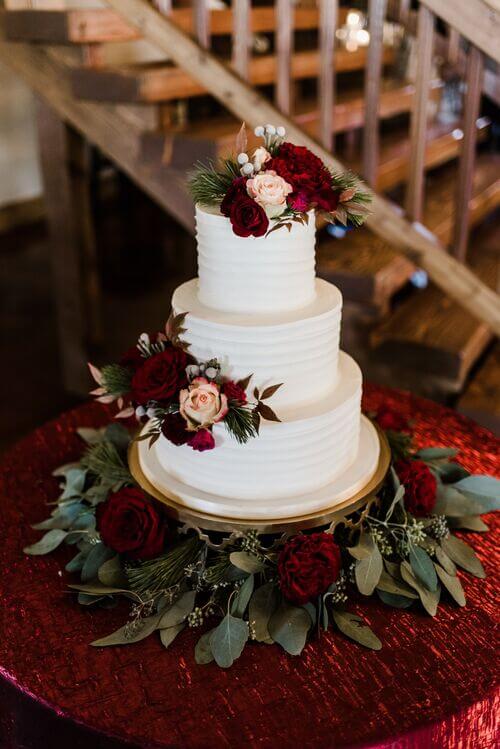 I haven't seen the burgundy wedding theme much, but I love how this table decor looks.
There is nothing chicer than burgundy velvet, and this works surprisingly well for weddings.
You have beautiful silk burgundy flowers that are great to decorate around the cake and table.
Barn chic table setting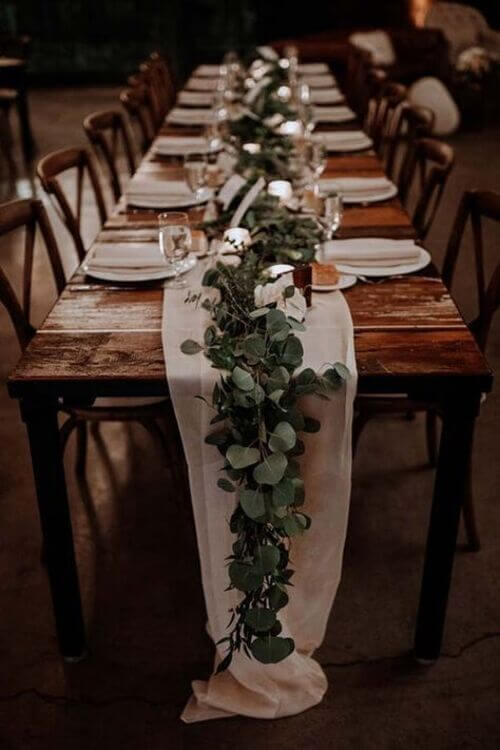 I'm not sure if "barn chic" is an actual wedding theme, but this table decor fits the description perfectly.
If less is more is your philosophy for your wedding decor, make sure to get the fabrics like table runners and napkins 100% right.
I like how romantic this chiffon table runner looks. It's also super inexpensive!
Cylinder vase centerpieces with burgundy greenery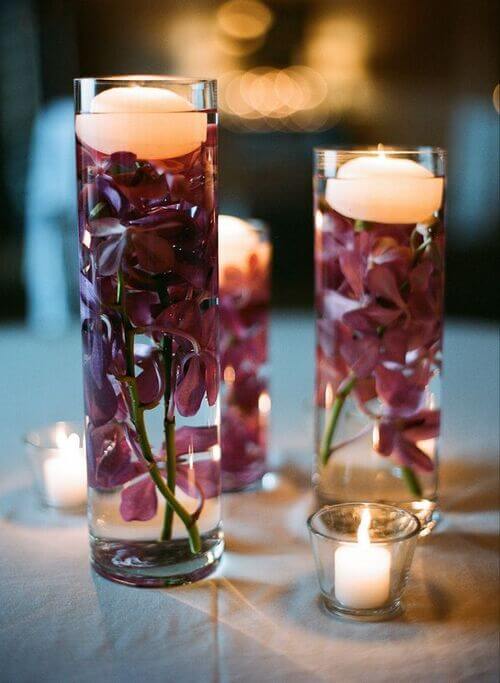 This centerpiece idea is unique and chic. I like that they used burgundy greenery instead of the usual green.
You can get these cylinder vases in bulk (like a set of 12). Make sure to compare different sets to get the cheapest option.
Other must-haves for this centerpiece are the floating candles and burgundy greenery. I found burgundy eucalyptus stems I like, but anything works.
You can also consider LED floating candles if you're uncomfortable with real fire.
DIY wine bottles for centerpiece decor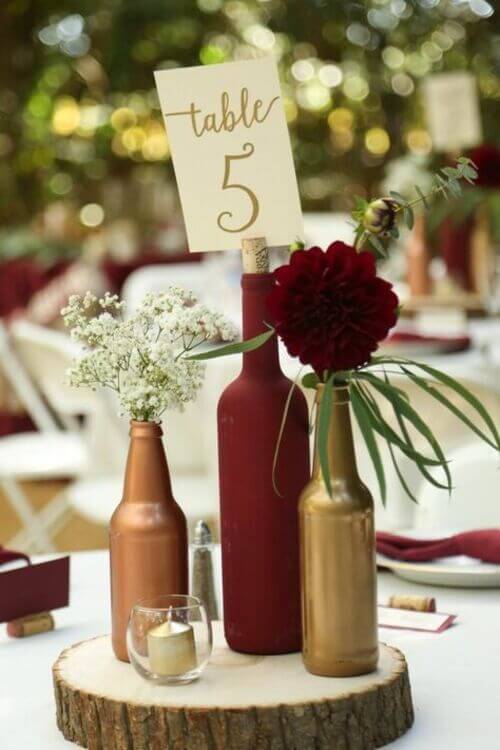 Put your empty wine and beer bottles to use as centerpieces!
Get burgundy spray paint and turn the bottles into beautiful centerpieces.
12. Chic and rustic wedding theme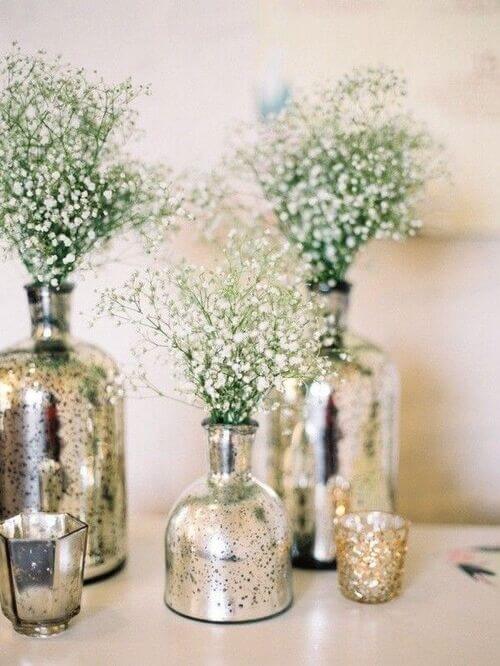 Mercury glass has a beautiful vintage look. If you're considering a rustic wedding theme, consider vases and tealight holders with speckled glass.
Baby breath is a beautiful, understated flower in a rustic wedding theme.
Neutral wedding table decor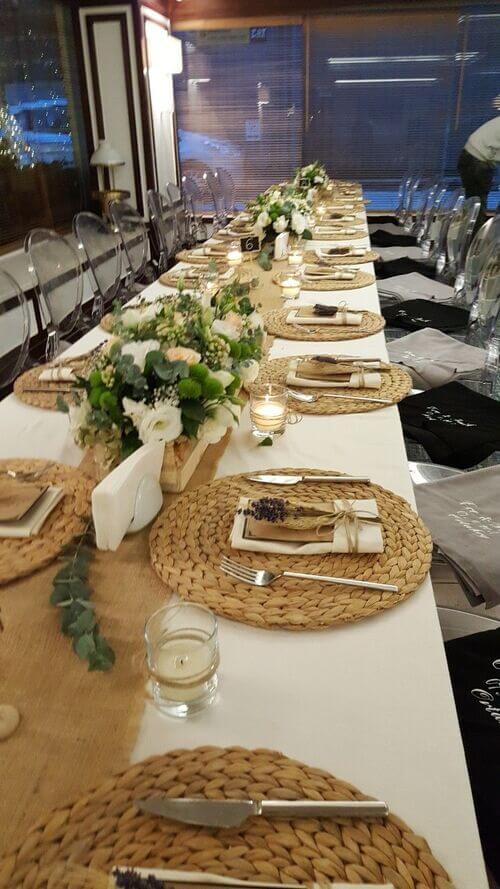 If you go for a neutral and slightly rustic wedding theme, you can bring in plenty of exciting materials.
I like these woven placemats; they look beautiful with the neutral and modern setting of the venue and chairs.
Consider making flower centerpieces for the tables with wood centerpiece boxes.
Super convenient, and it makes a beautiful statement on the table.
13. Rose gold wedding theme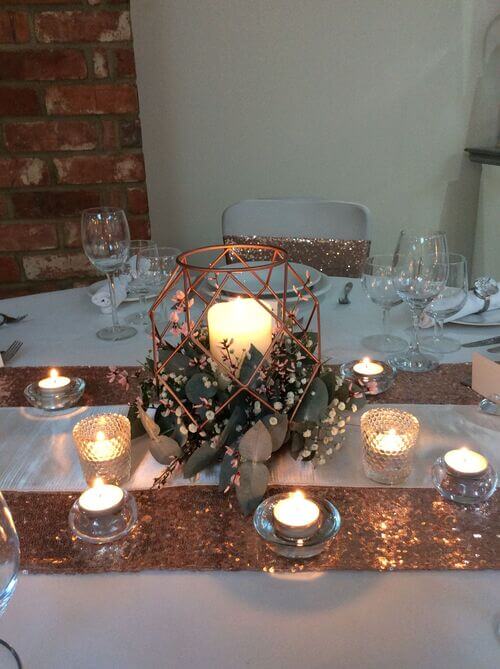 Rose gold looks elegant and festive. Using a sequin tablecloth or table runner, you can recreate table decor like this.
I'm a big fan of the Amazon eucalyptus + rose garlands. They're good quality and look fantastic.
This table also shows us how unique small tealight holders can make a table look!c
14. Green and pink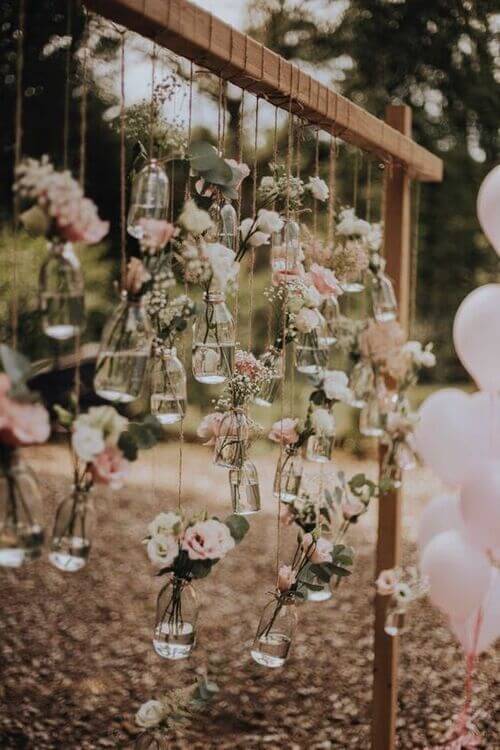 If you're throwing a wedding party outdoors, some clever DIY decor ideas like this will come in handy.
Hanging flower bottles like this also could work on the ceiling. This works beautifully if you're throwing your wedding in a barn-like set-up!
Green & Pink wedding welcome sign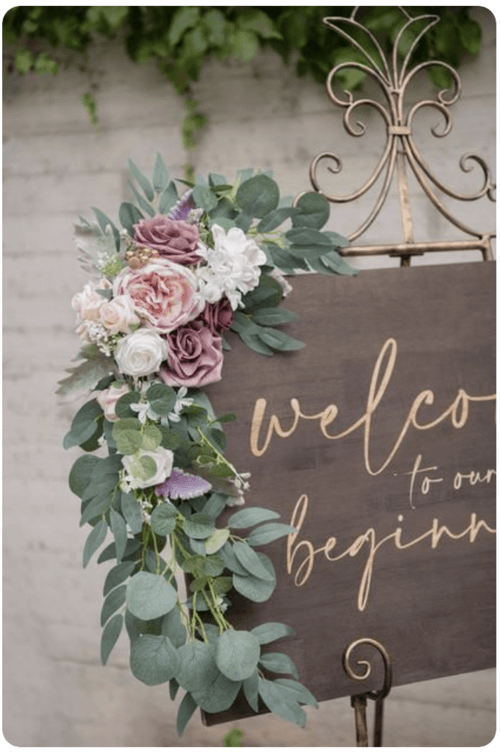 A welcome sign is a must-have at every wedding. Luckily you can recreate one that doesn't break the bank.
Get flowers for the welcome sign matching the color scheme of your wedding.
Amazon has some beautiful faux flower decorations to work for your welcome sign. The brand Ling's Moment has stunning fake flowers and arrangements.
15. Gold wedding decor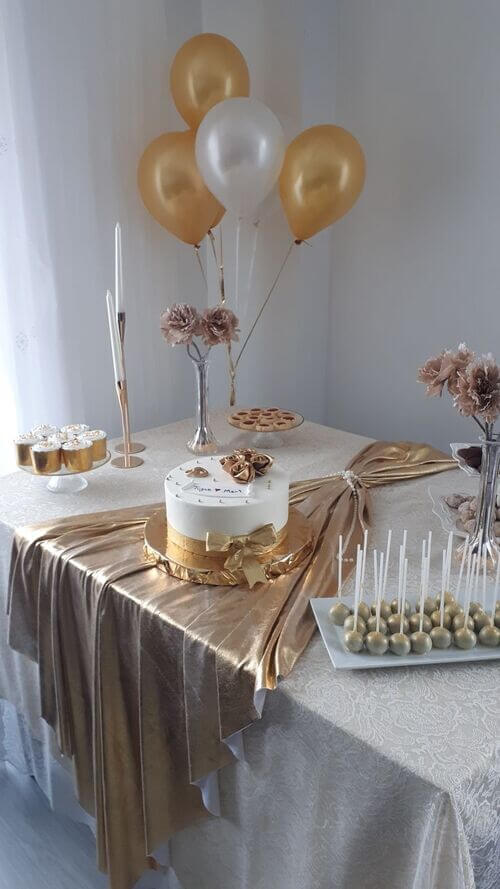 Gold is a popular wedding color that looks amazing with green and white.
If you're going to have a dessert table at your wedding, I LOVE this simple and elegant table decor.
Gold lantern wedding decor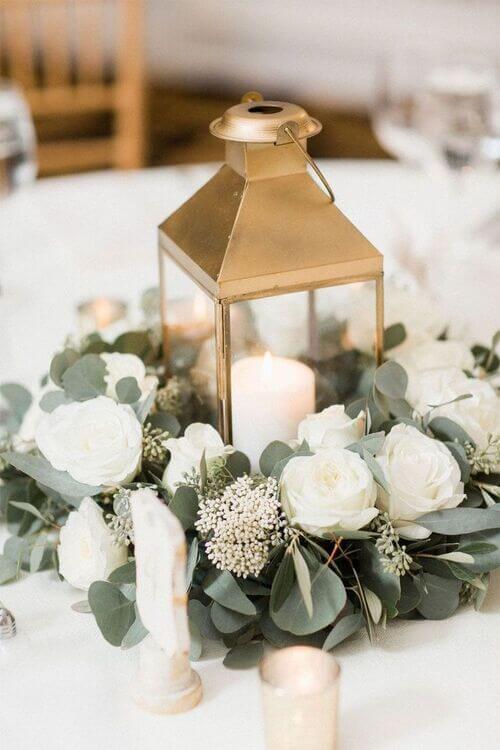 Gold lanterns are a beautiful base for a wedding centerpiece. You can buy lanterns in bulk, which makes them more affordable.
I love this creative idea with the eucalyptus and white rose garland surrounding the lantern.
It's easy to recreate and looks stunning on tables.
16. Dark navy wedding theme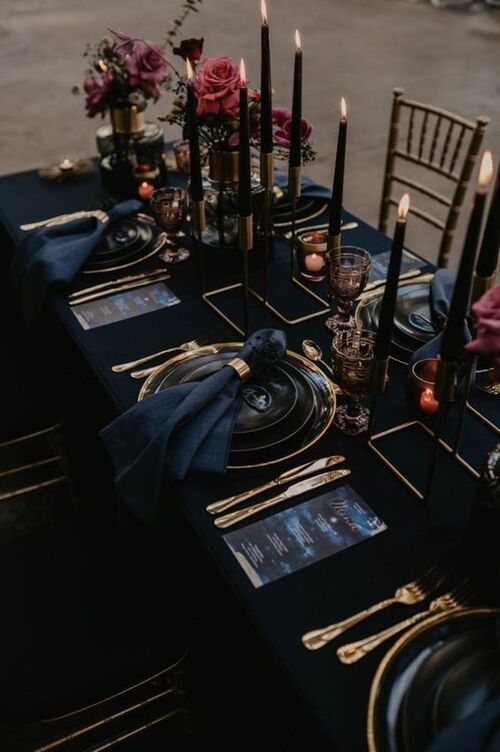 Navy blue is not necessarily a color people associate with weddings, but this theme has recently become popular.
Especially if you're looking for a beautiful dinner table set up at night, navy looks chic and luxurious with gold.
Midnight blue table setting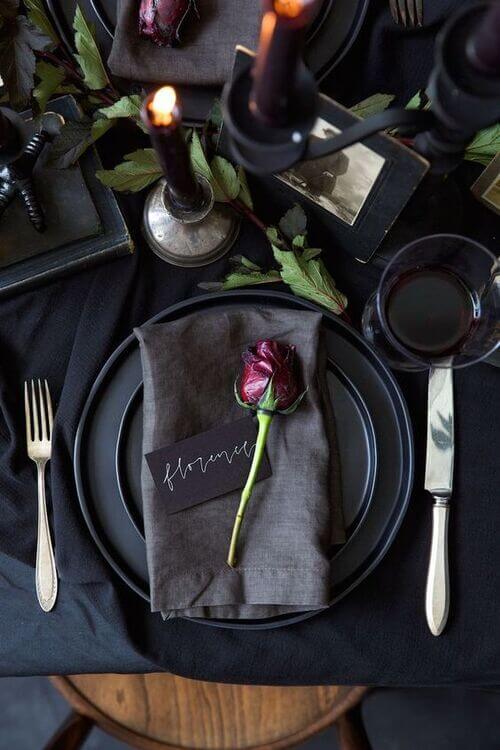 Flowers are a great way to make table decor look custom on a budget.
Decorating the plates with a single (fake or real) rose creates an understated and elegant ambiance.
17. Wedding theme with DIY centerpieces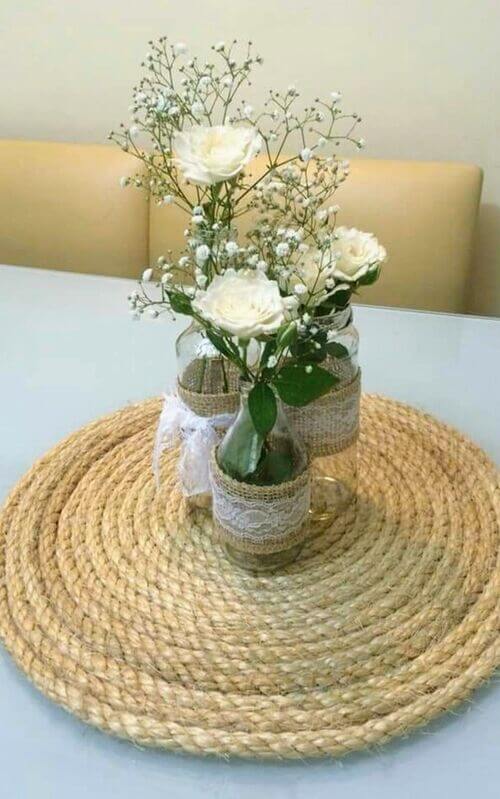 Making your centerpieces is a great way to save money for your wedding.
Dressing up tables doesn't have to be super expensive.
A simple base for creative centerpieces is a mason jar.
You can buy beautiful burlap ribbon with lace that helps you decorate the jars in no time.
Rustic wood table numbers and mason jar decor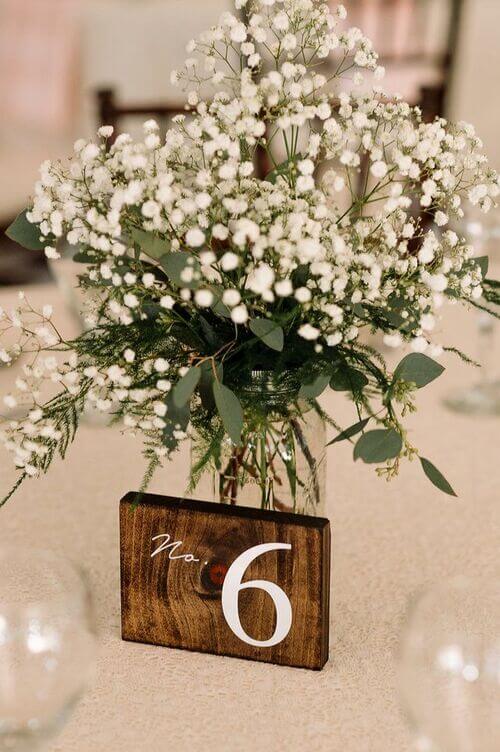 Rustic brown and gold table numbers look great with mason jar centerpieces. They fit the bohemian and rustic aesthetic.
Baby breath is an inexpensive flower (and so beautiful!), so that's an excellent choice for filling mason jars.
Centerpieces with wood slices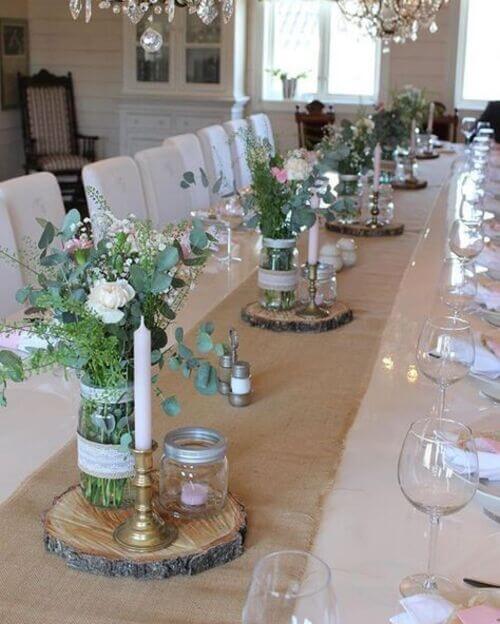 Wood slices are another trendy base for DIY wedding centerpieces.
They look amazing with decorated mason jars and candlestick holders, as seen in the image above.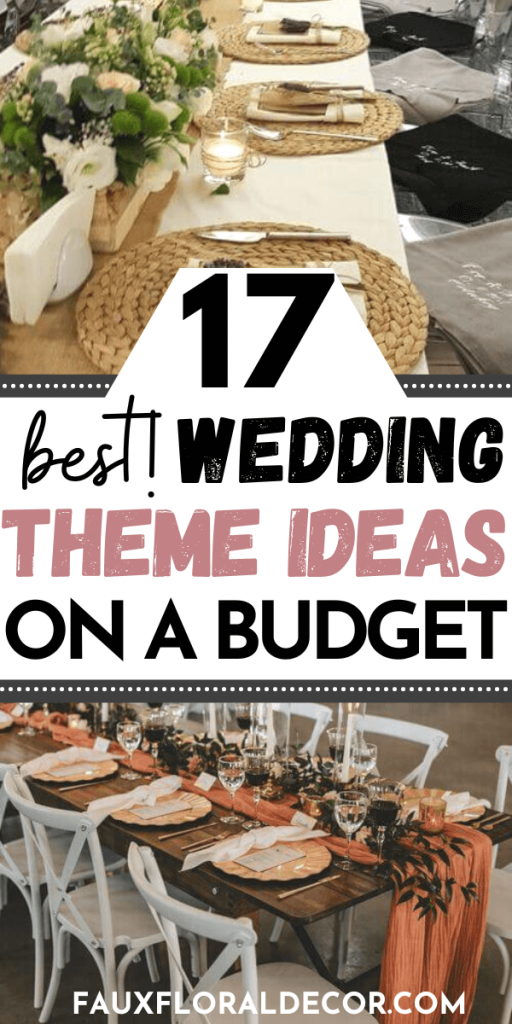 This post showed you the best wedding theme ideas by color.
You may also like: