This post shows you the best burnt orange wedding theme ideas.
Before we jump into this one I want to be very clear… I love a burnt orange wedding theme, especially in the fall.
There's something about this moody sunset color that just feels like a gorgeous color theme for a wedding.
I'm not saying this color should stay a fall color, because orange works year-round, but in this case, I want to share my thoughts on using this theme in all seasons but especially fall.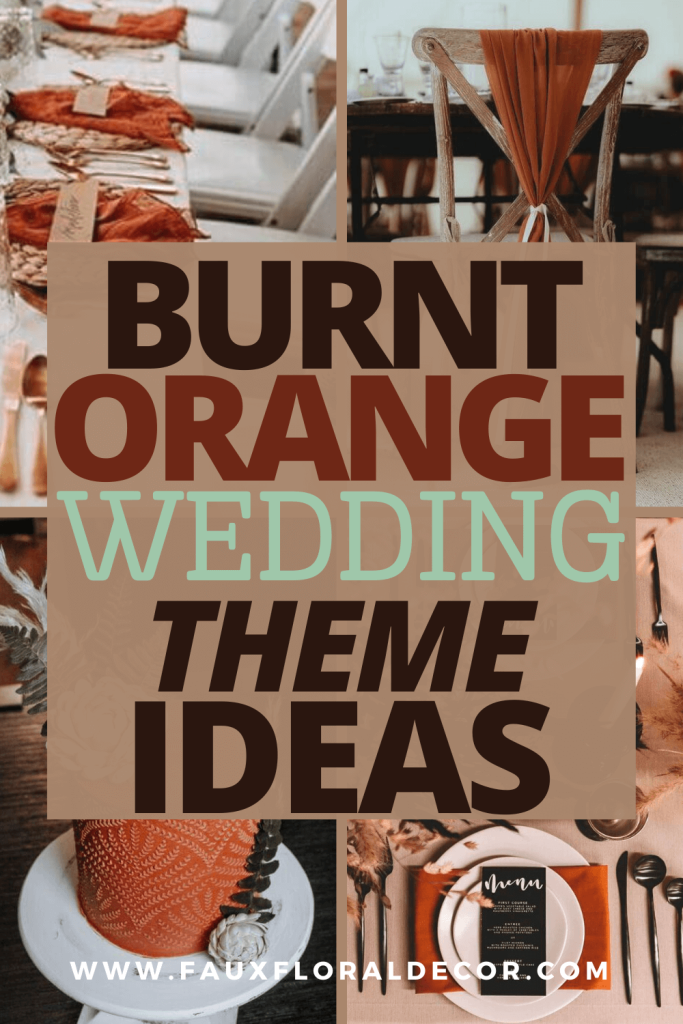 Burnt orange in the fall
The color works well in most color combinations because it brings a sense of warmth and togetherness which makes it ideal for the wedding scene.
This color gives a warm feeling which allows you to pair it with cooler colors this fall like navy or green.
It will give a natural fall feeling.
The leaves are changing, and this will be the perfect color to host a sundown ceremony to match the gorgeous colors of the sun.
Tips for a fall wedding
There are a few things that can feel uncertain when you're planning a wedding in general so here are a few tips to keep in mind when planning your wedding this fall.
Work with what is in season (don't pay extra just because something is out of season)
Always keep in mind that blankets are possibly necessary. The night is becoming chillier and you don't want to have a perfect night ruined just because people didn't plan accordingly. Make a designated blanket spot for your guests to grab something to keep them warm.
Lose the roses for gorgeous in-season flowers such as Dahlias, Marigolds, or Sunflowers.
These simple tips can help you figure out some minor details within your wedding.
It's the small things that can make the biggest impact on a wedding.
1. Terracotta and sage table settings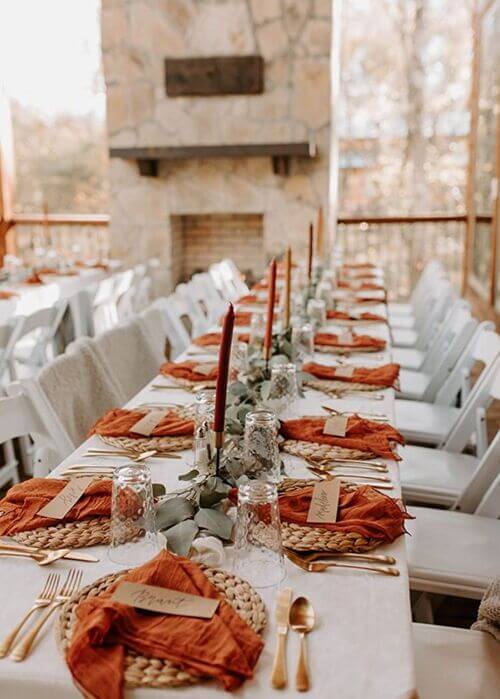 A gorgeous color combo to try when you're considering burnt orange is light brown and sage.
It allows you to stick to natural tones.
This helps make the decor seem bright and warm.
You can add some dark orange candles, and greenery for a table runner.
2. Burnt orange table runners and peach roses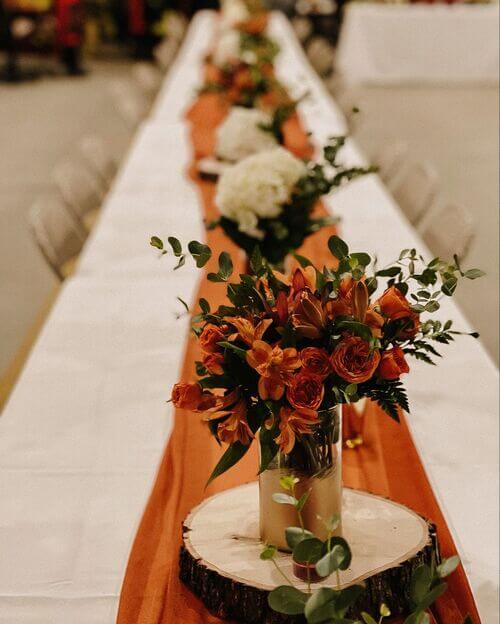 If you're looking into a burnt orange theme, then you might want to balance it out with a light tone or even just white.
This orange table runner connects with the flowers, while the wood slices allow you to create layers with the colors so that it doesn't feel too clustered.
3. Forest green and orange theme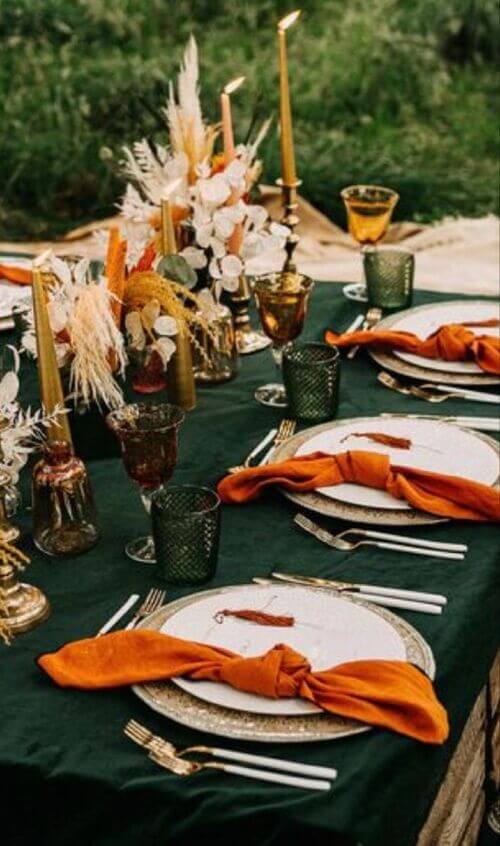 This combo is stunning for a fall wedding.
The green and orange are instantly the center of attention while the gold accents break the deep colors.
The vintage glasses give this a dark aesthetic.
Pair it with white bouquets filled with cream flowers to ensure the colors balance each other out.
4. Eucalyptus and orange aisle decor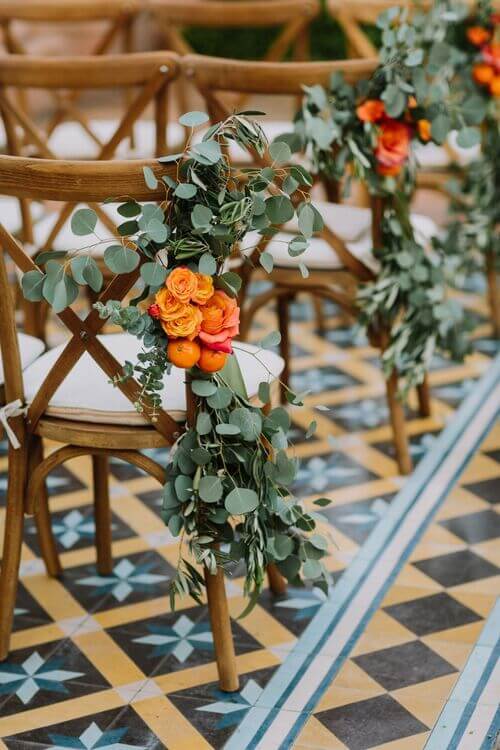 If you want a simple aisle decor piece to add to the chairs then this is sure to be just the thing.
It isn't too flashy but makes a statement nonetheless.
Pair some eucalyptus or simple greenery with orange roses or even orange peels to bring a pop of color.
5. Olive and orange table settings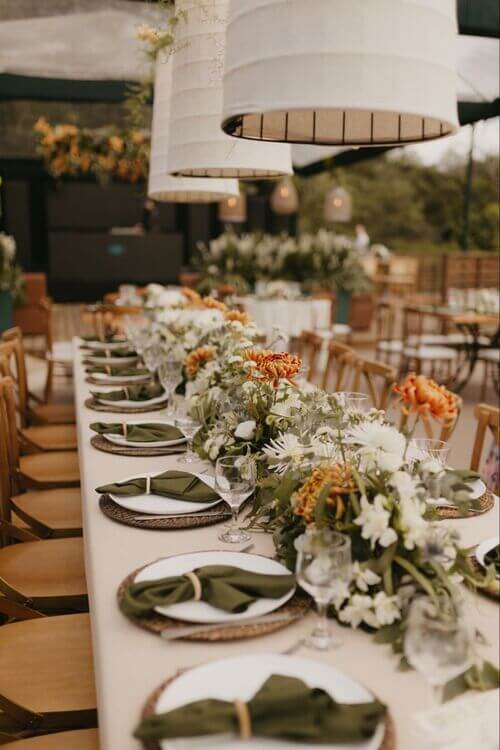 To my minimalists out there, this one is for you.
This keeps the burnt orange theme to a simple touch of color instead of making everything revolve around the color.
Matching it with olive green works well together and lets you bring more flowers into the centerpieces.
6. Burnt orange and navy theme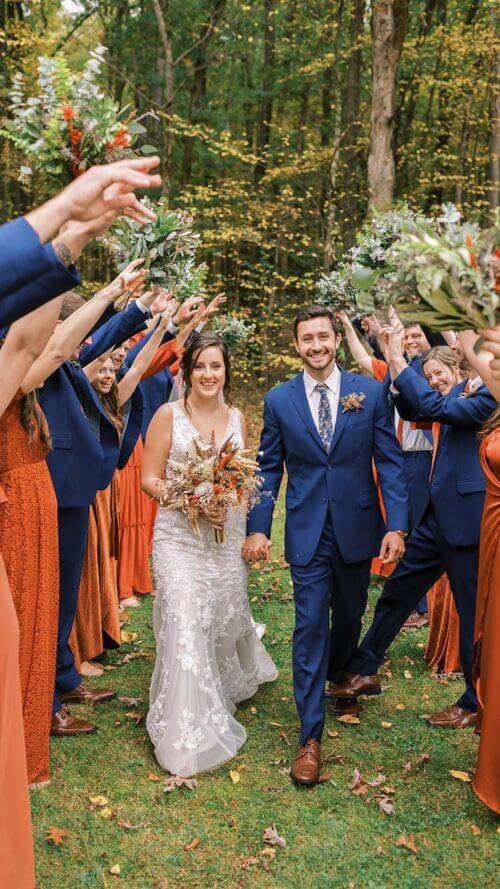 Bring burnt orange and navy into the bridesmaid and groomsmen's attire.
The color combo complements each other and works well as in-season colors for dresses and suits.
7. Orange, dusty pink, and green tableware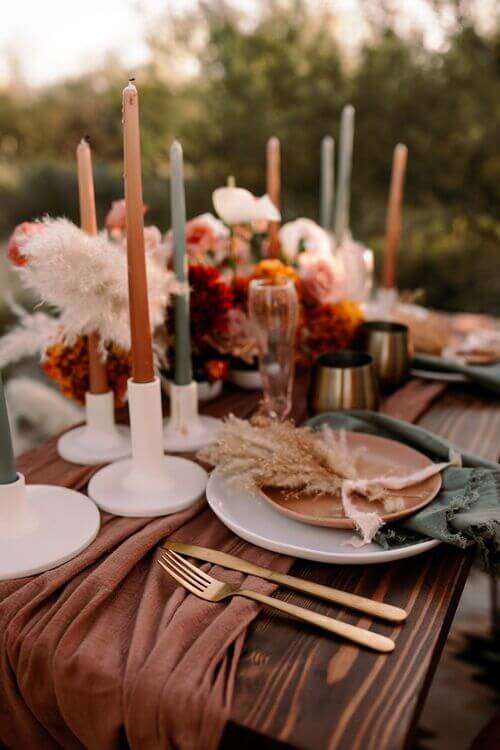 This idea gives me an eternal summer sunset feeling.
It incorporates dusty pink and green be the main theme and burnt orange as well as red into the flowers.
It's a gorgeous idea that works perfectly for table settings.
8. Navy and orange place settings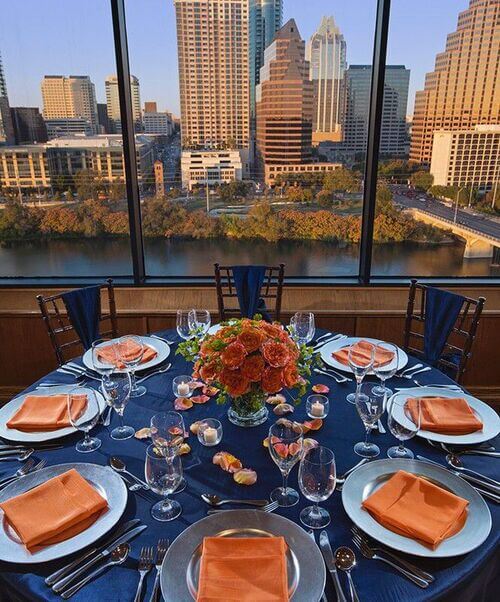 Orange and blue work well together.
Now I know this idea isn't exactly everyone's cup of tea, but it is pretty and bold.
Pairing the navy blue with gorgeous peach roses and orange napkins.
This idea is something that will work well in any season too.
9. Red, pink, and orange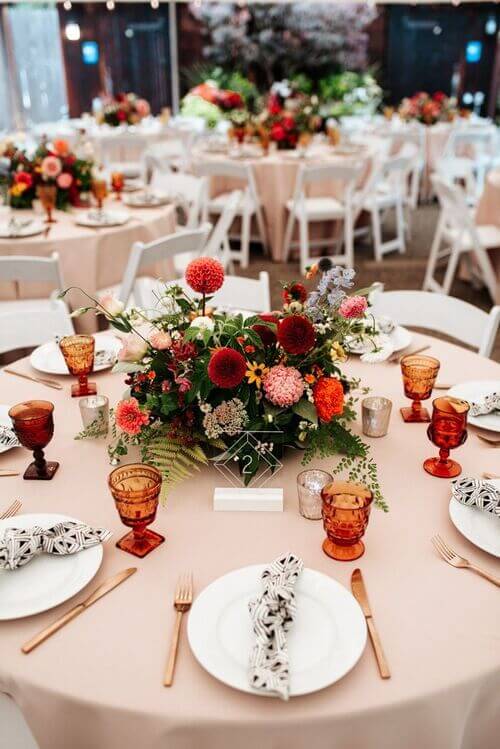 Vintage glasses in orange and intriguing flower arrangements? Sign me up.
This idea gives me late fall and early spring vibes.
It's a gorgeous and subtle idea that will make the perfect theme for your wedding.
10. Peach arch bouquets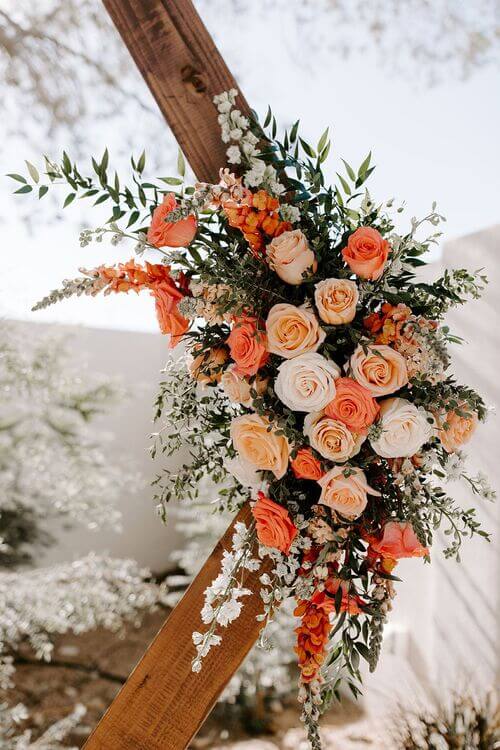 You can't keep the wedding arch plain… well you can but let's spice it up a bit.
Add some perfectly peachy bouquets with different orange and white flowers on display.
It doesn't have to be over the top, but a bouquet like this will add some dimension to your ceremony and helps add a great touch to the wedding pictures.
11. Terracotta napkins and sage centerpieces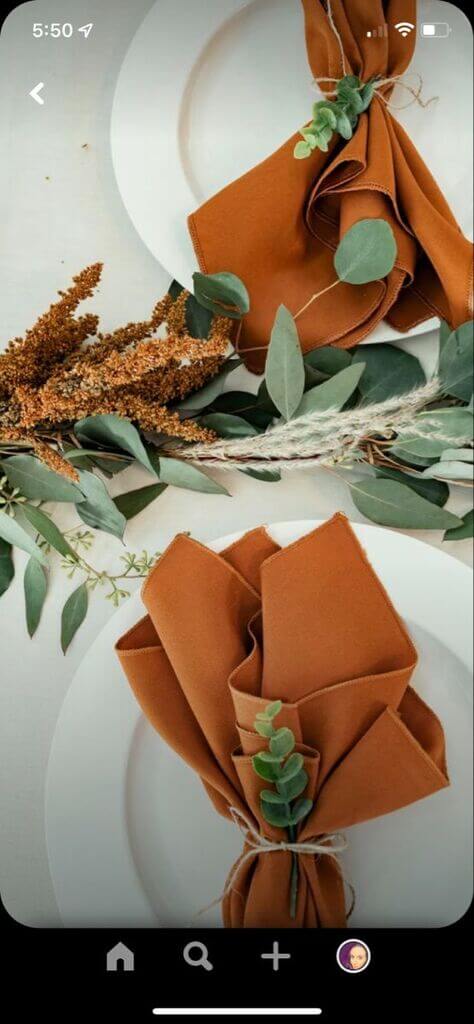 Another earthy-toned idea that is great for weddings is terracotta and sage color combos.
It is perfect to recreate a warm look, and just keep things simple.
These colors aren't too bold so they feel a lot more natural.
12. Blue and orange draped arch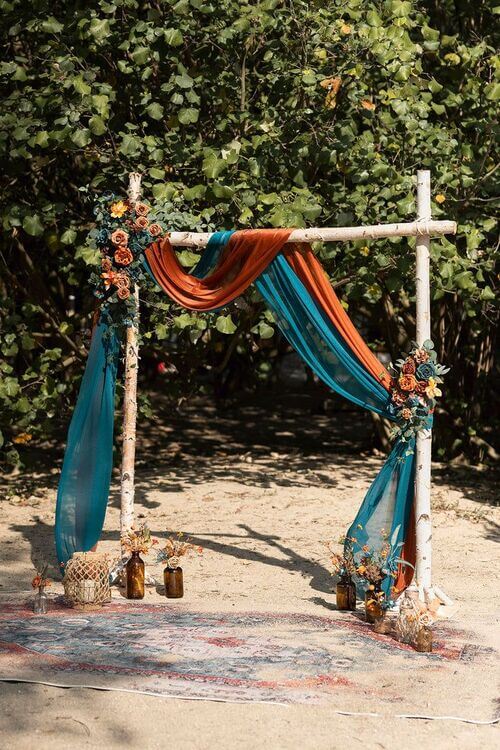 This boho idea uses orange and blue draped fabrics to create a non-traditional wedding arch.
It is surrounded by jars filled with flowers and vintage rugs.
It's a gorgeous idea to use for a sunset ceremony.
13. Orange chair decor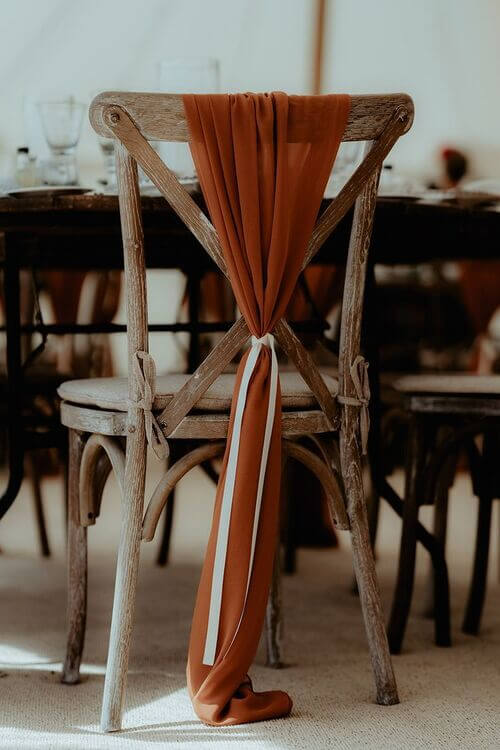 If you feel like the seats are a little bare, you can add some simple fabrics tied back with ribbon to ensure that the color theme is incorporated into every detail of the wedding decor.
It's a simple idea to ensure everything fits together.
14. Orange and purple centerpieces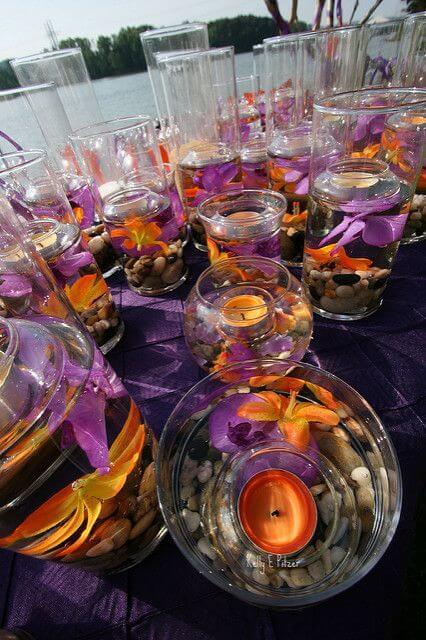 Need a bold approach for a summer wedding? I got you covered.
These centerpieces are sure to make a statement.
It uses the double bowl method to incorporate flowers and fill the jars with water.
You can then add candles into the smaller bowl in the middle to bring a bit of light to the table as well.
15. Terracotta and succulent cake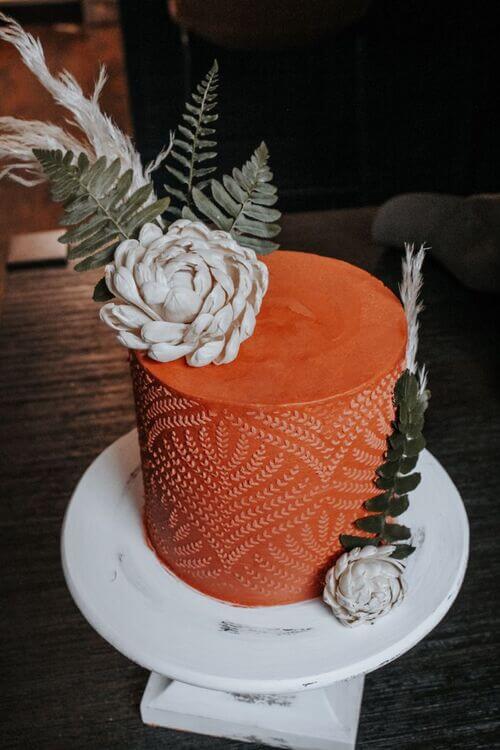 If you don't want an extravagant cake for your wedding and would rather stick to a simple idea then this is perfect for you.
The terracotta color fits well with the molded succulents and gives a boho burnt orange aesthetic to the cake.
The earthy tones are a gorgeous addition not only to the decor but also to the snacks.
16. Burnt orange bridesmaid dresses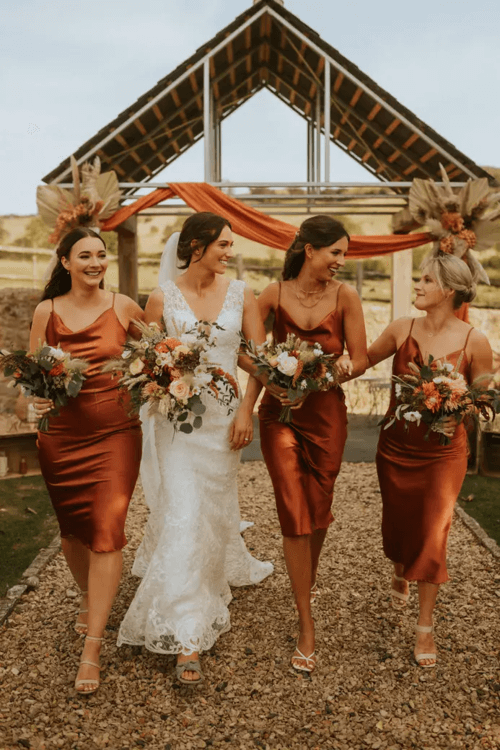 Terracotta and burnt orange bridesmaids dresses have made it to one of my top 5 dress colors recently.
It's just a gorgeous color that can complement anyone.
If you were unsure of what colors to go with for your bridesmaids then this is your sign to try out this moody color.
17. Burnt orange petals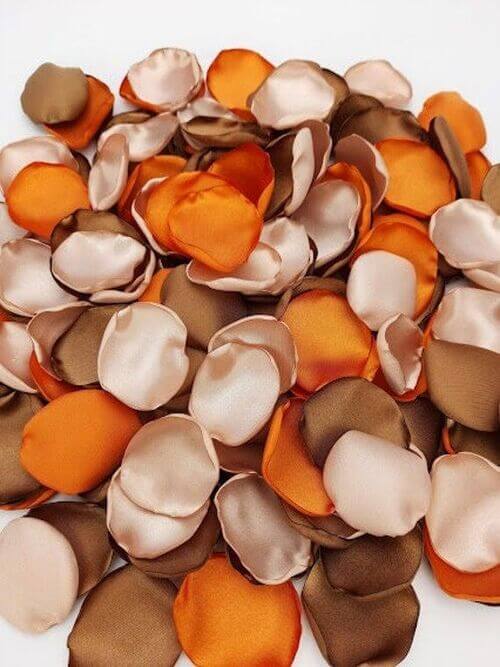 These flower petals are the perfect addition to the warm wedding theme.
Adding some beige and dark brown petals to use on the tables or to throw at the bride and groom as they exit the wedding.
It's a cute and simple idea that can leave a lasting impression.
18. Orange and red centerpieces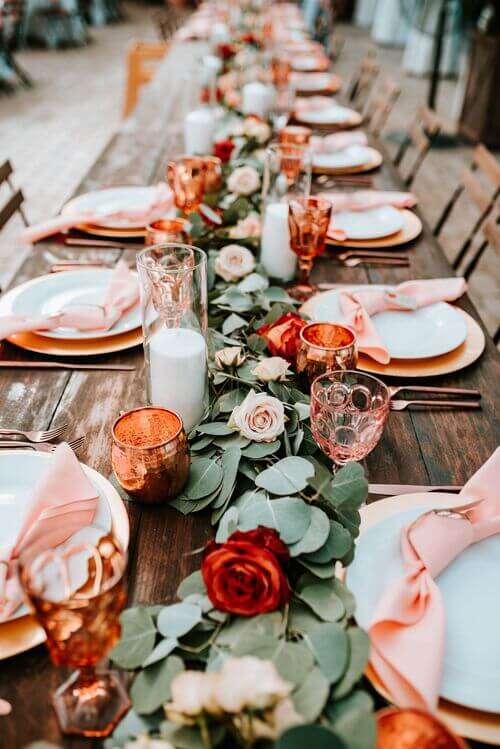 This gorgeous theme incorporates copper accents with the plates and cups.
The greenery acts as a natural table runner paired with dark roses, and the burnt orange is seen as an accent color with the vintage glasses.
It's a gorgeous and warm color combo that your guests will love.
19. Welcome sign with greenery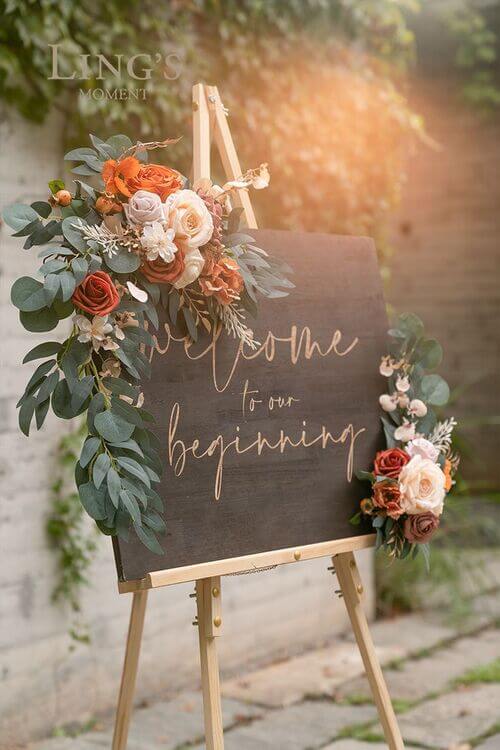 This beautiful welcome sign even incorporates the burnt orange theme.
You can recreate this by getting a simple sticker or custom design it to incorporate the surname of the bride and groom.
Place it on an easel and incorporate some flowers for depth.
20. Moody orange and black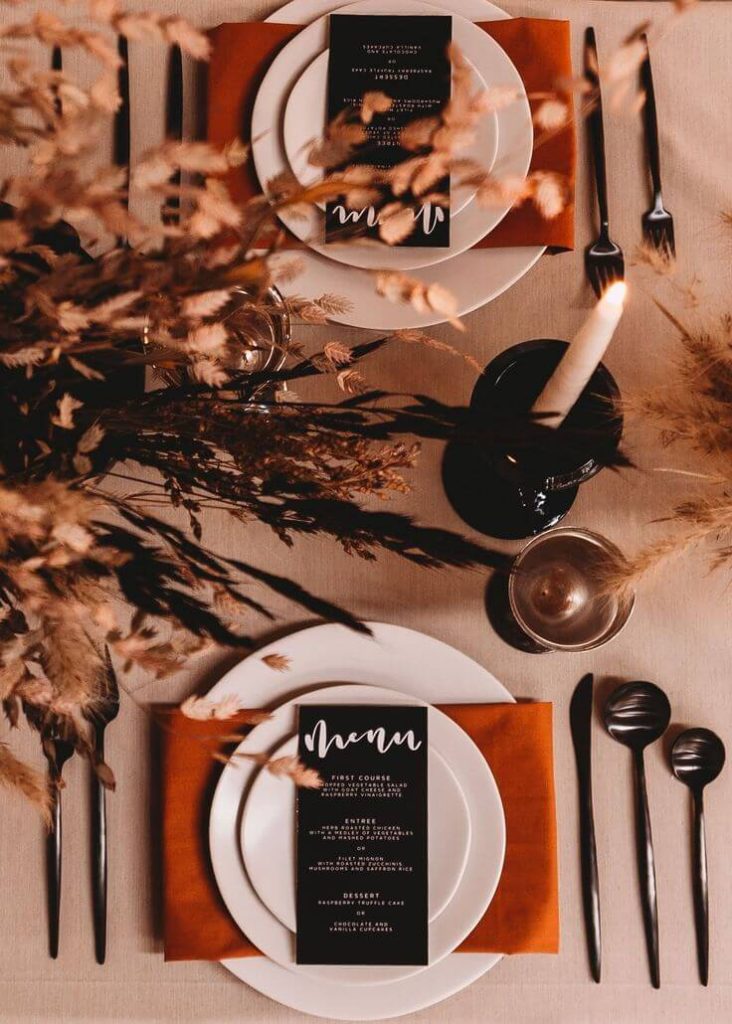 To my gothic lovers out there with a slight obsession with Halloween… this is for you.
The burnt orange and black theme gives you a dark and moody aesthetic.
Add some candles and beige accents to break the deep colors.
This is an absolute goal for a late fall wedding incorporating the dark orange theme.
21. Sunset treat station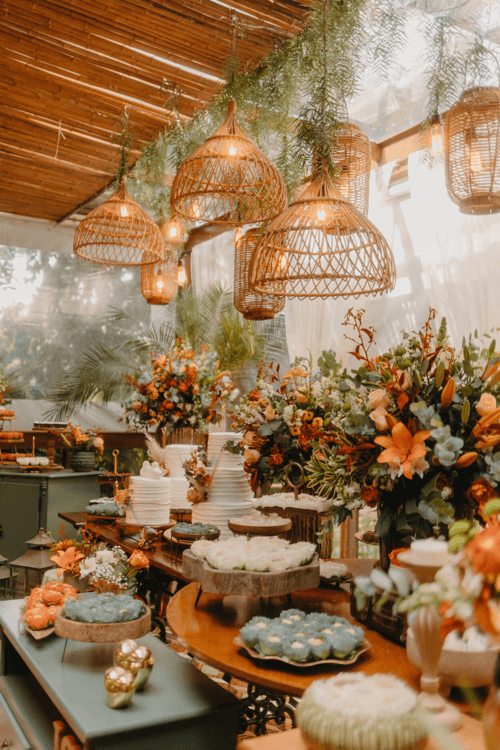 This table is perfectly decorated with different oranges and sage to bring a boho and natural look to the reception.
Whether you make use of this on a small scale for a snack table or arrange these florals around the reception it is sure to drum up some positive feedback.
22. Earthy tones and table settings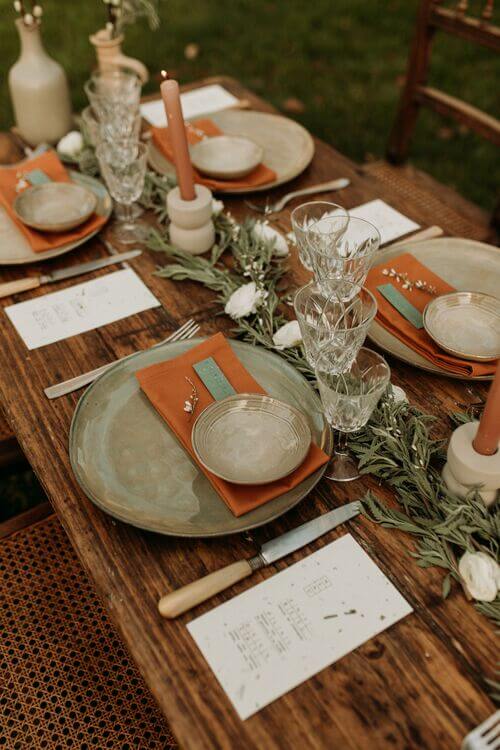 You can also add burnt orange to just be an accent color like in this idea.
This allows you to make green a focus point.
This idea will work perfectly in any season due to the natural colors that are used.
23. Memory station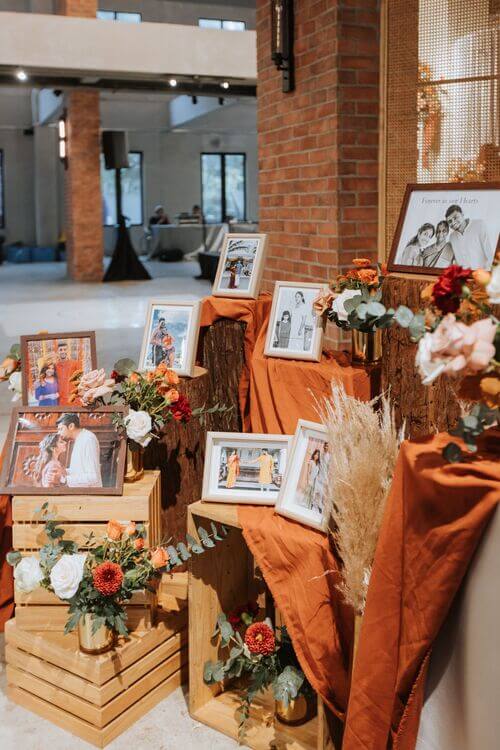 Grab some crates, pictures, and flower bouquets and tie them all together with some draped fabric.
This memory station helps guests see how your journey has evolved and brings a wholesome approach to the wedding.
24. Fairy lights and candles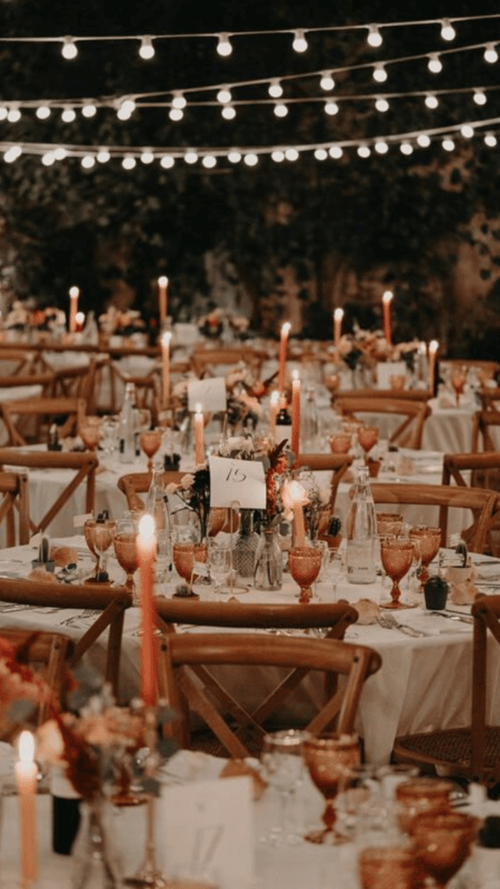 This gorgeous reception uses candles and fairy lights to create a warm mood.
It brings light onto the reception when it is being held outside.
Each table has orange candles and glassware with wildflower bouquets.
25. White and orange theme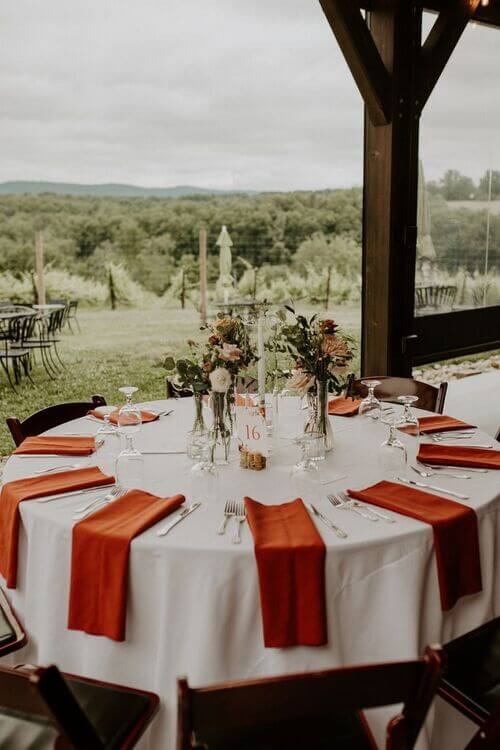 This table decor idea is elegant and minimalistic.
It makes minimal use of color but stays on the theme.
You can add some wildflowers to the table to take it away from the usual approach of roses or baby's breath.
26. Indoor reception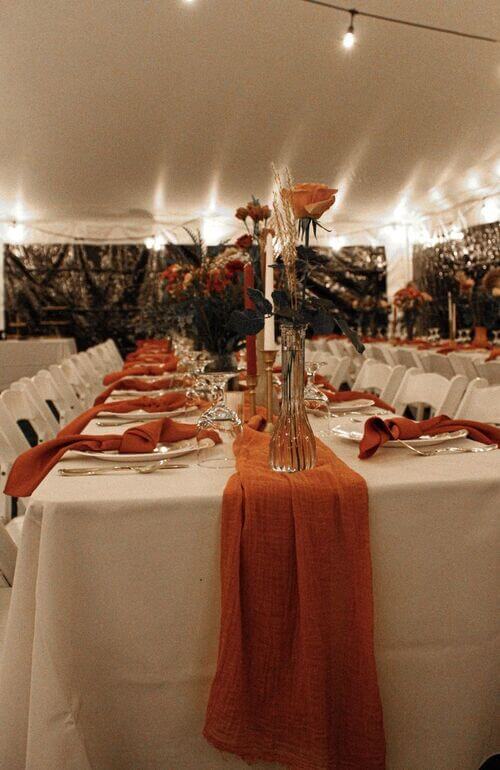 Recreate this idea by using fabric as a table runner and using the same color on the napkins.
With this idea, you don't want to overpower the table with huge bouquets so it would be best to use slim vases with a rose or two in each.
27. Boho orange theme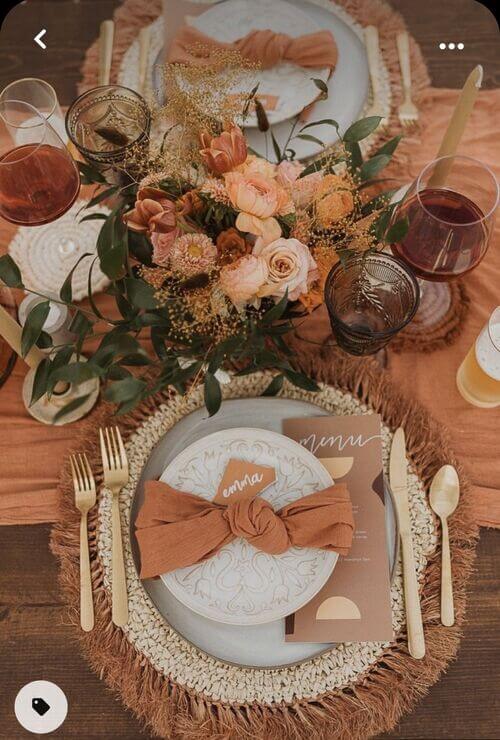 Where do I start with this idea?
From the macrame placemats to peach roses, and orange napkins, everything about this idea screams bold and boho.
It's perfect for people that want a different and fun approach to their decor.
28. Wedding theme accessories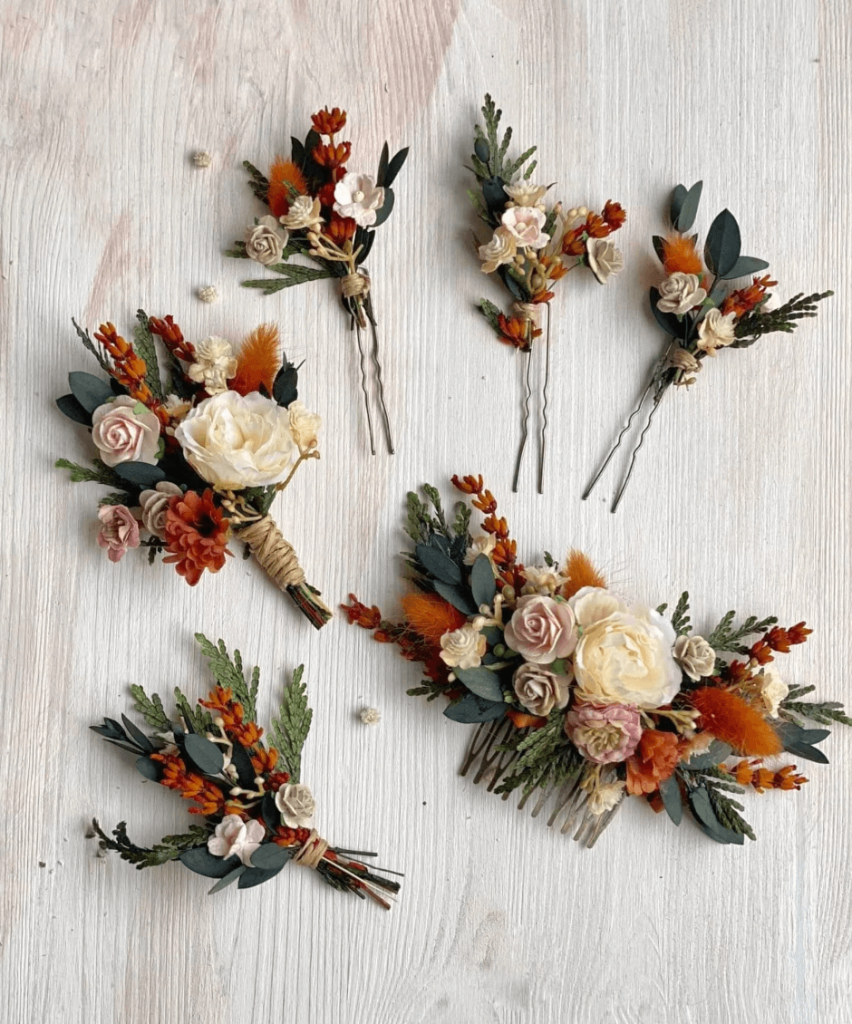 Keep the theme going by incorporating a piece of the wedding decor into your hair accessories or boutonnieres.
It's a cute way to bring the theme to life.
These mini bouquets can be attached to bobby pins or hair pins in general or be tied together with elastics to be placed in jackets
The burnt orange theme of your dreams
To put it simply this color theme is bold and moody.
It works perfectly to showcase your personality as well as how you connect this color with your family.
So why not give it a shot? Whether you use it in the fall or summer is up to you.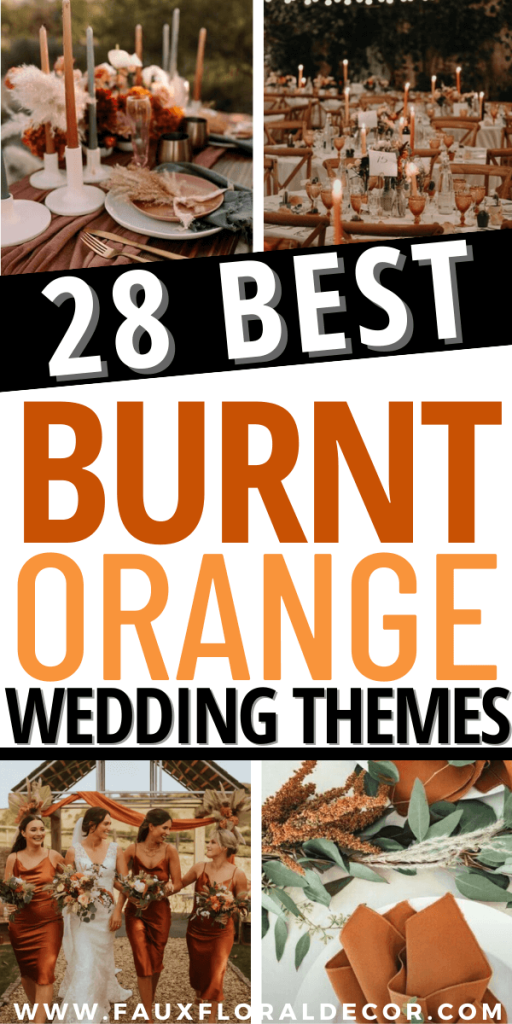 This post showed you the best burnt orange theme ideas.
You may also like: