This post shows you the best floral hoop centerpiece ideas.
Floral hoop centerpieces are a game changer.
They are cute, customizable, and adorable for any wedding theme.
No matter the theme whether it be rustic, gold and glitter, or simple and elegant, it works perfectly for any wedding.
This centerpiece idea allows you to make a fun DIY project out of things and bring your ideas to life.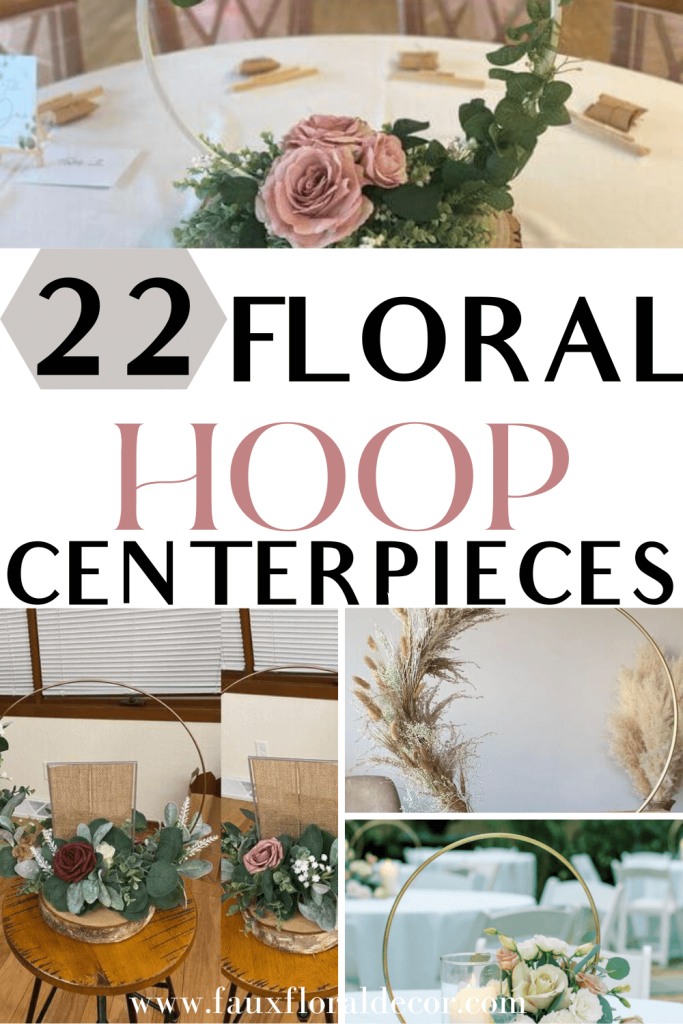 What to add
So you know you want to use hoops for your centerpieces but have no idea how to customize them… don't fear
We have a list of things that can be added and stays within the budget.
Floral hoop centerpieces are great, because no matter the size they won't block the view, so your guests will be able to talk without feeling like there is something in the way.
We all know how annoying it can be to feel like you can't have a conversation due to a simple obstacle.
Here are a few things you can add to these hoops.
Paint them the same as the wedding color scheme
Add fake flowers
Add succulents
Fairy lights
Hanging baubles
Greenery
Geometric shapes
Candles
The options are endless so mix and match things till you find what works for you and your wedding.
1. Gold and flower hoops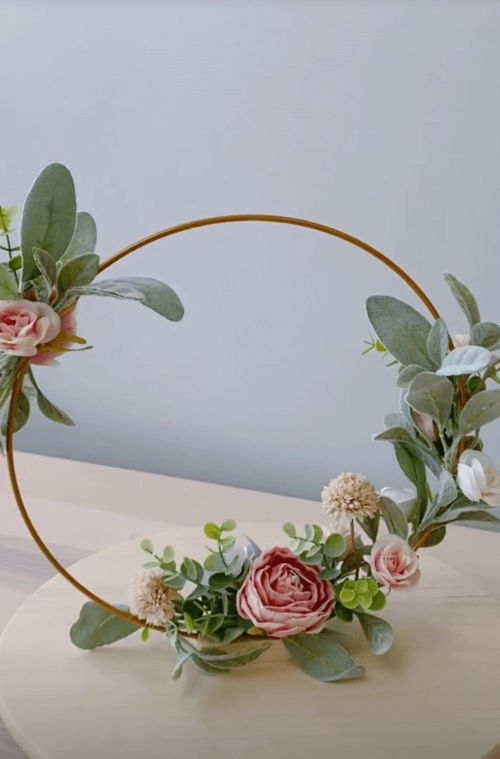 A simple centerpiece idea to try out is this golden hoop filled with greenery.
The hoop can be painted to fit the accent color of your wedding theme and then you can incorporate pieces that make up your wedding bouquet to add to the table.
It is a simple idea that goes a long way.
2. Wood slices with table numbers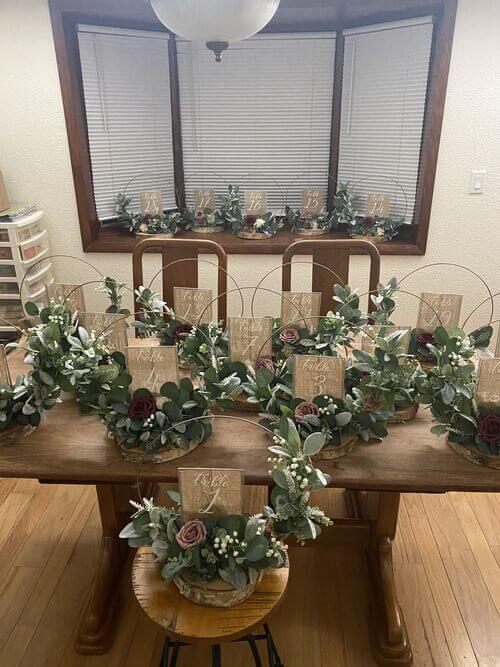 For my boho wedding enthusiasts, here is one for you.
These centerpieces make use of wooden table numbers, wood slices, simple hoops with greenery, and dusty pink or red roses.
It's a gorgeous idea that can pair well with a rustic barn wedding or just a fun boho aesthetic.
3. Glass baubles with candles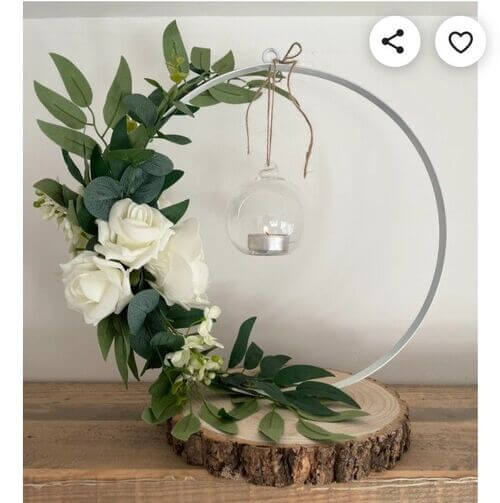 Those cute little succulent holders are more useful than you think.
With this hoop idea, you can hang glass baubles from the top and add tea lights for an atmospheric touch.
Decorate the hoop with greenery and roses to bring some depth to the concept.
It's a quick and easy DIY project that looks timeless.
4. Memory ring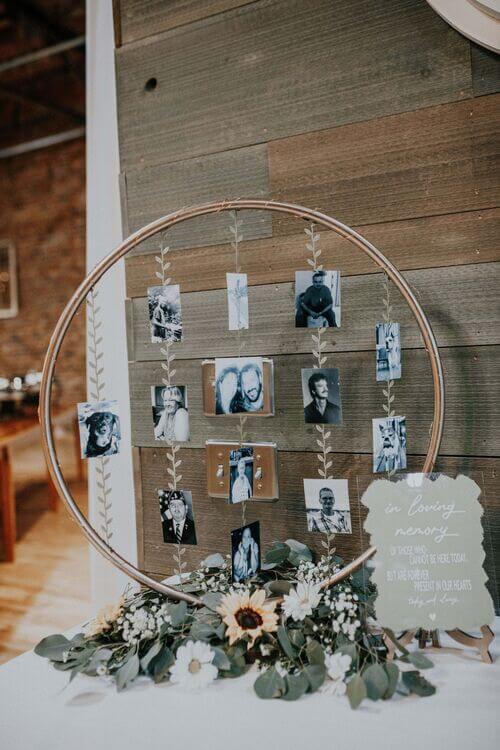 If you're looking for a great way to show off the happy couple on their wedding day then try out this super cute idea.
Create a memory table and use a simple hoop to show engagement pictures or even simple pictures from random trips.
Wrap some string around the hoop and attach pictures with small pegs.
If you want to try something different then you can make this into a wedding picture booth.
Add a Polaroid camera and snap some pictures with your friends and pin them to the hoop.
5. Candles and florals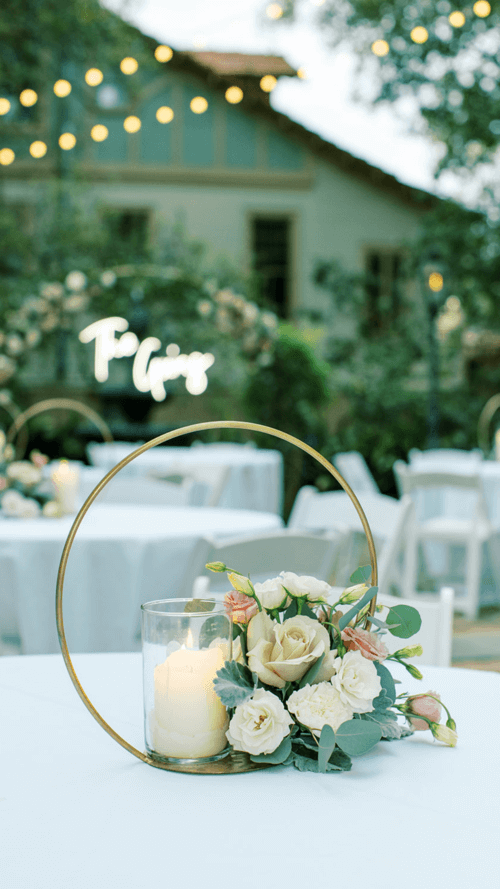 Wedding centerpieces don't have to be huge.
Sometimes smaller pieces work better.
These mini hoops keep things elegant by using small bouquets of your chosen flowers and adding a candle to provide light throughout the night.
It is a budget-friendly idea that allows you to show all the small details of your wedding.
6. Greenery and fairy lights wrapped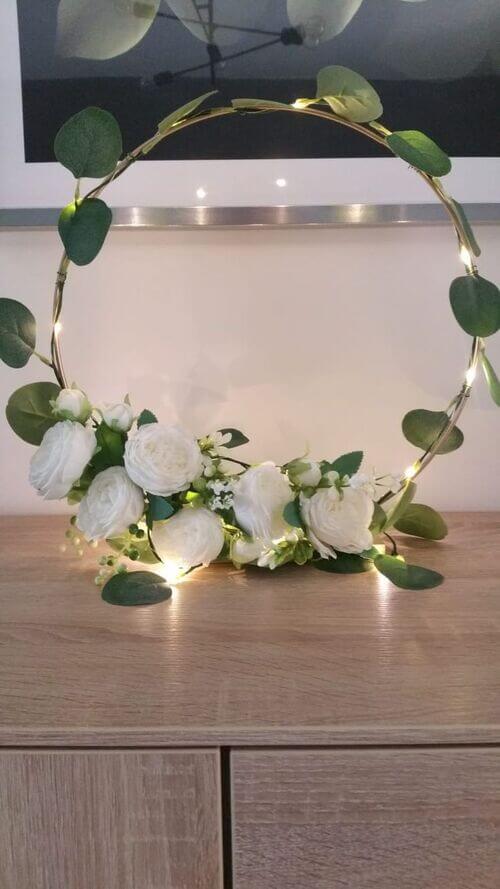 An organic touch would be the perfect addition to a wedding.
Wrap the hoops in greenery, roses, and some fairy lights to achieve this natural look.
Whether you use these as centerpieces on the table or incorporate them throughout the reception for some added lighting.
7. Wooden hexagon centerpieces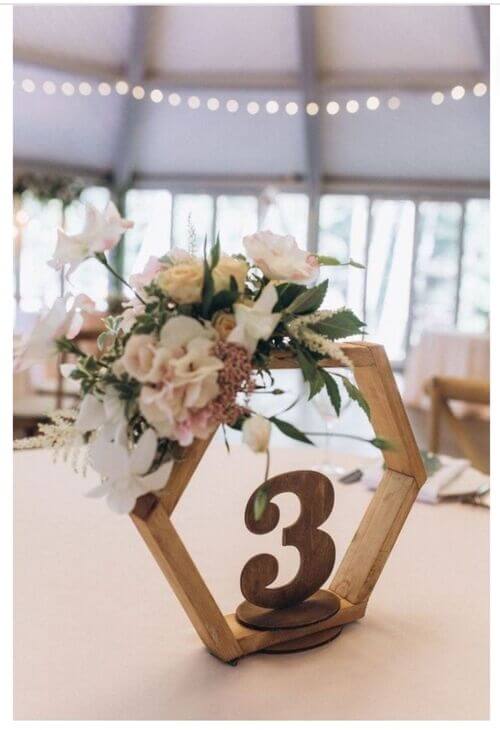 If you want something similar to the hoops but feel like they are just a bit too ordinary then try out these hexagon centerpieces with table numbers.
These wooden centerpieces give you a neutral look and make your flowers stand out from any background.
It gives your pieces a unique touch but stays gorgeous.
8. Wooden hoop table numbers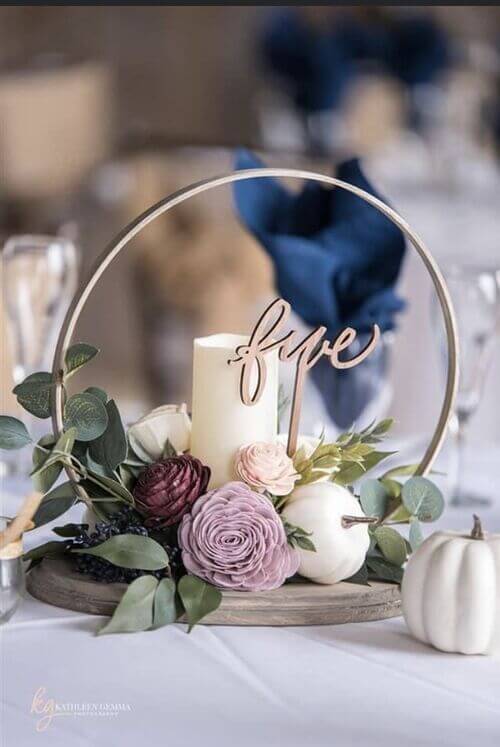 Hoop centerpieces don't have a specific form it needs to take.
These pressed wood hoops incorporate the table numbers and give things a rustic element.
Add them to your table with the flowers of your choice and some candles.
They are beautiful and stick to the natural theme of elegance.
9. Pampas grass and greenery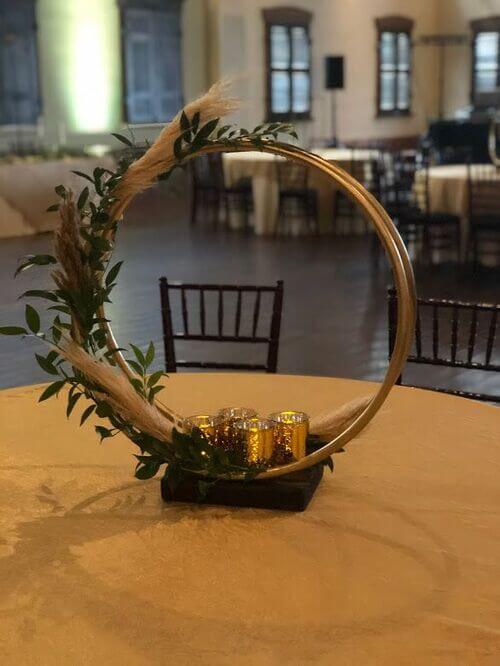 This double hoop idea is simple to DIY.
Grab a wooden block and place the golden hoops onto it.
Add some candles to the wooden block and make use of pampas grass and leaves to wrap around the rings.
Since this idea is very subtle you can bring out a bold touch of color by looking at your accent colors and incorporating them into this idea.
10. Burlap and rose bouquets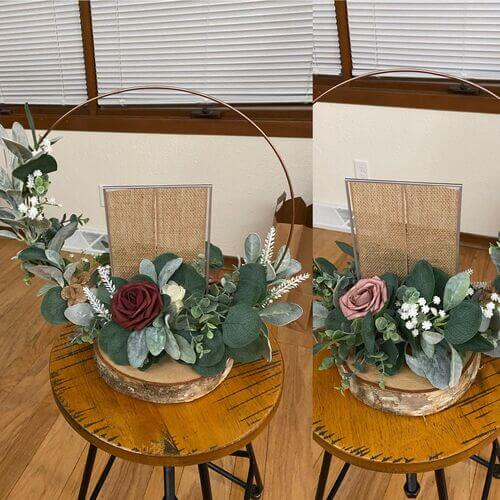 These centerpieces incorporate dark colors and greenery.
You can add a simple burlap piece to show the table number.
This idea is pretty big which means that it can hold enough detail to not need much more to bring color to the table.
11. Wooden boxes filled with flowers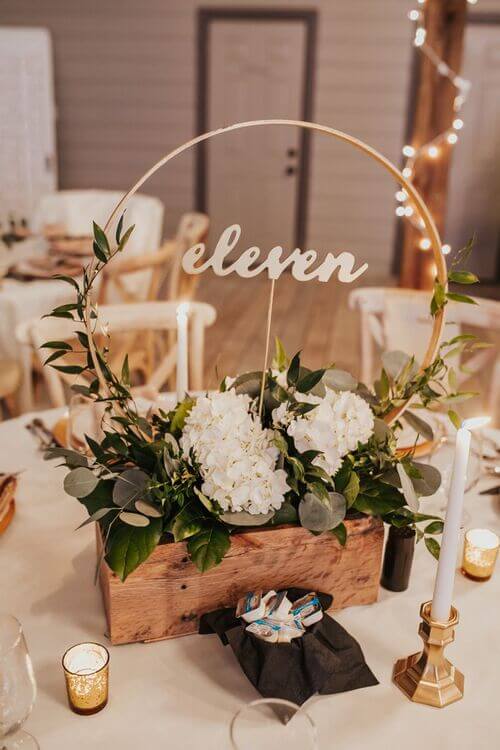 We can all agree that a gorgeous bouquet for the table is more than enough to get people talking.
Make use of the natural colors to compliment each other, and then add some golden accents for candles.
You can add the table number by printing out the numbers you want to add or buying them from a local store.
12. Hanging candles and greenery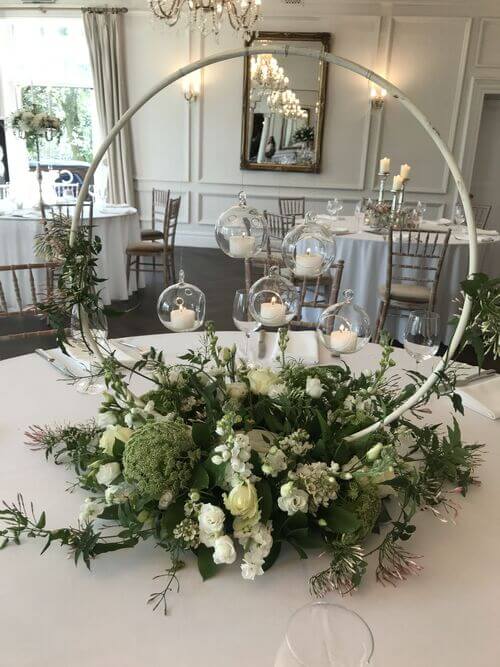 Have you ever thought about using hoola hoops for a DIY project?
Let me change your mind real quick.
You can spray paint these hoops and then incorporate them into a large table centerpiece.
Tie some glass baubles to the hoops and add small candles for a clean aesthetic.
These big centerpieces are a unique way of bringing a personal touch to your wedding.
13. Roses and greenery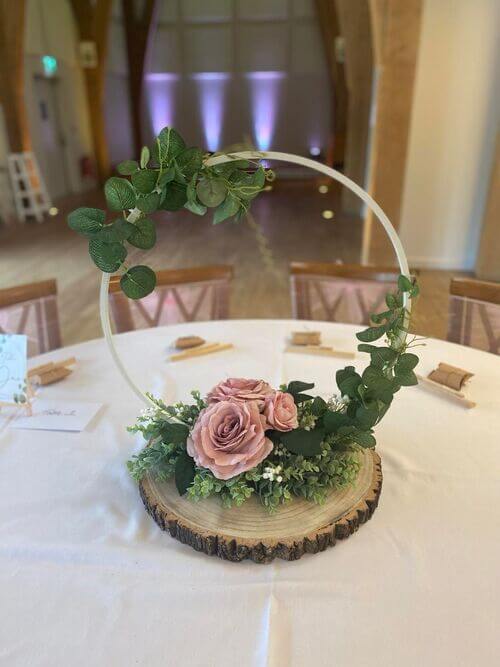 The classic approach is hard to beat.
Take a simple hoop and glue some greenery to it.
Place it on a wooden slice with some roses or whatever flowers you prefer, and use it as a quick and easy centerpiece idea.
14. Gold-painted hoops and blue flowers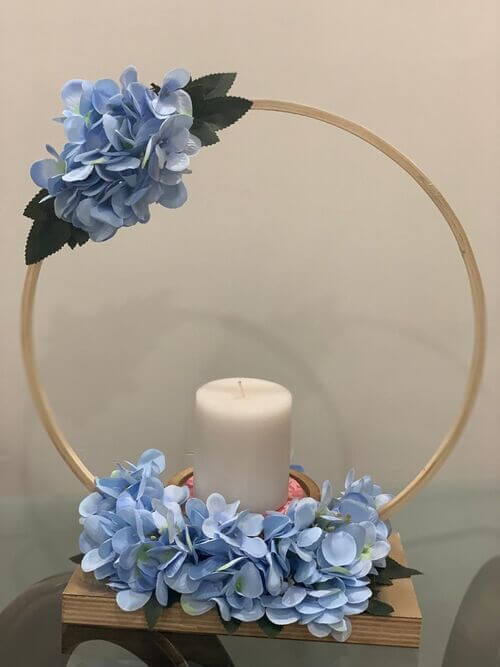 Are you still in need of 'something blue' for your wedding?
Here is the perfect idea to bring that added brightness to your wedding.
Fake hydrangeas would work best for this idea.
You can paint the hoop gold and add a candle or two to the mix as well.
15. Dusty pink and gold centerpieces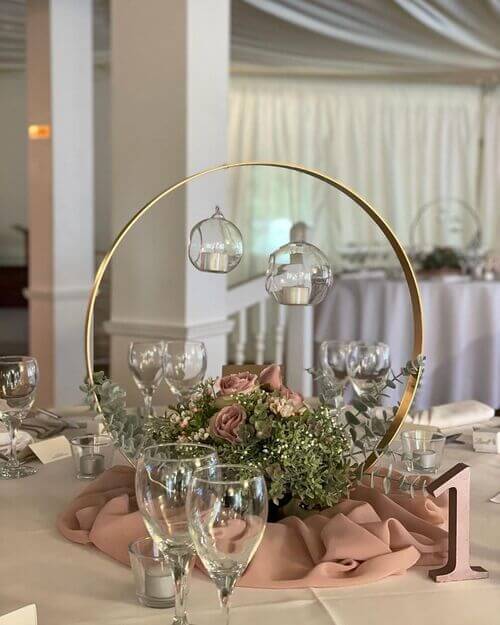 Who can say no to the gorgeous dusty pink roses and baby's breath bouquets?
Add a rose gold table number and golden hoops to balance out the colors of this fabulous centerpiece.
You can also include glass baubles filled with candles to warm up the space.
16. Rustic centerpieces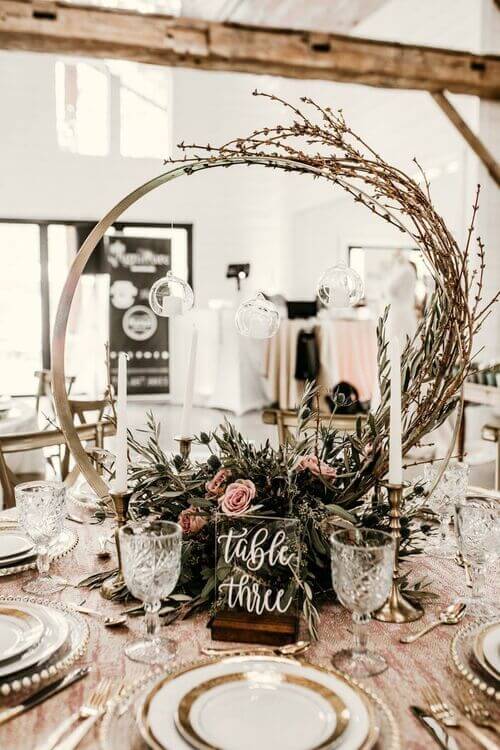 If you are looking for a rough and rustic approach then you will love this idea!
Ditch the bright colors for moody and dark aesthetics.
Use twigs and twine around the hoop instead of greenery and dusty pink roses instead of simple white.
You can add gold accents and acrylic table numbers to give it a classy look.
17. Pampas grass and baby's breath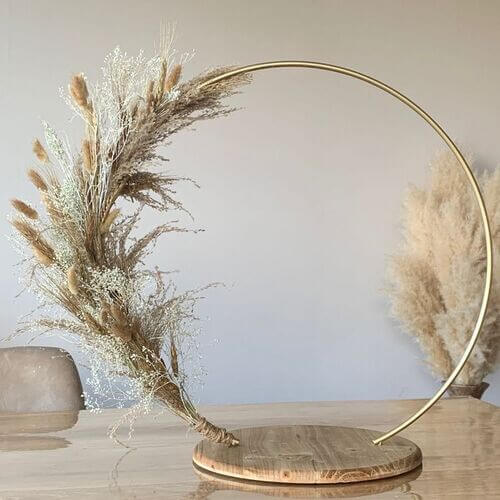 This idea is for all my minimalists.
By making use of baby's breath and pampas grass you can create this subtle centerpiece.
Simply tie it to the base of the hoop and wrap it around to bring a bushy and natural look to this idea.
18. Double hoop centerpieces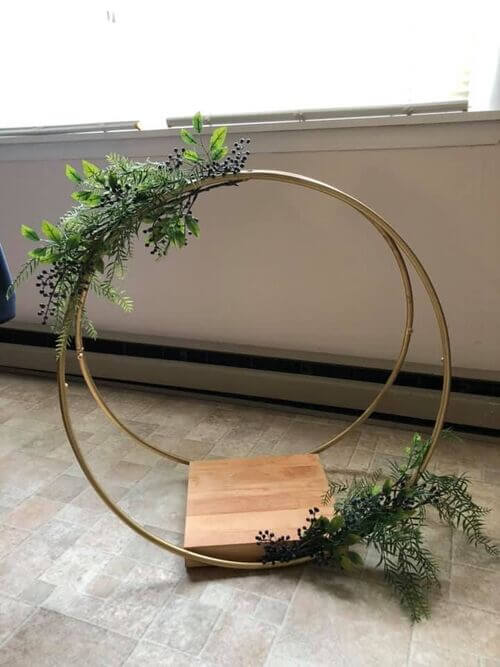 Here is an easy double-hoop idea for your tables.
It has enough space to add a table number, candles, or decor pieces in the middle.
Bring some floral touches to the base and the top of the hoop to bring in some depth.
19. Fairy light hoop background pieces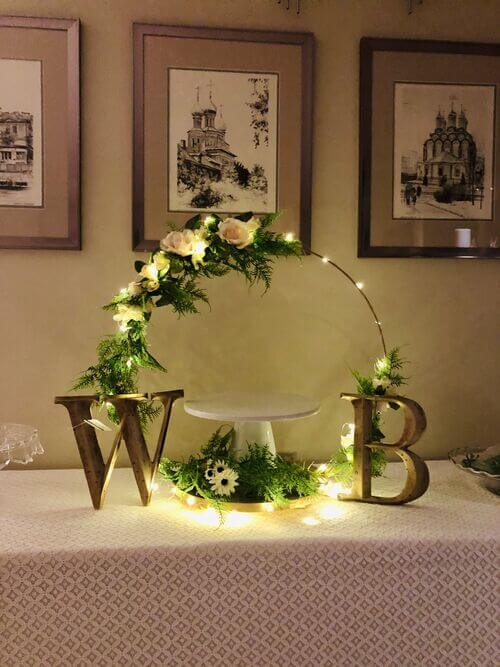 You don't need to use these ideas as centerpieces.
They work perfectly well as background pieces around your reception too!
This idea allows you to bring the cake out as the main piece.
Fairy lights can bring an air of brightness and warmth to the table.
Don't forget to add those golden letters and flowers for added decor.
20. Cake corner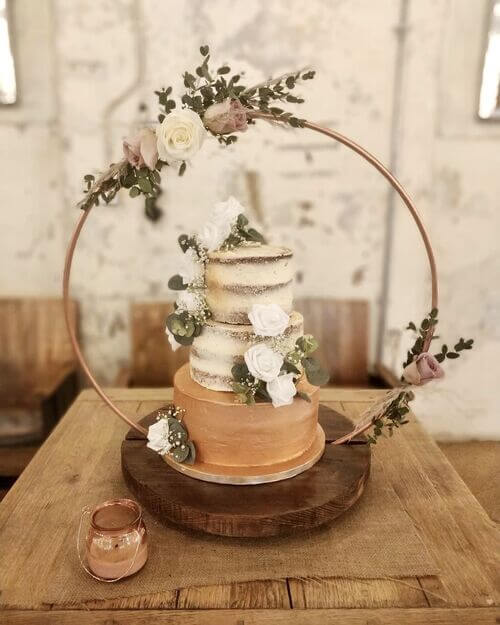 Use the hoop centerpiece as a cake platform for your wedding.
This naked cake idea fits perfectly with the simple hoop idea because it doesn't add too much decor.
It keeps things simple and rustic.
21. Dark red, pink, and white centerpieces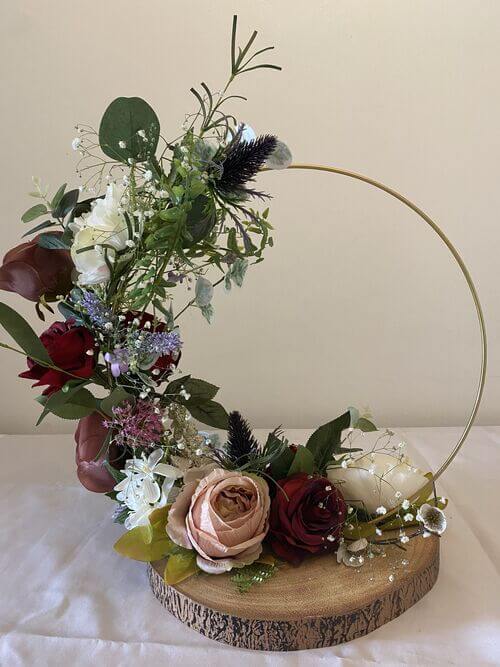 If you want a way to balance out the assortment of colors that you've incorporated into your wedding theme then look no further.
This golden hoop is the perfect way to balance out the red, pink, and white roses without being over the top.
22. Twine-wrapped hoops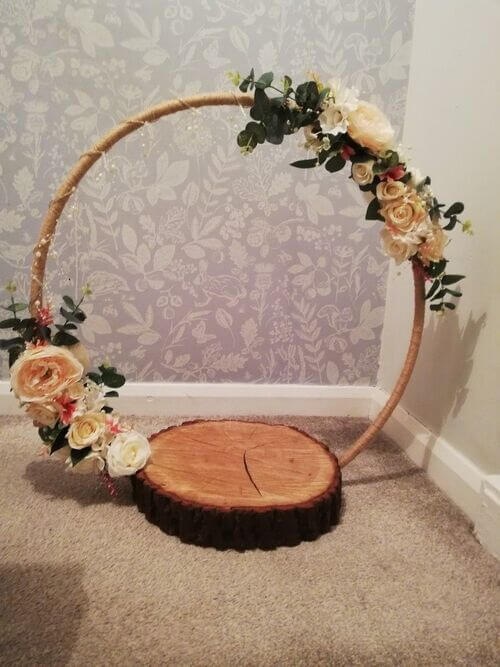 If the gold hoops aren't your thing then this is a unique approach that you can try.
Wrap the hoops in twine and glue roses and greenery to them for some added dimension.
This makes it look more rustic and will fit perfectly into a barn wedding or rustic wedding.
Bring your centerpieces to life
As you can see from the list above there is no idea left untouched for these floral hoop centerpieces.
Whether you want a sleek and elegant look by combining gold with the warm atmospheric touch of candles or a dark and rustic look using twine and blood-red roses is up to you.

These DIY ideas are here to guide you into making the centerpieces of your dreams come true, no matter the size or color.
Do you see any specific ideas that you just know are meant for you?
We all can admire these fun ideas, especially when they're paired with wood slices or greenery to bring in that natural touch.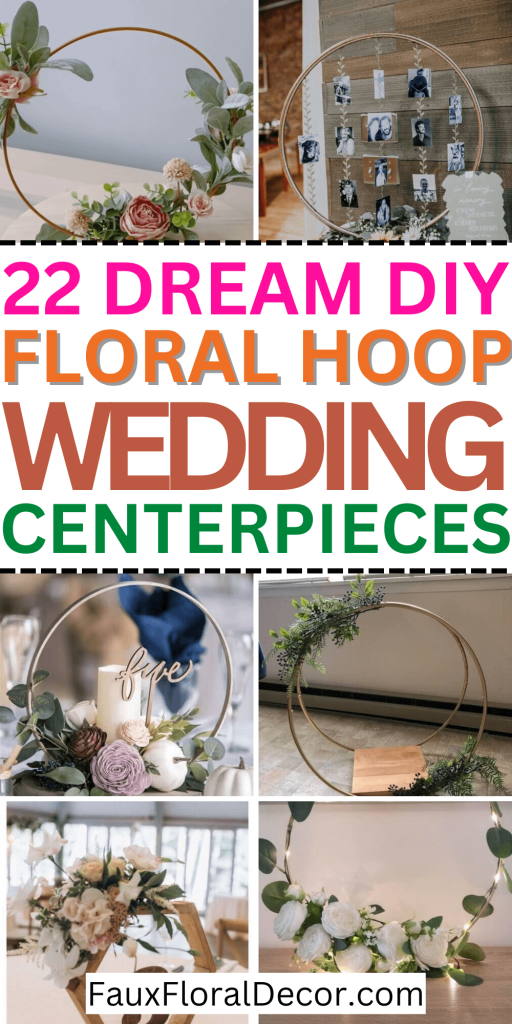 This post showed you the best floral hoop centerpiece ideas.
You may also like: