Bridal showers were a tradition that helped brides to settle into their new marriage.
Guests usually get together and bring gifts for the bride to use.
Whether it's a funny gift for the blushing bride. Or a useful tool to use around the house is up to you.
Bridal shower ideas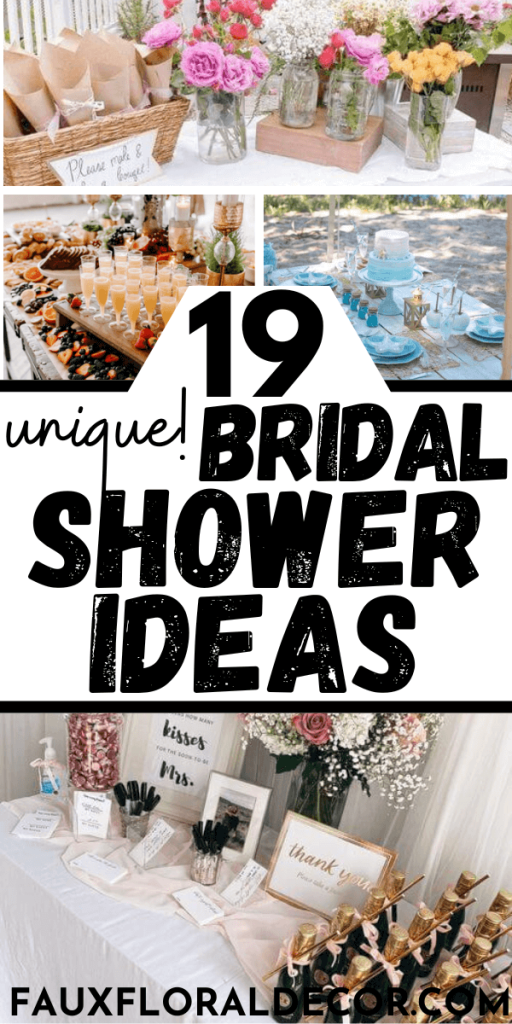 When did bridal showers start?
Bridal showers date back to the early 16th century.
We still make use of this tradition today.
Guests come to celebrate the bride and offer her gifts to start her new life.
Theme ideas
Creating a theme for your bridal shower can amplify the excitement around it.
Whether you want to keep it subtle or go full out here are some ideas for you to try out.
1. Glitz and glam
Need an excuse to get all glammed up? Break out the fancy champagne and pull on your glittering dresses.
If you plan to go all out, this is the perfect theme for the blushing bride.
You can host this from home and bring some fancy food to go with it.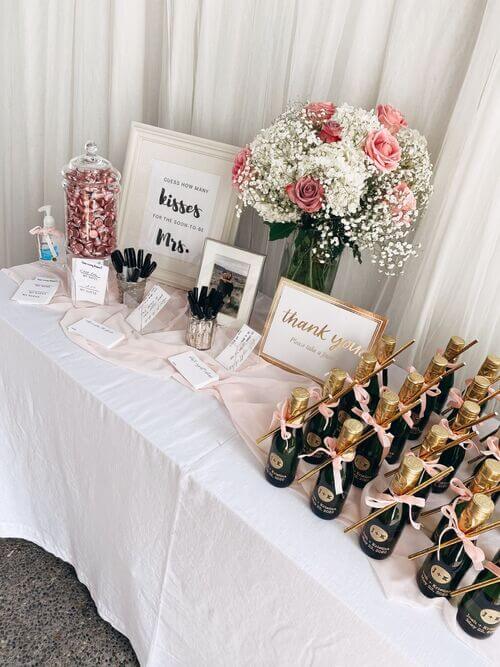 2. French tea party
If you want to have a different approach to the traditional tea party, you can always use french macarons, cupcakes, champagne, and fruity teas.
People love having tea parties as bridal shower parties because it's not as loud or too bold.
It stays a simple gathering of friends just hanging out while having a good time celebrating your upcoming marriage.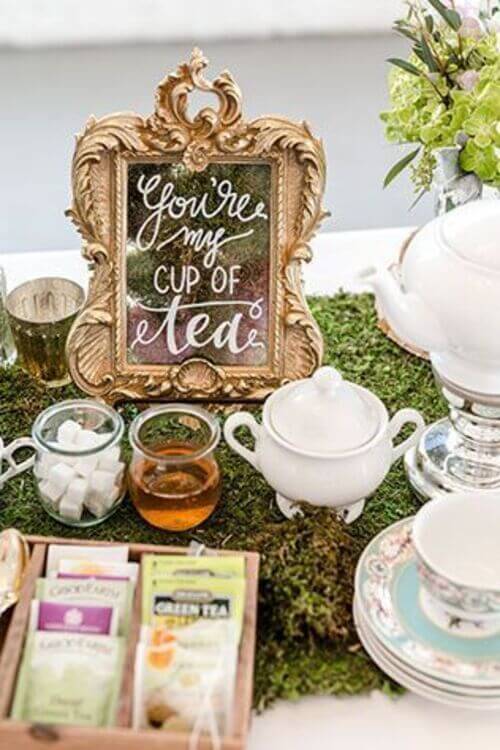 3. Gatsby
Grab your flapper dresses and pull out the martinis.
Gatsby parties are fun and allow you to have a blast from the past.
Grab your friends and host a Gatsby bridal party fueled by the 1920s.
The theme fits in with any colors and creates a dazzling atmosphere for everyone to enjoy.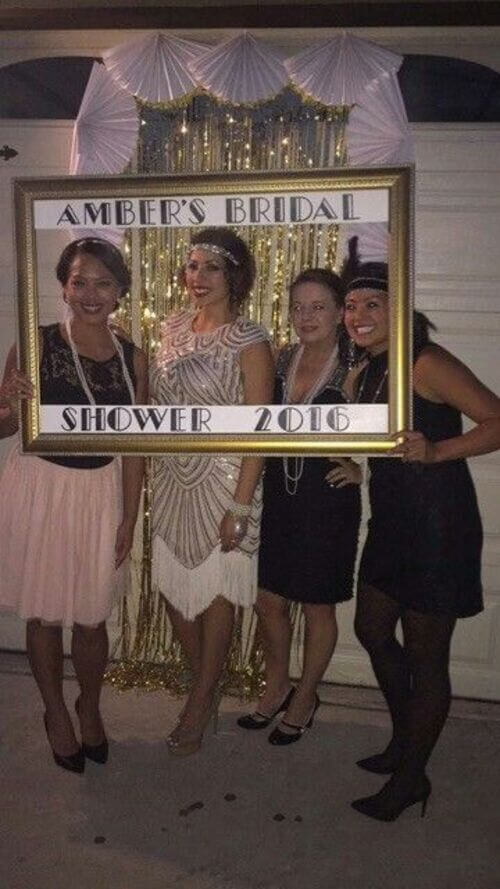 4. Beach bliss
Take the bridal shower from home to the beach.
You don't have to stay traditional by staying home.
Get out and about by making it a beach day.
Grab your towels, some ice cream, fruits, and wine, and enjoy a day in the sun.
We know everyone can appreciate a day away from the stress of life.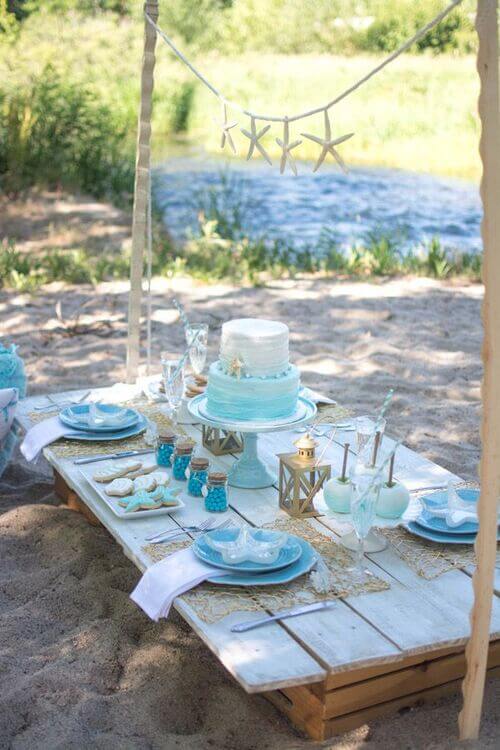 5. Spa day galore
Take a break from your busy schedule and bring your bridal shower to the spa.
Who doesn't love a good mud mask and full body massage?
When you pair that would great friends and amazing gifts for the bride to enjoy for her new marriage life to come, it just screams bliss.
Or, if you want the relaxation of a good spa day without going out, you can always create an at-home spa.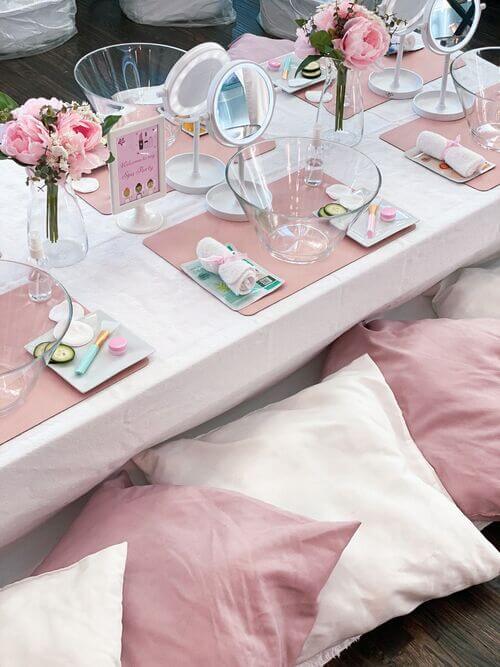 Decor for the bridal shower
Finding the right decor can be overwhelming.
Especially if you need to make sure that the decor fits into a certain theme, but it doesn't have to be.
Here are a few decor ideas for you to make use of.
6. Balloon boxes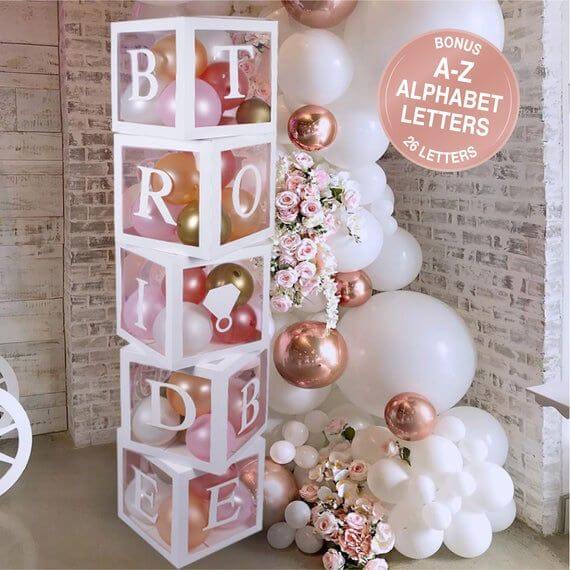 A cute and simple decor piece that speaks volumes.
Create your own boxes by adding balloons that fit your color scheme or even placing fairy lights between them.
This idea is fun and serves as a great prop for all your bridal shower pictures.
7. Bridal shower backdrop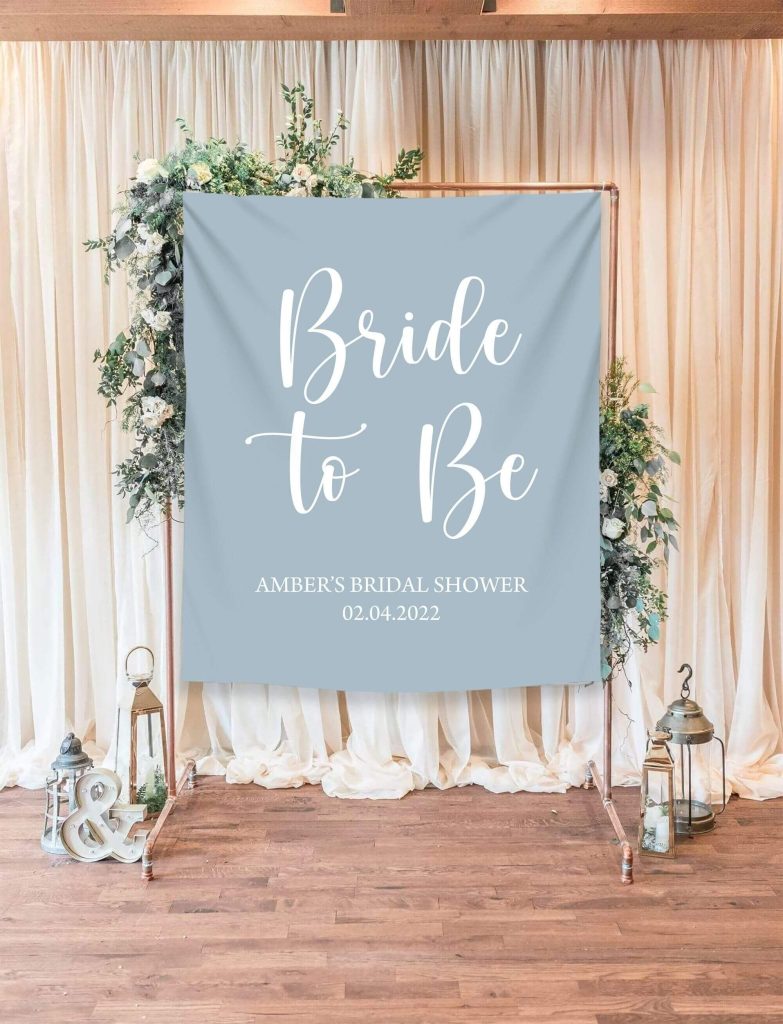 Get one of these if you're looking for a simple design to create the perfect backdrop for all your pictures.
It's simple and shows just what it needs to. You can even add some flowers to fill up open spaces.
8. Pampas grass centerpieces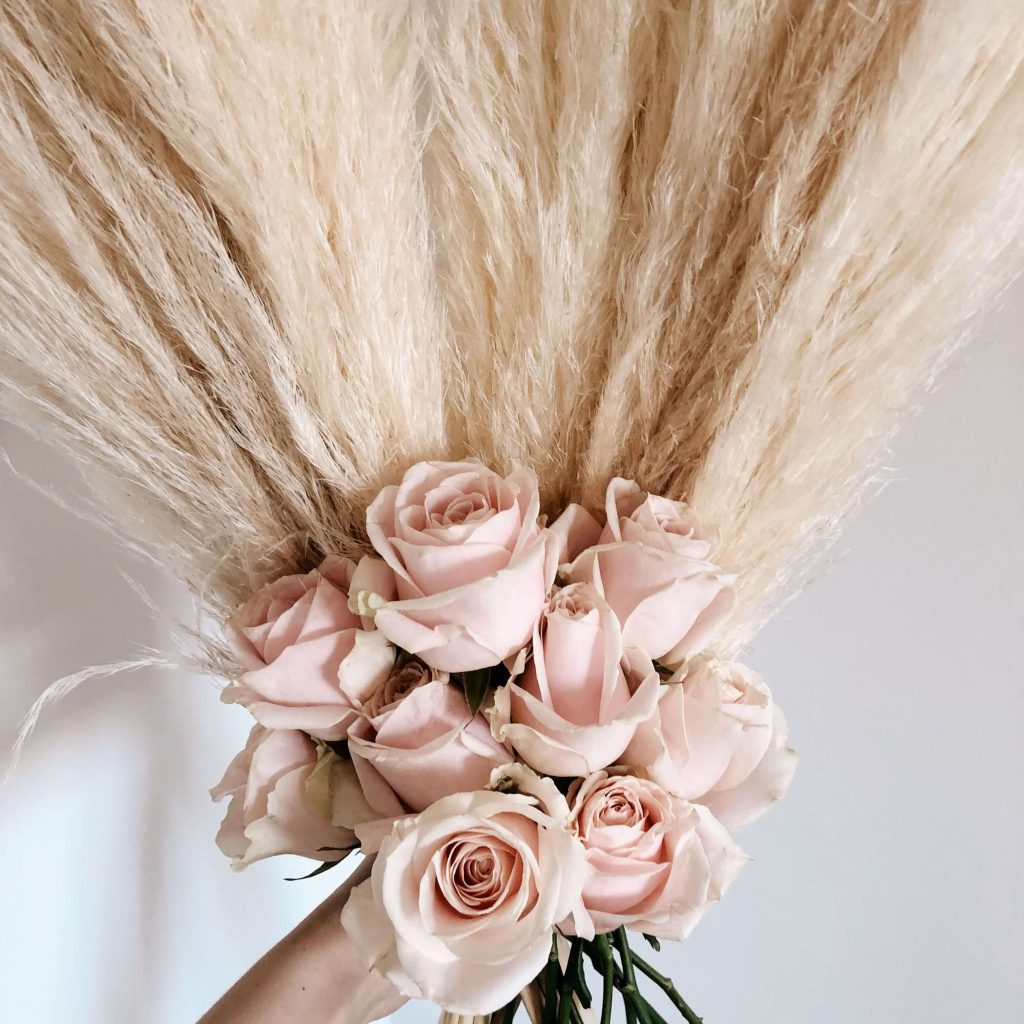 Pampas grass and roses serve as the perfect centerpieces.
The bright grass gives a soft touch to the dusty pink of roses.
They tie in well together, and people will love how the flowers create a cohesive look together.
9. Handmade soap bridal shower favors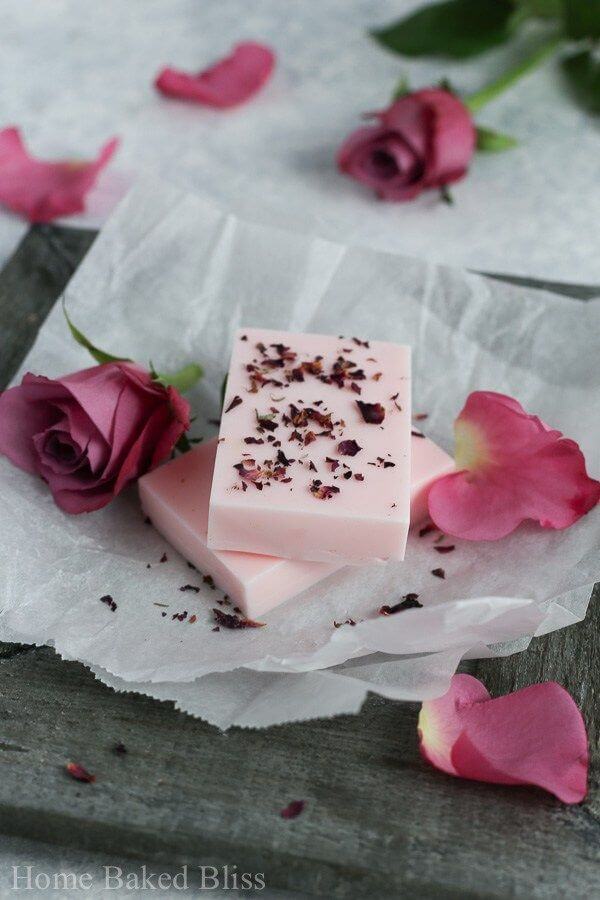 Switch up the tradition by creating a gift for every guest.
We know the whole point of the celebration is to give the bride some gifts, but switching it up and giving everyone else a small favor, for example, handmade soaps, can make a difference.
Related: 19 Best High-End Wedding Favors That Your Guests Will Obsess Over
10. Bride to be board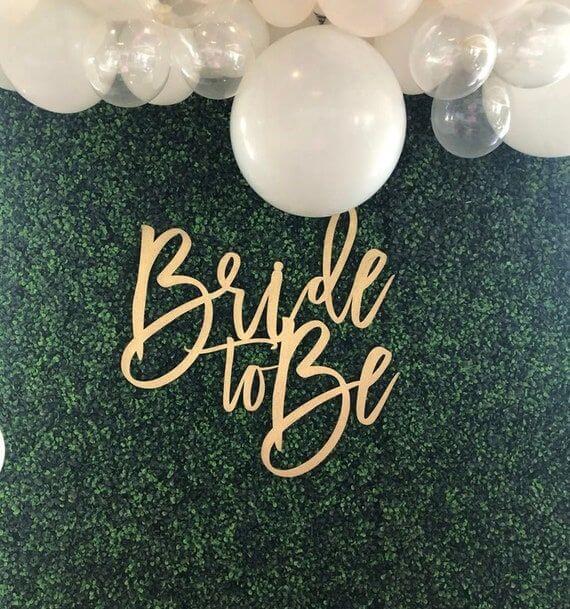 Don't worry about finding the perfect backdrop.
You'll still have the same effect if you have a "Bride to Be" sign anywhere near the setup.
These boards are budget-friendly and cute.
Made with a simple design that can fit any theme so you can reuse them for another friend in the future.
Fun bridal shower activities
What good is a bridal shower without the fun activities that go with it?
11. Guess the dress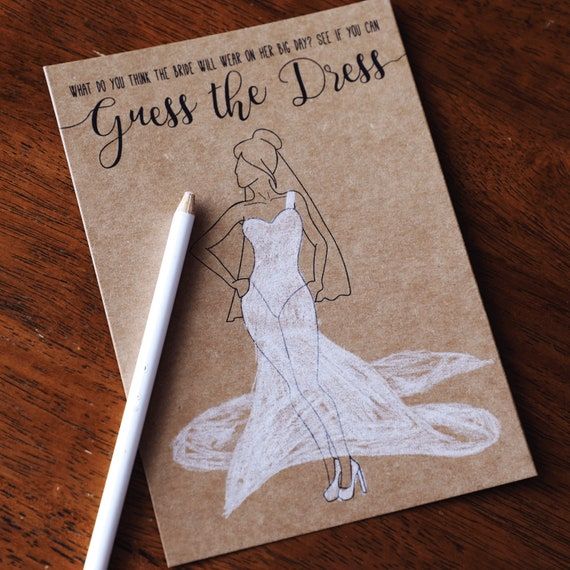 If your guests don't know about your dress choices, then you can find a way to incorporate this into the day.
Everyone gets a card and can guess what your wedding dress will look like.
It allows your guests to be creative and see what people think your style is.
12. Wedding ring toss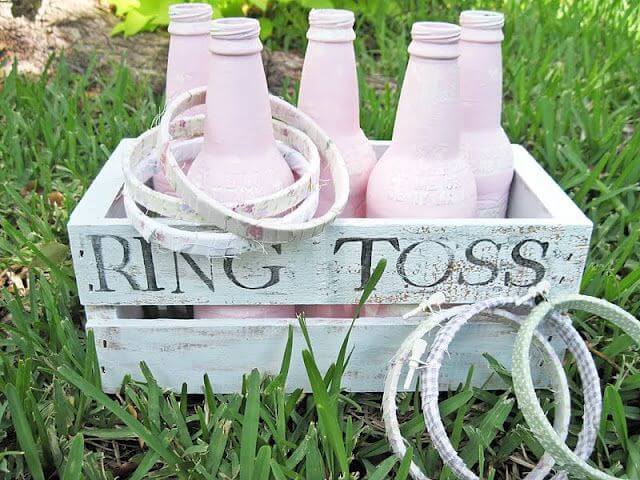 Grab some old wine bottles and paint them white or pink.
You can then grab some hoops and incorporate ring toss into the festivities.
Since this is fully customizable, you can create the bottles to fit your theme perfectly.
13. Romantic movie quote challenge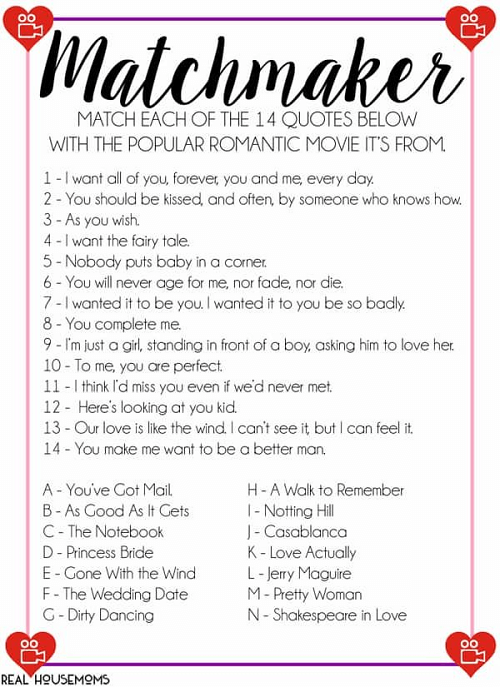 See who is the rom-com expert in your group.
You can print these cards and get everyone to fill them out.
The person with the most correct guesses can then win a prize.
This game will test your knowledge and might even show you what movie you need to rewatch to refresh your memory.
14. 'Never have I ever' girls edition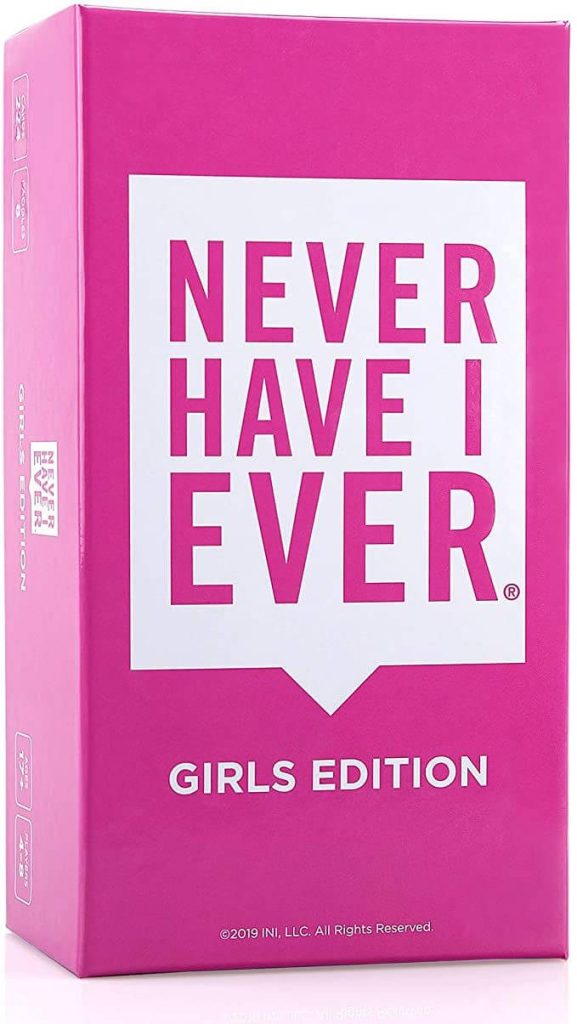 No one can say no to a game of 'never have I ever.'
It's perfect for everyone o take part in and to swap stories of good times and bad.
It offers you the opportunity to bond while having fun. It also doubles as an icebreaker for guests.
15. Who said it (bride and groom edition)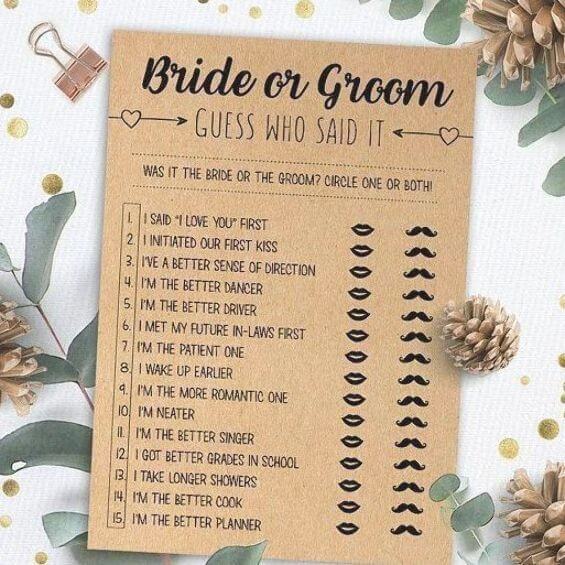 Another fun game to include is "Who said it first?"
The game includes a bunch of things that the bride and groom have said, and the guests have the opportunity to guess who said it.
It's fun and a unique way to get to know the bride and groom.
Keep it light and fun for everyone, or add some funny moments and guess who it happened to.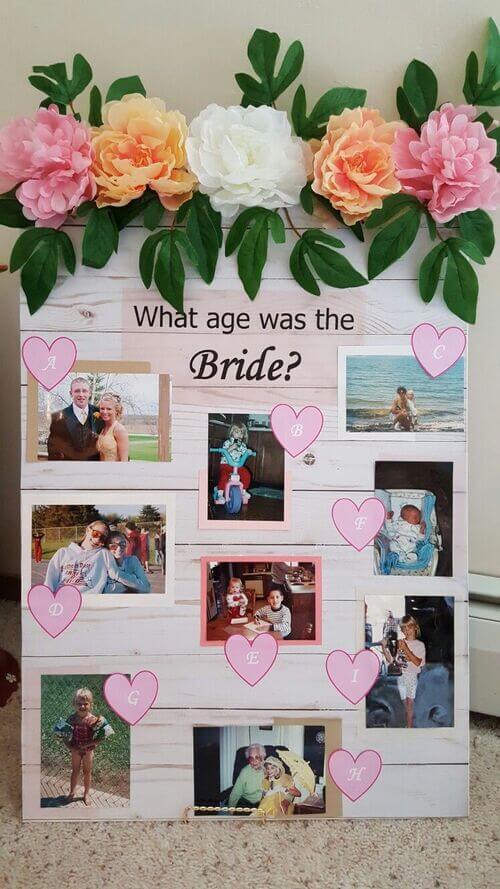 At-home bridal showers
If you have been thinking about creating an at-home bridal shower, I have some tips for you.
Finding the perfect bridal shower idea at home can feel overwhelming, so here are some things to remember while planning.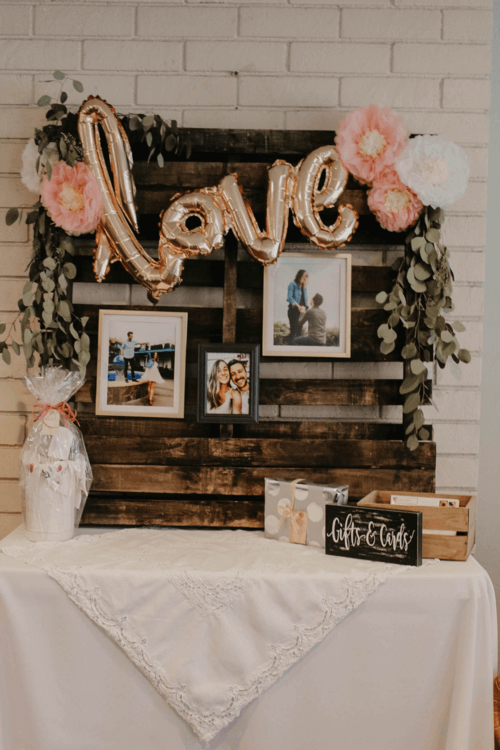 16. Stick to what you have
Don't buy expensive decor for the day.
It would be a waste to buy something you'll only use once and then sit in the garage gathering dust.
Stick to what you have in your home.
Use flowers, candles, fairy lights, and mason jars to create the perfect atmosphere for your bridal shower.
17. Use flowers to build the 'wow' factor
You can do a lot with less.
Keep the decor to a minimum and spend more on flowers.
People will appreciate the unique bouquets of color, and you can always save them for potpourri in the future, making them multi-functional.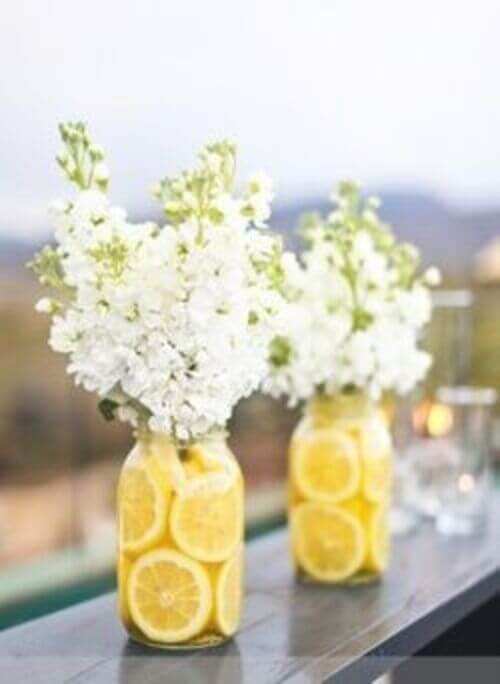 18. Personalize table settings
Just because you're keeping the party to a minimum or at home doesn't mean you can't make it fun.
Give every guest a place setting and add some personalized goodies that you know they'd enjoy.
The best part about the shower is when people get together and have fun, so create a memorable day that your friends will enjoy for years.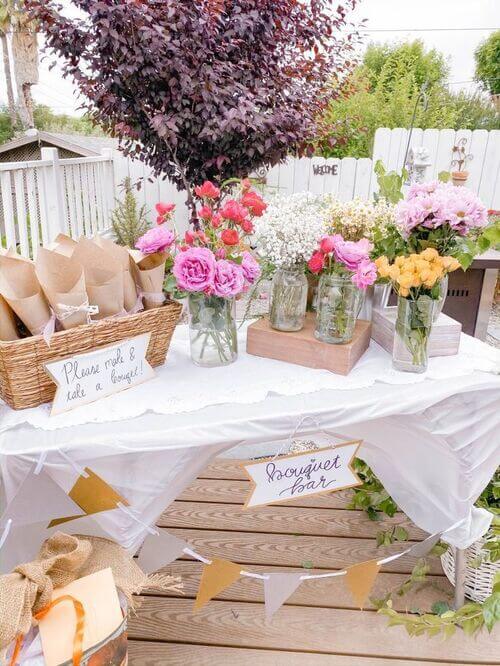 19. Snack boards and fun drinks
Staying within the budget for drinks and food can be a little stressful; that's why we highly recommend trying out snack boards and personalized drinks.
Allow your friends to bring boards with different sweet, sour, and salty snacks, and let them bring their favorite drinks.
People can mix and match throughout the day.
You won't feel bad about wasting money, because everyone will bring something that all the guests can enjoy.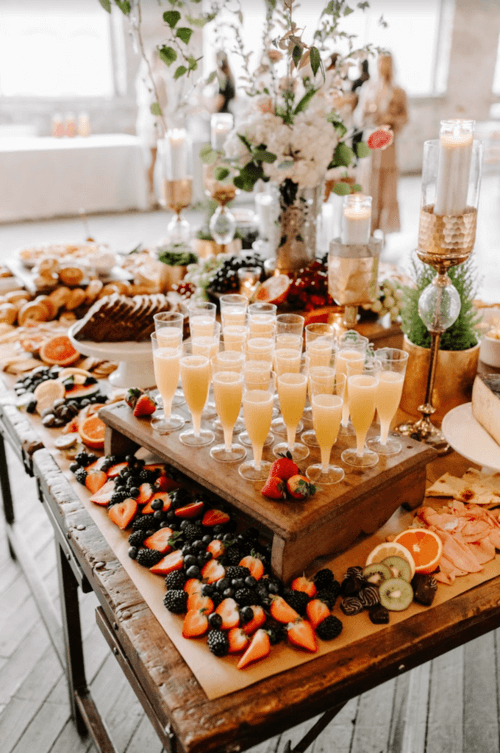 Backyard bridal showers
A backyard bridal shower can be a fun-filled day right in the comfort of your garden.
I have compiled a checklist for you to plan the best backyard bridal shower.
Use the most leveled piece of ground.
Avoid hot days or just the hottest time of day.
Keep bug spray close by.
Add a welcome sign.
Use flowers for decor.
Have a grazing table or buffet.
Add a designated spot for gifts.
Ensure you have a backup spot inside the house if the weather changes.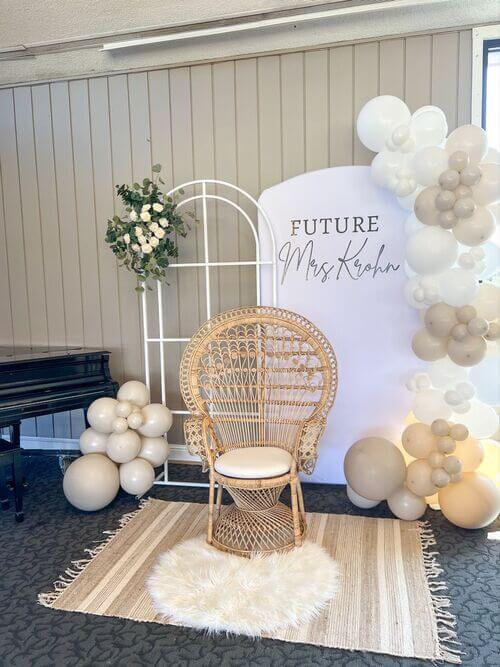 The importance of bridal showers
They are a tradition that you can't go without.
As stated above, it's clear to see that this amazing celebration comes in all shapes and sizes.
Whether you keep it in your backyard, at the beach, or book a place to spoil the bride, you can't go without it.
Do you have any ideas in mind? Did these ideas spark those creative juices?
Use the lists above to create the perfect bridal shower for the bride!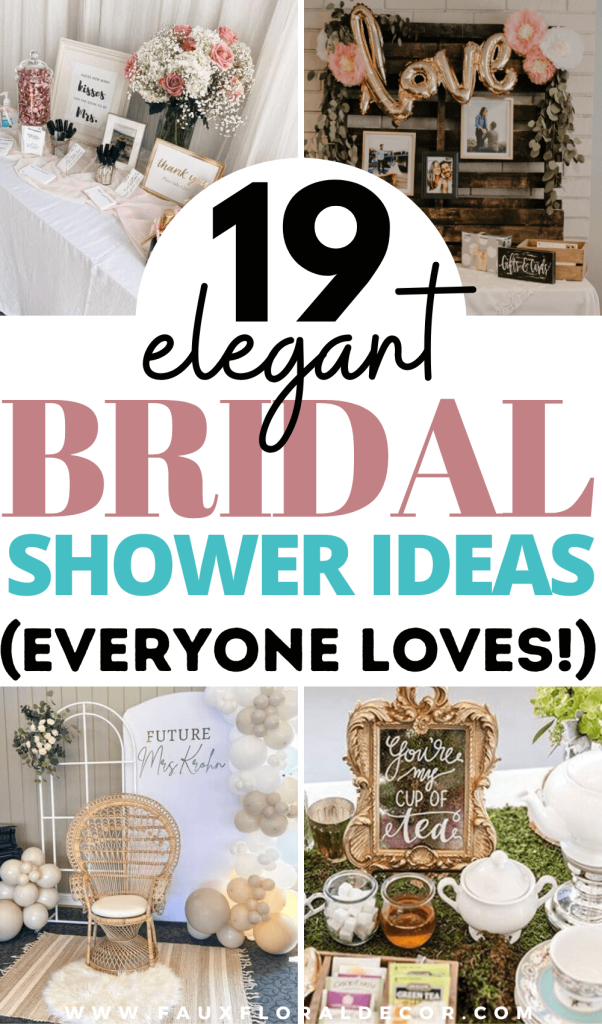 This post showed you the best bridal shower ideas.
You may also like: