Hey Team Bride, are you planning a classy bachelorette party and not getting enough inspiration?
To be honest, not all of us have a super rich mommy like Araminta's to fly us away to her Sumatran resort for a destination party.
And having a Genovian queen grandma to let us have her palace for a plush sleepover bachelorette party is a distant dream too.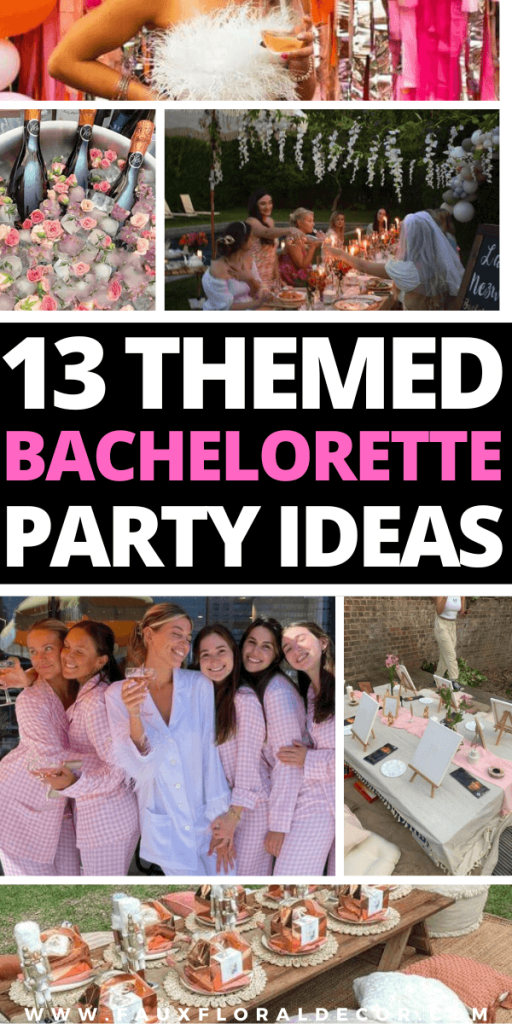 That said, we don't think you are here if you are easily satisfied with a regular cocktail party and some dancing.
You really want to send off your girl with some flash and flair, and make her bachelorette party a night to remember.
So, worry not! We have done all the virtual leg work to collate some classy bachelorette party ideas that will blow your mind (not your bank account).

Sit back and relax. Pop the bottle and get ready to make this bachelorette party one for the books.

But first thing first – whether you are organizing an outrageous glitzy gala like Crazy Rich Asians or planning a playful and fun sleepover with slides and mattresses like Princess Diary 2: Royal Engagement, any bachelorette party should be tailored around the bride!

That said, let us dive straight in.
List of ideas for a classy bachelorette party
1. Romance the season
When it comes to popular bachelorette party seasons, it is mostly spring and summer.
The color burst of spring or the pastel shades of summer, visually stunning party decor can be crafted from seasonal inspirations.
Turn heads with a 'beach-please' summer-themed party, complete with retro-style swimsuits, oversized shades, colorful beach umbrellas, tropical cocktails, and a food truck dishing out some delectable seafood to keep the summer-theme sizzling.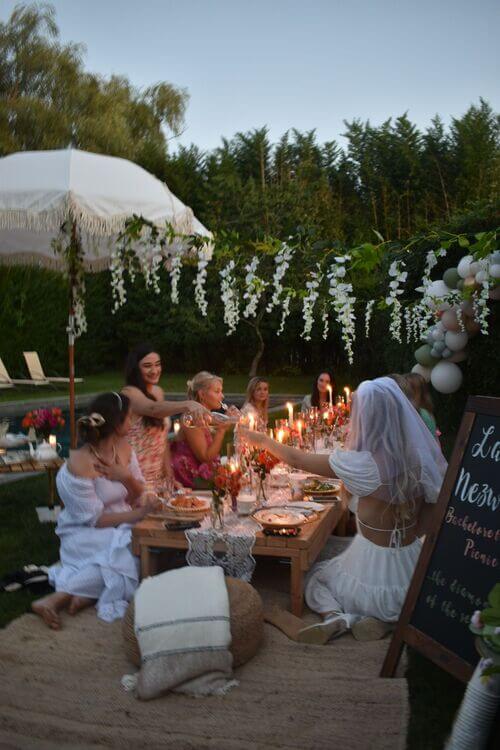 2. Pop a time capsule
Romancing a bygone era ranks highest on the out-of-the-box bachelorette party ideas.
Whether you plan a Regency Era High Tea in an English garden or a roaring 20's Gatsby style extravaganza with a flapper dress and feather headdress, you cannot help but glamorize any party gathering.
Invest in crafting the period details of the time with care. While floral china and delicate scones will add elegance to the tea-party, professional swing dancers can teach a step or two for a fun-filled dance face-off in the Gatsby style!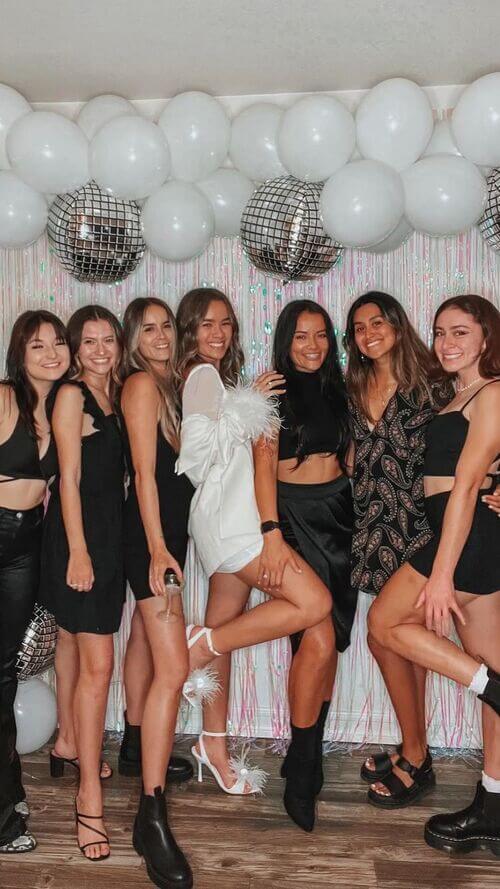 3. Travel free
If your purse string is not allowing you to foreign travels, create a cozy capsule of the same in the city that you live in.
Venture eastbound as you throw a graceful yet understated Japanese Tea Ceremony party, or plan an evening in Paris with a shimmering Eiffel Tower cut-out where you handout berets as party favors.
For great bachelorette party game ideas, get an expert to organize an Ikebana or a Japanese flower arrangement class or bake some delicious French macaroons.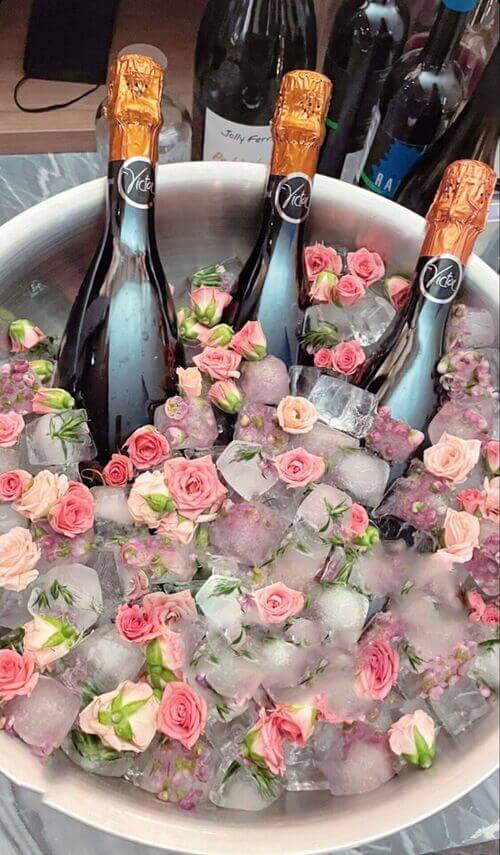 4. Color me
In the build-up to the wedding and all related madness, we all need color therapy to calm down and re-energize. Also, #colorparty was a raging trend on Tiktok not that long ago.
So, join the world as you party in pink, hold a blue bash, or plan a soiree in silver. Do an adult version of Barbie with pink coloring everything from dresses to decors.
Get a pink convertible to whisk in the bride, and have the iconic Mattle box-style photo booth for that ultimate photo op. You can also organize a special message from Ken-of-her-dreams (her fiancé, duh!).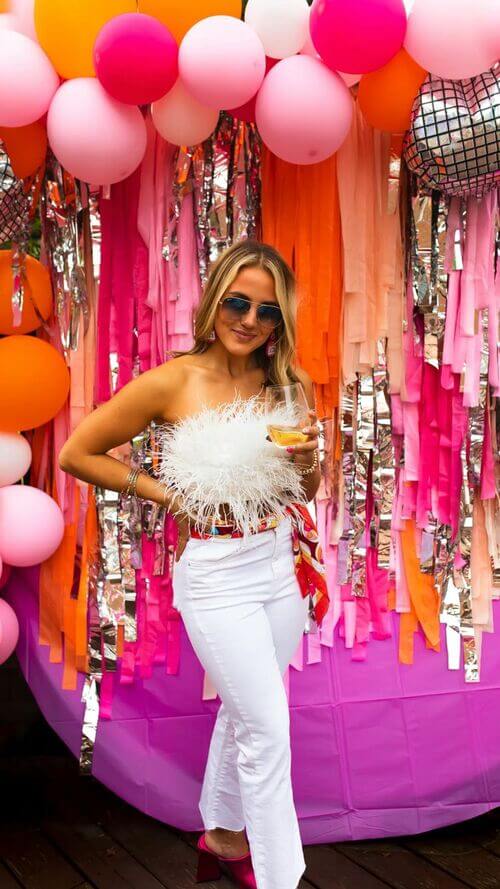 5. The Backyard Brouhaha
If you have a backyard to party, it doesn't mean you cannot be imaginative.
Visualize the space as a festival venue like a film or a food festival for an at-home bachelorette party.
Ask your friends to pick films or bring a dish from their culture or childhood.
Decorate the space with colorful food carts or prop up a movie screen. Put up streamers and flags. From cutlery to waste disposal, keep everything eco-friendly.
Add a special space for a beer garden and punch in a beer festival.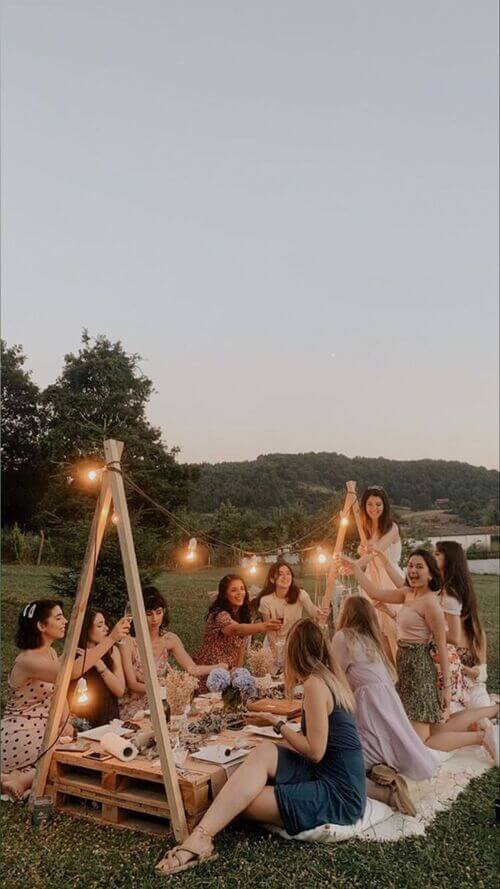 6. Basic is Back
Not all of us have a personal style to boast of, or we are comfier following the mainstream to venture otherwise.
If your bride matches this brief, she is loud and clear, a basic b*****. Surprise her with an 'all back to basic' theme where you celebrate her unoriginality by rounding up all the 'gram trendy activities like coffee from Starbucks, cute selfie stands, Forever 21 clothes, and shoes from Vans.
Deck up the space with sidewalk chalkboard announcements with bubble letters and have yogurt cups as calorie-conscious desserts.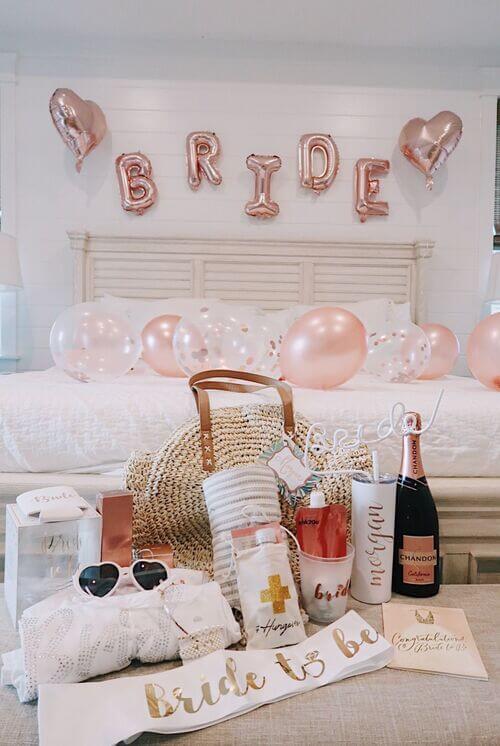 7. The Number Game
For bachelorette party ideas for a small group, we suggest you make the number the center of your theme.
If you are seven, why not embark on a sinful sojourn with seven deadly sins where you let your gang dress up each as one from the Seven Deadly Sins.
Of course, you can make it seven colors of rainbows or five elements of nature if you are five in number. Be as simple or as wildly creative as you want to be.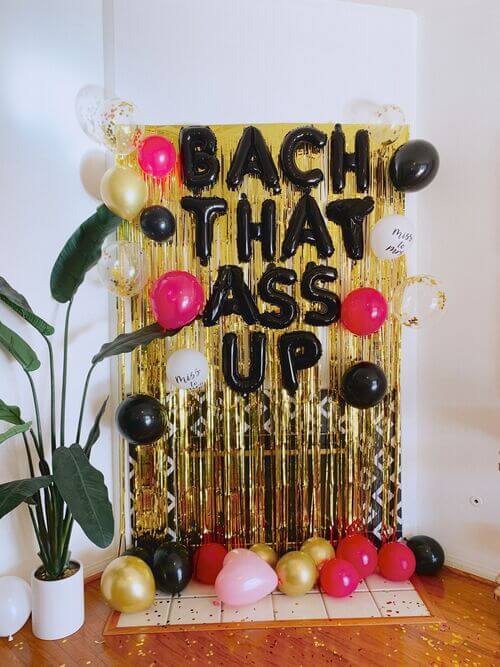 8. Going Wild
If you are looking for bachelorette party destinations with a theme that will give the trip a twist, pick a bold one like Savannah Sunset in Kenya or a glamour camping in the desert of Morocco?
Pack in plenty of adventure as you spend the day doing safari and animal-spotting in Africa, or live like a Bedouin from Arabic fairytales in the Sahara.
To relax and rejuvenate, do a spa day overlooking Kilimanjaro or feast on local fares at authentic Moroccan souks.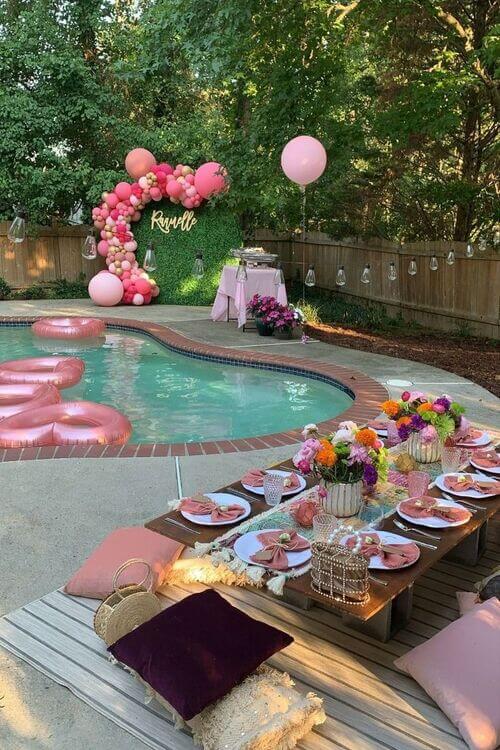 9. Hobby Specials
Nothing pleases a bride more than when her friends design a party around her interests and hobbies.
If she is a film fan, throw her bridal shower in a vintage film studio with time-appropriate equipment and props.
Have the food planned around dishes liked by famous stars. Or if she is an automobile fan, a luxury car-themed party at an automobile museum sounds fantastic.
Does she love murder mysteries? Why not concoct a Whodunnit and have everyone dressed up like their favorite literary detectives and solve away a mystery with clues and cocktails?
These unique bachelorette party themes will surely impress the upcoming bride.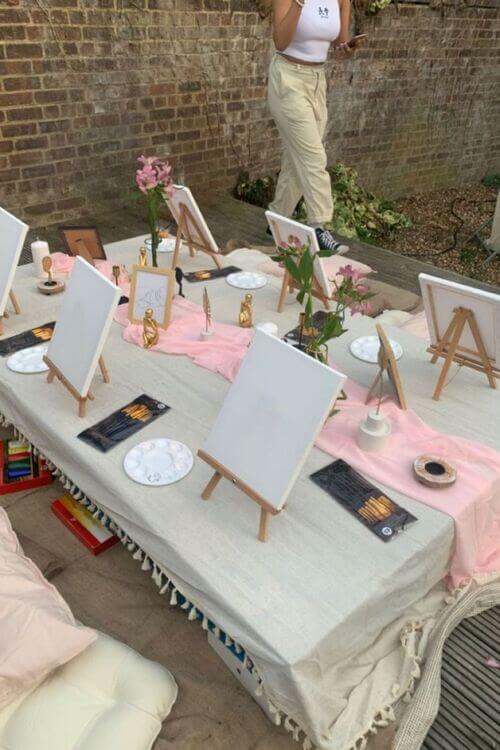 10. Cosmic Conspiracy
Create a special night for the bride-to-be by dazzling her with a generous sprinkling of stars.
Do a photo booth with a giant 3D moon orb, and hang fairy lights to create a starry night backdrop.
Ask your besties to drop in their zodiac sign-inspired costumes and sip some cosmic cocktails. Feeling naughty? Invite a crystal gazer to read out the bride's wedding luck (of course, with plenty of humor thrown in).
Finish off the night with a spot of stargazing, or take a trip to the local planetarium to capture the nostalgia of childhood.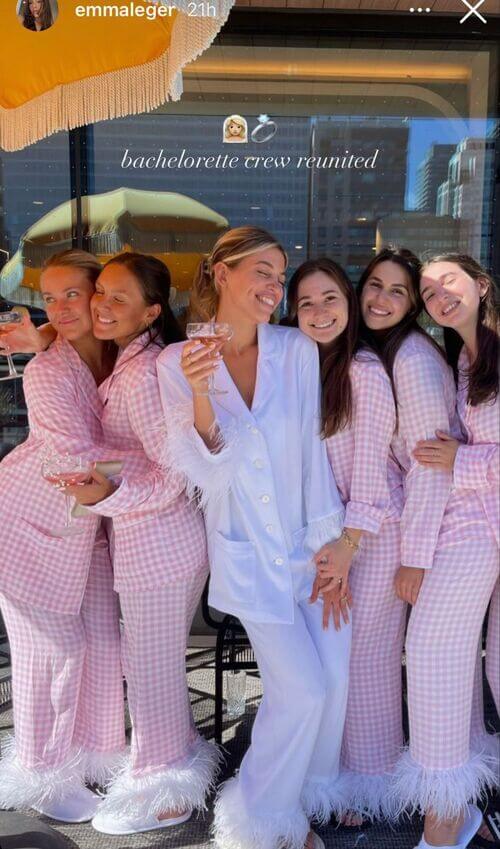 11. Make A Music Video Party
Glam it up to give your gal a celebrity feel! Cruise around the city in a stretch limo and hire a video shooting team to capture your crazy moments later to be turned into a music video.
You can do a lot of creative visual photography by recreating special moments in spaces where your friendship flourished.
Upload the song for the world to watch, and this bachelorette party won't be forgotten in a jiffy.
12. Vegan Bride Delight
For the earth-loving girl pal, throw her out to a vegan bachelorette party.
Hire caterers who specialize in farm-to-fork delights.
Go the extra mile to punch in some adventure and arrange for a professional forager who can train the group to check out locally growing wild food that is safe to eat.
Tie these all up with a cooking class and whip up edibles that can grace the final dining table.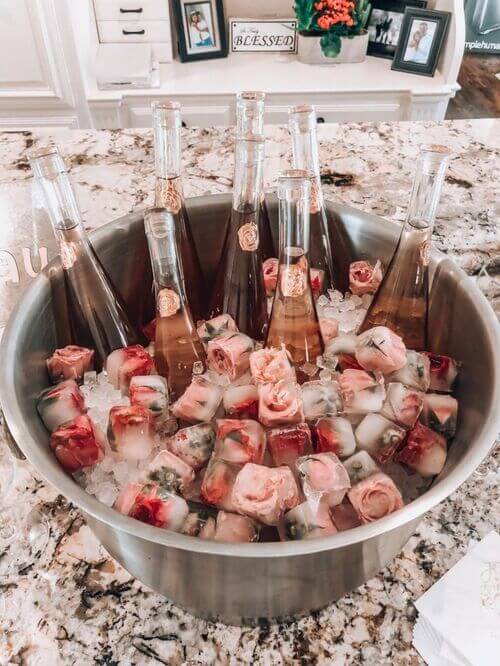 13. Boho & Beautiful
Let out your flower power and convene with nature, the ultimate master of creativity. Pick an outdoor spot and make your party eclectic by going for a boho theme.
Gather copious amounts of rustic charm and whimsy with chandeliers made from recycled bottles, string lights suspended from twines, and floral decor amplifying a natural vibe.
Make the decor dreamy by hanging out oversized dreamcatchers from trees. Include natural treats like fresh fruits as dessert platter or serve drinks made from herbs and edible flowers. For an indoor space, go for a barn where you serve food on a long communal table.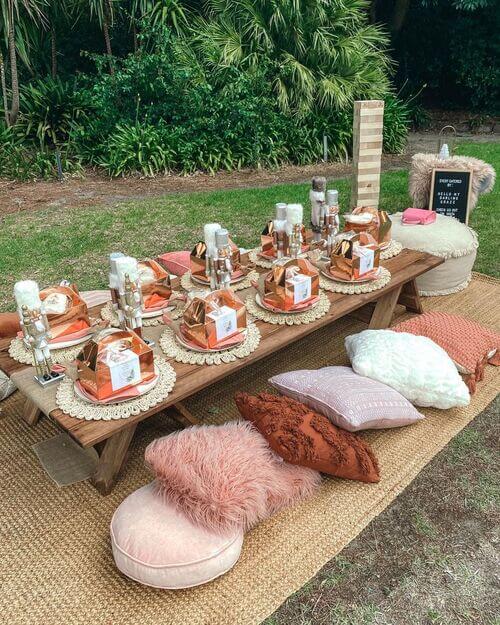 Conclusion
The well is bottomless when it comes to classy bachelorette party ideas.
A little bit of creativity and some careful planning, and voila, you can throw a party that will be discussed for many moons to come.
The easiest way to add a sense of class and refinement is to pay close attention to detail and select elements that will ultimately elevate everyone's experience.
From invitations to departure, everything needs to be thought out and taken care of well in advance. So, don't delay and put on your planning hat, and get designing an event to remember!
This post showed you the best classy bachelorette party ideas.
You may also like: