This post shows you the best wedding decoration ideas.
Wedding decorations are, without doubt, one of the most important things about planning your wedding!
It's a beautiful feeling when your wedding looks exactly like you imagined. Whether that's fairtyle, rustic barn style, or a sage green color scheme.
When researching wedding decor, do not limit your horizons. Allow yourself to imagine the wedding decoration you have always wanted.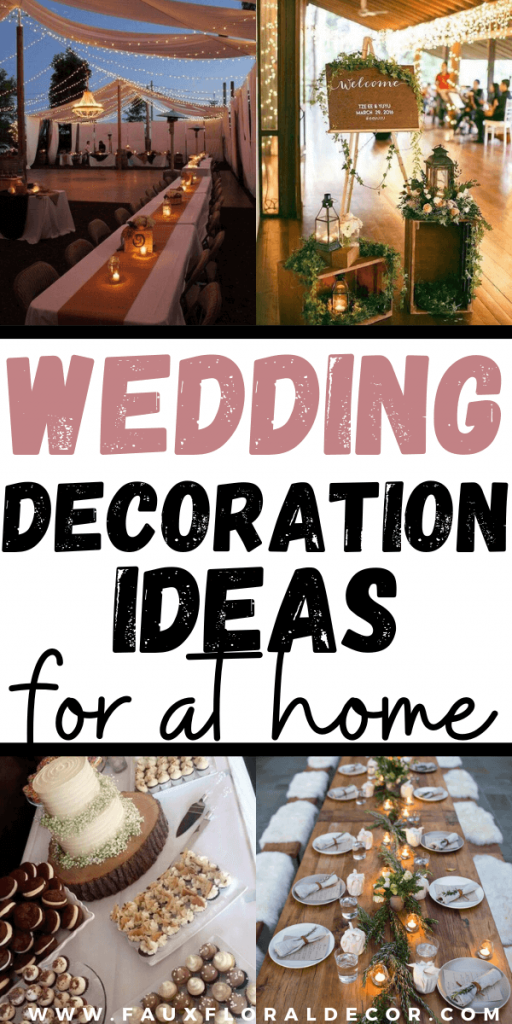 While gathering inspiration for your wedding, stay open to exploring a lot of different wedding decoration ideas.
That helps you get a clear idea of what you like and what you do not.

Below, we'll go over some wedding decoration ideas that will help you plan your decor.
Furthermore, we will look at some wedding decoration ideas for at home.
We'll also cover budget-friendly DIY wedding decor ideas.
Plus, you can determine options for getting wedding decorations like rental, buy, secondhand, wholesale, DIY, etc.
Lastly, in the text below, you can see stunning wedding decor ideas for the reception, stage, table, and ceremony.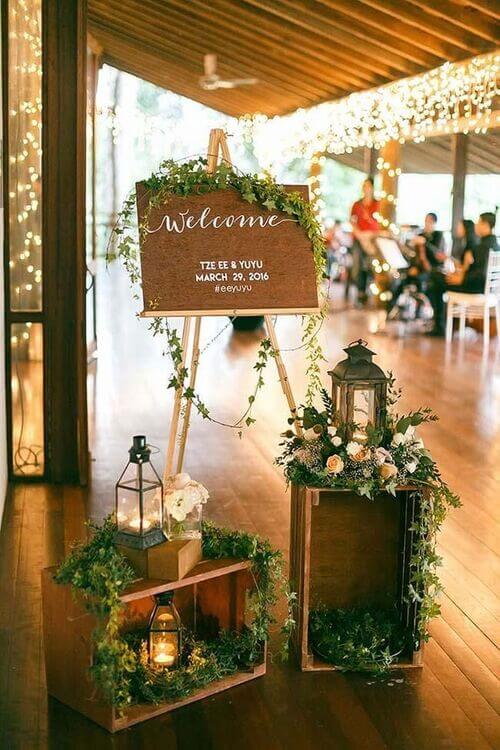 Types of wedding decor
Don't feel pressured about all the different ideas out there! Although preparing for a wedding can feel overwhelming, this checklist will help you gain clarity.
No matter what you choose to include or skip in terms of wedding decoration, these ideas help you stay on top of your wedding planning game.
What wedding decoration ideas do you have?
There are many types of decorations you will probably need at your wedding.
From your home, reception, stages, tables, church, and everything else.
And most importantly – we have forgotten to add the wedding flowers on top of all this and how they can improve the wedding scheme and season.
That is another subject on its own. Whether the flowers are real dried or artificial, they take an enormous portion of the organization on this special day.

For all that, in the text below, you can read everything about ideas for wedding decoration.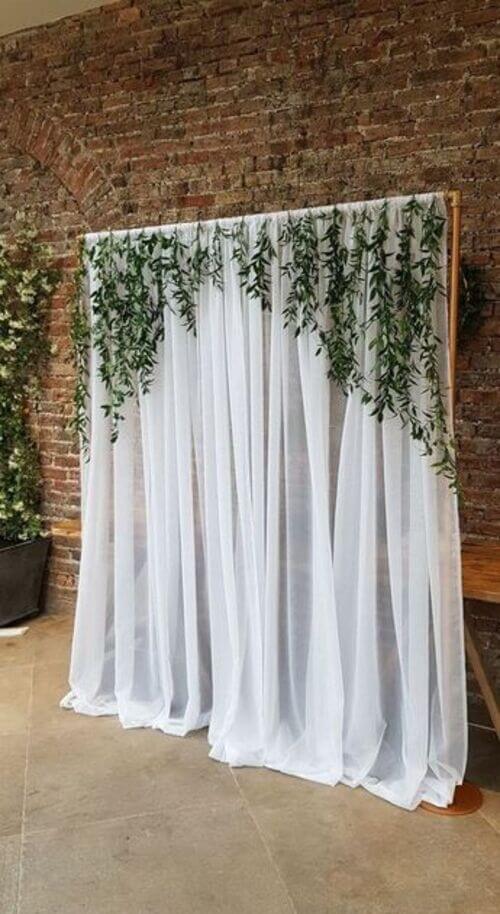 Wedding decoration ideas at home
Many people choose to have their wedding at home or at the home or property of a family member. A small wedding ceremony is intimate but saves a lot of money.
Great decor ideas for an at-home wedding to consider are, for example, elegant white candelabras to a stunning burnt orange color scheme.
Here are some wedding decoration ideas for at home:
Transform your living room into a stylish venue for reception and cocktail party
Infuse a splash of nature into your home wedding decor
Extra wedding decoration ideas at home
Add fresh flowers and draped fabric to your home
The combo of flowers and draped fabric can transform a living room into a full-fledged wedding venue. You can do that in a minimalistic way, or something with a pop of color.

When preparing your home for a wedding, make sure to keep in mind seating. You can also decorate your entryway for a glamorous welcome.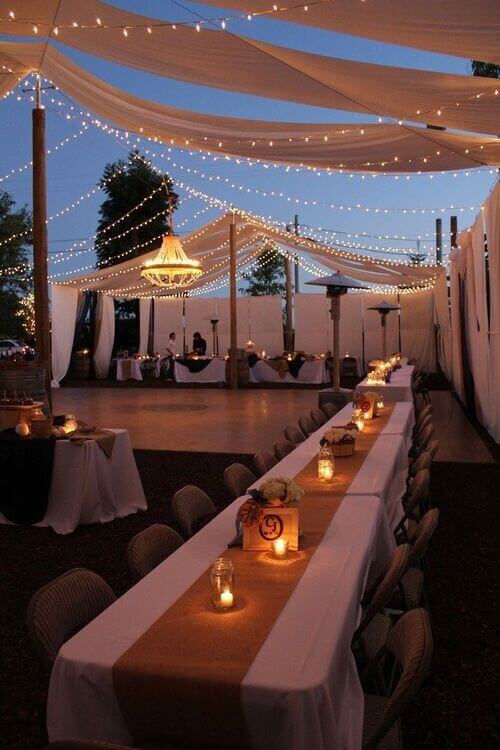 Organizing an elegant dinner in the backyard of your home
Another excellent option for wedding decoration ideas at home is hosting an elegant dinner for your family and friends in the backyard of your home.
You should have a big backyard or a huge balcony at home for this idea. With wooden tables, benches, and artificial grass carpet on the floor, you can have the wonderful wedding ceremony you always wanted.
Plus, you can light up space, including lights with proper hanging lanterns and table lamps that create a warm ambiance in your home.
Budget-friendly DIY wedding decor ideas
It's great to explore DIY wedding decorations to keep your budget in check! There are many wedding decor DIYs that are inexpensive and easy to recreate.
Here are some great ideas:
This is worth adding to the list of affordable and low-costed wedding ideas for your home. You will set up your quest Instagram wame with an attractive set of lavish-looking photo props.

Decorative candle lantern
You do not always have to spend much money to make your wedding look chic and modern. Consider using wedding lanterns that add a charming ambiance without breaking the bank.

A classic example, but still very popular to set the scene. These balloons are big, bold, and a great way to fill space.
Options for getting wedding decor
Now that we have looked at some great wedding decorations, you can consider options of how to get them.
Have you ever wondered about renting the decoration, or do you prefer to buy your wedding decor?

In today's market, there are many very affordable options for renting a complete wedding decoration and making those decorations yourself.
Renting a complete wedding decor
The advantages of renting wedding decor are:
It's much cheaper
Also, you will be more flexible when renting this type of decor because you can find more creative decorations.
You will have many stores to choose what type of decoration you want.
By renting wedding decor, you will support the people who do the decoration themselves.
Immediately after the end of the wedding celebration, people come by themselves and collect the decoration rented from them.
Buying the wedding decor
Apart from renting, you always have the option to buy the complete wedding decor, but you'll pay more to do that.
DIY wedding decor
For many couples, this idea suits the most. You can find many choices of how to make wedding decor with more significant and personal touches. I have shown you budget-friendly DIY wedding decor ideas in the text above.
Decor ideas for reception
The wedding reception is not only a place where your guests will spend their evenings but also a place where you can turn many creative things and personalize the details of who you are. Perfect decor ideas for reception are always:
Guest book
Sign up for the menu, photo booth, and lounge area
Escort card display
Gift card
Reception lighting
Dessert displays and dessert backdrop, as well as
Drink station display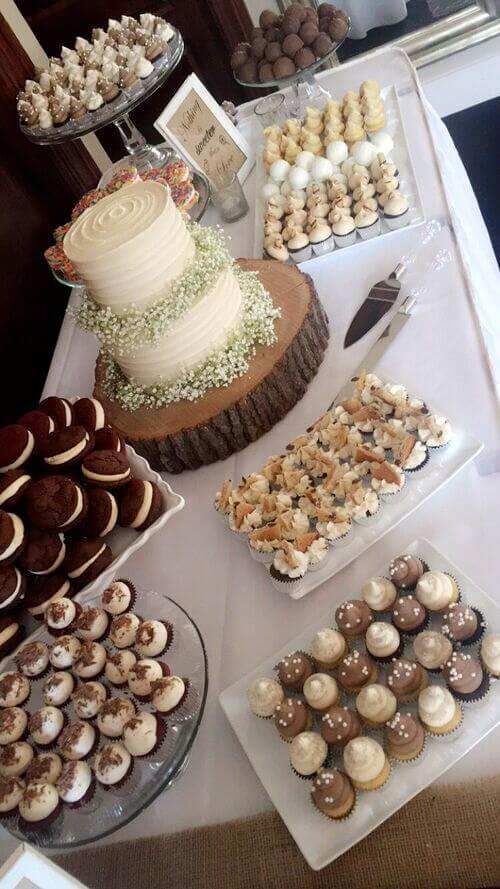 Decor ideas for the stage
The stage is at the center of a wedding event. That's why it's important to put effort into decorating and organizing it.

When it comes to wedding stage decor, there are many excellent options. Consider traditional, vintage, a particular color scheme, and Bollywood-inspired; the options are endless.
Let's see some of them as listed:
Big fat Indian wedding stage
Elegant wedding stage with peach or pastel decor
Turn the stage into night sky decor
Feel like royalty with the royal theme on the stage
Make the wedding extra joyous with yellow decor
Make a fairytale-looking wedding stage by having glitter all around the stage.
However, there are other easy ideas for decorating the stage, such as:
Just put a cozy look at the whole wedding stage
Make a white theme with white flowers and drapes
Or add a gold line by putting the gold-toned drapes in the backdrop and white colors to balance out the look.
Decor ideas for tables
Pay attention to table decor because here is where your guests will spend a lot of time.
Try personalizing the tables with unique chargers, elegant lines, gorgeous glassware, and extraordinary centerpieces. Pay attention to these details:
Plate for salads and dinner
Menus
Escort cards
Table numbers, as well as
Table runners
Napkins
Silverware
Candles
Water and wine glasses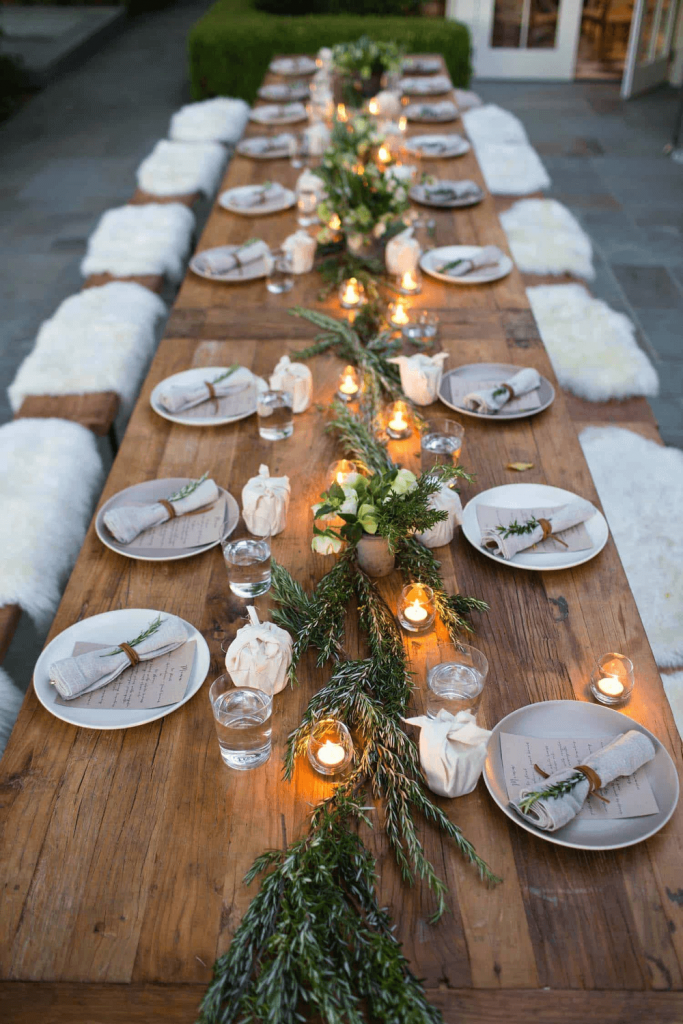 Decor ideas for the wedding ceremony
Last but certainly not least is your ceremony at the wedding. Actually, it is the first place that needs decoration because it all starts there.
The wedding ceremony is one of the shortest moments of this big day. So, your guests will not spend a lot of time here, and you can efficiently cut your budget on ceremony decor. By putting just simple budget-free items, you will have a lovely atmosphere at your wedding ceremony, like a welcoming sign, elegant ties on chairs, an impressive white vow book, and a ceremony table with candles and fresh flowers.
To conclude…
So, to sum up, wedding decorations take up a fair portion of the wedding planning! Luckily there are many options, from lavish to budget-friendly and DIY. Once you and your partner decide on the style, places you want to decorate, and budget, it will become much easier to put everything together.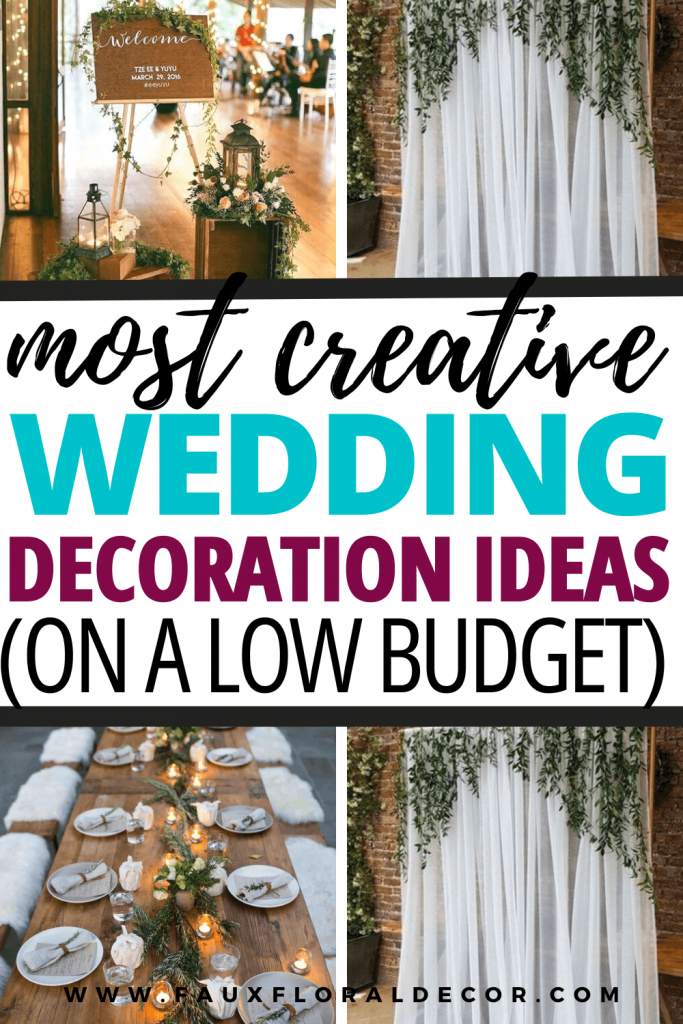 This post showed you the best wedding decoration ideas.
You may also like: