This post shows you the best ways to make your wedding special.
Everyone wants their big day to be picture-perfect, but there are only so many Pinterest ideas one can come across before feeling like your day isn't unique to you as a couple anymore.
So without further ado, let's dive into some ideas to bring that personal touch to your wedding day.
Do you have a special memory that you want to incorporate? Is something unique to the two of you that gets you excited about the big day?
If you answered yes to those two questions, then you have a unique touch to add to the big day.
These are the things to use as a unique point of view in your wedding.
With that in mind, let's dive into some fun things to incorporate into the big day while staying true to your own personal love story experiences.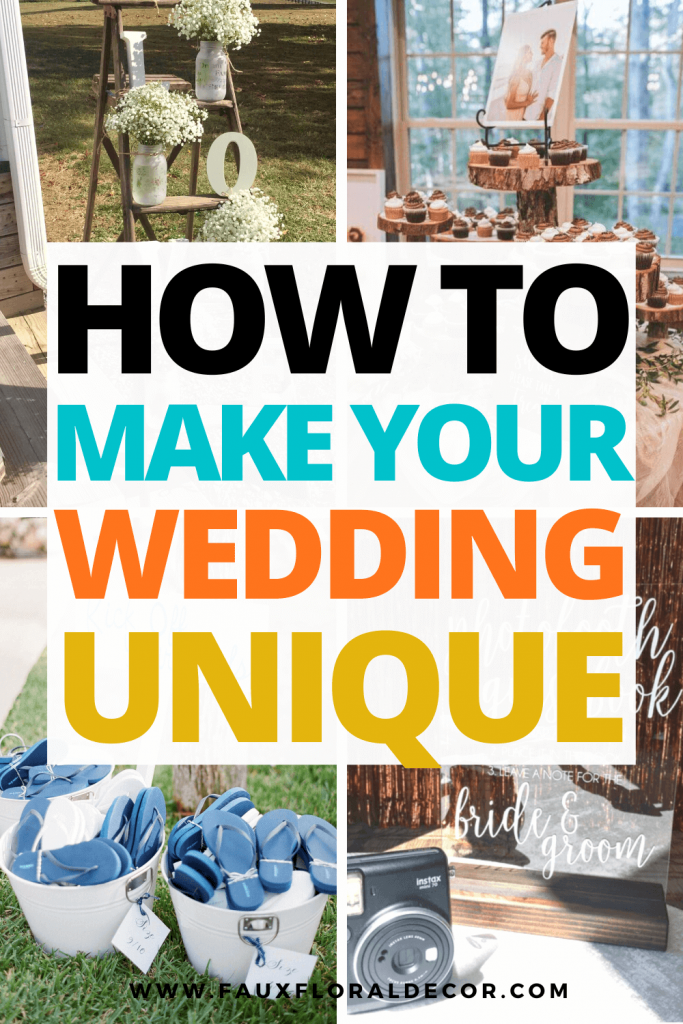 Unique things to make your day more personal
1. Personalized bouquet
Some things that deserve a change are the type of bouquets you have on a special day.
Are you a minimalist? Then stick to the basics instead of making an overpowering bouquet that doesn't feel like you.
Why not make a bouquet that is a special reminder of the first flowers your partner bought you or find a flower that describes your relationship?
Are you bold? Why not try a crystal bouquet? It can be held together with amethyst, rose quarts, or the crystal of your choosing arranged with some of your favorite flowers.
2. Fun reminders of the day.
If you want to skip the random texts or letters lost in the mail, here are some ways to incorporate fun guest letters into your wedding.
You can add a coffee nook to your big day with a big book front and center for your guests to write their messages.
You can keep this book on your coffee table at home to flip through.
Let guests write their messages on wooden hearts, Jenga blocks, or even on pictures of their favorite memory with the bride or groom.
Jenga wedding guest book (a unique alternative)

3. Skip the typical wedding cake.
Lose the normalities of a big wedding cake. Get an ice cream truck, pie table, or frozen yogurt stand to bring out your inner child at your wedding.
You can make a unique experience for each person by letting them decorate their cupcakes or just having fun with new flavors.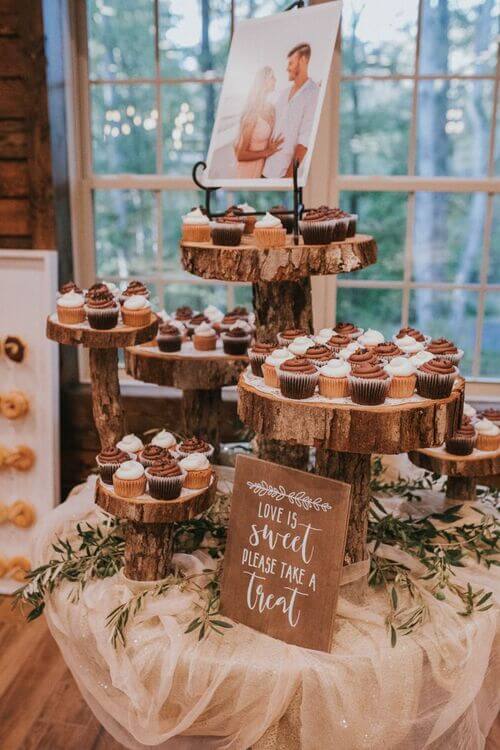 4. Pictures with the guests.
A fun approach to wedding photos is to have a photo booth in addition to your wedding photographer. This gives the guests (and the couple!) a chance to make spontaneous memories.
After all the stress of making things perfect, things can feel overwhelming. A silly picture moment with your friends always brightens the day.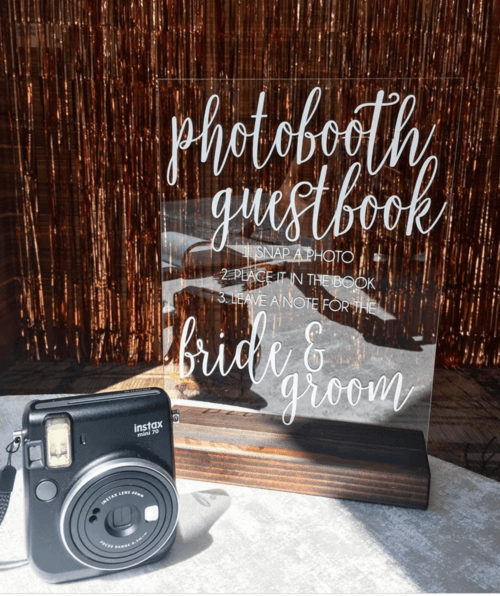 5. The wedding dress doesn't have to be traditional
If you are a fan of the white wedding, then by all means, stick to it.
But as time passes, more girls have opted for a black wedding dress.
Or, if you want to stick to having a fun wedding, why not play with colored powders on your big day to bring some color into your dress? It is a fun and messy way to keep the day's memory alive.
No matter your wedding theme, you can find something to fit your taste.
Surprise ideas for your wedding
1. Not your traditional first dance.
Switch up your traditional first dance by replacing it with a flash dance or special choreography for the bride or groom.
Why not save the first dance to become the last dance of the night?
2. The grand entrance.
Give your wedding party the advantage by letting them get creative with their entrances. Bring funky music and let the best man or woman do their thing.
Or if you want to bring things to new light, why not get your puppy to the big day and lead you down the aisle?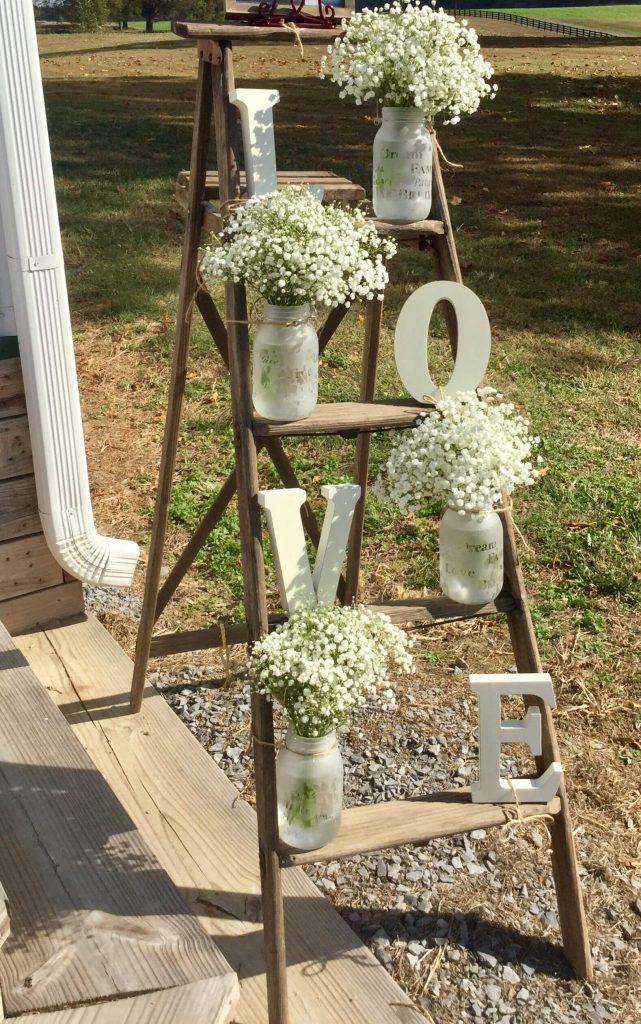 3. Thinking a little more modern.
You know about silent dance parties if you have seen the latest trends.
While these seem weird from an outside perspective, it is a great idea to let people be in their own world without having the struggle of screaming for someone to hear you at the wedding reception.
4. The day-after gift.
You know how it usually goes the day after. The munchies, the hangover, and the horrible headache of dealing with the loud noises of day-to-day life that usually don't bother you.
Why not make a day-after revival gift for your wedding guests?
Pack them up with a sugar cookie or five, an energy drink, and a nice card to say thank you for attending.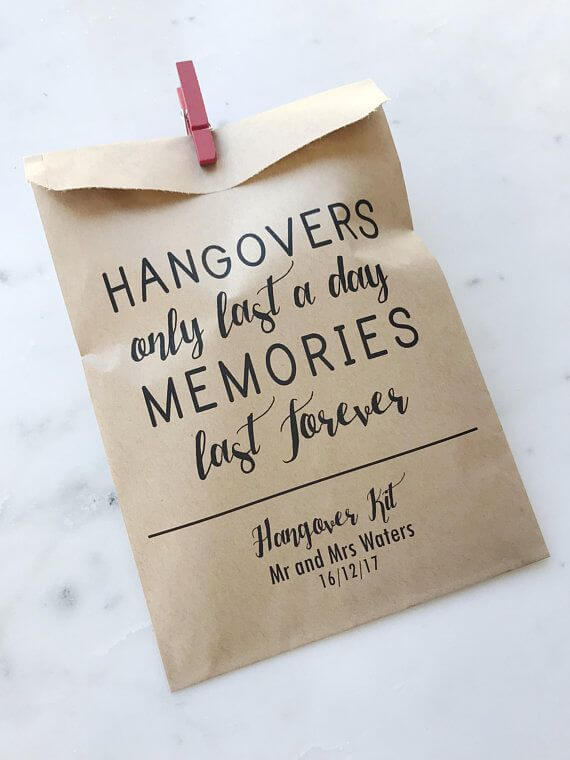 5. Making some original memories
Grab a fully stocked bar and let your guests make their own drinks by experimenting. After their finished product, let them take a picture and give it a name!
This is a fun way to incorporate guests into the special day while making it fun for everyone.
Activities for your guests
1. Living on the wild side.
Are you and your guests a bunch of daredevils? Why not hire a tattoo artist to come to the wedding and give out tattoos?
2. Make the guests part of the day.
If you want to add a fun little touch to the day, why not let the guests request a song to be played?
Get them a unique gift they can use afterward, for example, coasters, little jars that can be reused, or even cute keychains.
Avoid traditional seating and make everyone part of the family by incorporating round tables for guests to mingle with each other.
3. "Who did it first?" shoe game
You know the game by now. The bride and groom have one of each of their shoes, and the guests compile a list of questions to see who said it first.
Good questions are: Who made the first move? Who paid on the first date? Who fell in love first? And other fun questions like that.
Printable with questions for the wedding shoe game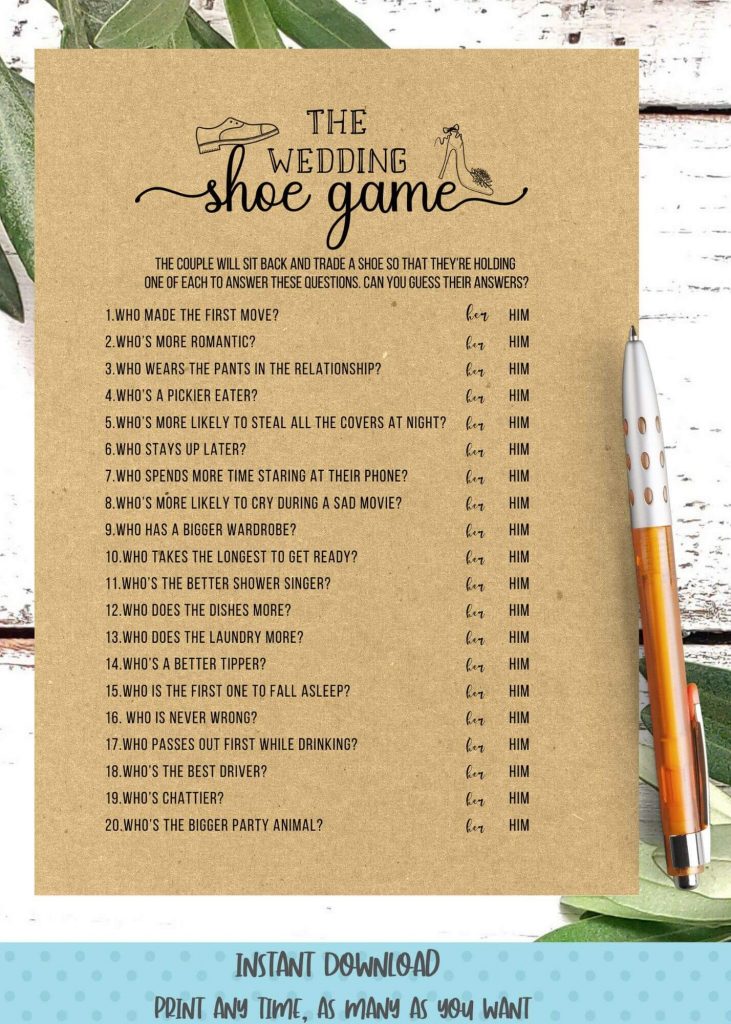 4. Games
Some fun games are a great way to get everyone involved if you have shy or quiet guests.
Why not set up a board game table for them to entertain themselves throughout the night?
5. Wheel of dares
If you want to keep the day exciting and loosen up the tension between guests, set up a wheel of dares.
Fun dares could include: "Pick a couple to kiss.", "Let the bride/groom pick your next drink." or "Share a fun memory of the bride/groom."
This gives a fun spin on the day and helps the guests to feel like they are a bigger part of the day than just being there for hours and being used to the routine.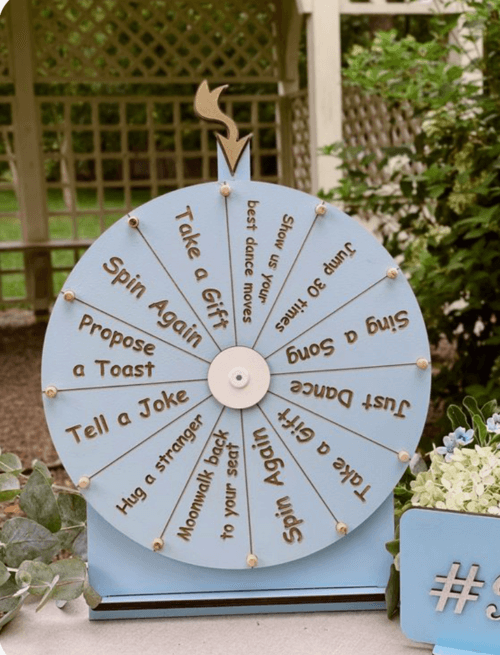 It's all in the details
1. Date inspiration
Put out a jar with wooden sticks for your guests to put down their best date ideas for you and your partner to try out. It's a fun way to make every week exciting for the two of you by having a nice date night weekly.
2. Handmade is always better
Do you want to keep the day fun while making less waste for the planet? Then grab some old newspapers and make recycled paper for your menu, thank you cards, or name cards at your wedding.
Use glass jars to hold your candles so you can remelt them and use them again later. This will save you from wasting wax.
3. Remember the day with art
Get a painter to paint your special day while it happens. A live wedding painter is specialized in doing this!
It lets your guests see the artist at work while letting them paint the lovely day.
This is a unique way to incorporate a modern touch into the day.
With all the pictures being taken, a painting is just what we need to make the day brighter.
4. Something Blue
If you don't feel like adding the traditional 'something blue' to your wedding attire, why not add it to the flower girl's dress? You can even incorporate it into your decor or as a special drink for guests.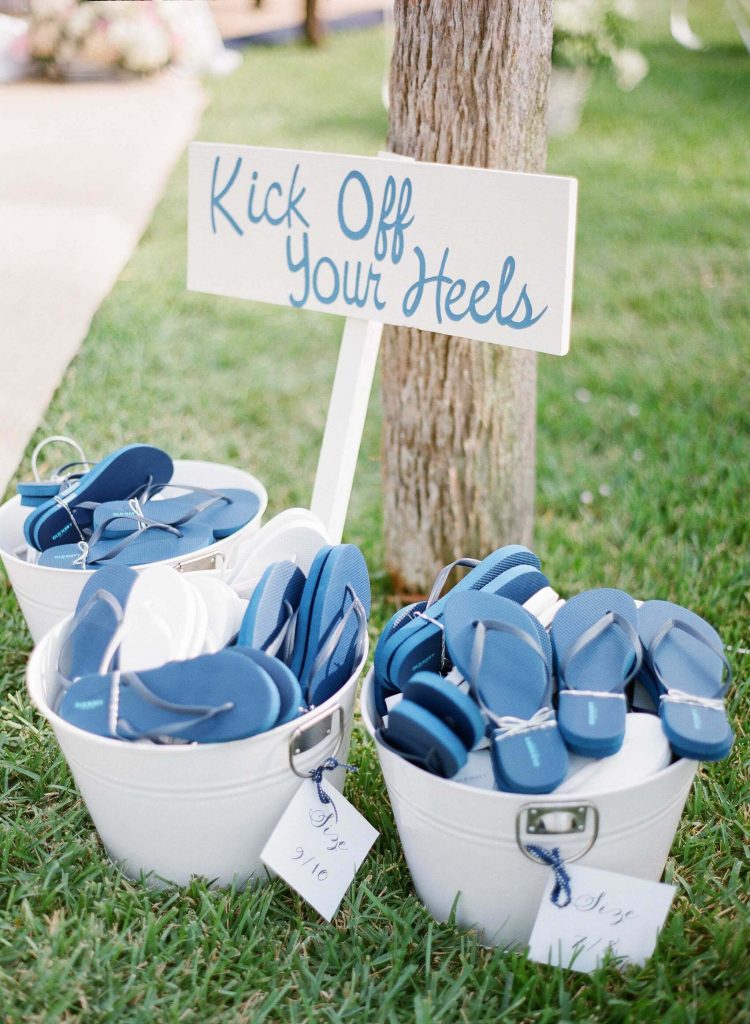 5. Kiddies' corner
Do you want to let people bring their kids on the big day but are unsure if they might get bored?
Create a kids' corner for them to play and relax in so that your day can go as planned without having the kids feeling left out.
Create your big day the way you want it
There are many ways to ensure the big day stays true to you as a couple and still be fun for the whole party.
Whether through minimalism, crystals, wedding painters, or ice cream trucks, there's something for everyone as long as you know where to look.
So don't let the Pinterest ideas get your head spinning. You can make it your own unique experience!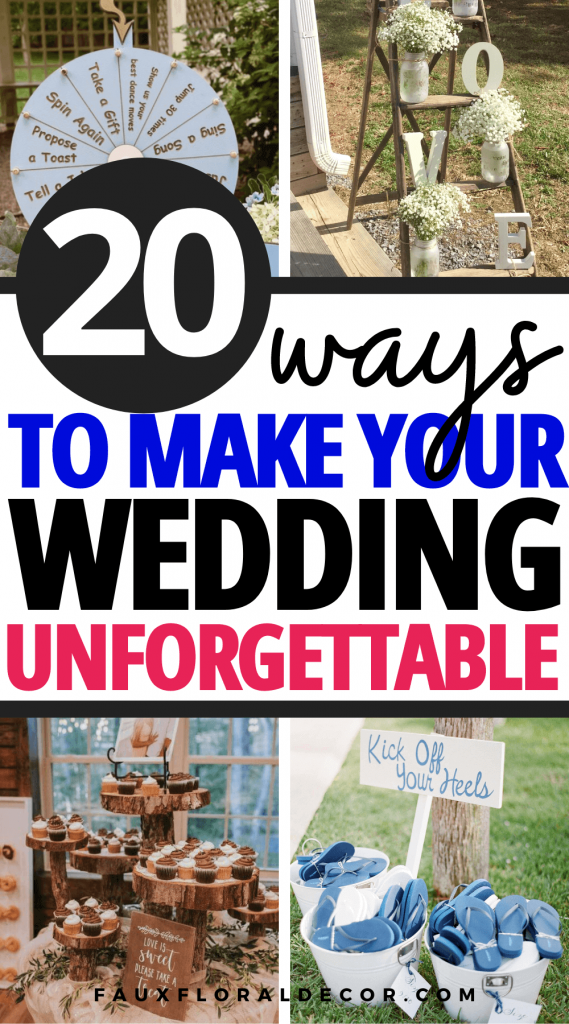 This post showed you how to make your wedding unique and unforgettable.
You may also like: