Summer weddings aren't only the most beautiful season to get married, but they can also be the most expensive.
Due to this, we have taken on the responsibility of finding summer wedding decor which is not only budget-friendly but absolutely gorgeous for any theme.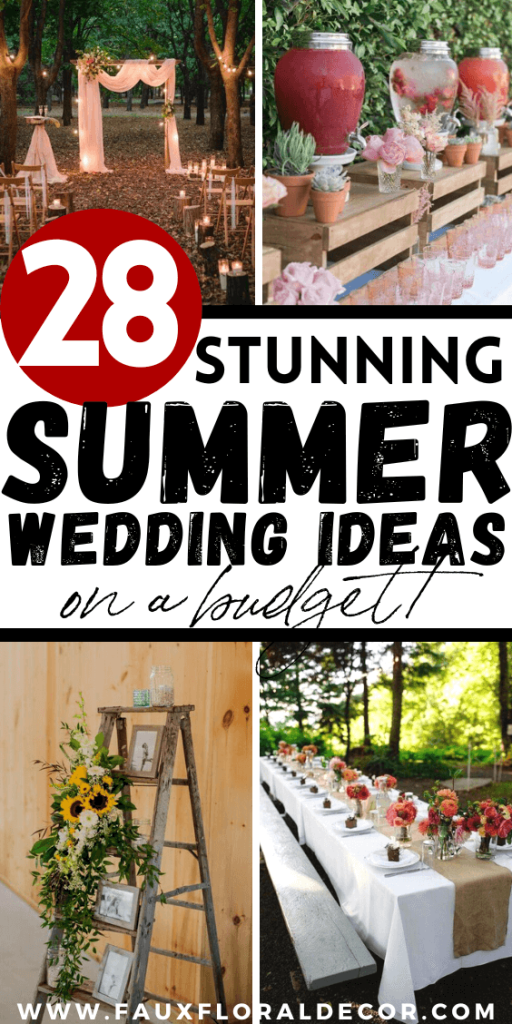 Why are summer weddings the way to go?
Summer weddings are great since the season instantly brings an energized feel to everyone.
With a late afternoon wedding and evening reception, you can use the summer evening to dance the night away without getting cold or worrying about getting sick.
First, it allows you to use the great weather to take your wedding outdoors.
Secondly, you won't be shivering in your dress due to wind or storms.
Lastly, summer lets you use brighter themes that fit the season.
The summer wedding idea offers you a wonderful look into an outdoor wedding and allows you to take a different approach to the catering you want to provide.
You can now use barbeques, fresh fruit salads, or even ice cream bars.
Summer wedding ideas on a budget
1. Draped fabric arches and wooden log candle holders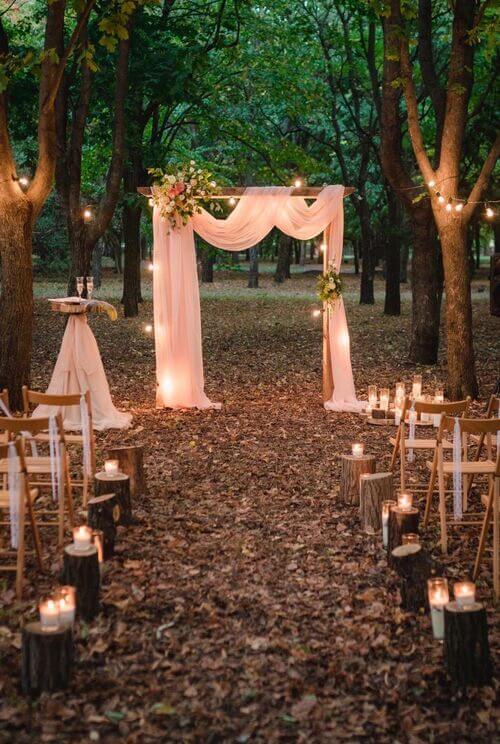 Something that has become increasingly popular is ditching the normal wedding arch for a fun fabric arch filled with fairy lights and your favorite flowers.
If you want to add the gorgeous fairytale effect to the wedding aisle, you can add some wooden stumps on each row.
You can then decorate them with some candles, flowers, or succulents.
2. Baby's breath and rose centerpieces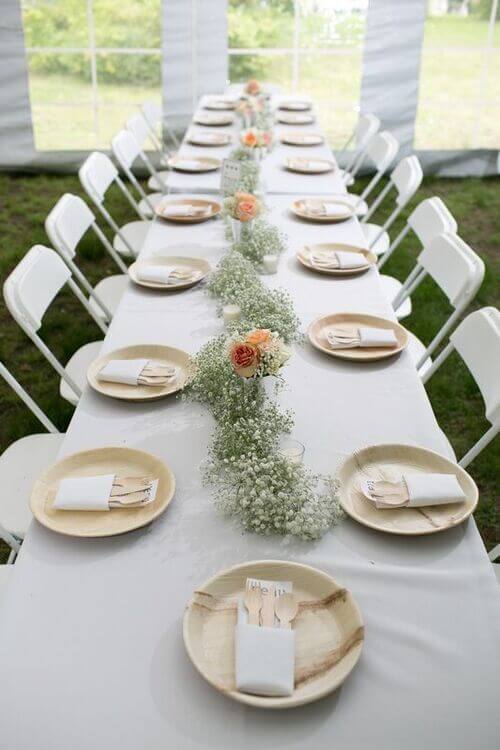 Keep things simple with these table centerpieces.
The baby's breath is a simplistic touch than can be paired with any colored roses and still be elegant.
This is wonderful for people who have a simplistic wedding idea or want to keep clutter off the tables.
3. Dried flower jar candle holders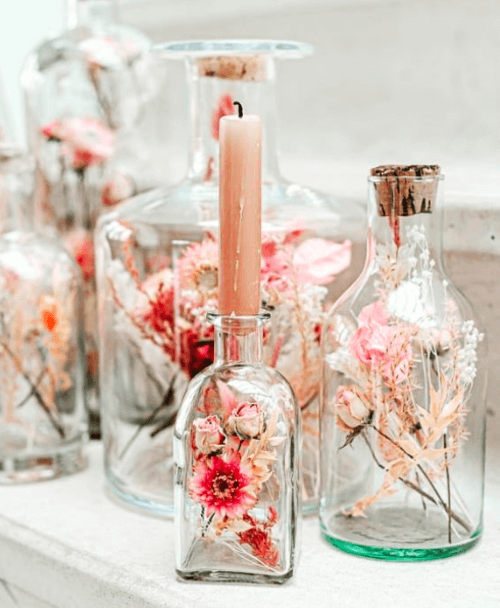 These dried flower centerpieces can brighten up any setting.
This is an idea I haven't seen much of and can easily be made by finding and handpicking flowers in gardens.
You can then buy some basic candle sticks in whatever color you prefer and add them to the jars for a fun touch.
4. Mini charcuterie guest gift boxes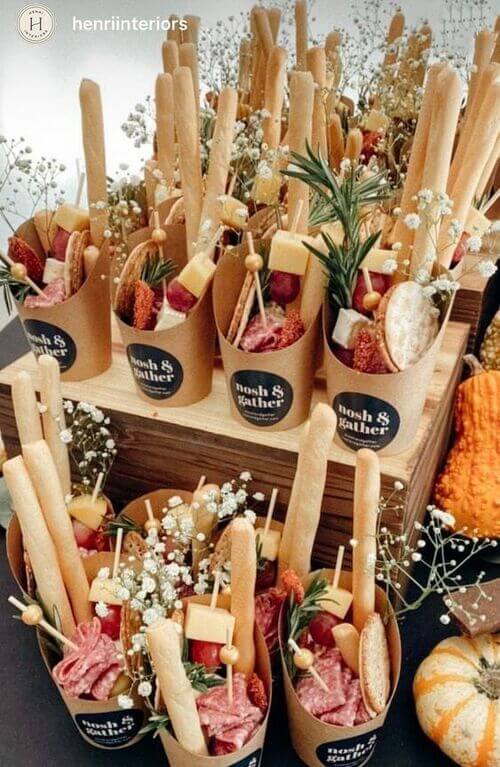 If you want finger food without the stress of ensuring everyone has enough, then these little charcuterie cups are perfect for your guests.
Everyone gets an equally filled cup, so no one is left out.
This especially comes in handy for a reception snack while guests wait for food or need energy after dancing.
5. Edison bulb photo booth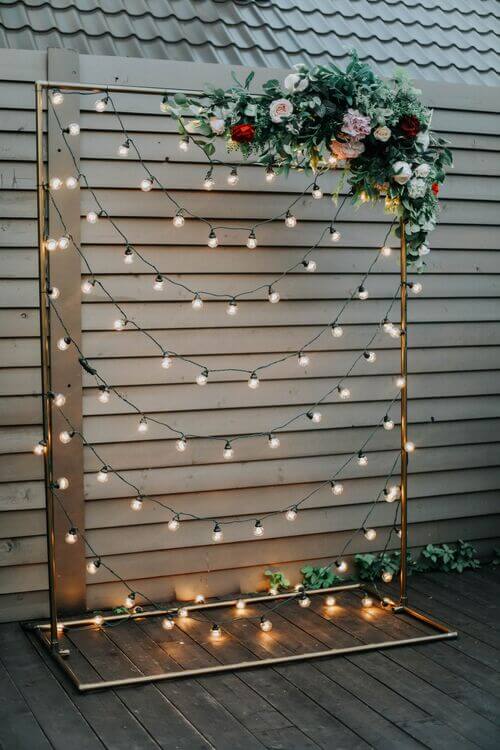 This is a great idea for a photo booth.
You can easily get a gold stand and wrap some Edison bulb lights around it. You can also incorporate some of your wedding flowers for a personalized touch.
This takes care of guest entertainment to ensure everyone makes memories to remember the day with the bride and groom.
6. Refreshing juice bar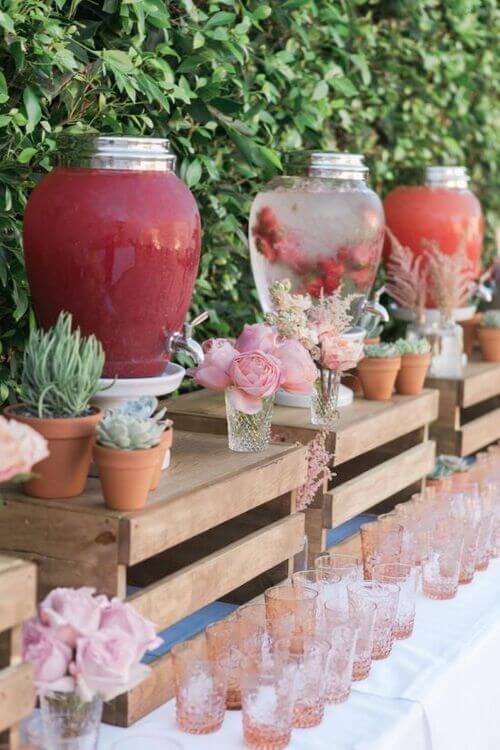 Recreate this:
A juice station is wonderful for guests who don't want to drink.
You can add some decorations like succulents in bright cups to bring in the summer spirit.
You can add some bright glassware for the juice station.
7. Kiddies workstation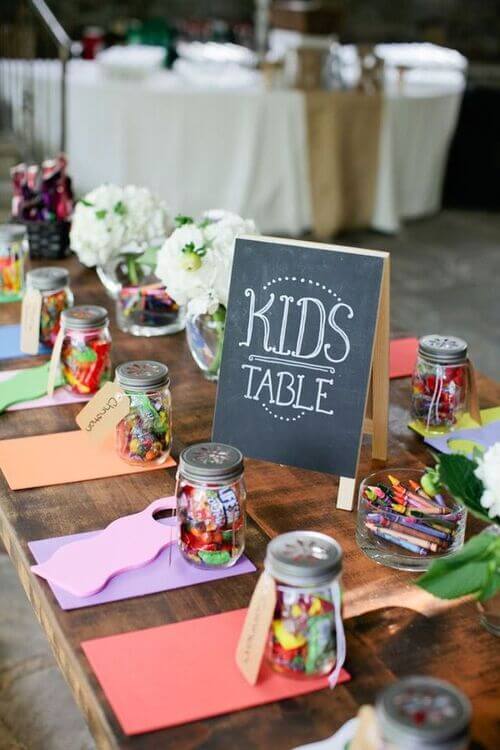 Are you planning on letting your wedding be kid friendly? Are you scared they might be bored?
Then I suggest getting a kids' table and creating some fun activities for the kids to join in on.
Let them color pages, make crafts and even decorate their own cupcakes so that they can keep themselves busy.
8. Barrel and sunflower cake stand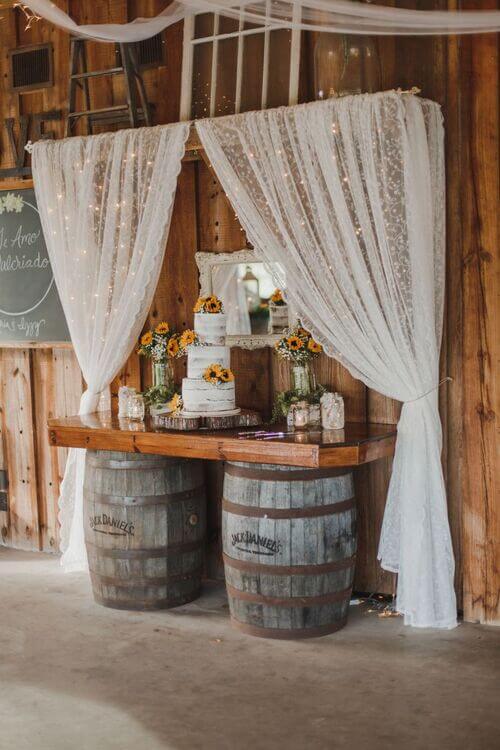 This rustic table will let your wedding decor and cake stand out.
Make use of some old barrels and bright sunflowers to brighten up the cake table.
Add in some tealights to lighten up the space too.
9. Ladder memory holder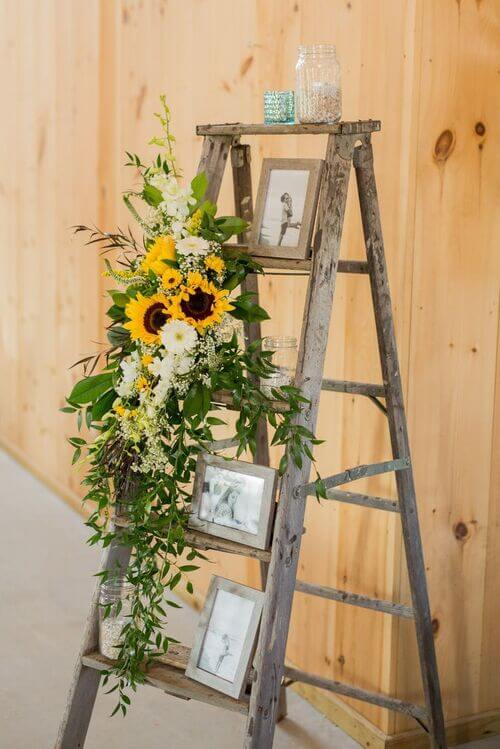 If you want to incorporate some old relationship memories into your day then this might be just what you need.
10. Sugar rush donut wall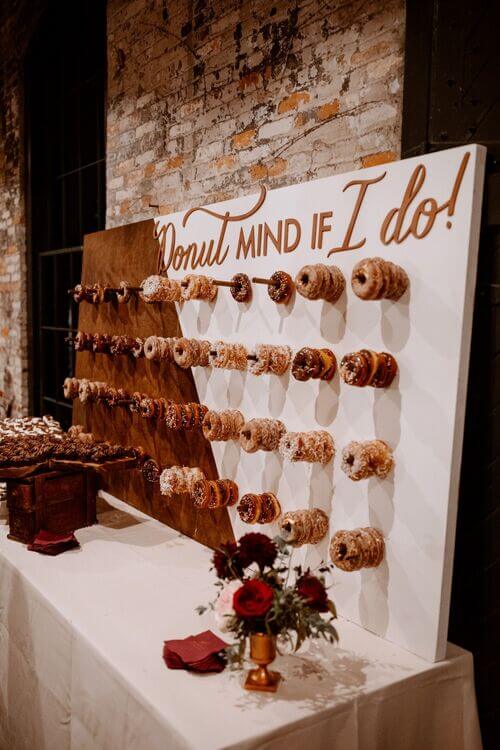 Who doesn't love donuts? This is a great idea for any summer wedding idea.
Grab some donuts to snack on throughout the day. This allows you to get something for everyone.
No one will feel left out with this idea since it can be modified to fit dietary restrictions too.
11. Galvanized steel wine cooler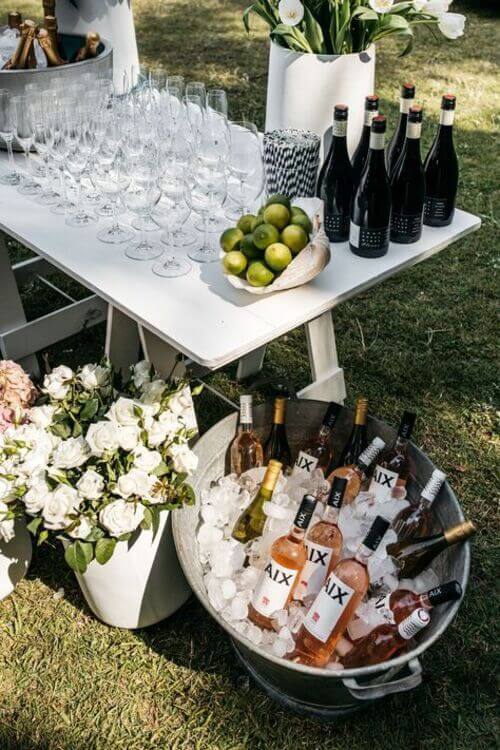 When hosting an outside wedding, you need some way to keep the drink cool and ready for everyone to enjoy.
You can rent or buy these galvanized steel basins fill them with ice, and add your drink of choice.
You can set up the table with glassware and add-ons that you can add to your drink to make sure it's perfect for you.
12. Customized cornhole stands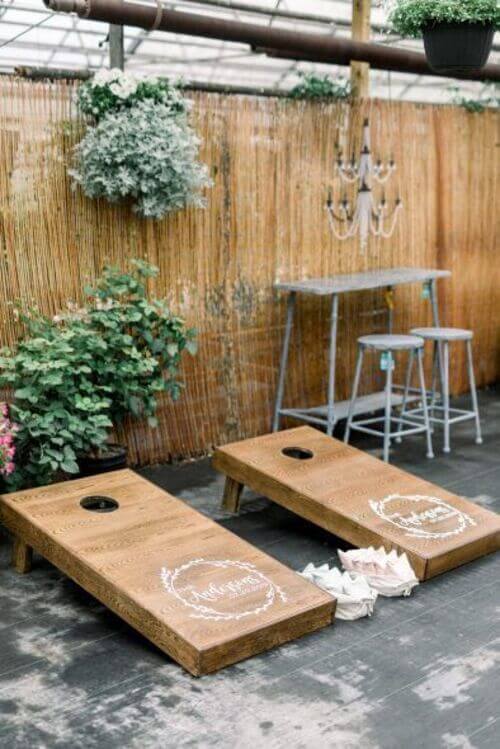 Add your initials or the couple's surname to the fun.
Everyone needs a game to keep the day rolling.
Cornhole is a wonderful way to create your unique touch.
You can even decorate it in your wedding colors to make it special to you.
13. Burlap rose glass covers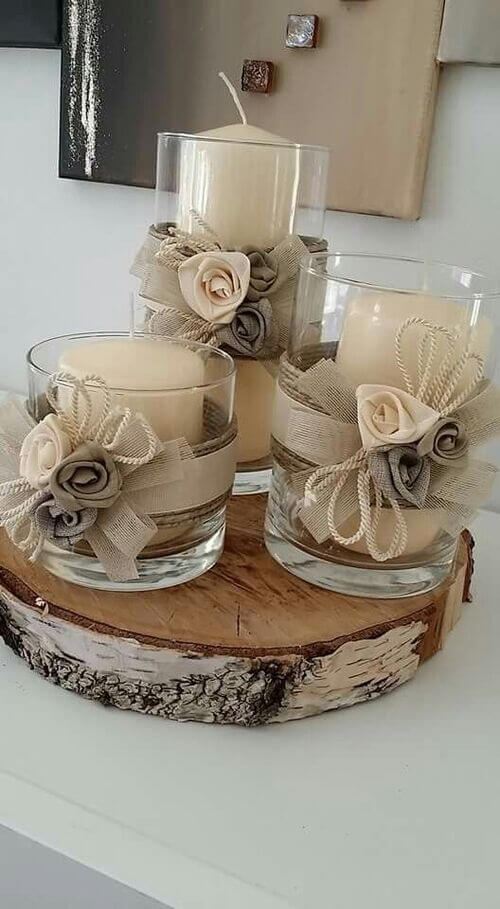 Bring a unique touch to your simple candle holders.
You can easily DIY this idea or buy these burlap and fabric roses for your glass jars.
It keeps the theme neutral without being too expensive.
14. Colored wine bottle centerpieces filled with flowers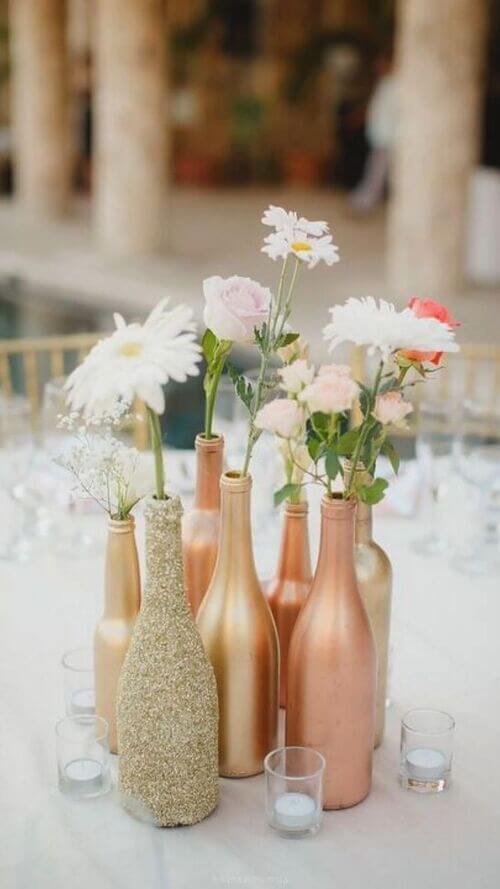 By making the unique wine bottle decor it can fit your wedding theme instantly.
You can buy them pre-made, or customize them with paint, glue, and glitter.
The options are endless for this idea. It keeps the centerpieces fun and bright.
15. Lantern and roses decor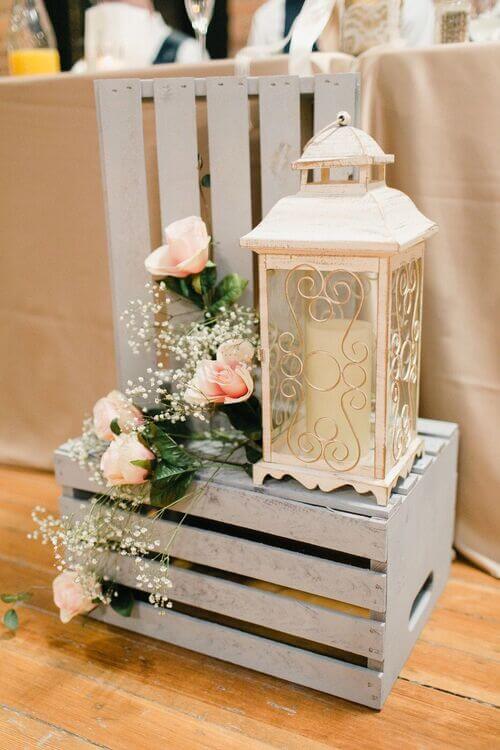 A cute decor idea is by adding some white lanterns filled with candles.
Add some roses and baby's breath to this to balance out the natural and manmade items.
It's perfect because you can keep things neutral or brighten them up with some flowers.
16. Burlap and succulent centerpieces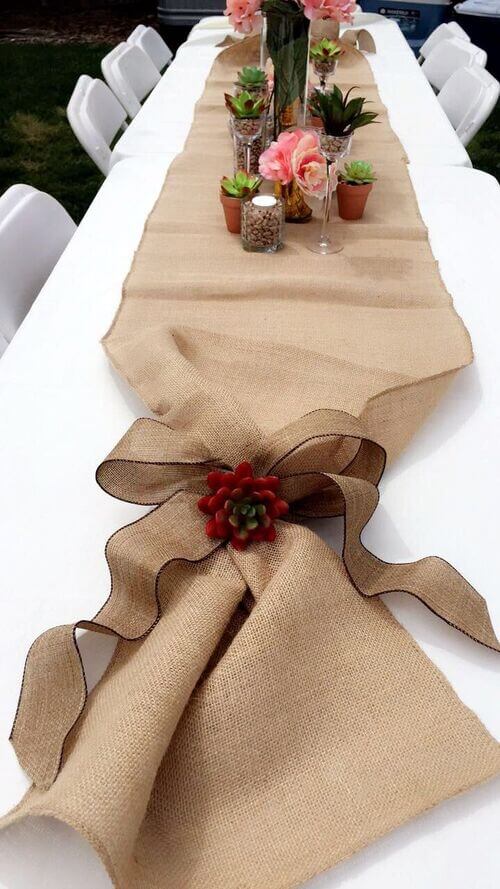 Succulents are great for centerpieces considering they won't wither in the sunlight like some flowers after a few hours.
The bright greenery ties in with the neutral burlap table runner.
17. Edison bulb lighting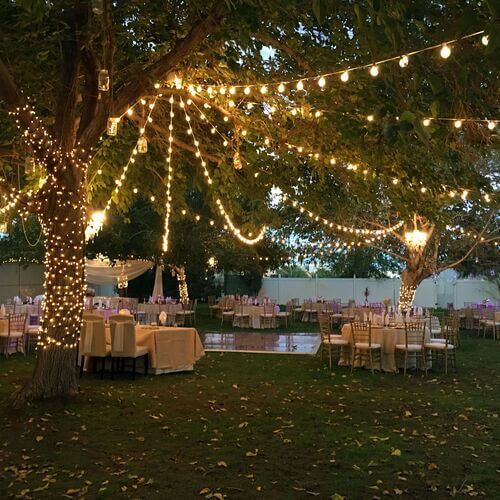 Fairy lights have been a wedding favorite for many years.
These Edison bulbs are a perfect way to light up the night for a fun-filled evening of dancing and chatting.
18. Fruit cup snack station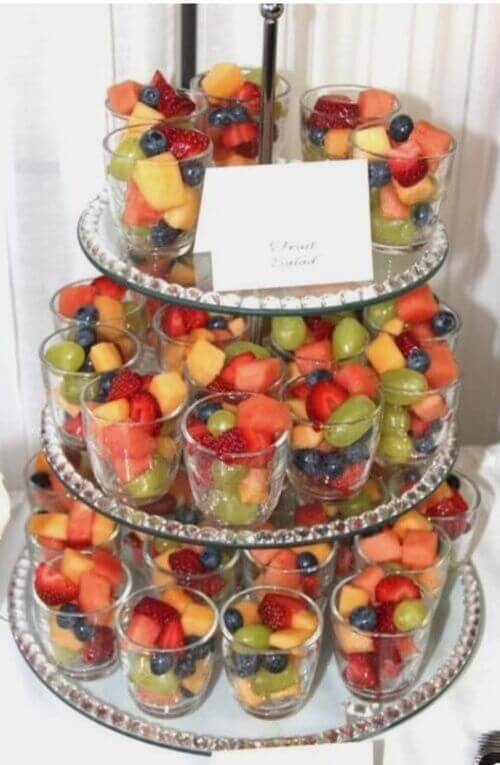 Keep things refreshing and cool.
Cut out the unhealthy snack bar and fill it with fruit cups for your guests to enjoy on a hot summer day.
19. Fabric and baby's breath aisle decor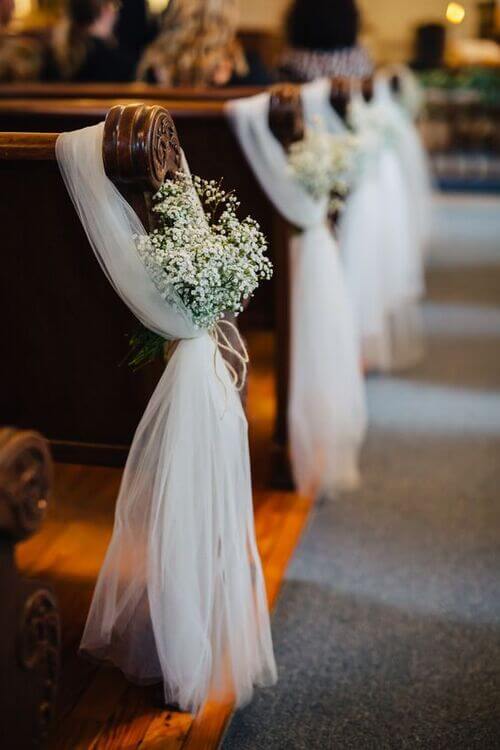 Baby's breath is a wonderful symbol of lasting marriage and is the perfect aisle decor when tied with burlap covers.
You don't have to make it expensive for your wedding decor to look expensive or elegant. Just keep things simple.
20. Take a shot at the reception station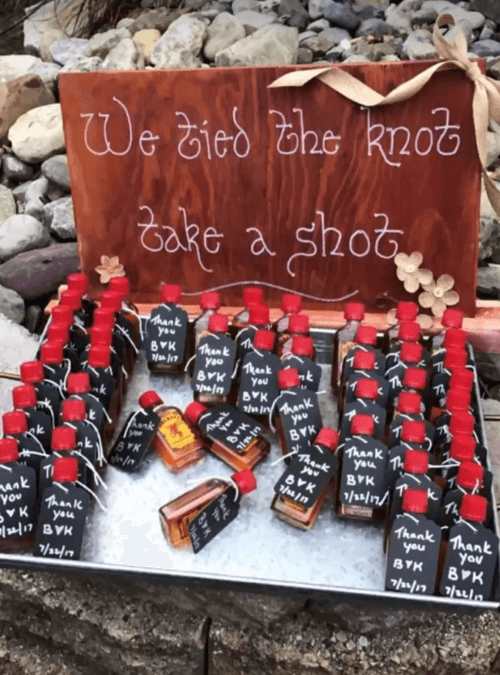 Add some punny jokes to your wedding day.
This cute idea is wonderful to break the ice and have some alcohol too.
This acts as a cute wedding favor for your guests as well.
21. Mason jar and sunflower decor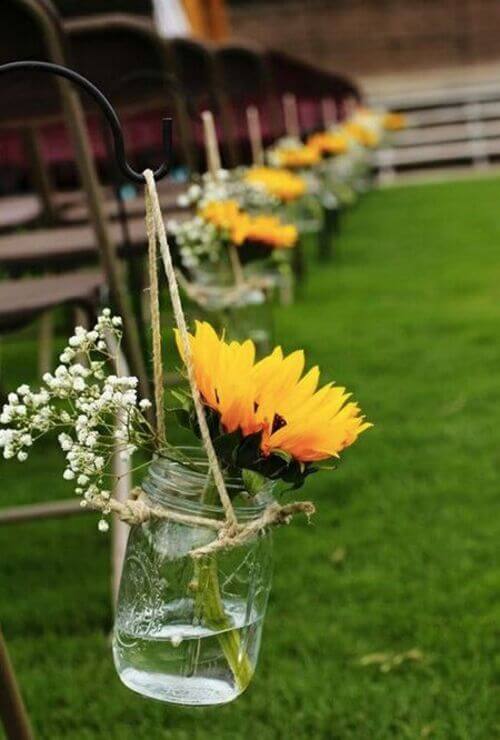 Mason jars are the ultimate centerpiece decor.
You can fill them with sunflowers as a symbol of the summer season.
This takes wedding decor to the next level by bringing an added touch to your seating ideas too.
22. Tulle and baby's breath decor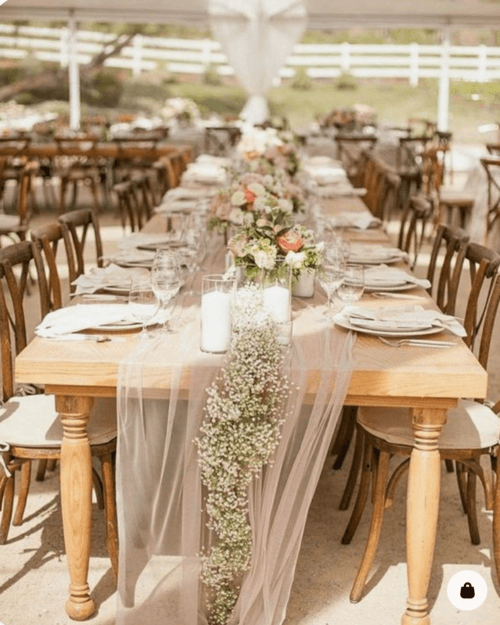 Neutral colors for your table decor can really make your flower arrangements pop with color.
Make use of tulle and baby's breath to keep things light and flowy then add some bright pink roses to each table.
23. Build your own s'mores station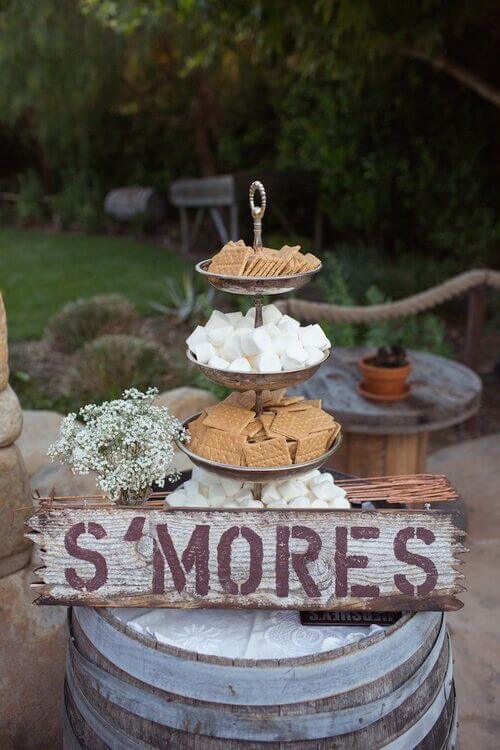 Are you thinking of making the most of the hot weather this summer season?
Then build a fire pit or use a barbeque to create the ultimate s'mores station.
24. Grow your garden wedding favors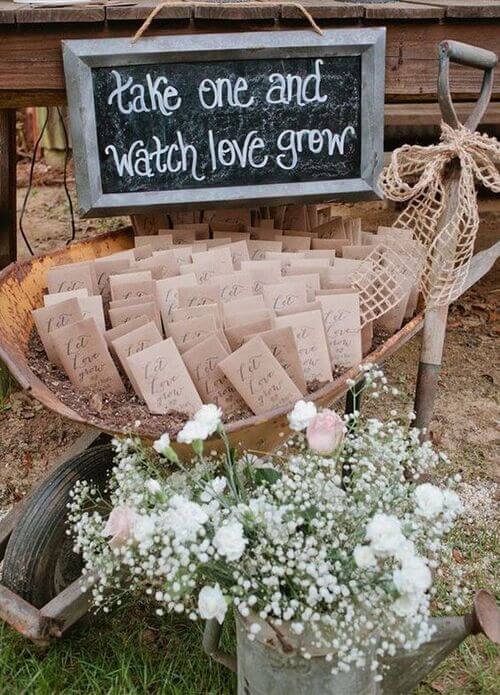 What better parting gift than letting your guest take home a little gift that can last a lifetime?
These little parting favors can be filled with your favorite herbs so guests can make the most of them.
For example, you can use mint, thyme, basil, or even paprika.
25. Bright flower and burlap centerpieces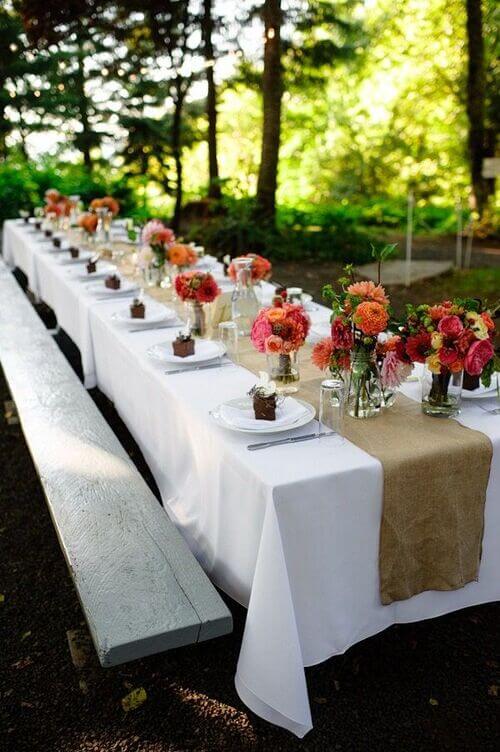 Keep things simple with bright flowers to spice up the table decor.
Since it's summer, you can use bright flowers that might not be around all year long.
26. Hydration station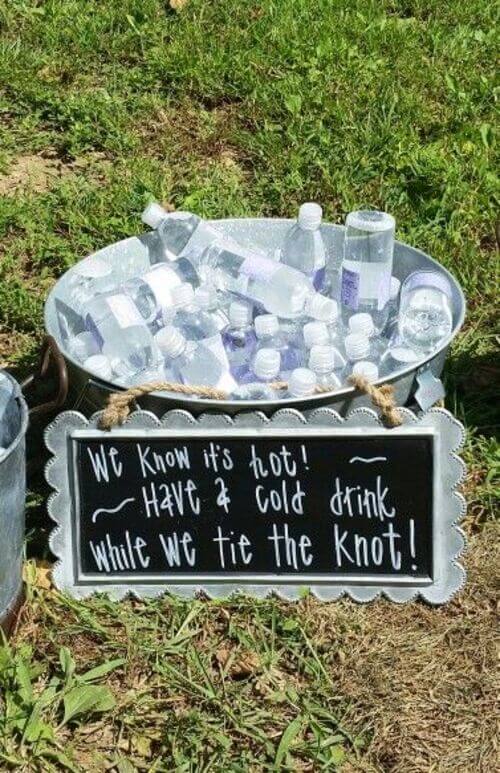 If you know that the day is going to be extremely hot, then make sure you have a bunch of places for your guests to grab some water.
This allows them to stay hydrated all day long and not suffer due to the heat.
27. Grab a cupcake as we cut the cake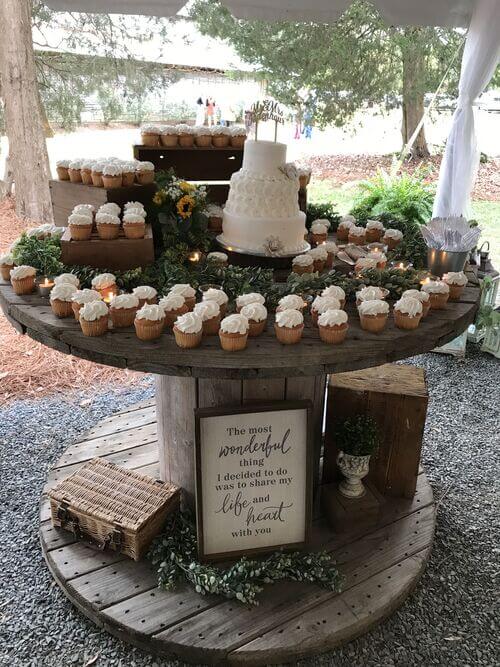 Waiting to cut the cake can be a little tedious, so we thought this would be a wonderful idea to add to your day.
Let the guests grab a cupcake instead of waiting for the cake. It's simpler, as well as less messy.
28. Add a twist to your drink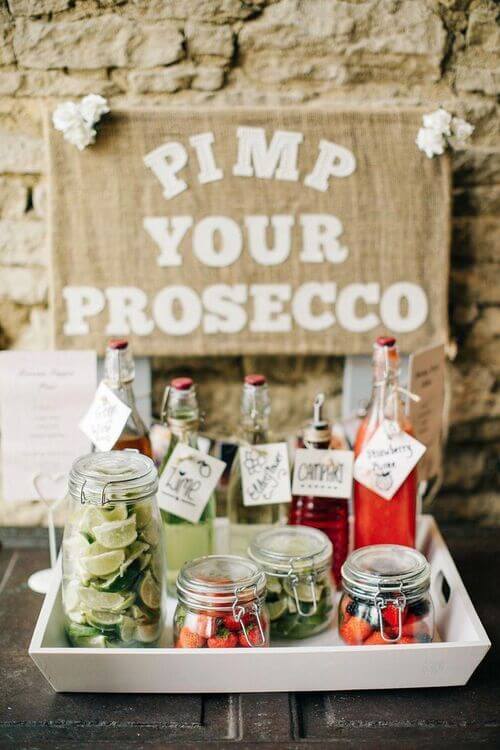 Create a station for fruits and liquors to bring new flavors to your prosecco.
This lets everyone get creative while enjoying their drink.
Summer weddings and keep it within the budget
Considering the list I have mentioned above, it's easy to see that you don't need expensive decor to show the summer season.
Get creative with bright decor, fairy lights, and tulle to make your wedding look luxurious without breaking the bank.
Travel will always be the most expensive part of the summer wedding.
Due to the peak travel season, this is something to consider.
With the above ideas in mind, you can put your own twist on this wonderful day while sticking to your budget.
Since everyone is unique, it is up to you how you want to incorporate these ideas.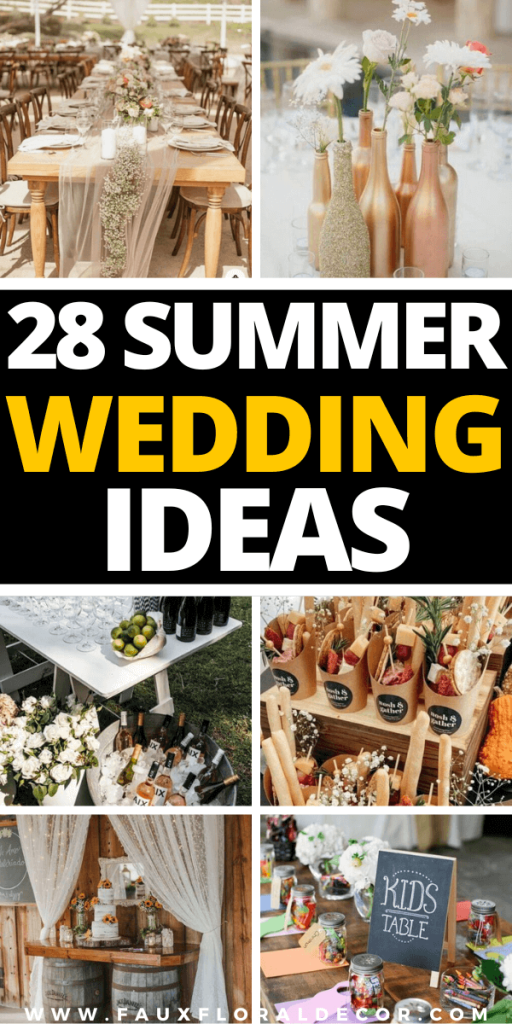 This post showed you the best summer wedding ideas on a budget.
You may also like: