This post shows you the best country wedding ideas on a budget.
Planning a country wedding on a budget doesn't mean you have to compromise on style or charm.
Some of the most unforgettable weddings are those that embrace simplicity and creativity.
We've rounded up some unbelievable country wedding ideas that will help you celebrate your special day without breaking the bank.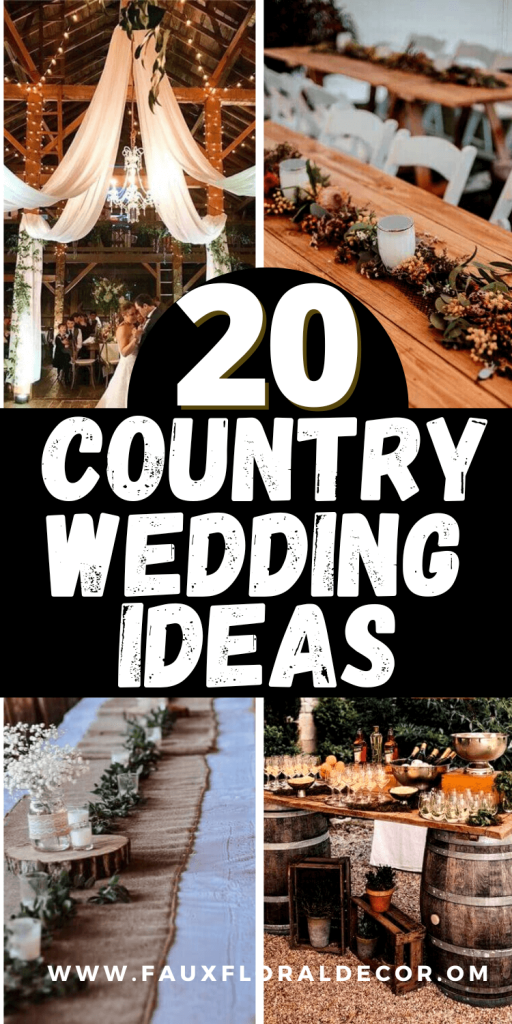 Decor pieces to include
From rustic décor to budget-friendly food options, these ideas will make your country wedding a dream come true.
The beauty of a country wedding is the fact that you can include DIY elements in your wedding.
Mason jars
Fairy lights
Wildflowers
Lace accents
Tree stumps
Pampas grass
Cute ideas to include
Choose an Outdoor Venue: One of the perks of a country wedding is the abundance of beautiful outdoor locations
DIY Invitations: Save on paper goods by designing and printing your invitations and save-the-dates.
Wildflower Bouquets: Instead of spending a fortune on exotic flowers, opt for wildflower bouquets and centerpieces. Gather wildflowers from your local area or ask friends and family to contribute. Mason jars or tin cans can be charming and cost-effective containers.
Thrift Store Finds: Explore thrift stores, flea markets, and yard sales for vintage décor, tableware, and even your wedding dress.
Barnwood Signs: Use reclaimed barnwood or wooden pallets to create rustic signs for your wedding.
Rustic Lighting: Hang string lights or mason jar lanterns to create a warm and romantic atmosphere. These affordable lighting options can transform any outdoor or indoor space into a magical setting.
Family-Style Dining: Instead of a formal plated dinner, opt for a family-style meal. Large platters of food on each table encourage interaction among guests and eliminate the need for individual plates.
DIY Entertainment: Hire a local band or DJ, or create your own playlist.
Personalized Favors: Give your guests something memorable without spending a fortune. Create personalized favors like homemade jams, candles, or even seed packets that tie into the rustic theme.
Country Wedding Ideas On A Budget
1. Burlap and greenery-filled centerpieces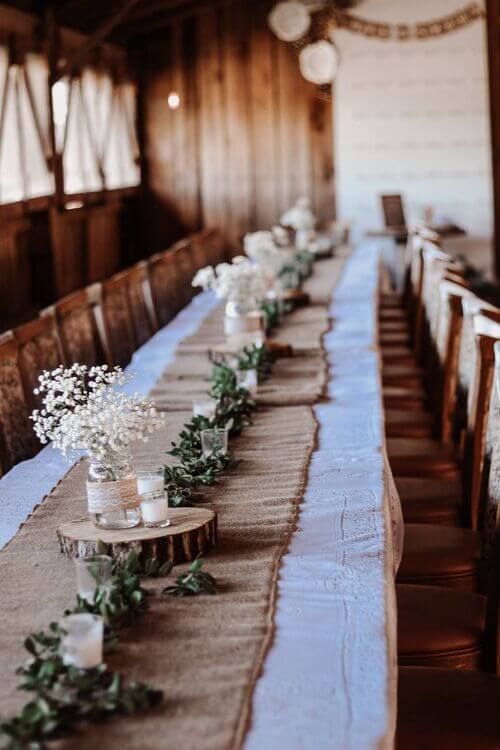 Who can say no to a simplistic approach to country wedding decor?
Table setting can be hard to keep on a tight budget.
This idea incorporates burlap pieces as well as greenery to bring a bright touch to the tables.
You can add some candles to bring a warm atmosphere into play as well.
2. Galvanized steel centerpieces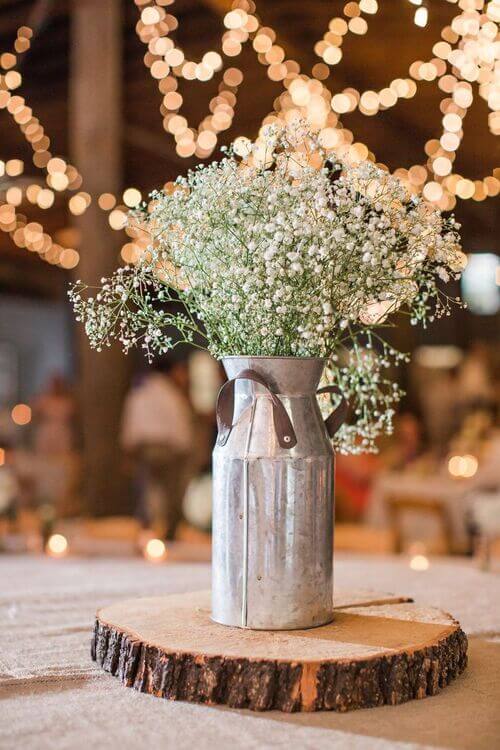 Baby's Breath is a fan favorite, especially at weddings.
This centerpiece idea brings the rustic approach and elegance together.
It's a simple idea that goes a long way.
It stays simplistic so that it doesn't fill up too much space on the table.
Add some wood slices and some fairy lights if you want to brighten things up.
3. Fairy lights and fabric decor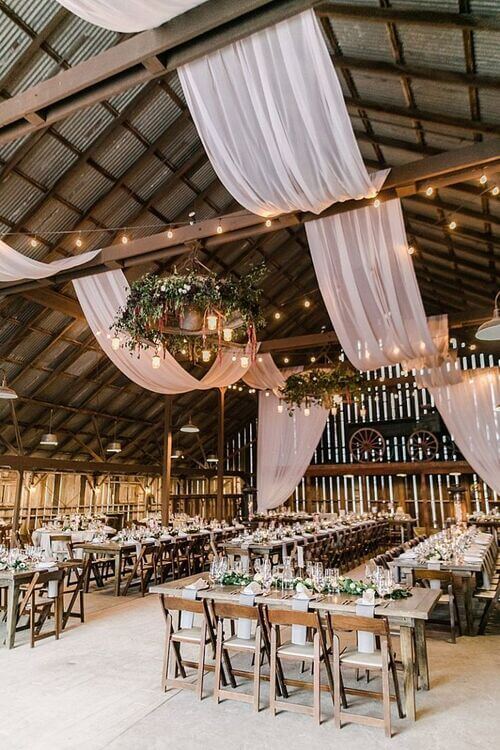 If you're working with a big venue, then take advantage of the amount of space you have to work with.
Fill the top with draped fabric and fairy lights.
It brightens up any room and brings a flowy air to the whole barn.
You can even include some greenery to close up any big spaces that might seem busy or too open.
4. Cute heart-shaped notes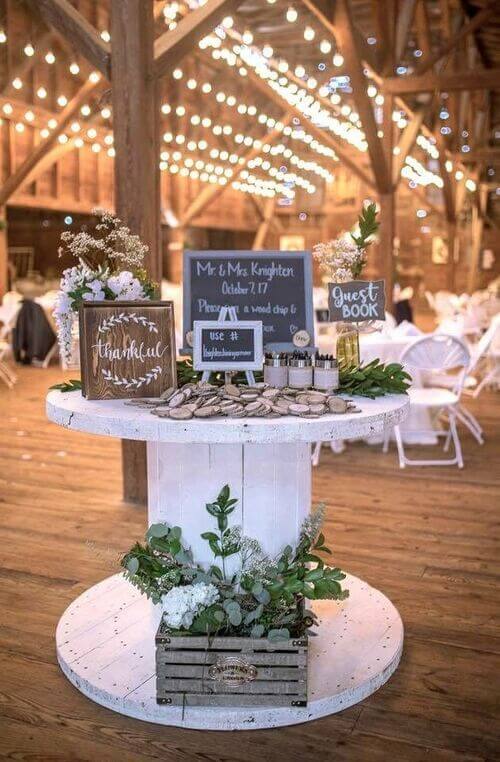 Having a station where guests can leave notes is super cute and should be included in every wedding.
This idea incorporates a chalkboard to indicate that this is the designated station for notes.
Then you can get a wooden box and compressed wood pieces in the shape of hearts for guests to write their messages on and drop into the box.
Heart-shaped messages in a box
5. Draped fabric decor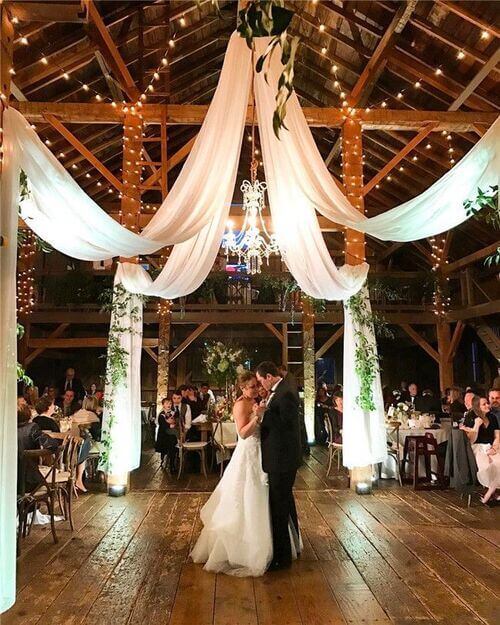 A flowy look brings such a nice touch to wedding pictures.
Use white fabric wrapped in greenery to recreate this look for your own wedding.
Add fairy lights to bring a warm touch to the barn.
It sets the perfect tone for the wonderful day and people will love the creativity.
6. A cute DIY reception sign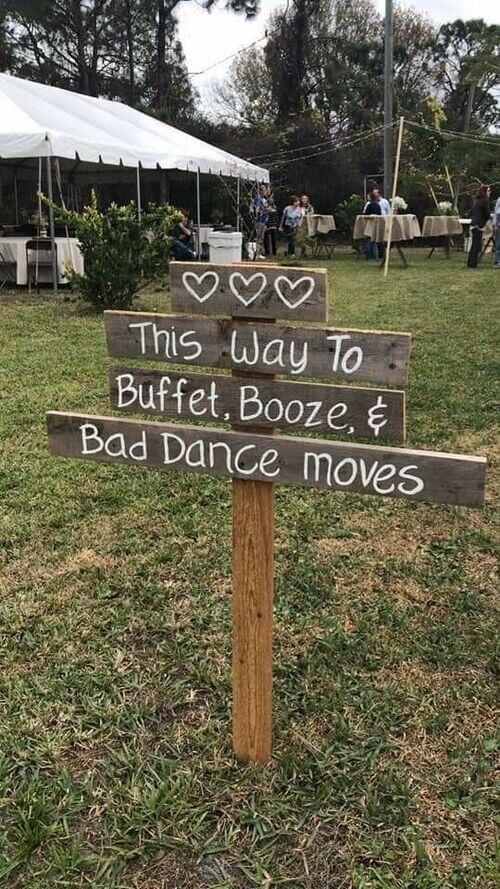 What better way to stick to the budget than to DIY some of your decor?
This super cute decor piece is just what you need to point the guests in the right direction.
All you need is a few pieces of wood and either a white marker or some chalk paint and a piece of chalk.
It's fun and brings a new approach to things.
7. Pick your poison station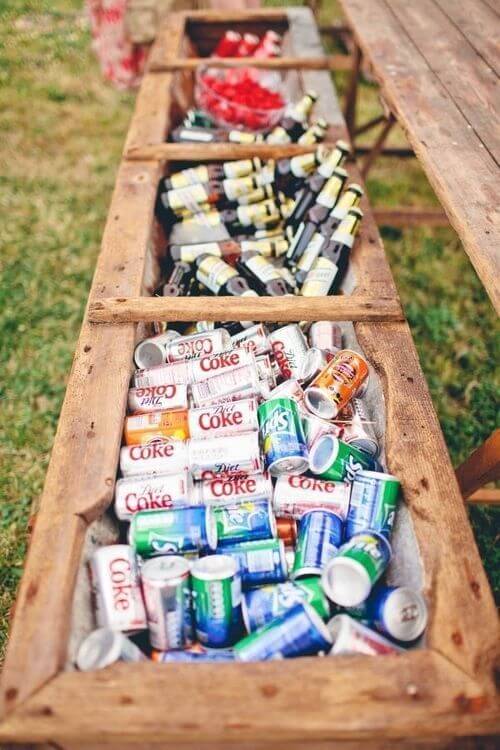 Give your guests the joy of options.
This drinks station is fun and better than having to take out a fortune for a giant bar that won't be used.
If you know your guests well enough you should be able to pick five or six options for them to choose from.
It's perfect for small or medium-sized weddings.
8. Wildflowers and candles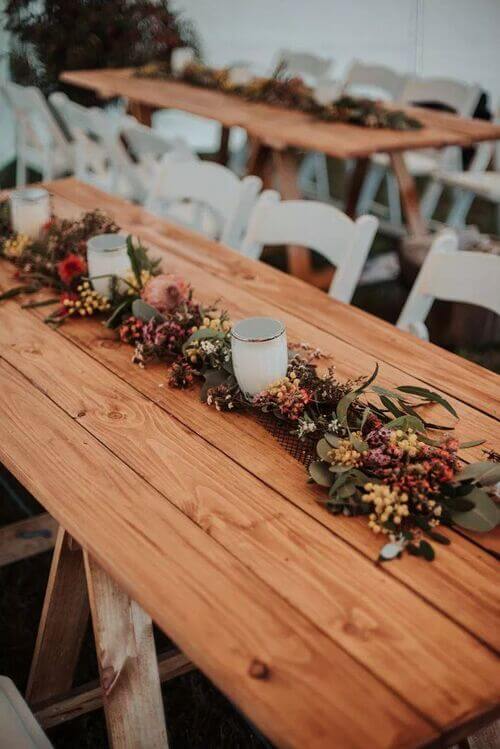 Country weddings are my favorite just because you get to play around with wildflowers and rich colors.
Country weddings don't have a set color scheme or theme, which makes them perfect for any season.
These wildflower centerpieces work well if you include some candles and bold accents.
You don't need to add a lot to the table because these rich colors will already be working in your favor.
9. Cute memory board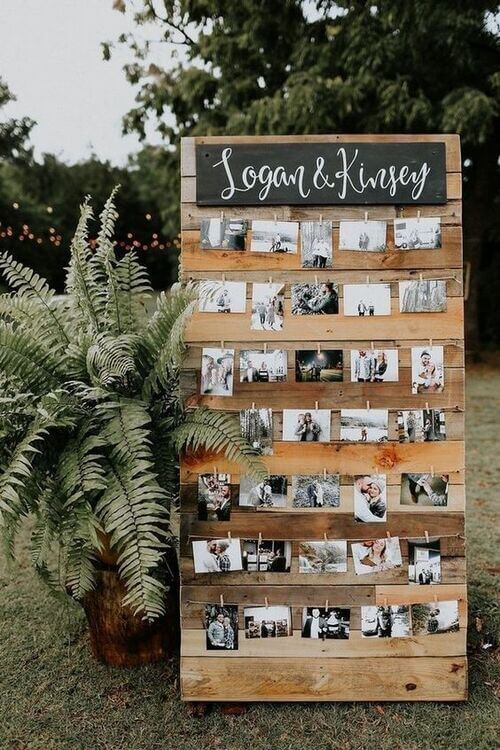 A simple idea that fits the country by staying rustic and cute is this wooden memory board.
It works great as a way to share all the memories that have been made over the years.
You can include pictures of adventures or engagements.
Keep it fun and show your personalities as a couple.
10. Vintage glasses, candles and fabric table runners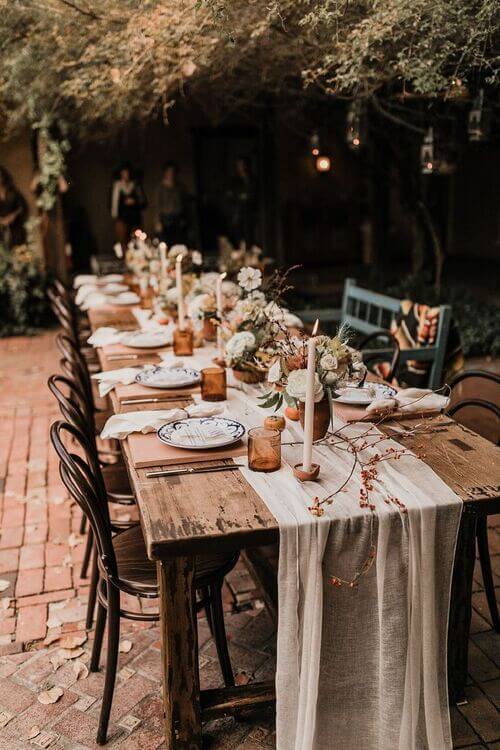 If you're looking for a specific vintage element to add to the big day, then look no further.
Incorporate some stained glassware, fabric table liners, candles in golden or copper holders, and wildflower centerpieces to bring a vintage touch of elegance to your wedding day.
11. Mason jars and baby's breath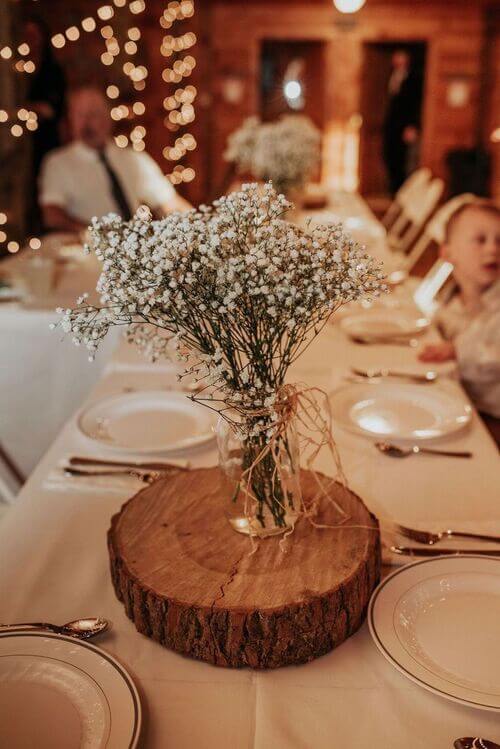 To the lovers of minimalism who still want a rustic touch, this is for you.
Grab some wood slices to place in the middle of the table.
You can then include some mason jars with straw or twine wrapped around them and include some small flowers such as baby's breath or even daisies.
It's elegant and clean making it perfect for minimalistic additions.
12. Booze station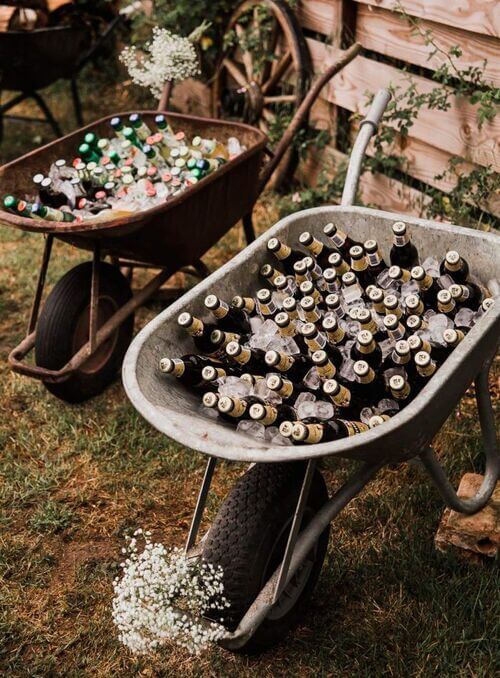 This is probably the best idea I've ever come across for a country wedding.
A wheelbarrow bar is perfect because not only can you keep your drinks cool but it is also portable.
It's fun and brings a cute touch to the wedding.
13. Sunflower aisle decor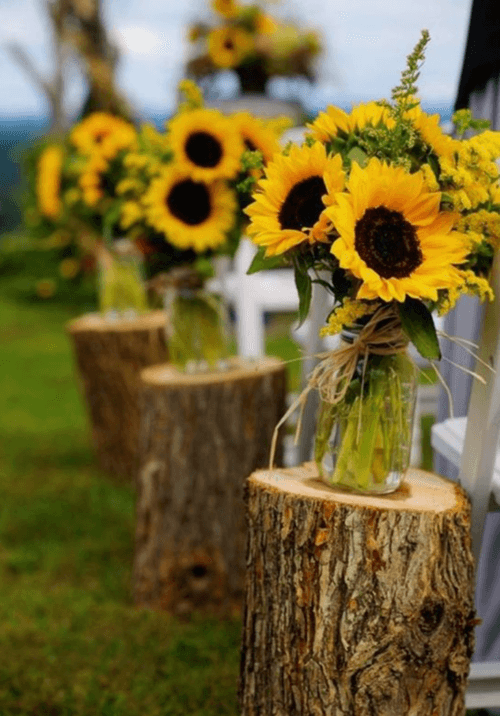 Sometimes it can feel like a hassle to find the perfect aisle decor.
Here's an idea that brings a pop of color and stays within the budget.
It includes mason jars filled with sunflowers and simple tree stumps to place them on.
You can add them to every second aisle so that it doesn't feel too crowded but still works efficiently.
14. Initial decor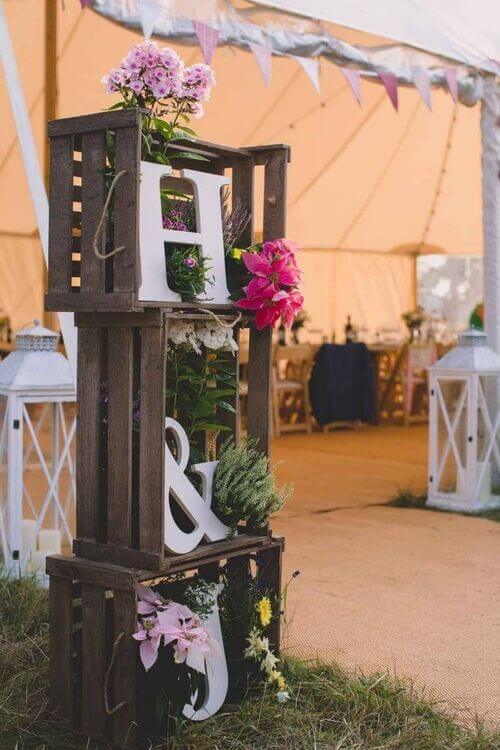 If you're looking for some decor pieces to include in the reception, then why not try this?
These stacked crates include your initials, flowers, and greenery and would work perfectly with fairy lights to brighten things up.
It's perfect for the entry to the reception or next to the cake table.
15. Tree stumps and white flowers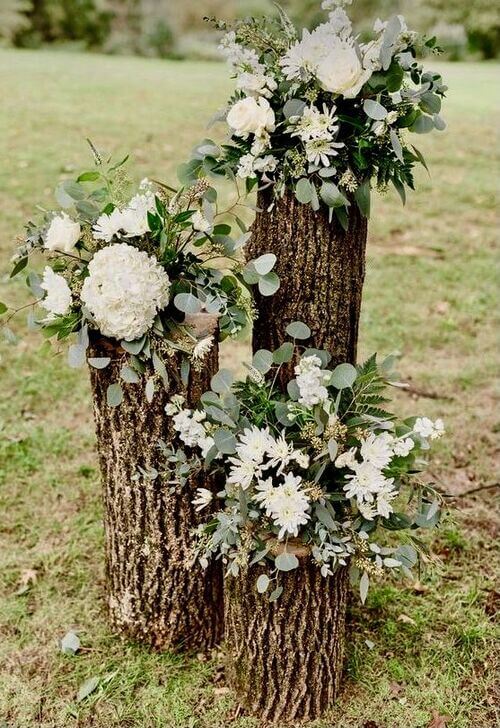 These tree stumps with bouquets are perfect for filling up empty spaces around your wedding venue.
If you have random spaces that need a little something add a few of these.
You can even use them as aisle decor.
This keeps to the rustic approach while staying simple, and you don't need to break the bank to make this work.
16. Celebration station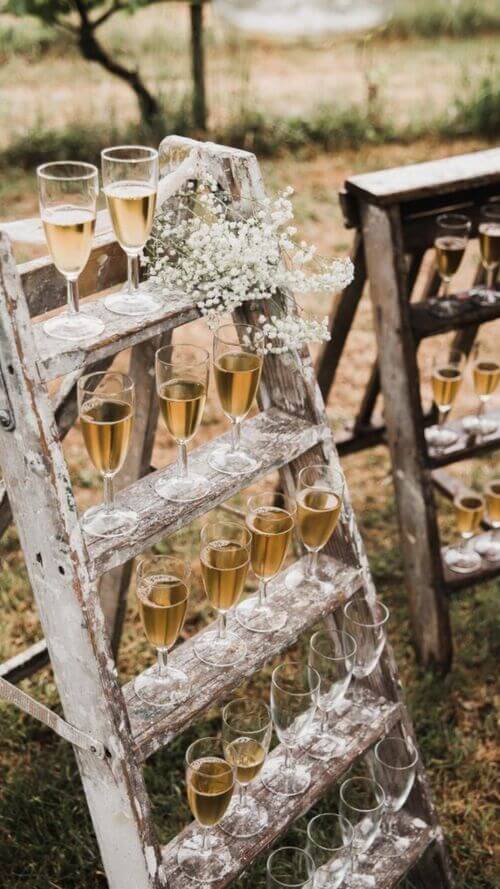 Give everyone a little something as they enter the reception.
This is the perfect idea to get things started and get guests to mingle.
Grab some old ladders and incorporate some flowers to fill up some space in between the glasses.
It's a cute idea that will go a long way.
17. Ladder decor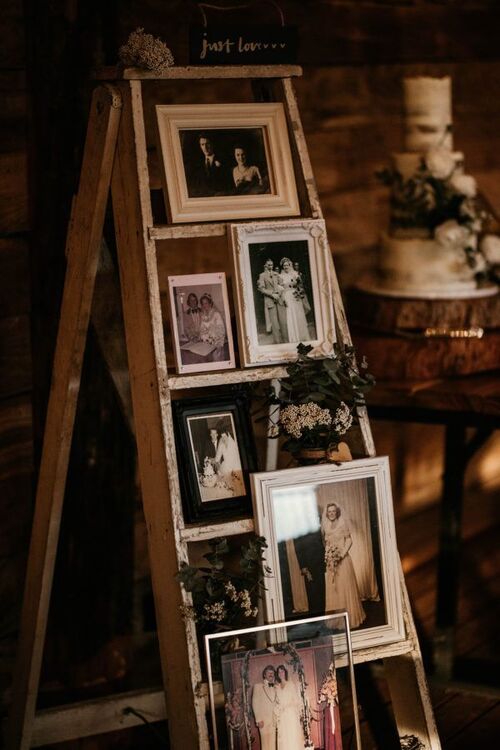 The iconic ladder idea just upgrades every time I see it.
Use it as a showcase of all the wonderful marriages in your family and how they are coming together.
Or use it as a way to showcase the growth of your relationship.
It's a fun idea that can go a long way.
18. Barrel bar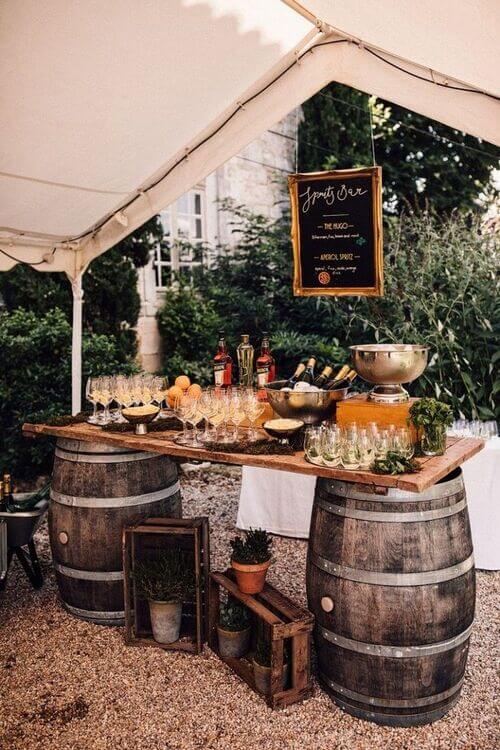 In need of a little something different?
Don't worry; I have got you covered.
Grab two barrels and an old wooden door to create the perfect rustic country bar.
Incorporate all your favorites and maybe even a signature drink for the evening with this idea.
Add some plants here and there to fill up the empty space as well.
19. Barn-style cake table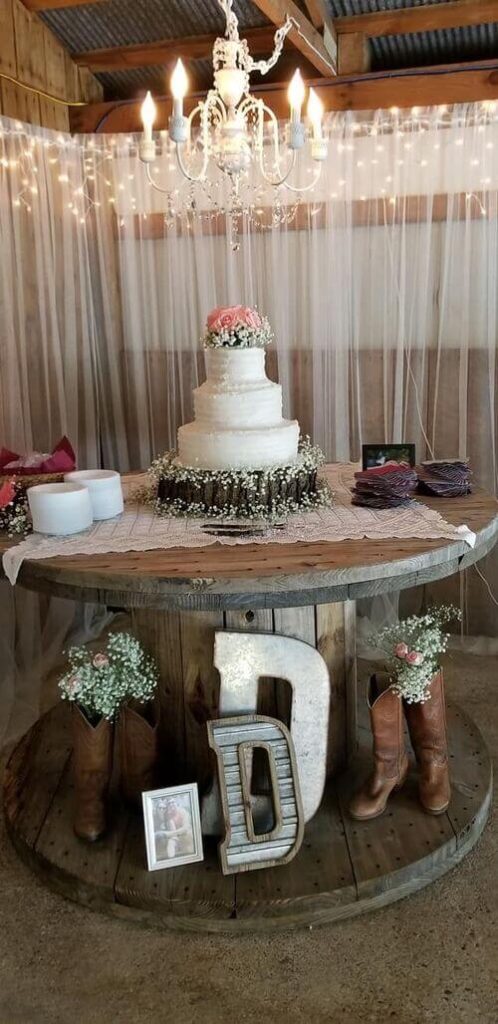 Bring in the cowboy boots and fill them with some baby's breath.
This idea brings a gorgeous touch to the wedding and makes the perfect photo-worthy cake station.
Keep it simple or go all out. It's all up to you.
20. Staying hydrated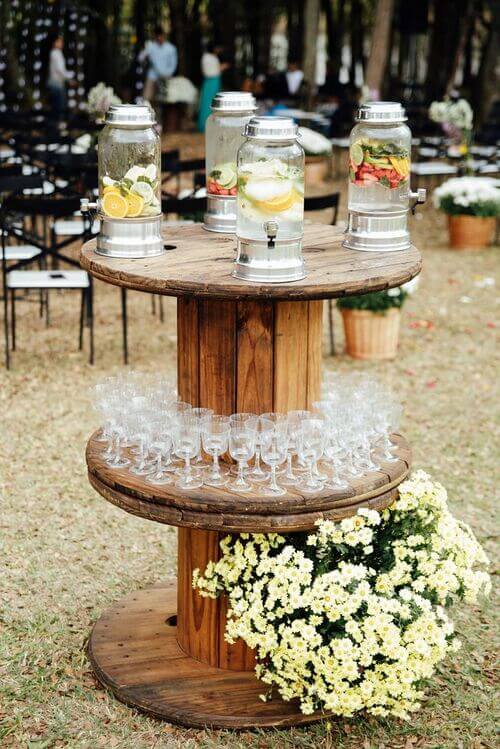 This unique idea makes the perfect hydration station while offering options.
Bring in four jugs filled with different fruits and water for guests to choose from.
You can place glasses on the first tier so that people can grab and go as they please.
The perfect country wedding
A country wedding on a budget can be just as charming and unforgettable as an extravagant affair.
By incorporating these budget-friendly ideas, you can create a beautiful and meaningful celebration that reflects your style and personality.
Remember, it's the love and the memories you create that truly make your wedding day special.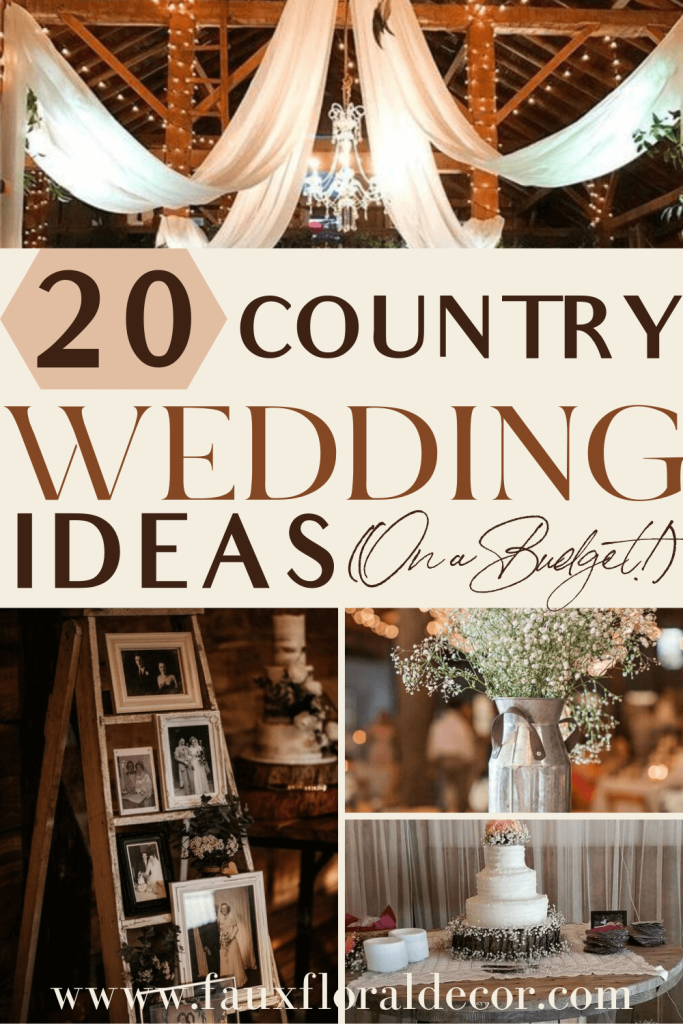 This post showed you the best country wedding ideas on a budget.
You may also like: