This post shows you the best wedding centerpieces!
With all the expenses a wedding adds and trying to keep to a set budget, there is no room for error.
You want the perfect day without breaking the bank, and we have just the idea for you!
Skip the florists and create your wedding centerpieces yourself.
Or use these ideas to show to a florist to create your perfect wedding bouquet.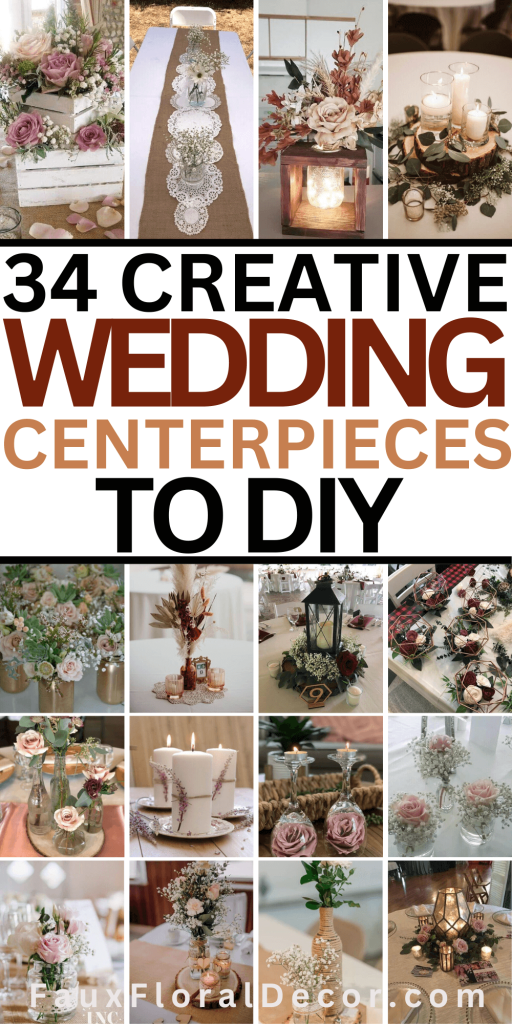 When did wedding bouquets start?
Wedding bouquets are a tradition that started in ancient Rome.
Bridal parties would wear crowns of leaves scented with flowers to be an 'offering' to the Gods.
It had been said to promote good fortune and fertility within the marriage.
This tradition has been given a modern-day approach but still is used as a good luck charm on the wedding day.
That is why we throw the bouquet at the wedding reception.
It is a symbol to the person who catches it and will offer the person who catches it good luck in their relationship.
Why are centerpieces important?
Centerpieces set the theme for the wedding and offer a 'wow' factor for all your guests to enjoy.
They can be enjoyed after the wedding as well.
Either by donating them, reusing them in your home, or preserving them to remember your special day.
They are a way to fill up the table, and if you are using specific flowers, it gives new meaning to the symbolism behind them.
1. Baby's breath and blush pink roses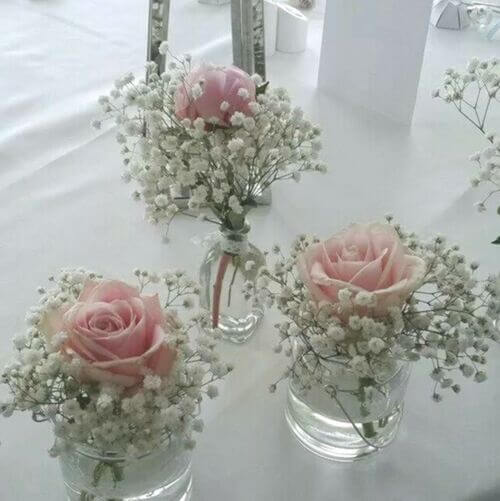 If you're looking for a subtle idea then try this for change.
Staying to light colors will brighten up the table without being too bold.
This idea can tie into each theme without taking away from the color scheme.
2. Red roses and baby's breath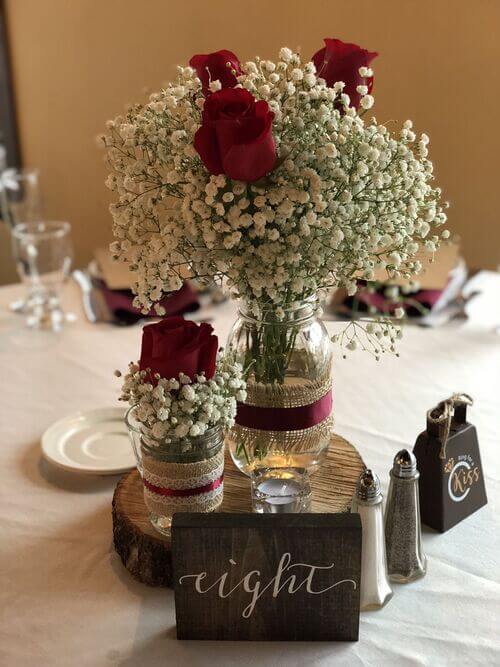 Wrap the jars in lace and red ribbons (or the color that corresponds with the flowers).
It's a cute idea that is easy to recreate without hassle or breaking the bank.

3. Lit-up mason jars with autumn-colored flowers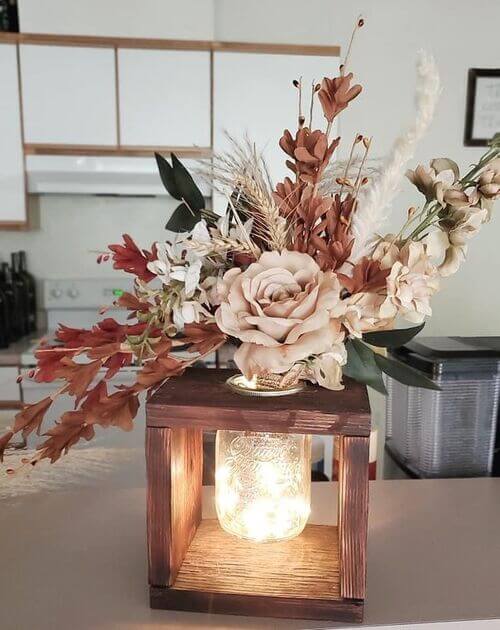 A different approach to table decor is this wooden box that holds mason jars.
You can fill them with gorgeously colored flowers that fit your theme perfectly.
It's also nice to add some fairy lights to the bottom of the jars so they can provide extra light to your table.
4. Simple pink and white rose pieces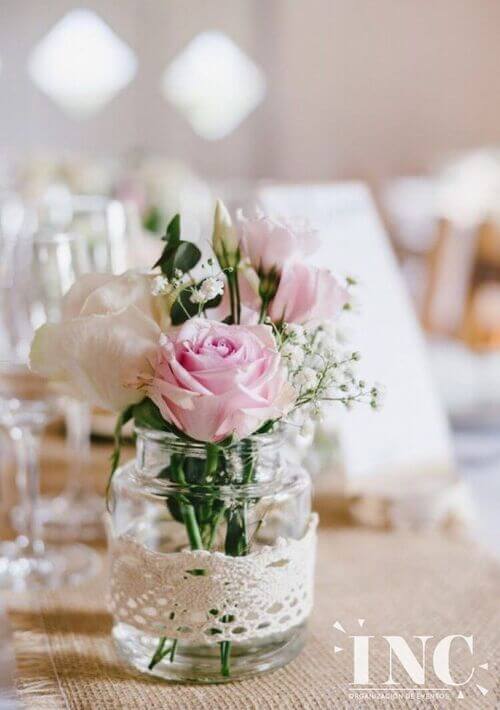 Wrap the small jars in lace and use roses to fill them.
It's simple and creates a pretty and petite centerpiece.
This is fantastic if you know you have limited table space.
5. Lanterns in rose and greenery circles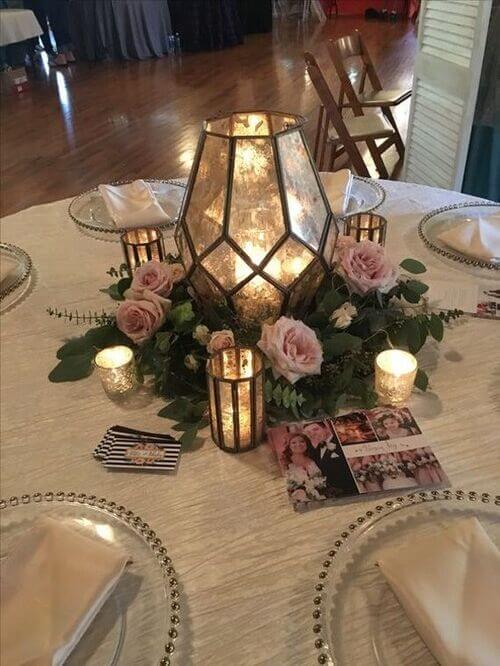 If you're looking for a warm glow to the table then these cute little lanterns are just what you need.
Add some dusty pink roses and greenery.
If you're looking for an extra touch, you can try to add some candles too.
6. Wooden boxes filled with pink blossoms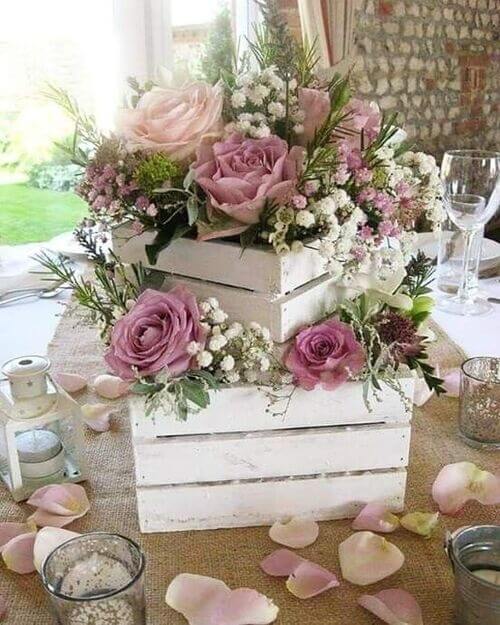 These wooden crates are a nontraditional approach to centerpiece ideas and offer a new idea for filling up the table.
7. White roses in filled jars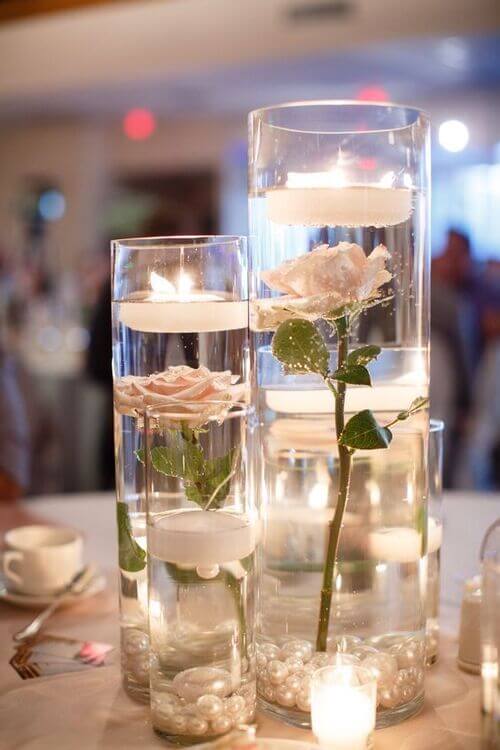 For the lovers of floating tea light candles, here is another addition to try.
Place roses in the jars and place tea lights on top of them.
This fun idea will surely give your guests something to discuss for weeks.
You can also fill the bottom with pearls for an extra touch.
8. Green and white garlands with vintage white lanterns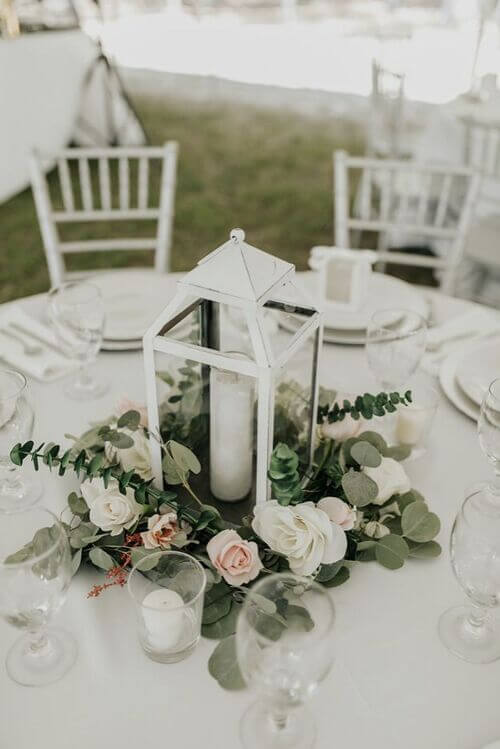 Lanterns filled with candles offer an elegant approach to any wedding.
They offer good lighting at night and fill up the table without being overwhelming.
Wrap them up in greenery and florals to take away the hard edges.
9. Eucalyptus and peach rose centerpieces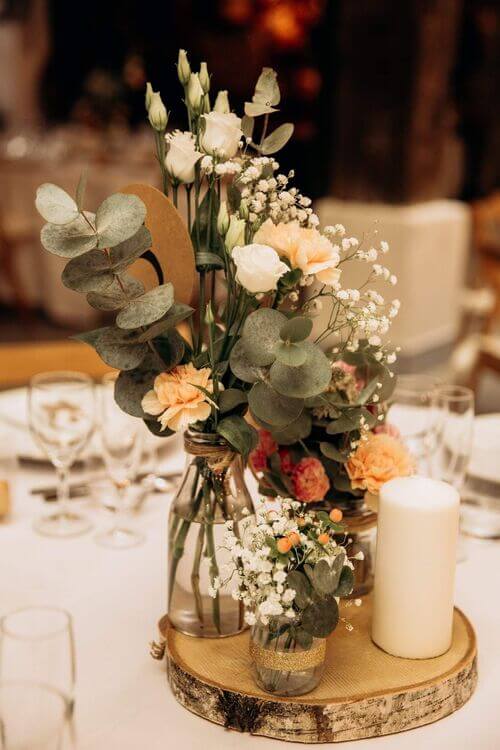 Eucalyptus and peach roses are the perfect balance between natural and bold.
This decor piece works well with small candles and is placed in a woody or outdoor atmosphere.
10. White candles wrapped in twine and lavender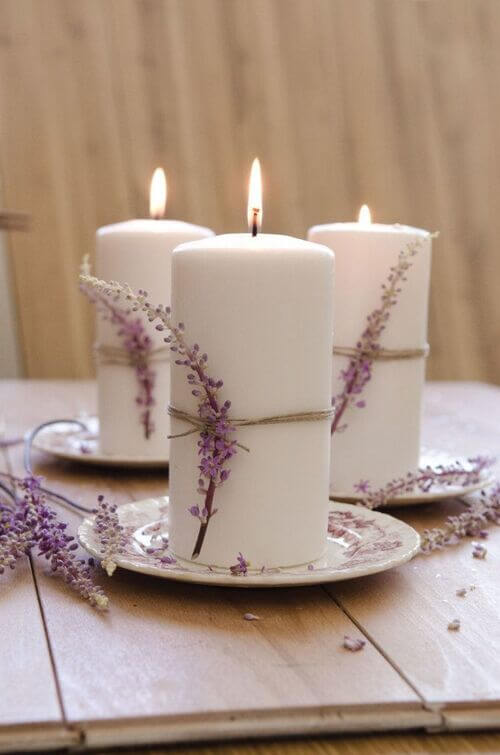 This budget-friendly idea is perfect for those who want to keep things simple and elegant.
Use plain white candles and wrap them in twine and lavender to tie into the wedding theme.
11. Purple and white roses in mason jars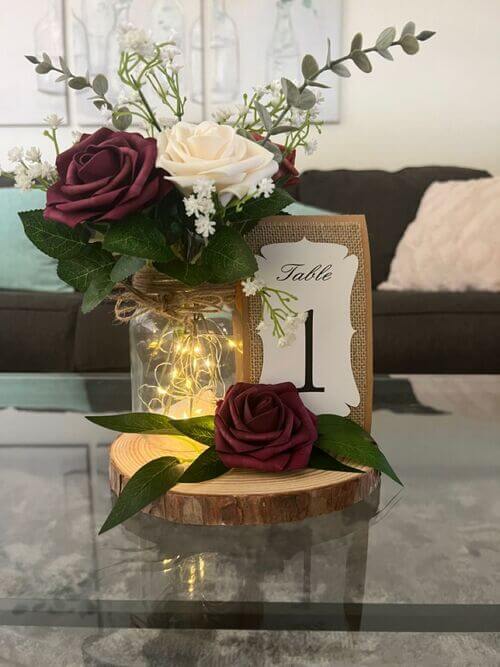 Mason jars filled with fairy lights are always the go-to for wedding decor.
Pairing the simple mason jar with the dark purple and white roses makes this centerpiece bold.
12. Baby's breath and succulent table pieces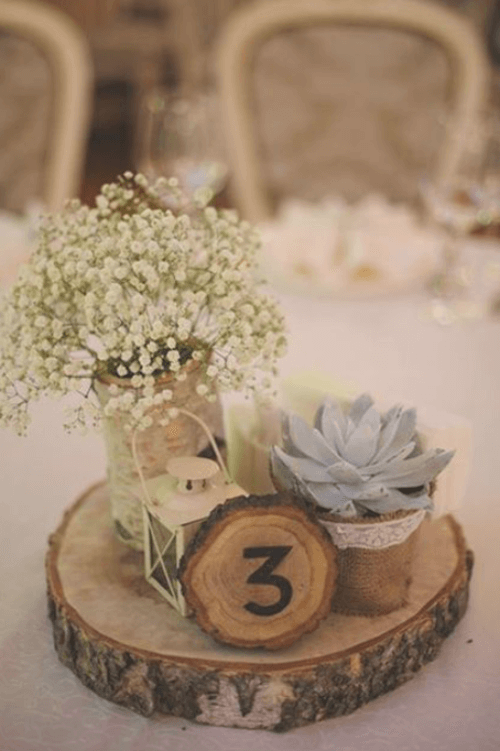 This natural piece is great for outdoor lovers. Hollow out tree stumps and use them as holders for centerpieces.
You can pair them with bright-colored succulents to create a wonderful outdoor centerpiece idea.
13. Roses in twine-wrapped wine bottles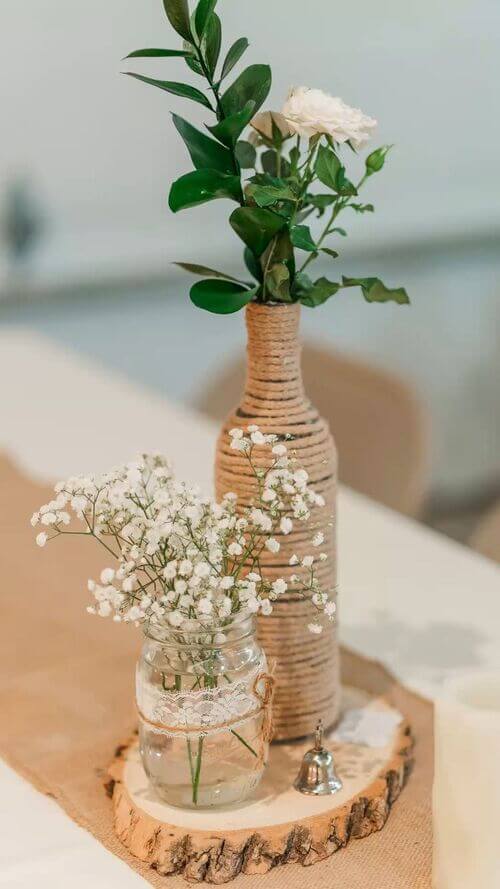 This idea is easy to DIY. Create these bottles and wrap twine around wine bottles.
You can pair these natural decor pieces with light-colored roses or any flower that fits your needs.
14. Dark lantern accents with dark red roses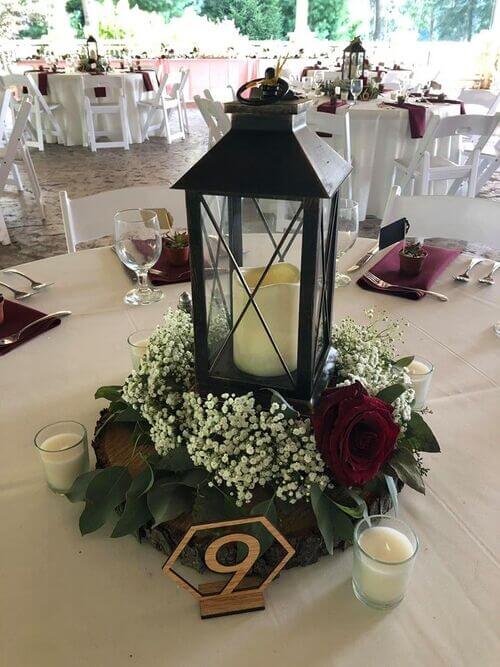 These dark accents are perfect for any time of year.
Pairing them with a bright red rose will surely make any table decor stand out.
If you feel the colors might be too bold, you can always add white flowers or small leaves to fill out these pairings.
15. Gold-sprayed bottles filled with big roses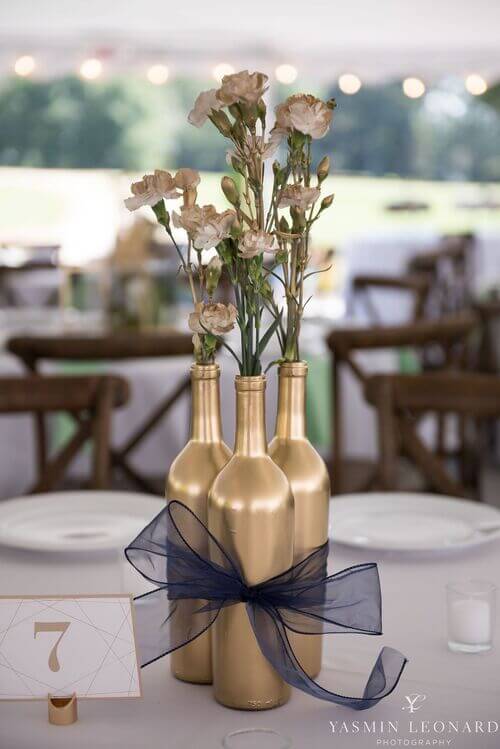 Recreate this by spray painting wine bottles with gold (or any color that fits your needs) paint and tie it off with a ribbon.
You can then place roses on the top.
It will create a beautiful big bouquet.
16. Pampas grass, eucalyptus, and roses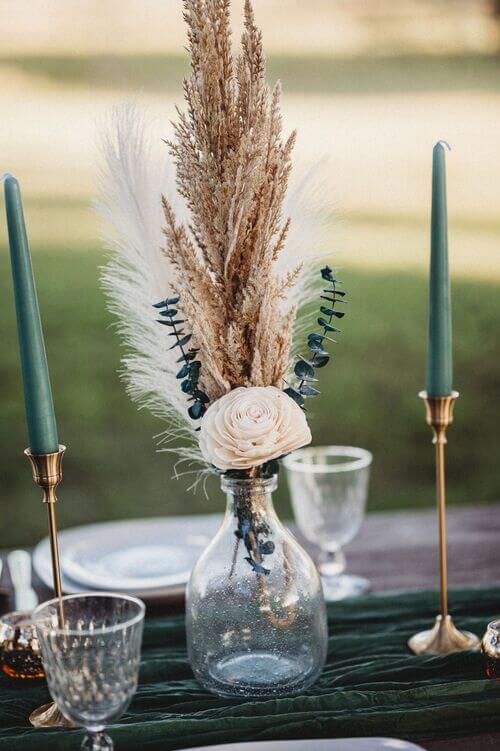 Create this natural centerpiece by using eucalyptus, wild grass, roses, and pampas grass.
Its natural and barn-like look gives it an uncut look that works great for any wedding.
17. White blossoms in glass jars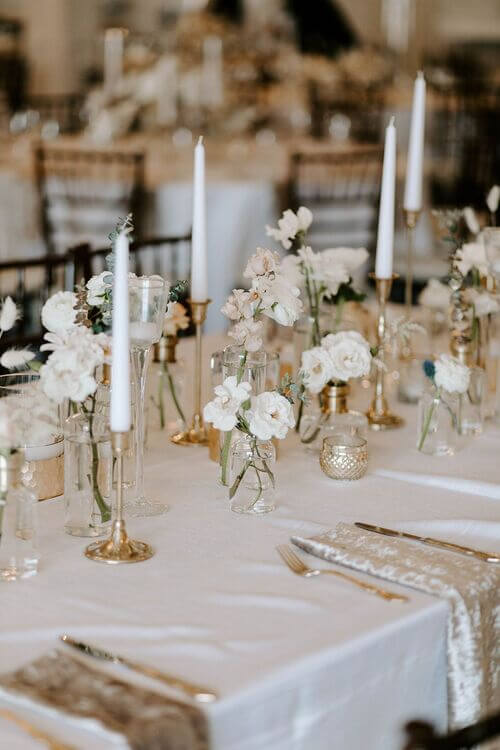 The candle holders' white flowers and gold accents create a beautiful contrast for the table.
The bold gold and clean white are perfect for a table centerpiece.
18. Wildflowers and roses centerpieces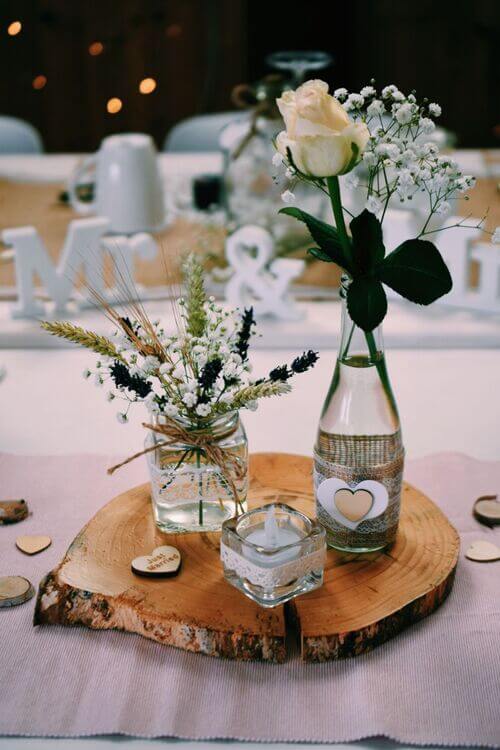 If you're looking for something that is a little more basic and doesn't use many flowers, this is perfect for you.
Wrap some twine around the jars and place a single rose inside.
It's clean and crisp.
19. Roses and tea light centerpieces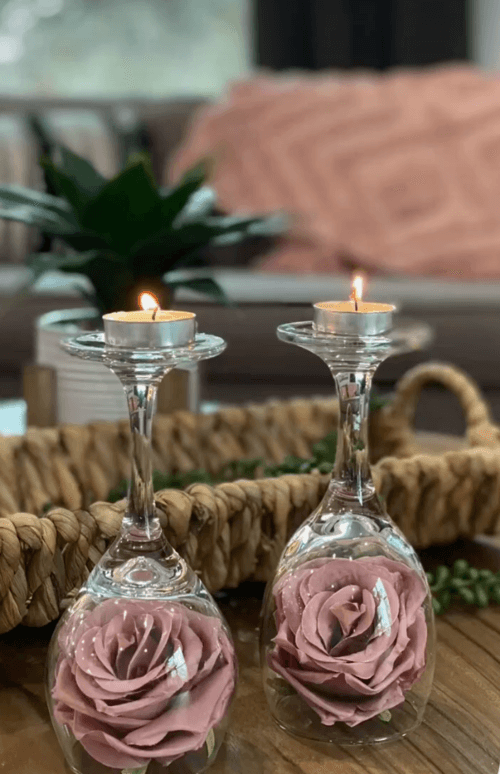 This idea is unique and easy to recreate.
Place roses on the table and close wine glasses over them to create the hourglass effect.
You can then place tea lights on top of the bottoms of the glasses.
It's a fun idea that people will love.
20. Greenery and rose centerpieces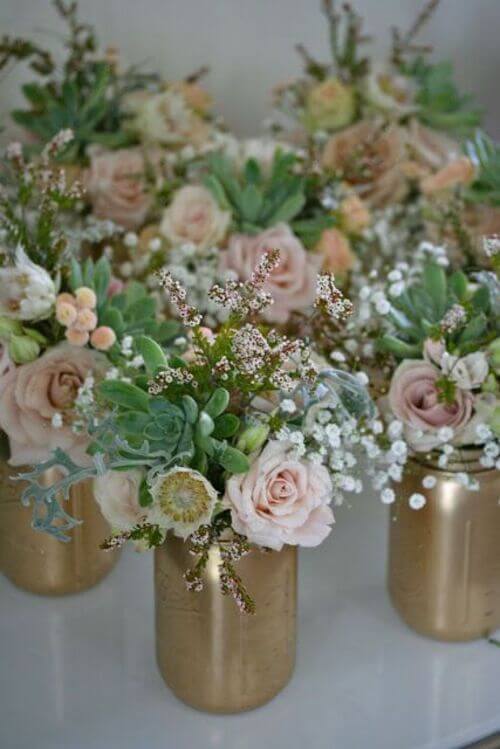 Paint mason jars in your wedding colors and compliment them with a simple bouquet.
It keeps things interesting if you're still able to play around with colors.
21. Wooden rounds and tealight pieces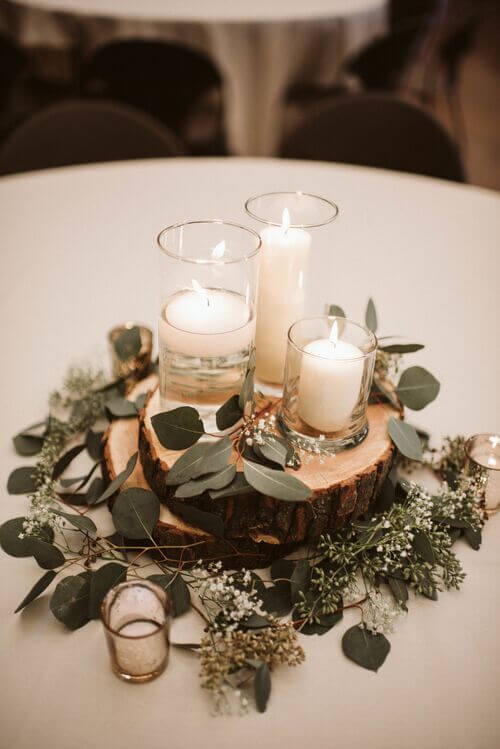 Create this by making floating candle displays and surrounding them with bright greenery.
It is simple yet effective in creating a natural look for the wedding day.
22. Doily paper and daisy centerpieces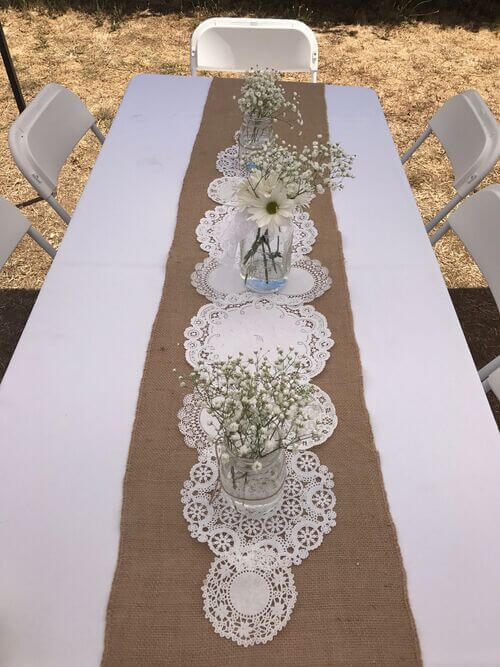 Daisies, doily paper, and baby's breath.
The perfect white-on-white combo for any wedding centerpiece.
If you have a bright wedding theme, then this will be great to break away from bold colors.
Related: 17 Best Wedding Theme Ideas By Color You Can Easily Recreate On A Budget
23. Pampas grass and white roses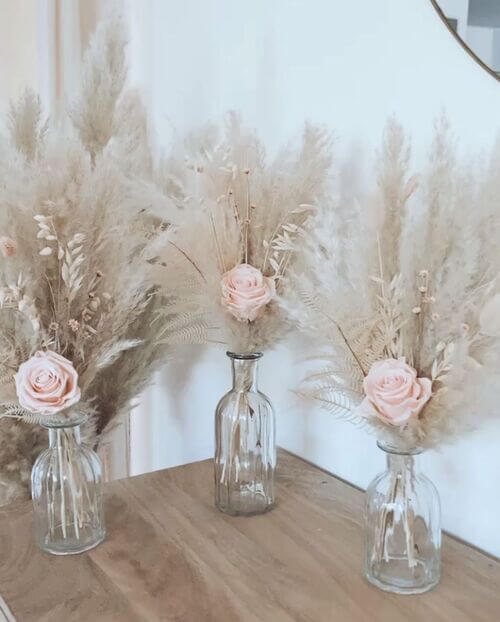 Keep it elegant by making use of pampas grass and pink roses.
These pieces work great placed around the room and don't have to be in the center of the table to make a statement.
If you want something to place around the room, this will be perfect.
24. Blush pink and lavender bouquets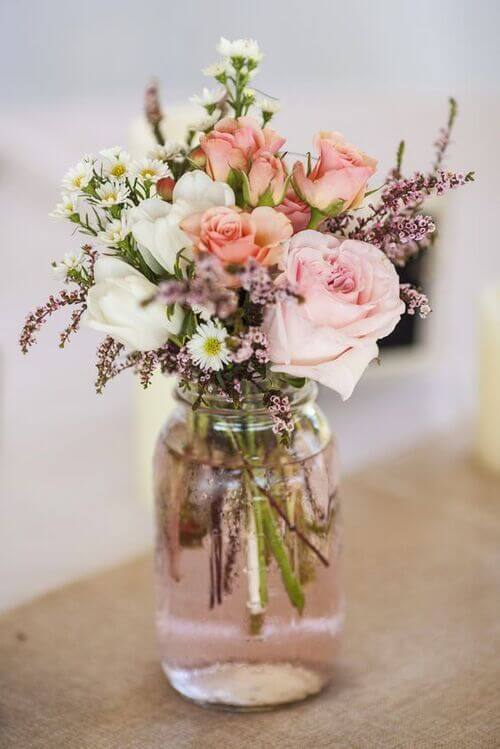 These bright bouquets of roses and lavender give the day a bright touch.
It instantly opens up a room, and the touches of lavender give the perfect aroma to relax into.
People will love these pieces, and they are budget-friendly too.
25. Wood and lace table pieces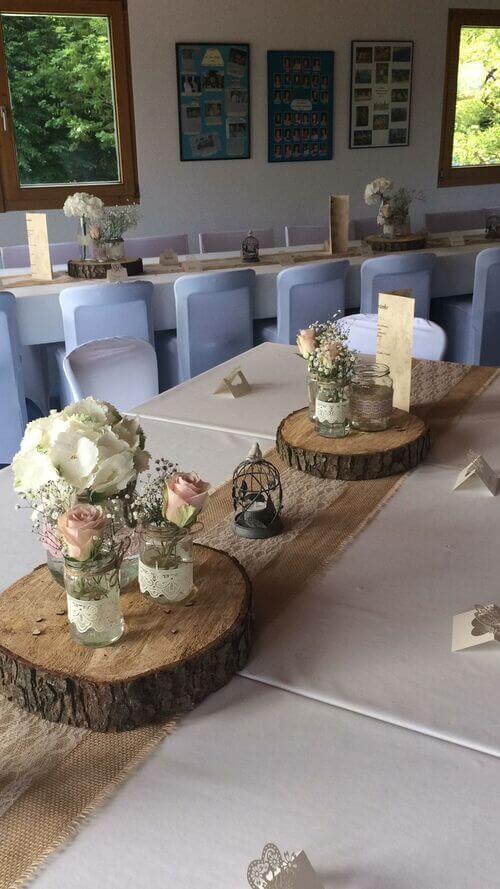 Lace and wood accents pair well together.
Incorporate both of these with some glass jars to tie them all together.
Use pastel roses or baby's breath to give this centerpiece a subtle look of elegance.
26. Floating tea lights and flower centerpieces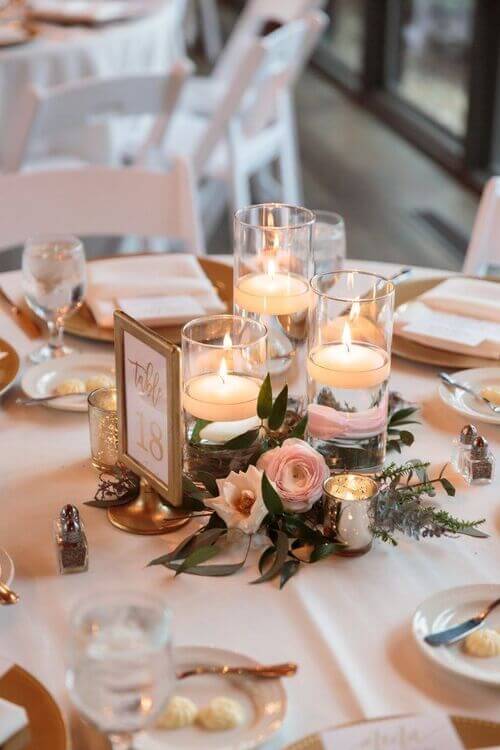 Floating tea lights have become a fan favorite in the wedding industry.
They leave guests excited and are simple to achieve.
Fill a jar with water and simply let the tea lights float on top of the water.
It's easy and quick. Anyone can incorporate this idea into their big day.
27. Roses in coke bottle glasses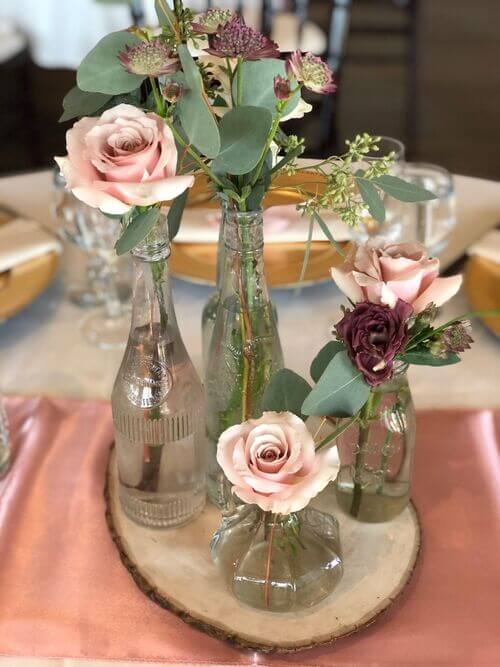 Fill vintage glass bottles with water and place roses in them.
This simple idea is a classic piece for weddings and is great since it can tie into any decor theme.
Try out this idea if you're trying to stick to a strict budget or just want a plain idea to follow.
28. Hexagon cages filled with roses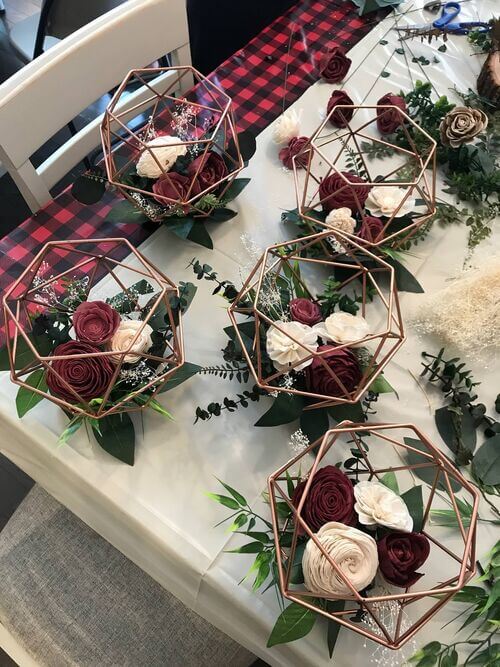 An amazing idea that's worth trying out is finding iron hexagon shapes and painting them in a color of your wedding theme.
You can then fill them up with your flowers of choice and create a structured shape filled with the natural beauty of flowers.
29. Roses and greenery lanterns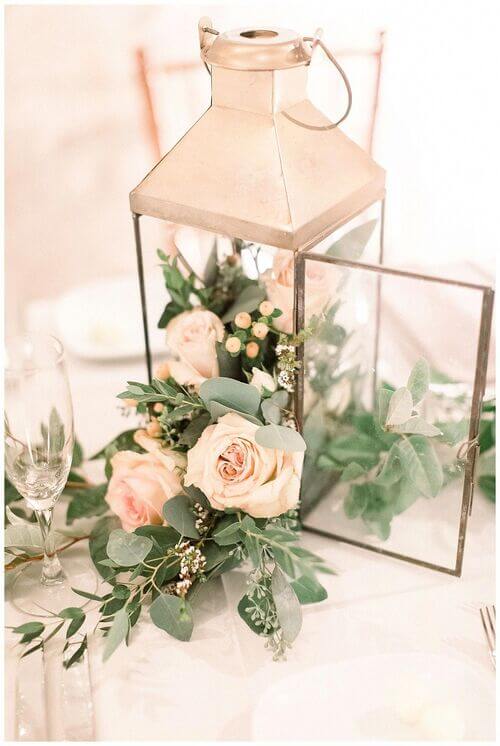 Recreate this idea by grabbing some vintage lanterns and filling them with greenery and roses of your choice.
If you use fairy lights, guests will love these centerpieces even throughout the night.
30. Pampas grass and wildflowers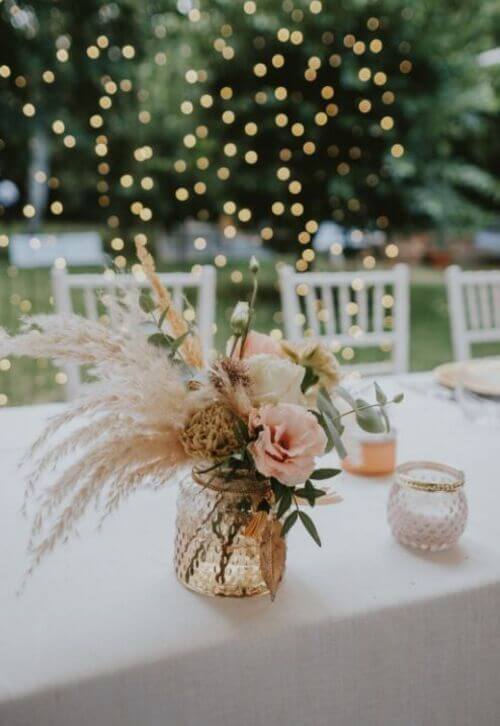 These wild grass and floral arrangements are perfect.
The light brown, pastel pink, and white complement each other perfectly.
The small jars let you decorate the table without making it seem over the top.
31. Pampas grass and orange accents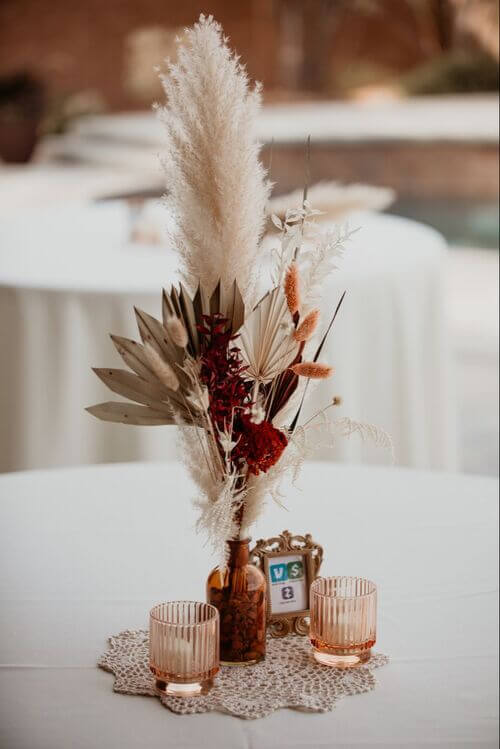 If you're having an autumn wedding or just thinking of incorporating dark browns and oranges into your wedding then you'll love this idea.
It's bold and bright but still neutral due to the pampas grass and glass.
It's a unique approach to centerpieces and wedding decor and opens the door to a broad approach of opportunities regarding the rest of the decor as well.
32. Succulent terrariums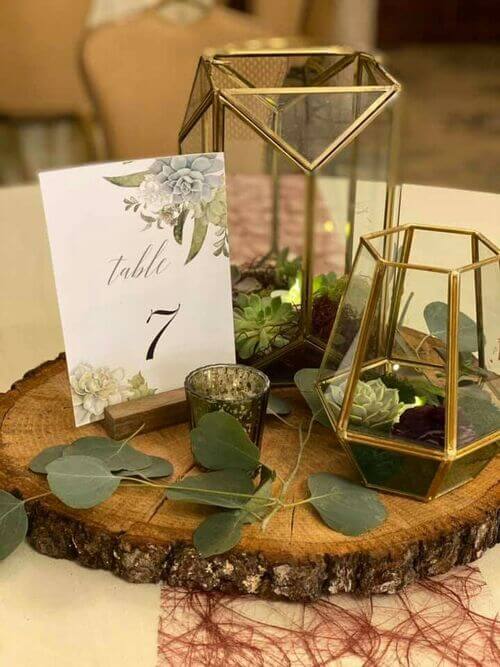 These golden terrariums are filled with gorgeous colors from an assortment of succulents.
Since they are low maintenance, you don't have to worry about them wilting or getting damaged.
We don't often see these plants being used as wedding pieces, but I think they'll be a lot more popular due to the unconventional approach.
33. Wood circles, baby's breath, and roses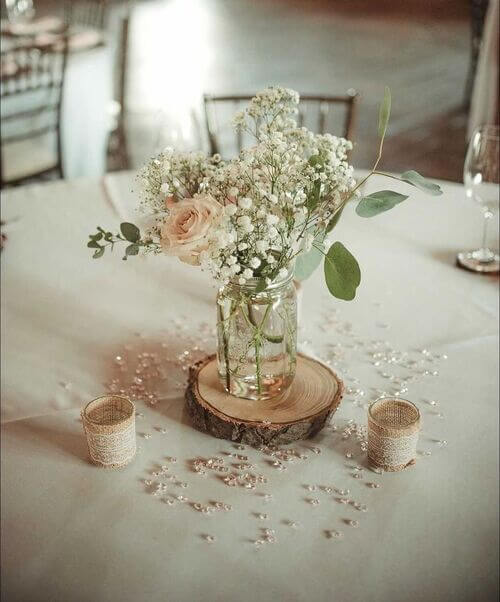 A simple and gorgeous idea to try is this bundle of baby's breath and roses.
It stays simple and effective to use as centerpiece ideas.
They balance well with the wooden accents too.
34. Twine-wrapped jars filled with roses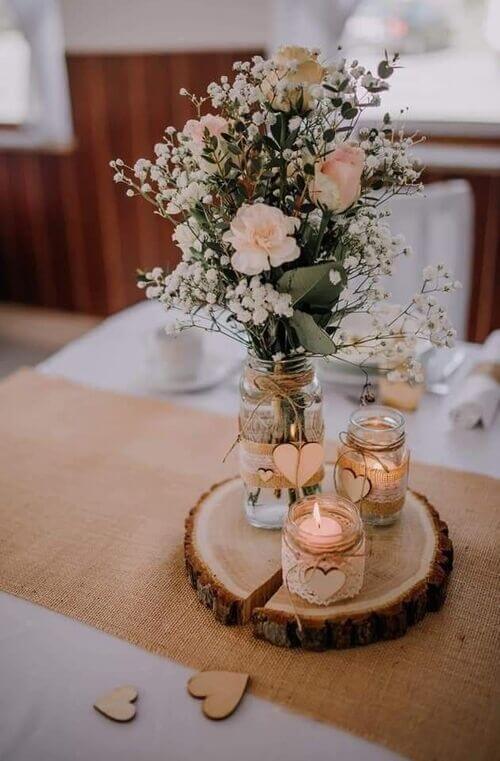 These jars are cute and add a neutral tone.
Wrap the glass jars in lace and wooden hearts and fill them up with roses, baby's breath, and small candles.
Then you can place the jars onto a wooden circle to tie them all together.
Centerpieces and how to create them
Keep in mind that the most efficient and budget-friendly way to recreate a wedding centerpiece is by buying in bulk.
These flowers can all be reused without being wasted.
Your friends will also enjoy taking them home if an abundance of them is left on the tables.
Spice things up and create what you love.
They don't have to be perfect if they have a special meaning to you.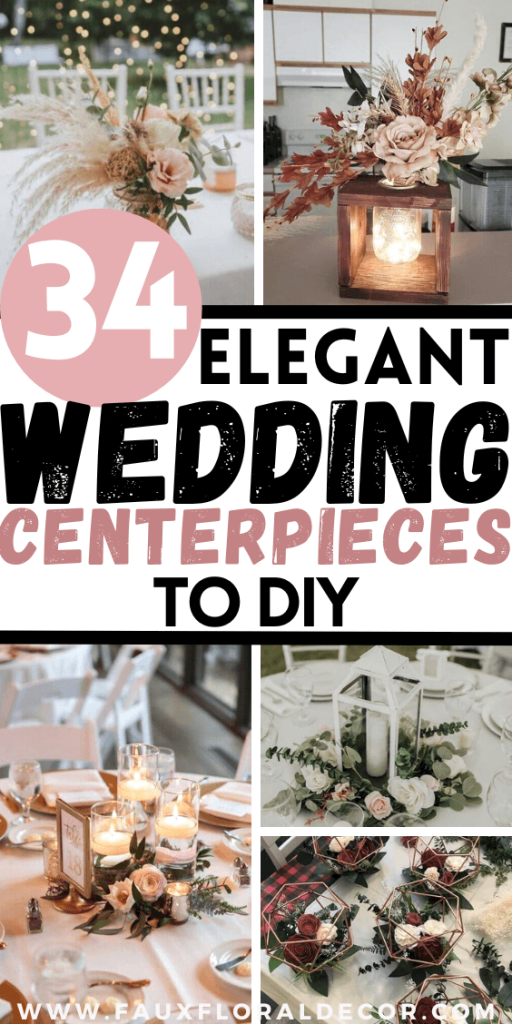 This post showed you the 34 best creative wedding centerpieces.
You may also like: