This post shows you the best wedding mason jar ideas.
Mason jars… the saviors of wedding decor. If you're looking for ideas to spice up your wedding then look no further.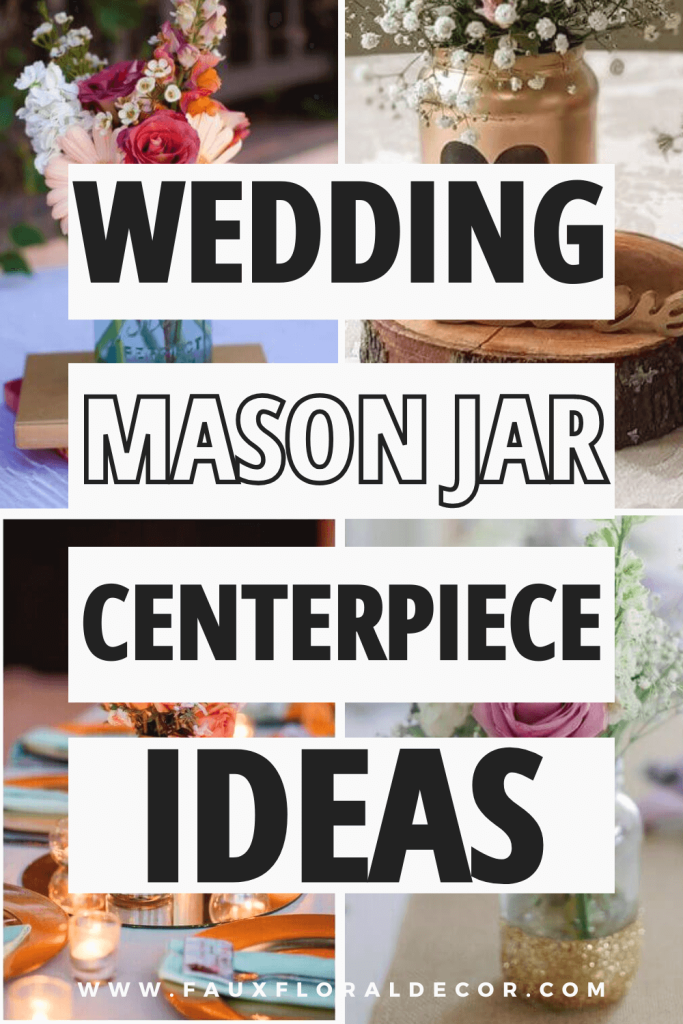 Why choose mason jars?
Mason jars are the easiest wedding decor ideas to DIY.
Get creative and show your personality.
Everyone loves mason jars and the number of ideas you can make use of is crazy.
The fact that these are fully customizable and can fit into any theme makes them the perfect decor pieces for tables, lighting or just standing around.
Tips to remember
If you're unsure of an idea to try out for your wedding you can always stick to these:
Painted jars
Burlap and lace covers
Tinted bottles
It's easy to customize these jars to suit your needs and add your own flare.
Your wedding should be all about your perfect idea and theme, so it just makes sense to keep to something you love.
This is budget-friendly and will be loved by all your guests.
Some ideas to try
If you've been looking for something to try out, but aren't sure what to try then look no further.
These ideas are just for you.
This list includes simple ideas and some bold touches.
Each of these ideas is fully customizable and fits any theme which makes them perfect for weddings and reuse afterward.
1. Burlap and lace cover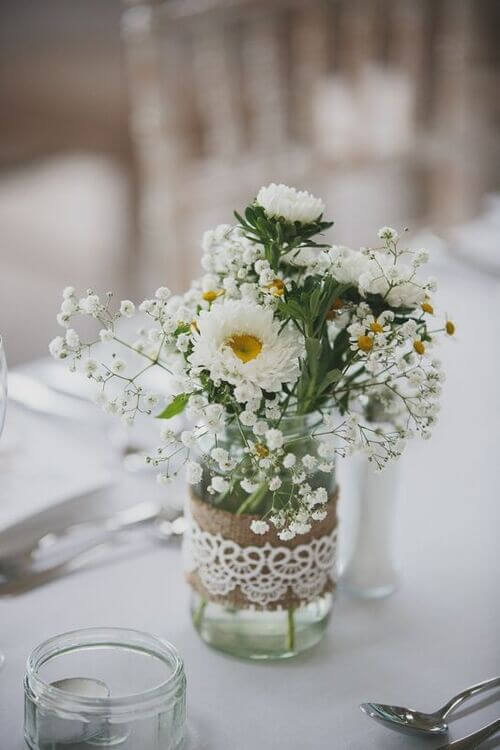 Baby's breath and daisies create a gorgeous centerpiece for your table.
Wrap them in burlap and lace to create a natural and neutral color scheme.
2. Twine-wrapped centerpieces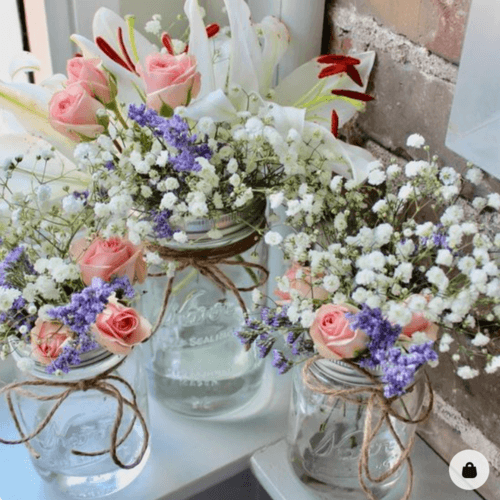 Pink white and purple flowers add a soft flow of color to the centerpieces.
You don't need much to create a gorgeous mason jar idea.
Stick to twine-wrapped jars to ensure you don't overpower this color scheme.
3. Gold glitter bomb jars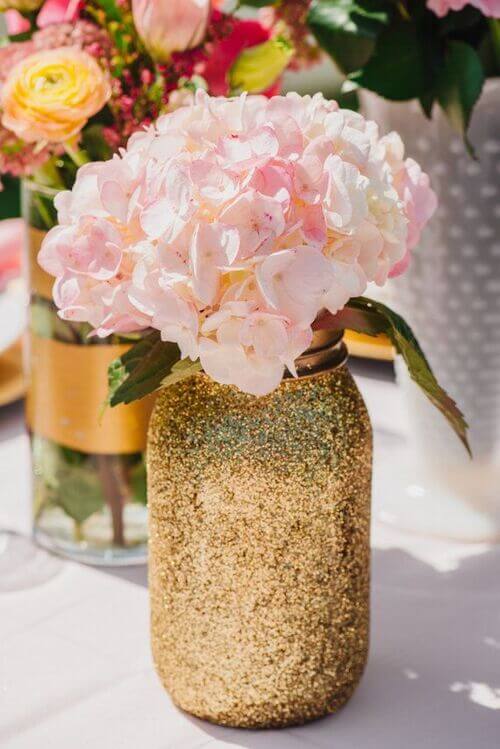 For all the gold lovers out here, I'm sure you'll love this.
Cover the inside of the jar with glue and throw some glitter into the jar.
You can then close the lid and shake the jar till the inside is covered in glitter.
It's simple and effective.
4. Lace-covered mason jar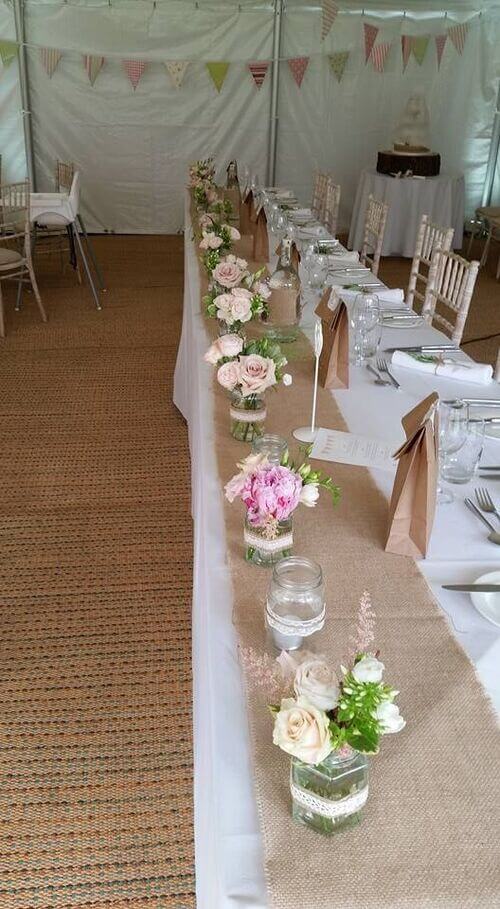 Pull out the lace and wrap them around the glassware.
It's a simple idea that makes things seem more elegant.
5. Hanging mason jars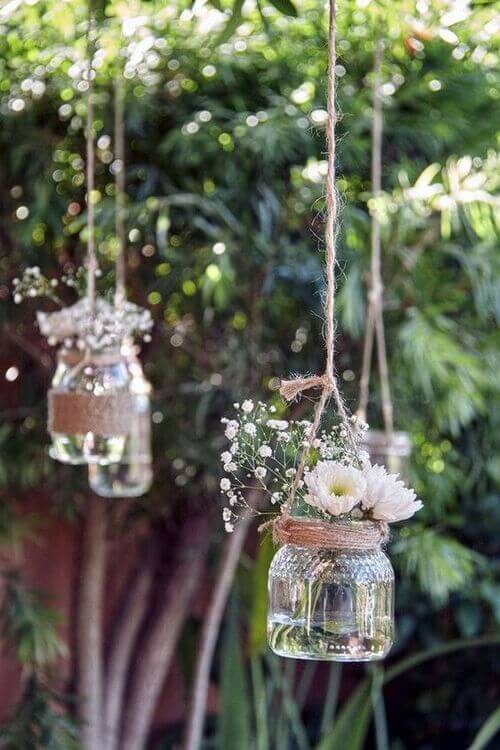 If you're planning on having an outside reception then you'll love this idea!
Wrap the jars in twine and hang them in the trees to create this cute wildflower and baby's breath combo.
6. Rose gold jars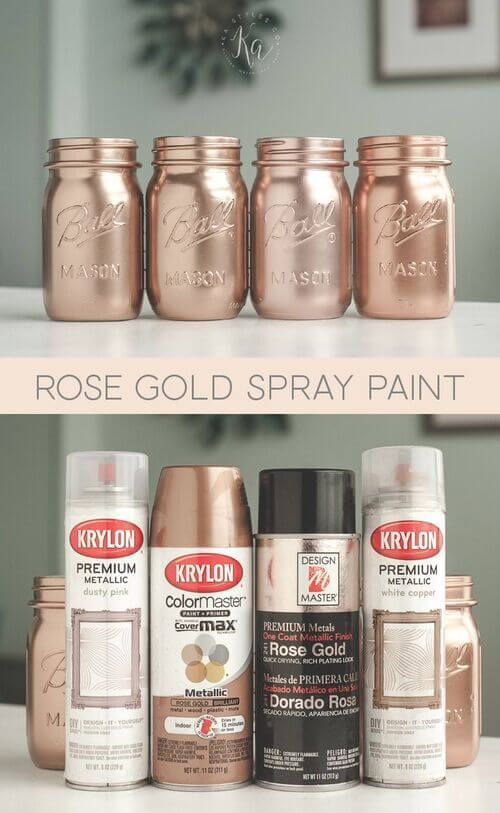 If you feel like breaking away from traditional colors then why not try this rose gold color?
Keep it simple and elegant with this gorgeous shade.
You can also reuse these around your house which makes them even better.
7. Gold-painted jars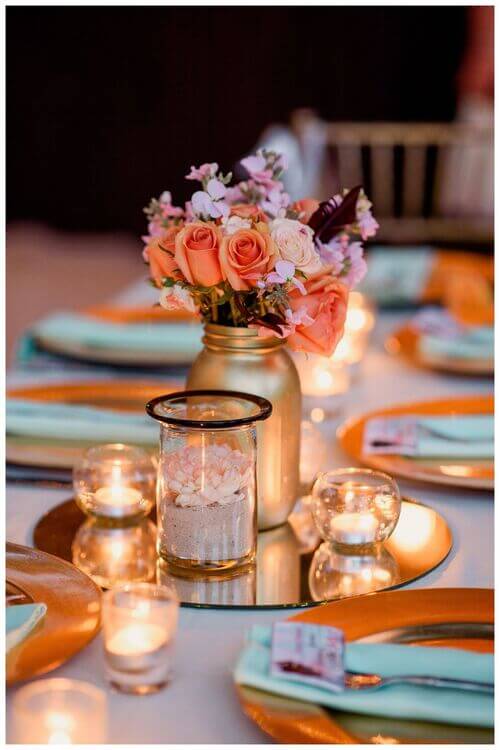 Break the multi-colored flower combo with the use of a solid gold jar.
You can create these by simply spray painting the jars in solid gold or any color you need.
8. Pastel pink and daisy jars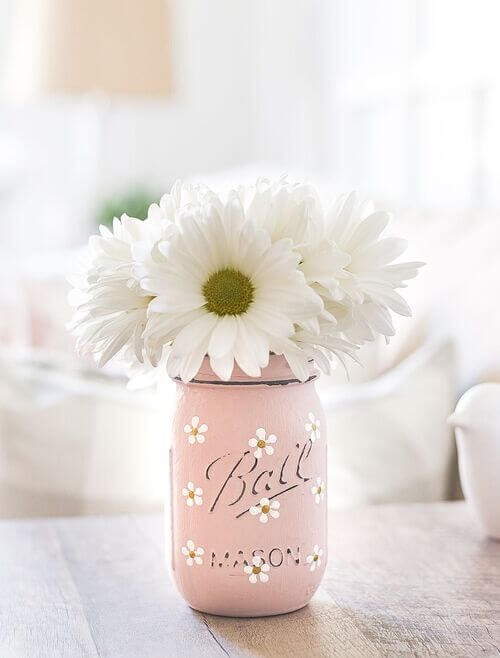 This pastel perfection might be just what you need to bring an elegant touch to your day.
This pairs well with backyard weddings or pastel themes.
It's perfect to add a little something different to the mix.
9. Burlap and wooden heart wrap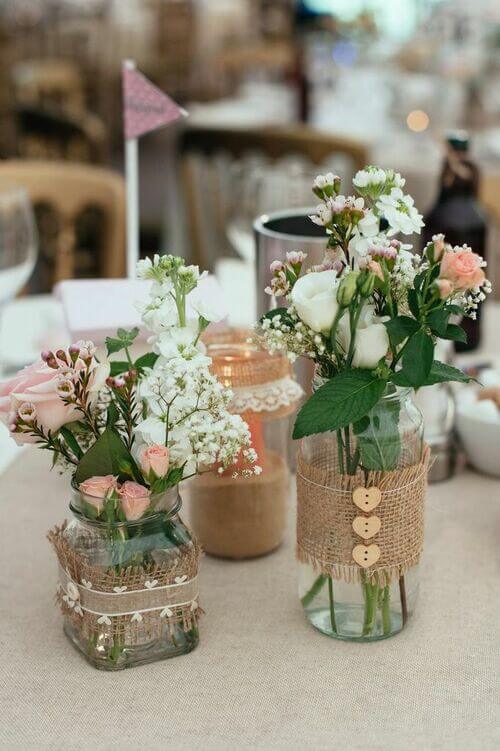 Try out a cute twist on the normal burlap wraps.
Adding some small wooden hearts can make all the difference to this idea.
10. "LOVE" wrapped jar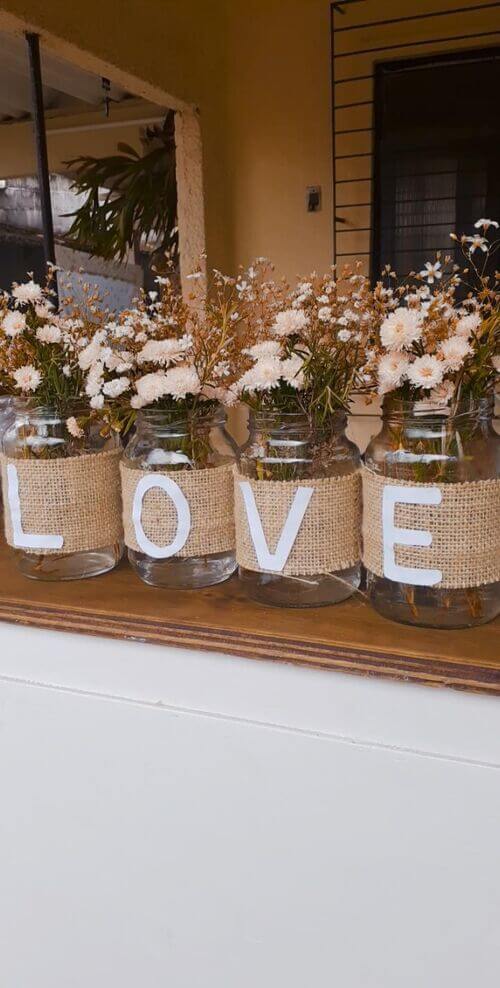 This cute idea is fully customizable.
Cut out letters and stick them to the burlap that's wrapped around the jars to create whatever word you feel like adding to the big day.
11. Tinted mason jars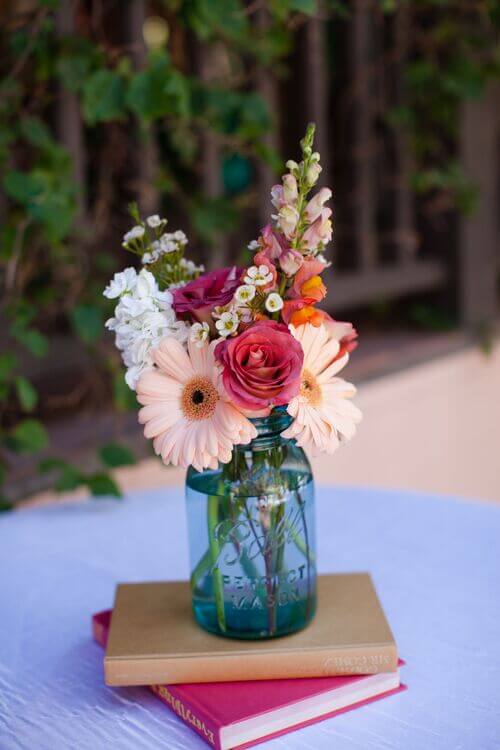 Tinted mason jars offer the possibility of new ideas.
They are gorgeous and sleek and just give the right amount of color to avoid overpowering the rest of the decor.
12. Twine and ribbon wrap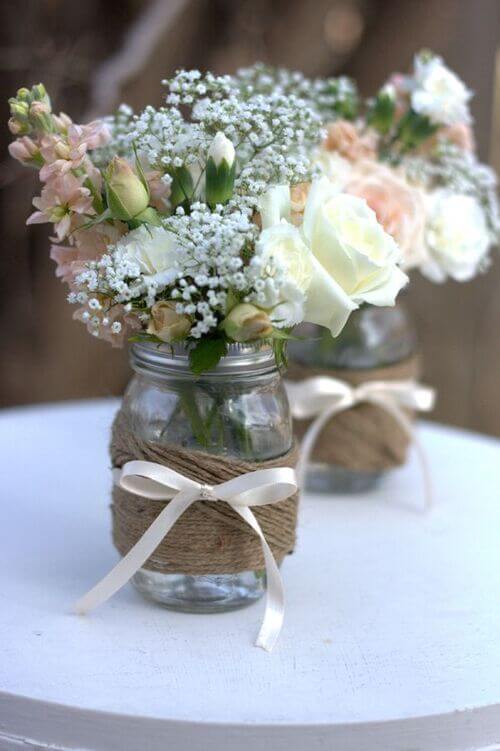 Keep things cute with this minimalistic approach.
Wrap the jars in twine and add a small ribbon to tie them all together.
This is great for a small something to add to the table.
13. Citrus jars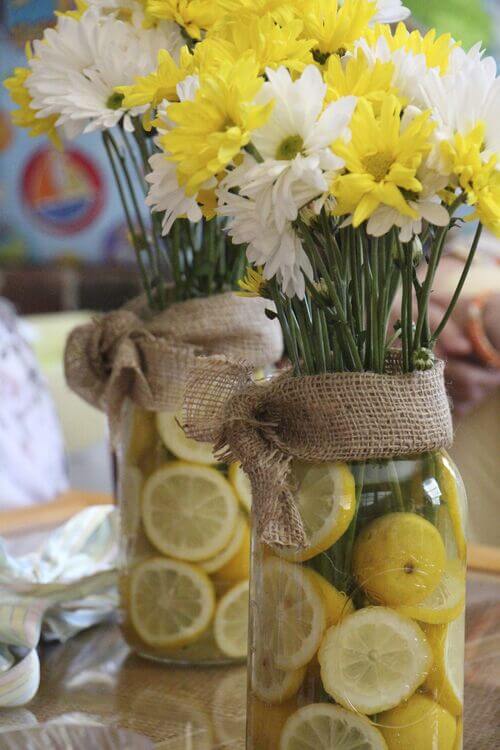 Another cute idea I love seeing is when people pair daffodils in jars filled with citrus.
It offers a fresh perspective to the decor pieces and is easily achieved by slicing some lemons and adding them to the jars filled with flowers.
14. Dried flowers and fairy lights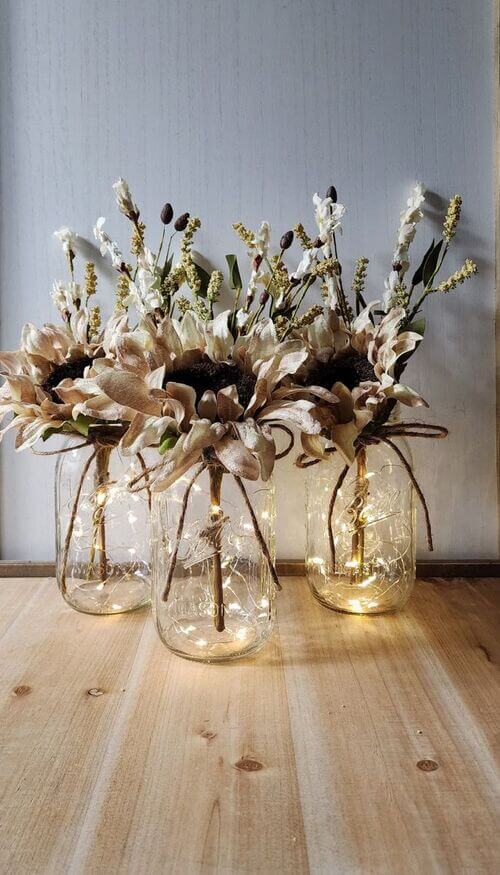 Opt for something more boho for your wedding.
Dried sunflowers and wildflowers can create a gorgeous look as far as centerpieces go.
Pair them with some mason jars filled with fairy lights, and then you'll have a glowing centerpiece all your guests will talk about for weeks.
15. Hanging baby's breath jars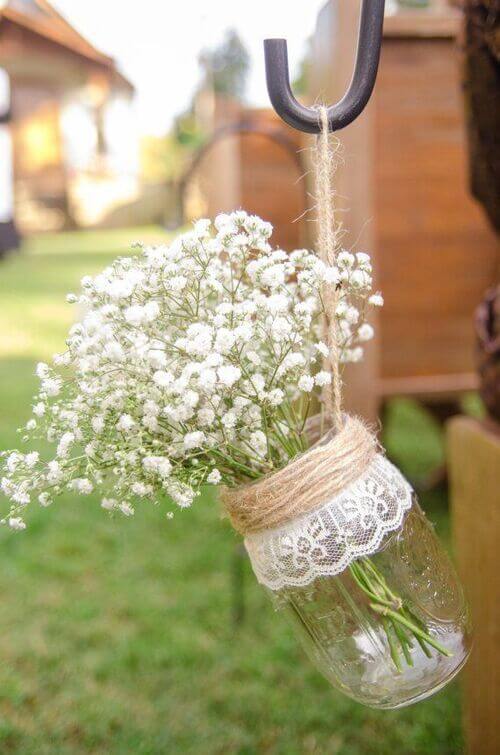 Hanging mason jars are great to have around the reception area.
You can create these by gluing string to the jars and wrapping them tightly around the tops to secure them.
Then you can hang them around the room to open up the place with some baby's breath.
16. Bright flowers and lace cover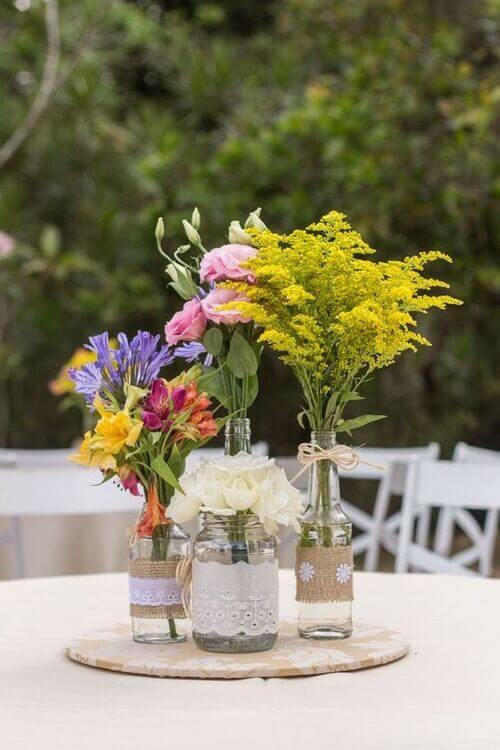 If you're thinking of having a spring or summer wedding then try out these lace covers.
They are simple, but also help to break up the brightness from bold-colored flowers.
It allows you to make use of purples, pinks, and yellows without clashing with the rest of the decor.
17. Half-dipped jars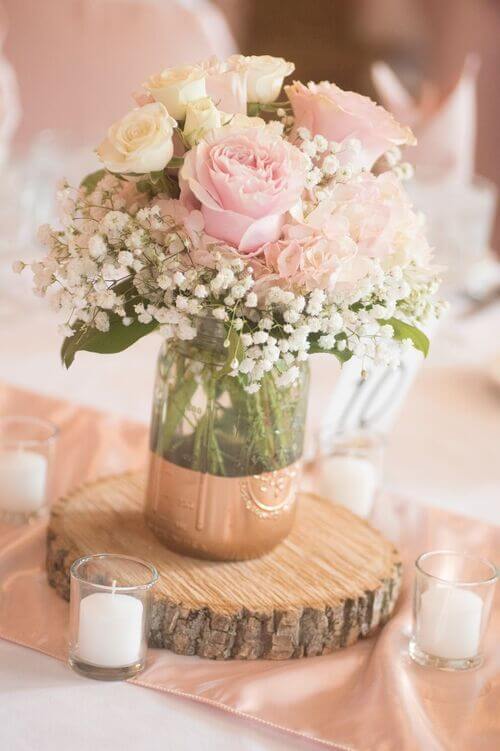 Sometimes the wood slices and mason jars can feel a little outdated.
If you want to add a little sparkle without going over the top, then I highly suggest adding a dipped paint moment to your jars.
It's fun and creative without being over the top.
18. Fabric flower wraps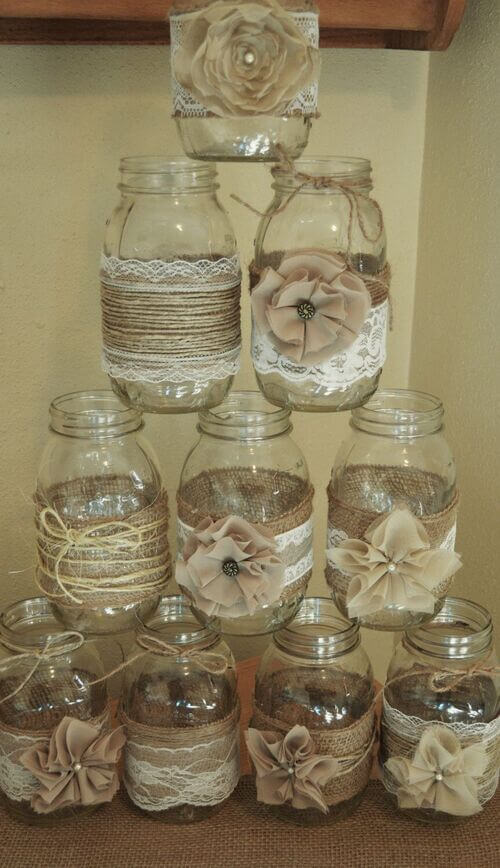 Whether the theme is rustic or old-school burlap and white these cute little flowers made of fabric can be a simple touch to make your mason jars stand out.
They don't need any added lights or flowers.
Just place them on the table with some of these flowers and watch how they add a warm and neutral tone to any decor.
19. Wooden circles and mason jars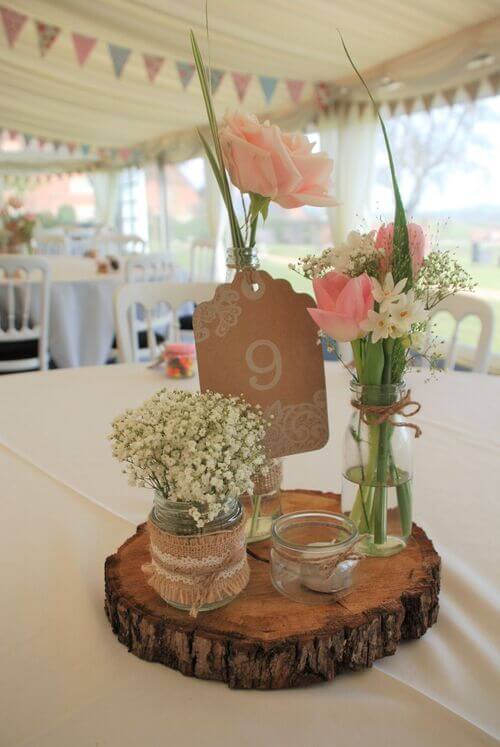 Try out something different by ditching the roses and heading for pink tulips instead.
They give off a fresh spring-like atmosphere, and their bold color pairs well with the wooden circles that are set as table centerpieces.
You can place them in mason jars wrapped with string or on their own.
20. Wooden stumps and fairy light jars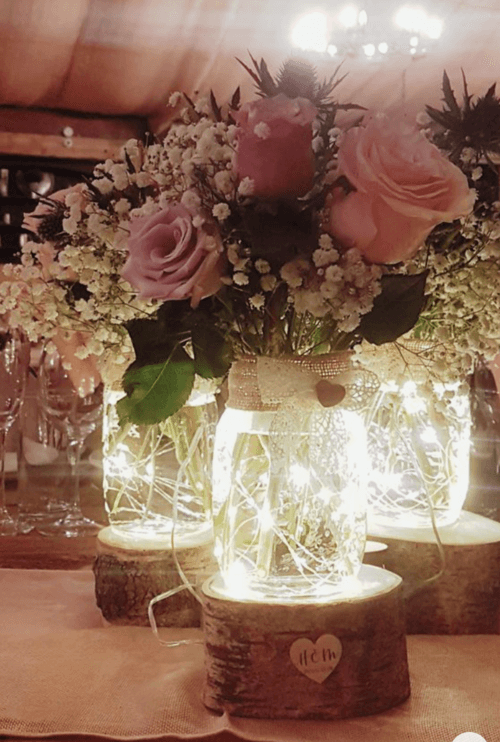 Keep to the basics with this one.
When looking for the best idea, you don't have to go all out.
Fairy lights add just the right atmosphere to any wedding space.
21. Painted jars with chalkboard paint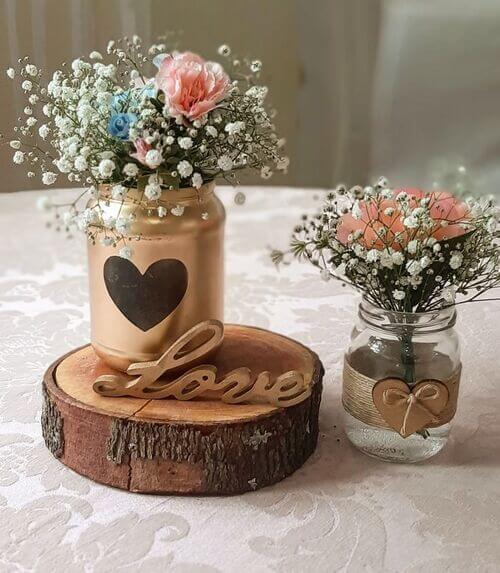 Show off the love by painting the jars in gold paint and adding a chalkboard paint heart.
People can easily leave a message for you to add a special flare to the day.
These jars pair well with smaller flowers.
22. Pearl and lace-covered jars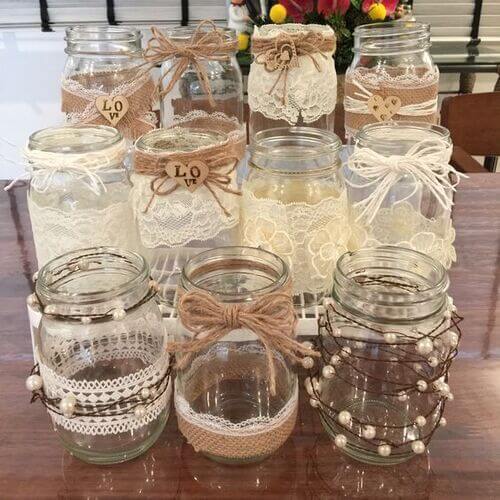 An idea that I haven't seen much of but think is extremely cute is this pearl wrap.
Whether you're using wire or string it gives an elegant touch to any table piece.
Add some wool and twine bows to add some atmosphere to the jars.
23. Mini wildflower bouquets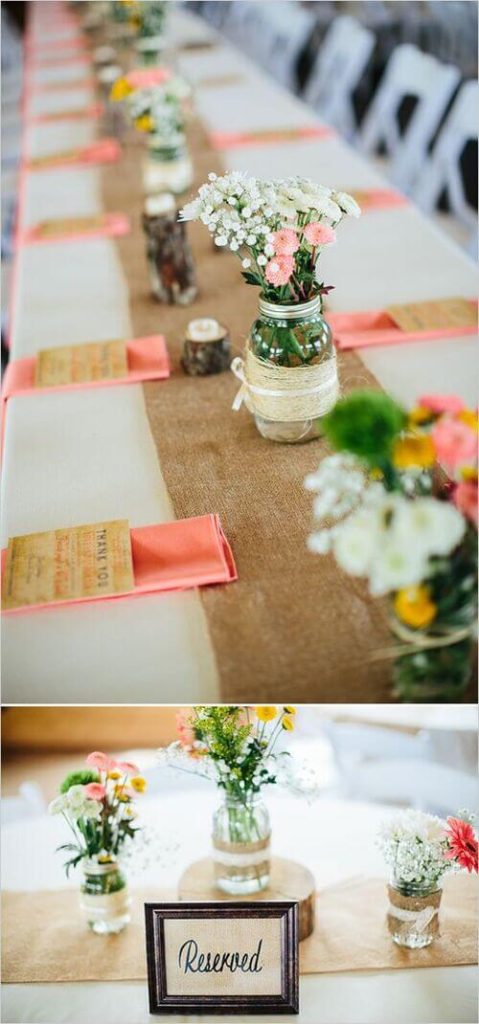 If you're looking to create a balance between bright and natural colors this piece is for you.
Wrap twine around the bottle to form a thick strap around the jar.
You can incorporate some pink flowers and baby's breath into the mix.
24. Silver glitter jars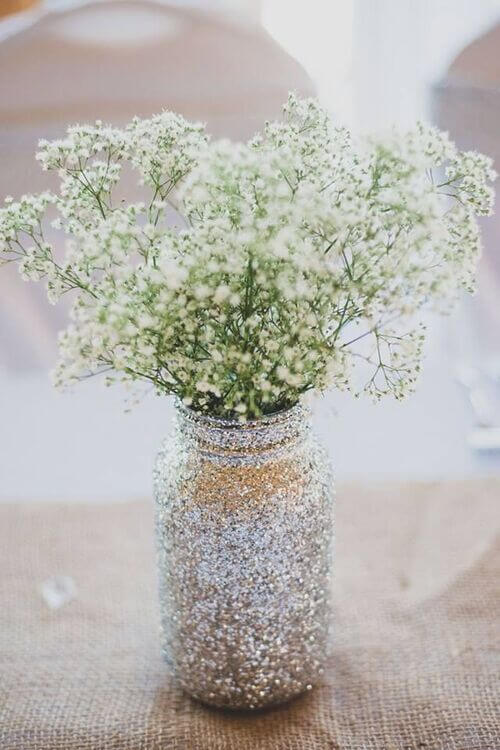 Grab some glue and glitter. This is sure to add a little sparkle to your day.
This is a gorgeous idea for those of you who love adding some bold finishes to the decor.
It's budget-friendly and extremely cute.
25. White and green bouquets in fairy light jars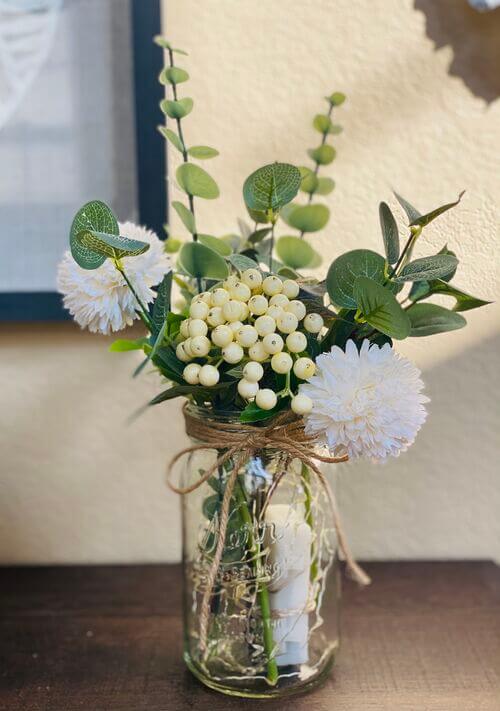 If you're having a summer wedding with loads of greenery the best thing you can add is some fairy lights.
The best part about fake flowers is that they can be paired with anything and are also reusable.
This idea is perfect if you're looking to recreate these bouquets at home too.
26. Simple bouquets paired with lace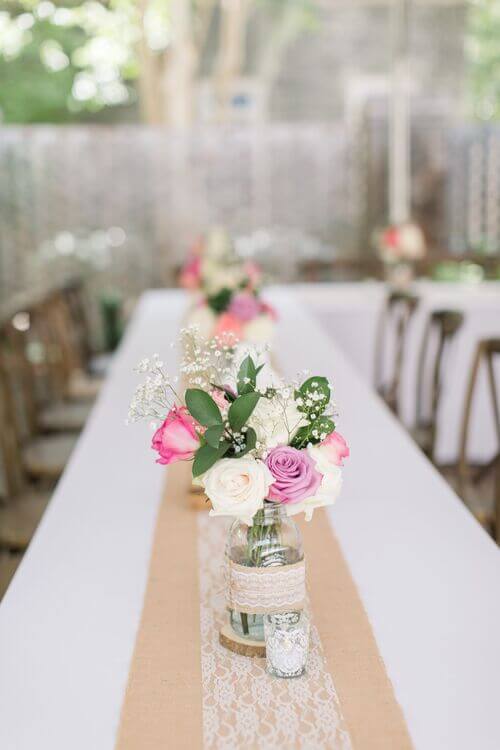 These burlap table runners call for a touch of lace to break up the neutral color scheme.
Grab some mason jars and wrap lace around them to keep them from looking bare.
You can then tie in some pink bouquets to make things more vibrant.
27. Glitter-dipped jars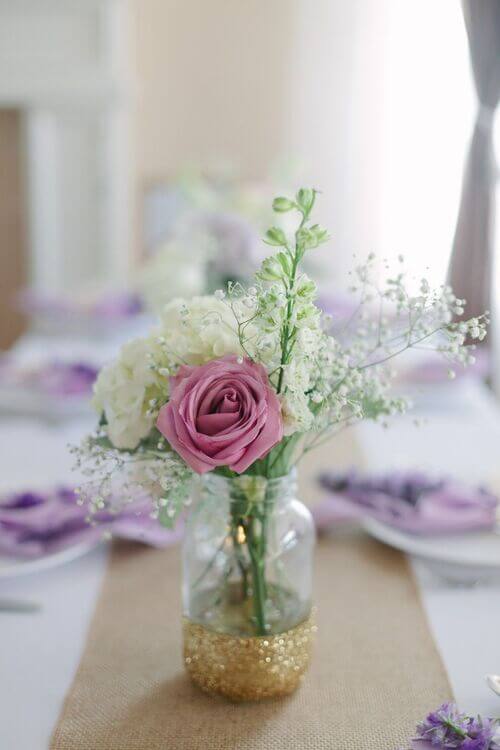 To achieve this look just cover the bottom of glass jars with glue and roll them in gold glitter.
It's a simple idea that adds gorgeous brightness to any table.
It pairs well with pink or white roses.
28. Lanterns and jar centerpieces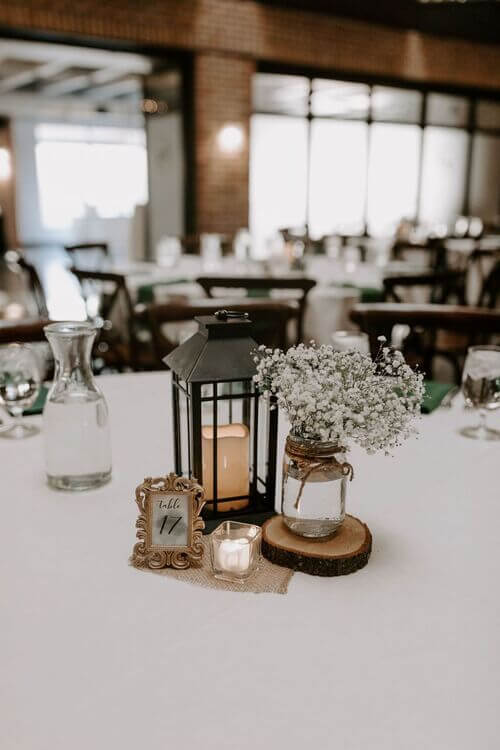 Mason jars and wooden rounds pair well with the dark accents of black lanterns.
These lanterns and the gold are the perfect balance between the mason jars and with baby's breath.
29. Simple bouquets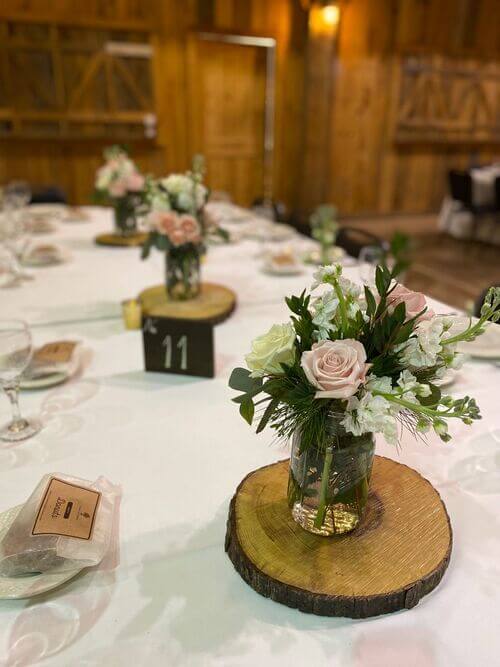 If you're looking for a rustic or boho look then stick to the simple mason jars with mini bouquets.
The neutral colors blend well together, and it takes minimal effort to pull this look together.
This works well for barn themes and garden weddings.
30. Tinted jars with wildflowers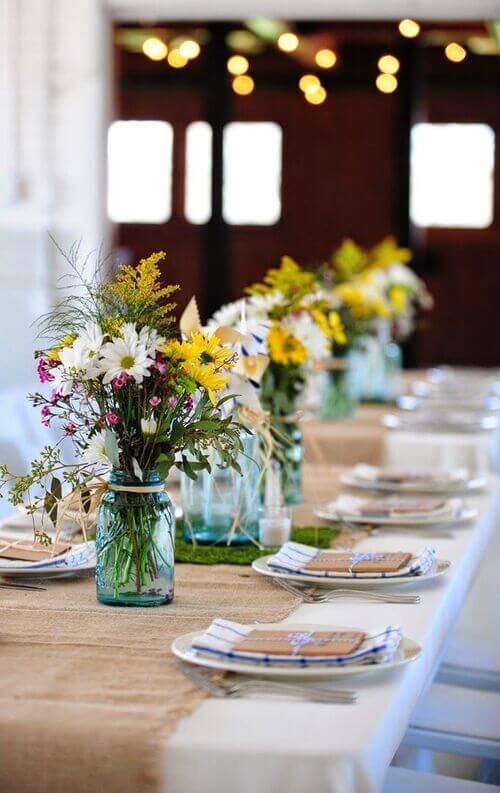 When you're looking for some glassware to add to the table but don't want the simple mason jars you can opt for these tinted vases.
They bring an air of freshness to the table.
These tinted jars work well with bright flowers and simple table decor.
31. Baby's breath and yellow flower bouquets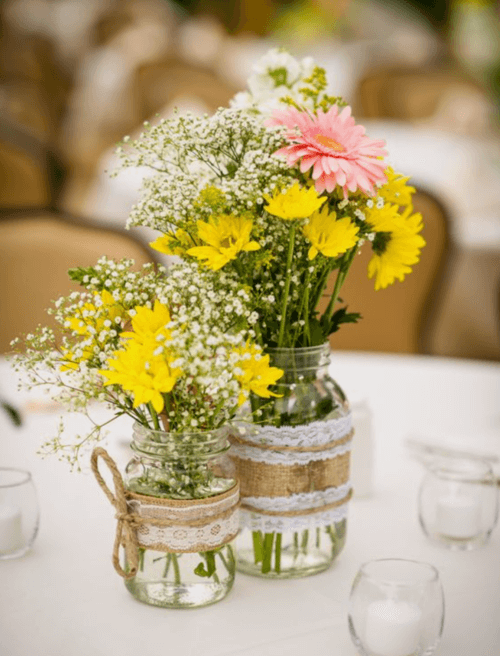 Wrap the jars in bright ribbon and twine. It adds a subtle pop of color to the table.
This works especially well for an overly neutral wedding theme.
Just add some ribbons and some bright flowers to offer that perfect warm summer look.
32. Ribbon-wrapped jars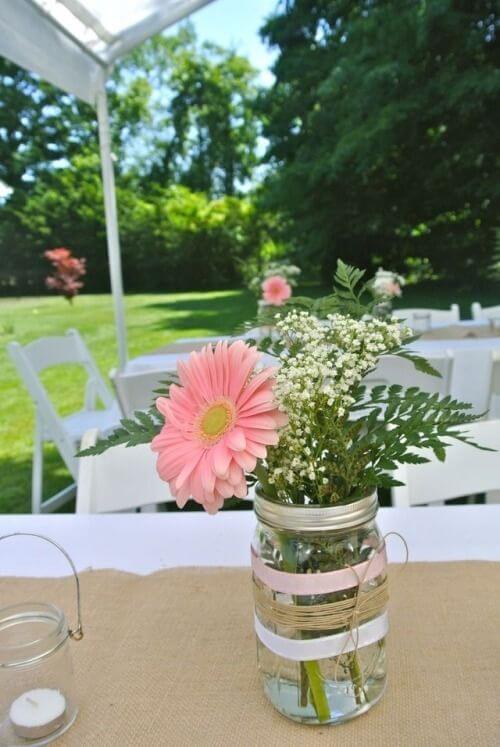 The perfect combo for a centerpiece is baby's breath and roses.
You can place these mason jars on some wooden slides.
Add some tea lights to warm up the space.
This idea is a fresh and unique approach to decor.
33. Roses and baby's breath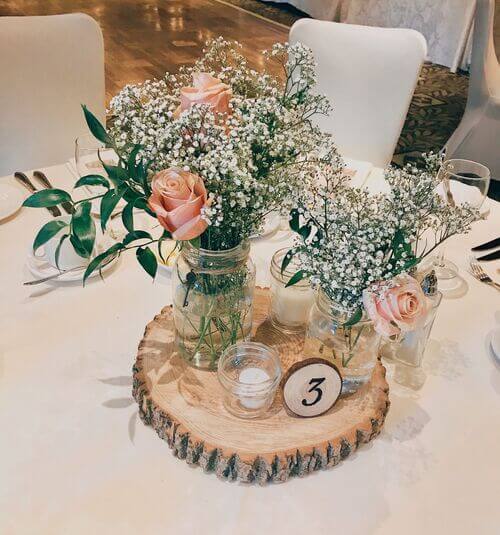 If you're looking to add a little pop of color then this pink tulle bow might be just what you need.
Grab some colored tulle and wrap it around simple mason jars to make sure the theme flows throughout all the decor pieces.
34. Pink tulle bows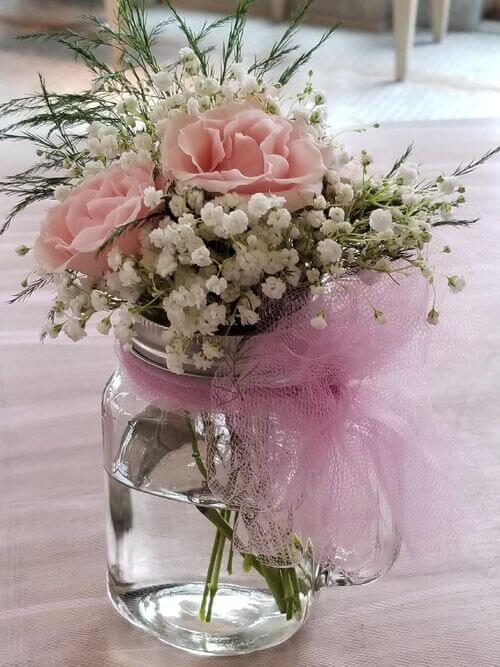 A cute idea to incorporate is big tulle bows wrapped in the same colors as your wedding theme.
35. Pastel jars with gold accents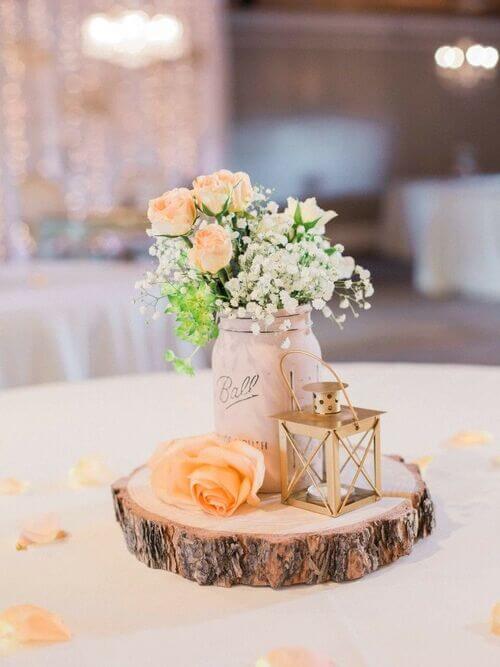 Pull out the peach roses and pastel jars.
This is a subtle centerpiece idea that goes a long way.
Easily recreate this by grabbing some pastel-colored paint and covering the inside of the jars.
Mason jars as decor pieces
DIY ideas are just what you need to create a special touch to the big day.
As stated above we can clearly see from the list that you don't need much to bring your idea to life.
Mason jars are easily customizable and bring in an air of love and warmth.
Since they can be used over and over again it gives you the ability to reuse every single item as you feel the need to.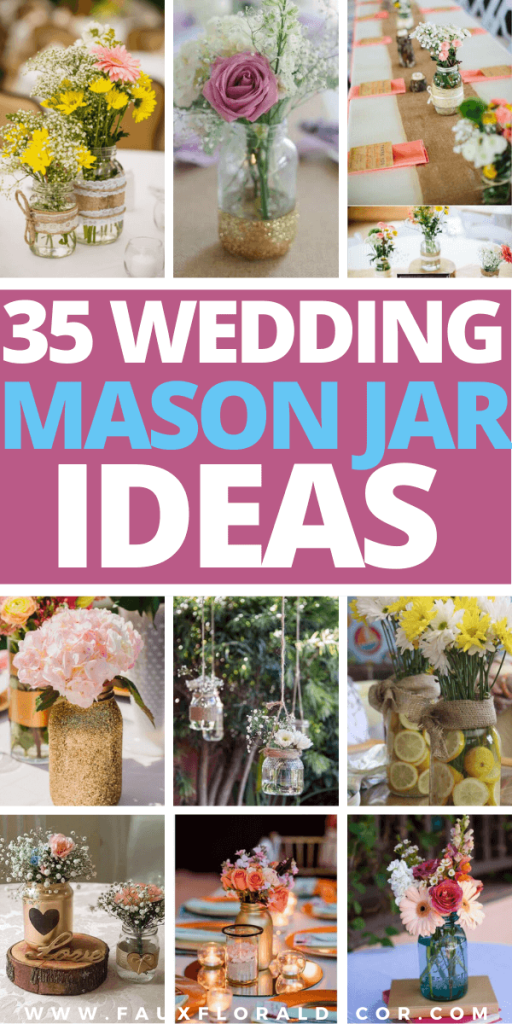 This post showed you the best wedding mason jar ideas.
You may also like: