We all want a gorgeous wedding with unique decor pieces to stand out from the crowd.
Here's a specially curated list of fun ideas which are not only perfect for any wedding, but also extremely budget-friendly.
What can I use as decor?
Here's where most people get stuck. The question of "How can i keep my decor unique?" while scrolling through an endless supply of Pinterest images.
Between the mason jars, bold flower pieces, and ribbons, it can be hard to find something that stands out and feels like it matches your wedding perfectly.

Whether you're looking for a boho aesthetic, pastel perfection, or a neutral touch of elegance you can piece together something from simple items.
Make use of tin cans, eucalyptus, floating balloon centerpieces, wooden lanterns, or family picture table runners.
Things to keep in mind while decorating
Keep it simple
Less is more
Bold colors can work together
Neutrals can make your wedding seem natural
DIY your wedding decor
Reuse items from your home
Add florals and greenery
Rent to save money
Wedding decor ideas
Here's a list of 34 unique ideas to get your excitement going for the wedding day.
1. Copper tin cans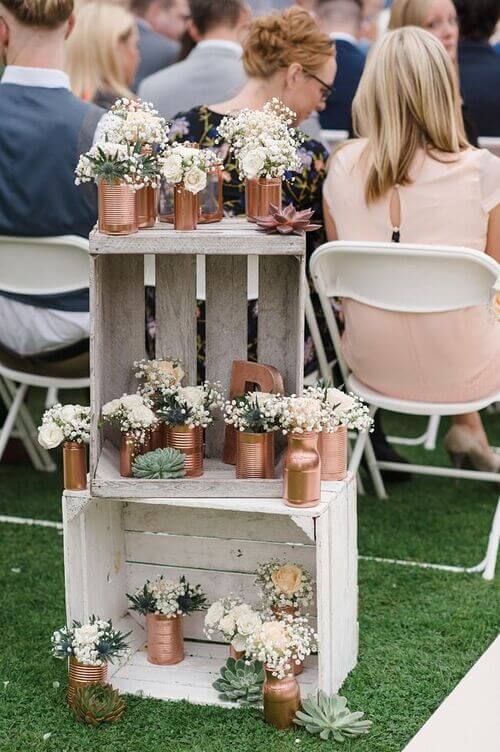 Create a rustic or boho look by adding some copper cans to the centerpieces or as aisle decor.
You can fill the cans with roses or wildflowers to create a balance between the dark copper accents and the white flowers.
2. Baby's breath aisle decor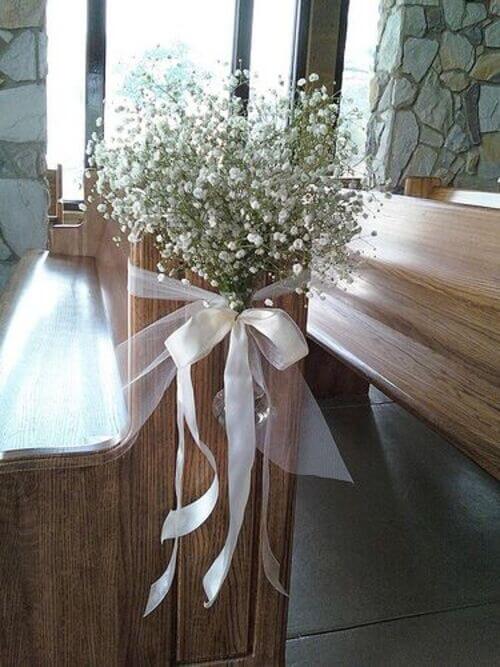 Sometimes we forget to add decor to the aisle or the chairs.
It's a simple thing that makes a big difference. Even the smallest change can make the biggest impact.
A bouquet of flowers tied with ribbon can be just as effective as lanterns or silk bows.
3. Family photo table runner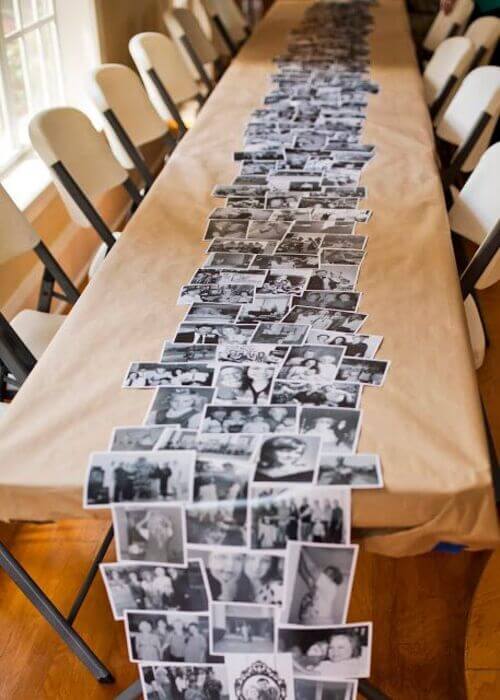 Here's something that I don't see often enough.
Skip the traditional and create a table runner from pictures of family and friends.
This allows you to incorporate all the guests into the wedding itself and people will love to see it.
4. Heart-shaped hanging decor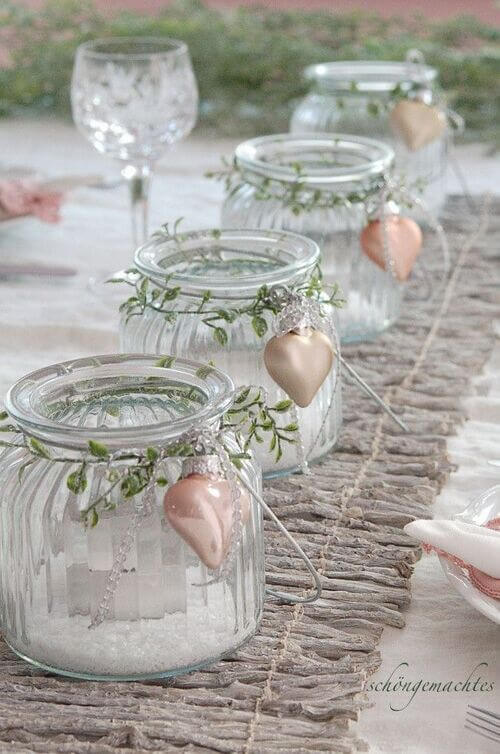 These jars wrapped in ivy and heart-shaped baubles are a cute centerpiece idea.
Whether you fill the jars with tea lights, crystals, or small stones, it stays a nice centerpiece idea.
5. Floor Decor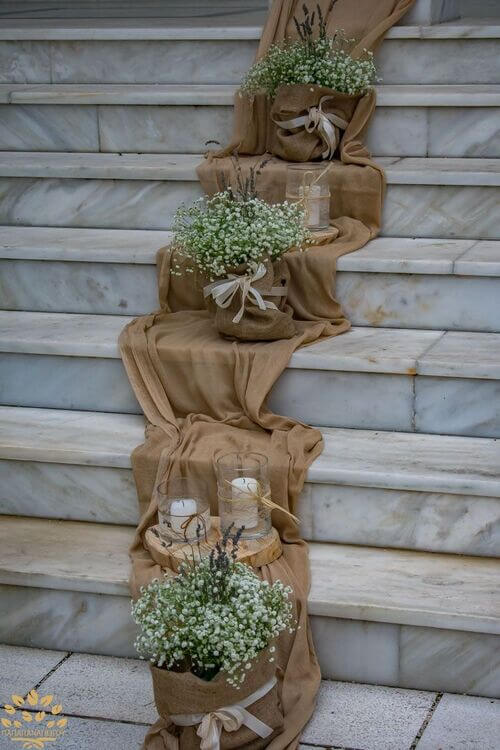 Draping some simple fabric and adding candles and bags filled with flowers can create a natural atmosphere. It's fun and fresh. This takes floor decor to a different level.
6. Floating tea lights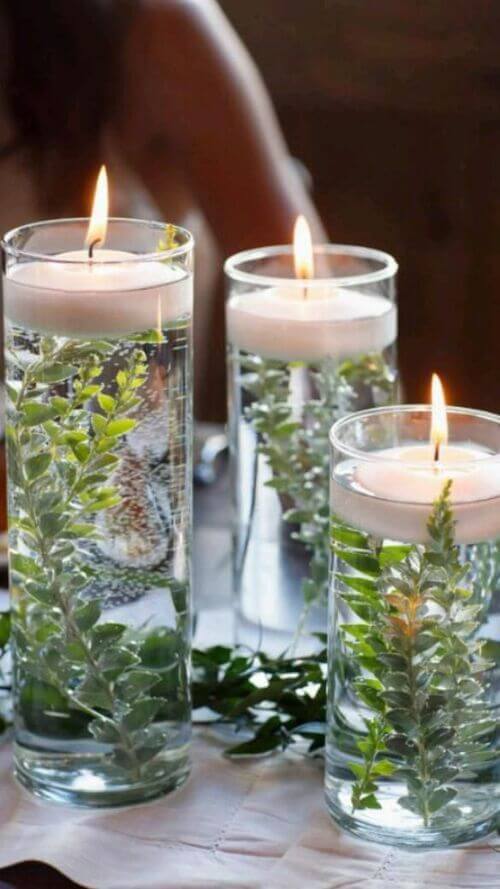 Fill glasses with water and place some fake plants inside of them.
You can then add tealights on top and light them. It gives the idea of floating candles while keeping things natural.
7. Wooden circles and greenery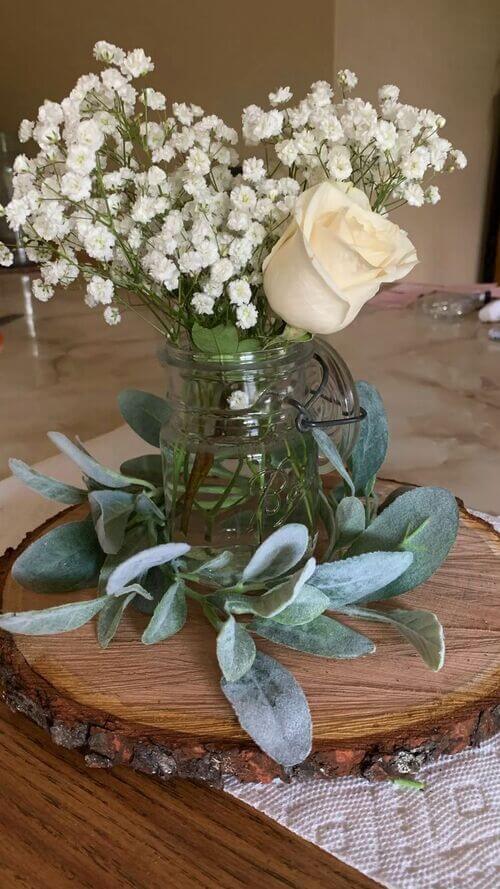 Whether it's daisies, baby's breath, or small wildflowers, anything pairs with white roses.
Wrap the jars in greenery and place them on wooden circles.
It is a simple centerpiece idea that anyone will love.
8. Wood and eucalyptus cupcake stand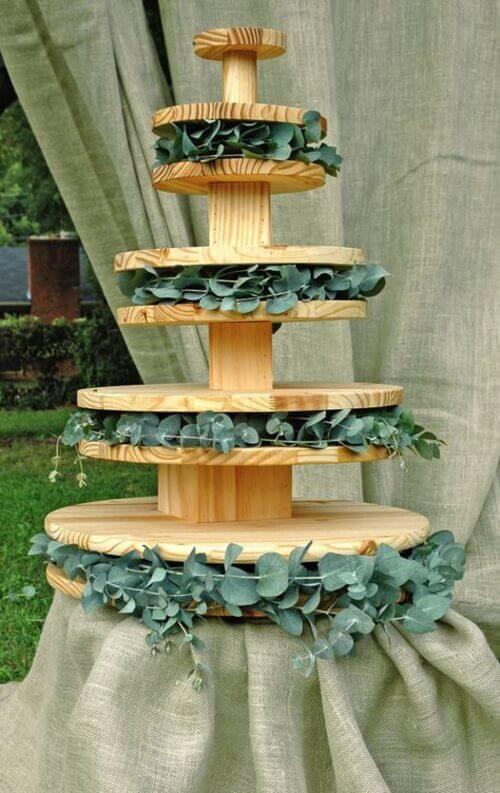 A non-traditional cupcake or snack stand can be the perfect addition to the wedding.
The cupcake stand is made of wood and filled with eucalyptus or flowers to fill up the space.
It gives a natural touch to the snack table.
9. Cutlery wrapped in burlap and lace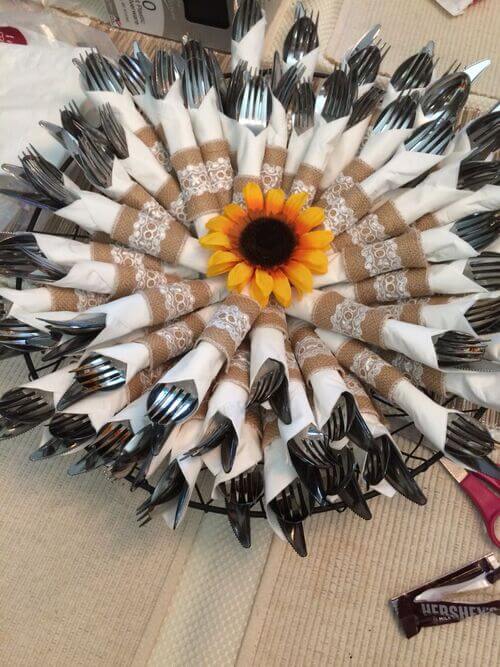 Makes art with the cutlery.
Wrap the cutlery in napkins and burlap and lace ribbons.
Place them all on a big plate and add a flower.
This works great if you're thinking of having a buffet where people can just pick up everything they want.
10. Logs and roses rustic centerpieces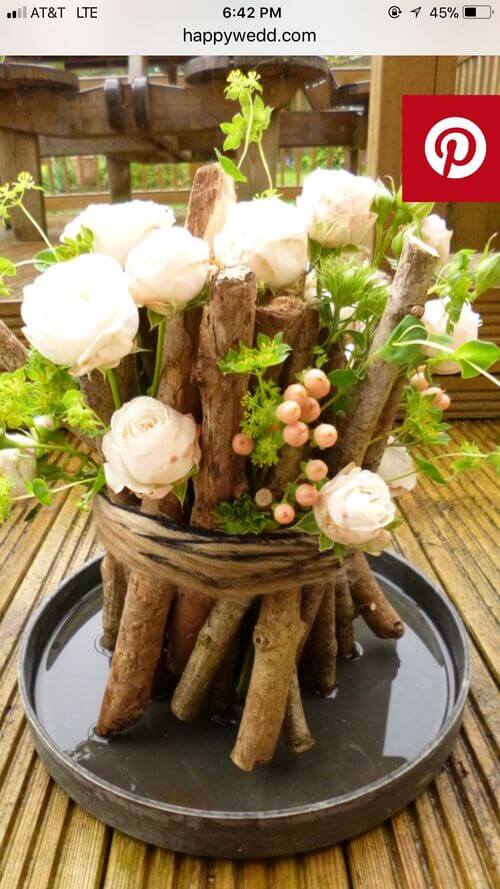 An odd yet interesting centerpiece idea can get your guests talking.
The bouquet is made of sticks and roses and some greenery.
It is an individualistic approach.
11. Eucalyptus and lavender centerpiece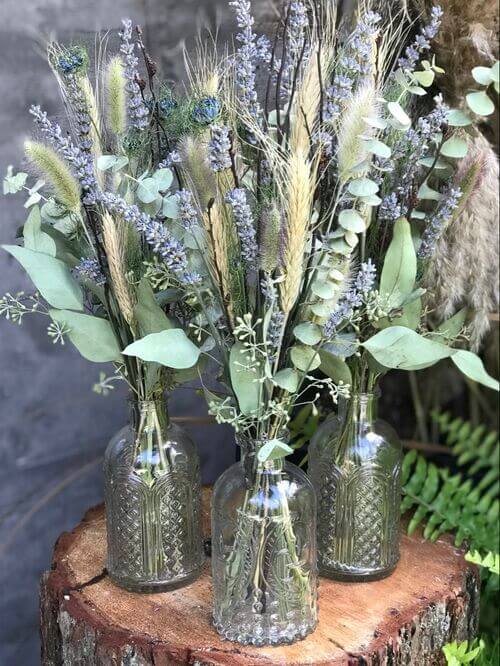 Lavender and eucalyptus centerpieces have a rich aroma that can make the reception smell amazing.
Pair it with some vintage glass jars, and you have a bouquet that fits your personality.
12. Photo booth props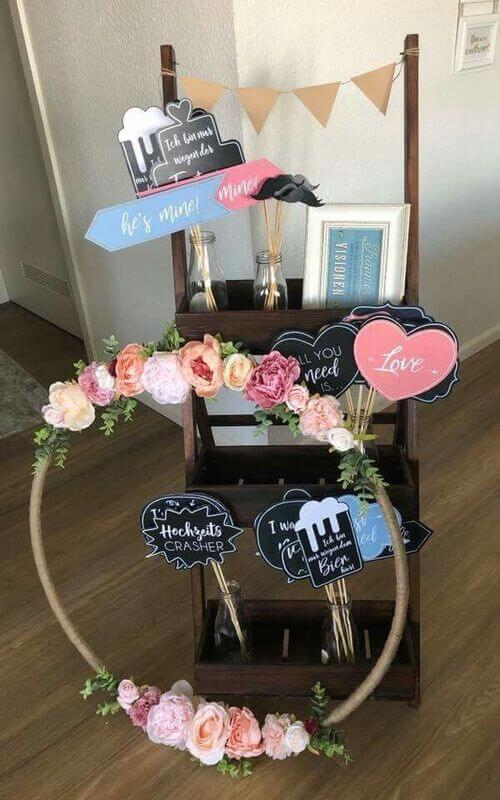 Keep a cart filled with props next to your photo booth for guests to take fun pictures with.
These can be anything from fun saying, cute flower pieces, or funny mustaches.
This allows you to keep everything together without the fear of losing anything.
13. Candles in wine bottles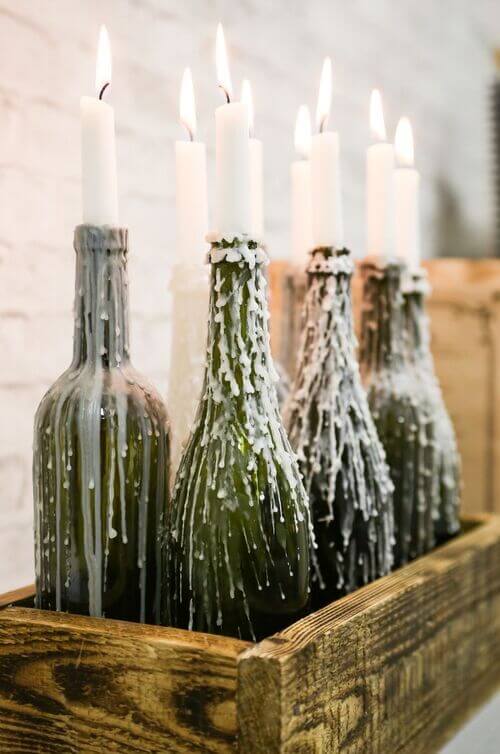 A simple way to showcase candles on the tables is by adding taper candles to bottles.
You are reusing glass bottles and candles to get the most usage out of these items.
14. Daisy and lantern centerpieces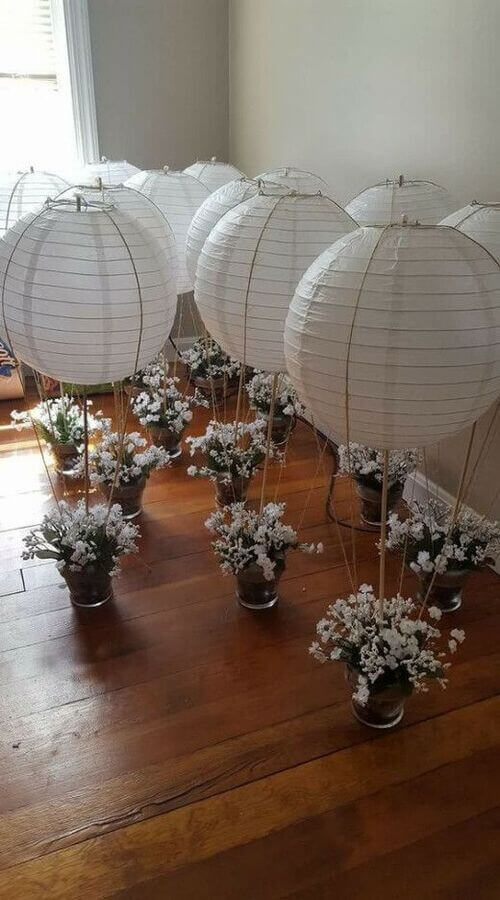 Floating lanterns? Sign me up!
These centerpieces give an airy and light feel to the wedding centerpieces.
Pair it with small wildflowers.
15. White flowers in wine bottles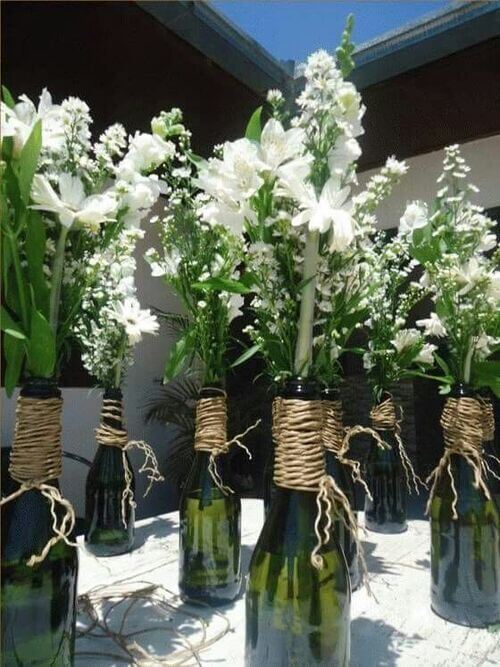 A perfectly simple centerpiece idea is keeping bouquets in a wine bottle wrapped in twine.
You are effectively helping the planet by reusing glass bottles and can also give these away to your guests afterward so that they can take the flowers home.
16. Wooden pallet photo section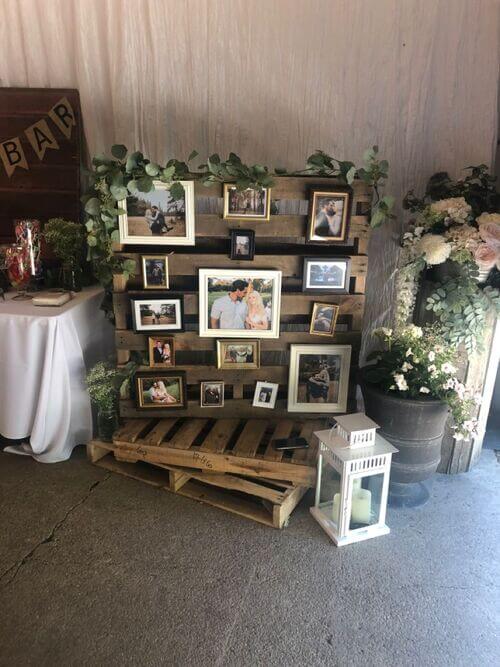 Use a wooden pallet for a photo holder.
It's a rustic piece that works perfectly with barn weddings or the outdoors.
If you feel like it's too plain you can add some ivy or lanterns to fill up the space.
17. Wooden boxes and lanterns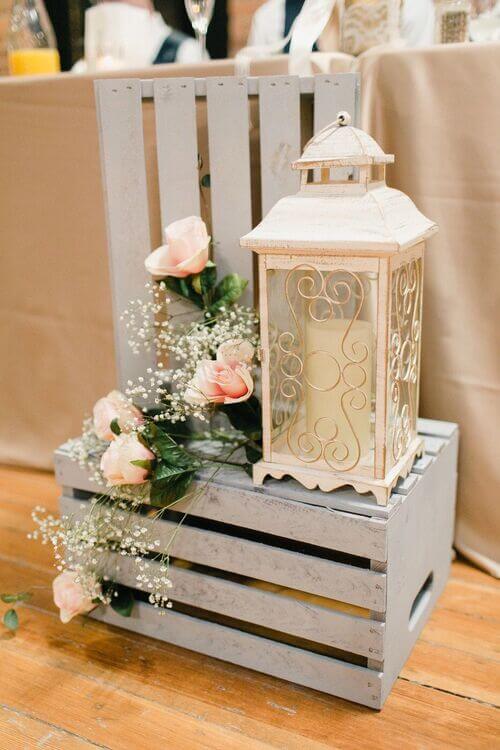 What about floor decor? This is a fun way to include your flowers, lanterns, or some candles in your floor decor pieces.
Whether you just want the floor to look less empty or just want something simple to include.
Try this out if you are looking for a different approach.
18. Roses and greenery table runner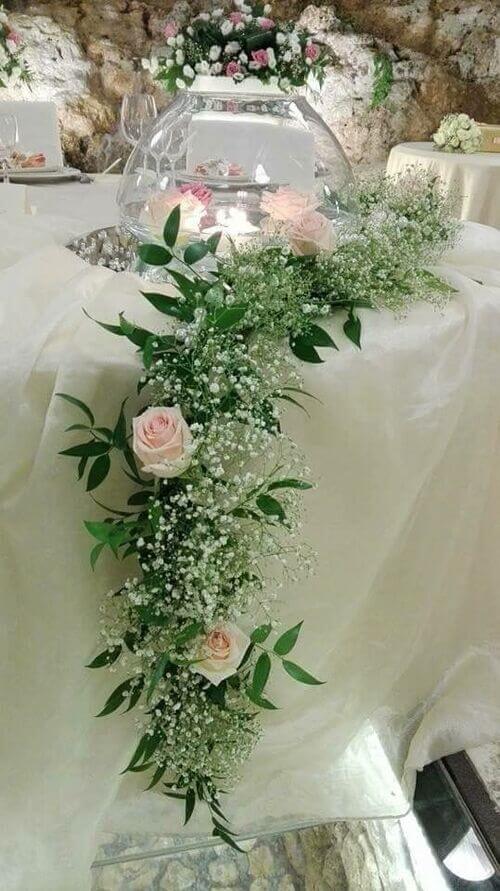 Table runners don't need to be a simple piece of fabric.
Create a table runner by making use of fake greenery, roses, and small white wildflowers.
It's perfect to add a sparkle of spring to any wedding setting.
19. Wooden frames and candles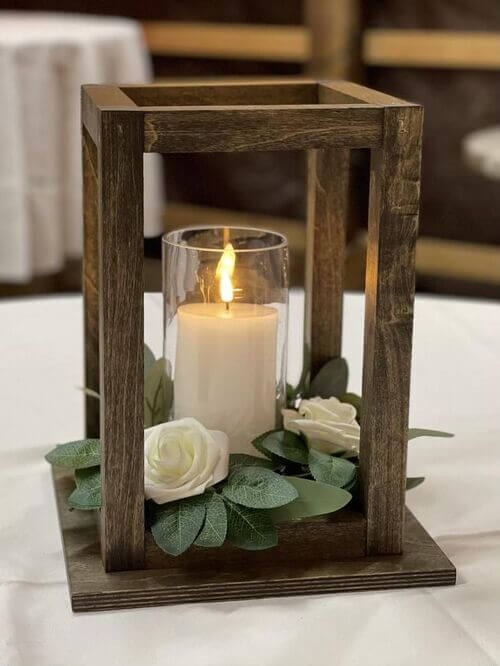 Wooden accents are an extremely beautiful way to bring a darker color to your wedding.
Especially if you're sticking to white and green or even light beige.
While it can seem a little bulky to some this piece allows you to include candles as well as florals to tie everything together.
20. Hanging fabric arch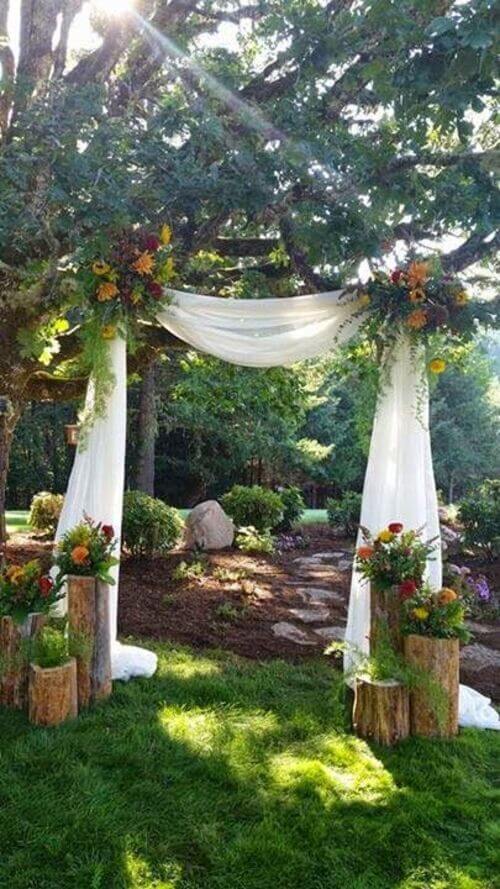 Skip the traditional and get a fabric arch.
The flowing material paired with bright flowers creates a gorgeous and peaceful atmosphere.
If you want to add some dimension to the setting then add some different-sized logs and add bouquets to it.
This allows you to make a nice setting that your guests will love.
21. Flower wreath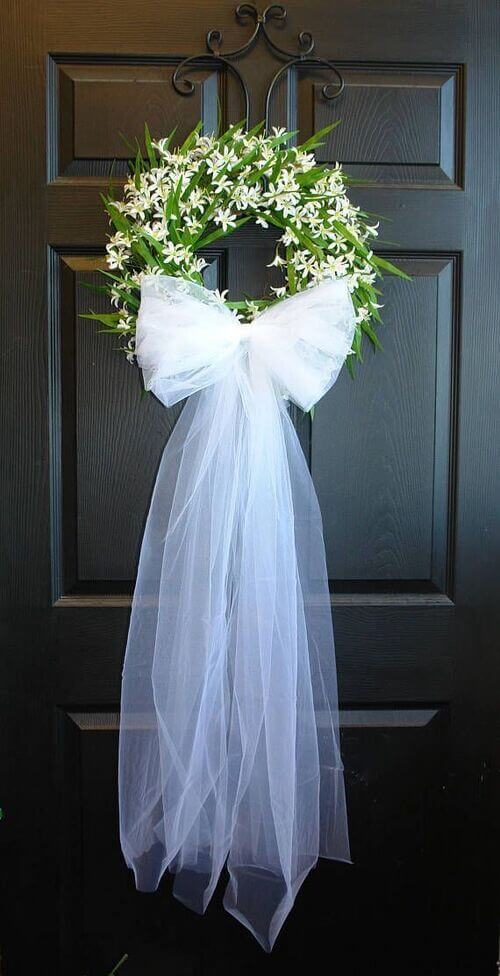 Here's a unique decor piece that can really bring a fun touch to the wedding day.
Flower and greenery wreath matched with tulle bows.
The best part of this decor piece is that it is fully customizable and can go with any wedding scheme.
22. White roses and pastel pink mason jars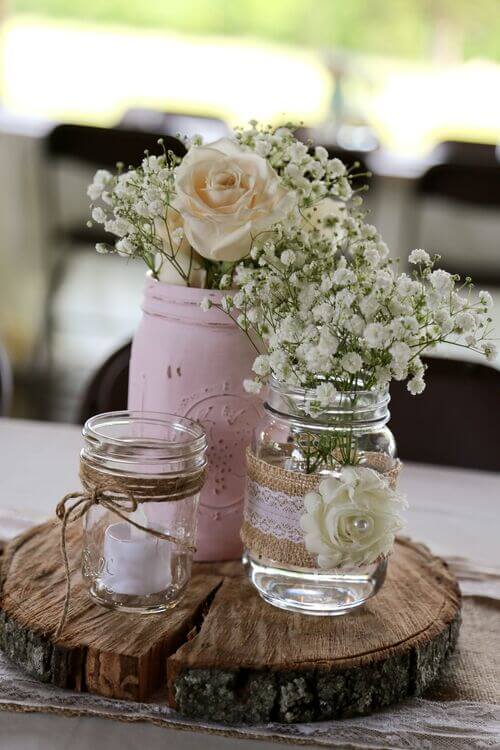 Mason jars are your best friend.
Whether you paint them, add some lace or just place a tealight inside of them to create a fun and fresh centerpiece.
This idea brings together pastel pieces with rustic accents.
23. Ladder decor pieces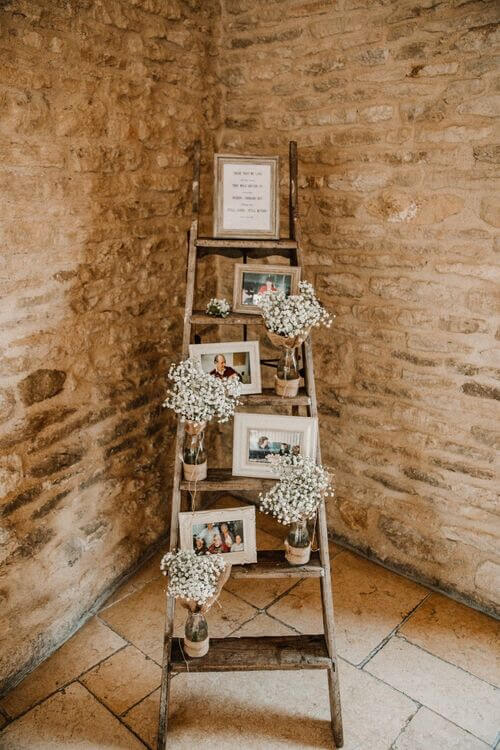 Showcase your cute engagement pictures and family photos by making use of a vintage ladder.
Use glass bottles filled with small flowers to brighten up the atmosphere.
24. Baby's breath and roses centerpiece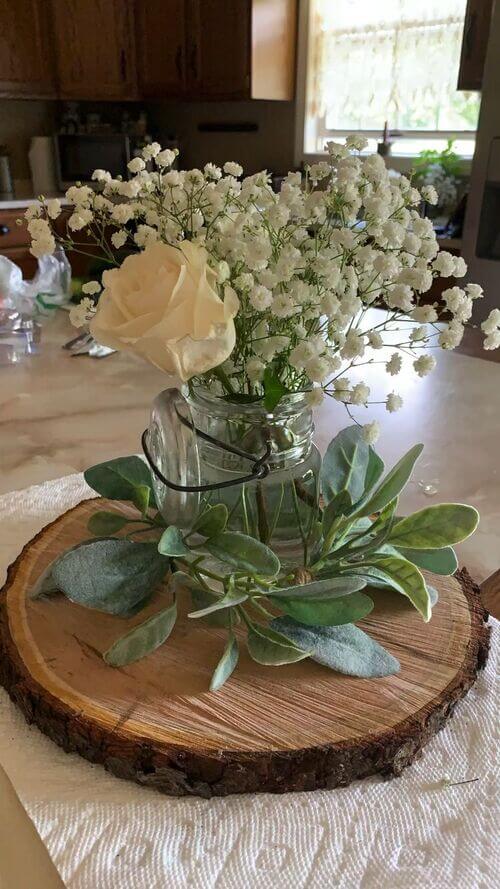 Nothing looks better than a centerpiece filled with the fresh colors of nature.
It's taking things back to basics and ensuring that it doesn't stand out too much.
If you want to add a sensory experience then add some eucalyptus to the table.
25. Tulle wrap-around decor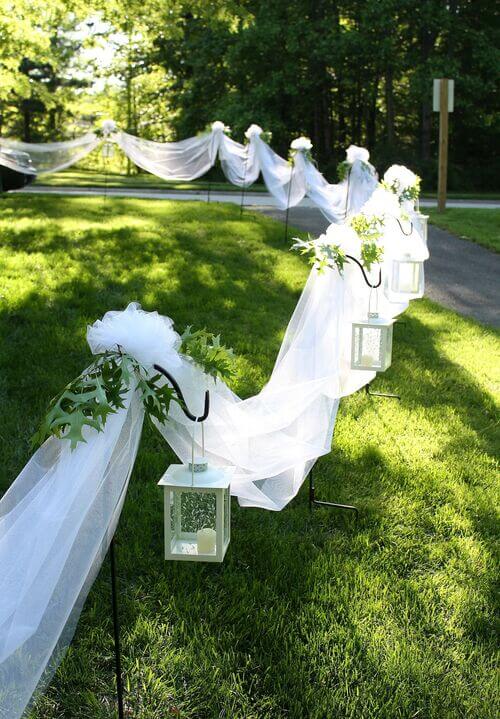 Considering a garden wedding?
Here's a simple decor idea to ensure you're making effective use of all the ground.
These tulle fences create a subtle guide for guests.
This ensures they know exactly where to go and creates a great touch to wedding pictures.
When the bride walks down the aisle it will just add to the ethereal effect of the big day.
26. Roses and baby's breath pieces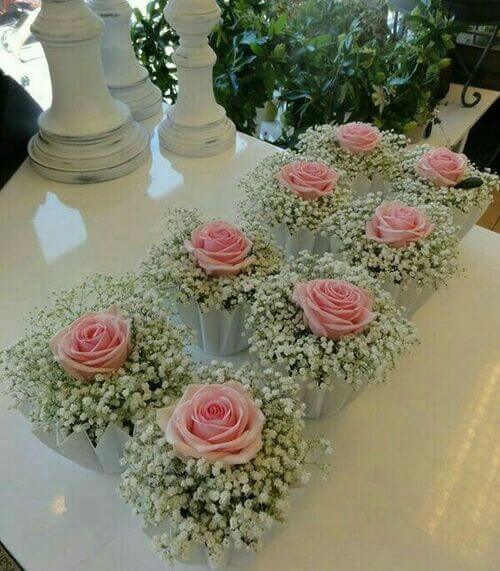 A simple summer bouquet can consist of pink roses and baby's breath.
The duo is just too irresistible. It is budget-friendly.
People love making use of this mix of flowers since they work well with any wedding theme.
27. Tin can mini bouquets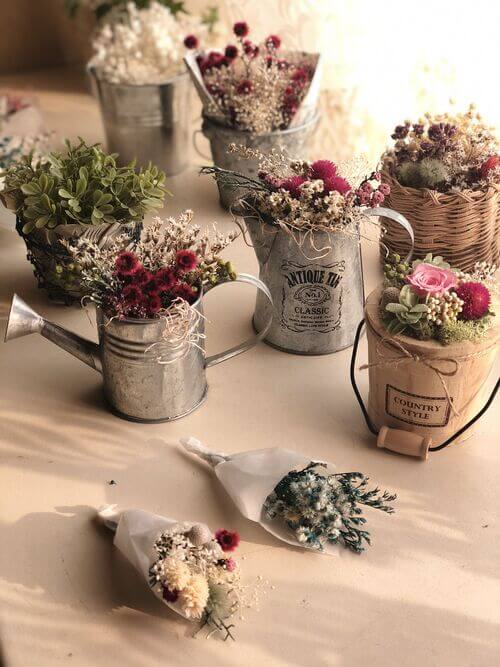 Keep things tiny… no seriously these little cans of cuteness are simply to die for.
Add a mini watering can and fill it with wildflowers on the table.
It is a different approach to normal greenery and flowers.
28. Vases with ribbon wrap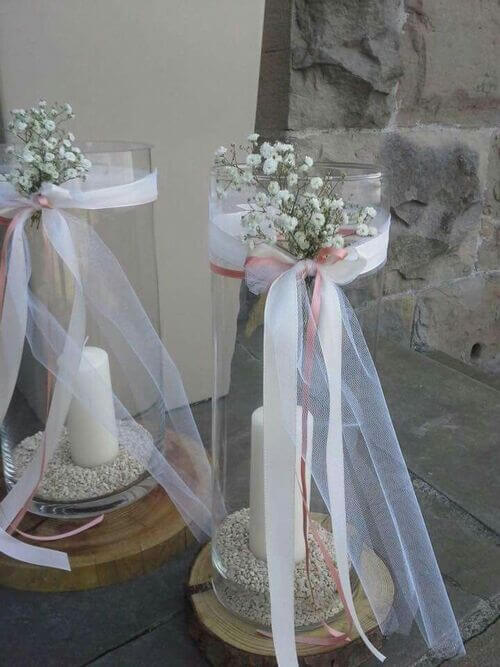 If you have a bunch of open spaces with no idea how to decorate them then try out something simple like this.
Large vases filled with candles can create a romantic atmosphere.
Wrapping white ribbon can add a pop of color to make sure the space is filled completely.
29. Box decor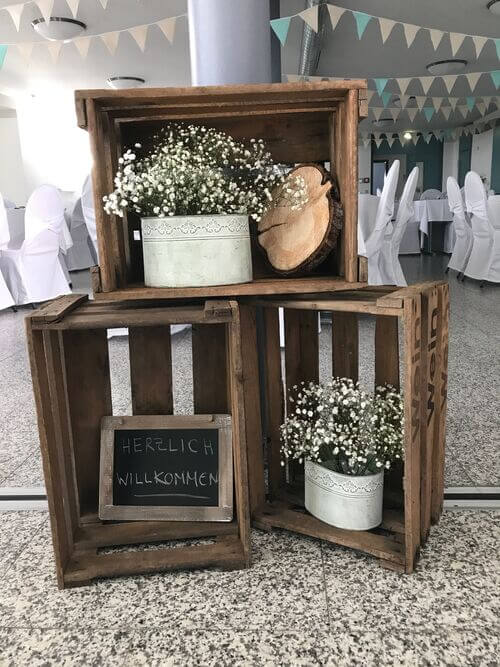 Barn weddings and their aesthetic has been all the rage these days.
Skip the simple and sleek decor. Give it a rustic approach.
Wood accents and rustic pieces give weddings a neutral touch of rich color.
Pair it with tins or even chalkboards with cute sayings.
30. Orbeez and roses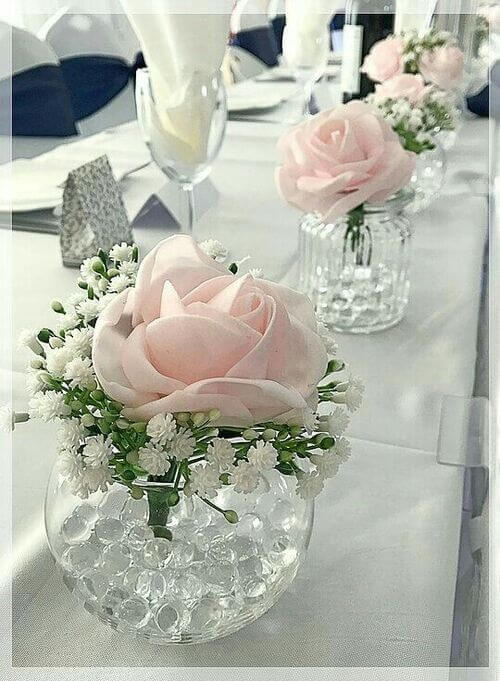 Skip the mess of accidental spills by making use of orbeez.
These clear orbeez allow you to keep your wedding flowers hydrated without the mess of spillage.
It is a simple tactic to keep things clean.
31. Burlap and satin decor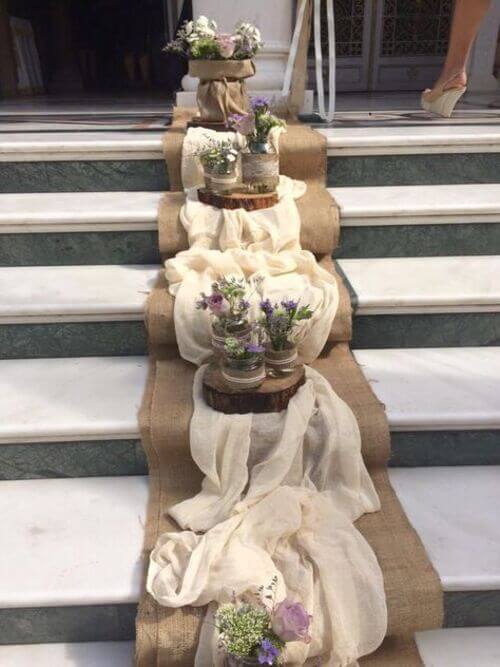 Sometimes the decor can feel a little bare.
By creating a flowing aesthetic with fabric and decor pieces you can make sure that every inch of the location has its own twist.
These burlap and silk pieces fill up the space.
Adding succulents gives it a natural green aesthetic.
32. Rustic centerpiece idea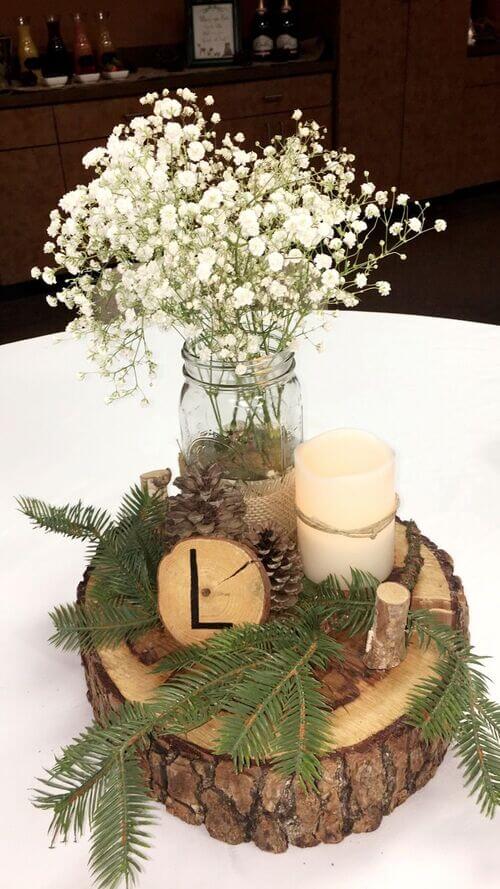 If you want something a little more natural and fitting to a wedding in the woods then why not opt for this?
This centerpiece features wooden circles, candles, baby's breath, as well as pinecones.
It's a bit more rugged than the usual approach.
33. Vine decor on wooden walls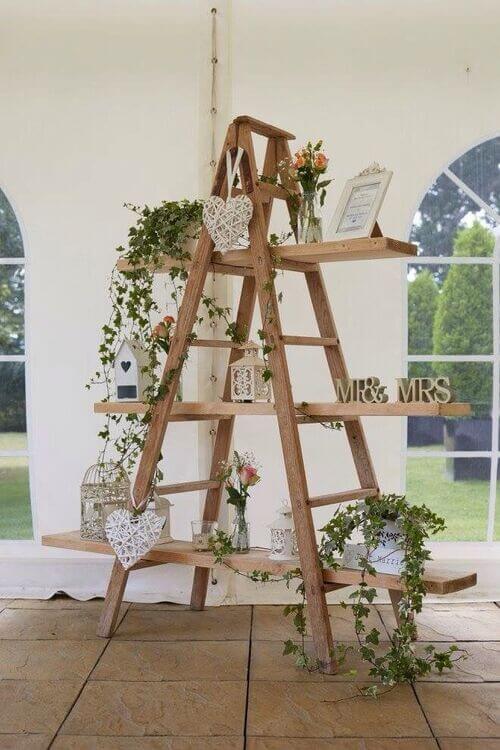 These wooden step ladder shelves have become increasingly popular.
Adding personal pictures, hanging succulents, lanterns or even a cute "Mr and Mrs" wooden board can be just the thing to decorate your reception.
It doesn't take up too much space but can hold a lot of goodies.
34. Floating balloon centerpieces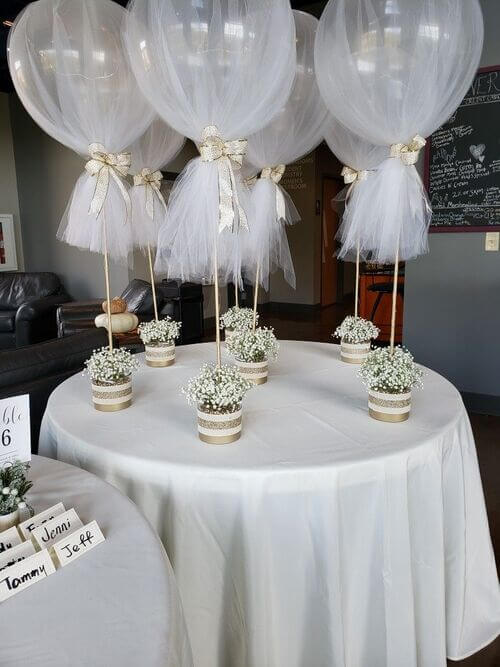 If you're looking for something different then look no further.
These "floating" balloon pieces are cute and simple to recreate.
The bottom is made of cute ceramics filled with baby's breath.
You can then tie a balloon to a tall wooden stick and place it inside the pot.
To add a simple touch you can wrap the balloon in tulle as well as satin ribbons.
Wedding decor pieces
Whether you make use of mason jars or tin cans your wedding will have that special touch to spice things up.
Keep things simple with your own DIY projects, or rent your decor to save on costs.
The decor is basically the icing on the cake. It makes or breaks the wedding.
So take things into careful consideration before going overboard.
This post showed you the best DIY wedding decorations.
You may also like: