This post shows you the best barn wedding table decoration ideas!
Barn weddings have become the aesthetic every person has pinned at least once.
Setting up the table centerpieces is the biggest challenge.
You want something elegant without taking away from the barn aesthetic.
So within this post, we'll be looking at different ways to spice up the decor.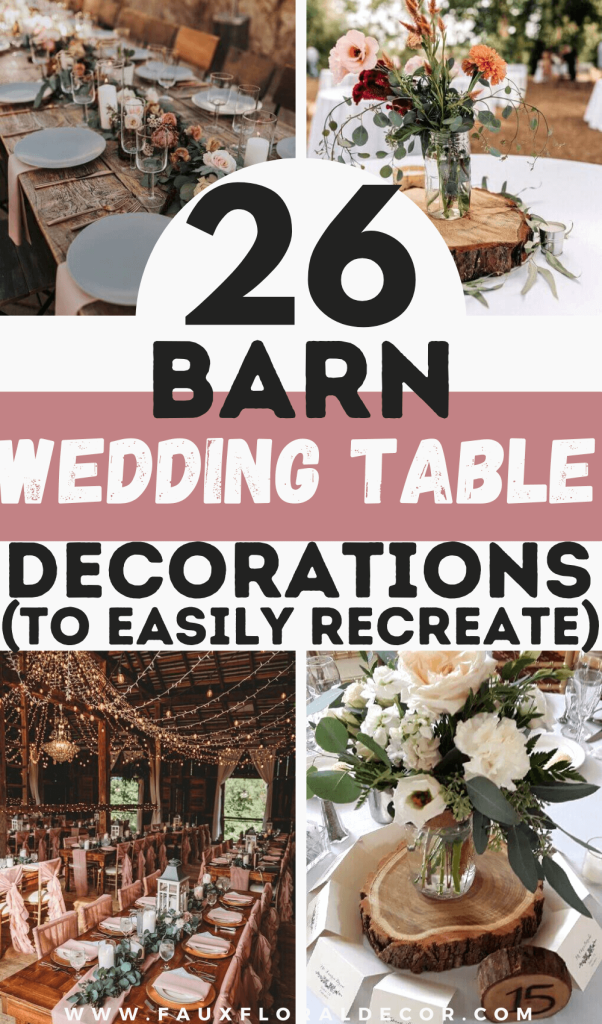 How to elevate the decor
Finding the common ground to elevate decor without changing the theme is sometimes a bit of a challenge.
I have compiled a list of tips that you can use to ensure your decor has a fun touch to it because we all need something to personalize to our heart's desire.
Take advantage of the tall ceilings.
Create bold cutlery design layouts with colors.
Be intense with your decor.
Be intimate with your decor (make use of soft linen to soften the bars)
Don't be afraid to use color.
Switch up the altar station. (See next paragraph for info)
Be open to using more flowers than usual.
Play around with food choices. (Opt for different food choices instead of a traditional BBQ)
Bring nature inside.
Use the barn for dancing only.
Utilize the landscape.
As we take a look at the ideas below, you'll be able to find something that works for you and best describes your personality.
Switching up the altar
We're all so used to seeing the altar being outside and the reception being hosted in a barn it might be time to switch it up.
Use the barn as a setup for your altar.
It allows you to have a big space with more than enough seats for all your guests.
It's perfect for any weather conditions, and overall the decor you can try is infinite.
From there on you can decide to do your reception outside or have your alter set up on one side of the barn and tables on the other side.
This works if there is a lot of space to work with and your guest list is limited.
1. Red accents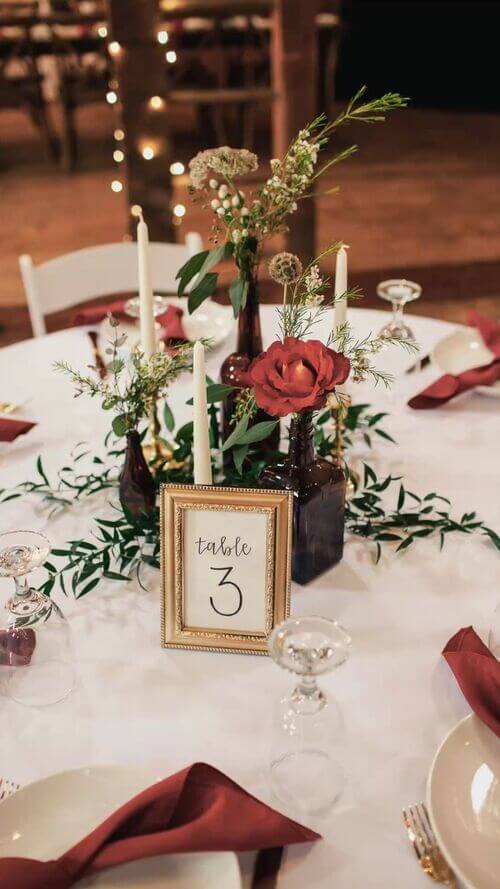 If you have your layout planned but still need something bold then you can add a dark red as an accent color.
Only use it for napkins or roses.
You don't have to go all out for this, which makes it a simple and budget-friendly add-on that you can just throw in last minute (not 5 days prior. I mean like a month or 2 before the wedding) since it still takes a bit of planning.
2. Boho flowers and pastel napkins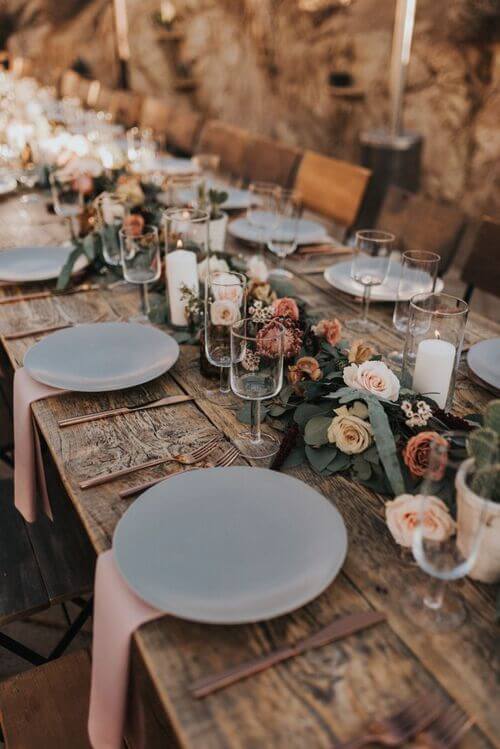 If you've been contemplating having an outdoor reception then this is your sign.
This gorgeous rustic table pairs great with balanced dark and light roses and greenery.
By adding some pastel pink napkins you can avoid making the centerpieces look too dark.
3. Wood boards and wildflowers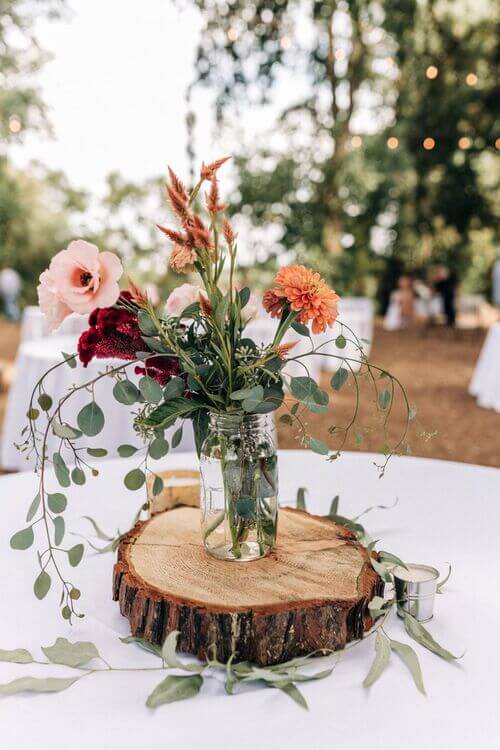 When deciding to stick to a white wedding (especially within the barn aesthetic) it can feel a little basic.
By adding these fun wood slices and moody pink, red, and orange flowers you can create a vibrant atmosphere that you will love.
4. Gold and green centerpieces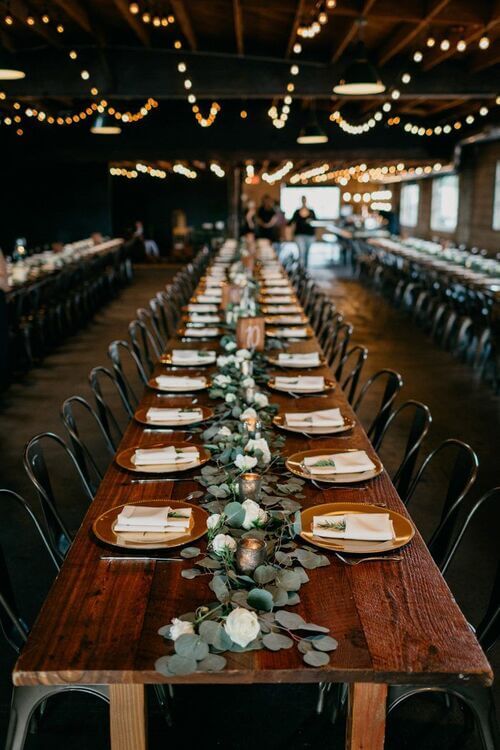 A rustic color scheme that works great with the barn theme is dark green and gold.
It's elegant and classy.
If your reception is being held inside of the barn it allows you to add fairy lights to create some mood lighting.
5. Greenery table runners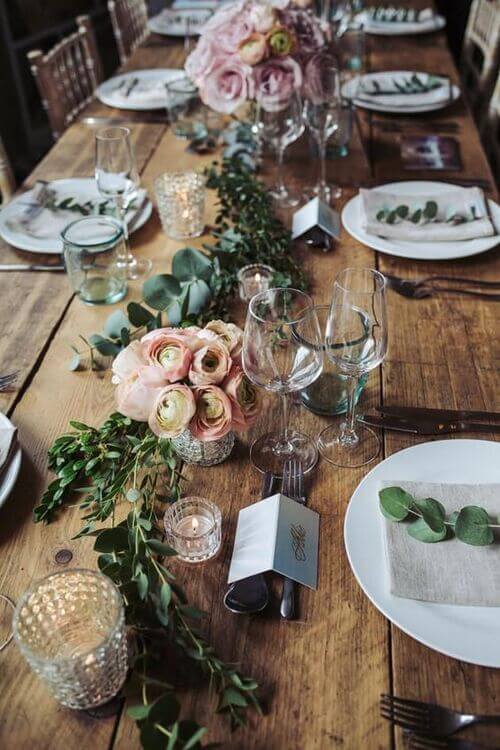 A fun way to swap out the traditional linen table runners is by making use of fake greenery and florals.
They offer a simple yet fresh approach to the basic table setting.
6. Neutral moody centerpieces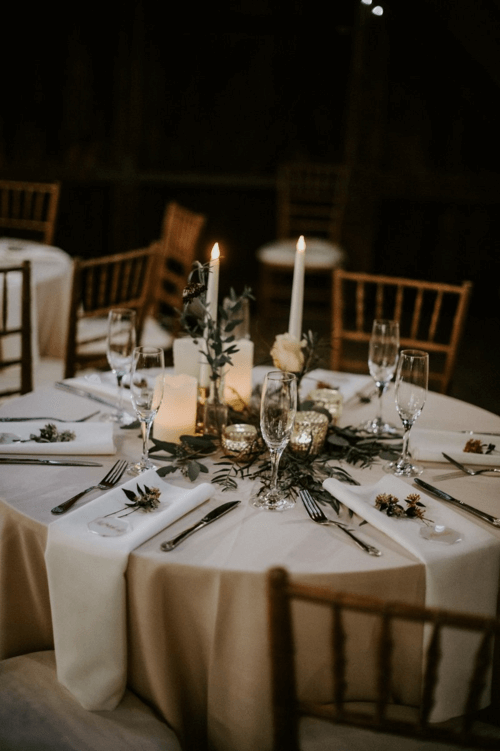 A minimalistic way to step up your decor would be to stick to a neutral color scheme.
Sticking to beige and white sets a warm tone which can be enhanced by making use of taper candles.
You can swap out big bouquets for simple touches of greenery.
7. Dusty pink roses and baby's breath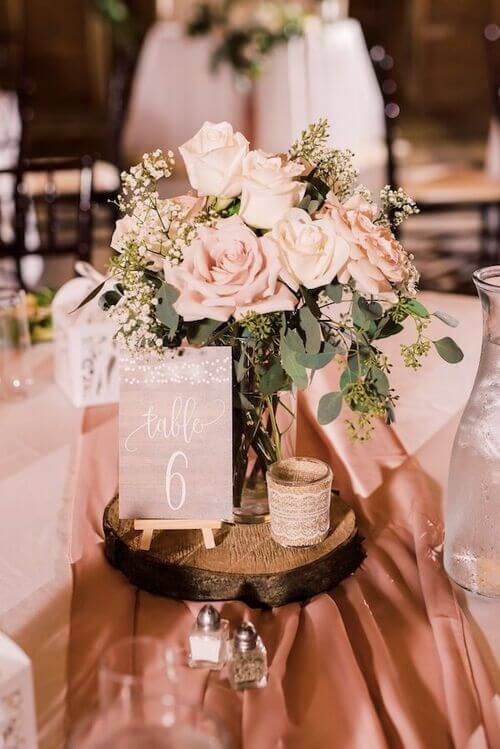 Whenever I see dusty pink at a wedding my mind travels to romantics.
It sets the tone of the wedding and gives a loving atmosphere.
You can pair light pink roses with wooden rounds to create a balance between rustic and elegant.
8. Lace table runners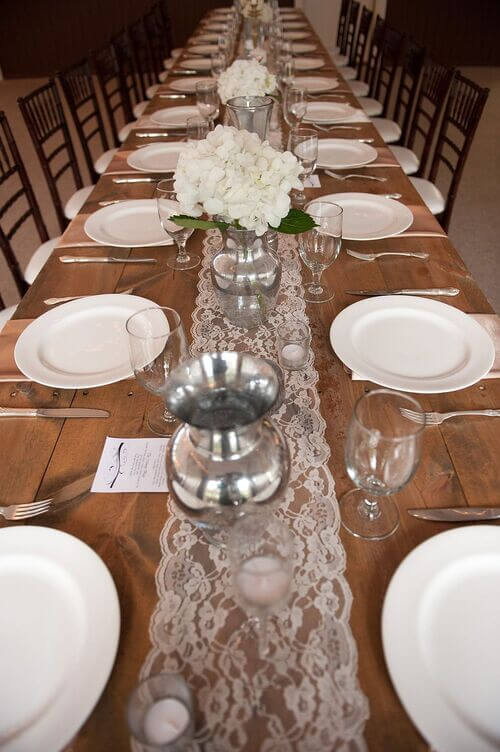 A simple and cute idea to elevate your wedding decor is by adding a little lace.
It's elegant and pairs well with any flowers or even candles.
It's also budget-friendly which makes it ideal for any wedding.
9. Sage tables and warm lighting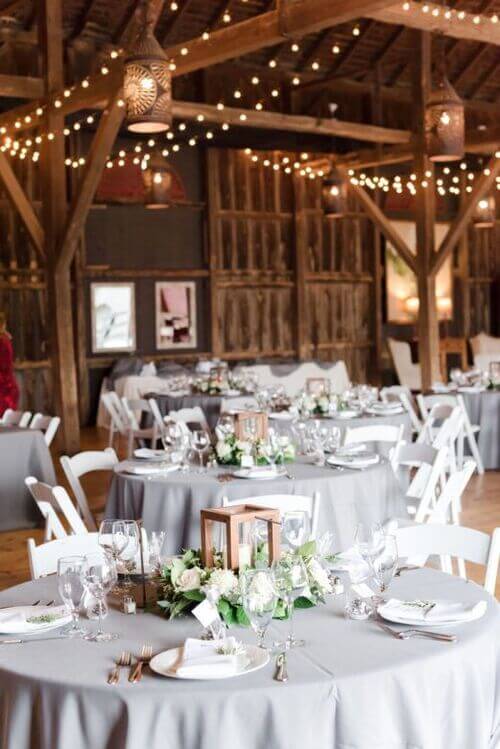 A color scheme that has become increasingly popular is this light sage green and gold.
A barn wedding already has a bold touch of brown (obviously since you're surrounded by wood), so it's best to pair it with colors that aren't as natural.
You can add some roses and candles to the table to fill it up.
10. Burlap and lace table runners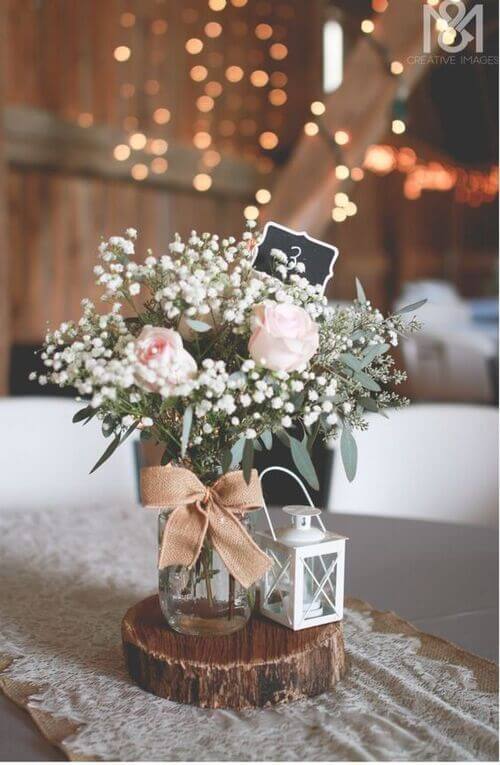 Burlap and lace table runners give you a warm and classy look.
Pair it with mason jars bouquets filled with roses and baby's breath, as well as mini lanterns.
If you want to stick to a minimalistic approach for a barn wedding then this is the way to go.
11. Candles and greenery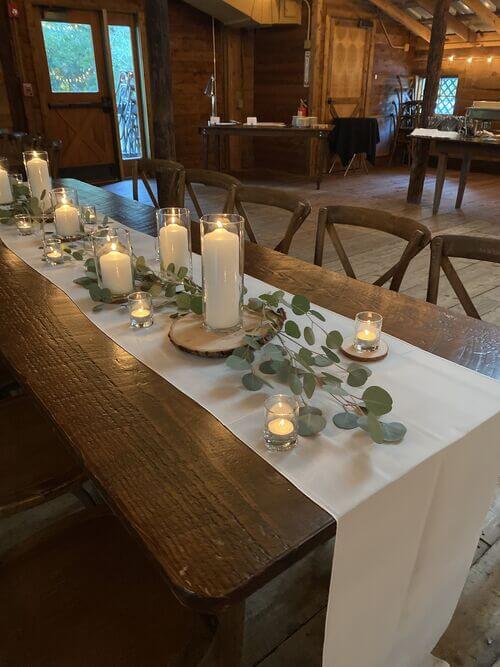 A perfectly simple way to decorate is by making use of eucalyptus and candles.
It brings a bit of life into the barn atmosphere.
Eucalyptus is great for decor as well as having health benefits.
So whether you want to tone things down or keep to a natural setting this idea is perfect for you.
12. Eucalyptus and roses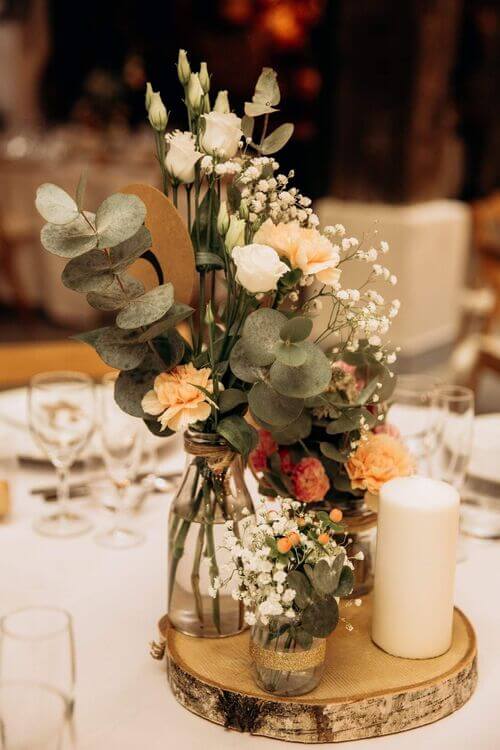 Skip the traditional bouquets.
You're having a non-traditional wedding venue, so stick to the theme of non-traditional.
These wildflower and eucalyptus bundles are gorgeous and tie well into the theme.
While pairing it with these wooden rounds and candles it can set the tone for the wedding and give it a rustic or boho feel.
13. Floating candles and wooden rounds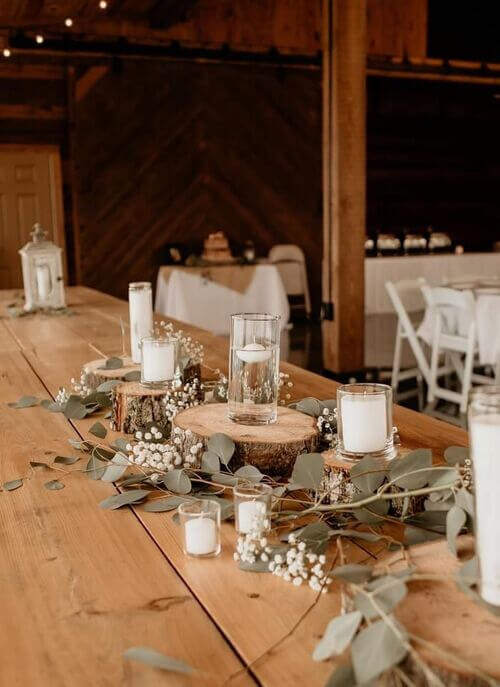 Move away from the traditional candle placements.
These floating candles are a fun way to try something new.
You can add flowers, pearls, or whatever your heart desires to these floating candles to make them fit your wedding theme.
Since they are fully customizable it makes it great for everyone.
14. Personal table numbers and pink roses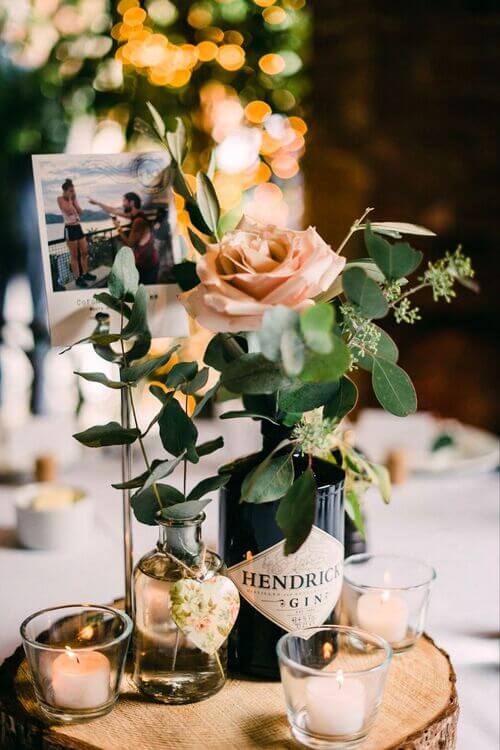 When you're looking for a unique way to elevate your centerpiece then this idea is perfect.
Skip the boring numbers and make use of those gorgeous engagement photos.
Move away from the basic mason jars and opt for vintage gin bottles to place your flowers into.
15. Dramatic lighting and terracotta accents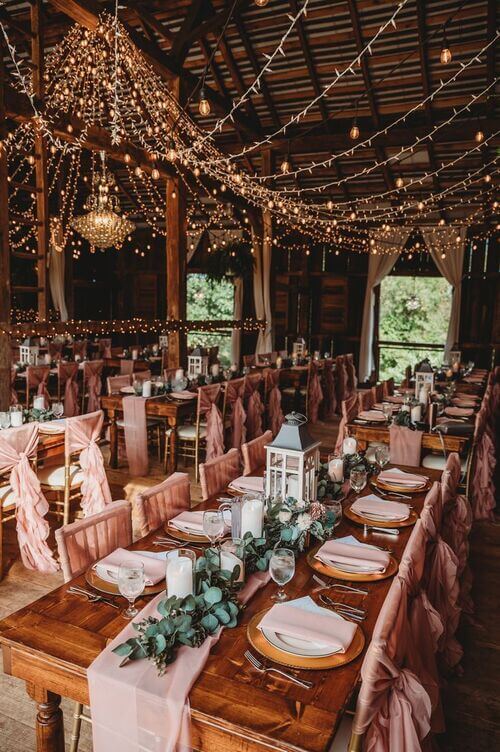 The best part about having a barn wedding is the playground of space you get to decorate.
The warm lighting from fairy lights pairs well with the peach and terracotta color scheme.
If you're trying to break the warm oranges then it would be best to make use of greenery and gold.
16. Candles and baby's breath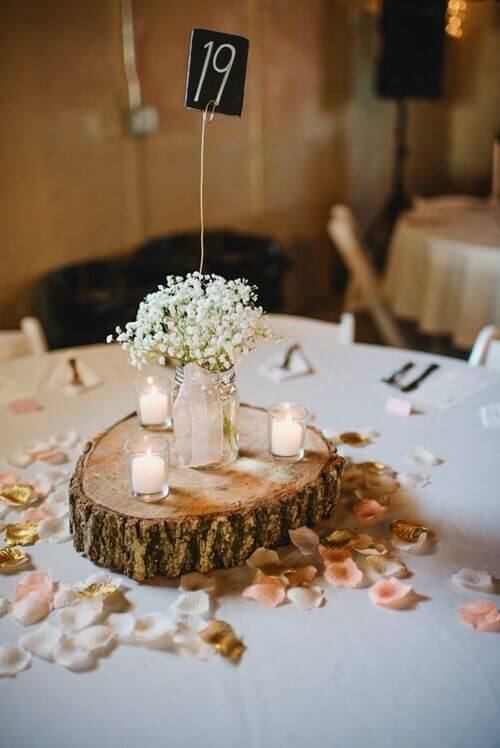 Keep things simple. No one wants to have a centerpiece that's in the way.
People want to mingle and having some over-exaggerated bouquet in the way doesn't help.
This idea allows you to bring the rustic mood into the reception area and use rose petals to decorate.
Baby's breath and candles work well together and they are both small enough to ensure it isn't in the way.
17. Lavender accents and greenery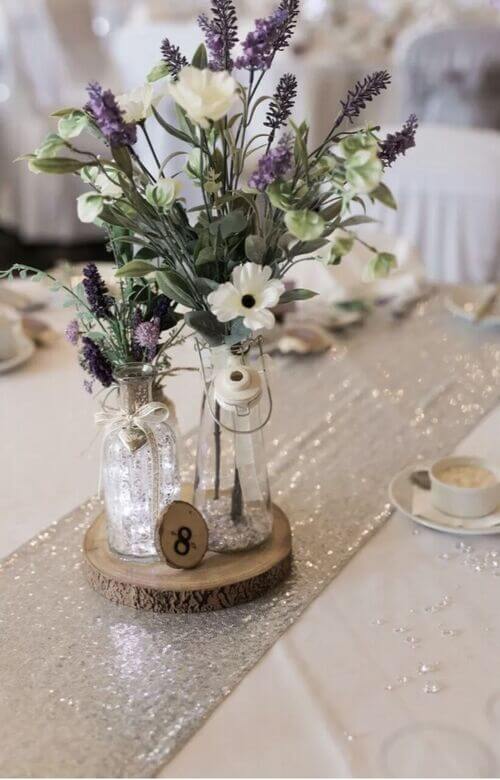 If you feel like your wedding is lacking a pop of color then lavender is sure to do the trick.
Not only does it give a rich color, but the aroma is set to relax your guests without being too overwhelming.
Place lavender and some roses in a jar and decorate it with fairy lights to give it extra lighting.
18. Keep things natural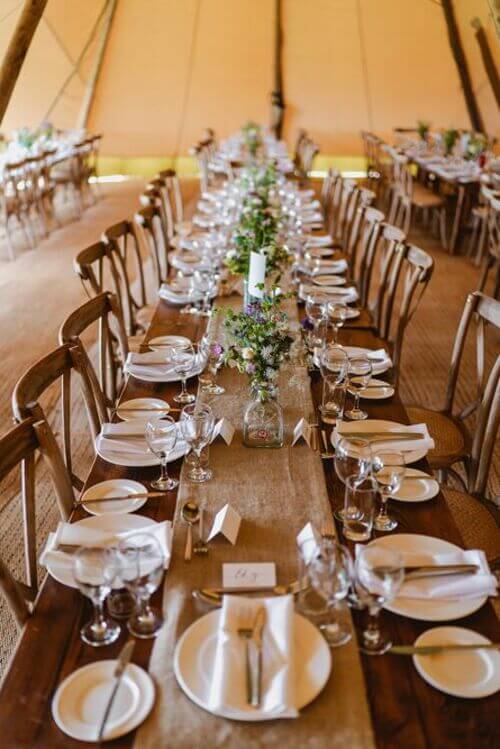 Move away from the dainty and sparkly decor (seriously this is pure barn aesthetic).
Keep the tables bare so that the rich wood is a clear contrast against the beige table runners.
This approach features neutral accents as well as simple decor pieces such as roses and taper candles making it perfect for the minimalistic bride.
19. Mini Mason jars and Polaroids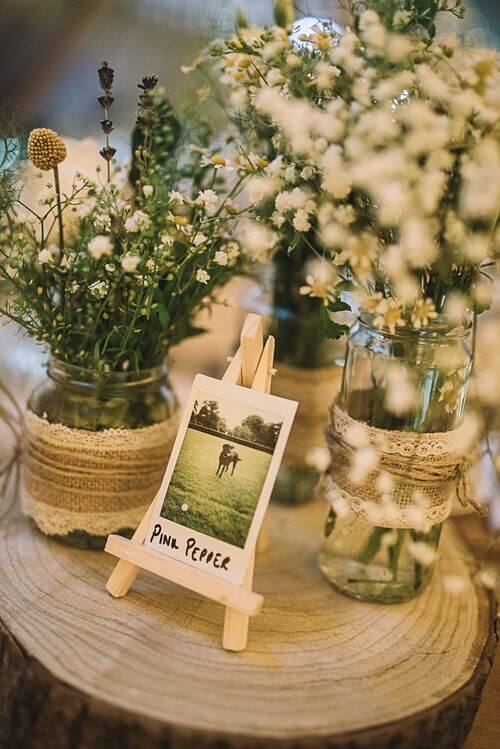 Wrap small jars in lace and twine to add a boho touch to the simple jars.
Get some mini easels to showcase pictures of loved ones or your four-legged friends.
This idea is unique and people will love seeing pictures of the family on the big day.
20. Wildflowers and forest green accents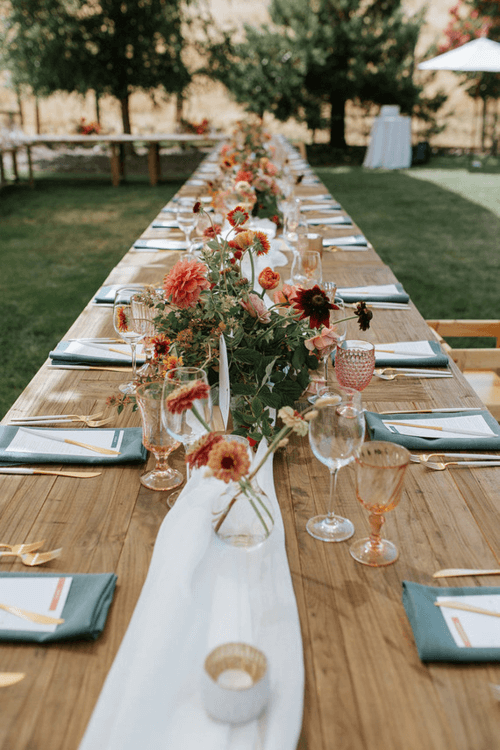 If you're looking into an outside reception then you'll love this idea.
The peach and orange flowers offer a gorgeous contrast against the forest green napkins and gold cutlery.
It's a vintage look that just connects with the barn aesthetic without looking out of balance.
21. Wildflowers in tin buckets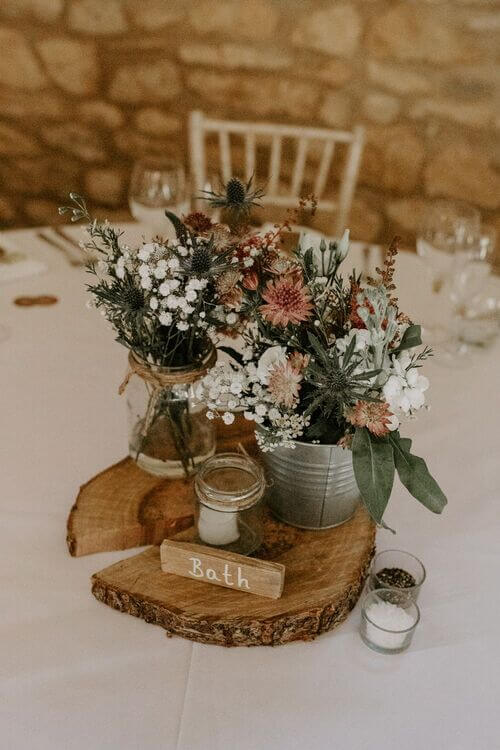 If you're unsure of how to make the most out of simple decor then use this idea as your rough sketch.
These cute tin cans offer the perfect rustic look for bouquets. It's simple and a fun idea to try out.
22. Black and green centerpieces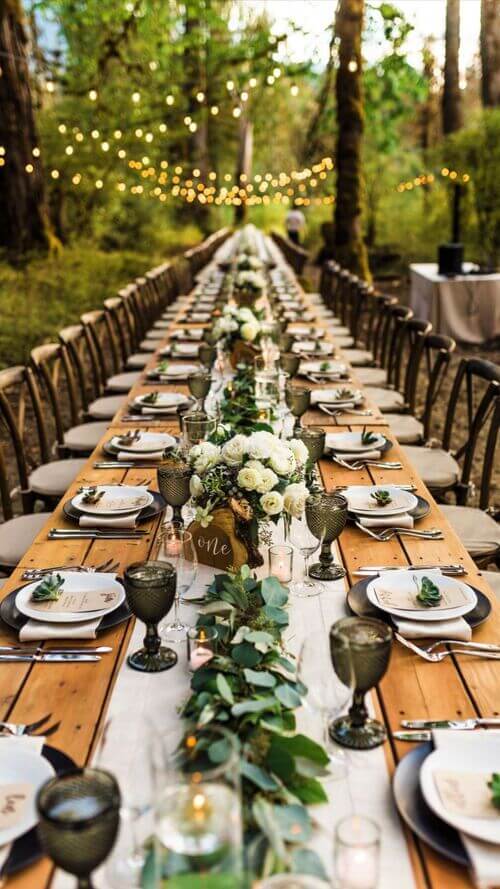 If you're looking for a moody atmosphere then this green and black duo might be just what you need to set the mood.
It's different and gives you a wide range of darker colors to play with.
So opt for dark glassware and plates but keep the accents to white or even gold.
23. White roses and wood rounds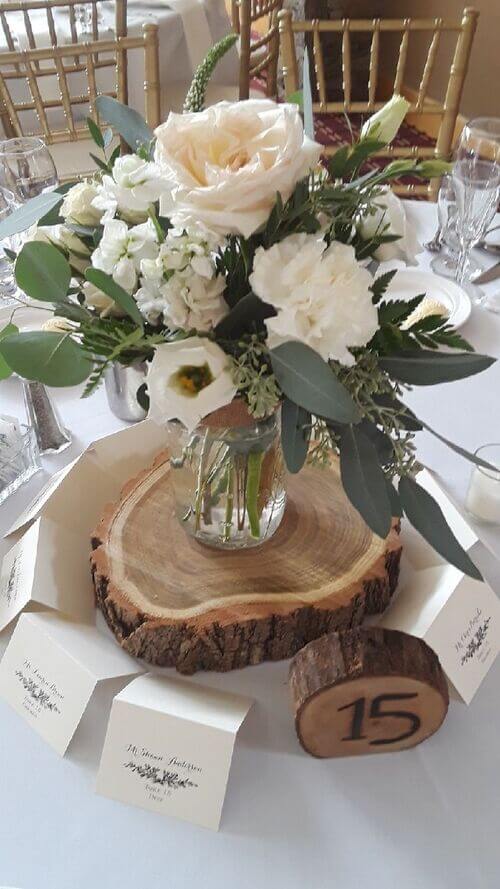 If you have round tables then this centerpiece will make your life 10 times easier.
The wooden centerpieces don't take up a lot of space.
You can reuse the mason jars so that you aren't wasting money on extra expenses.
When picking bouquets you can stick to the basic white or light pink roses.
24. Pictures and glass table numbers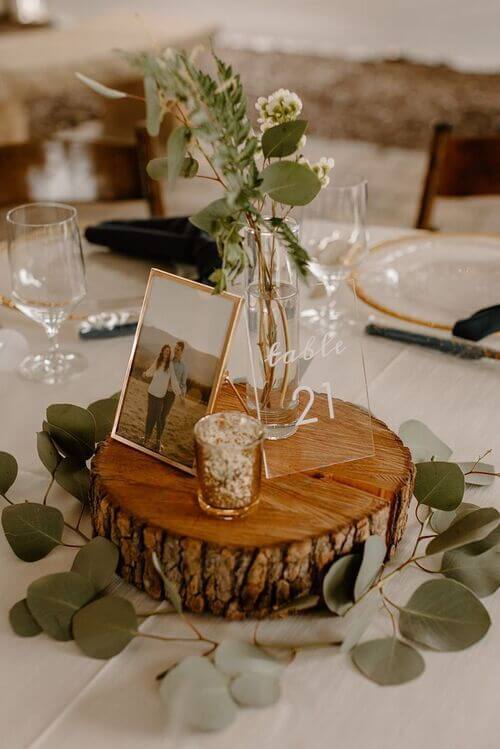 These glass table numbers offer a unique approach to table decor.
You can add a gorgeous picture from your engagement shoot as well.
This personalized style gives you a fun new perspective on the usual approach.
25. Pink and green bouquet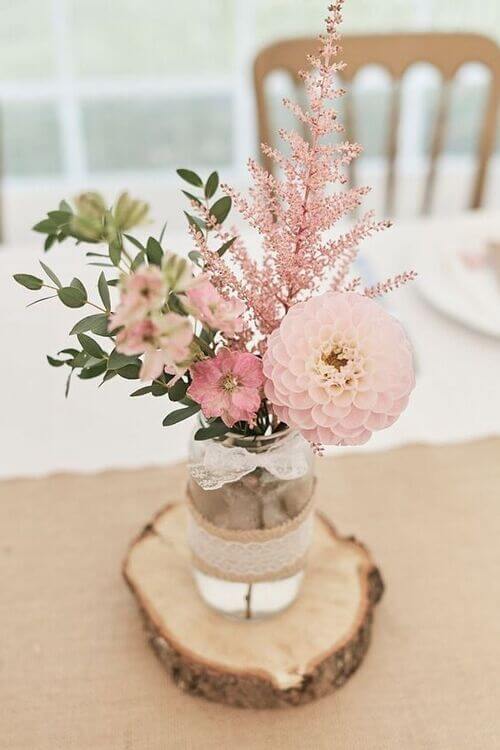 If it's spring or summer then you need to add a little bit of pink.
I don't make the rules… well in this case I do.
Pink is just a vibrant color that can brighten up any space and add a loving atmosphere.
Swap out the traditional white and opt for something more vibrant.
26. Mossy forest aesthetic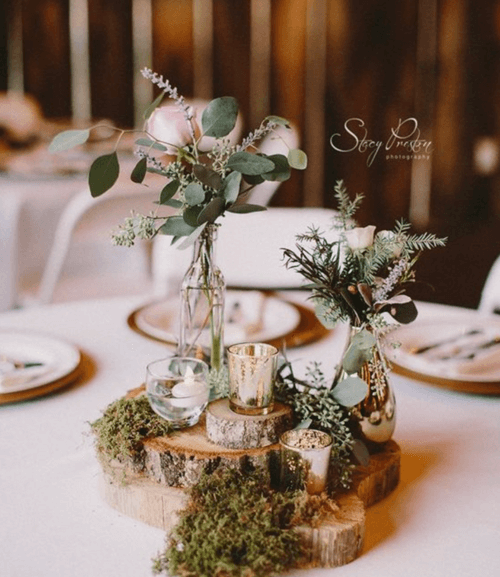 Last but not least. My favorite decor idea on earth.
The mossy grove idea.
This incorporates wooden rounds, moss, and greenery to really bring out that earthy and forest aesthetic.
If you're looking for something natural then this is definitely the way to go.
Barn wedding decor upgrades
While each bride has their view of the perfect wedding you can never go wrong with adding something bold to the centerpieces.
Barn weddings are the perfect opportunity to experiment with colors and themes so why not take advantage of it?
With that being said, I hope this list sparks some new ideas to elevate your wedding day.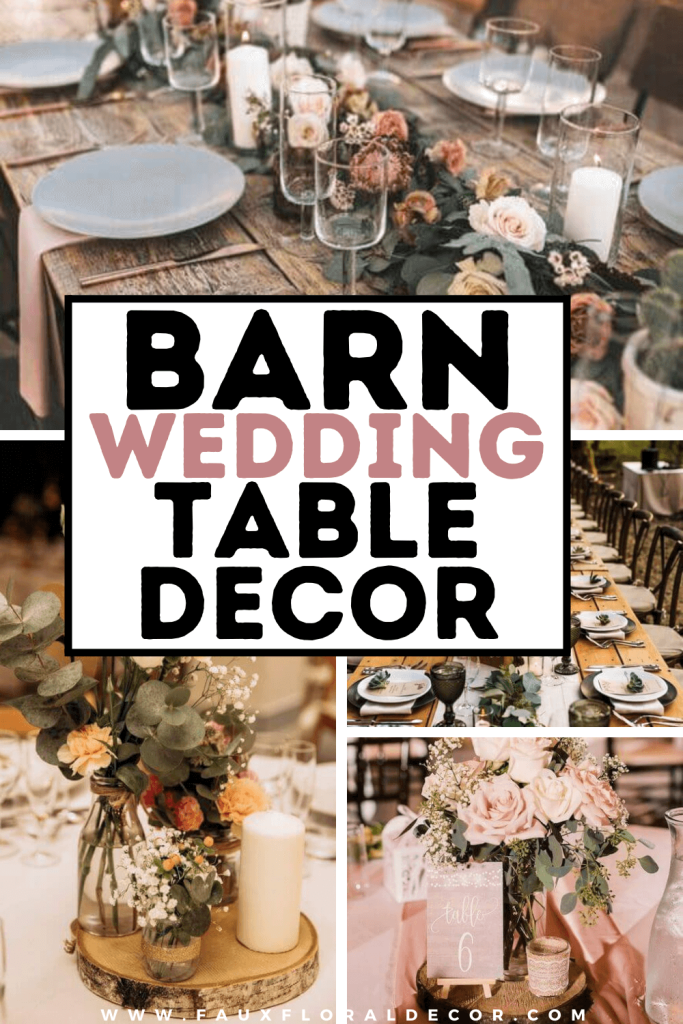 This post showed you the best barn wedding table decoration ideas.
You may also like: