Whether you're a boho chick with a unique flare for wedding decor or just looking for a touch of wildflowers this is the post for you.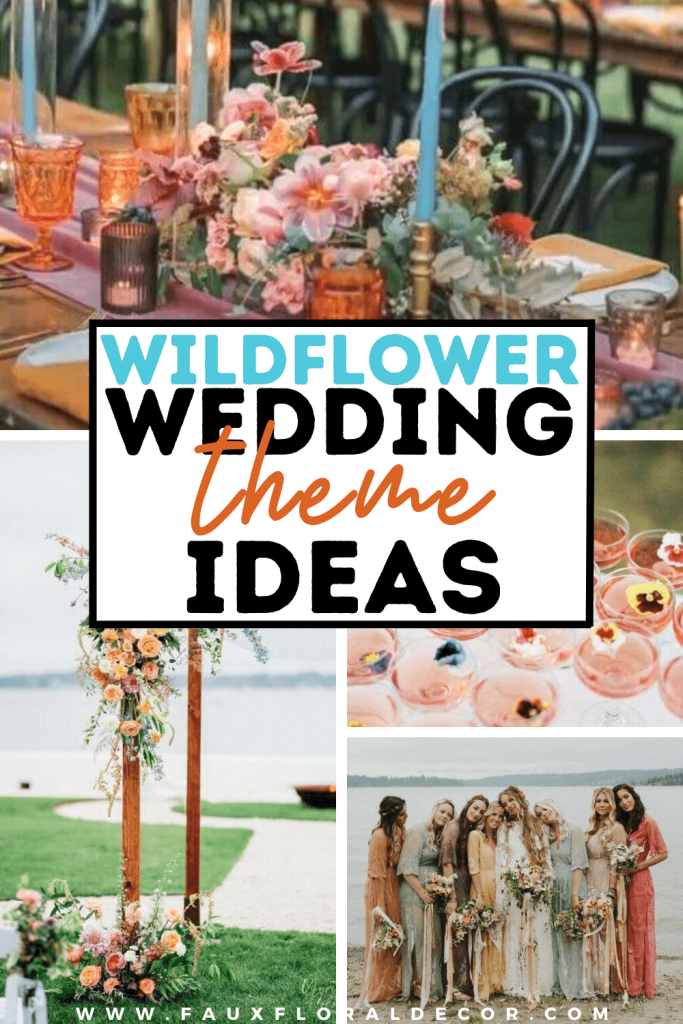 Why you should try wildflowers?
These gorgeous wildflower ideas give your wedding a rustic approach as well as a boho aesthetic.
Since they are easily obtained you can get them just about anywhere.
They pair well with traditional pieces.
Since these flowers are easy to maintain and give each centerpiece a lush and fully rounded look without breaking the bank.
They add a pop of color to any theme and are gorgeously unique.
We love seeing them added to spring and summer weddings, but in all honesty, the oranges, yellows, and bright pinks pair well in Autumn too.
The perks of using wildflowers
By making use of wildflowers you are actively helping the ecosystem around you.
They promote soil health, help with pollination, and won't ruin the ecosystem since they are natural to the space around you.
It protects as well as preserves the system while being beautiful for your big day.
Why should you add some colorful flowers?
It can be hard to create a cohesive look when making use of bold flowers, but it is still achievable nonetheless.
When pairing these flowers with your wedding make sure to not go over the top.
By making the weddings bold you need to make the rest of the decor white or nude.
Nothing to contradict the different colors.

If you are making use of bright pinks, blues, and pinks then make sure to add volume by using different sizes of flowers. This helps to make the centerpieces feel balanced.
Ideas for the big day
With that being said let's dive into the multitude of options available to you to incorporate these gorgeous pieces into your wedding while keeping it tied to the aesthetic.
1. Orange and dusty pink table settings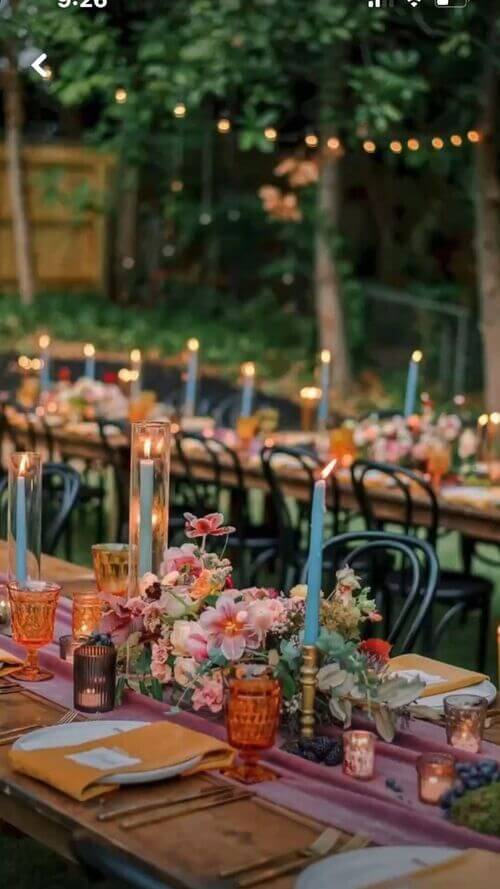 These gorgeous centerpieces are a beautiful collaboration between, orange, dusty pink, and pale blue.
The theme gives your wedding an ethereal yet warm boho look.
The blue and pink decor gives the same effect of a cotton candy sky and the orange warms the whole place up.
Whether you try this outdoors or inside it is sure to brighten up the whole day.
2. Floral and lace bouquets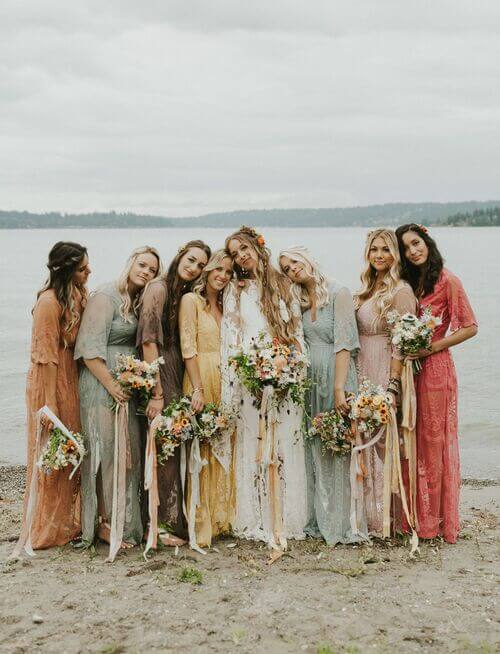 Can there be anything better than a boho dress code? Bring out the neutral and bold colors and pair them with florals layered with lace.
This look just screams wildflower meadow vibes and is the perfect way to break out of the "one dress for all" cookie-cutter mold most people have been doing at weddings.
Give your bridesmaid the option of a color or shape that they feel comfortable in.
This is the ideal way to ensure that everyone can enjoy the day in their skin.
3. Pink roses and wildflower centerpieces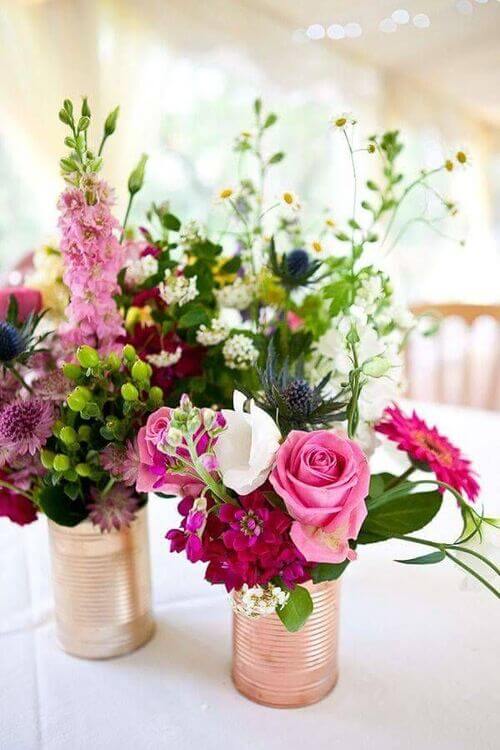 If you're looking for a rustic approach then these rose cold cans are the perfect addition to your wedding.
Skip the vases and mason jars and opt for something that ties into your theme.
These cans are great because not only will you be creating something you love without spending too much, but you are also reusing something that might've been thrown away after one use.
So count it as a win towards the big day as well as helping to keep the planet cleaner.
4. Bride and groom chair bouquets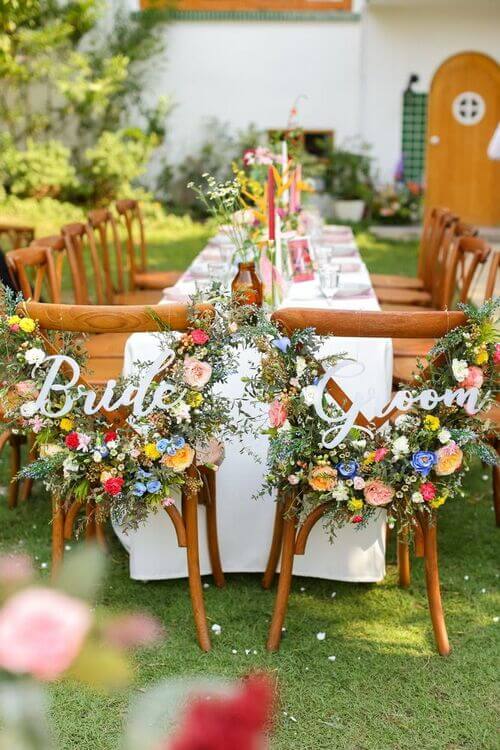 Let's say you want to keep the wedding small.
You have fewer guests so that instantly becomes fewer tables.
You still want to keep the bride and groom front and center, but with less effort.
Try out these gorgeous" bride and groom" flowers.
It gives you the option of keeping it small yet meaningful.
You can make use of bright wildflowers and greenery to create this flowy piece for the end chairs.
5. Colored glassware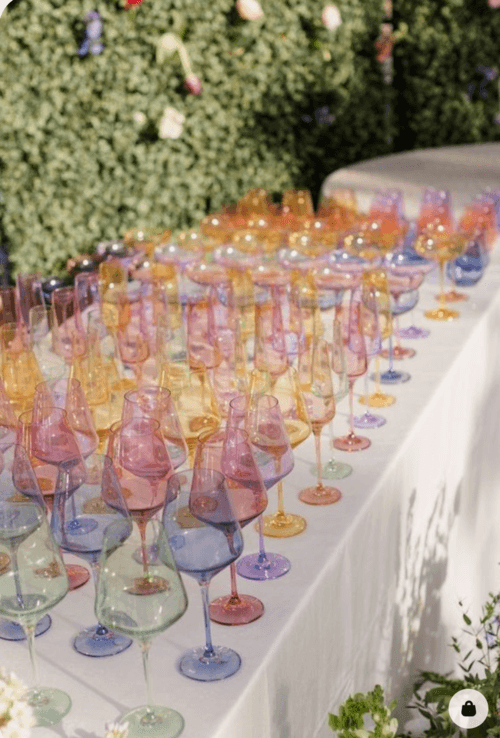 What better way to serve your guest? Whether it's wine, lemonade, or even just juice?
Get this beautiful colored glassware to bring color to each table.
They fit perfectly into each season, and your guests will love them.
These are a personal favorite of mine just because they are unique and bring a bold touch to each table.
6. Purple, blue, and yellow bouquets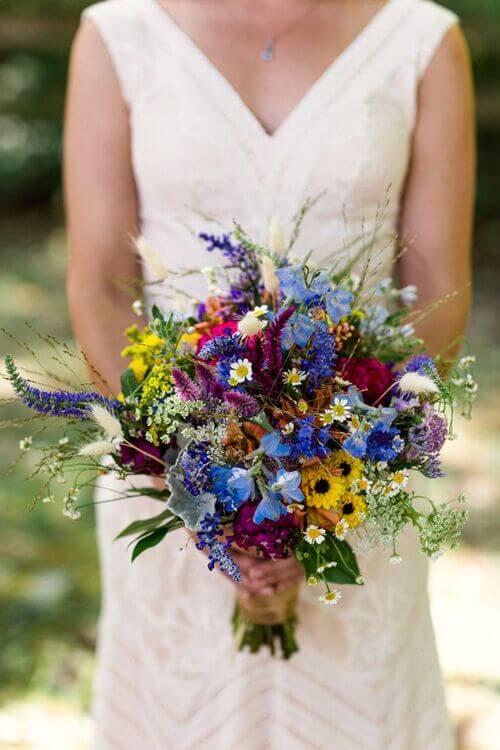 My favorite part about making use of wildflowers is the colors.
These flowers instantly give off a feeling of summer and passion with their bright colors.
Brides are going nuts about trying them out since they offer a new look to traditional wedding pieces.
They tie in with almost any theme, and it's just a bonus that they look perfect in wedding photos.
7. Minimalist glass and flower centerpieces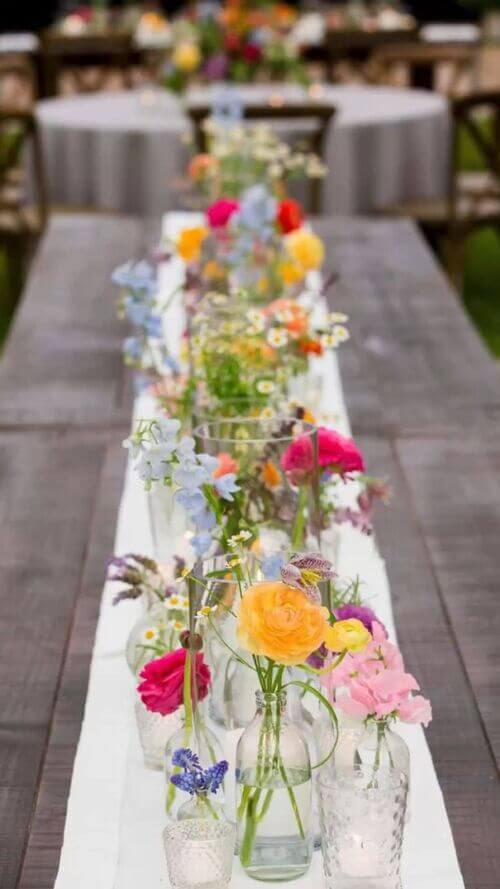 Bring out the color explosions!
If you've been looking for a simple way to brighten up the centerpieces, this might be perfect for you.
Make use of clear jars and place a single flower in them.
You can bring it pink, yellow, or purple, and no matter how many you place on the table it will never look too full or crazy.
8. Pressed flower wedding sign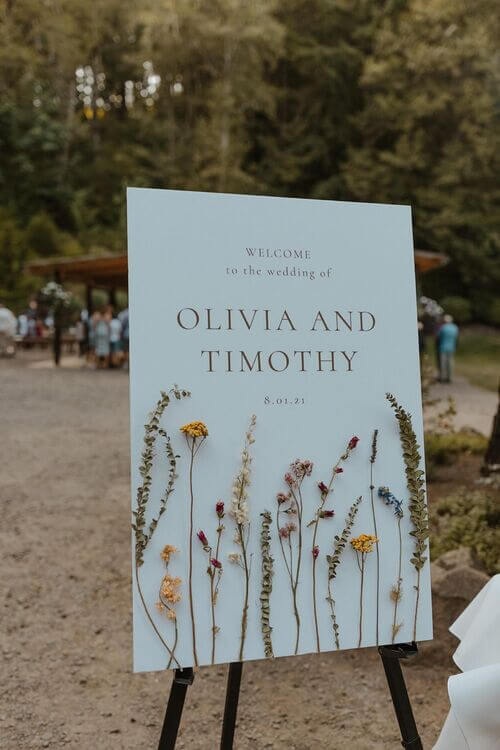 This idea gives me the feeling you get when opening an old notebook and seeing a pressed flower keepsake.
This unique welcome sign allows guests to see a bright new idea to talk about for months to come.
You can easily recreate this by attaching dried or pressed flowers onto a board with your names on it.
Its simple and minimalistic approach is the exact reason for its beauty.
9. Daisy lemonade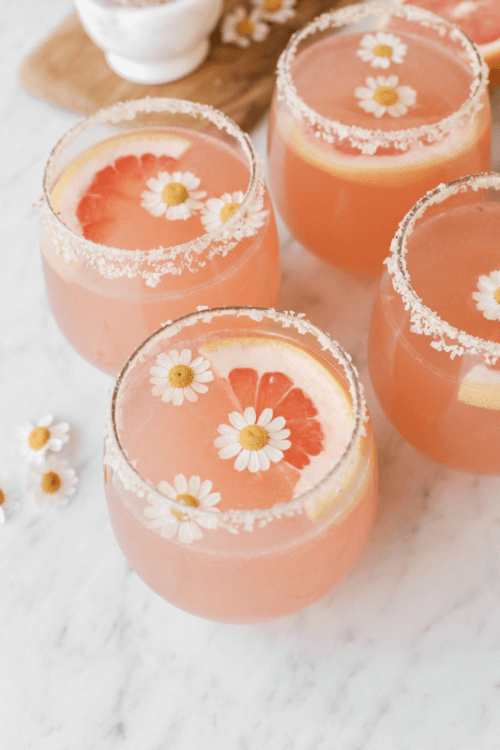 Whether you plan on making a fruity punch, margaritas, or mimosas, this idea is perfect for a wedding.
The edible flowers give the drink a refreshing look and pair well with some citrus as well.
If you're tired of the same old drink ideas, then this fun boho idea is just for you!
10. Hanging flowers and lights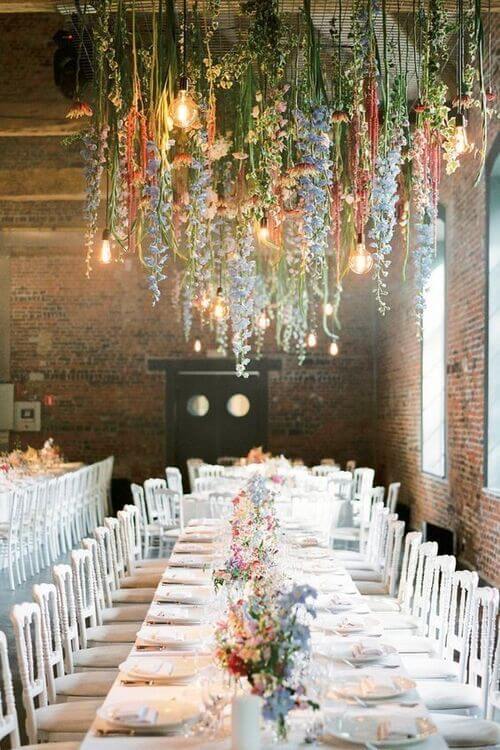 If you're sticking to an indoor wedding and not sure how to keep things light and airy then try this.
Hanging florals and fairy lights add a fantasy element to the venue and people are going to love seeing this unique piece above the tables.
You can create them with different colors or stick to the basics to achieve this look.
11. Rainbow bouquets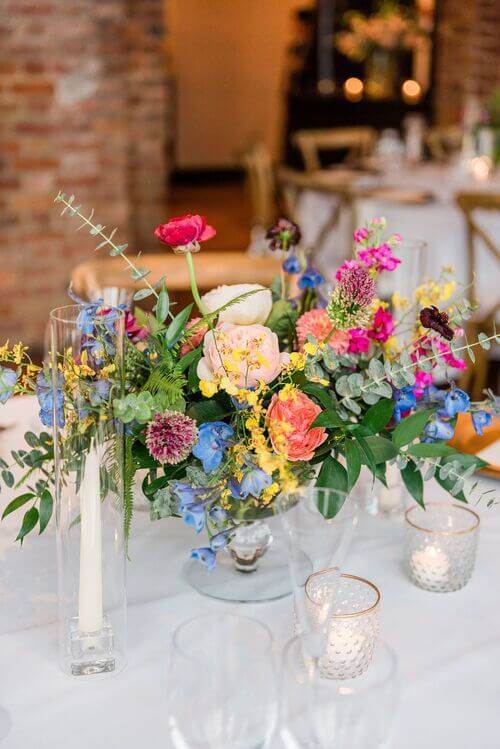 If you're looking for a simple way to add flowers to your table decor then stick to the basics of crystals, candles, and cute colors.
The balance between pink and purple comes from the effective use of greenery.
It's simple but makes a statement.
You can make use of vases and fill them with candles if you want to add some warm notes as well.
12. Plant a seed party gift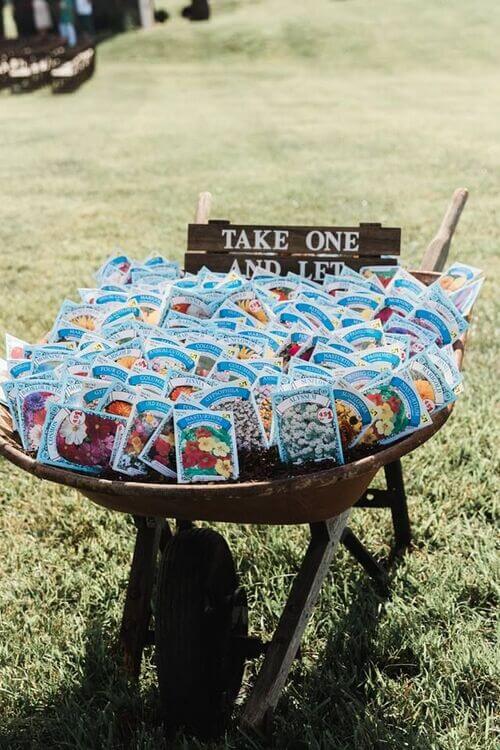 It can be hard to find the perfect gift for your wedding guests.
Here's an idea I've been in love with.
Give them a gift that can be useful for a long time.
Seeds are a great gift because you can give them herbs, fruit, or even some of the gorgeous flowers you have as wedding decor.
It's cute, fun, and unique.
13. Pastel centerpieces and table settings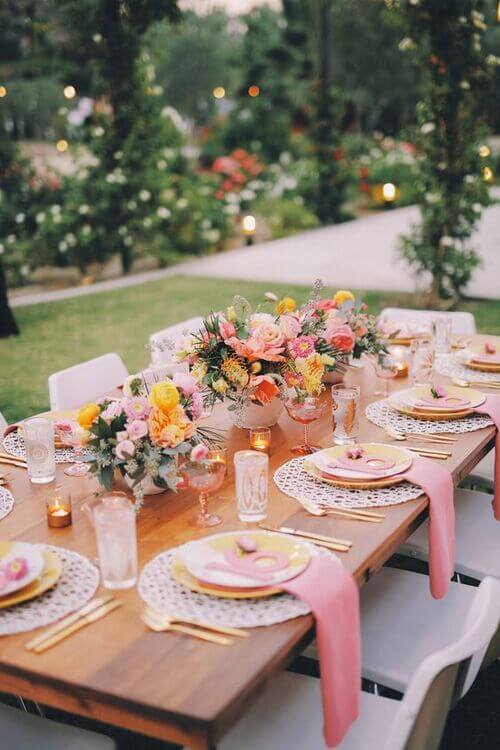 If you're looking for a subtle boho look then you sure will love this.
The ties between yellow, gold, and dusty pink create a fresh summer atmosphere without the potent colors which can make it look messy.
You can pair these with some gold-painted tea lights and pink glassware to bring it all together.
This elegant theme is great for any blushing bride.
14. Groomsmen boutonnieres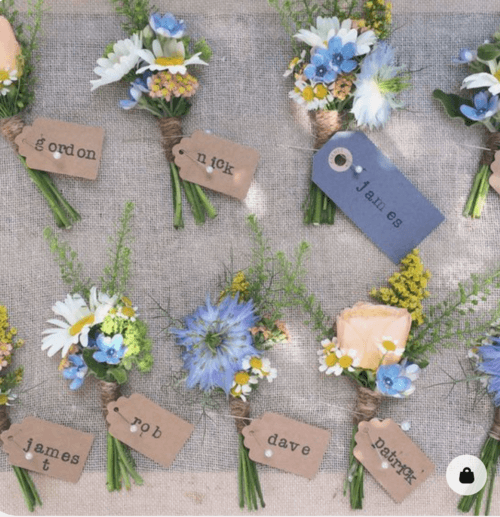 Give the groomsmen something to stick to the theme.
You can make them all unique boutonnieres so that the theme looks cohesive from the tables to the bridal party.
This is something that not a lot of people pay attention to, which makes it all the better to try it out for yourself.
15. Flowers in barrels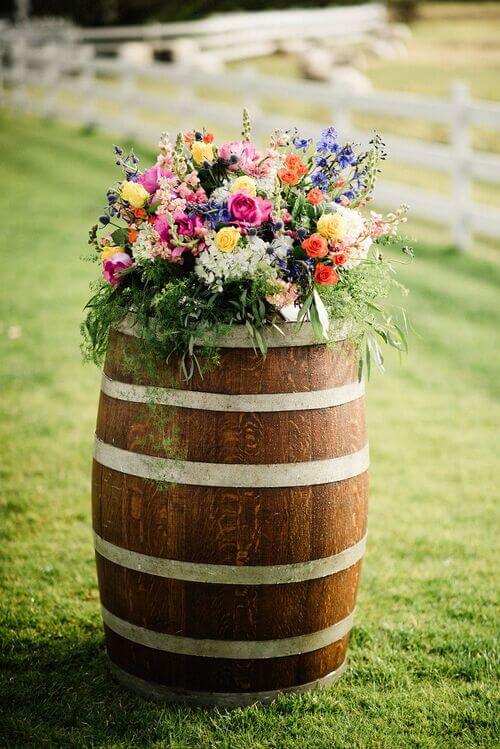 What better way to incorporate a rustic theme other than with barrels?
They are gorgeous.
If you make use of barrels, you can surely find multiple ideas to work with.
You can use them for small tables, centerpiece holders, or overall decor.
No matter how you make use of this idea your guests will love it.
16. Edible flowers in drinks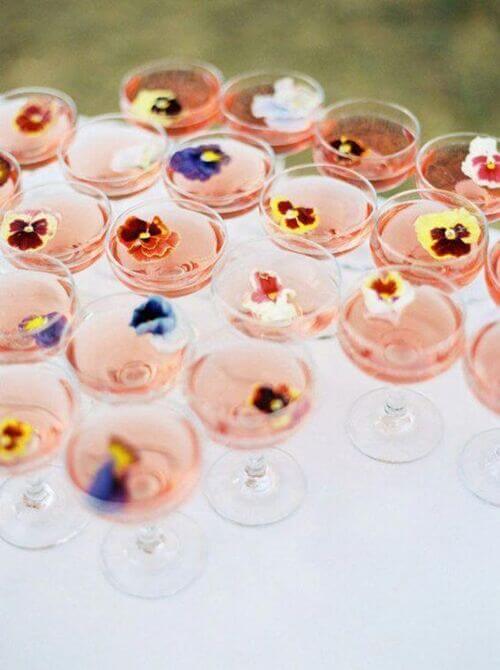 Spice up the normal bar by incorporating some edible flowers.
People will love seeing this at the wedding since it is completely new and adds a pop of color to any drink.
It will pair even better with colored glassware.
17. Bold flowers in wine bottles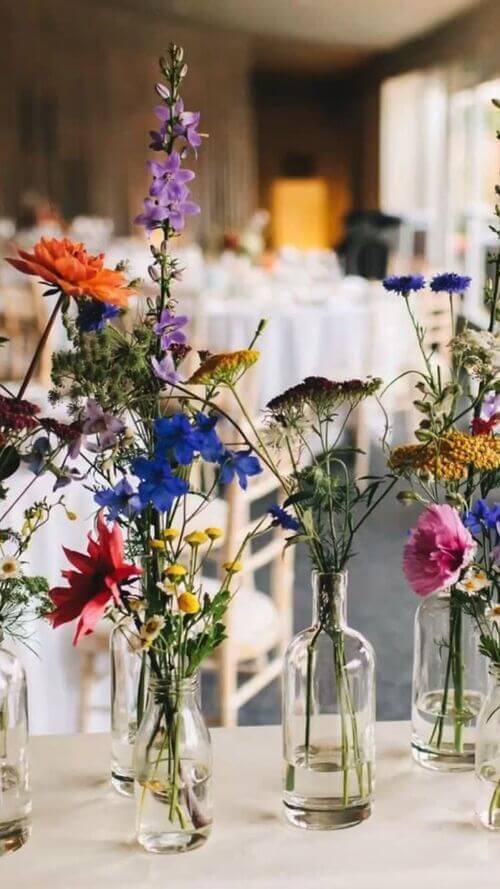 Just like mason jars the use of wine bottles has become very popular in the past few years.
It gives a simple elegance to any theme. Bold colors don't clash since they are all placed in separate bottles.
18. Flower arch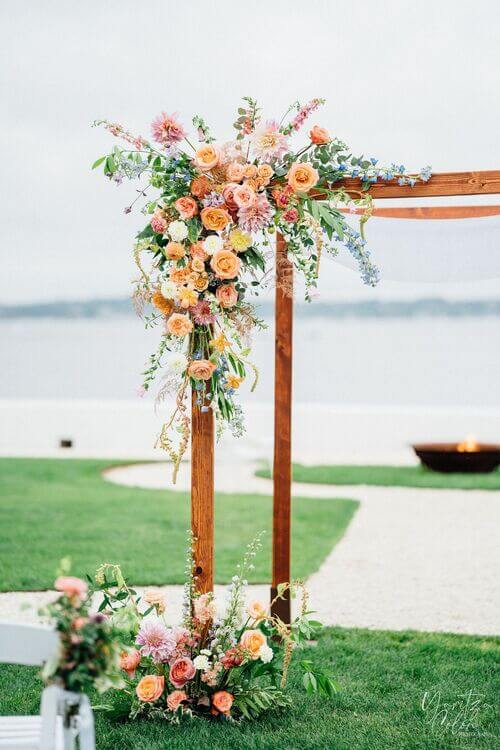 Ditch the normal wedding arches and opt for this natural piece.
The wooden arch offers you room to play with decorations and bring your own creative vision to light.
This is the perfect way to add wildflowers throughout the decor to create a cohesive look.
19. Hanging flower photo booth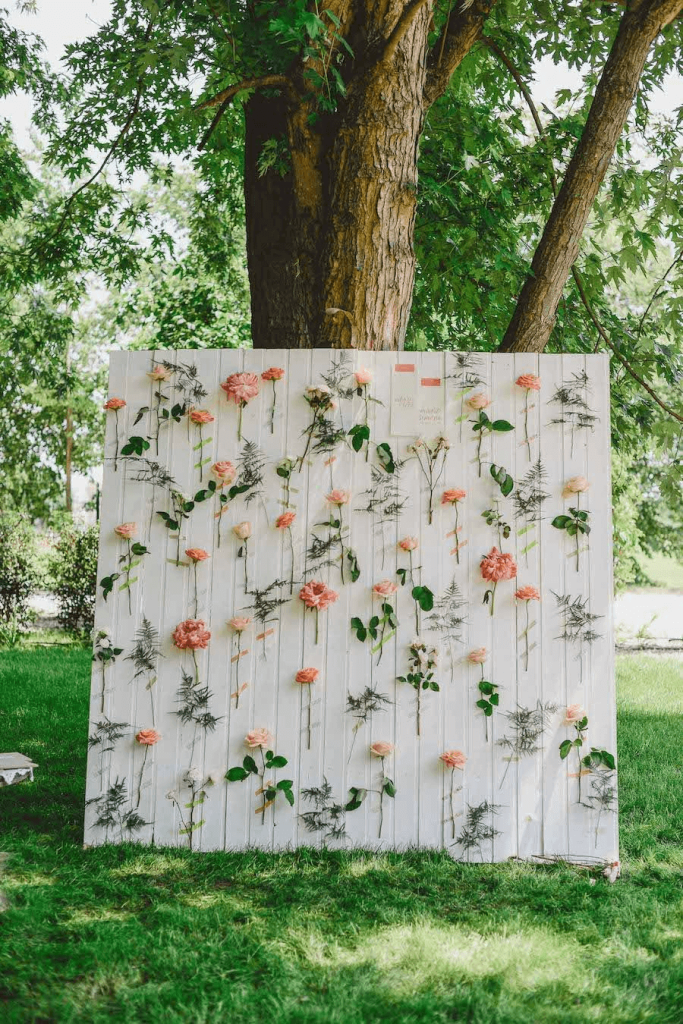 Do you want a photo booth that fits the theme?
I, for one, need this to become more popular just because it is a new look on the original photo booth idea.
You can easily create this by making use of fake flowers and wrapping them with wire.
Just attach them to a large piece of cardboard or even tie them to a tree to give it a natural background.
It is easy and effective.
The wildflower theme
While finding the right theme can feel like a headache the flowers don't have to.
So make room on the table and grab some funky flowers to complete the day's look.
Considering this isn't everyone's cup of tea you can always add some subtle hints.
Like a bright pink rose, sunflowers, or gorgeous orange blossoms.
It doesn't have to be a full-blown flower fest. Even a little sprinkle here and there can spice up the day.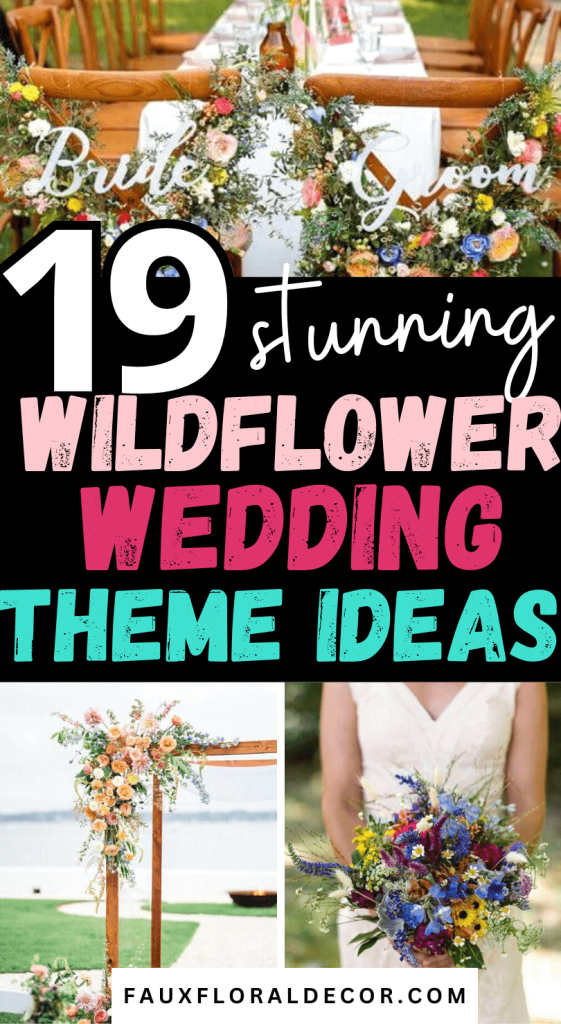 This post showed you the best wildflower wedding theme ideas.
You may also like: