This post is the ultimate guide to planning a wedding with a budget of $1000
A wedding is one of life's most memorable moments; you have to to make it the best event ever!
Planning a wedding can be an exciting and stressful experience at the same time, especially when you're on a tight budget.
However, with a little bit of creativity and strategic planning, you don't have to spend all your savings on your big day.
Some people might be willing to spend hundreds of thousands of dollars for their wedding day, but it is not impossible to have a beautiful and memorable wedding with only $1000.
The problem with expensive weddings is that they can come back to haunt you if you can't afford it.
The best way to plan a wedding with a budget of $1000 is to get help.
Who knows that those closest to you, like family members, would be happy to help with your big day!
Saving on labor, such as wedding organizers, is the best way to cut high costs.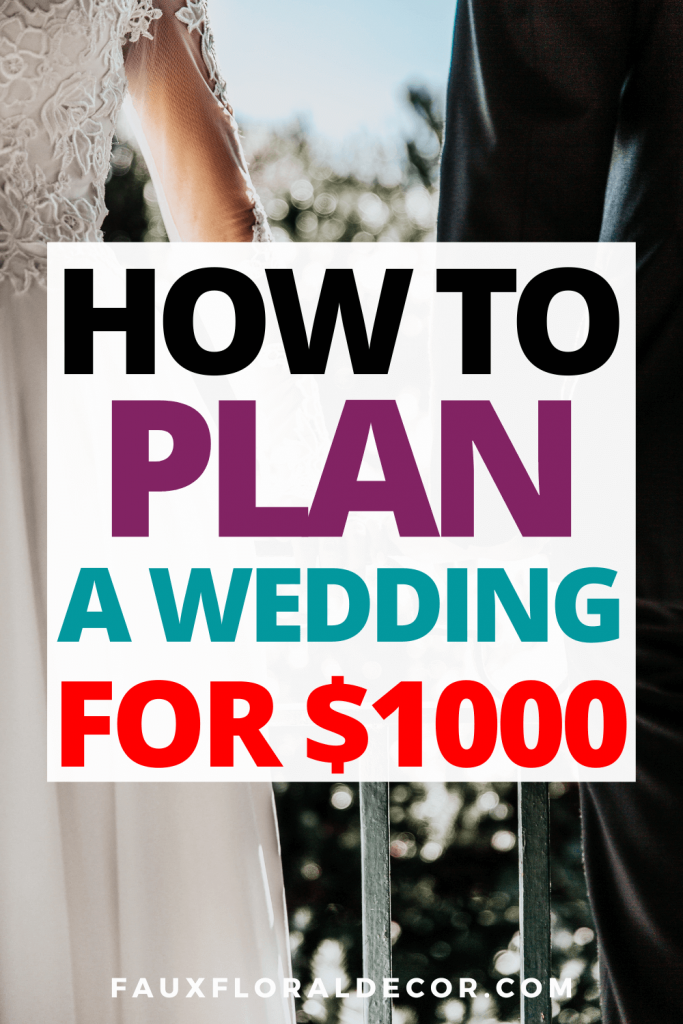 Besides that, here are some tips for planning a wedding on a budget of $1000:
Set Priorities
Before you start planning, decide which elements of the wedding are most important to you.
There are a lot of things to think of when it comes to weddings, such as dress, food, venue, flowers, and even photography.
To spend your $1000 wisely, choose the things most important to you and allocate the majority of your budget towards those items.
How To Plan A Wedding On A Budget of $1000
Your wedding attire is important to some people, and it can cost quite a lot of money.
One of the great options to save your money is to borrow one!
Check with your family members and friends, whether they have a dress or suit that you can borrow.
Some people use their mothers' previous wedding dresses for their big day, even though you might have to adjust the dress a little, but it is a good way to save some budget.
Not only that, it can be meaningful for your mother to see her daughter walking down the aisle wearing the same dress as her back in the day!
Another option is to rent your wedding dress and the groom's suit at a local rental dress shop.
Usually, they can give you options according to your budget. While not the cheapest option, this will be the second easiest way to get a cheap wedding dress after buying one
Choose The Wedding Venue
A wedding hall could be quite expensive for some people to rent, especially if you're on a small budget.
Consider having the ceremony in a park, beach, or even backyard! You can use your parents' or other family members' backyard, with their permission of course.
Think about how you could create a wedding space using the places you already love the most!
This will not only save you money on the venue rental, but it will also give your wedding a unique and intimate feel.
However, suppose you are uncomfortable having a wedding on your private property. In that case, City Hall is a great spot to hold your wedding ceremony with an intimate group of family and friends.
Although it might cost you a bit of budget, it is better than paying the fee for expensive wedding halls.
Plan Your Invitations
Trying to plan an entire wedding with a budget of $1000 means you have to cut out unnecessary extras and expenses, including a guest list.
You have to work on keeping the guest list small because as your guest list grows, so do your food and venue costs.
Firstly, you can prioritize close family and friends and invite the number of other guests you can afford to host.
You can also have a smaller wedding ceremony with only immediate family and close friends, and then have a larger reception later!
It is a great way to keep your average wedding cost low. Remember that ultimately, it's your special day and you should invite who you feel most comfortable having there.
After you're done with your guest list, time to plan the wedding invitation.
Today, there are a lot of wedding invitation options that you can choose from based on your budget.
You can also design your own invitation using tools as easy as Canva or Adobe Photoshop, and then you can print them yourself as well!
If you are into a DIY invitation, you can use materials such as cardstock, ribbon, and stamps.
This can be budget-friendly and add a personal touch to your invitations.
These days, to save money, some people also use digital invitations by maximizing their social media accounts and email.
Not only is it a simple and easy way to distribute your invitation, but it is also very environmentally friendly since you're using fewer papers!
Create Your Own Decorations
One of the elements in a wedding that could up your cost is wedding decorations.
You can save money by making your own decorations.
Use materials like balloons, streamers, and paper lanterns to create a festive and romantic atmosphere.
Besides, they are perfect for inclusive venues!
You can also look for inspiration on Pinterest and other social media platforms.
To make your venue more lively and dreamy for an outdoor wedding, you can put up several LED or fairy lights for the ambiance.
You can string them up on trees or along the walls to add a beautiful glow to your wedding reception.
When we are talking about decorations, we can't leave out flowers arrangement.
Working with a professional florist can be expensive, so we suggest you do it yourself!
You can try buying the flowers directly from a supplier or the local market and incorporate other natural elements, such as branches and leaves, into your bouquet.
These can be found for free or at a low cost and add a beautiful, organic touch to your wedding.
For the jars and vases, you can use mason jars and vases that you have at home.
These jars and vases can be used to create beautiful floral arrangements or as candle holders.
Another easy way to level up your wedding on a budget is to create a simple photo booth. You can create a DIY photo booth using a simple backdrop and props. This can be a fun and interactive way for guests to capture memories of your big day.
Prepare Your Own Wedding Cake and Food
When it comes to weddings, cakes, and food for the guests are very essential.
However, sometimes the cake and the food alone can easily break the budget.
If you, or other family members and friends, are into baking, get ready to bake your own cake because wedding cakes can be a little expensive.
To make your cake a little fancier, think about stacking layers on top, adding icing, and completing your confection with flowers and a cake topper!
While you might have to buy one, consider visiting your local bakery and being upfront about your budget.
If you want to be more out of the box, try cupcakes instead of a traditional cake!
For food, first, you need to make sure that your venue allows you to bring in your own food because cooking your own food can cut down a lot of money.
Other great options you might want to consider are having a potluck-style reception with guests bringing dishes to share or opting for a food truck or a buffet-style meal instead of a sit-down dinner.
Those two options are great for outdoor weddings! If you still want to pay for a catering service, consider alternative types of cuisine that may be less expensive to prepare.
Book an Entertainment and Photographer
The highlight of a wedding reception is the entertainment. This could change your wedding night to be more fun and lively.
However, you don't have much room left to pay for entertainment when you want to plan a wedding for under $1000.
At your wedding reception, you can provide a sound system and a mic so that the guests can come up and sing a song or two by playing a karaoke version of the music.
If you want to splurge a little, you can hire a local band or DJ who is just starting out and may have lower rates.
Another great option is to create a playlist and use a music streaming service to play it through the sound system.
Hiring a professional wedding photographer will almost certainly be out of your budget.
So, to keep things under budget, look over your guest list and ask a friend or family member to help with the photography.
Another fun thing to do is to place one or two Polaroids or disposable cameras on the guest tables for them to take pictures freely and leave messages for the newlyweds!
To Summarize
Planning a wedding on a tight budget can be challenging, but it is not impossible.
With a little creativity and resourcefulness, you can create a beautiful and memorable big day without breaking the bank.
Remember, it's not about how much you spend, but about the love and commitment you are celebrating with your loved ones!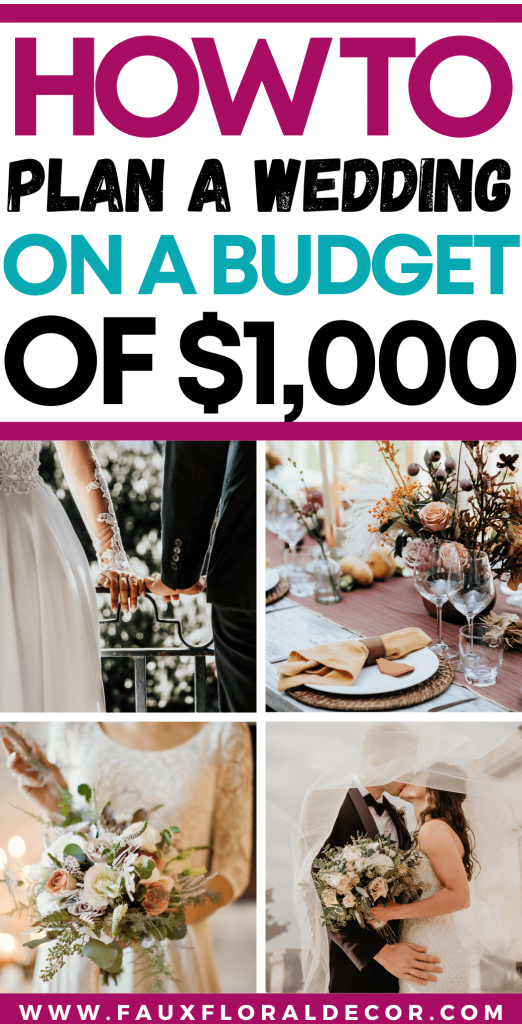 This post showed you how to plan a wedding on a budget of $1,000.
You may also like: