Planning a wedding can be an exciting yet daunting task.
While there are absolutely no rules on how you make your wedding day more special, try to make it more fun by looking for ways on how to make your wedding ceremony more unique and personalized!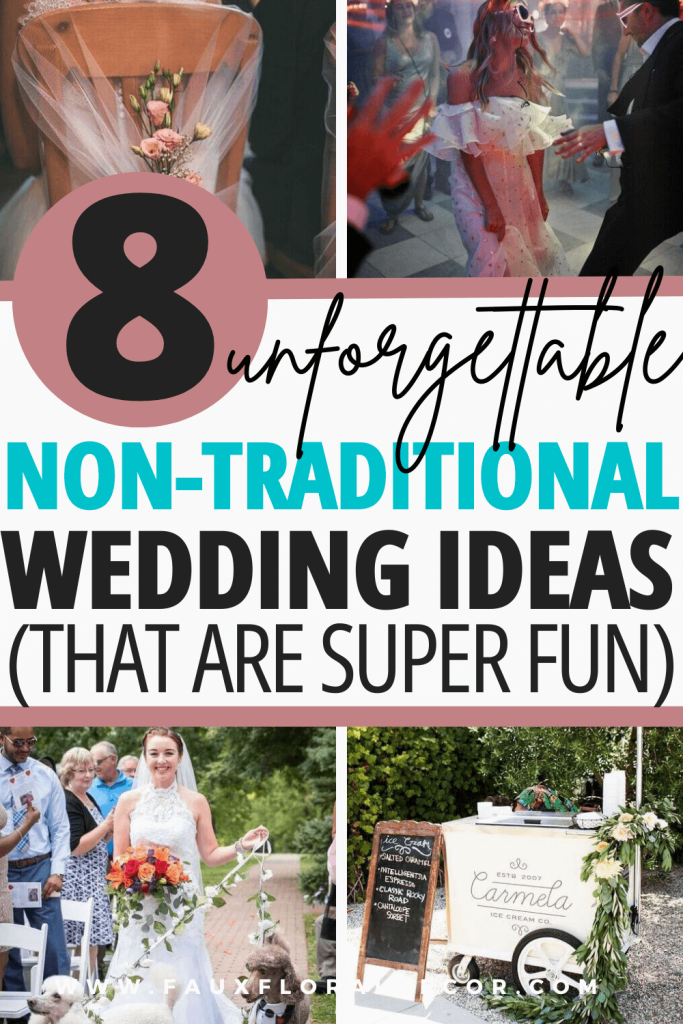 Non-traditional wedding ideas offer a refreshing departure from the traditional white gown and black-tie event, allowing couples to celebrate their love in a way that truly reflects their personality and style.
From themed weddings to unconventional venues, the options for non-traditional wedding ideas are actually endless!
With a bit of creativity, imagination, and the couple's personalities, you can plan a wedding ceremony that will leave a lasting impression on your guests and create memories to cherish for a lifetime.
In this article, we'll explore some of the most popular non-traditional wedding ideas and inspire couples looking to break away from convention and create a wedding celebration that is as unique and special as their love for each other!
1. Wear a Colorful Wedding Dress
At a traditional wedding ceremony, wearing a white dress has long been associated with purity and innocence.
However, many modern brides are breaking free from this tradition by wearing colorful wedding dresses.
This trend shows that more brides seek to express their individuality and personal style through their wedding attire.
A colorful wedding dress can also be a great way to incorporate your wedding colors into your attire or to complement your wedding theme or decorations.
Whether you opt for a bold, bright dress or a soft, pastel hue, wearing a colorful wedding dress is a great way to showcase your personality and individuality on your wedding day.
So, if you're a bride who's looking to break free from tradition and make a statement with your wedding attire, a colorful wedding dress may be just the thing for you!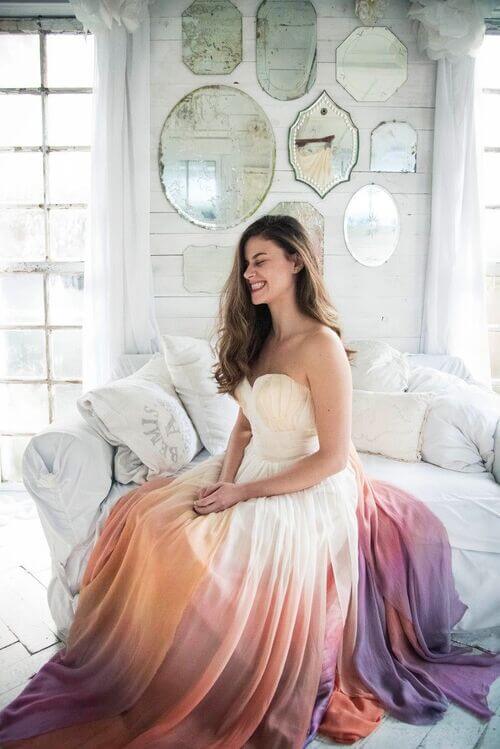 2. Marry in Nature
There's something truly magical about having a wedding in nature.
Whether it's in a forest, on a mountaintop, or by the sea, a natural setting can provide a breathtaking backdrop for your special day.
Not only is a wedding in nature a beautiful and romantic way to celebrate your love, but it can also be a more eco-friendly option for couples who are conscious of their environmental impact.
Also, nature provides a beautiful and peaceful backdrop a wedding ceremony.
You can choose to get married in a forest, park, or garden, surrounded by trees, flowers, and wildlife.
Another advantage of having a wedding in nature is the chance to embrace a more relaxed and informal atmosphere.
Instead of a formal ballroom or reception hall, you can have a picnic-style reception or a bonfire party, allowing your guests to fully immerse themselves in the beauty and serenity of the natural surroundings.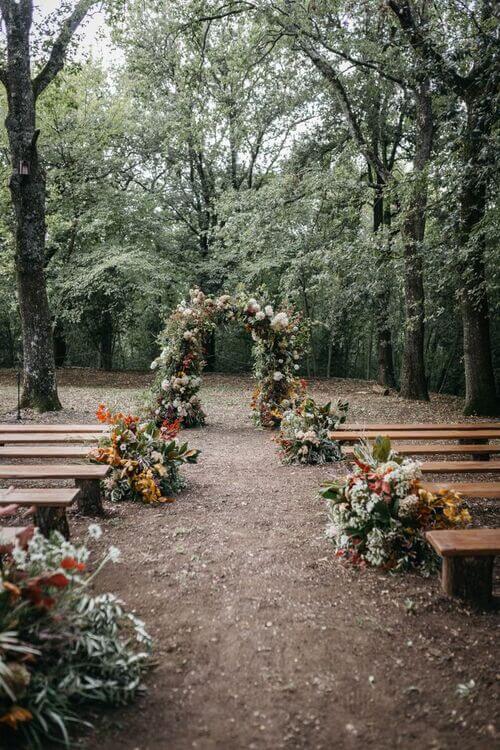 3. Have a Flashmob Dance
A flashmob dance is a spontaneous and synchronized dance performance that seemingly appears out of nowhere in public space, but it has also become a popular addition to wedding ceremonies.
This non-traditional wedding trend can add an unexpected element of fun and excitement to your special day, creating a unique and memorable experience for you and your guests.
The dance can be performed by your wedding party or a group of dancers that you hire and can be done during the ceremony, reception, or both.
The key is to keep it a surprise from your guests until the performance begins, creating a sense of anticipation and excitement!
While a flashmob dance may not be for everyone, it can be a fantastic way to inject some excitement and energy into your wedding ceremony.
So if you want to add something extra to your wedding day, consider incorporating a flashmob dance into your ceremony or reception!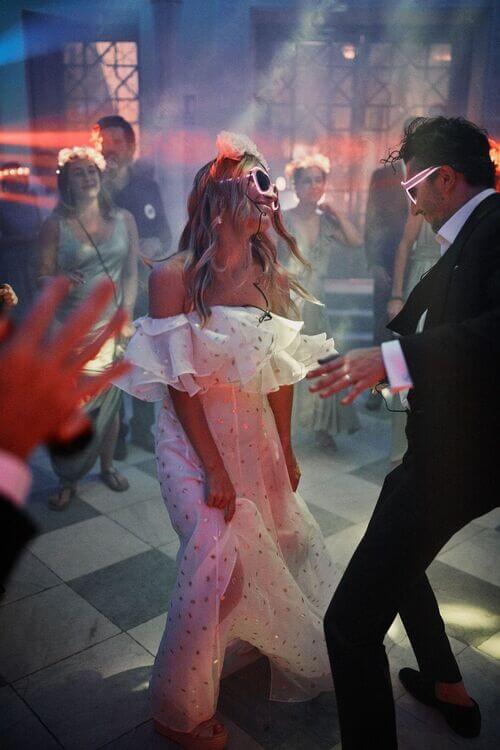 4. Walk Down The Aisle With Your Pets
For many pet owners, their furry friends are more than just animals — they're family.
So, it's no surprise that some couples are choosing to include their pets in their wedding ceremony.
This non-traditional wedding trend can add a personal and meaningful touch to your special day, and create a memorable experience for you, your partner, and your beloved pets.
There are many ways to include your pets in your wedding ceremony.
You can have them walk down the aisle with you, wear a special outfit or collar, or even carry the rings!
Some couples choose to have their pets serve as flower dogs or ring bearers, adding a playful and whimsical touch to the ceremony.
It's a chance to celebrate your special relationship with your four-legged companions and to spread love and happiness to your loved ones on your special day.
So, if you're a pet-loving couple looking for a non-traditional wedding idea, consider including your furry friends in your wedding ceremony — it's sure to be a day you'll never forget!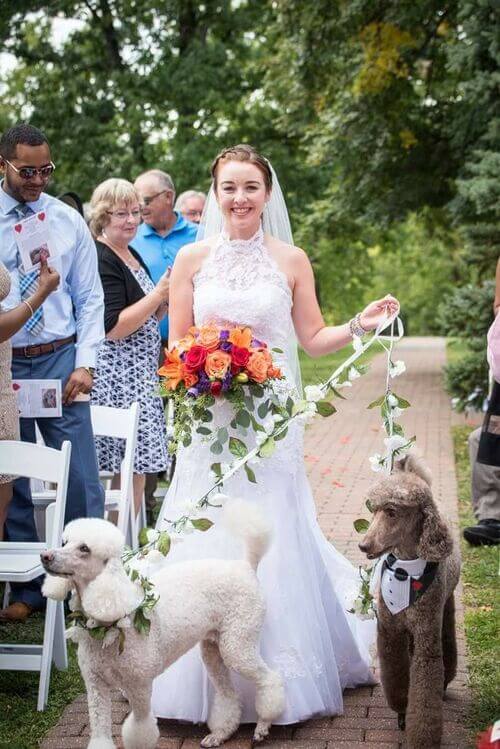 5. Add a Gelato Cart
When it comes to planning a wedding, couples are always on the lookout for unique and memorable ideas that will make their special day stand out.
One non-traditional wedding idea that's been gaining popularity in recent years is adding a gelator cart to the reception.
This delicious and fun addition will impress your guests and create a sweet and memorable experience for everyone involved.
A gelato cart is a mobile dessert station that serves authentic Italian gelato, a creamy and delicious frozen treat that's made with fresh ingredients and comes in a variety of flavours.
Having a gelato cart at your wedding reception is a unique and unexpected way to offer your guests something sweet and refreshing, especially during a warm summer day.
Overall, bringing a gelato cart to your wedding is a unique suggestion that will delight your guests and add to the magic of your special day.
It's a tasty and delightful way to express your love to your family and friends while providing them with something special and unexpected.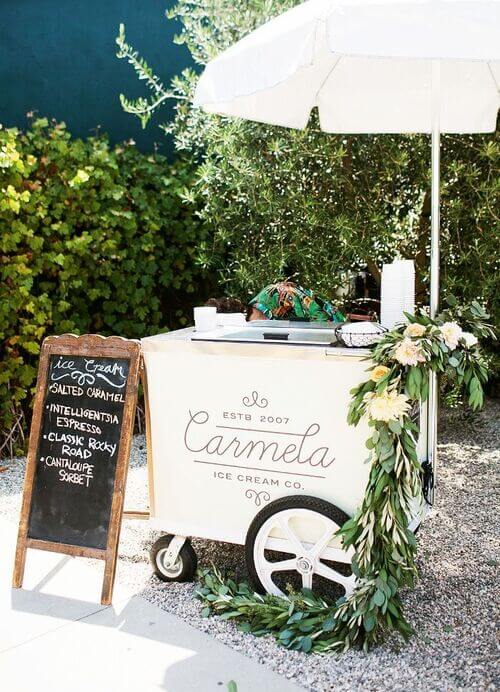 6. Hold a Halloween-Themed Wedding
For couples who love Halloween and all things spooky, a Halloween-themed wedding can be a thrilling and unforgettable way to tie the knot.
While a Halloween wedding may not be for everyone, it's a non-traditional wedding idea that can create a unique and memorable experience for you and your guests.
One of the biggest advantages of a Halloween-themed wedding is the endless creative possibilities it offers!
You can incorporate Halloween elements into every aspect of your wedding, from the invitations to the decor, the food, and even the attire.
Would not it be fun to have a wedding party dressed up in costumes?
You can incorporate Halloween-inspired colours, such as black, orange, and purple into your wedding palette.
While not everyone will like a Halloween-themed wedding, it may be a wonderful opportunity to celebrate your love and showcase your personality in a playful and original way.
It's a unique wedding concept that may give you and your guests an experience they won't soon forget, and it's the ideal way to celebrate the spookiest day of the year with the people you care about.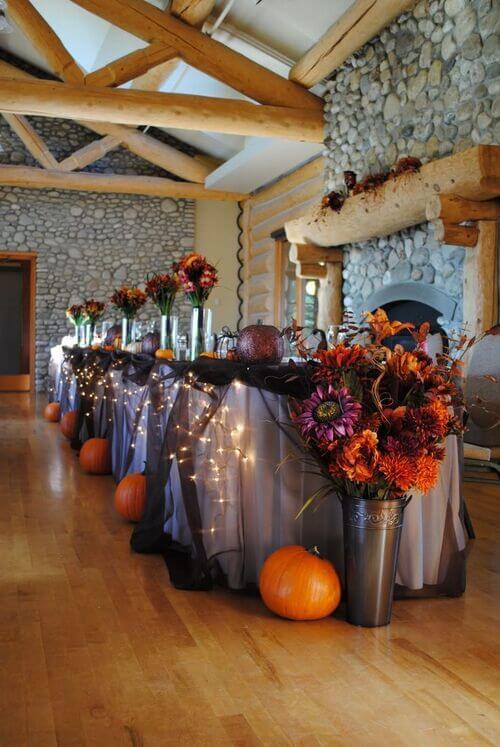 7. Have a Unity Ceremony
A unity ceremony is a beautiful way for a couple to symbolize their commitment to each other and the merging of their lives into one.
While the unity candle or sand ceremony are popular choices, there are many other unique unity ceremony ideas that can add a special touch to your wedding.
Planting a tree together symbolizes the growth and strength of your love.
You can choose to plant a tree that holds a special significance to your both.
Another idea is instead of sand, you can mix two colours of paint in a single container, symbolizing the blending of your lives together.
Lastly, you can create a time capsule together, filling it with mementos from your wedding day, love letters, and other special items.
Bury the time capsule, and plan to open it on a significant anniversary in the future.
A special unity ceremony can give your wedding a personal touch and make for a lovely, long-lasting memory for you and your guests.
The most crucial thing is that your unity ceremony, whether it be traditional or modern, symbolizes your love and dedication to one another.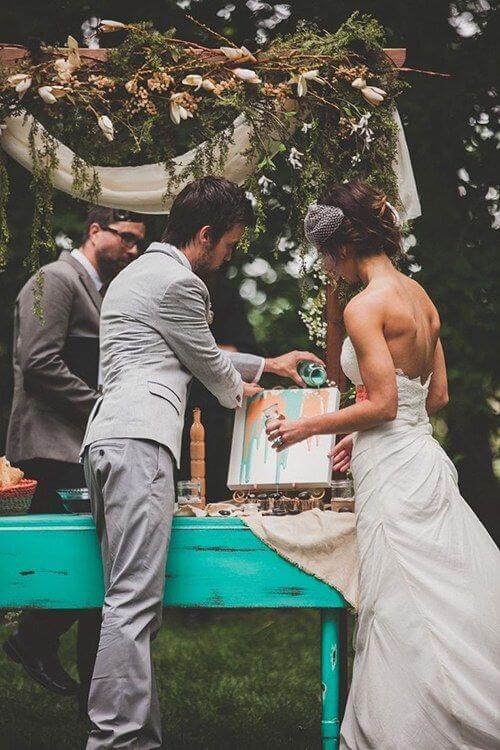 8. Write Your Personalized Vows
Writing personal vows for your wedding is a beautiful and meaningful way to express your love and commitment to your partner.
While traditional wedding vows are certainly meaningful, personal vows allow you to express your own unique feelings and promises to your partner.
When writing your personal vows, start by reflecting on your relationship and the qualities you love about your partner.
Consider the commitments you wish to make and the feelings you wish to convey.
Think about including special inside jokes or anecdotes that are significant to you both.
Remember, your personal vows are a chance to express your unique love and commitment to your partner.
Don't be afraid to be creative and make your vows your own!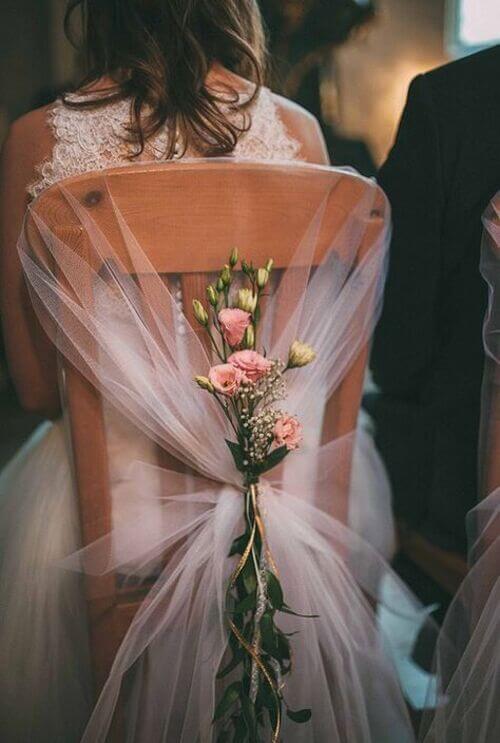 Concluding…
A non-traditional wedding is all about honoring your love in a manner that is particular and meaningful to you.
The most crucial thing is that your wedding reflects your personality and love for one another, regardless of whether you decide to wear a bright dress, have a wedding in nature, incorporate your pets in the ceremony, or try any other non-traditional wedding ideas we've provided.
So, don't be afraid to think outside the box and design a wedding that truly reflects you two as a couple.
Your wedding day should be a day you will always remember since it is a celebration of your love and commitment to one another.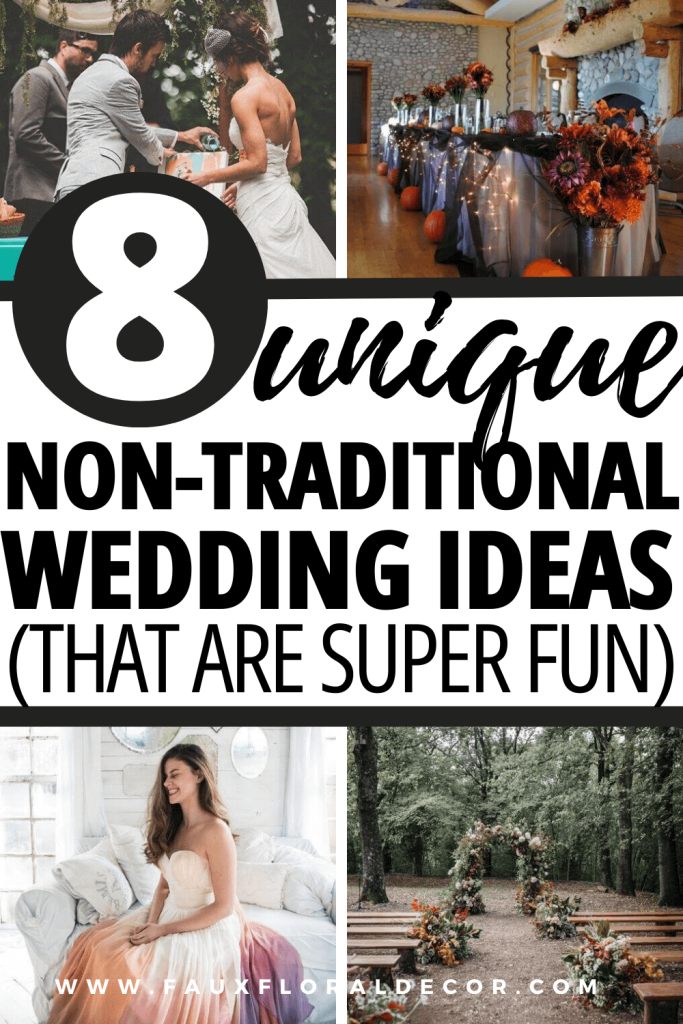 This post showed you the best non-traditional wedding ideas!
You may also like: