This post tells you all about the best marriage proposal ideas.
There are a million ways of proposal ideas floating around the internet, from the classic rose petals spelling out, "will you marry me?" to popping the question in a hot air balloon.
Deciding whether to plan a proposal that's simple, extravagant, or somewhere in between is a lot of pressure, especially settling on a plan that your partner will love — not feel disappointed by — can be a lot of work.
But before getting started, please keep in mind that every couple and every relationship is different, so what works for one couple may not work for the next.
Whether you're looking for a grand gesture or something intimate and personal, there are plenty of unique and creative ways to pop the question.
In this article, we will look at some amazing marriage proposal ideas to surprise your partner and make your proposal one for the books!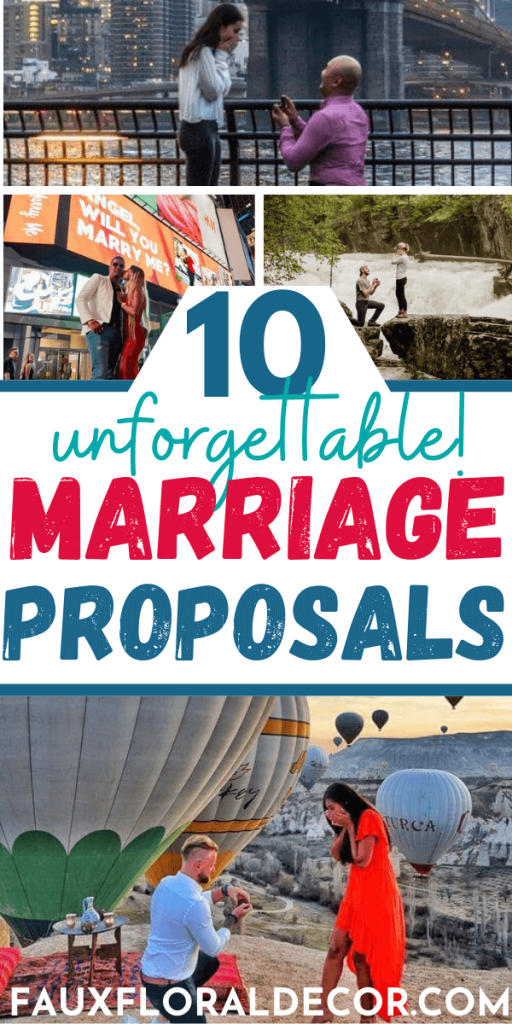 Private and Romantic Proposal Ideas
1. The Classic: Dinner and a Proposal
Planning a date night complete with a romantic dinner is always a safe bet.
To make it extra special, consider setting up a private dining area with candles, flowers, and all the trimmings.
You can do this at a restaurant, or even at home, by inviting a personal chef who cooks your partner's favorite meal.
There are many ways to utilize this creative marriage proposal idea, but one of our favorites is having the chef put the ring on the plate for one of the courses.
Believe it or not, even companies specialize in this kind of thing.
Enjoy the date night and ask the question that will change your life forever!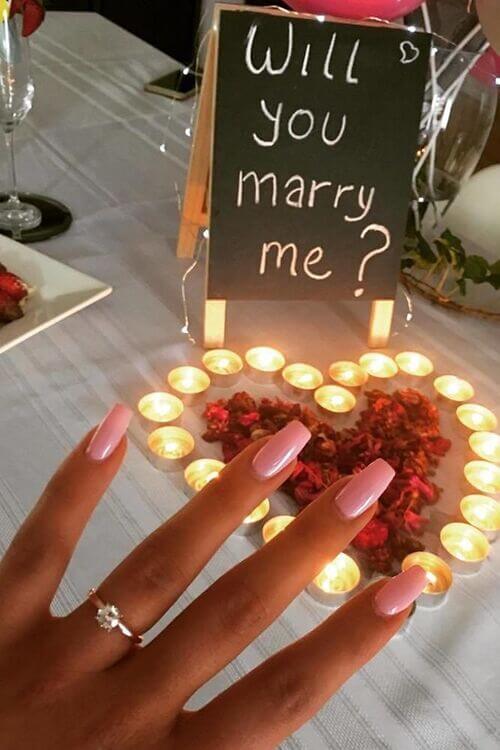 2. Proposal on a Hot Air Balloon Ride
If you both love some adventures and are thrill-seekers, a hot air balloon ride could be the perfect proposal idea.
Floating through the air, miles above anyone else, with not only your whole future ahead of you but the whole horizon, too — what could be more intimate and special?
However, make sure you inform the office that you are proposing so that the pilot and the crew know about your plan.
Take the opportunity to pop the question at a breathtaking altitude.
Make sure to have a photographer on board to capture the moment too!
Hot air ballooning is highly weather dependent, so make sure you plan multiple dates if possible.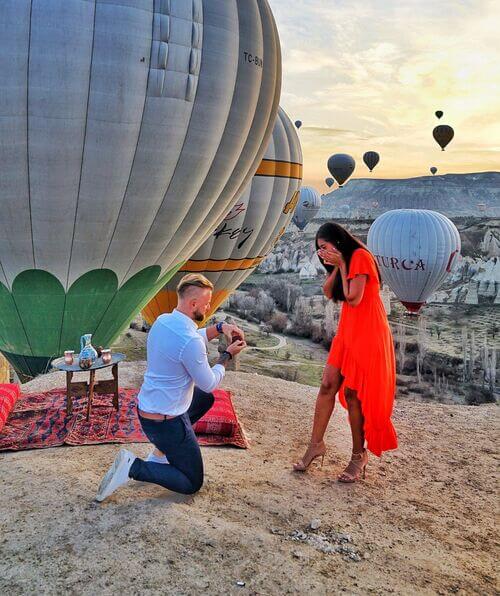 3. A Nostalgic Proposal at Your Favorite Spot
This could be your first date spot or a place where it all started, or if you and your partner share a special memory about a place, take them back to that place and propose.
There's something unassuming yet romantic about popping the question at a park, a beach, or a restaurant that holds special meaning to both of you.
You can prepare a little picnic or even set up a romantic dinner or lunch at that place, along with romantic decorations, with the help of your loved ones and friends.
Reminisce about the memories you've shared and the journey that brought you to this moment.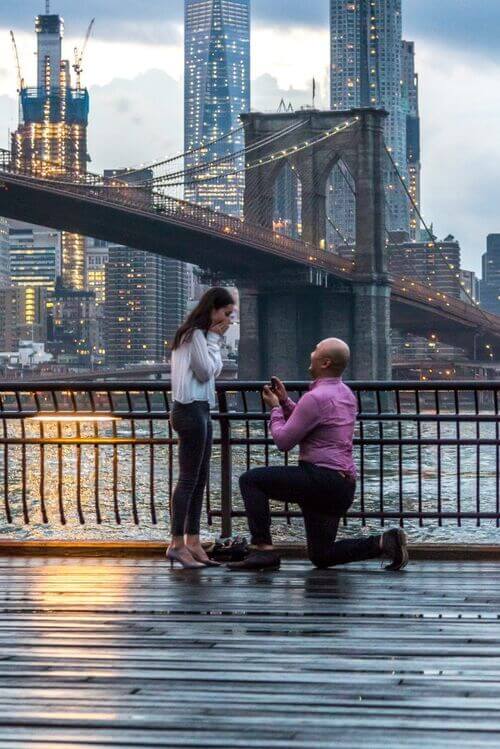 4. A Rustic Proposal in a Cabin in the Woods
Warm sunbeams, happily twinkling lights, and a forest as far as the eye can see; this isn't a backdrop for a mythical love story this place is real and waiting for you to celebrate your own love story there.
This proposal idea is perfect if you want something more intimate and romantic, just for the two of you.
Out and about in nature, consider renting a cabin in the woods for a cozy and rustic proposal idea.
Choose a cabin with a beautiful view or a private hot tub for an extra romantic touch.
Plan a special dinner, light some candles, and propose before the warm fire.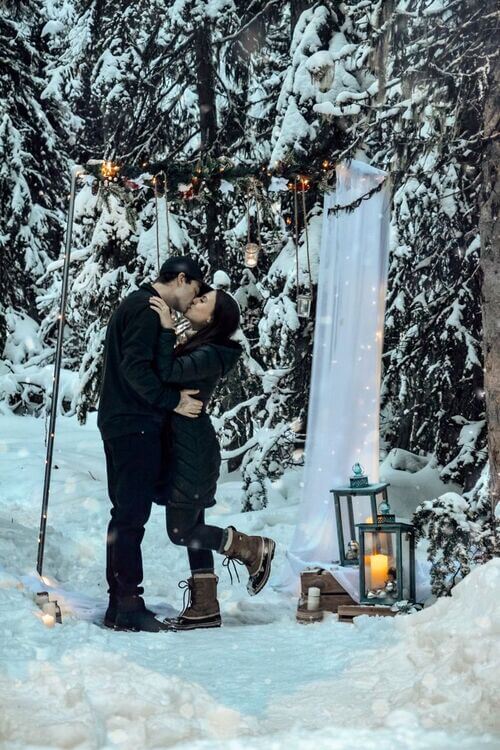 5. Propose During a Hike
Again, for nature lovers, if you and your partner love hiking, consider proposing on a scenic trail.
Choose a route that holds special meaning to both of you or leads to a beautiful lookout point.
Have a photographer waiting for you at the end of your hike.
Your partner will think they're just another hiker taking in the scene until they start capturing photos of you!
If you want more stunning photos, schedule your proposal around the golden hour.
Hiking proposals offer many ways to include loved ones.
You can have them arrive at the trail early and get to the end so they are waiting for you as a surprise when you reach the top!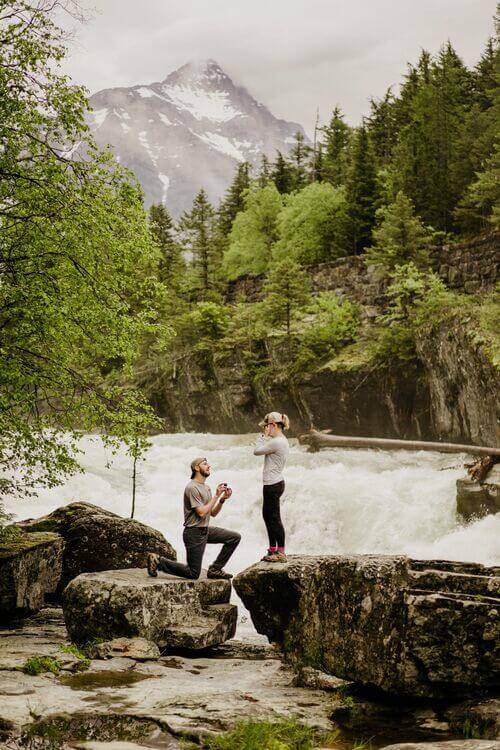 Grand Proposal Ideas
6. Organize a Flash Mob
If you want to make a splash, consider hiring a flash mob to surprise your partner.
Whether it is a dancing flash mob, a singing flash mob, or something completely new, having a group perform out of the blue is a unique and fun way to pop the question.
You can ask your local dance team or have an event organizer company help plan this for you.
The flashmob can be done literally anywhere, from the street, park, mall, station, and many more!
This is a proposal idea that your partner surely always remembers.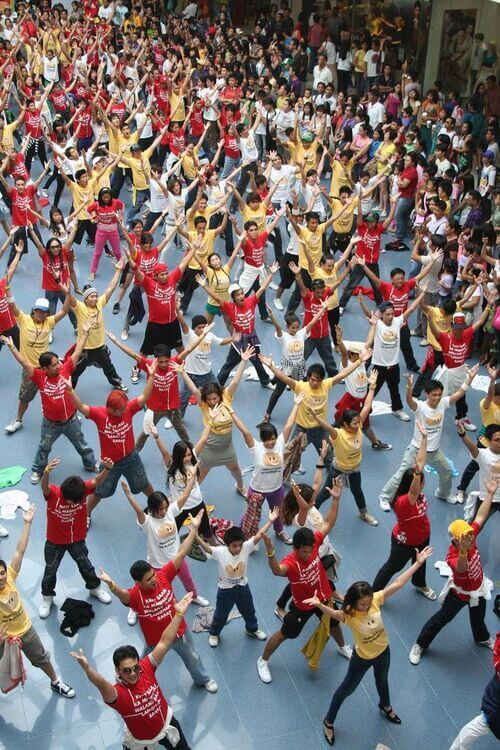 7. Propose at a Concert
If you and your partner love music, consider proposing at a concert.
Bonus points if it's an artist that means something special to the two of you.
Reach out to the artist or venue beforehand to see if they can help make the moment even more special.
Whether it's a special shoutout from the stage or having the band play your partner's favorite song while you propose, or having the two of you up on the big screen during the proposal.
The energy and excitement of a concert can add an extra level of magic to the proposal!
Choose a moment between songs so your partner can hear your heartfelt proposal.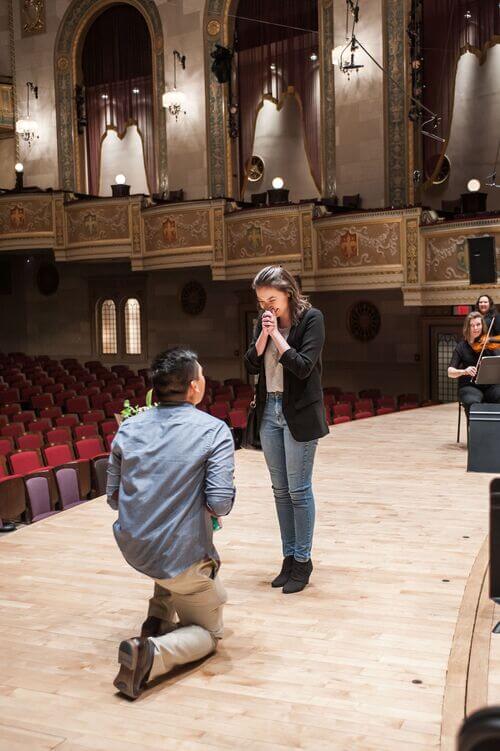 8. Place a Billboard
Talking about a grand proposal idea, creating an artwork, and placing it on a billboard in Times Square or other hot places might be a great idea.
Choose a location your partner frequents or holds special meaning to both of you.
Create a personal and meaningful message, whether it's a simple "will you marry me?" or a funny and witty one.
Coordinate with the billboard company to ensure the ad is up at the right time, and plan a special outing to the location to pop the question.
Your partner will be blown away by the thought and effort you put into this special moment.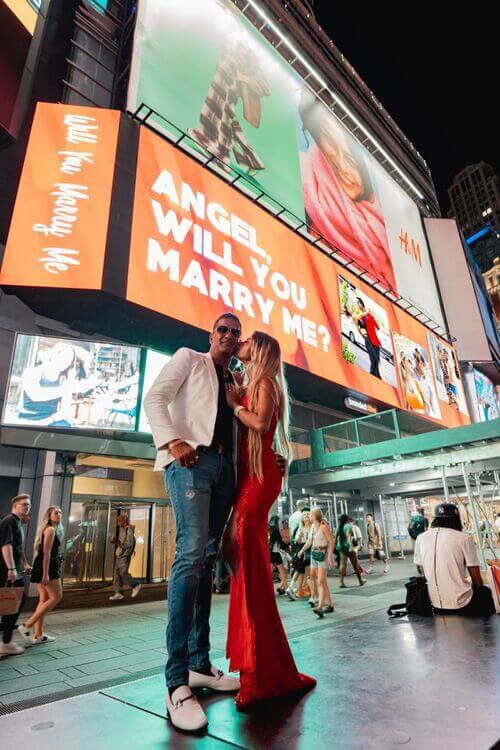 9. Propose at a Sporting Event
Consider proposing at a game if you and your partner are sports fanatics.
You should give it a lot of consideration and planning before popping the question to your significant other at a sporting event.
It can be in a basketball, football, or even a baseball game.
Coordinate with the stadium to put your proposal message on the scoreboard or arrange for the announcer to make a special announcement.
You can also ask the staff to put you and your partner on a big screen when making the proposal.
Before buying the ring, you should reserve an aisle seat.
This is essential because it can be challenging to kneel down in the middle of a row of enthusiastic fans and ask what might be the single most important question of your life.
Also, do it during halftime or a break in the game, so your proposal won't disturb the game or other supporters.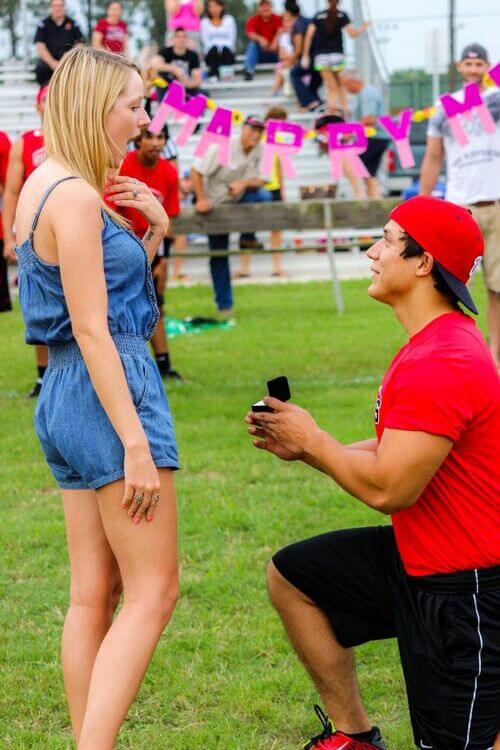 10. Flashy Proposal with Fireworks
For a proposal that's truly out of this world, consider arranging for a private firework show.
Pick a scenic location with a great view, and hire a professional pyrotechnics company to ensure everyone's safety.
When the time is right, have the fireworks spell out your proposal message for a grand and unforgettable moment.
However, the downside of this proposal is that it can get a bit costly and need a thorough plan before executing it.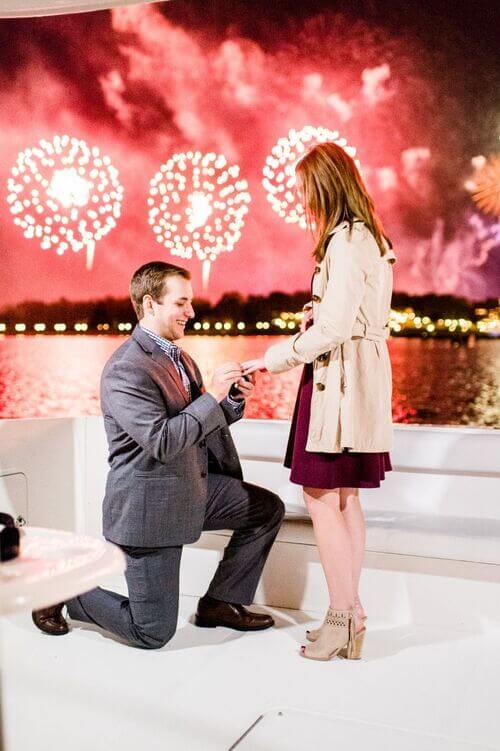 To wrap it up
The most crucial aspect of proposing is to make it unique and special for your partner.
Take these ideas as a starting point, but feel free to modify them to fit your unique relationship.
Your partner will value the thought and effort you put into making this moment one to remember, whether you opt for an extravagant gesture or a private moment at home.
Remember to take a deep breath and relish the occasion!
Although popping the question can be anxious, keep in mind that this is a happy event to honor your love and dedication to one another.
Most importantly, you both say "yes" to a lifetime of love and happiness together, regardless of how you decide to pop the question.
Last but not least, don't forget to book your photographers.
Not only will this mean you have professional photos of the proposal, but you can work with a professional photographer to figure out what local, and outdoor areas might be suitable for the special occasion.
They also often know the best times of day to visit the places you plan to propose at, and how to avoid crowds, as a bonus.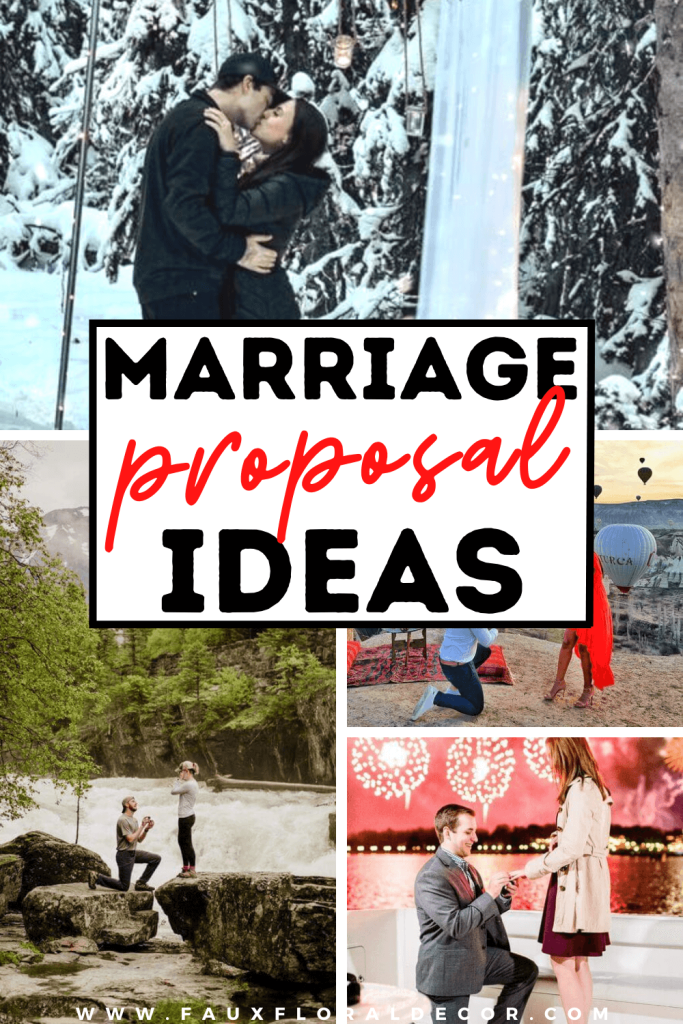 This post showed you the best marriage proposal ideas.
You may also like: