This post shows you the best wedding flower options on a budget.
When it comes to a wedding, wedding flowers are a beautiful and important part of it.
Flowers can create a romantic and elegant atmosphere but also come with a high price tag.
However, there are many ways to save money on wedding flowers without breaking the bank so that you can spend your budget on other wedding checklists.
With some clever planning, you can save a bundle on wedding bouquets when you say, "I do!"
Flowers in season are often more affordable since they are readily available and don't require extensive transportation.
Choosing seasonal blooms will also ensure that they are fresh, beautiful, and have a longer lifespan, reducing the likelihood of wilting and providing more bang for your buck.
This article will explore more tips and tricks to help you have stunning wedding flowers on a budget!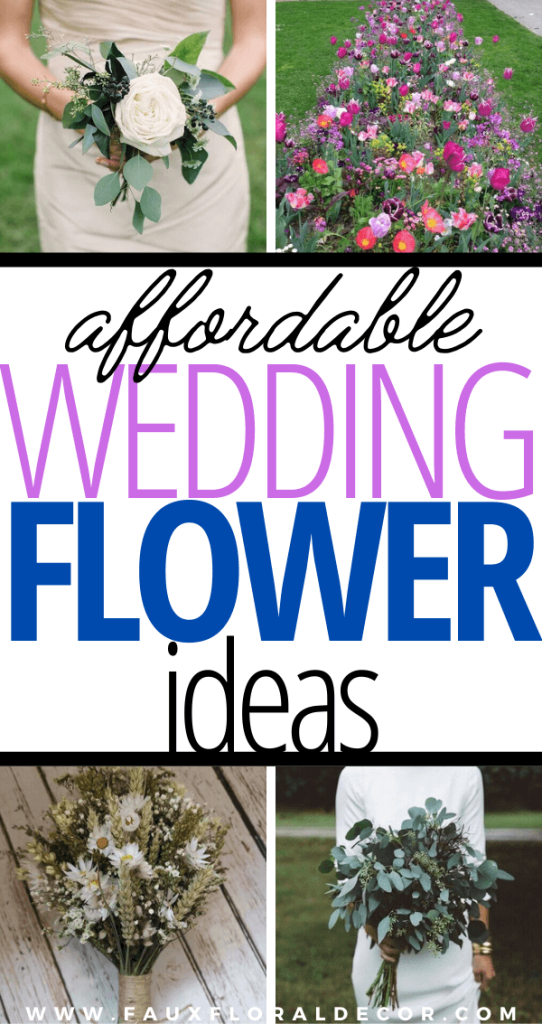 1. Use Greenery and Foliage
Greenery and foliage can add a natural and elegant touch to your decor.
Greenery is often less expensive than flowers and can help fill out arrangements.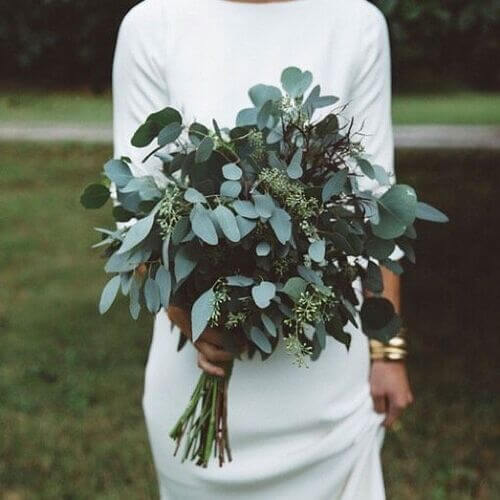 Opting to swap colorful flowers for foliage on the wedding day isn't for everyone.
Still, if you're looking for organic, ethereal, and fresh arrangements, a greenery bouquet might be just the thing.
Plus, greenery can be used in many ways, such as hanging installations, table runners, or even as a backdrop.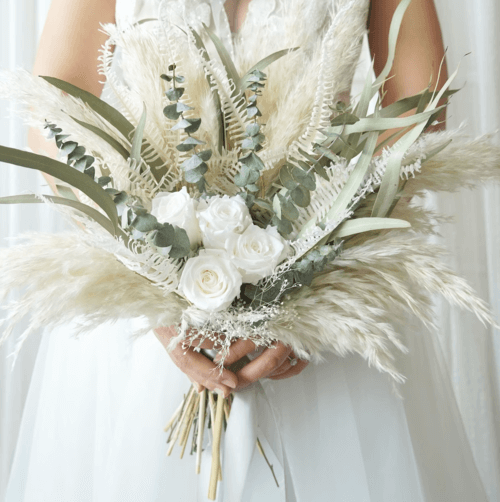 Using greenery or foliage has several benefits, including being more readily available all year round and less expensive than other flowers that may be out of season.
Also, incorporating greenery can give your arrangements depth and texture and a lush and complete appearance without costing much money.
2. Use Larger Blooms
Larger blooms can be a cheap alternative for wedding flowers for couples who want to create beautiful wedding decor on a budget.
While larger blooms can be costly compared to some other flowers, they can still be a cost-effective alternative to using a variety of smaller blooms.
One of the benefits of using larger blooms is that you create a bold and striking impact with just a few stems!
This means you can use fewer stems overall, reducing the cost of your floral arrangements.
Furthermore, larger blooms can be used as a statement piece in a bouquet or centerpiece, adding a touch of drama and elegance to your wedding decor.
Some larger blooms are sunflowers, dahlias, hydrangeas, and peonies.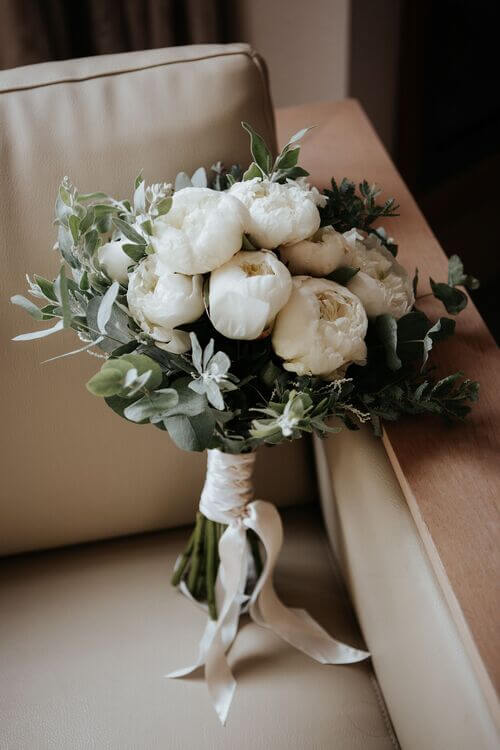 3. Grow Your Own Flowers
Growing your own wedding flowers is such a great idea, especially when you don't want to spend hundreds of dollars on wedding flowers.
By growing the flowers, you'll save a bundle on floral fees by crafting a plan to grow them.
If you are a newbie, here are some tips to get started:
Plan ahead: Start planning your flower garden at least a year to three years before your wedding date, depending on the type of flowers you want. This much time is required for perennials like daisies or purple coneflower to mature and produce enough blooms to support fresh bouquets, as well as flowering shrubs like hydrangeas and roses.
Choose the right flowers: Consider the season, climate, and colors you want to incorporate into your wedding theme when choosing flowers to grow for your wedding. Also, choose flowers that are easy to grow and require minimal maintenance.
Harvest at the right time: Harvest your flowers at the appropriate time to guarantee they will be at their best on your wedding day. Depending on the type of flower, this will change, so do your research in advance.
Related: 19 Wildflower Wedding Theme Ideas That Look Incredible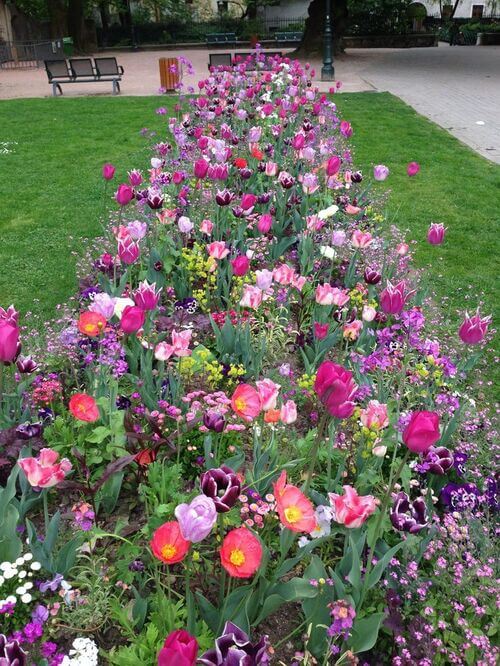 4. Decorate With Dry Flowers
Using dry flowers as a cheap alternative for wedding flowers is a trend that is gaining popularity among budget-conscious couples.
The advantages of using dry flowers are that they are long-lasting, durable, and can add a unique and rustic touch to your wedding decor.
By being durable, they can be prepared well before the wedding day, and you don't have to worry about them wilting or losing their colors!
Not only as decor, but dry flowers will also look beautiful as bouquets as well.
You can mix and match different types of dry flowers to match your overall theme and color scheme or use them as accents to complement fresh flowers in your arrangements.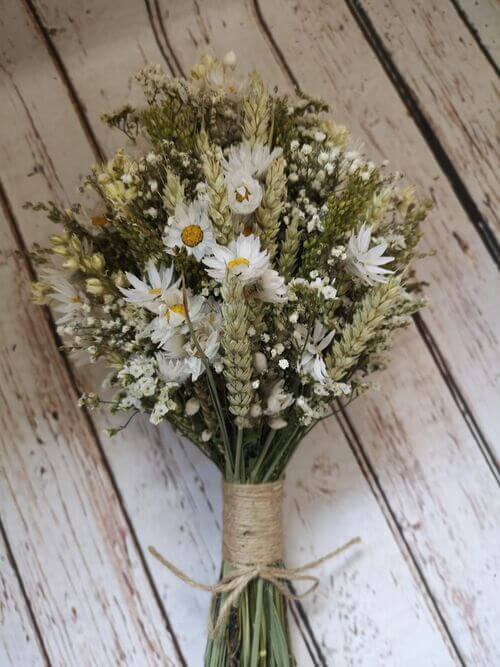 5. Incorporate Artificial Flowers
If you want to press some budget on wedding flowers, artificial flowers can be a better alternative for many people.
However, you need to choose the fake flowers wisely, as good artificial flowers (the kind that looks real) are usually made of silk and can be more expensive than their natural counterparts.
Nevertheless, fake flowers are better in the long run.
One way to save some budget if you'd like to incorporate fake flowers in your special day is DIY.
Look for some design inspiration and make your own fake flowers!
This gives you even greater control over planning while saving a ton of money.
As a fun idea, maybe this will be a great activity to do with your girlfriends and family during a bridal shower or a bachelorette party.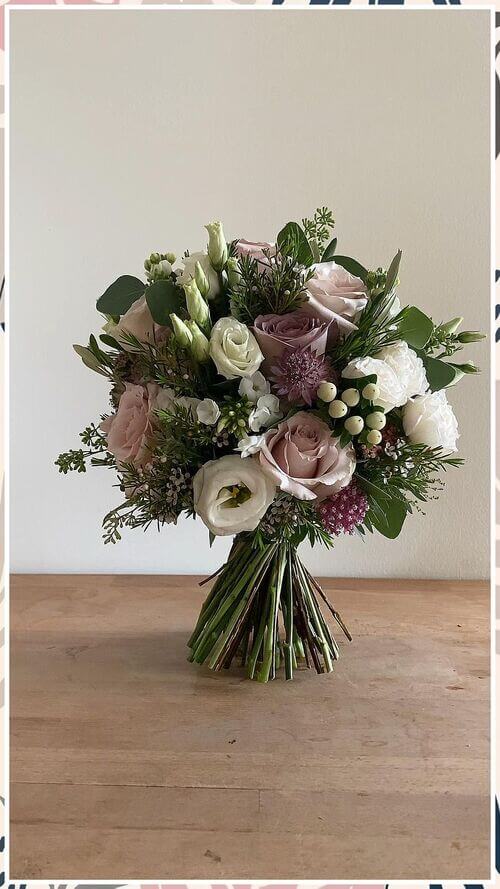 6. Rent Your Wedding Bouquets
Yes, that's right, you can rent your wedding bouquets.
Many florists and wedding rental companies now offer this service as an alternative to purchasing flowers.
These companies also often offer superb artificial flowers that may be used repeatedly and look as lovely as real flowers.
The process of choosing and arranging flowers can be simplified by renting bridal bouquets because rental businesses frequently provide pre-designed bouquet packages that can be altered to meet your wedding's theme and aesthetic.
Renting flowers can be a great option for couples looking to save some budget on their wedding or want to be more eco-friendly by reducing waste.
Some rental companies even allow brides to design their own flower bouquets to match their style and color scheme of their wedding.
Thus, even though you are just renting flowers, you don't have a limited choice of bouquet designs.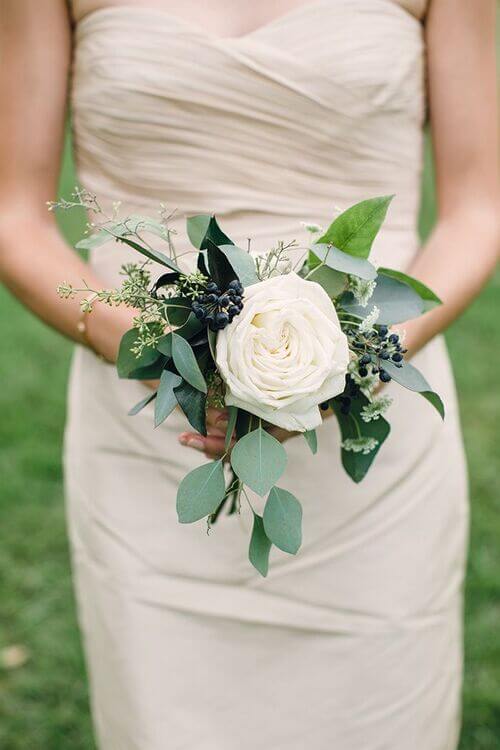 7. Make Use of Other Flower Alternatives
Who says that you can only use greenery and flowers for your wedding bouquets or decor?
For some people, to be more sustainable and to minimize waste as well as saving some money, non-flowers alternatives are the way to go for their bouquets and decor.
Dare to be different with one of these alternative arrangement options.
After all, no rule says you need to carry fresh flowers on your wedding day.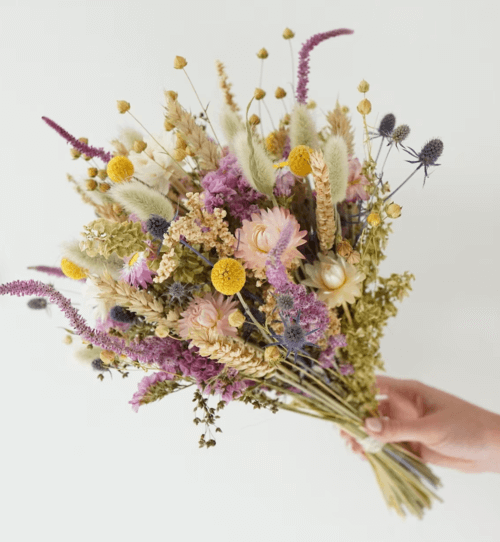 Here are some of our ideas:
Paper Flowers: A unique and sustainable bridal bouquet idea is one made of paper flowers. You may make a variety of flowers and colors using origami, quilling, or crepe paper. As long as you don't throw them away after the wedding, but put them as a decoration in your house, they are good for the long run and can save you some money.
Fruit and Vegetables: This one is unique and (literally) fresh! A distinctive and creative method to decorate for your wedding is using fruits and vegetables instead of standard bridal flowers. In addition to being aesthetically pleasing, they can also be useful as a snack or as a component of your wedding food. For wedding bouquets, you may want to incorporate fruits or vegetables along with some greenery to look more aesthetically pleasing.
Seashells: A lovely non-floral choice if you're on the lookout for something a little different is seashells. They can be incorporated into your bouquet or a table centerpiece arrangement. What's best? It's not expensive to purchase them! As seashells come in so many different sizes and forms, you may use your creative abilities to choose the ones that go best with your theme.
Pinecones: Pinecones are the ideal all-natural replacement for flowers. Pinecones can be collected from the outdoors and used as a table decoration or as an accent in a bouquet. Pinecones are excellent for weddings with a rustic barn theme and offer a rustic taste to any wedding decor.
Yarn Pom Poms: Yarn Pom Poms can be a great DIY projects for your wedding flowers. It is easy to make and of course, affordable. You can also make these together with your bridesmaids and family during bridal showers or bachelorette parties as a fun activity.

Concluding
In conclusion, with a little creativity and planning, having lovely wedding flowers on a budget is possible.
Think of including non-floral accents like seashells, greenery, or artificial flowers.
Choose in-season flowers, make your own arrangements, and avoid expensive delivery charges.
Always remember that selecting flowers representing your style and personality as a couple is crucial.
Our recommendations for fall wedding flowers include Garden Roses, Dahlias, Cymbidium Orchids, Amaranthus, Chrysanthemum, Calla Lily, and many more.
With these suggestions, you can have a beautiful bouquet and decor on your wedding day without going over budget.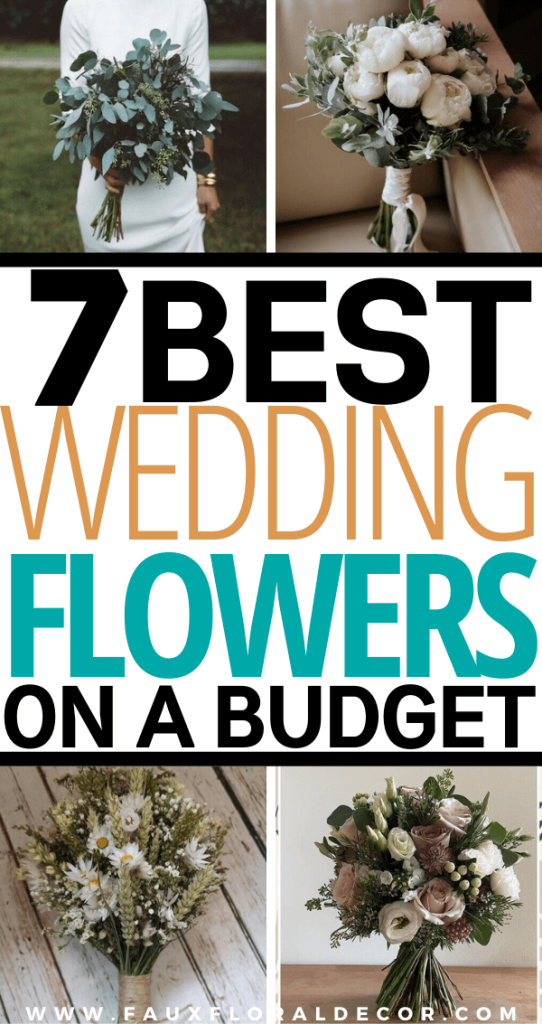 This post showed you the best ideas for wedding flowers on a budget.
You may also like: