This post shows you the best wedding backdrop ideas.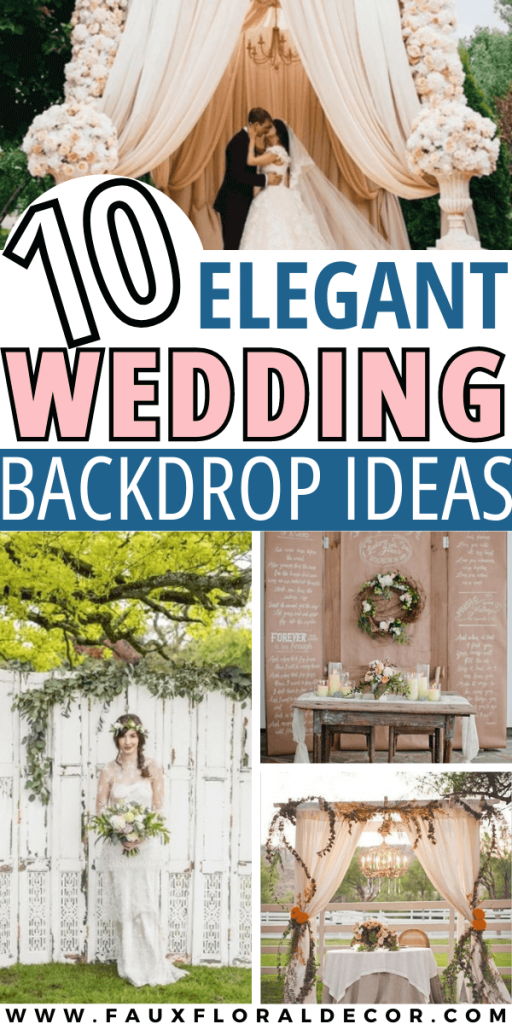 Picture this: a bride is at the altar, ready to say her vows.
As she glances up to meet her partner's eyes in a love-locked gaze, what pops up in her line of sight?
A not-so-romantic view of the venue's emergency exit sign!
Now, instead of focusing on the poignancy of the moment before her, her mind worries if that ugly sign will make a permanent place in all her wedding photos?
Thankfully, there is a solution to this potential disaster: wedding backdrops.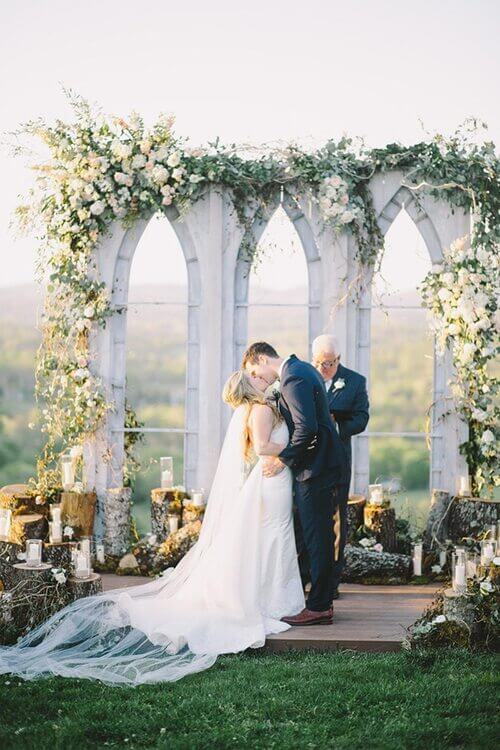 These ingenious creations not only elevate the theme and décor of a wedding but also hide those pesky imperfections of the venue that are better left concealed.
A versatile decor item that can be used in both interior and exterior event set-up, with their easy customization and personalization, wedding backdrops can double as stunning photo booths too.
Imagine having one's own little feed-perfect slice of Insta-heaven where guests can strike a pose, capture memories, and leave forever imprints through photographs.
So, let's goodbye the eye sores and hello the happy memories.
In this article, we have collated some visually gorgeous wedding backdrops with a variety of artistic and thoughtful designs.
We promise that with our wedding backdrop ideas, you will feel inspired to create a backdrop that will make your heart flutter, and your guests swoon.
So, get ready to make your wedding day a true masterpiece!
1. When Less is More: The Minimalist Wedding Backdrop Ideas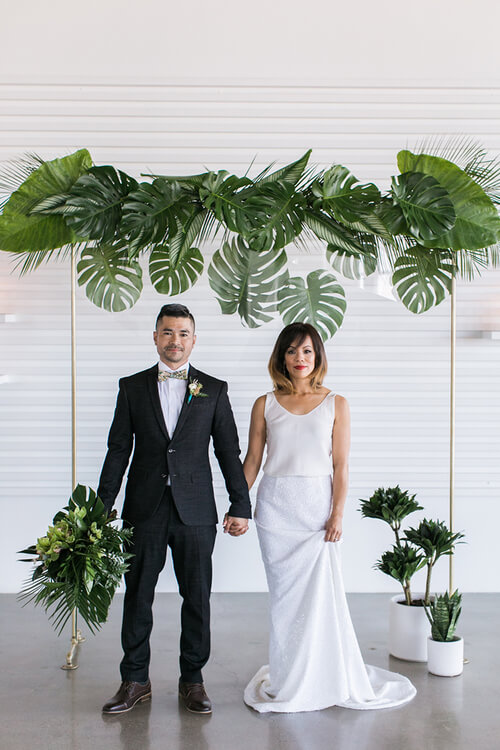 Minimalists already know the enchanting effect of the art of simplicity.
With a clean and uncluttered look, the minimalist approach in a wedding backdrop directs the focus where it belongs: on the beaming couple.
Explore different vignettes of minimalism through simple stage backdrop ideas – naked geometrical frames with quirky angles for an outdoor wedding setup to frame the beautiful views or a simple rectangle frame draped with greenery and sheer chiffon to create a dreamy and romantic ambiance in an interior space.
Create your own budget-friendly DIY option with a tropical-themed wedding backdrop with jungle-inspired wall art, or sprinkle some breezy childhood fun with colorful pinwheels suspended from the ceiling.
2. Penny Pinching: Affordable Wedding Backdrop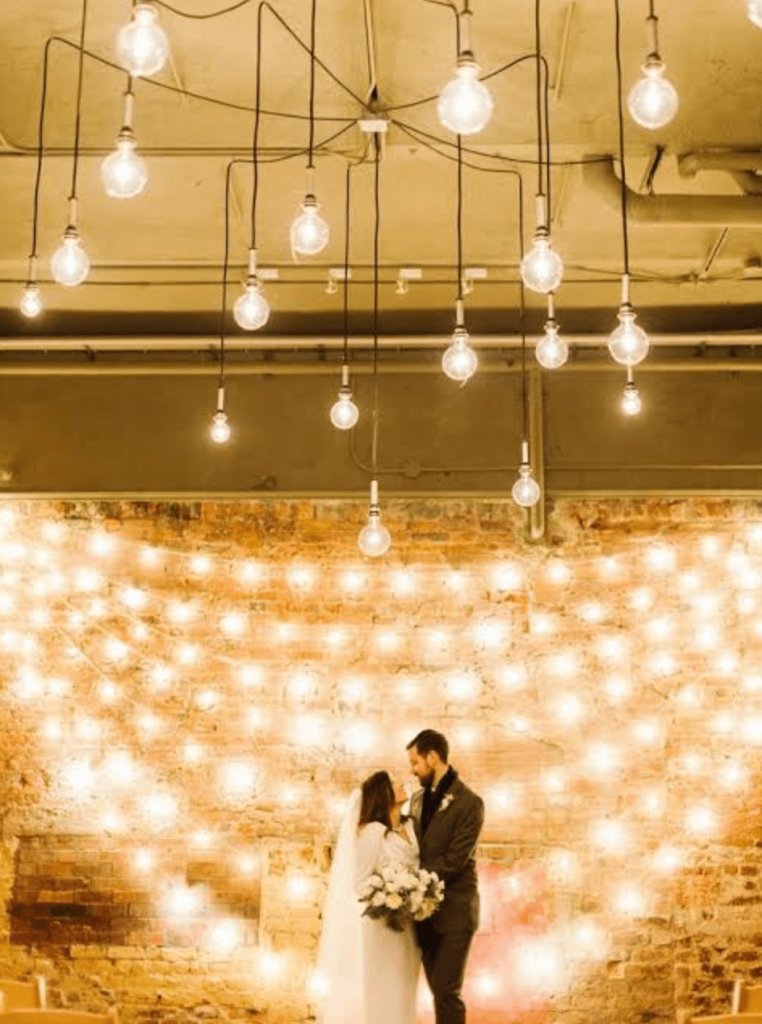 Weddings and budgets are a delicate balancing act indeed!
But fear not; the right budget-friendly wedding backdrop will make those opulent, luxurious ones go green with envy.
The mantra to nail the final effect – detailing that packs a punch.
The best way to replicate a luxe and stylish backdrop is to opt for wedding backdrop ideas with lights.
Whether floating candles paired with string lights or an Edison bulb chandelier for the photo booth, lights can dazzle a wedding celebration.
Add some DIY by creating a whimsical wedding installation with an illuminated tree or drape a bistro light curtain around floral arches to light up your ceremony space.
3. Signature Love: Monogrammed Wedding Backdrop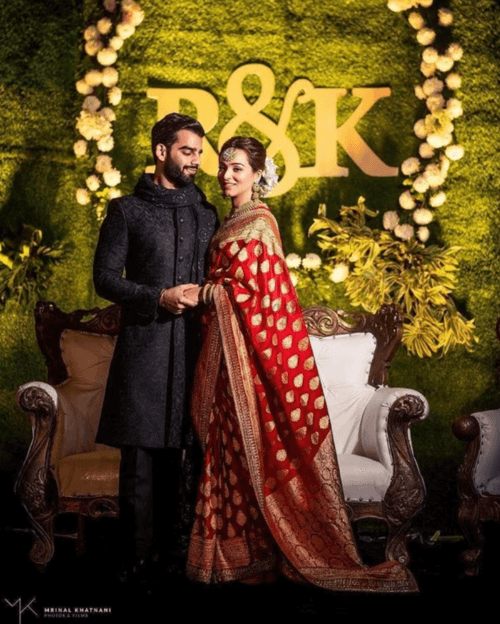 A wedding monogram is like your own special symbol, a stylish way to flaunt your unity to the world.
Add an elegant personalized touch for that extra oomph on your special day.
They work wonders as wedding backdrop ideas for photo booths.
Use funny and creative couple-specific hashtags to tell your love story, or get a graphic designer to craft a classy one using the initials of your name.
For budget-friendly DIY options, go for a chalkboard wall with inspiring quotes and keep chalks handy for guests to leave you messages.
For a graceful wedding theme, use neutral-colored photo walls with letterings in gold and silver.
4. Elegantly Edgy: Industrial Wedding Backdrop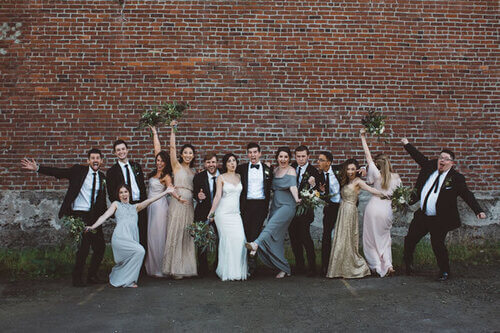 Industrial-chic wedding venues come with a blank canvas and quite a bit of their own character, so you have to be extra careful in picking the appropriate wedding backdrop that adds to the visual interest and doesn't overwhelm it.
Using fabrics with rich textures, mixed metals, and quaint architectural patterns will enliven the space.
Select a few bold statement pieces like foliage and string lights-wrapped driftwood for a wedding arch or a wall with gritty graffiti as a photo backdrop.
For a budget-friendly DIY wedding arch, buy an appropriately sized clothes rack and spray paint it in contrasting metallic colors like gold, silver, or copper.
5. Throwback Bliss: Retro-Inspired Wedding Backdrop Ideas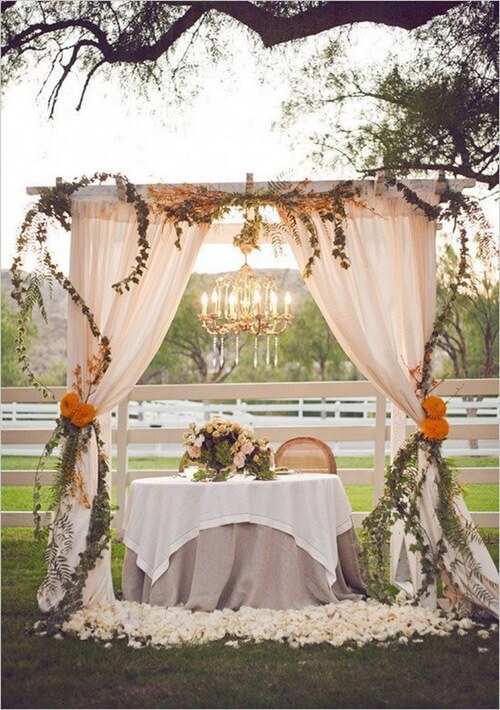 Enhance the classic beauty of vintage weddings by infusing your backdrop with elements that transport you to a bygone era.
Think crystal chandeliers, pearl accents, and touches of antique glamour.
Let your creativity shine with your Diy wedding backdrop ideas with heirloom artifacts such as old books as a photo wall or hanging time-weathered and ornate photo frames from a tree branch.
Nothing screams retro like using lace as the backdrop fabric.
Intersperse it with strings of faux pearl to craft the epitome of vintage elegance, casting an ethereal and romantic atmosphere.
For a wacky throwback, rent a vintage car as a photo backdrop.
6. Rustic Romance: Nature-Inspired Wedding Backdrop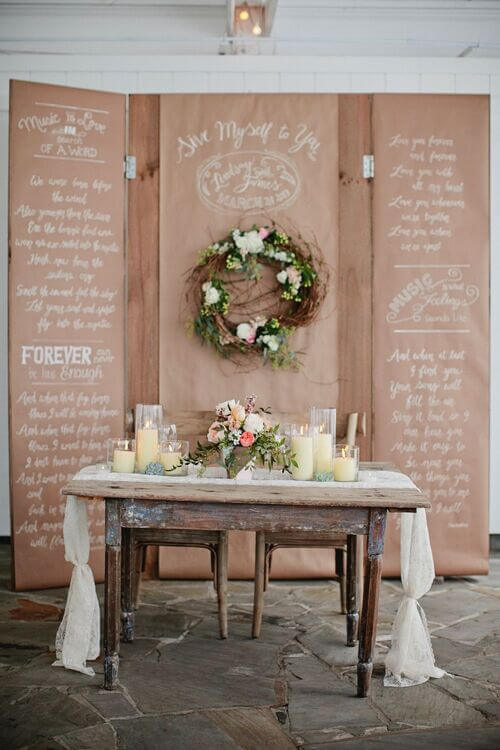 Invite nature to your wedding gala with some brilliant rustic wedding backdrop ideas.
Deck up a simple wooden arbor in flowing linen adorned with delicate flowers, creating a graceful setting for your outdoor ceremony.
Take a textured wooden backdrop featuring lyrics from your favorite songs or your wedding vows.
Use a wooden folding screen laced with lush floral garland and whimsical string lights for your indoor barn wedding.
For a rustic photo booth make an eclectic gallery wall of vintage mirrors.
DIY the ceremony space with a stunning floral backdrop using a simple piece of jute or muslin with flowers and ferns pinned to them
7. Blooming Love: Floral Accent Wedding Backdrop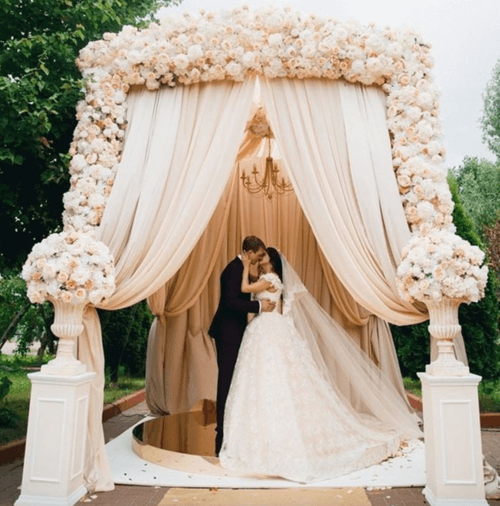 Symbolizing love, romance, and fertility, it is no surprise that flowers have always remained a big part of any wedding celebration.
And now with fresh, faux, and paper flowers, there are endless possibilities to create a breathtaking wedding backdrop.
Cascading florals gracefully draped over painted plywood or pretty florals pasted on oversized picture frames, floral accents can pretty much add an alluring adornment to any space.
Feeling creative? Upcycle a hula hoop by fixing giant paper flowers on its rim to create a bloom-inspired geometrical backdrop, or dress up balloon trails with delicate flowers for a whimsical photo wa
8. Eco-Friendly Elegance: Recyclable Wedding Backdrop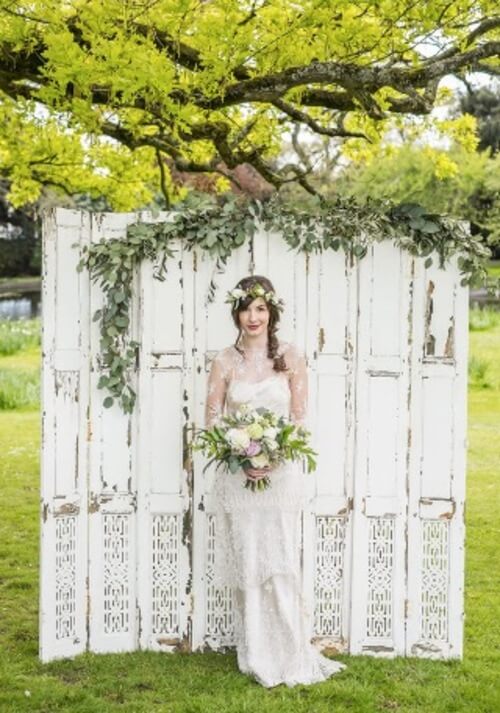 Get ready to add a splash of green goodness to your wedding day with some recyclable wedding backdrops.
Turn old windows into funky frames, repurpose vintage doors for a charming entrance, or create a jaw-dropping backdrop with recycled paper or fabric.
If you believe in 'Green wedding is a clean wedding', source your wedding decor from nearby artisans and businesses and show some love for the locals.
Cast your DIY excellence with wedding backdrop ideas with pallets for a rustic backdrop with a worn-out appearance, and decorate them with lights and flowers.
From handmade paper flowers to repurposed wine bottle vases, there are countless fun and sustainable projects to personalize your wedding backdrop.

9. Lavish Dreams: Extravagant Wedding Backdrop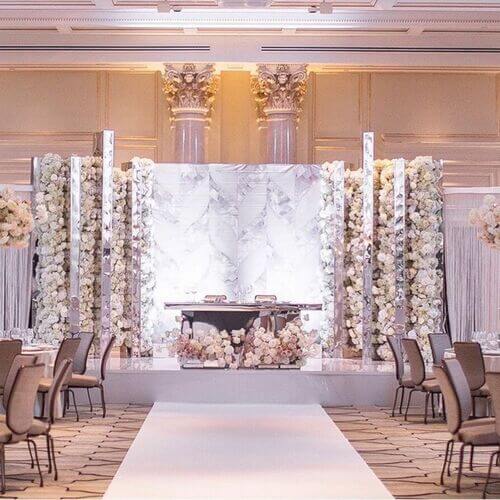 Feel like royalty with these truly luxurious wedding backdrop ideas.
From exquisite color schemes to glamorous details, your special day will radiate with pure extravagance.
Choose fresh flowers to create floral pillars to frame your backdrop, or use walls with marble accents as backdrops.
Create an intimate ambiance with a grand candle arrangement, immersing the venue in a warm and romantic glow.
If your venue boasts lofty ceilings, transform the space with mismatching crystal chandeliers or draped fabric.
To get crafty with your luxurious wedding backdrop, use color palettes like a combination of sophisticated monochromes and glitzy metallic hues in your backdrop.
10. Free-Spirited Romance: Boho-Inspired Wedding Backdrop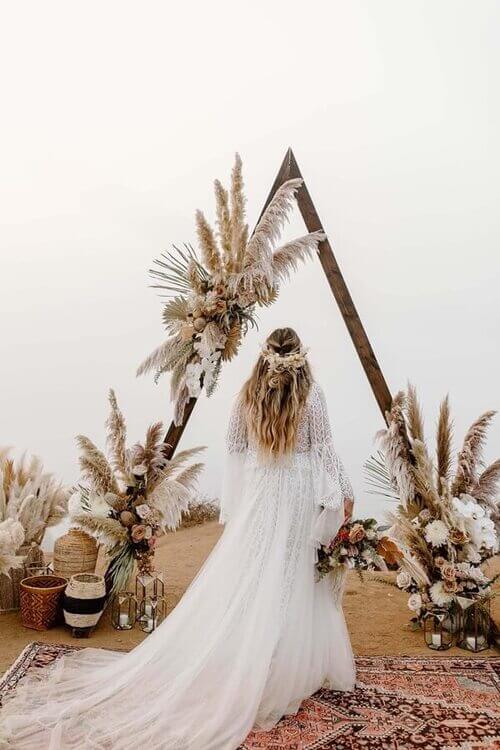 Rules are meant to be broken in bohemian wedding decor.
Creativity reigns boundless, and wedding backdrops become works of art.
Macramé, shells, feathers, pampas grass, rattan, you can take all these natural elements and weave artistic spells with them.
Go for triangle arches that are all the rage now.
Wrap around or hang down a macramé curtain to transform it into a macramé wedding arch.
With their feathery plumes and ethereal presence, pampas grass can transport you to a dreamy oasis of natural beauty.
Stick them to round arches to create a work of whimsy.
Indulge in the carefree spirit of a gypsy-inspired DIY wedding backdrop by creating a dreamcatcher's photo wall adorned with an array of dreamcatchers in different sizes.
Conclusion
In weddings, backdrops are the unsung heroes, setting the stage for unforgettable moments and capturing the essence of the couple's love story.
We have explored a kaleidoscope of backdrop ideas, from rustic charm to bohemian whimsy, luxury opulence to eco-conscious designs.
Considering the strict budget and the urge to get crafty, we have even included DIY options for each one.
We hope they will help your imagination to soar, and your wedding backdrop will become the canvas where your love story will come to life.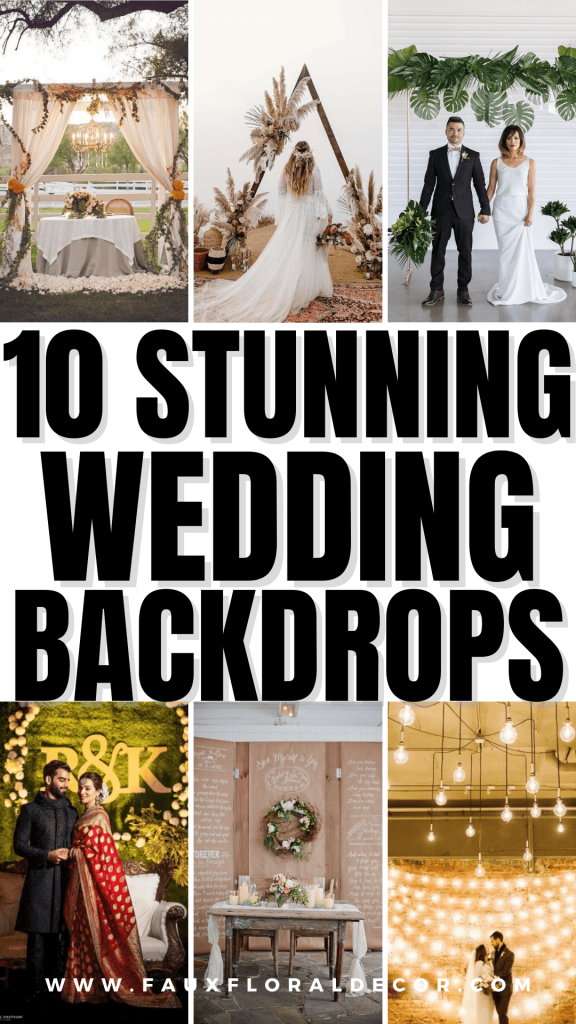 This post showed you the best wedding backdrop ideas.
You may also like: