This post shows you the best wedding table number ideas!
We both know that in the world of weddings, the last thing we ever think about is the table numbers.
Why? Well, because it's too plain. So let's switch things up a bit.
Why do we need to pay attention to table numbers?
Table numbers are the biggest priority of the day (well… decor wise anyways).
Without it, guests might end up sitting next to someone they don't like.
The most important thing to pay attention to is making sure that numbers are visible no matter how you personalize them.
To put it simply, without this minor detail a lot of people would be lost.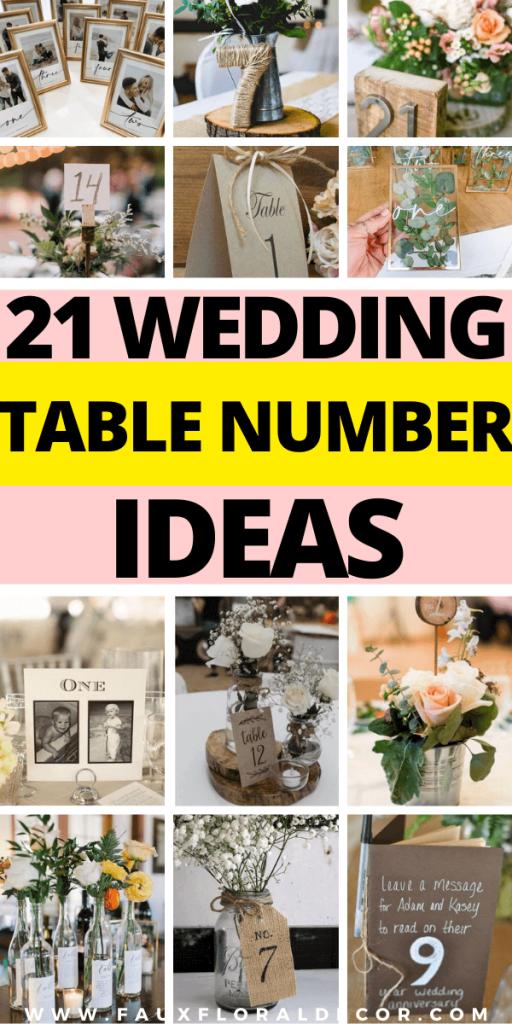 Getting creative
Just because they are supposed to show the table number doesn't mean that it needs to be plain or simple.
Twist this simple wedding necessity. Give it personality and a bit of a unique touch.
Not everyone remembers to create a fun idea for table numbers, so this is a great way to stand out from the crowd.
So how can we spice things up?
Make use of portraits, wine bottles, resin art, or even simple photographs to bring a modernized touch to the table.
Whether you're looking for something neutral, boho, or simple it can work for any theme.
This is especially fun if you're able to make use of funny pictures or even baby pictures.
Considering this all goes down to personality you can showcase your ideas.
Guests will love to see a bit of new decor or a different perspective on table designs.

Whether you're going full out or looking for a budget-friendly approach, you're sure to get something to fit your needs.
Table number ideas
So without further ado let's jump right into the ideas we've compiled for you to try out for your wedding.
Or use it as inspiration for your ideas to come to life.
1. Engagement photo table numbers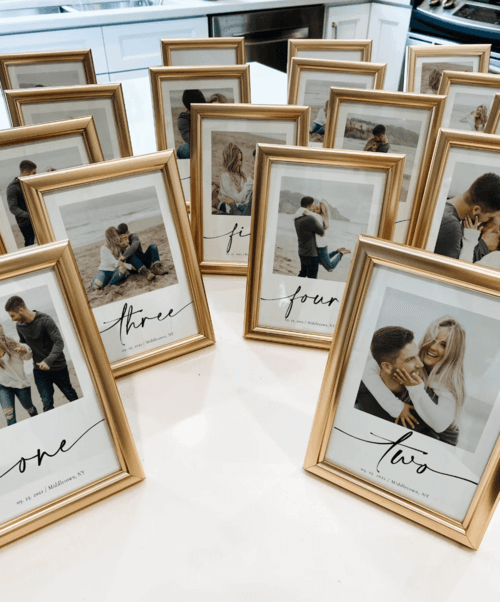 The easiest way to personalize your table numbers is by incorporating pictures from your engagement shoot.
It adds an elegant touch while keeping things simple.
People will love seeing pictures of the happy couple on their table.
Grab a picture frame, add a picture and the table number, and place one on each table.
2. Then and now pictures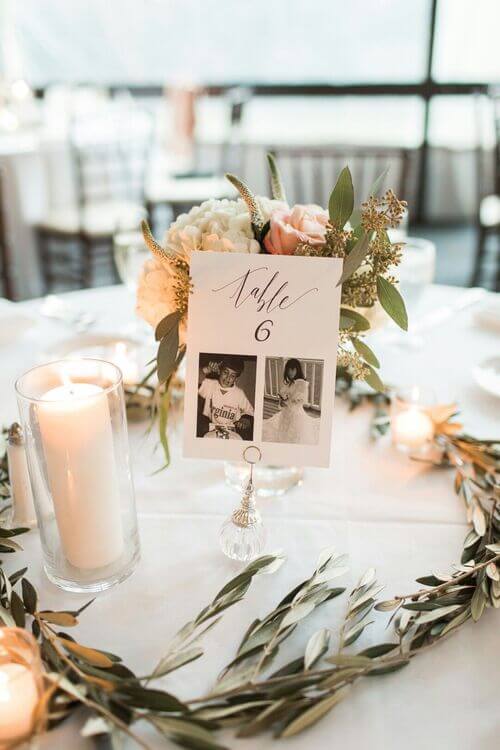 Have a throwback on the wedding day.
Instead of featuring a picture of the happy couple now you can add a picture of them then and them now to showcase how much they've changed or grown throughout the years.
It's a fun twist on the usual. You can all laugh together and see how much you've grown.
3. Resin and greenery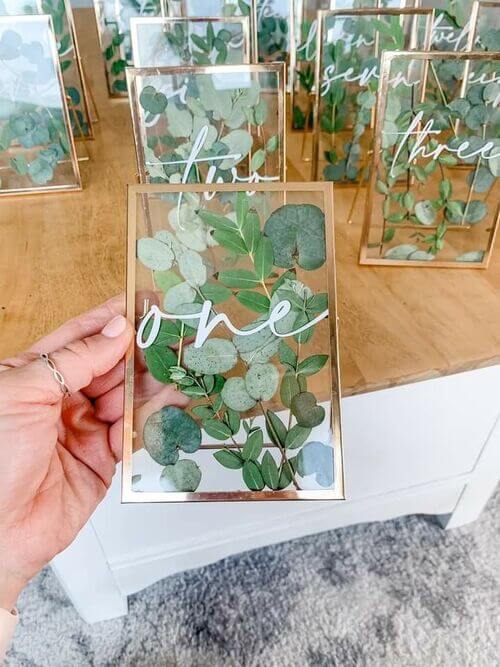 If baby pictures, engagement photos, and simple cards don't feel like your thing then try out this.
These resin and greenery stand to showcase the table number.
It keeps things natural and cute.
You can even add gold finishes to brighten up the table.
4. Bouquet table numbers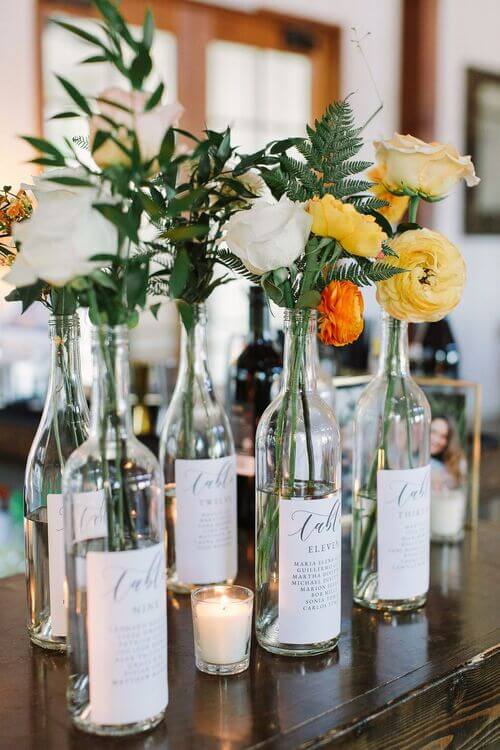 The simple bouquet with table numbers is perfect for centerpieces.
Each bottle has a sticker with all the names of people that are seated at a specific table.
It keeps things simple without seeming plain.
You can add a bouquet that fits your wedding scheme or just add fairy lights for something fun.
5. Glass table numbers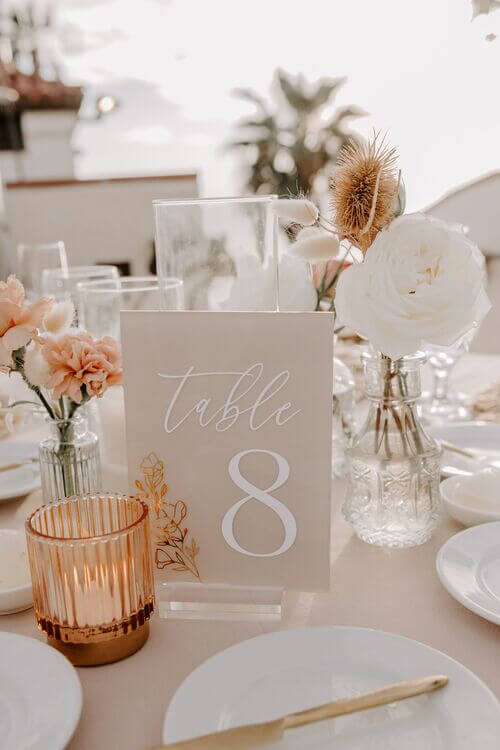 If your wedding is centered around a light and bright color scheme then try this out.
Simple number stickers on a piece of glass can keep things simple.
If you want to add a touch of accent color to it then you can add some gold foil.
It's super easy and budget-friendly.
6. Glass numbers on wooden stands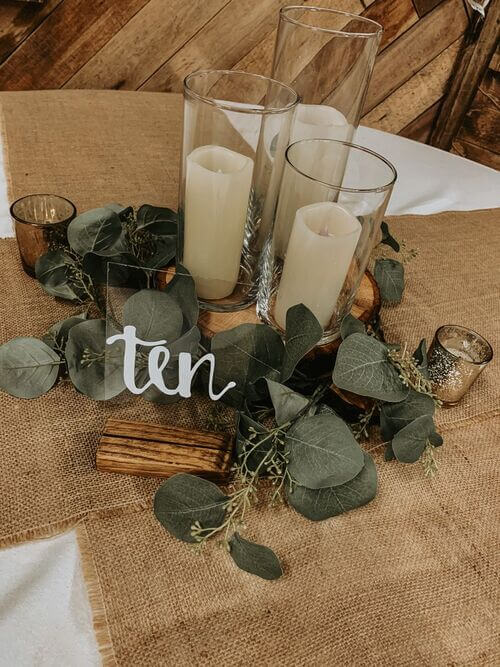 For the lovers of simplicity, here you go.
Grab a wooden stand and place a piece of glass (or the glass from a picture frame) in it.
You can make use of a sticker or write the table number and place it on the table.
The bright white makes it readable.
7. Table number tags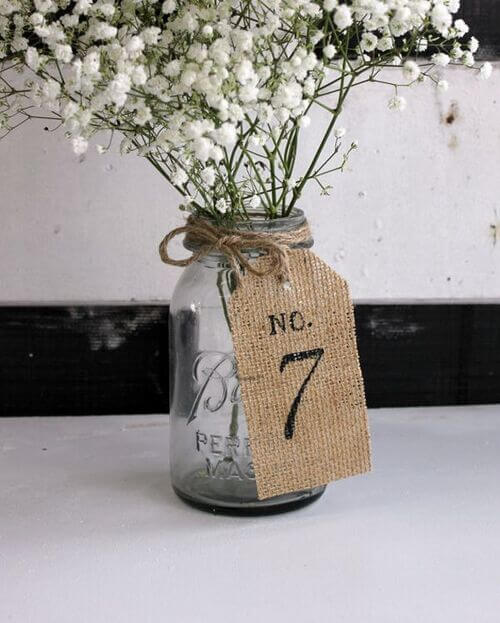 A simple yet effective way to showcase the numbers is by creating tags.
These burlap tags are great because you can tie them to bottles or mason jars.
You can tie them with twine so that they can easily be removed too.
This allows you to reuse the mason jars in the future as well.
8. Mini notebook table number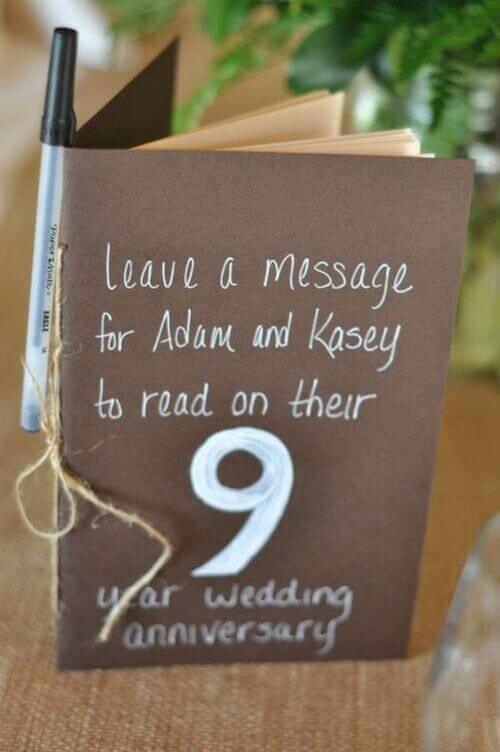 This unique idea will leave you with a special memory for every year to come.
Get a bunch of notebooks and write the table number on each one.
Then you add "write a message for the bride and groom on their wedding anniversary."
This allows you to have a fun message from each guest for years to come.
Each year you read a notebook that correlates to the anniversary year.
You can have these as keepsakes and read them over and over again as the years go by.
9. Hexagon number stands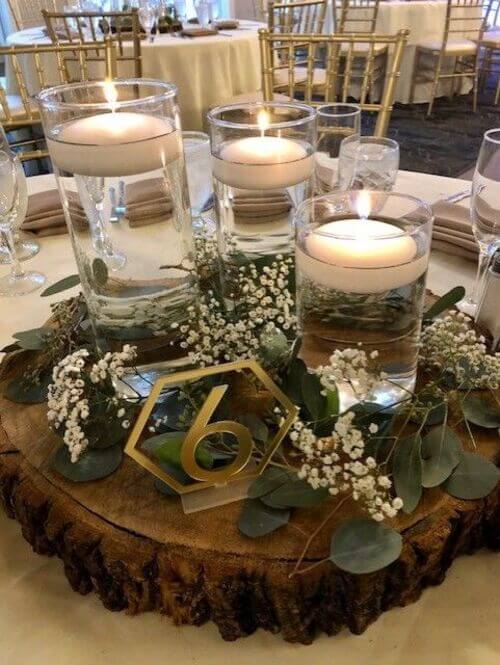 These mini hexagon stands are great to add in the same color as the accent color.
It's compact and cute and won't take away from the centerpieces, which makes it instantly better.
Since it can tie into the theme it won't seem like an eyes sore.
10. Wooden circle numbers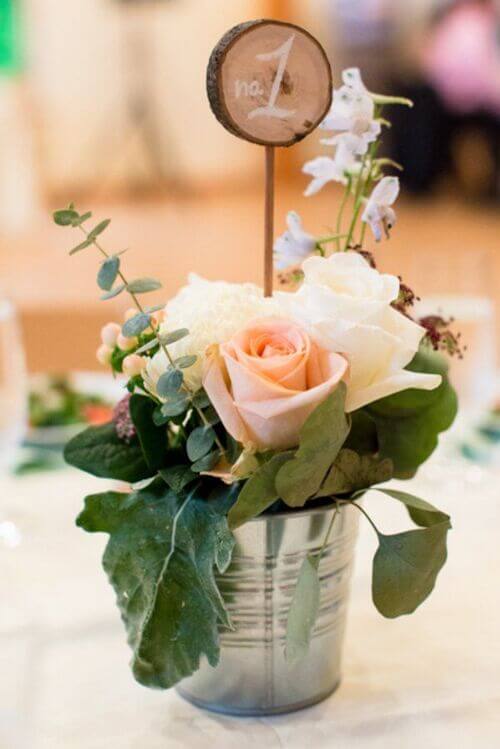 If you want to add some earthy tones to your wedding this is for you.
These cute wooden rounds are perfect and can be added to a bouquet.
It doesn't take up extra space and keeps things simple. It's also easily readable, which makes it better for guests.
11. Mini cards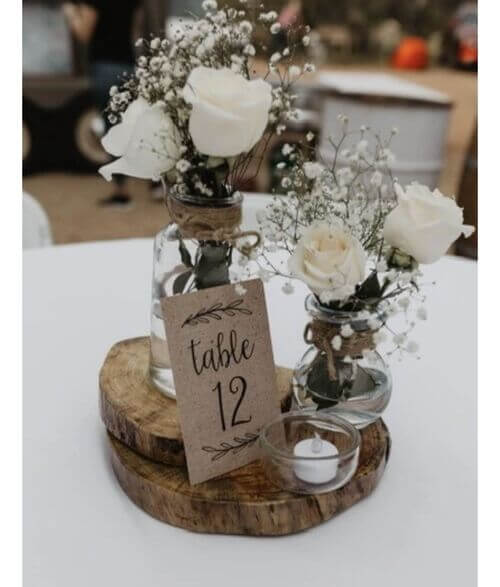 Another cute idea that doesn't take up too much space is this cardboard table number card.
It can be placed within the centerpieces and people will easily be able to see it.
You can find these online or create them on your own.
12. Baby picture table numbers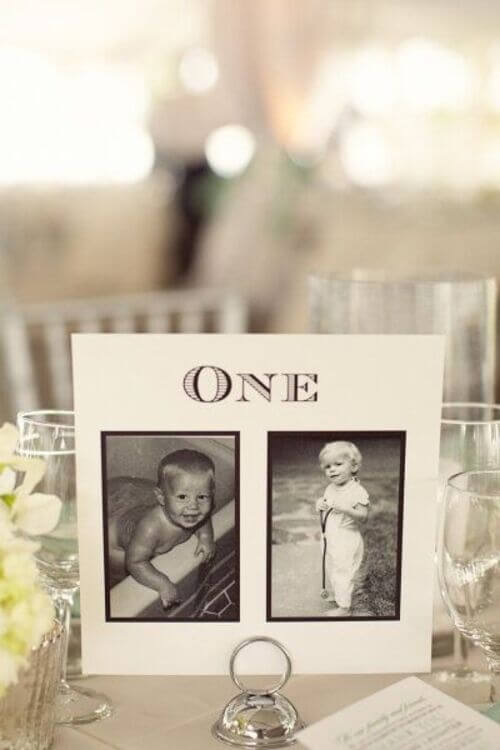 Skip the norm. Add a funny baby picture to each table number.
A picture of the bride and groom will make people laugh and add a fun personalized touch to each table.
It shows your personality to the guests, and the best part is you can keep the table numbers afterwards.
13. Twine-wrapped numbers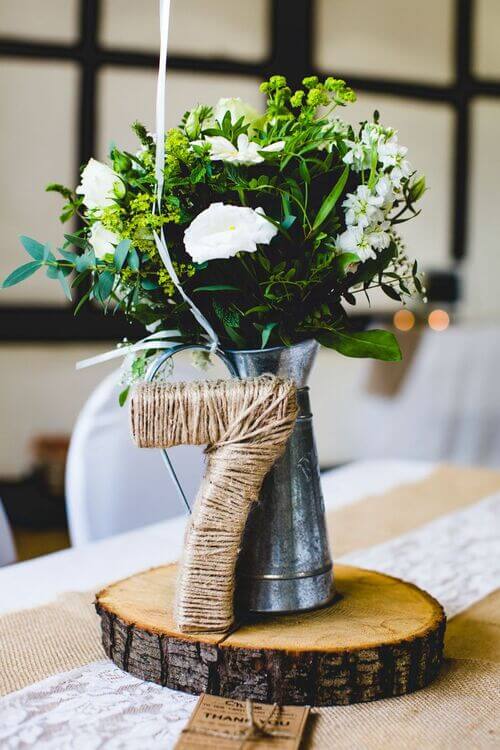 Try out a 3D approach.
Get some styrofoam numbers and wrap them in twine.
Each table has a fun addition added to the centerpiece.
This works well for barn-style or boho weddings but can easily be adapted to suit any theme.
14. Pressed flower cases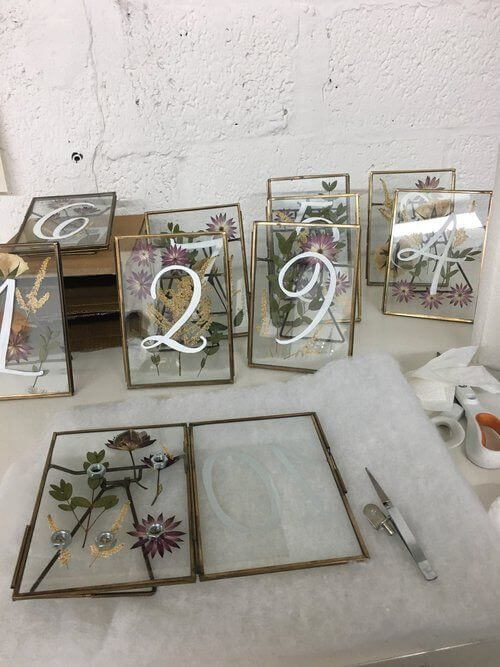 These cases offer you the perfect balance of nature and elegance.
The cases can hold anything you want but work best with pressed flowers.
You can then add stickers to the front to showcase the number that is needed.
You can remove the stickers later and keep some cases to use as decor in your home.
15. Numbers in copper stands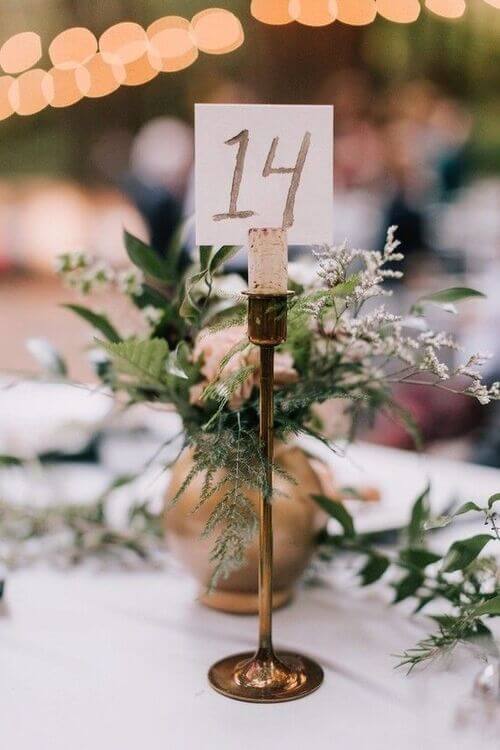 If you're looking for a budget-friendly way to showcase your table numbers, then look no further.
By making use of a copper candlestick holder and a cork, you can create an elegant setting for each number.
It's quick, simple, and gorgeous.
16. Numbers are written out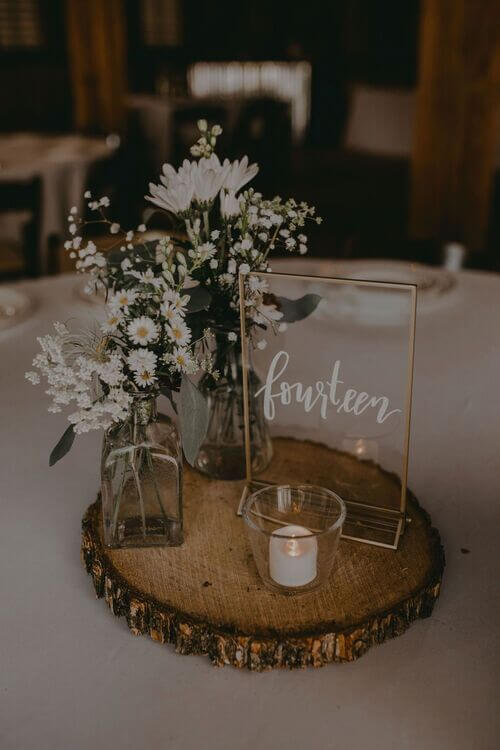 Remember those glass cases from earlier? Here's a different approach to them.
This simple design works well for any setting and allows you to go all out with your centerpieces.
You can buy stickers or write out the numbers with a pen. It's all up to you.
17. Iron numbers in wood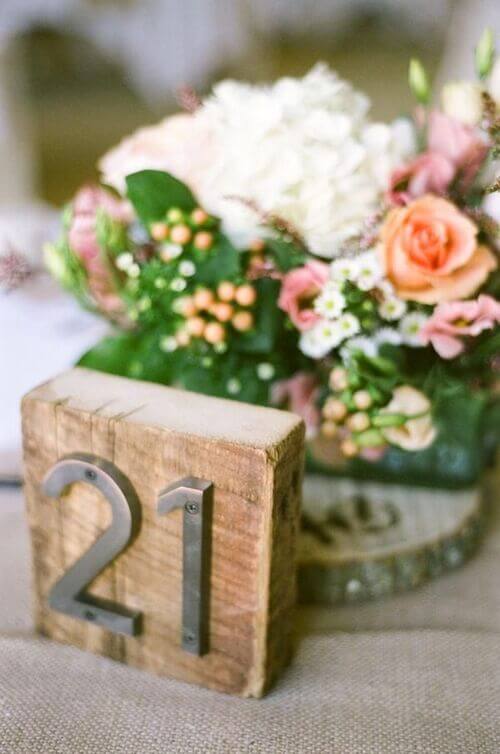 This is the perfect example of what to try if you're interested in a barn wedding or the nature aesthetic overall.
You can easily re-create this by cutting pieces of wood and adding iron lettering to it.
It has a rustic look with a natural edge.
18. Gold framed pictures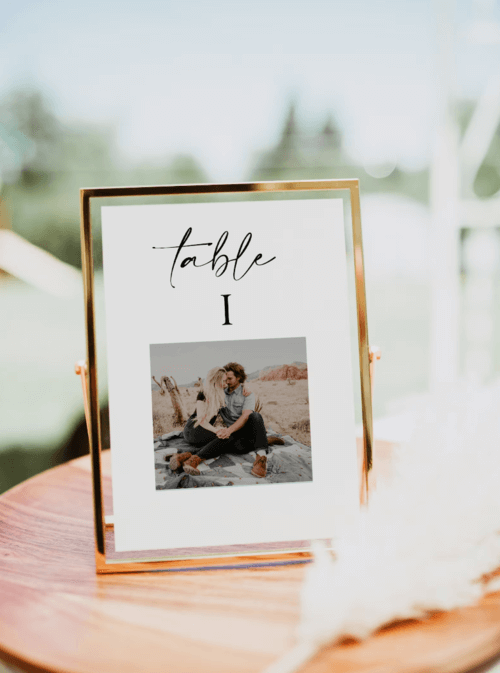 Another example of engagement pictures, but this time it is placed into glass cases instead of the normal frames.
This idea has a certain classy and modern quality that makes it perfect for any wedding theme.
19. Wine bottles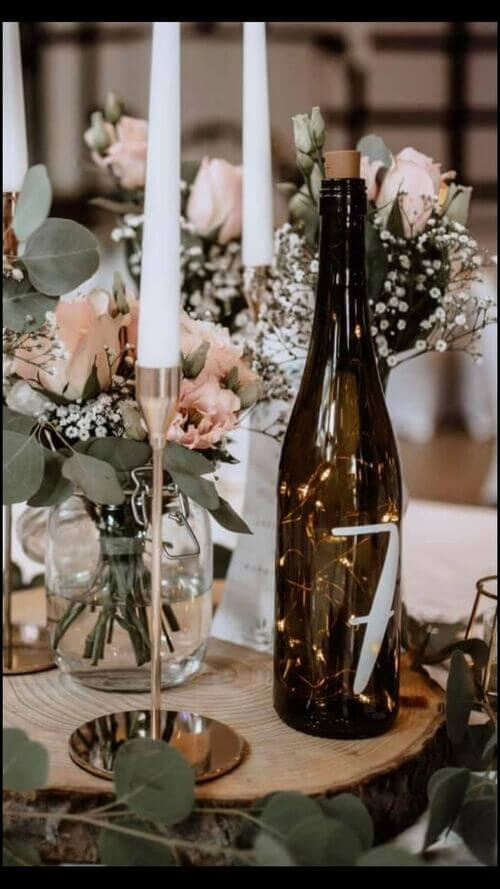 Instead of adding everyone's names to the bottle just simply add the table number.
These dark wine bottles give a fun accent to the color scheme, and once you add fairy lights it can create a warm atmosphere.
20. Table cards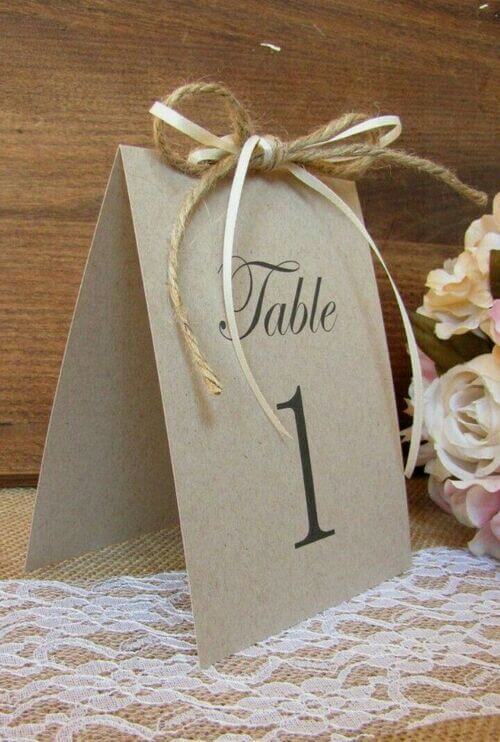 Sometimes the simplest ideas are the best.
These old-fashioned cards can be the simple touch that is needed.
If you want to go the extra mile, you can create these at home by making your own paper.
This allows you not only to create but also to reuse paper scraps.
21. Wooden bouquet inserts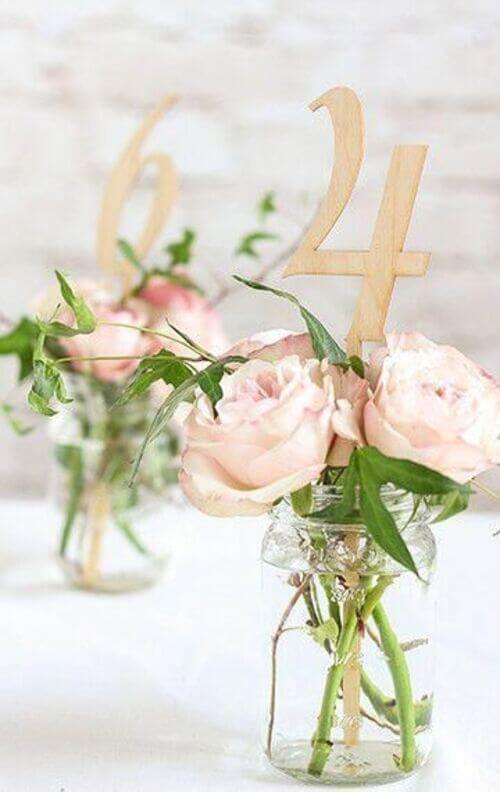 If you're really and I mean really not too worried about the whole table number situation then opt for this.
It doesn't take away from the overall look of your centerpieces but shows people exactly what they need to know to take their seats.
Table numbers need a new spin
As we can see from the list above, you don't need to stick to the basics.
Spice things up and add your twist to it.
So whether you use baby pictures, bouquets with table numbers, or wrap numbers in twine to display on the table, there's something for everyone.
So why not try one of these out? Or add your idea to the mix.
It's usually the simplest ideas that go the farthest.
We all need to try something new once in a while, especially on the wedding day.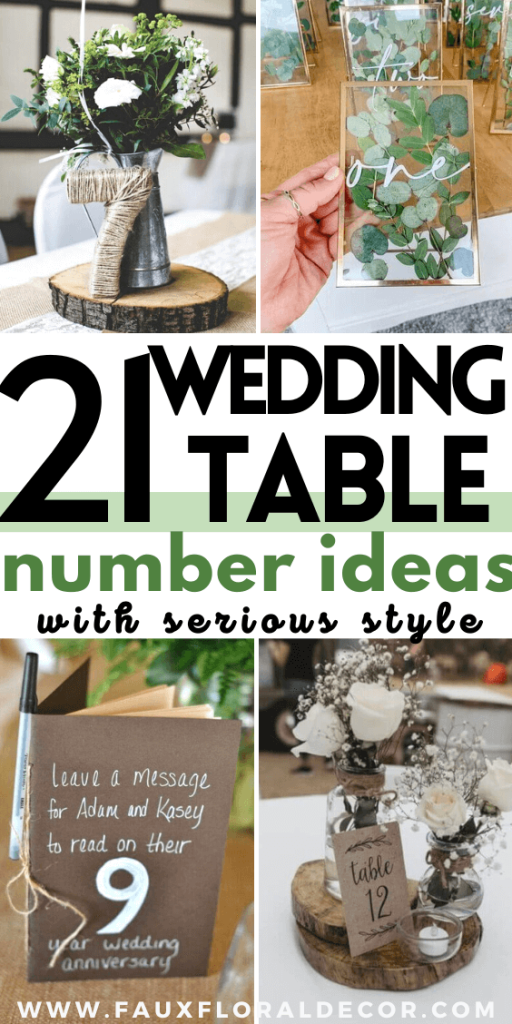 This post showed you the best wedding table number ideas.
You may also like: