A wedding with a gorgeous color palette is a dangerous thing.
It gives the wedding a set theme or mood. So what does an emerald green wedding say then?
Except that, it's elegant and a color that should be used more often.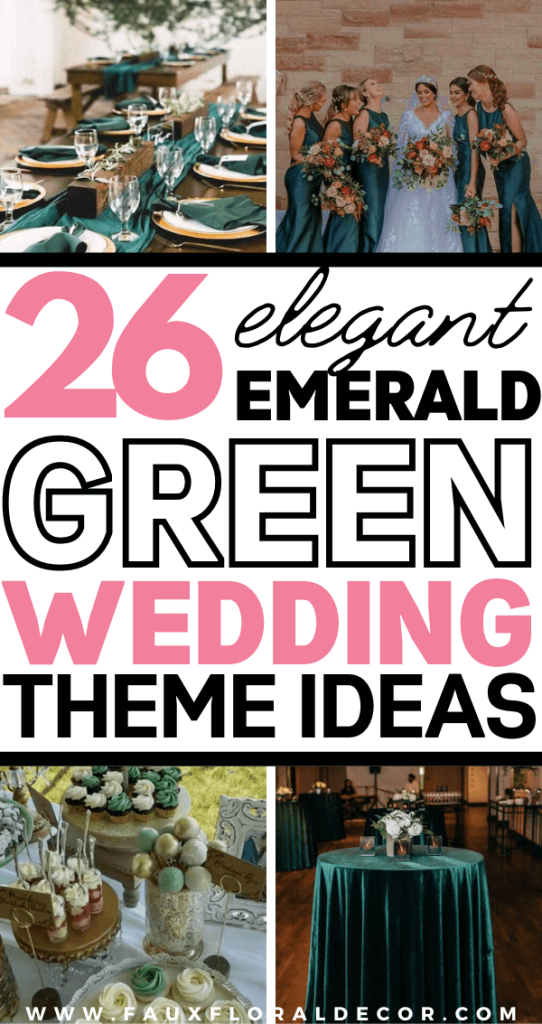 The emerald green color palette
Emerald green not only represents nature in its purest form, but it also gives a touch of harmony and balance.
Due to the dark and moody tone, it gives any wedding its perfect when paired with gold.
While it is a dark color to pull off it can be extremely gorgeous and dazzle your guests.
Pair it with bright accents to make sure the color scheme doesn't become too dark for a wedding aesthetic.
Colors to pair with emerald green
Emerald green is a dark color which means it needs to be paired with lighter colors to create a balance.
So if you're looking for color combinations to pair emerald green with for your wedding then look no further.
Here are a few color ideas:
Peach
Aubergine
Rose
Ruby red
Beige
White
Gold
Lime green
Copper
1. Gold and emerald place settings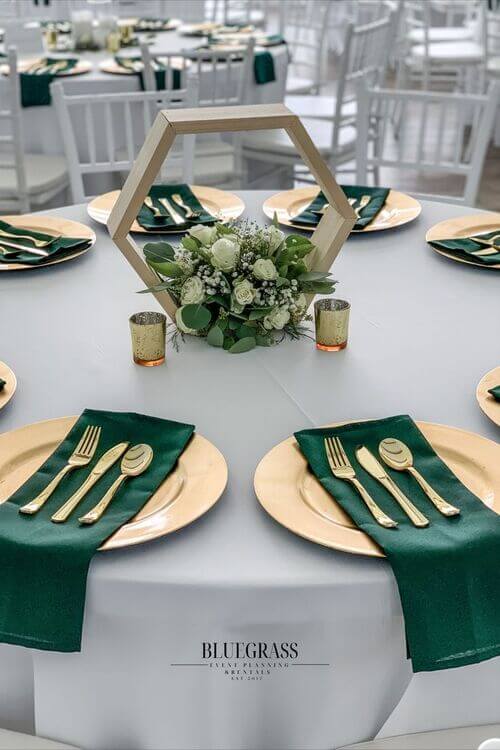 These hexagon wooden centerpieces can be a simple and budget-friendly idea.
You can add some white roses and baby's breath.
It pairs well with golden plates and cutlery and emerald napkins.
It's a simple pairing that gives a sense of elegance to the color scheme.
2. Emerald table runners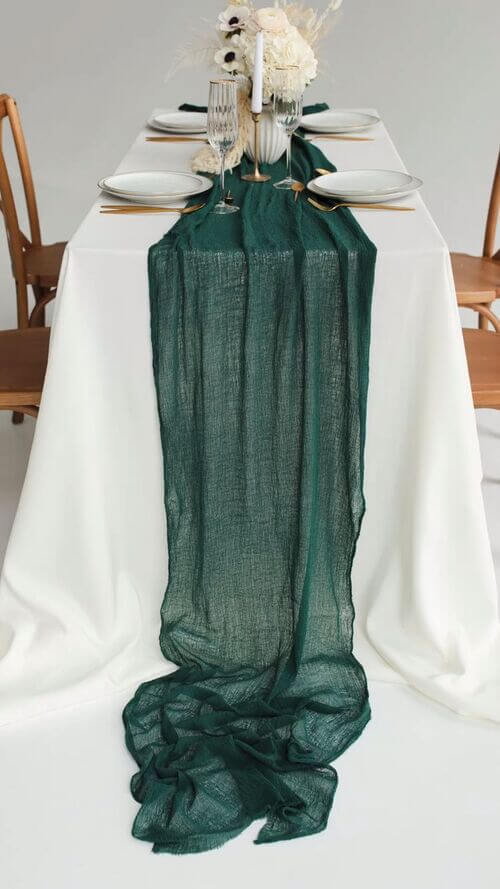 If you're looking to keep things to the classic white aesthetic and just want a hint of color then add these emerald table runners to the simple table decor.
The pop of color is just what you need to create some dimension within your decor.
3. Emerald green bridesmaid dresses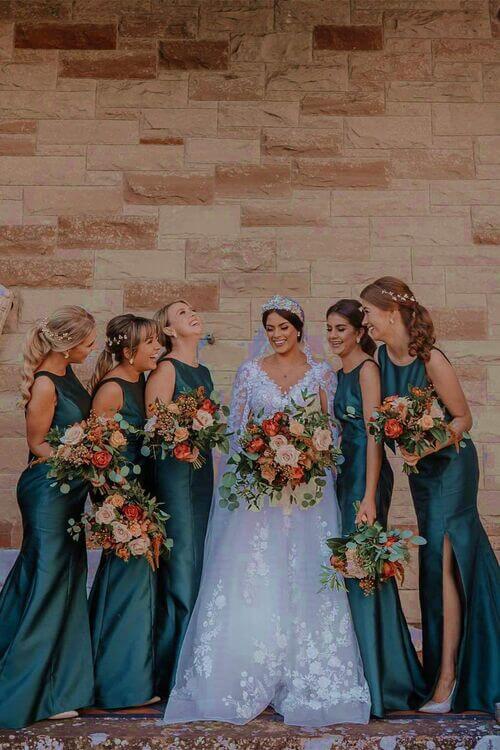 Incorporate emerald green into more than just simple decor.
Add them to the bridesmaid dresses or even groomsmen suits.
If you want to make it a better experience for your bridesmaids (regarding being comfortable in their skin), you can also tell them that they can pick a dress in any style as long as it stays the same color of emerald green so that they still match while having their personal touches.
4. Green and white dessert station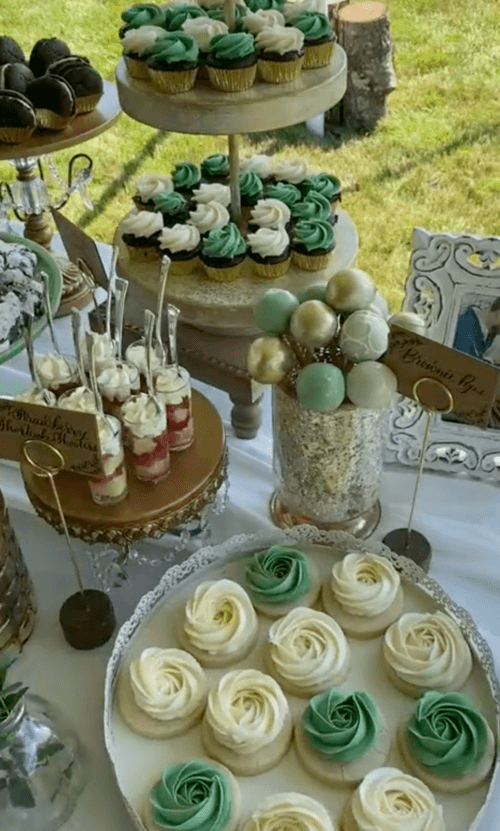 Get your desserts to match the color pallet.
Green and white cupcakes, cake pops, and even donuts are the perfect sweet treat for your guests to snack on while enjoying your big day.
It's a simple and cute idea.
5. Green reception tables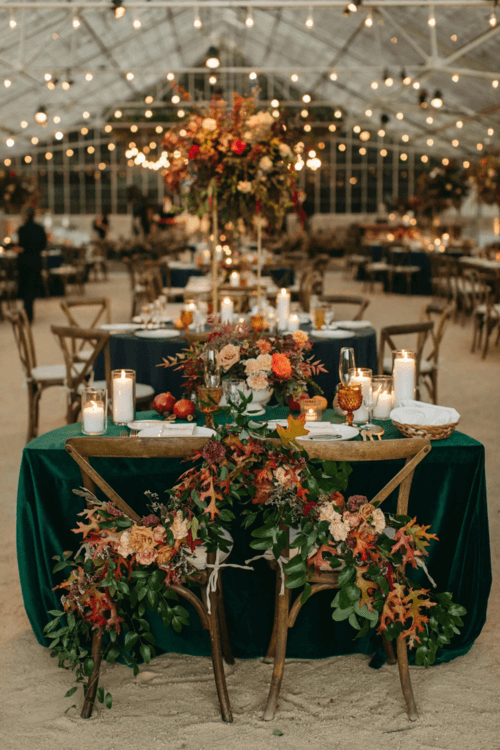 Keep the reception bold and bright.
The richness of emerald green ties perfectly with the warm glow of orange and red flowers.
You can create a flow of colors by adding in some light green leaves and creating gorgeous wreaths or centerpieces.
Candles can also add a warm atmosphere to the reception, making it even more calming.
6. Golden plates, green napkins, and candles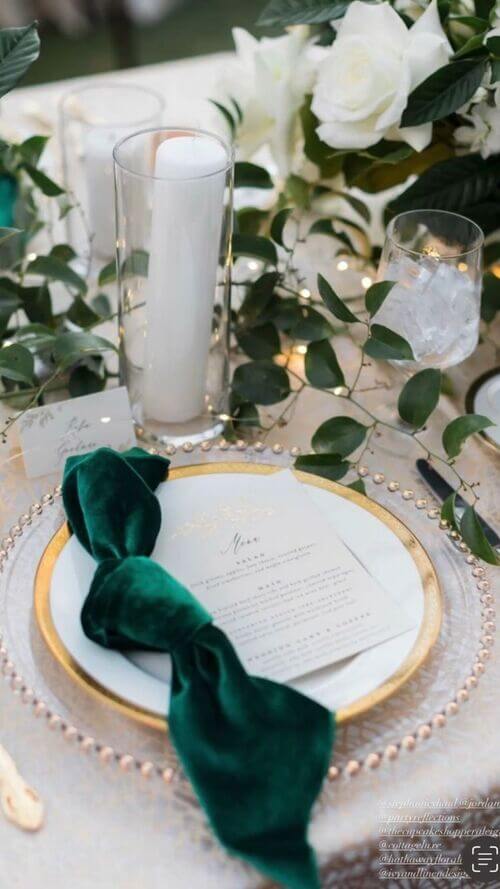 These golden-rimmed plates, emerald table napkins, and candles are the perfect table decor. It pairs well with ivy and fairy light table runners. It keeps things simple which will allow you to have a budget-friendly wedding.
7. Dark accent and emerald green wedding ideas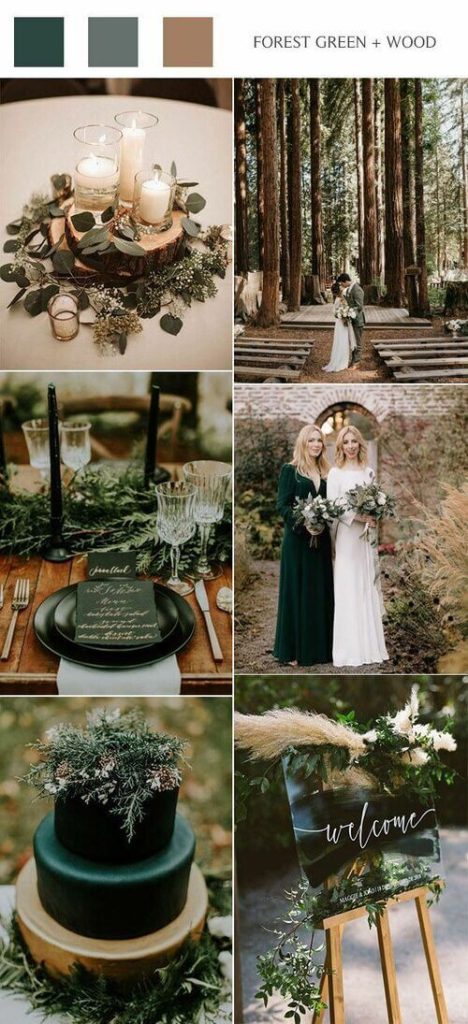 Emerald can pair well with natural elements such as wooden circles, and pampas grass, as well as some black accents.
You can even make use of gold lettering on your welcome sign so that the green and gold create a nice flow.
8. Gold and greenery table centerpieces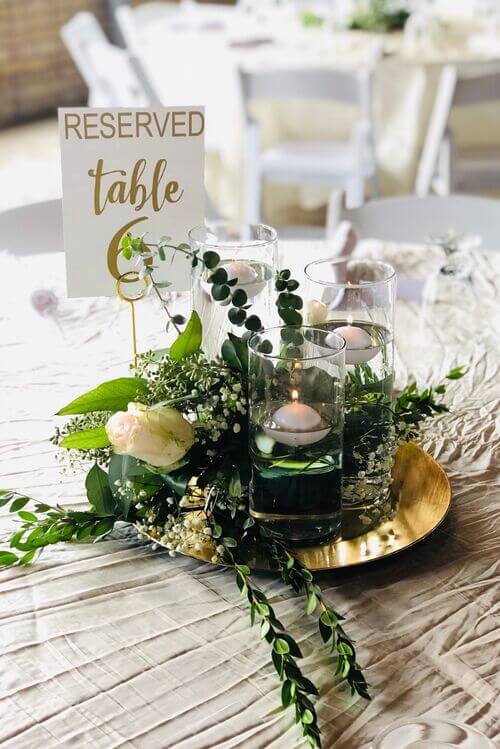 Centerpieces with golden plates, greenery arrangements, and floating candles can create a natural and vibrant color pallet.
Since these centerpieces have such bold colors it would be best to pair them with them.
9. Floral centerpieces and tablecloths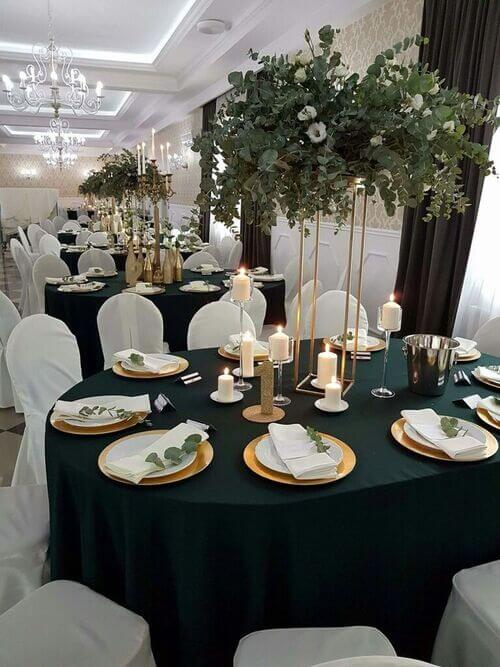 If you're looking for a different approach to centerpieces then this floating floral piece might be just what you need.
This allows guests to talk to each other without having something in the way.
It works well with the emerald tablecloth and golden place settings.
10. Autumn color scheme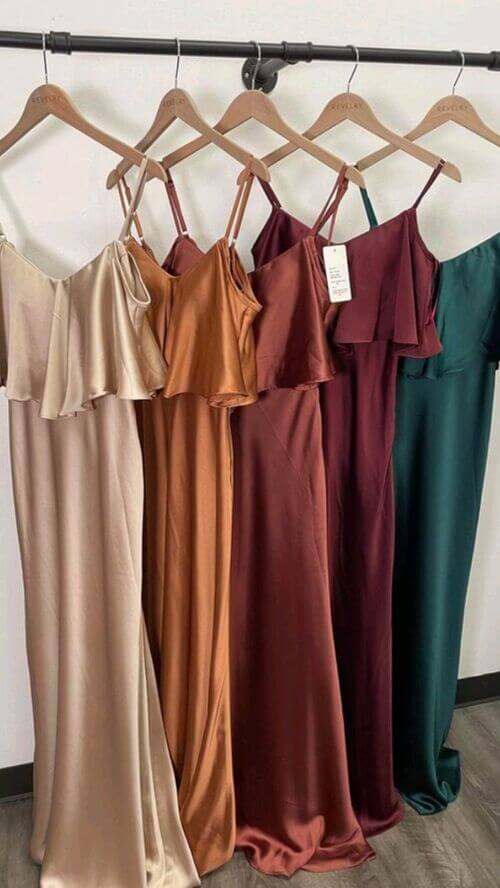 Is getting the perfect color for bridesmaids' dresses becoming a pain?
Well, how about coordinating the dress colors with the theme of the wedding?
In this case, the colors not only match the emerald color but also bring a bold touch to an autumn wedding.
11. Emerald and sea blue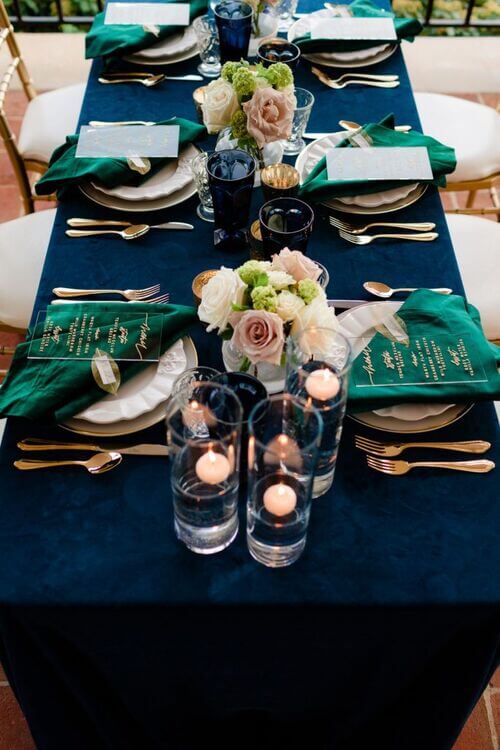 Emerald green and sea blue give a gorgeous color scheme for a summer wedding.
The dark color gives a rich tone to the big day.
Pair the green and blue with some dusty pink roses.
This idea is perfect for people looking to bring the ocean to them and create a cool atmosphere.
12. Greenery table runners and sea blue plates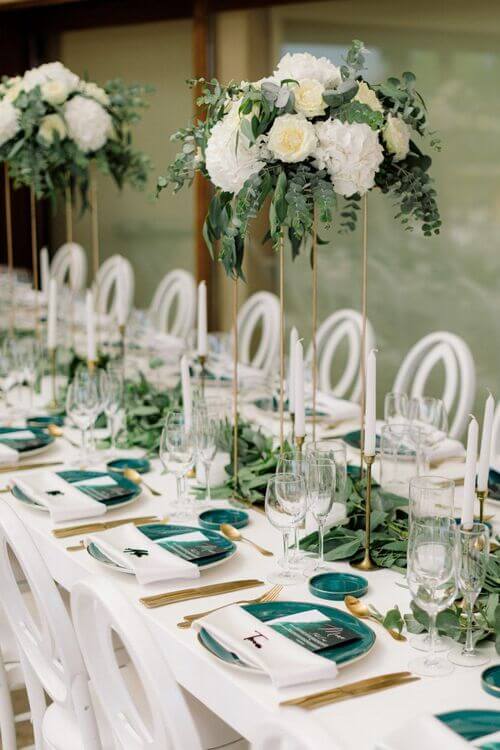 These floating roses and greenery centerpieces give a vibrant touch to the table.
You can pair it with some leafy table runners and golden stands for the flowers.
Skip the boring plates and use emerald plates to bring a bold accent to the table.
13. White, and emerald circular tables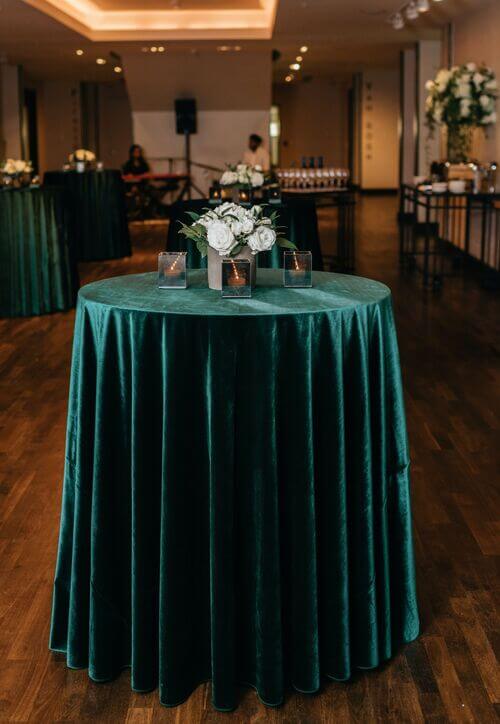 Another non-traditional approach to reception is making use of these round wooden tables.
These velvet tablecloths are gorgeous and pair great with simple white roses and baby's breath.
People can then openly mingle with people next to them and enjoy the music without having limited space.
14. Candles and greenery table settings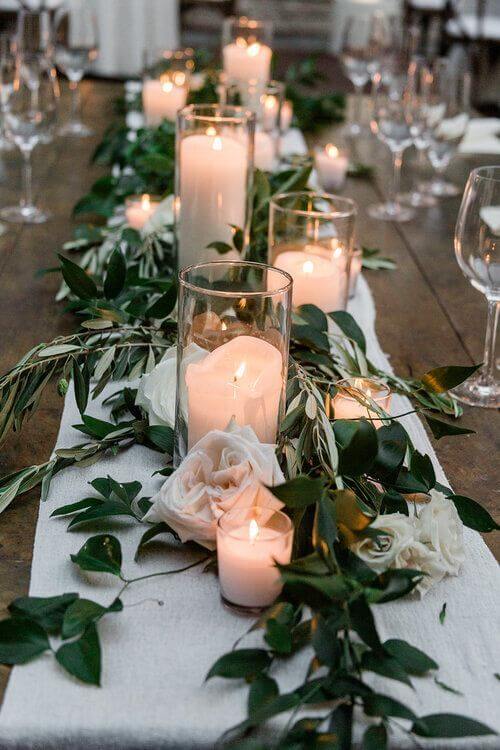 If you want to add a rustic touch to your wedding then make use of wooden tables and white table runners.
You can focus on the emerald green touches by making use of plants.
Candles can line the table to create atmospheric lighting.
It's a simple and effective way to incorporate color into the theme.
15. Emerald and copper table settings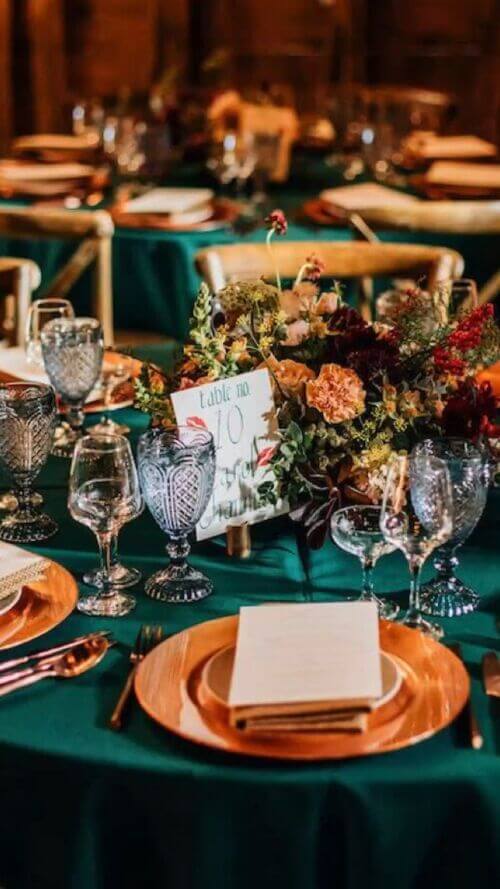 If you're looking for a wedding theme that incorporates the emerald green color but keeps things classy then why not opt for this copper and green vintage aesthetic?
The vintage glasses, wildflowers, and martini glasses give this theme a beautifully vibrant feel.
It gives off the perfect modernized Gatsby look.
16. Monochrome macaroon treats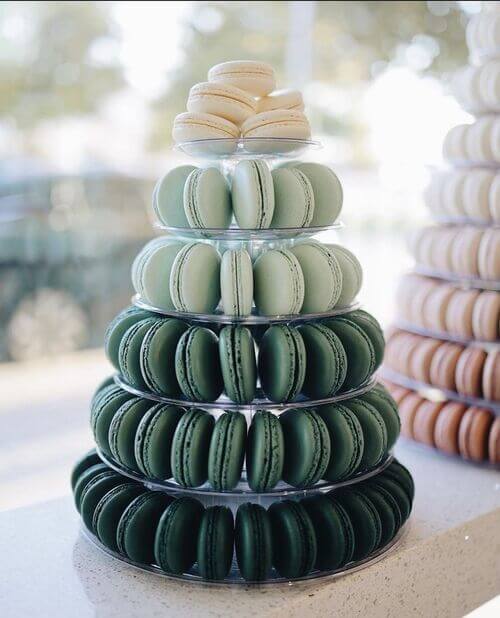 A simple treat that the guests will love is a macaron tower.
They are rich in flavor and fun little pieces of finger food.
You can easily tie these into the green theme by creating this monochrome green tower of snacks.
Due to the easy baking process, you can create the color that you need to fit your wedding without any hassle.
17. Nature's Nook cake-cutting table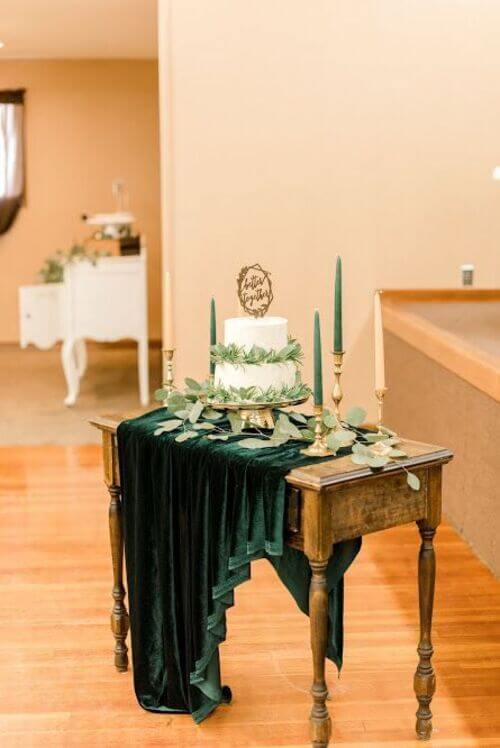 You don't have to keep the cake out of the color scheme.
This cute cake-cutting table is the perfect size to showcase the cake.
You can surround it with some edible leaves or even add some green candles in golden candle holders.
If you feel like the table is a little too bare then you can drape a piece of fabric over it to cover the middle of the table.
18. Black and emerald color scheme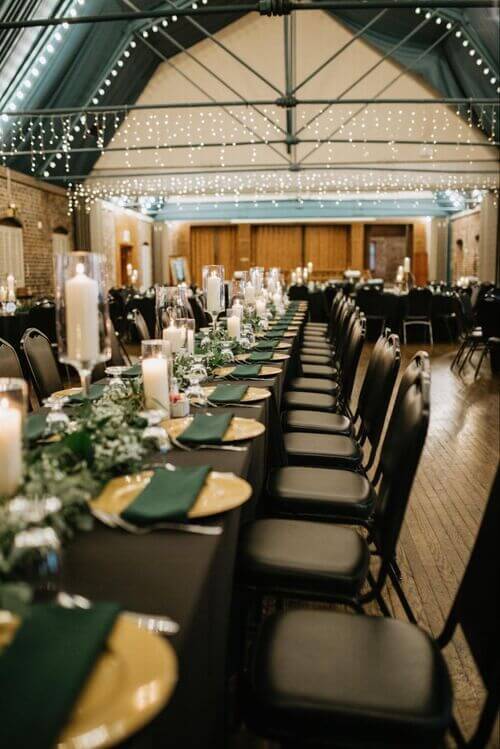 If you're looking for a darker aesthetic that will 100% give you haunted fantasy forest vibes then try out this color combo.
Emerald green and black with golden accents.
It's a bit darker than a wedding would usually be but for a dark and mysterious bride, this can surely do the trick.
19. Satin chair decor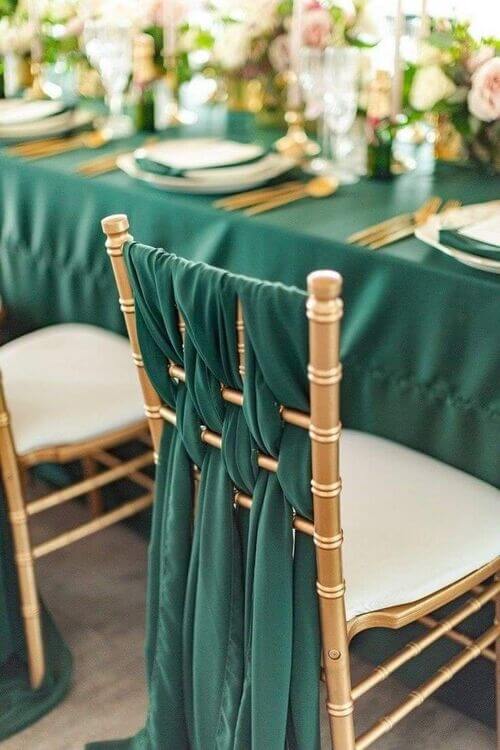 If you feel like the chairs seem a little bare you can always add some color to them by making use of fabric.
It's a simple idea to ensure every piece of furniture is still seen as part of your theme without looking mismatched.
20. Mini terrarium guest gifts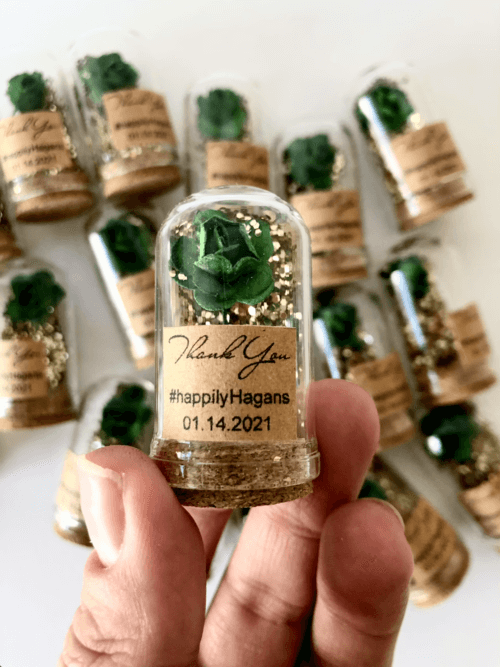 These cute terrarium jars are a "Beauty and the beast" inspired wedding favor.
It can be the ultimate gift for your guests. It's something they will love and cherish.
It also adds a unique touch to your day.
21. Leafy table runners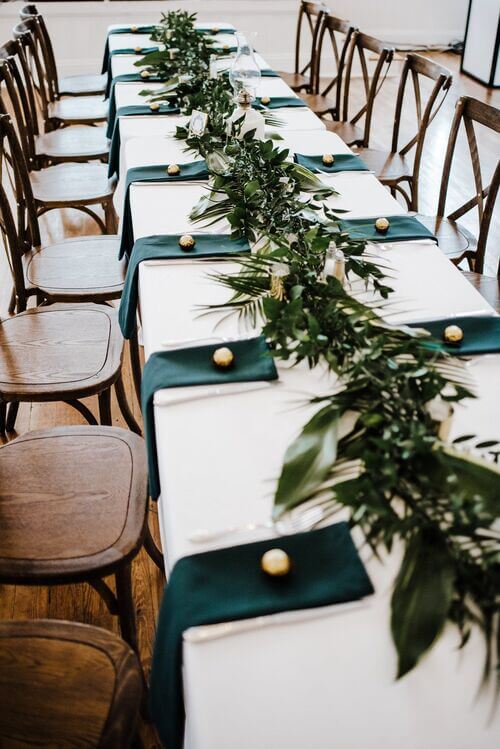 Stick to the natural side of things.
This is a gorgeous idea especially if you're looking to host the reception outside.
The greenery pairs well with any color and will ultimately stand out of you make use of mostly white decor.
22. Gold and green table settings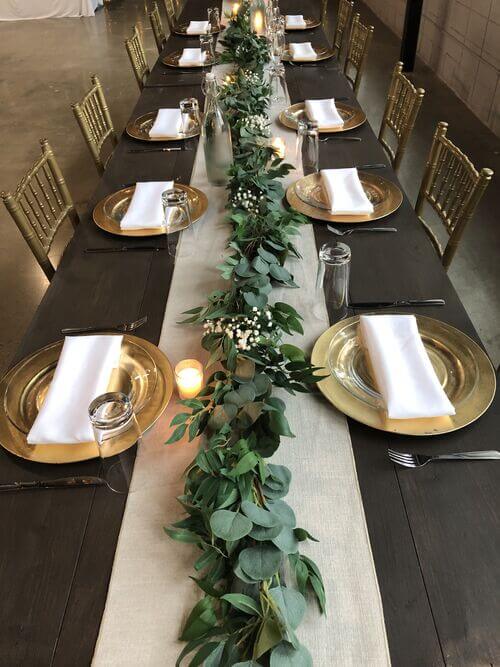 If you want to focus on the neutrals then stick to the dark wood or beige color scheme.
The gold and green can then be used as accent colors instead.
If you've been thinking of doing a backyard wedding or even a barn wedding we would recommend trying this out since it is also budget-friendly.
23. White, black, and emerald color scheme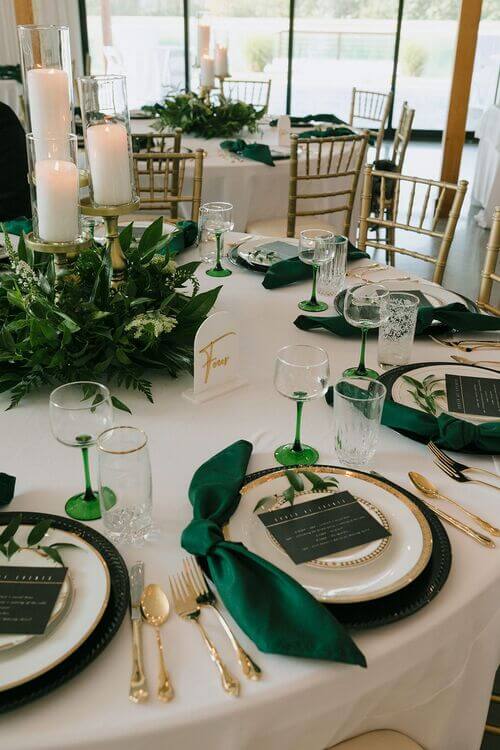 For all my minimalist lovers out there, here you go.
Keep it simple, clean, and sleek by incorporating white and gold into the black and emerald green color scheme.
The green-stemmed classes are the perfect addition to the decor.
24. Glass welcome board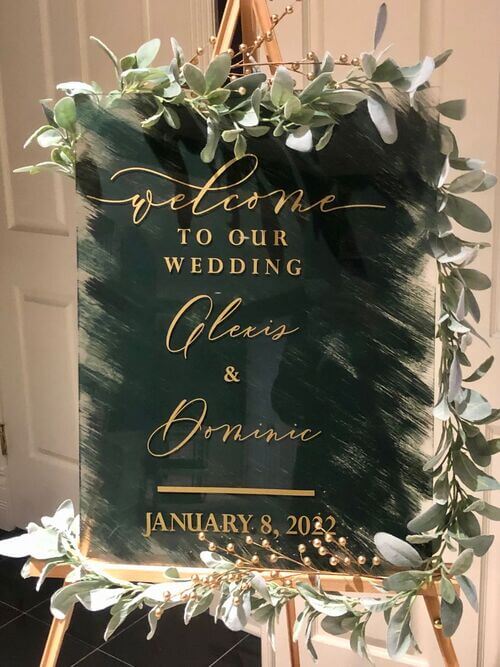 Ditch the traditional welcome boards and opt for this painted glass one instead.
Add bold lettering to contrast against the green-painted background.
It makes the sign stand out and can be a keepsake afterward as well.
25. Beige, gold, and emerald place settings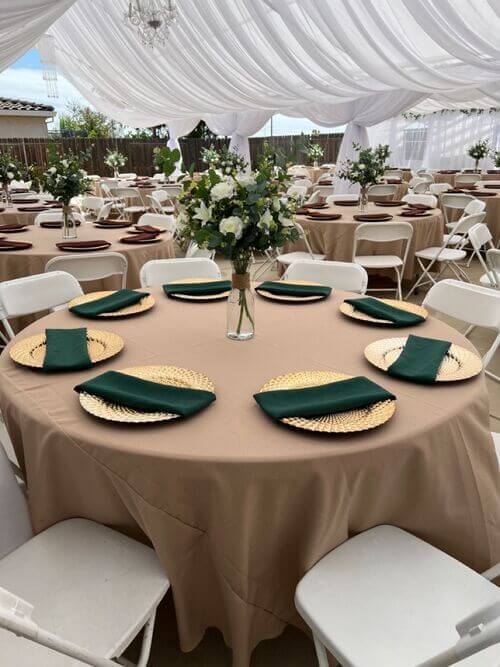 As we have stated in the list above about which colors pair well with emerald green it is simple to see why beige is a favorite.
The light color creates a warmer tone against the contrast of dark green.
While it can seem a little plain to some it is the perfect balance between the colors.
26. Dark wood and emerald theme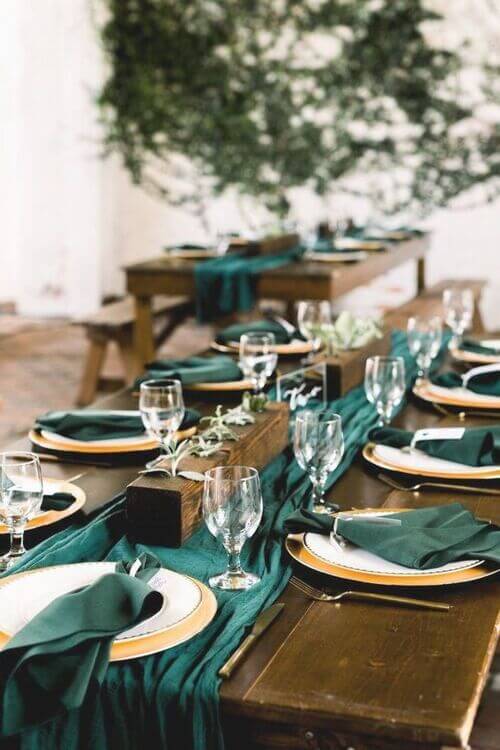 Barn weddings have been increasingly popular, and it can sometimes feel hard to bring bold colors into the barn-like aesthetic.
Emerald green can be the perfect break between dark wood and light greenery.
Use green napkins and table runners and keep the rest simple to achieve this look.
The emerald wedding theme
Whether you're looking for a classic and rich theme or just want a natural color to make your wedding pop, emerald green is the perfect addition to your day.
It has many options to pair it with and brings a dark aesthetic to the big day.
Since it has the perfect natural tone it can be seen as a timeless approach to color schemes.

What better reason do you need to try out this color?
Considering it can also be seen as abundance and luck which makes it that much more appealing.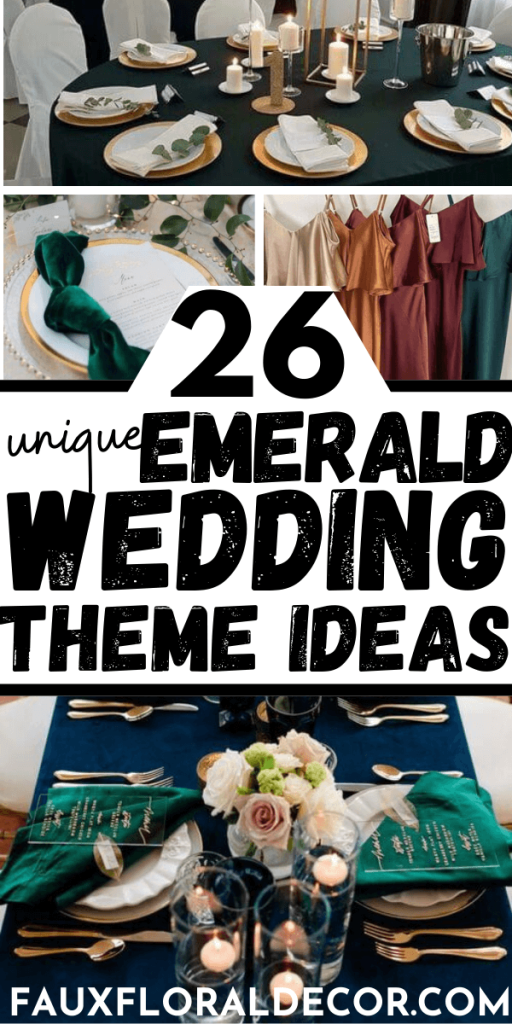 This post showed you the best emerald green wedding theme ideas.
You may also like: