This post shows you the best enchanted forest wedding theme ideas.
Weddings are magical events all on their own, but bringing in that fantasy element is needed to bring an extra sparkle to the big day.
Whether you stick to a dark and moody aesthetic or go for the full-on ethereal look the opportunities are endless.
This whimsical and magical setting brings nature's beauty to life, creating an atmosphere filled with wonder and romance.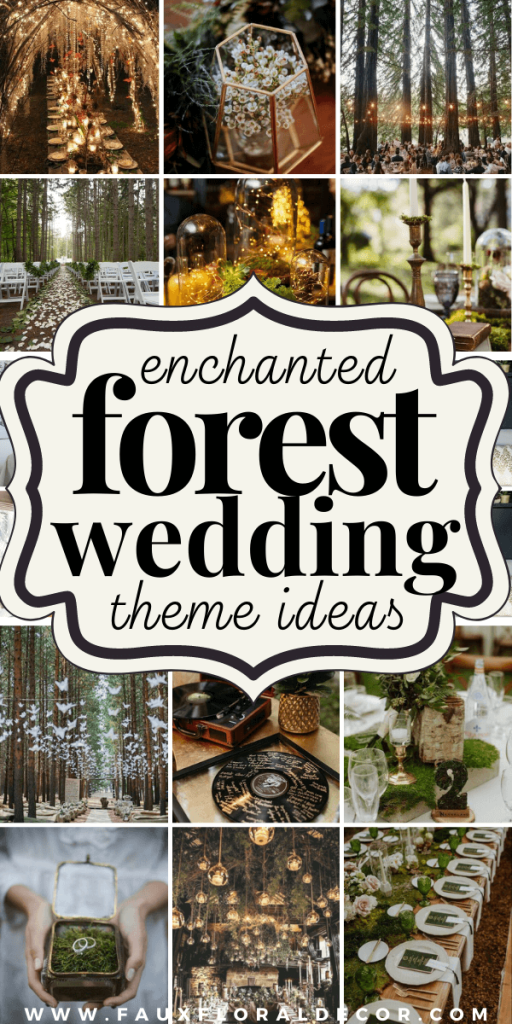 Planning the perfect theme
An enchanted forest theme calls for a bit of magic.
Bring lanterns, mossy green centerpieces, light fabrics, and unconventional arches.
Being in the middle of the forest with close friends and a gorgeous dress is a dream come true, so you need to ensure the venue fits the theme.
Here are a few ways to stay on point for the theme.
The perfect dress. This isn't a make-it or break-it situation but an elegant princess gown with a long veil might just set the perfect look for an enchanted forest wedding.
Ditch the arch. Go for something a little less traditional to stay on theme. Using fabric as an arch or building an arch with twigs, moss, and flowers can create a well-put-together look.
Offer a diverse range of fresh and locally sourced produce, including seasonal fruits and vegetables. Incorporate earthy herbs, such as rosemary and thyme, into your dishes, and serve a signature forest-inspired cocktail.
Create an enchanting aisle by lining it with petals, lanterns, or moss-covered stones.
Accessorize with a flower crown or a hairpiece made of twigs and leaves for an ethereal touch. Grooms can opt for a tailored suit in earthy tones or a tweed ensemble that complements the rustic forest atmosphere.
Opt for blooms that evoke an organic and whimsical feel, such as wildflowers, daisies, hydrangeas, and baby's breath. Incorporate vibrant colors found in nature, like deep burgundy, blush pink, and shades of green.
20 Enchanted forest wedding theme ideas
1. Petals and branch arches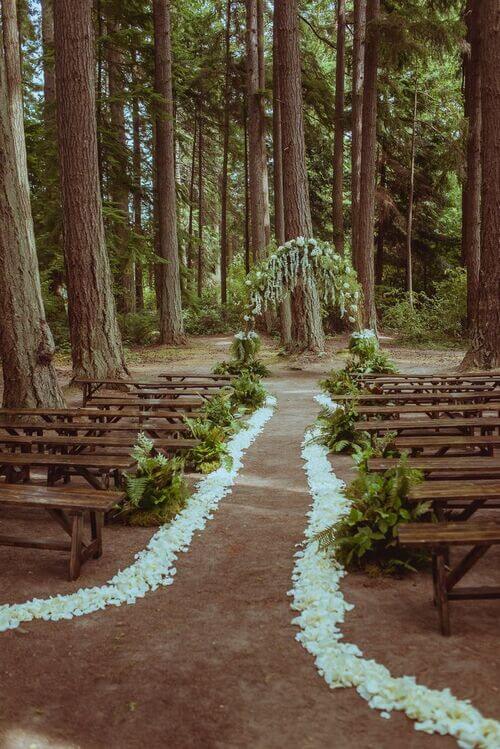 With the wonders of a forest comes the possibility of using your surroundings for natural decor.
Line the aisles with flowers petals and greenery.
Use wooden benches and add a natural arch by bedding branches and wrapping it with gorgeous hanging flowers and greenery.
This idea is pure forest aesthetic and skips the subtle elements.
2. Moss-covered tables and blush-pink roses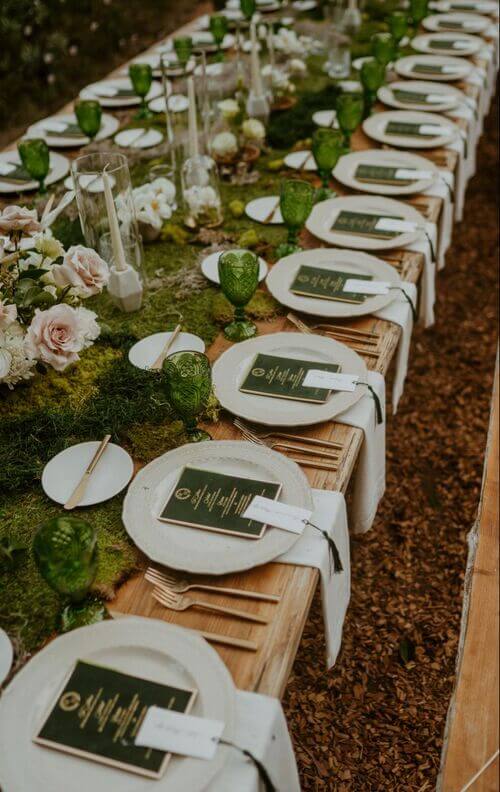 An epic and enchanted wedding needs a fitting centerpiece idea.
Line the table with fake moss pieces and green glassware.
Match the menu with the greenery and then incorporate a gorgeous pastel pink to blend it all.
Add some candles to bring a calming and warm atmosphere to the table too.

3. Wooden logs, stones, and moss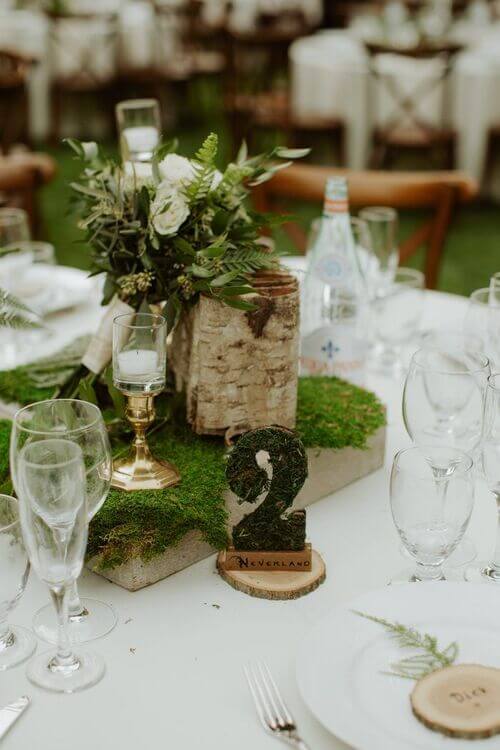 In need of a more subtle idea?
Don't worry this is the perfect substitute for the bold look we've seen before.
Add stone slabs to the table and cover them with moss.
You can incorporate gold accents for example, the candle holders, and then also add wooden logs to complete the natural look.

4. Minimalistic welcome sign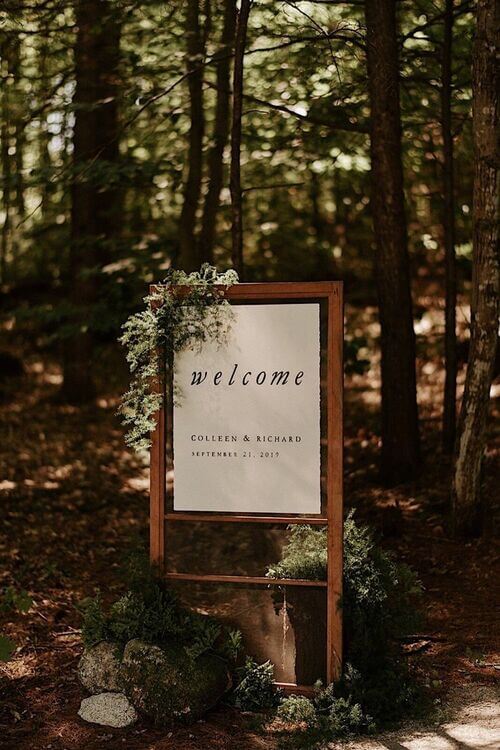 The perfect idea doesn't always need to be bold and loud.
The best ideas come from those that are subtle.
This welcome sign idea just makes use of the basics and brings a simple air to things.
You can add some flowers to make the sign have more dimension, but you don't need much to make this work.
5. Baby's breath and fairy light lanterns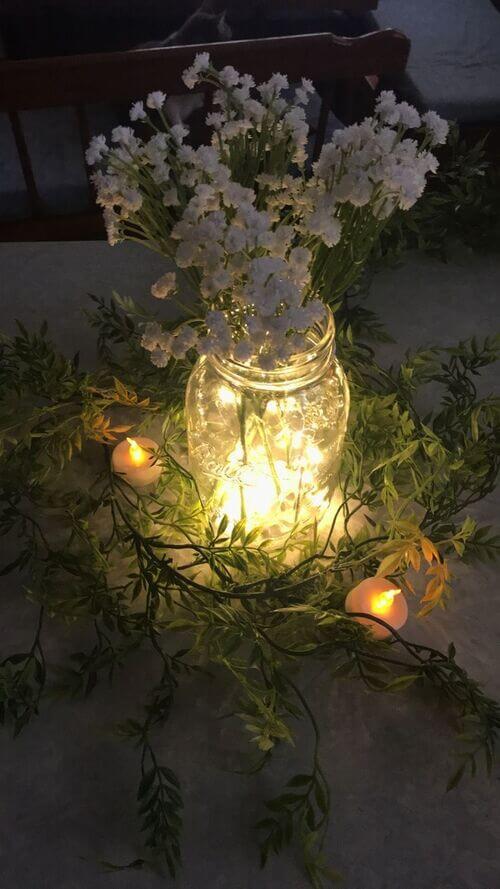 An enchanted forest theme isn't complete with fairy lights… like it is a necessity at this point.
Grab those mason jars that are sitting on random shelves in your home (you know the ones) and some fairy lights.
You can add small wildflowers or simple baby's breath to the jars and wrap them in gorgeous greenery.
If you are scared of a fire hazard, then you can always opt for battery-operated tea lights for safety.
6. Mini terrarium-inspired ring holder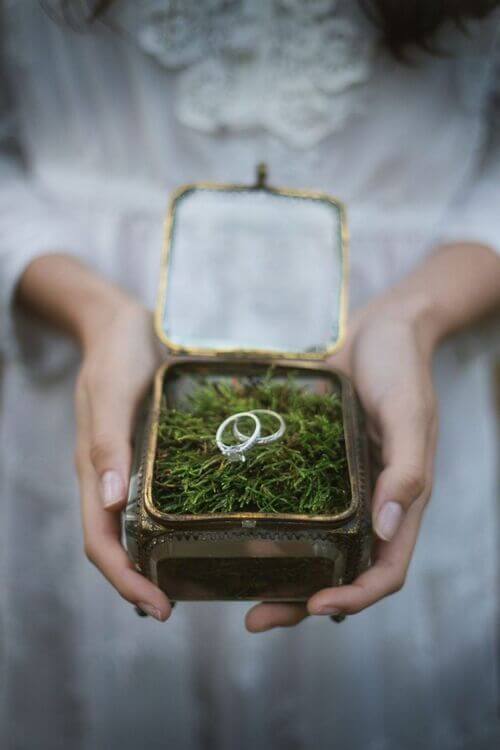 Finding a cute ring holder can be super hard, but this idea fits the theme perfectly.
A small wooden case with a glass lid and two stunning rings sitting perfectly on a bed of moss.
The small details make the biggest impact on a wedding day, and this is a prime example of a detail that will make the day special.
7. Succulents and moss centerpieces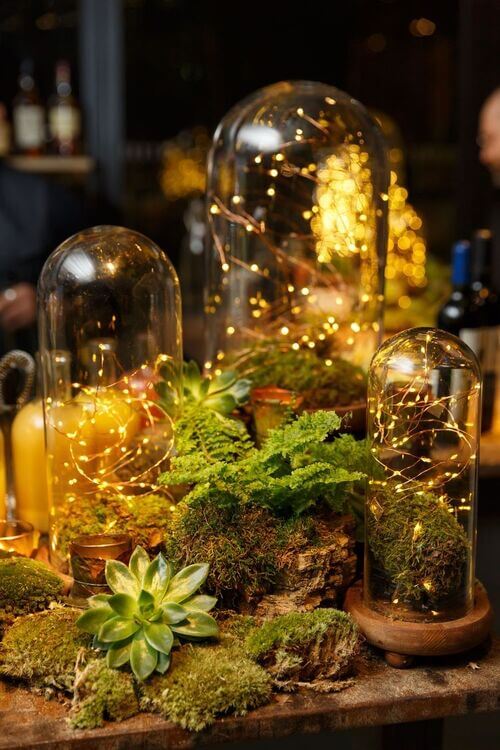 Terrariums are a cute idea to add to a forest wedding.
Add some fairy lights to the jars and then pile moss and succulents to create the perfect overgrown forest effect.
This idea works well on simple tables around the venue or as centerpieces for each table.
The blends of greens create a great ethereal look.
8. Into the woods reception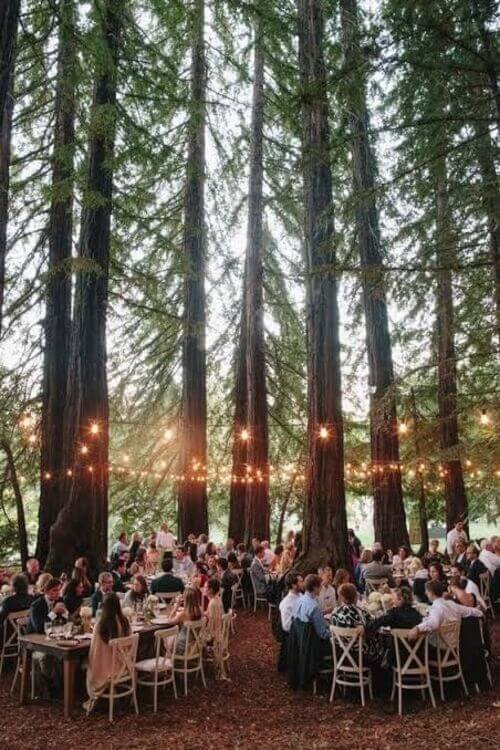 If you are having a forest wedding, then you might as well take into consideration having a forest reception.
Grab some simple wooden tables and string fairy lights or Edison bulbs through the trees to ensure you have enough light to dance the night away.
This is perfect for a late spring or summer wedding in the forest.
9. Natural confetti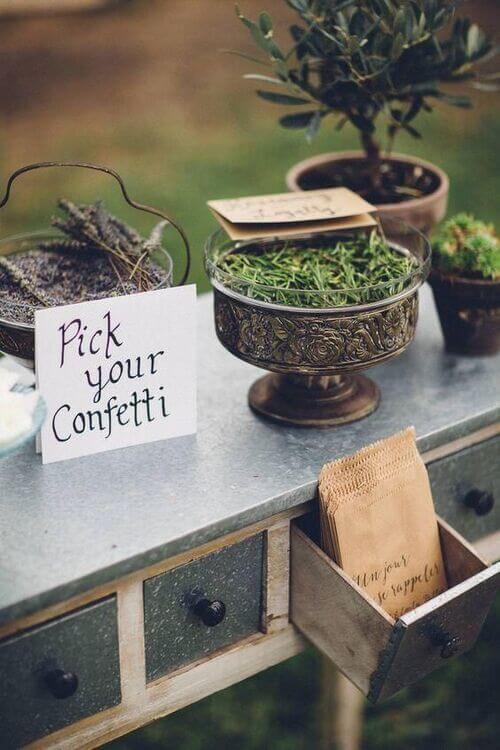 Skip the harmful confetti or the rice and bring something more unique to the table.
Make your confetti mix by grabbing rosemary, lavender, or rose petals to throw at the bride and groom to show your excitement.
It's better than having to throw something harmful to the earth.
10. Fairy lights bringing in warmth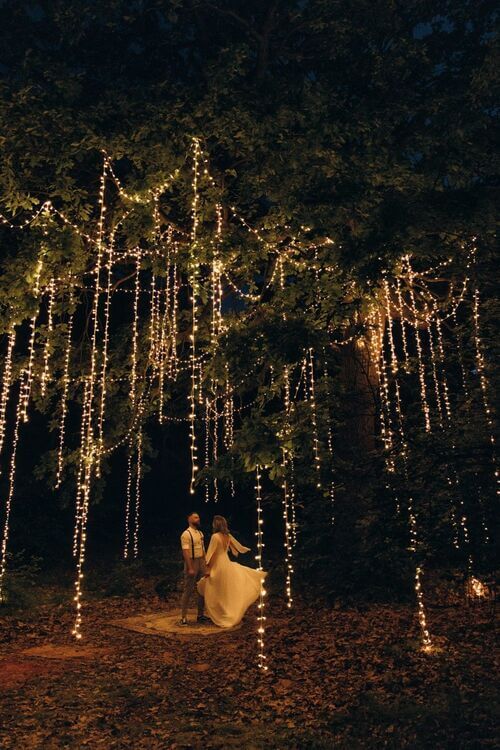 A magical element that needs to be added, especially if you plan on having an outdoor reception, is this fairy lights idea.
Cover the area with boho rugs and add enough lights to make the whole place shine.
This is the perfect place to dance and feel the love of the happy couple.
11. Mirror signs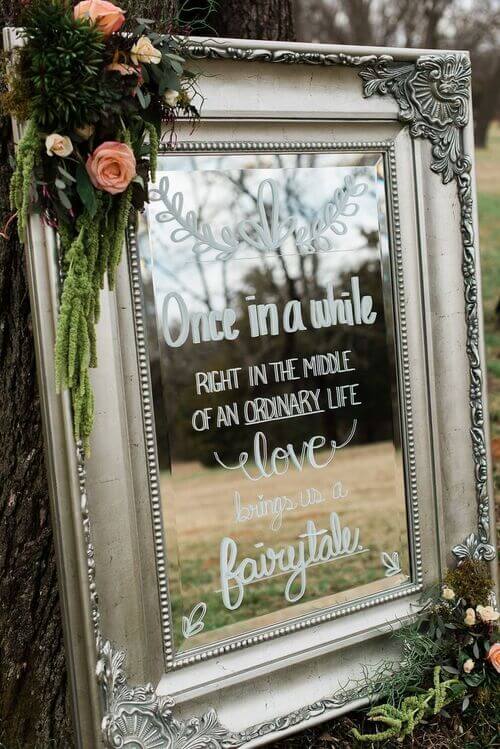 Add some stickers or a quote to mirrors and hang them around the venue.
It's a cute and fun way to bring in a new element to the big day.
Plus, it does help that it makes the perfect addition to wedding pictures.
12. Hanging bulbs and greenery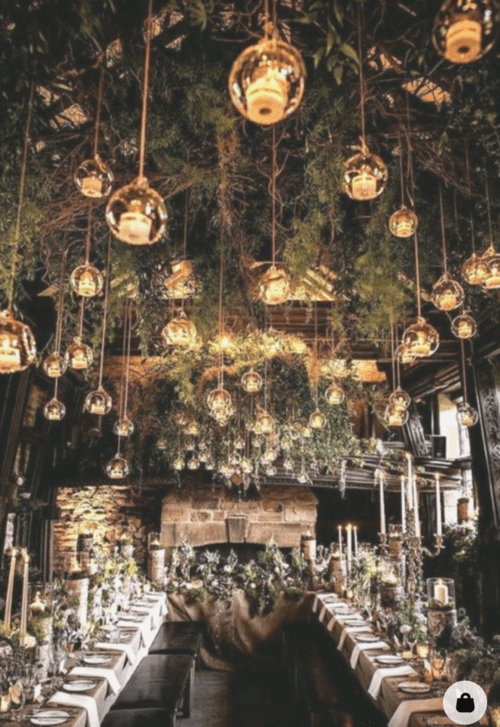 Whether you use Edison blubs or mini plant holders filled with tea lights, this idea just gives a whimsical and gorgeous atmosphere.
Decorate the roof with greenery and let these cute lights hang from the ceiling.
It works great for an indoor reception.
It can also help to balance out the neutral tones that can be found on the tables.
13. Baby's breath and hexagon centerpieces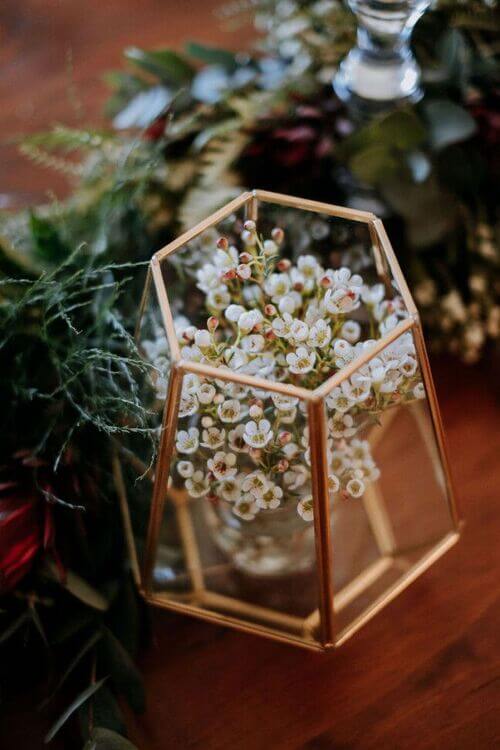 A classy element that incorporates a gorgeous golden accent can go a long way when paired with the dark green elements of an enchanted forest.
These hexagon pieces can hold mini bouquets of baby's breath and will instantly brighten up any table making it ideal for this enchanted wedding theme.
14. Fairy lights and wood arches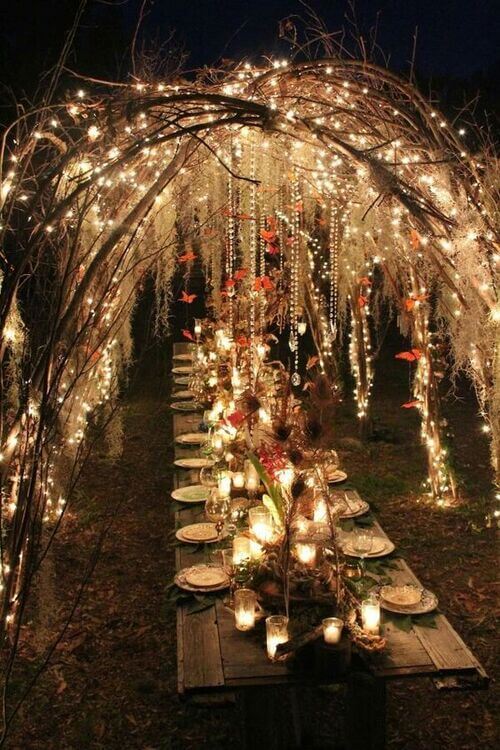 Another enchanting and extremely popular idea that can be tested is this arched table cover.
You can incorporate flowers, feathers, fairy lights, or even pearls to bring an added touch to the cute idea.
Keep the table simple with a few lanterns and candles, plus elegant bouquets, but make the decor simple to ensure it isn't too overloaded.
15. Mossy centerpieces with gold accents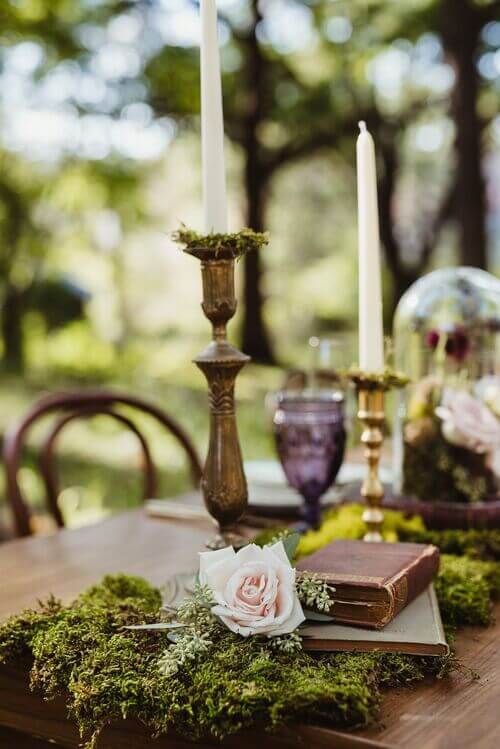 If you want to add something fun to an extra table, for example, the gift table or the designated card station, then this is worth the effort.
Golden candle holders, vintage books, pale pink roses, and mossy elements are just what you need to make this simple wooden table feel like part of the theme.
16. Flower petal aisle decor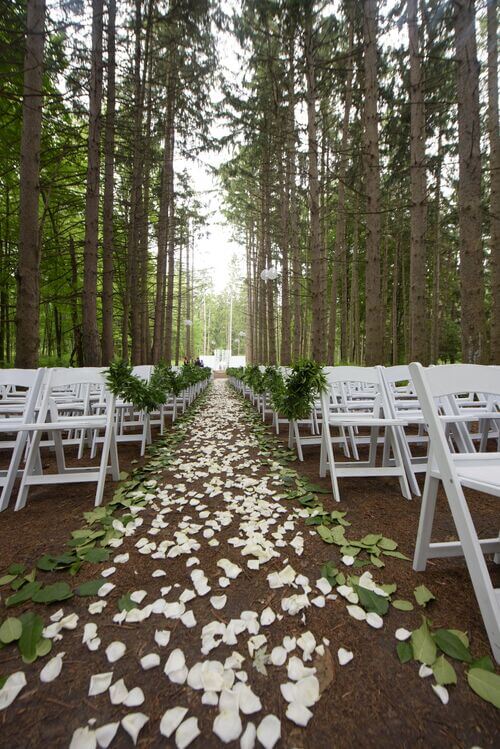 Need something to fill up the aisle and make sure the pictures don't look too empty?
Then add leaves to the sides and rose petals to the middle of the aisle.
It is a simple idea that can ensure the pictures don't look bare.
The best part about a forest wedding is that there is enough space for every single detail, and you don't have to worry about things looking messy.
17. Guestbook… or guest plate?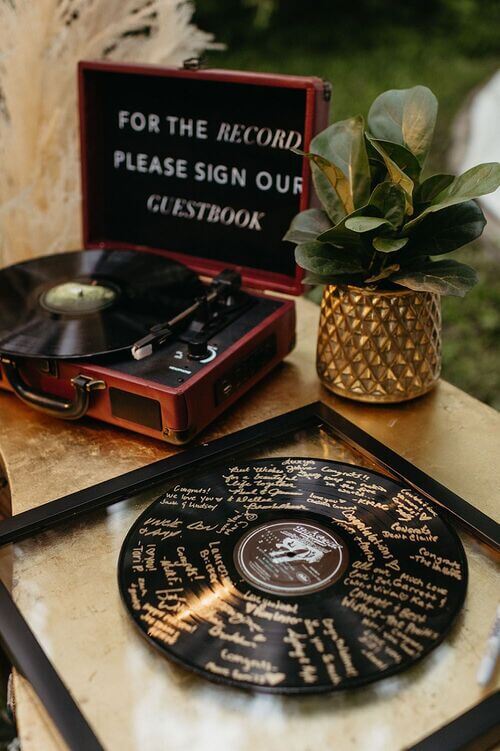 Skip the original guestbook and opt for a record instead.
This idea is vintage and unique and can be cherished forever.
Grab a gold or silver Sharpie and sign your name on the record.
They can then frame it or keep it on the record player for everyone to see and appreciate.
18. Bare cake designs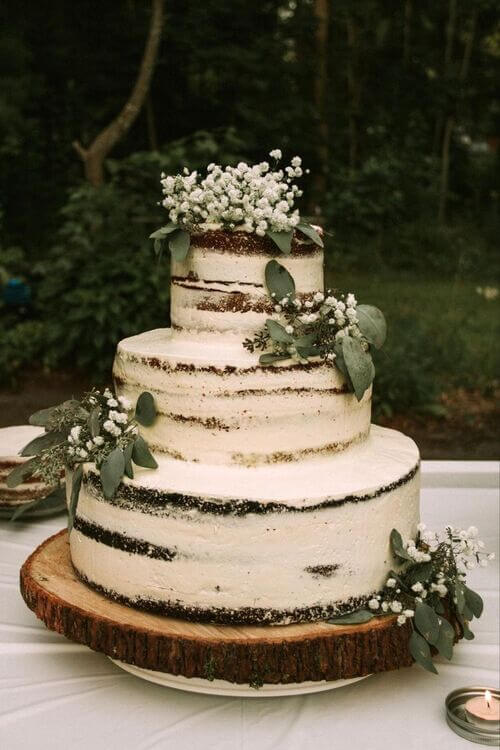 Bare cakes are gorgeous and perfect for an outdoor wedding.
Add simple greenery to bring a natural look to the gorgeous and simple cake.
You can place the cake on a wood slice and add some candles around it to create a warm atmosphere.
19. Paper flower decor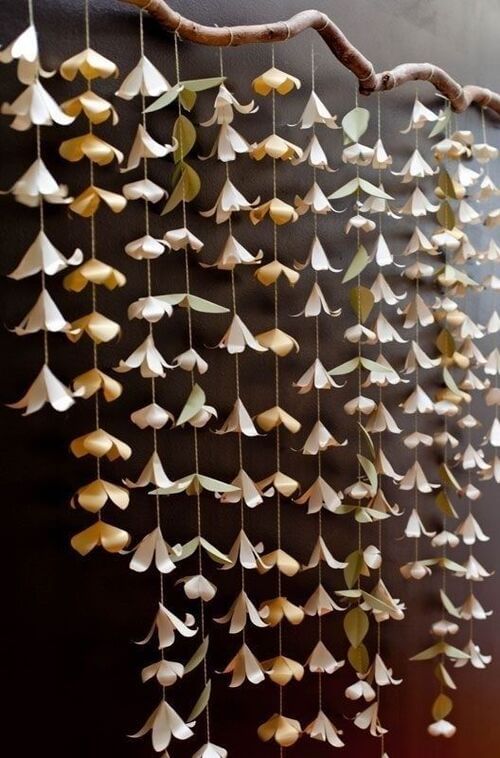 This flower wall can serve as the perfect backdrop for cute wedding pictures with friends and family.
You can DIY this project with string, paper, and a large branch.
Just hang it against a wall and grab a Polaroid camera to take pictures.
20. Hanging origami decor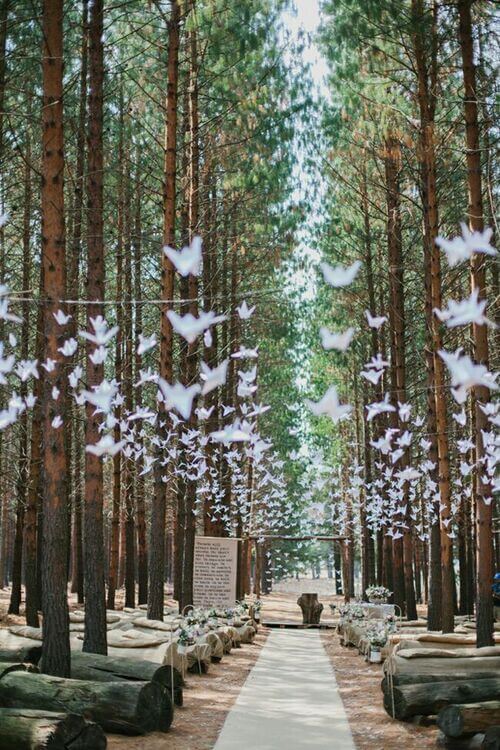 A simple idea that not a lot of people think about.
An origami decor piece is a unique way to bring your decor to a new level.
Either by making swans or butterflies and stringing them between the trees.
It is a subtle and effective way to decorate.
The enchanted wedding of your dreams
An enchanted forest wedding allows you and your partner to immerse yourselves and your guests in a magical realm of love and beauty.
With the right venue, decor, floral arrangements, and attention to detail, you can create an ethereal experience that will be remembered for years to come.
Let nature be your guide as you weave a fairytale wedding celebration in the heart of an enchanting forest, where dreams come alive and love blossoms in the whimsical wonder.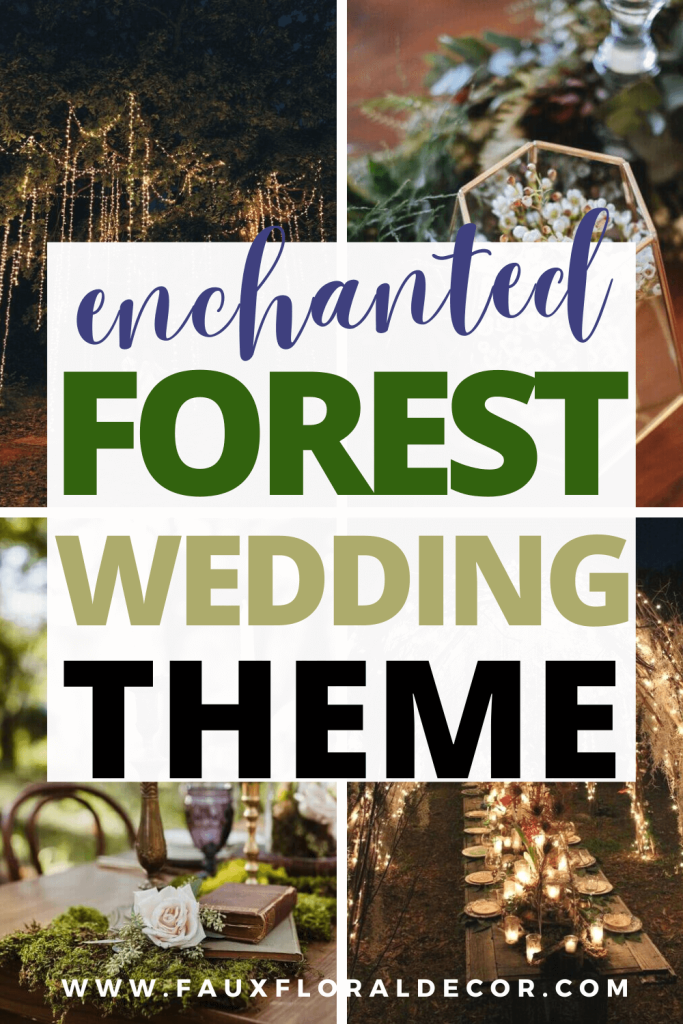 This post showed you the best enchanted forest wedding theme ideas.
You may also like: